Back to Blog
Top 10 Vonage alternatives: A detailed comparison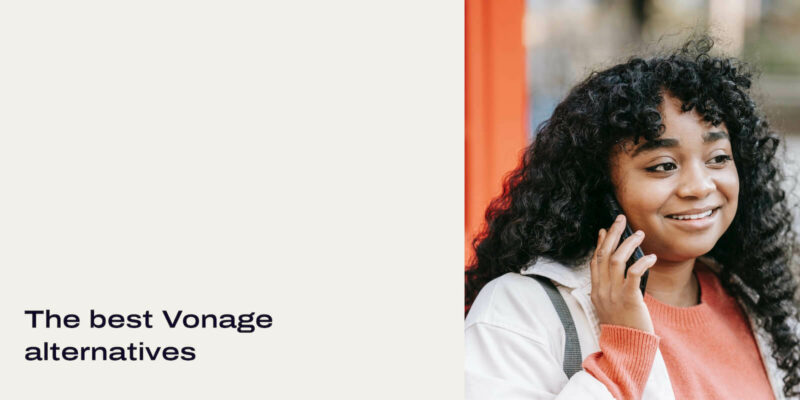 Looking for a business phone system or communications platform, but not sure if Vonage will cut it?
We get it, with so many options it can be difficult to choose. So, what should you know if you're looking for alternative communications tool or VoIP phone systems that aren't Vonage Business?
And with dozens of options, how can you possibly know which one is the best fit for your business communications?
In this post, we'll walk through the best affordable alternatives for your business.
What is Vonage?
Vonage is a VoIP service provider founded in 2001 that connects people over the telephone using an Internet connection. With Vonage, like all VoIP services, you don't need traditional telephone lines to make phone calls.
Along with audio calls, Vonage also offers features like voice and video conferencing, and a call forwarding service. These features are common among all of the reputable VoIP service providers.
But while Vonage is a popular provider, there are a few reasons why you may want to go with another VoIP phone system. Keep reading to find out why.
Why would you want to use a Vonage alternative?
First things first, your small business is unique. Vonage may be the right choice for one business, but not for others. You need a VoIP provider that works for your needs and budget. And for many businesses, Vonage can end up being a pretty pricy option. (More on this in a minute.)
And even if you're okay with the price tag of a Vonage phone plan, it may be missing some key features you need (there's also their customer service options, which is a whole other thing).

Next, let's look at a few things to consider as you're evaluating alternative VoIP services.
A few factors we used to evaluate these alternatives to Vonage
Features
If you've looked at the feature lists for VoIP services or unified communications providers, you've probably noticed that they all look very similar. And most of them actually are! Call forwarding, call routing, auto-attendant, most of this is just fundamental functionality that any decent phone system should have— included for free (or at least in the base price).
That being said, there are certain unique features (like AI) that not all Vonage alternatives have, and we'll get more into that below.
In most cases, the more important differentiator here is price—what you have to pay extra for.
Cost-efficiency
When you run a business, every dollar counts. But that doesn't mean you should necessarily look for the cheapest option for your phone service. (And often, what looks cheap upfront will often end up being more expensive anyway because every little thing is a paid add-on.)
We'll point out where to watch out for this with some of the options below.
Customer support
This is a big one. Not all UCaaS and VoIP phone solutions have the same customer service.
Some providers don't have customer support worldwide or limit it to the US only, while others charge you every time you submit a ticket. Make sure to check the fine print.

Call quality
One of the best things about VoIP services is the quality of calling over the Internet. However, not all VoIP providers are created equal. While each cloud phone service functions in much the same way, many factors go into call quality.
The VoIP provider needs to have the servers and service available to avoid things like latency during phone calls. Beyond pricing and features, check out these options' architecture and how that affects their call quality.
Ease of use
Even if you happen to be an aerospace engineering company, you shouldn't have to be a rocket scientist to use a VoIP service. Implementing your new phone system should be simple for your employees—in any department—to use from day one.
This applies no matter what device you're using, and even for the most advanced features. From the installation and setup process to purchasing new numbers or adding new users, this should all be easy to do on your own, ideally in your online dashboard. Here's an example of how that looks in Dialpad:


Integrations with the tools you use
Another important consideration: Does the VoIP or unified communications solution you're considering integrate with other software and applications (like CRMs and ticketing tools) that your team is already using?
This is one of the biggest advantages of using a VoIP service provider rather than a traditional PBX phone system, so be sure to take advantage of all the integrations that can help you toggle less between windows and applications.
One thing to note here is that even if the provider doesn't have the integration you're looking for, that's okay, as long as they have an open API that lets you customize and build your own integrations.
What makes it a good Vonage alternative?
In the end, a great Vonage alternative is a platform that works for your business or team. This is the section where I'll highlight the biggest advantage that each competitor has over Vonage.

The top 10 Vonage alternatives, ranked
1. Dialpad: A truly unified communications platform with industry-leading AI

Brought to you by the team that built Google Voice (which is a big reason why it has such an intuitive user interface), Dialpad is much more than a cloud-based business phone system. It's a mobile, scalable, and uniquely AI-powered communications solution for both small businesses and large enterprises.

Beyond just giving you phone / voice calls, Dialpad connects your business through video meetings, instant + SMS/MMS messages, and more. Essentially, you can access all your business communications under a single platform. Best of all, you get unlimited calling on any Dialpad Ai Voice plan in the US and Canada.
What are some of Dialpad's top features?
Easy setup and robust security
With Dialpad, you get a fast setup and hassle-free deployment. (The only thing that may take time is if you need to port numbers over, because if your existing phone system provider won't release your phone numbers for porting, there's not much that can be done about it.) That being said, if you don't need to port any phone numbers, it can take as little as a few minutes to get set up with Dialpad.

After you're set up, you can rest easy knowing that your data and communications are secure. Dialpad encrypts your data using the highest security and privacy standards, and helps you stay both GDPR and HIPAA-compliant. In fact, it's used by businesses and organizations across a range of highly regulated industries like law, healthcare, and insurance.

Every communications channel in one place
Why juggle three or four different apps when you only need one? Phone calls, video conferencing, or instant + SMS/MMS messaging—you can do all of it from Dialpad's desktop and mobile app, which works across iOS, Android, PC, and Mac. All you need is a computer or mobile phone.
Call routing and IVR (Interactive Voice Response)

A good call routing feature can help your callers direct themselves to the right person every time. With Dialpad, you have an auto-attendant and IVR feature that answers phone calls and does this for you. This not only saves your team time because they don't have to manually route phone calls, but also makes for a better customer experience. With Dialpad, as you can see above, you can set up rules to route calls automatically.
(And if you run a contact center or call center, you can also set up your IVR strategically to make sure your agents share calls equally.)
One unique thing about Dialpad's built-in analytics is that you can even see which IVR options are being used by callers (and which aren't) so you can continuously refine the phone experience:

Voicemail
Dialpad lets you customize and upload voicemail greetings easily in your online dashboard. Not only that, it also has a visual voicemail feature, which transcribes your voicemails so you can read them instead of listening to them (perfect for those busy days when you're in back-to-back meetings):
Easy call forwarding
Set up a maximum of five call forwarding numbers in Dialpad so that you never have to miss a call again. Forward phone calls to your cell phone, your colleague, a landline—whoever you want—right in, you guessed it, your online dashboard:
Industry-leading AI
With Dialpad, our unique, powerful Dialpad Ai is built by our team from the ground up and has analyzed over five billion minutes of business conversation data. What does it do? Well, it not only transcribes calls—in real time—but also does it with impeccable accuracy (even more accurately than almost all leading competitors):
Dialpad Ai drives many other features too, including those voicemail transcriptions, Real-Time Assist (RTA) cards for your sales and support agents, and live sentiment analysis.
CRM integrations
If you're already using CRMs like Salesforce, HubSpot, or Zoho, then Dialpad integrates with all of them. From auto-logging activities and calls to embedding a CTI dialer inside your CRM so you can make phone calls without switching windows, CRM integrations are one of the most popular types of integrations we see with Dialpad:

And much more...
Dialpad also has additional features like:
Pricing
Dialpad's Ai Voice pricing plans are scalable and affordable, with no hidden costs or fees. Paid plans start at just $15 per user per month, and include unlimited calling in the US and Canada.

What makes it better than Vonage?
Along with being affordable and having way more robust features included, Dialpad is reliable, secure, and easy to use. From signing up through to implementation and customer support, Dialpad is a comprehensive solution that doesn't nickel and dime you for the little extras.
For example, Dialpad's $15/month plan comes with unlimited call recordings, a multi-level auto attendant, and visual voicemail—you only get these with Vonage's two most expensive plans.1

Try Dialpad for free with a 14-day trial
It takes just a few minutes to get started, and you'll be set up with a virtual phone number too. Or, book a personal walkthrough with our team!
2. Zoom
Zoom is of course best known for being a free video conferencing solution. Today, it also has a "Zoom Phone" solution that gives businesses a telephony feature if they need it. It's overall easy to use and like Dialpad, is truly cloud-based (and not just an old legacy PBX phone provider that's tried to tack on new parts to its technology).
While Zoom saw its popularity rise in 2020, it also became a popular target for hackers and encountered a range of other security concerns. Today, companies and government agencies including Google, NASA, and the Australian Defence Force have banned Zoom.
Features
Breakout rooms: You can use breakout rooms to split up large groups of attendees into smaller groups to have more targeted brainstorming sessions.

Virtual backgrounds: Zoom has lots of fun customizable backgrounds you can choose from to spice up your video conferences.
What makes it better than Vonage?
Zoom's rise as a video conferencing tool placed it as a well-known name in the business communication market. Like Dialpad, Zoom's pricing is also more budget-friendly for businesses that need to make lots of phone calls.
The one knock on Zoom, other than its security concerns, is the fact that its telephony architecture isn't quite as well established as other VoIP providers who have more experience building that product (like Dialpad).

🗒️ See what IT leaders look for in a communications platform
Grab the CIO Buyer's Guide, (written by our own CIO, who's done a lot of phone system shopping in her time!), which will walk you through what features to look for, nuances to pay attention to when comparing providers, and more!
3. Ooma Office
Ooma Office is a provider of cloud phone systems that markets itself toward small businesses. It's a no-contract service that offers the usual functionality you'd expect from a small business phone system, like a virtual receptionist, call park, and the ability to make long-distance calls. They even offer a residential VoIP product called Ooma Telo.
Features
Call blocking: This allows you to automatically block calls from spam numbers.

Mobile app: Allowing you to work from anywhere with their mobile application. (There's a desktop app, but you have to pay extra for it.)
What makes it better than Vonage?
Caveat: This applies only to small businesses. If you work at an enterprise-size business, skip to the next one. Ooma is good if you need VoIP calling that's quick and easy, and they say it can be set up in under 20 minutes—and there are guides to help you if you run into any problems. It might be good for a home phone service, too, if you want to bundle that all up together.
However, it doesn't have any free video conferencing plans and you have to choose the more expensive paid plan to get video conferencing at all.2 (You also have to choose this plan just to get a desktop app and call recording.) The paid plans start at $19.95 per user per month, which is more expensive than Dialpad's least expensive plan. Ironically, small businesses might actually end up saving money by not going with Vonage. Learn more about the best Ooma laternatives.
4. RingCentral
RingCentral has been around for a long time—since the old traditional PBX days. Today, it markets itself as an VoIP phone system for all types of businesses, and allows users to make and receive phone calls, have video conferences, and send instant SMS/MMS messages like many other unified communications platforms.
Features
Easily switch from an audio to video call from the app: Like Dialpad, there's a feature that lets you switch a call between audio-only and video calls with a click or tap.

A wide range of integrations

Video conferencing and business SMS: Business SMS allows you to send text messages from your business number on computers or mobile devices.
What makes it better than Vonage?
RingCentral is a worthwhile VoIP provider and Vonage alternative. Even though it's one of the big legacy phone system providers, it has bolted on many new features in recent years. For the most part, it has much of the same functionality that you'll find in other leading VoIP providers and unified communications platforms.
One thing to make note of is that even though there is a free video chat plan, RingCentral's least expensive plan doesn't come with some features that you'd get with other providers' basic plans, like automatic call recording.3 (Learn more about the top RingCentral alternatives.)
5. Nextiva
Nextiva is another VoIP business phone system provider that's been around for a while. Like Dialpad and RingCentral, it markets itself as a unified communications solution that has phone call, messaging, and video conferencing functionality.
One thing to note about Nextiva is that it doesn't own its own product—it's reselling both its UCaaS4 and CCaaS solutions.5 This is usually not ideal because it can result in things like an inconsistent user experience, and difficulty getting support from an in-house team because you may be routed to a third-party customer support team. (Learn more about the top Nextiva alternatives.)

Features
International calling: Like Dialpad, Nextiva has VoIP international calling at more affordable rates compared with landline phone systems.

Team chat: Keep connected with your team from anywhere.

Video conferencing: Host meetings one-or-one or with your team.

Auto-attendant: It answers and directs your calls so you don't have to.
What makes it better than Vonage?
Pricing-wise, Nextiva compares well with Vonage and has more customer support coverage as well. It really depends on what you need. Basic plans start at $25.95 per month and go up to $52.95 per user per month for its most premium option. Note that you don't get mobile SMS/MMS, a multi-level auto attendant, or voicemail transcription with the cheapest plan (all of which you get with Dialpad's least expensive plan.)6

6. Webex
Webex by Cisco is a calling, meetings, and messaging platform for teams of all sizes.
Its marketing is heavily geared toward enterprises, and you can take from that what you will in terms of ease of use and implementation. Like many of the other Vonage alternatives here, you can have all your communication channels under one roof.
The biggest annoying thing for Webex, though, is that you have to download the application to use it. If you have meetings or calls with clients or prospects often, this will be a hindrance because not everyone wants to download an app to join your video conference.
Features
Closed captions: Text translation to make your meeting more accessible (similar to other tools' real-time transcription feature).

Meeting transcripts: This allows you to go back and review your meeting later.

Automatic video adaption: This ensures that your video calls never drop by accommodating your bandwidth (which Dialpad also has).
What makes it better than Vonage?
Webex is a platform for virtual meetings, with straightforward functionality. Being backed by Cisco, it does have more robust features than Vonage, and if you're looking for more of an enterprise tool, this will likely be a better option than Vonage.
7. GoTo Connect
GoTo Connect offers a phone system designed to help keep businesses connected in a remote working environment. It's not quite as well established as some of the other options on this list, but is still a solid option.
Features
Video meetings: Meet face-to-face wherever, whenever.

Enhanced audio: Get good quality audio for your calls.

Encryption: It makes sure your calls stay secure.

Available in 190+ countries: This allows you to make calls wherever in the world you may be.
What makes it better than Vonage?
GoTo Connect was designed for businesses that maintain a remote workplace. It allows your employees to connect, no matter where they are in the world. It requires no downloads and is easy to implement. However, they do charge for premium features you may need to get the most out of your VoIP service. Learn more about the best GoTo Meeting alternatives.

8. Bitrix24
Bitrix24 is a cloud phone service that's probably the most unique out of all these Vonage alternatives because it's such a mish-mash of seemingly random tools. In addition to a phone system and call center features, it also includes basic CRM features, a Kanban board, and even a website builder.
Features
Project management tools: Kanban-style boards for managing tasks.

Call routing: This ensures that calls get to the right place.

CRM integrations: These allow you to track customer data easily across your platforms.
What makes it better than Vonage?
While the free plan may work as a residential VoIP service, it doesn't really come with the robust communications features that a business needs on a daily basis. That being said, if you want to try a bunch of different tools without paying for a bunch of different plans, this could be an option to try. Whether or not all those different features work well together is another story.
9. 8x8
8x8 is another company that's been around for a long time since the times of PBX, and is geared toward both small businesses and large corporations. It has call, chat, and video tools that are all available to you over the cloud through their mobile and desktop app.
Features
Hold music: Never let your customers wait in silence.

Visual voicemail: Read your voicemails.

Call analytics: Keep track of how your team is managing calls by collecting the data.
What makes it better than Vonage?
Like Dialpad, 8x8's VoIP phone service is FCC and GDPR compliant, and has pretty robust security compared to Vonage, which isn't as enterprise-focused. 8x8 also has small business plans that are priced well compared to Vonage. Learn more about the best 8x8 alternatives.
10. 3CX
3CX is an open-platform PBX office phone system that runs on-premises with Microsoft Windows or Linux.
Of course, what this means is if your company uses Apple products and Macbooks, this option is out and you can skip to the next one. While it does have some basic phone system features like the ones listed below, you won't get the "fancier" options like AI or real-time transcriptions, even as add-ons.7
Features
Free office calls: Teleworkers or traveling salespeople make unlimited calls.

Mobile and desktop apps: It allows you to work no matter what device you're on.

Live chat: Chat with support without having to pick up the phone.

Call recording: Keep a record of your calls for quality assurance or training.
What makes it better than Vonage?
Because of its more traditional PBX setup options, 3CX allows you to have complete control over your VoIP system. However, keep in mind that having an on-premises VoIP system requires more equipment. You're also as a company responsible for all the data you're storing. This includes company and customer recordings, information, and other behavioral data you may collect.
What's the best Vonage alternative for your business?
Dialpad's scalability, reliability, and customer service make it one of the best Vonage alternatives on the market. Whether you're a startup, a small business, or a large enterprise, it's designed to scale with you.
With coverage around the world, Dialpad makes sure your calls can travel even farther than you do. Plus with affordable rates for international calls and free long-distance calling, you'll always have access to your vendors, customers, and employees no matter where your office is or what device you're calling from.
The best part? You can try Dialpad for two weeks for free.
Try the best Vonage alternative on the market
Want to try a Vonage alternative that's easy to use and set up? Sign up for a free trial—it takes just a few minutes, and you'll get a virtual business number too! Or, take a self-guided interactive tour to play around with the app on your own first.
1vonage.com/unified-communications/pricing/
2support.ooma.com/office/ooma-office-pricing-chart/
3ringcentral.com/office/plansandpricing.html#office
4talkingpointz.com/nextiva-competing-around-the-customer-experience/
5businesswire.com/news/home/20210609005705/en/Nextiva-and-Five9-Team-Up-to-Help-Businesses-Deliver-Seamless-Customer-Communications
6nextiva.com/nextiva-pricing.html
73cx.com/ordering/pricing/