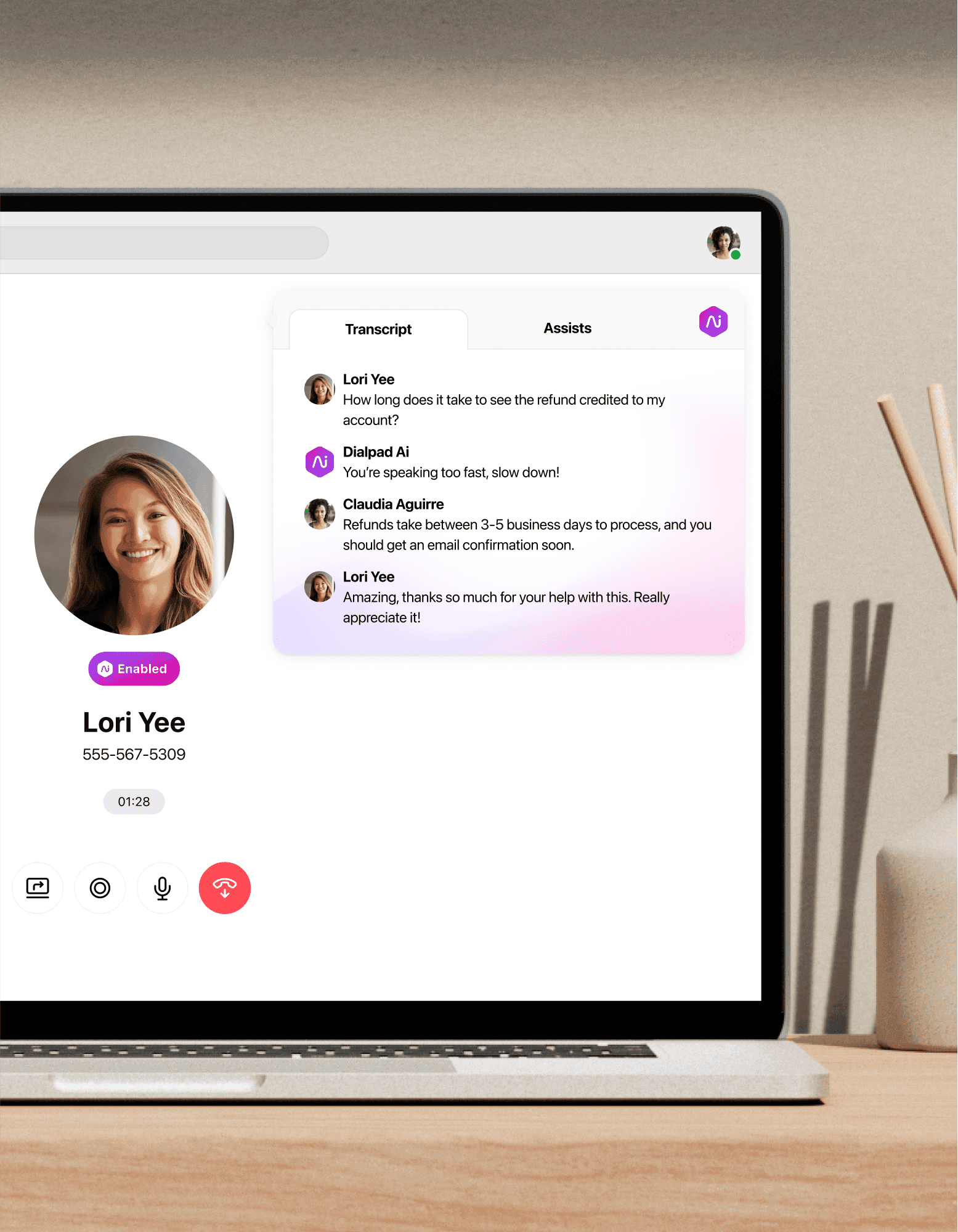 a primer
CCaaS for businesses
Thinking of moving from an on-premises contact center to a CCaaS platform? See how it works and get a walkthrough of the major differences by booking a product tour of Dialpad Ai Contact Center!
Today, customer expectations are shifting heavily towards more responsive and agile omnichannel experiences. And CCaaS providers are stepping in with unprecedented flexibility and cost-efficiency. Learn more about this modern contact center solution.
What is Contact Center as a Service (CCaaS)?
Contact Center as a Service (CCaaS) refers to a cloud-based contact center platform or software that a company can pay for on an annual or monthly subscription basis. (This is reflected in the "as a Service" part of "Contact Center as a Service.")
CCaaS solutions act as the central hub for not only customer interactions, but also any kind of high-volume interactions with an audience. Fun fact: Even though most people think of customer support teams when they hear "contact center," there are actually many contact center teams that serve employees, students at higher ed institutions, and many other types of audiences.
From logging caller information to routing calls, CCaaS solutions are crucial tools for contact center agents and supervisors—and they don't need you to have expensive on-premises software solutions hosted in your office either.
Even small business call center software can give businesses with smaller budgets access to a wide range of features such as workforce management functionality, and coaching automations.
What's the difference between CCaaS and UCaaS?
CCaaS
CCaaS stands for Contact Center as a Service. CCaaS solutions are typically deployed by enterprises (and increasingly, small businesses) as a way to handle a large volume of inquiries (or doing high-volume outreach).
The term is generally used interchangeably with contact center or call center software. CCaaS platforms typically come with features like Interactive Voice Response (IVR) and call routing, which help agents interact with customers over multiple touchpoints.
UCaaS
UCaaS stands for Unified Communications as a Service. Unlike CCaaS, UCaaS solutions are designed for mainly internal business communication and collaboration.
With UCaaS solutions, you'll usually see features like video conferencing, voice calls, and instant and/or SMS/MMS messaging. These are the most common communication channels that internal teams use in their daily workflows, and the benefit of having a UCaaS solution is that it streamlines all these channels into one desktop or mobile app.
Both UCaaS and CCaaS solutions can come with a built-in VoIP phone system that lets agents have phone calls and send SMS messages.

✨ UPLEVEL YOUR CONTACT CENTER
Grab the Contact Center Playbook, which breaks down everything you need to know, from setup to staffing to optimizing—with examples from real contact center teams across different industries.
Different types of contact center functions
The type of contact center you need will depend on the nature of your business. For example, some businesses manage mostly inbound calls, while others might focus more on outbound calls. Some contact centers might use live chat in addition to phone calls, while others don't have phone support at all.
Here are just a few examples. (They're not all mutually exclusive!)
Inbound contact centers
An inbound contact center manages incoming or inbound calls and contacts. Typically, these will be from customers looking for technical support.
Outbound contact centers
In an outbound contact center, you'll usually find sales reps making calls or sending messages to prospects and clients. Outbound calling is often used as a way to get new sales prospects and generate leads.
Omnichannel contact centers
An omnichannel contact center allows customers to reach out on a variety of different channels (e.g., email, phone, chatbot, and live chat).
Cloud-based contact centers
Cloud-based contact centers are managed and hosted in an external data center and administered by designated service providers over the Internet. This makes it much easier to do things like add new agents and create new contact center teams in an online dashboard (as opposed to waiting days or weeks for changes to be implemented by your provider's support team.) All you need is a reliable Internet connection to get started.
The benefits of CCaaS over on-premises solutions

Migrating to CCaaS might seem daunting, but there are some important benefits for contact center teams, especially if you have remote agents.
Lower upfront investment
Unlike traditional contact centers, CCaaS solutions don't require you to have your own on-premises hardware and data centers. Because of this, they tend to end up costing significantly less. And because everything is owned and managed by the service provider, you won't have to funnel any resources into costly setup and implementation.
Reduced operational costs
With CCaaS, you pay a set monthly price to your service provider and they'll deal with pretty much everything, from support to regular product updates.
In the long run, that means serious cost savings and less money spent maintaining on-premises hardware and hiring specialized IT staff.
Much more flexible scalability
On-premises contact centers are bound by a physical location, copper wires, and other clunky infrastructure. That means you'll need an office, server closets, desk phones, etc. etc. With a CCaaS solution, agents and supervisors will be able to work from any device, from any location—and more importantly, you'll be able to scale your service up and down to cater to demand in real-time.
One important thing to note here is that not all CCaaS solutions can do this. Some solutions, even though they're in the cloud, still don't allow you to easily manage phone numbers and adjust your call routing settings.
Dialpad Ai Contact Center does make this possible. Do you have seasonal call volume spikes? You can add and remove agents easily right in your online dashboard:

Easier workforce management and staffing
Some CCaaS solutions have workforce management and quality management features too, either built-in or through an integration partner (or through an open API). For example, Dialpad integrates with Playvox to provide both WFM and QM features in one integrated platform.

Fun fact:
Smart AutoCare needed efficient and flexible workforce management features for their contact center teams. After vetting the largest and most well established (and most expensive) contact center vendors, they found that Dialpad and Playvox's integration actually gave them everything they needed—in one cost-effective solution.
Omnichannel customer experience
With CCaaS platforms, it's typically easier to provide a good experience across different channels like social media, live chat, phone calls, and more. With a single customer view over your entire operation, you'll be able to offer a more efficient and streamlined experience than was ever possible using your on-premises hardware and solutions.
CCaaS features to pay attention to
As well as things like HD conference call quality, a good CCaaS provider should come with a range of robust features designed to improve not only the customer experience, but also the agent experience.
Interactive Voice Response (IVR)
Interactive Voice Response (IVR) features give your incoming callers an easy way to reach the person they want—or self-service if their question is simple.
Dialpad's IVR is easy to set up and make changes to. Need to upload a new greeting? You can do that in seconds in your online dashboard. Want to route calls differently? You can do that there too.
Dialpad's built-in analytics even show you which IVR options are being used by your callers—and which aren't—so that you can continuously optimize the experience and tweak the menu options based on what they need:


👉 Dialpad tip:
Did you know that you can set personalized IVR greetings on Dialpad in multiple languages? Simply navigate to Your Settings > Call Handling & Voicemail > Advanced Options > IVR Menu Language and pick your chosen language from the drop down menu.
Call center monitoring and coaching
A good CCaaS offering will allow contact center managers to listen in on calls and be able to see quickly if any calls are going south. But what if a supervisor is overseeing 10 or 20 agents? That's a lot of simultaneous calls to listen to at once.
Dialpad Ai Contact Center has a unique artificial intelligence called Dialpad Ai that's designed to help with this. It's proprietary and built by our own team, and can do a few important things:
1. The biggest thing it can do is automatic call transcription. Dialpad Ai can transcribe calls—in real time—more accurately than almost all leading competitors.

But how does this help with coaching? Well, Dialpad Ai can also do live sentiment analysis for calls and show whether calls are going positively or negatively, also in real time:

This means that contact center supervisors can see at a glance all the active calls their agents are on, and which may need their attention. And because the transcripts are updated in real time, they can quickly scan the transcripts to get full context before deciding whether they need to jump on a call to help. This is much more helpful in a live context than just listening to call recordings after the fact (although that's important too).
But that's not all. Dialpad Ai can also pop up automatic Real-time Assist (RTA) cards on agents' screens with helpful notes when certain tricky topics come up on calls. A manager can create RTA cards in Dialpad and set them to trigger whenever certain keywords are spoken. For example, if one of our customers calls and asks about "porting a phone number," we can set an RTA card to pop up and help agents talk through that process:

Power dialers
This one is more for outbound contact centers, but a power dialer is a telephony feature that automatically dials out to numbers on a list of contacts as soon as the previous call is completed.
If you need to increase sales rep efficiency and help them do more outreach in less time, then you'll want a CCaaS solution with a power dialer.
Real-time and post-call analytics
Using the data from the conversations you're already having is one of the best ways to make targeted improvements to your contact center operations. With Dialpad, you can get built-in, real-time analytics that show you how your contact center is doing. No need to contact a support team to pull data and export CSVs—just log into your account.
For example, there are heat maps showing call volume patterns and average speed to answer, so you can make adjustments to staffing as needed:


Integrations with software you're already using
This is an important one. A good CCaaS solution should let you integrate your contact center software with other third-party tools and apps.
Dialpad, for example, integrates with a wide range of customer experience and other tools, including CRMs, customer engagement software, ticketing apps, and more.
A CRM is probably the most important integration to look for. Many contact center teams use tools like Salesforce, Zoho CRM, HubSpot, and more, so if that's the case for you, make sure your CCaaS provider integrates with those tools.
The reason this is useful is because CRM integrations will let agents take phone calls right inside the CRM. For example, Dialpad's integration with Salesforce lets agents take phone calls with the embedded CTI dialer inside Salesforce, and also automatically logs activities and calls:

What to look for in a CCaaS vendor
Platform diversity
The ability to support a variety of customer interactions, including inbound customer requests, outbound sales, and omnichannel interactions.
Channel diversity
Today's most useful CCaaS solutions provide your team with the ability to support customers on different channels like phone, email, chat, video, and social media.
Constant security
Your contact center software holds some of your most critical data. It's important to understand what security strategies a partner uses to protect your information.
Disaster recovery and data backup
Your team deals with hundreds of calls daily, and each of those interactions generate new data for your company. Evaluate partners for how often and how effectively they back up data. What tools and talent do they have on hand to restore access if your data is compromised? Dialpad's Enterprise plan, for example, comes with a 100% uptime SLA to help organizations eliminate downtime.
Robust features
More broadly, does the current feature set that the contact center offers meet your needs? Are there any advanced features like Dialpad Ai to equip your team with real-time, AI-powered insights? Are you confident in their ability to scale and grow with you over time? Feature match can help you determine when a CCaaS platform is well-positioned to help you reach your desired business outcomes.
Cost
Moving to a cloud solution can yield significant savings on hardware, software upgrades, and IT staffing costs. However, it's important to evaluate the monthly costs, contract terms, and other factors to help you understand both recurring expenses and total costs of ownership.
Dedicated customer support
What customer support options will you have access to if you run into challenges with your own CCaaS? Explore the range of different customer support channels. Consider whether you have or will need a dedicated account representative.
Manager visibility
What kind of manager visibility does your cloud contact center provide for checking on priority clients, evaluating agent performance, or understanding the context for escalated requests?
Tips for implementing CCaaS
Now for the implementation. (Don't worry, implementing a cloud-based contact center is a pretty straightforward process if you've got a good provider.)
Know your goals, objectives, and business needs
What features does your virtual contact center need to succeed? For example, Rocket Matter, a legal practice management software company, knew that they needed a solution that would had excellent call quality and real-time reporting features, so they chose a platform that had that.
Audit your current customer contact channels
Take a look at your current customer contact channels. What works (and what doesn't)? Look for a service to bridge those gaps. Drizly is the world' largest alcohol marketplace—but they realized that they had no way of tracking calls. So, they chose a CCaaS solution that integrated with Salesforce. Now, the team can track all the calls they get from an intuitive call analytics dashboard.
Have a solid migration plan
The job isn't done once you've chosen a contact center provider! You still have to plan and prepare your teams for the shift. Learn how to do that efficiently with this cloud contact center migration checklist.
That's exactly what Fenway Health did. In fact, their IT Director had such a well thought-out plan that they were able to do a smooth, rolling implementation over the course of a year—with each new contact center team taking less and less time to set up because they just became more efficient at it!

Get started with CCaaS and Dialpad
Getting the right cloud contact center infrastructure in place is an essential part of offering better customer experiences and ensuring customer satisfaction— no matter what challenges are disrupting the business landscape.
CCaaS solutions provide flexible, cloud-based access to the features, tools, and support you need to operate a modern contact center smoothly. Learn more about Dialpad's virtual contact center and book a demo to see how quick and easy it is to set up a contact center for your business.
Looking for a CCaaS provider?
Book a product tour of Dialpad Ai Contact Center to see how easy it is to set up and make changes to. Or, take a self-guided interactive tour of the app!