Back to Blog
CRM integration: Which integrations should you set up?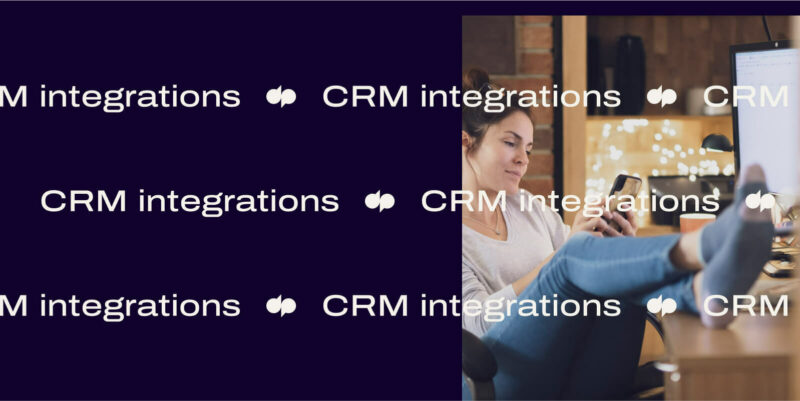 Customer Relationship Management (CRM) platforms are valuable tools for both small businesses and large enterprises across industries and departments. From marketing teams to salespeople to customer support, any team that has any business processes or interactions with customers and prospects would probably find a CRM useful.
But even though CRM platforms are powerful by themselves, they shouldn't be used by themselves! What I mean by that: almost every CRM has integrations with a range of other software and tools—and if you're already using something like Google Workspace or a business phone system, there's probably a CRM integration that's designed to streamline your workflow.
In this blog post, I'll be showing you a range of examples of how you could be using CRM integrations to be more productive—and do less repetitive busywork.
What is a CRM integration?
CRM integration refers to a seamless connection between your CRM software (HubSpot and Salesforce are popular CRMs, for example) and any third-party applications or software that you connect to it.
And hey, if over 90% of businesses agree that CRM is a crucial tool in achieving their revenue goals, there's got to be something there, right?
Today, businesses rely on countless apps and software tools to manage and leverage important customer data at various points throughout the sales process or customer journey. These include communications tools, project management tools, customer service tools, and much, much more.
Setting up software integrations with your CRM system can help you automate many of your business processes and equally importantly, reduce the amount of time you and your team have to spend toggling between apps and windows.
👉 Fun fact:
Dialpad integrates with some of the best CRM platforms out there including Salesforce, HubSpot, Kustomer, and more to give you the functionality of a communications platform and contact center—right inside your CRM.
Benefits of CRM integration: Why do it?
It takes low-value, repetitive tasks off your plate
CRM systems and CRM call center software are designed to make it easier for you to log all your customer interactions—by doing it for you! This is by far one of the biggest reasons to use software integrations. Data entry is one of the most time-consuming (and least valuable) tasks a person can do, especially if you're a salesperson whose time could be better spent having actual conversations with prospects. A CRM can give you that time back.
It helps you keep customer information organized
The better you understand your customers, the better the customer experience you can provide. But not everyone can know every little thing about every customer. CRM integrations can help here because they're your library—they store all your customer data from demographics to past interaction history, and make it easy for you to access. You don't need to have an encyclopedic knowledge of your customers when your CRM can store it all.
It results in higher customer satisfaction
A better sales process = better customer service. This is another huge benefit of CRM integration. Imagine if your sales reps had instant access to all the information they need about their customer and their account on a single platform.
For example, integrating Salesforce with Dialpad's cloud contact center solution allows agents or reps to take a call from a customer—and see everything they need to know about that person in a pop-up:

👉 Further reading:
Guidesly, an ecommerce company, uses HubSpot as its CRM—and its sales team can make phone calls from inside HubSpot and have all their activities automatically logged in it too. See how they did it.
6 common tools you can integrate with your CRM
1. Team communication integration
This is hands down one of the first things you should look to integrate with your CRM. If your team uses a phone system, video conferencing software, or unified communications platform, then integrating your CRM with it can allow you to call, message, and meet virtually in real time—without toggling between apps:

See all the CRMs that Dialpad can integrate with!

2. Email integration
Your customer support and sales teams likely spend a lot of their time sending or responding to emails. Whether they're sending cold pitches to leads, sharing important data among internal teams, or sending follow-up emails to customer support requests, email is a must-have tool in the office.
Email integrations act as the connector between your Gmail or Outlook inbox and your CRM system. This way, you can keep track of all your emails and access a range of productivity-enhancing tools like email templates and sequences for email marketing. You'll be one click away from all your CRM contact data, customer information, and customer interactions.
3. Calendar integration
CRMs often allow for appointment scheduling and task management which is all made much easier with an integrated calendar. If you use Google or Microsoft Outlook calendar, you can integrate them with your CRM to automatically sync things like events and webinars over without duplicating anything or copying and pasting stuff over.
Fun fact: With Dialpad integrated with your CRM and calendar (it integrates with both Google Calendar and Microsoft Outlook's calendars), you can schedule meetings with automatically generated meeting links right inside those calendar platforms.

4. Social media integration
For many marketing and sales teams, social media isn't just about sharing holiday snaps anymore. It's become a valuable tool for communicating with customers and uncovering valuable customer insights. Some CRMs will integrate with social media platforms like LinkedIn to scrape them for information about contacts when you add someone to the CRM, which can be very useful for prospecting and qualifying leads.
5. Marketing automation integration
CRM systems break down the silos between sales and marketing departments. Marketing automation is a popular CRM integration that allows for potential and qualified leads to be passed on to sales teams.
With marketing automation integration, all teams can access, track, and analyze customer interactions and behaviors. This helps to create a unified ecosystem that allows marketing teams to better target and personalize campaigns to their particular audiences. This way, marketing teams can generate content like blog posts, social media posts, whitepapers, and more—all informed by accurate, up-to-date customer data.
6. Enterprise Resource Planning (ERP)
Companies deploy ERP systems to help manage their daily business activities like accounting, sales, marketing, and manufacturing. CRM ERP integrations can help business owners and teams stay on top of various business processes from a single user interface.
Both ERP and CRM software includes storage of contact information and account data, so integrating them can help to save valuable time on duplicated data entry and management. Some software vendors, such as Microsoft Dynamics and NetSuite, offer ERP and CRM software, whereas other CRM solutions like Salesforce integrate with ERP providers.
Integrate your CRM platform in 3 steps
1. Examine your existing data
The first thing to do when integrating your CRM platform with your essential software applications is to examine and audit your existing data.
CRM systems are always accumulating information about your business prospects and customers. Your database is constantly growing every time a member of your sales team adds a new record or a prospective customer fills out a form on your landing page.
This information should be consistently updated to ensure your team has access to updated data and insights. When your CRM data is outdated it can result in problems for your business, such as convoluted sales cycles and poorly managed administrative tasks. Before you start integrating third-party sales apps into your CRM, you'll need to ensure your existing data is up-to-date.
To examine your existing data, take a look at these five key areas:

Accuracy: How accurate is your data?

Completeness: Is your data complete? Do you have a record of all your important contact information and business IDs for every company?

Consistency: Is naming and vocabulary consistent across records? If not, this could lead to problems in the future.

Uniqueness: Is each entry unique or do you have duplicate entries for companies or contacts?

Timeliness: Is all of your data up to date?
2. Construct a solid foundation
The current state of your CRM data might seem overwhelming and organizing it like a huge task ahead of you, but don't worry! Most company information becomes outdated throughout the year for numerous reasons, and examining that data to fix inconsistencies is simply a part of the CRM integration process.
Once you've got an idea of the state of your data, it's time to sort it out. Detect and delete outdated and inconsistent records from your database. Once that's done, you'll have plenty of room for your integrations to provide richer insights and salient data points.
Once your CRM is filled with the correct data, you'll have a solid foundation from which to access important real-time company information that'll help to inform better business strategies.
3. Integrate with other tools
Once all of your data is sorted out in your CRM system, it's time to connect your favorite apps from your tech stack.
Most software applications will offer integrations with major CRM platforms, so you can have all your communications, sales, and marketing apps in one place for enhanced connectivity.
With all the essential CRM integrations we mentioned above and more, you can streamline operations and improve communications within your business. Your team will have a holistic overview of the sales process and customer journeys that are easily accessible at all times.
Common challenges when you don't have CRM integrations
Manual processes everywhere
Every day, business owners and team members need to perform various processes manually. This can be very time-consuming and error-prone—and means companies don't maximize the full potential of their employees and systems.
This sometimes also results in customer service complaints and employee dissatisfaction just because of the lack of visibility and inaccurate information. (Not to mention the added costs manual processes pile on for businesses due to increased resources, time, and human error.)
To avoid this, use CRM integrations to streamline manual tasks like data input, keeping contact records, or manual task checking. This will free up employees' time so they can focus on more complex tasks like handling important customer interactions.
Hard to achieve customer experience goals
Ensuring customer satisfaction should be a business's top priority. In one survey, 1,920 business professionals were asked about their number one priority for the next five years, and customer service came out on top, beating both product and pricing.
To provide a good customer experience, one of the most basic things a team should be able to do is to get information they need quickly, whether that's information about the customer or prospect, information about the products, and so on.
👉 Further reading:
ServiceToday, a residential services company that takes care of plumbing and electrical air conditioning for homes across Australia, integrated their phone system with their CRM, which automatically adds the audio files from each customer's call to their CRM and has helped Service Today provide even better customers service by giving them relevant historical information right at their fingertips.
Customer data mayhem
When all of your customer data is scattered across applications it can cause chaos when it comes to handling sales and support requests. This lack of organization and consistency when it comes to collecting data can be problematic, making your employees' jobs more challenging than they need to be.
With CRM integration, you can store and manage all important customer data in one place that teams across departments can access easily. This saves time going back and forth with email or chat requests, as all customer information is stored and updated securely in the cloud-based CRM. This way, people from all teams can see which stage a customer is at in the sales cycle for better cohesion.
What's more, if you do need to clarify something with another department before proceeding with the customer, you can simply shoot them a message or share files using team collaboration integration apps.
Wasting resources
Another major hurdle to working without a CRM is wasted resources. Consider the amount of energy, time, and resources your team spends gathering data if it's scattered across various internal systems, apps, and external sites like Google Analytics.
Imagine the resources you could save if all the information was stored and updated in a centralized, cloud-based system. By integrating all your customer touchpoints and contact information with your CRM, your team can manage customer interactions and create and share reports without having to switch between apps — saving valuable resources.
Hindrances in finding and retaining customers
Without a CRM, business owners and team members are likely spending too much of their time on manual tasks rather than focusing on marketing to, attracting, and retaining customers. This means prospects might slip through the cracks in a siloed system and customer engagement might suffer as a result.
When all of your business apps and customer data are integrated with your CRM, you can focus more time on what really matters: Your customers. Moreover, when all contact data and interaction history is accessible through your CRM, your team will be able to make more targeted decisions towards prospects and existing customers to improve their overall experience with your business.
How will you leverage CRM integrations?
For businesses today, CRM integration plays a vital role in developing a business infrastructure that streamlines operations and communications. By integrating your CRM with the rest of your tech stack, you can create a unified platform whose data can be trusted by everyone.
As a starting point, integrate your day-to-day software first. That includes things like your phone system or communications platform and your calendaring tool. There are plenty of CRM options out there, and in fact, some of the best free CRM tools can also be used with Dialpad to help increase your team's productivity and efficiency.
Does your communications platform integrate with your CRM?
Dialpad does! Book a product demo to see how you can talk, message, and meet with Dialpad—and have all these activities automatically logged in your CRM. Or, take a self-guided interactive tour of the app!