Call forwarding
Easily forward business calls to an external phone number or device that's not connected to Dialpad. Send incoming calls to up to five different external phone numbers—on both mobile and landline. Sign up for a free trial with your Google or Office 365 account to try it now.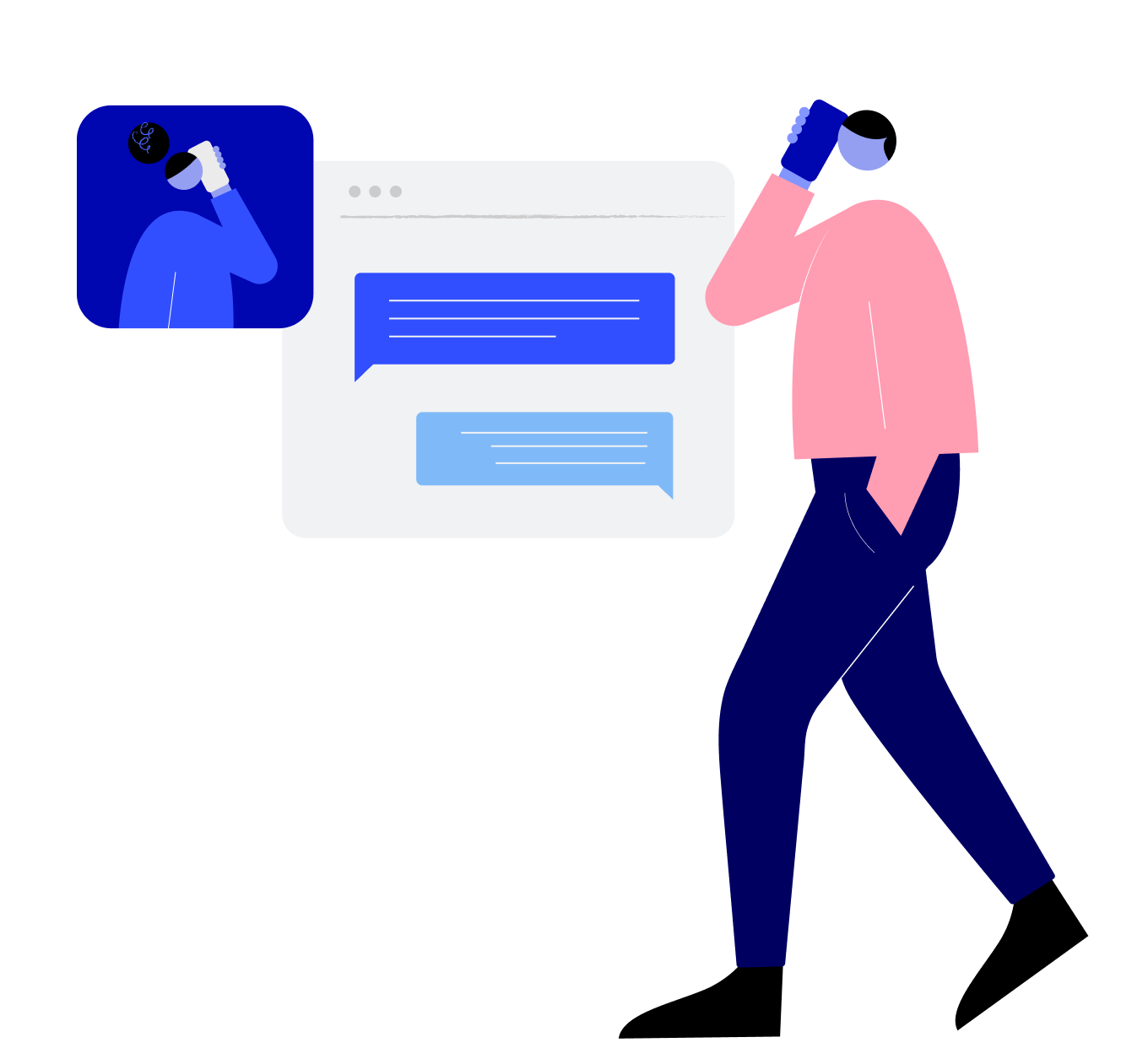 Missed calls can be annoying—for both the caller and receiver. But it can be even more annoying at work. Especially if you're a customer who's been on hold for ages and then ends up not getting your call answered or being connected to the wrong person or department.
And don't get us started on the bad hold music.
Every missed call to your business phone number could be a missed opportunity for a customer to connect with you—and that missed opportunity could mean lost revenue when that caller decides to try another business instead of yours.
So how can you save that situation? Call forwarding, of course.
But just what is call forwarding and how does it work today? What benefits can it offer your business and how does it function on a modern cloud-based communications system like Dialpad?
If you aren't already using call forwarding, is it something you should be considering? (Spoiler alert: yes, yes it is.)
What is call forwarding and how does it work?
Call forwarding is simply a method of routing an unanswered call to another number. It's basically like an automatic call transfer.
If you're on vacation, you may choose to set up automatic rerouting so any calls to your number go to another staff member. (It's right up there with setting an "out of office" on your email as satisfying things to do before your break.)
Or, if you're away from your desk and your phone remains unanswered in a set number of rings, then the same rerouting process can kick in.
Call forwarding can be done manually (if, for example, you receive a call meant for another colleague), but most often, it is an automatic or pre-set process you can set up through a phone service. VoIP and even old-school phone systems should allow you to forward calls without too much hassle.
Okay. We promise it's not as confusing as it sounds.
Dialpad's call forwarding features are easy to set up and use. (That means you don't have to miss an important call if your battery is low or if you're in an area with poor cell reception.)
You can forward any business call directed to your Dialpad number to an external cell telephone number or to an assigned landline number in literally a few clicks: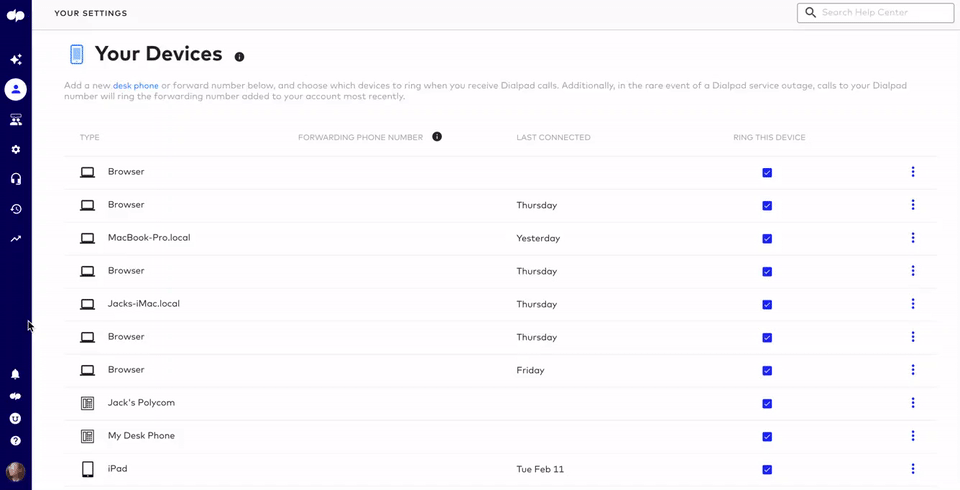 👉 Dialpad tip: Did you know? Dialpad has a whole range of other features to enhance your communications, from call management to call recording.
Let's look at some of those features in detail to get a better idea of how call forwarding works:
If you have a Dialpad number, you can set it up to forward calls to a max of five external call forwarding numbers. That could be a cell number or a landline number. It could be a number you can accept the call on (think landline number if you have poor cell coverage) or it could be to a third party (think one of your colleagues if you are unable to take the call at all).

You can choose which of your assigned numbers actually receive calls and toggle between them. For example, you may choose to set a home landline number as the primary number for forwarding, if you're working remotely. It's also easy to add new phone numbers if your forwarding choices change.

You can opt to have the origin of the call appear on your Caller ID display or you can have it coming from your set Dialpad number (that could be your personal number or one that covers a team or department).
It's worth noting that while there are no added costs to your Dialpad account for call forwarding, in some cases other providers may charge and you should check with them.
But, as with other features, call forwarding is something that is included at no extra charge as part of your Dialpad unified communications system.
How to forward calls on your business phone system
Okay. You've got an awesome phone system for your business. Your first priority should be to set up call forwarding on that phone system so you don't miss any potentially important phone calls.
So, just how easy is it to do? And what call forwarding rules do you need to be aware of? We'll walk you through it, using Dialpad as an example. (These steps should generally be the same no matter what you're using though.)
Adding a desk phone to Dialpad
Managing your Dialpad devices and account is super easy, and it should only take you a few minutes to set up the basics.
If you're using a desk phone, your admin or IT team may have already set things up for you. But, if not, no sweat. Setting it up yourself is straightforward:
From your Dialpad dashboard, go to "Account Settings" and then scroll down to "Your Devices."

Click "Add New" and then "Add New Desk Phone" options. You'll then see an easy to follow guide to setting up your desk phone. That's it!
Adding a forwarding number
So that was easy, and you now have your desk or base phone set up. Is it as easy to set up call forwarding? Yep.
Again, go to "Account Settings" and then "Your Devices."

Then select "Add New," but this time choose "Add a Forwarding Number."



Enter the first forwarding number you want to use (for example, your cell phone number). Then hit "Verify." Dialpad will then call the number you entered and you need to press "1" to confirm that it is a working number.

Repeat step three for any other numbers you wish to add to your call forwarding list (again, to a max of five numbers).
Those basic steps have made sure you now have call forwarding from your desk/base phone to the numbers you've selected for calls to be forwarded to. You can then enable some extra features, too:
From your dashboard, go to "Account Settings" and then choose "Your Devices."

Choose "Advanced Settings" from the bottom of the list you see:

You can then choose from the options that come up:

Incoming caller ID. You can choose a caller ID to distinguish which calls are forwarded to your chosen number(s). For example, the ID could just be "Dialpad."

Answering forwarded calls. You can add a prompt to press "1" for any forwarded calls. This can help avoid a situation where calls end up in your forwarded number's voicemail rather than in Dialpad.
SMS messaging. One of the great things you can do in Dialpad is choose to forward SMS messages as well as voice calls. This can be helpful if someone is sending, say, a text message with confirmation of numbers or pricing details.
5 key benefits of call forwarding
So, you can see that the process itself is fairly straightforward, but why is it worth doing?
What real benefits does using call forwarding offer you? If you are not using it already, will it make any difference if you look to implement it?
Well, probably. Here's why:
1. Increased availability
Before mobile phone technology made us all more connected, a "missed call" would normally go to voicemail.
This could lead to a ping pong scenario where both parties were constantly reaching voicemail instead of the other person. Call forwarding options mean you avoid that situation entirely, and that customers or clients can almost always get to speak to you or someone on your team.
2. Access calls when on the road
There could be many reasons you're away from your desk. You could be visiting a client or supplier, you could be attending an event, or you could even be on vacation.
Call forwarding offers the opportunity in those situations—and more—to avoid inconveniences for both you and your customer (that missed opportunity again). It means that no matter where you are, your calls can follow.
3. Expanded presence—even for small businesses
Call forwarding isn't just beneficial when it comes to being away from your desk or unavailable. It can also make your business seem more local!
For example, let's say your company is located in Texas but you do business in most of the neighboring states. Using a local area code and local number that forwards to your phone can help increase your company's presence. It can also make prospective customers or clients that bit more comfortable talking to you if they believe you're local.
4. It just looks more professional
At the end of the day, customers don't care, and may never know, that you use call forwarding. What they will know and care about is that their call is answered by a human and that their problem or query is dealt with.
And with call forwarding, the number they actually dial will always be your business number so it will always appear professional to the caller.
5. Lets you take care of after-hour calls
There comes a time of day when you stop work and/or don't want to be answering calls. Sometimes it may not feel like there is, and it might be a lot later than you'd like, but it happens.
You can set up your call forwarding to go to a specialized answering service if you want. Or, if you have a team that doesn't work the usual 9-to-5 (for example, repairs, tech support, etc.), then you can set it up so that calls are forwarded to any staff on duty outside your normal business hours.
It's worth noting that not only does call forwarding offer the above benefits, but it's also easy to set up and also to change details. It may be that you want to change or remove numbers you have previously added. With Dialpad's simple navigation features, it's easy to remove a number or to add a new one, as long as you remember you can have a max of five numbers set up.
5 ways call forwarding makes customer handling easier
Customer experience is something that many companies obsess over, and for good reason. So how does call forwarding help with that? And is it any different if you have a small team fielding calls, rather than a large-scale call center?
Those calls that connect with clients, whether they're inbound or outbound calls, represent a key and critical point in your relationship with your customer. Any call could lead to a sale, or resolve a dispute, or make a customer leave—forever.
Customers are the lifeblood of any business, and how you handle their inquiries is a crucial part of your business's success.
That holds equally true if you're a small business with only a few staff or a large enterprise with multiple locations. If you can use a unified communications platform that gives you features like call forwarding and SMS in one place, it's ultimately great for your customers because it makes it easier for them to communicate with you.
Here are some examples of how call forwarding and call routing can specifically help you deliver a better customer experience:
1. Happier customers
Providing quality customer service is a must for any business. Maintaining that great level of service is essential, no matter how busy your agents are. Missed calls can mean missed sales, a disgruntled customer, or one who starts stealing interested glances at your competitors.
Call forwarding means less missed calls and happier customers, as they don't experience long delays or unanswered calls. It can also help in encouraging customer loyalty and retention by providing a consistent and reliable service.
Setting up good call routing and call forwarding can, in most cases, make sure a customer gets to speak to a human agent as quickly as possible. That's not to say tools like Interactive Voice Response (IVR) aren't good—but the best way to use them is to assist with routing, not as the main way of helping your callers or customers.
2. Better efficiency, especially for small teams
The fact is, you can't answer every call directed to you.
Other things may need your complete attention—you may be in a meeting, or you may be on a call with another customer.
This can be especially true in a busy call center, which is why Dialpad makes it really easy to monitor trends in call center work.
If a customer is trying to contact you directly but you're busy with other tasks, call forwarding and routing helps reduce any frustration by making sure someone takes their call.
(And with Dialpad's easy-to-set up forwarding options, you can be sure that the call goes to someone who can properly deal with it!)
👉 Dialpad tip: If you want to move to a hybrid working mode, having call forwarding options gives visibility to managers and business owners. You don't have time to take every call, but you can delegate them to your team.
Plus, platforms like Dialpad come with useful analytics built in to help you assess call metrics and understand whether you actually need to hire more people (or if having a good call forwarding system is enough to offset that workload).
3. Scalability and flexibility
Spikes in inbound calls can happen for a number of reasons: seasonal fluctuations, new products or services, or even events entirely out of your control. But those spikes may not always mean that you have to go on a hiring spree.
If you can get a good look at when spikes in call volume happen, it can help you plan your inbound call strategy (and maybe adjust your call forwarding strategy). For example, Dialpad's analytics show you a handy heatmap of when calls are really coming in hot: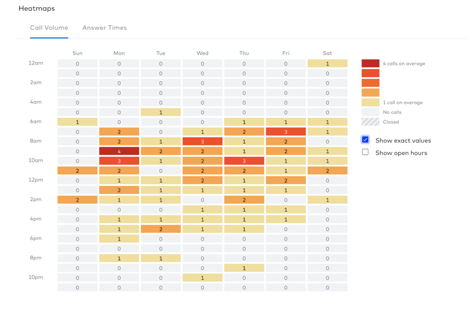 With Dialpad's virtual receptionist (aka auto attendant), you can customize greetings and set up rules to route calls. You can even set the system up to direct to a temporary external answering service if you feel it's needed.
However you choose to use the efficient forwarding and routing system, it means that no call will ever go unanswered. This allows you to scale your team up (or down) to meet demand during those unusual spikes.
4. 24/7 service
Depending on the nature and location of your business, you may have set operating hours, a specialist after-hours service, or you may operate 24 hours per day.
But for some business types, no matter their main working hours, there can be a need for 24-hour contact alternatives.
It may be that there is a rotating duty worker who is responsible for fielding and dealing with after-hour calls. The flexibility of call forwarding means that it's simple to reallocate the number for calls to be forwarded to, in order to sync with the worker on duty.
5. Happier employees
Everyone gets frustrated at times, especially if working under a lot of pressure.
Unfortunately, that frustration can sometimes lead to a lapse in standards. This is particularly true if you're a call center agent fielding a large number of calls per shift. But those lapses, even if temporary, can lead to a poor customer experience for the caller.
Call forwarding can allow agents a little more breathing space if they need it. Knowing there are other team members who can field particular calls can give you the time to compose your thoughts and find a calm space.
While not one of the most obvious benefits of call forwarding, this is something that can keep you or your employees happy, and that's never a bad thing.
Call forwarding FAQs
As when using any new system or process, you'll likely have some questions. Here are some of the most common ones when it comes to call forwarding.
1. How do I remove a number that I've added as a forwarding destination?
You should be able to do this in your phone system or whatever tool you used to set up call forwarding. In Dialpad, here's how you'd do it:
From your dashboard, go to "Account Settings" and then choose "Your Devices."

Choose the "Forwarding Number" option.

Select the number you want to take off the list and select "Remove."
You're done!
2. What is the maximum amount of numbers you can have on your forwarding list?
This varies depending on the call forwarding system you use, but in Dialpad you can have a maximum of five numbers on your forwarding list, and you can toggle which ones receive the forwarded calls. (But there is no maximum on how many devices you can link to your account in Dialpad.)
You can also easily remove forwarding numbers and replace them when needed. (Check out the answer above.)
3. Can you add a forwarding number to other accounts?
Again, this is tool-dependent. In Dialpad, you can only have each forwarding number associated with one account. If you add that number to a second account, then it'll automatically be removed from the first account.
But the account "losing" the forwarding number will be notified by email that this has happened: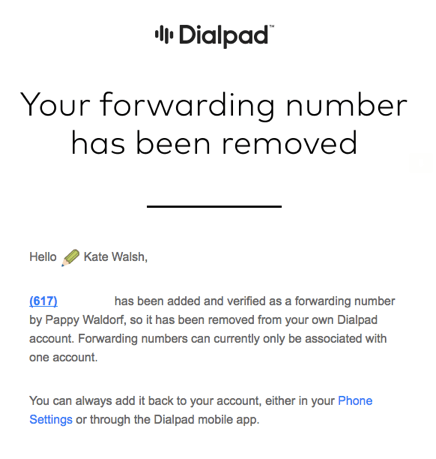 4. What happens if you want to add an international number to your list of assigned numbers?
Usually, an international number will come with a fee. How big or small this fee is will depend on your provider.
In Dialpad, you can add an international number to the list, but any international calls or messages forwarded to that number will incur extra charges that vary by country and by service provider.
5. Do you still have to press "1" if you disable the "answer forwarded calls" prompt?
Yes, but only if you answer calls quickly (within five seconds). When you answer that quickly, Dialpad can't be sure whether it's you answering or the call being switched to voicemail, so pressing "1" is a failsafe.
6. What's the difference between call forwarding and "simultaneous ring"?
With a call forwarding service, an incoming call will be directed to the number you have chosen to receive a forwarded call (one of five numbers with Dialpad). With Simultaneous Ring, you have set your system up so that your phone and other assigned devices (think cell phone, laptop, tablet, etc.) will ring simultaneously.
You can then pick up your call on whichever device you like.
The benefit of using Simultaneous Ring is that you're always contactable. Wherever you are, and whatever device is close at hand, you're able to answer or send a call to voicemail. Whatever works for you. This means that the caller doesn't hear the busy signal or experience a dropped call. They get an answer or can leave a voicemail.
With Dialpad, similarly, you can also set the routing system up so that all agents or members of your team's lines ring at once. That means that the first available team member will be able to take the call. Once again, improving the experience for any caller.
You can also choose other routing options such as 'round robin' where individual agents are called in a fixed order. It's simply up to you to choose the routing rules that best suit your organization and circumstances.
Bonus Q #7: Why should you choose Dialpad over other VoIP systems?
Okay, we're cheating a bit here, but we truly believe Dialpad is perfect for businesses today, if you're still on the phones regularly. Some rely solely on email and messaging, and that's fine too, but we'd hazard a guess that most businesses still talk on the phone with customers, clients, and prospects.
And while Dialpad does operate at the most basic level as a business phone with features like call and voicemail forwarding… There's also video calls, online meetings, SMS, and much more—everything that your business, no matter what size it is, should find in the best unified communications platform.
Call forwarding: Often overlooked, but still essential
Good communication is one of the core factors of a successful business. It's almost impossible to deliver great standards of customer service without it.
And the first step to reaching a top-notch level of communication is making sure you're using a good unified communications platform or cloud-based call center solution. No matter what size your business is, having a communications tool that can grow with you is pretty much an essential today. Everyone has to communicate, right?
Once you have your platform installed, you can choose the call forwarding options that best suit your needs and those of your customers. You will notice the differences (and the benefits) almost immediately, with a system that can benefit staff and customers alike.
Call forwarding can be a major game changer in how you handle inbound calls to your office or contact center. Ready to get started?