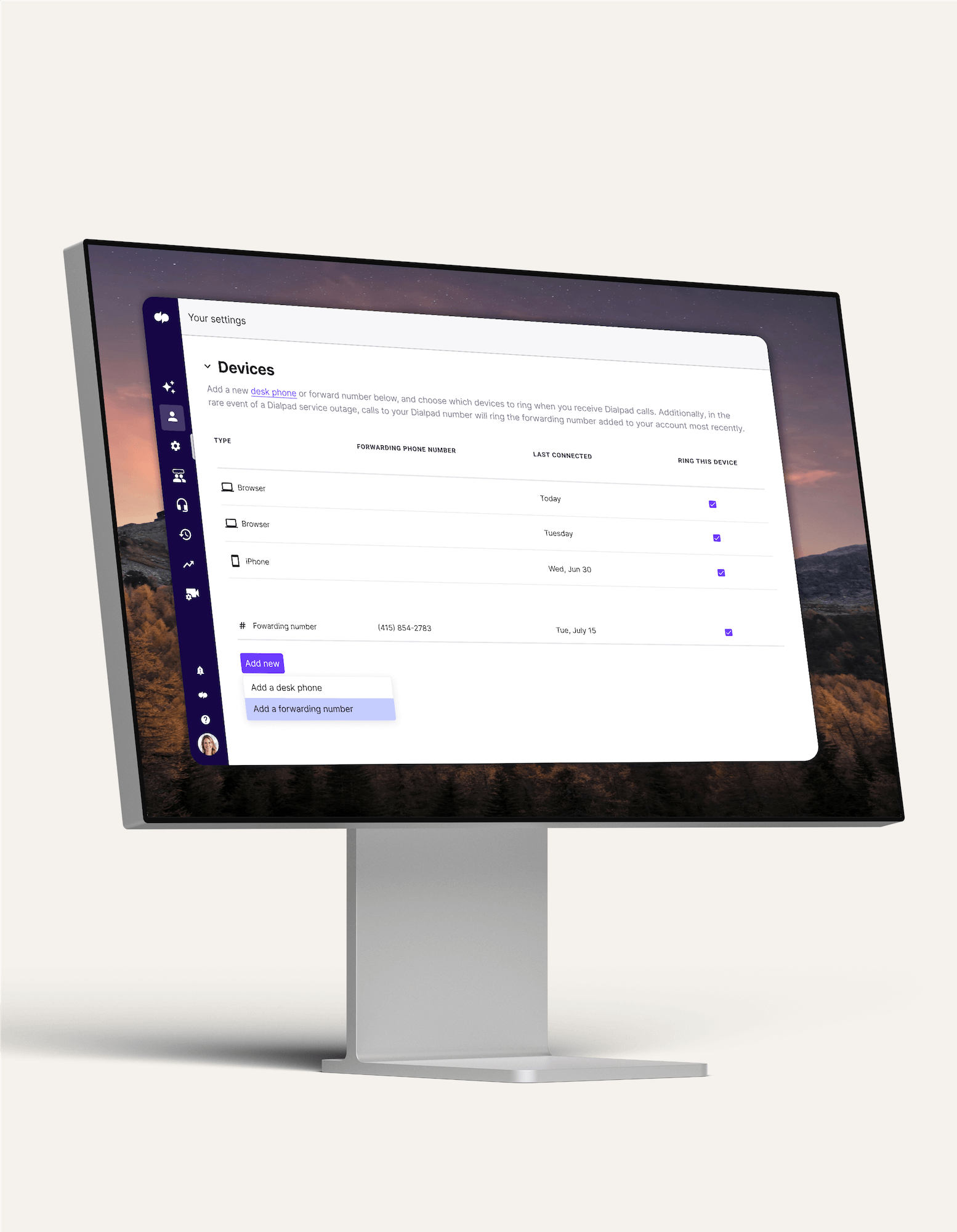 Call forwarding service
Improve your business's availability by forwarding business calls to colleagues, different departments, or even your mobile phone. With Dialpad, you can automatically forward incoming calls to a maximum of five external phone numbers—and never miss a call again. Try it now!
Missed calls can be annoying—for both the caller and receiver. But it can be even more annoying if you're a customer who's been on hold for ages and then ends up not getting your call answered or being connected to the wrong person or department.
And don't get us started on the bad hold music.
Every missed call to your business phone number could be a missed opportunity for a customer to connect with you—and that missed opportunity could mean lost revenue when the caller decides to try another business instead of yours.
So how can you save that situation? With a call forwarding service, of course.
What is a call forwarding service and how does it work?
Call forwarding is just a call management feature that lets you route unanswered calls to another number. (It's kind of like an automatic call transfer.)
If you're on vacation, you can set up automatic rerouting so any calls to your number go to someone else.
Good VoIP phone services and communications platforms should come with a call forwarding service included. Here's how it looks in Dialpad: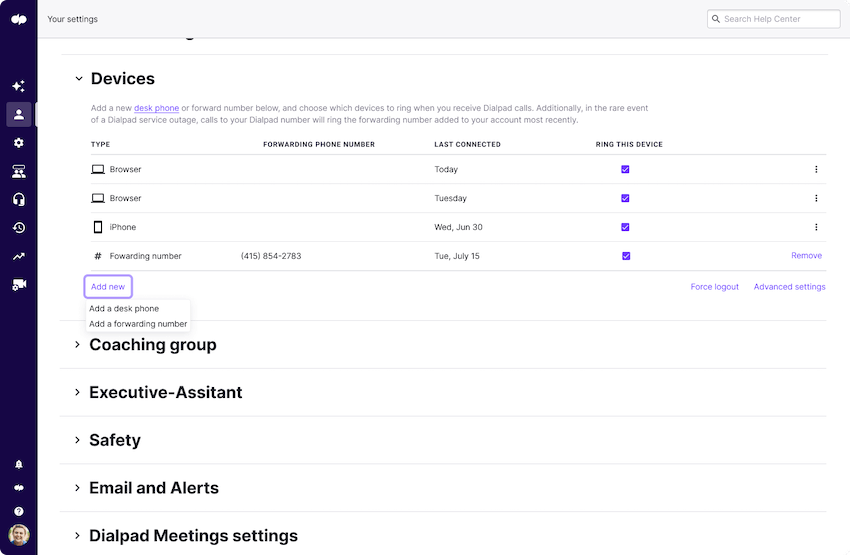 Call forwarding with Dialpad
Before, a "missed call" would go to voicemail, which could lead to a ping pong scenario where both parties were constantly reaching voicemail instead of the other person. With Dialpad's call forwarding service, you'll never have to put your customers through that again.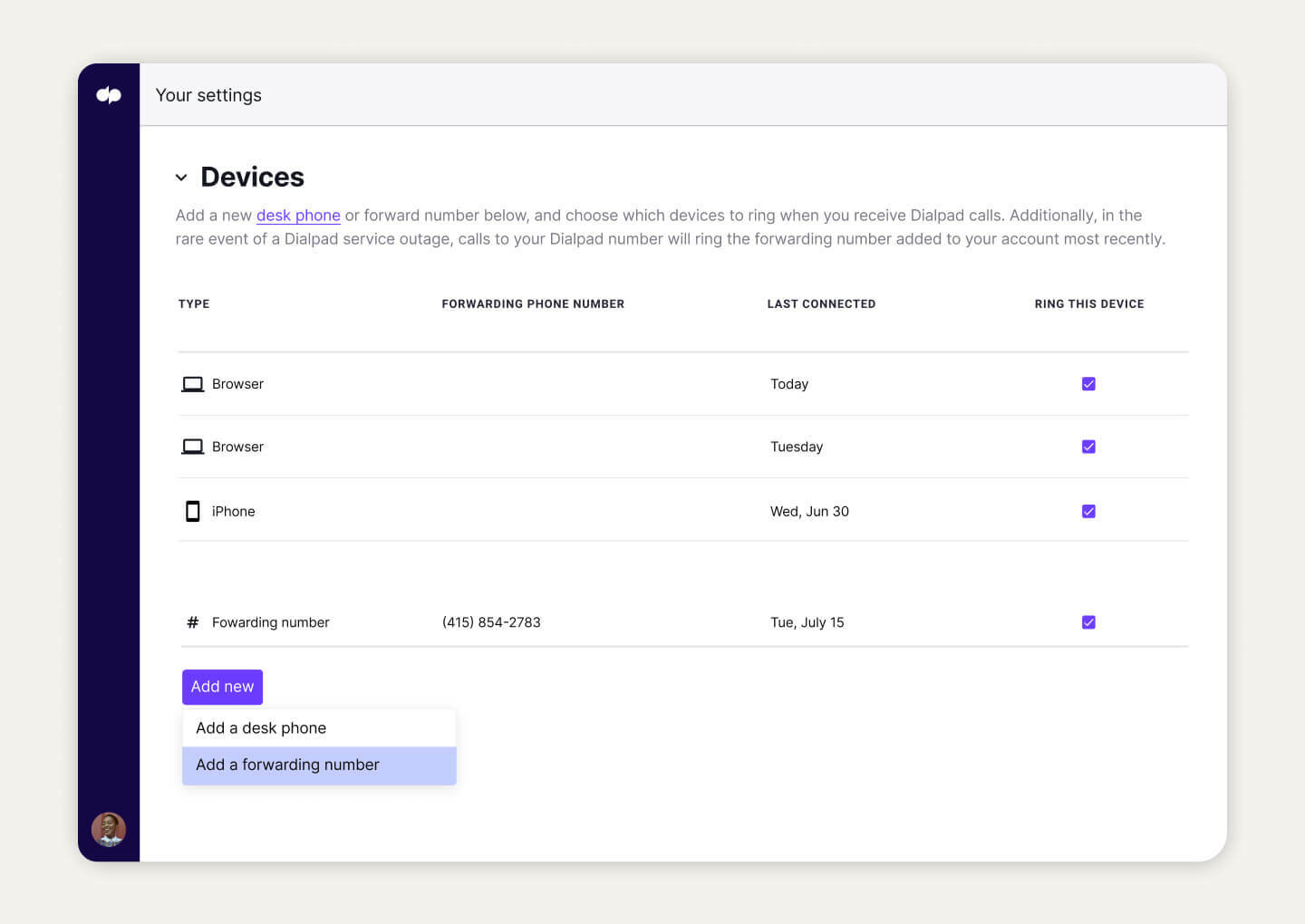 Easy setup
Add call forwarding numbers in just a few clicks to forward any business call that you receive at your Dialpad number. You can direct it to a maximum of five external telephone numbers, landline numbers, or mobile phone numbers. Like everything else in Dialpad, it's easy to do on your own—no IT help needed.
Gives small business a big presence
Let's say you're located in California but you do lots of business in other states. Why not use local area codes and local numbers that forward to your phone to make your business look more "local?"
Better after-hours coverage
There's always a time of day when employees need to stop working and don't want to be answering calls. Or, you might have a team that doesn't work the usual 9-to-5 (for example, repairs or tech support). With Dialpad, you can set it up so that calls are forwarded to any rotating staff on duty outside your normal business hours.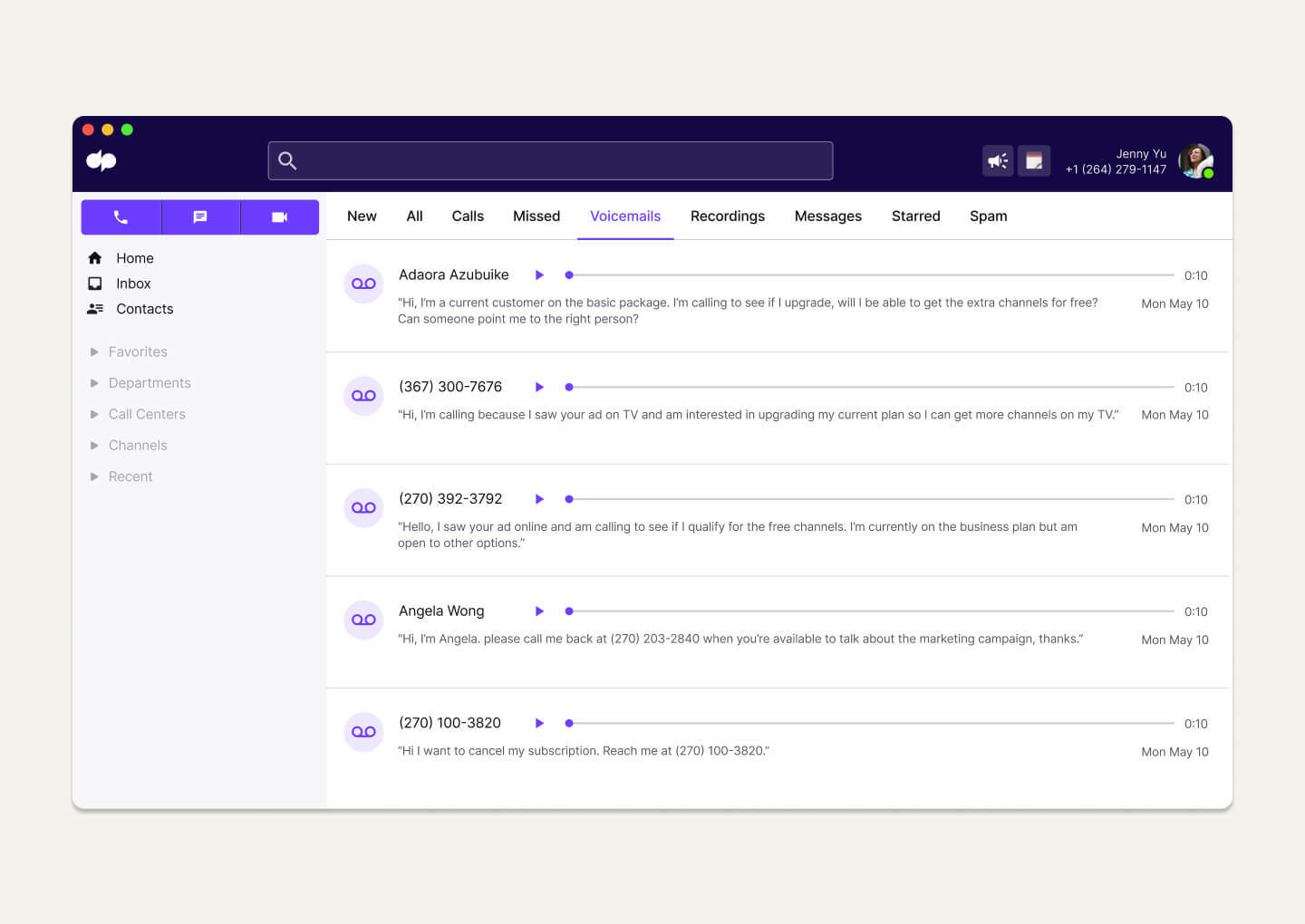 Voicemail forwarding
That's right, you can forward voicemail messages to other people too. And with Dialpad's visual voicemail feature, you can read your voicemails instead of having to listen to them.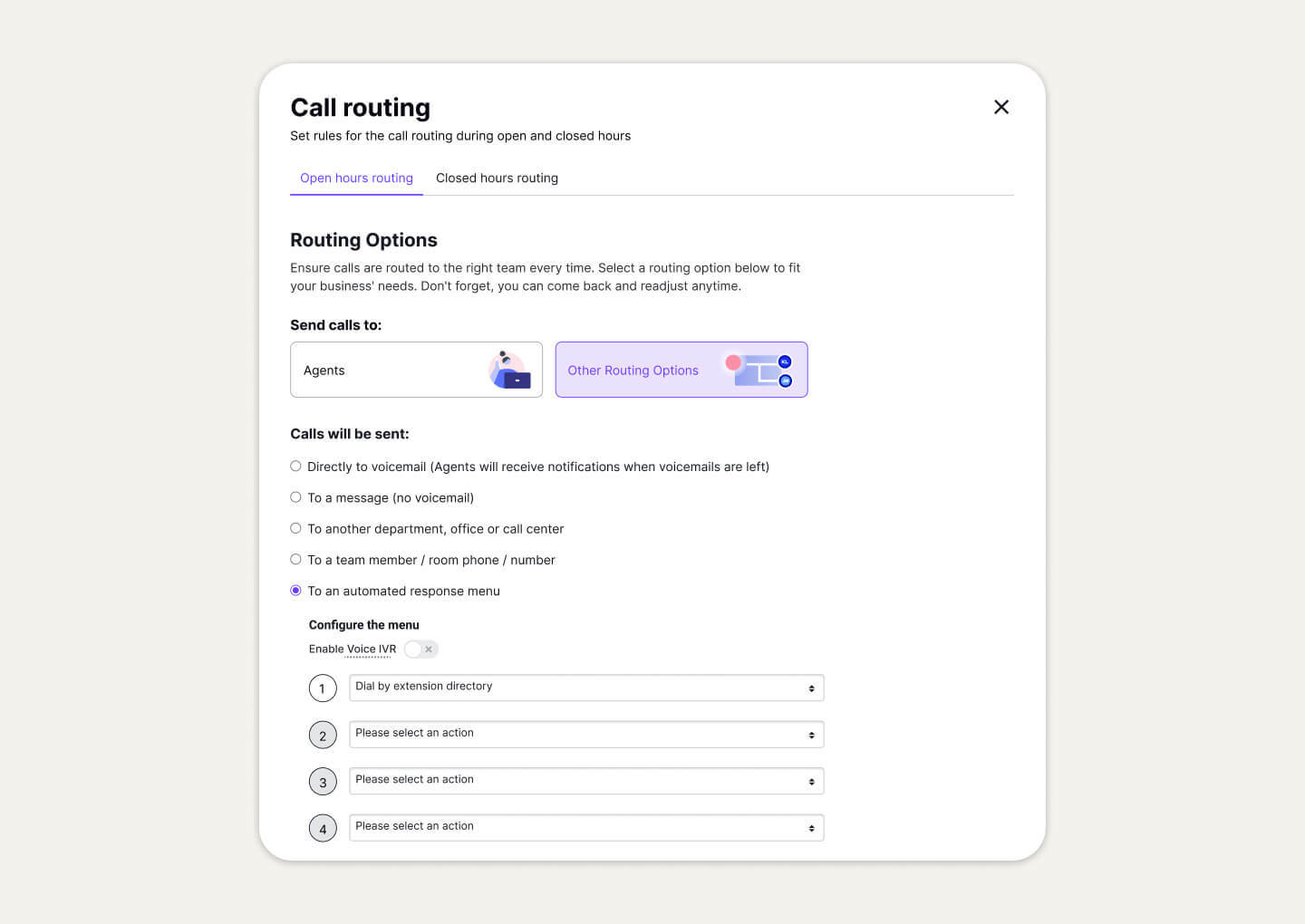 Custom call routing
With Dialpad, you can make sure customers get to speak to a human as quickly as possible with call routing options tailored to how your teams are set up. For example, you can use an auto attendant or IVR (Interactive Voice Response) to deflect calls and allow callers to find answers on their own without needing to be forwarded to someone.
Built-in call metrics
For busy contact centers and call centers, Dialpad comes with built-in analytics to help supervisors assess the performance of their routing and call forwarding system. Track metrics like missed calls, abandoned calls, call duration, and more.
Super flexible
Spikes in inbound calls can happen for a number of reasons, from seasonal fluctuations to other events entirely out of your control. If you can see when these volume spikes happen, you can plan your inbound call or call forwarding strategy more effectively. For example, Dialpad has a call volume heat map that shows when you're receiving the most calls.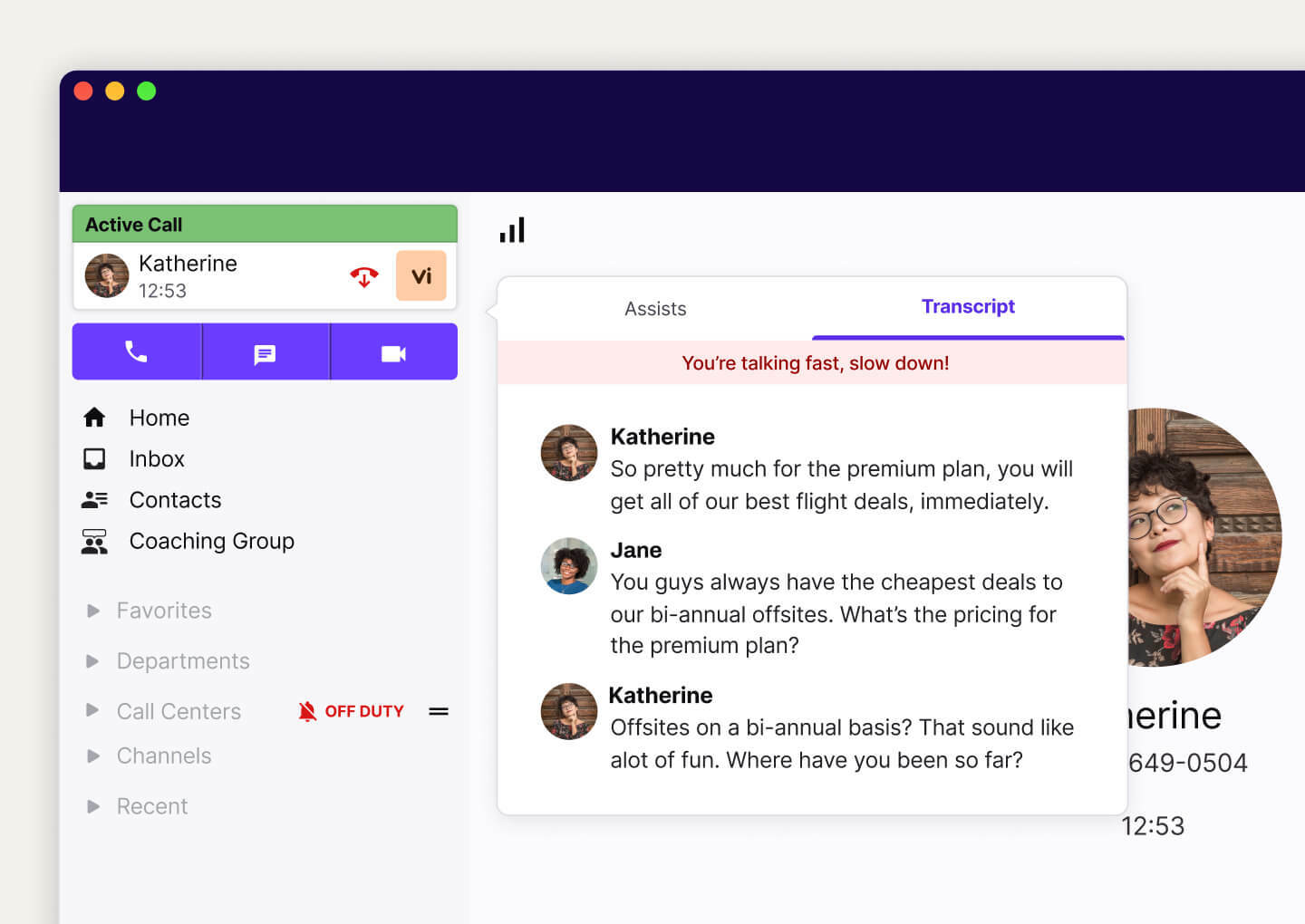 Call recording
Record any call or meeting with a simple click. Dialpad's built-in Voice Intelligence (Vi) technology also provides transcriptions—in real time!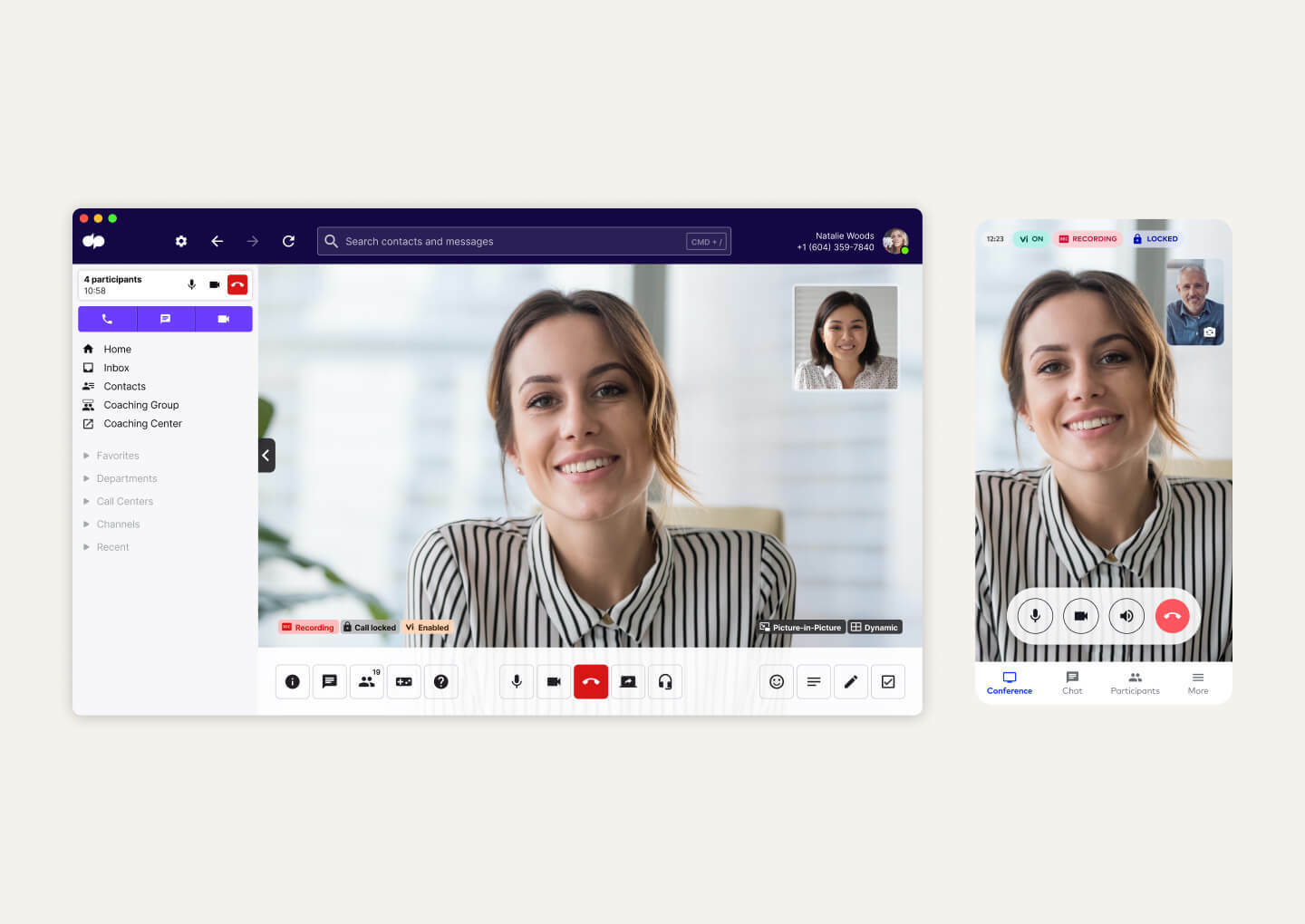 Desktop and mobile app
Dialpad's app works across iOS, Android, PC, and Mac. Make outbound calls, receive calls, send SMS messages, start video meetings, and more—all in one app.
Want to try an easy-to-use call forwarding service?
Sign up for a 14-day free trial to get started with a virtual phone number and take it for a spin!
How to set up call forwarding with Dialpad
Let's look at some of those features in detail to see how easy it can be to set up a call forwarding service:

If you have a Dialpad number, you can set it up to forward calls to a maximum of five external call forwarding numbers. (You can forward to a mobile phone, a landline number if you have poor mobile coverage, a colleague, or even another team.)

You can toggle between the assigned numbers to choose which ones will receive forwarded calls. For example, you could set a home landline number as the primary number for forwarding if you're working remotely. It's also easy to add new phone numbers if your forwarding choices change later.

You can also choose what shows up on the caller ID for the person who ends up receiving the call—the original caller's number or the Dialpad number that received this call and is forwarding it.
👉 Dialpad tip:
It's worth noting that while Dialpad doesn't charge you extra for the call forwarding service, some telephony providers may charge for it—always check the fine print.
Forwarding a call to another number on your business phone system
Okay. You've got an awesome phone system for your business. Your first priority should be to set up call forwarding on that phone system so you don't miss any potentially important phone calls.
So, just how easy is it to do? And what call forwarding rules do you need to be aware of? We'll walk you through it, using Dialpad as an example. (These steps should generally be the same no matter what you're using though.)
Adding a desk phone to Dialpad
If you're using a desk phone, your admin or IT team may have already set things up for you. But, if not, no sweat. Setting it up yourself is straightforward:

From your Dialpad dashboard, go to "Account Settings" and then scroll down to "Your Devices."

Click "Add New" and then "Add New Desk Phone" options. You'll then see an easy to follow guide to setting up your desk phone. That's it!
Adding a forwarding number
Planning on forwarding a call to another number? Then you need that number added!
1. Again, go to "Account Settings" and then "Your Devices."
2. Then select "Add New," but this time choose "Add a Forwarding Number."
3. Enter the first forwarding number you want to use (for example, your mobile phone number). Then hit "Verify." Dialpad will then call the number you entered and you need to press "1" to confirm that it is a working number.
4. Repeat step three for any other numbers you wish to add to your call forwarding list (again, to a max of five numbers).
Those basic steps have made sure you now have call forwarding from your desk/base phone to the numbers you've selected for calls to be forwarded to. You can then enable some extra features, too:

From your dashboard, go to "Account Settings" and then choose "Your Devices."

Choose "Advanced Settings" from the bottom of the list.

You can then choose from the options that come up:


Incoming caller ID. You can choose a caller ID to distinguish which calls are forwarded to your chosen number(s). For example, the ID could just be "Dialpad."

Answering forwarded calls. You can add a prompt to press "1" for any forwarded calls. This can help avoid a situation where calls end up in your forwarded number's voicemail rather than in Dialpad.

SMS messaging. One of the great things you can do in Dialpad is choose to forward SMS messages as well as voice calls. This can be helpful if someone is sending, say, a text message with confirmation of numbers or pricing details.
Call forwarding services: Often overlooked, but still essential
Good communication is one of the core factors of a successful business. It's almost impossible to deliver great standards of customer service without it.
And the first step to reaching a top-notch level of communication is making sure you're using a good unified communications platform or cloud-based contact center solution. No matter what size your business is, having a communications tool that can grow with you is pretty much an essential today. Everyone has to communicate, right?
Once you have your platform installed, you can choose the call forwarding options that best suit your needs and those of your customers. You will notice the differences (and the benefits) almost immediately, with a system that can benefit staff and customers alike.
A call forwarding service can be a major game changer by helping you to never miss an inbound call to your office or contact center again. Ready to get started?

Ready to try a call forwarding service?
Try out Dialpad's flexible call forwarding options with a 14-day free trial!
FAQs about call forwarding services
How do I remove a number that I've added as a forwarding destination?
You should be able to do this in your phone system or whatever tool you used to set up your call forwarding service. In Dialpad, you'd go to your online dashboard, "Account Settings" and then choose "Your Devices." Choose the "Forwarding Number" option, then select the number you want to take off the list and select "Remove." That's it!
What is the maximum amount of numbers you can have on your forwarding list?
Can you add a forwarding number to other accounts?
What happens if you want to add a long-distance or international number to your list of assigned numbers?
What's the difference between call forwarding and "simultaneous ring?"
Why should you choose Dialpad over other VoIP systems?