Back to Blog
Cheap VoIP service for business: Pros, cons, and why you should avoid it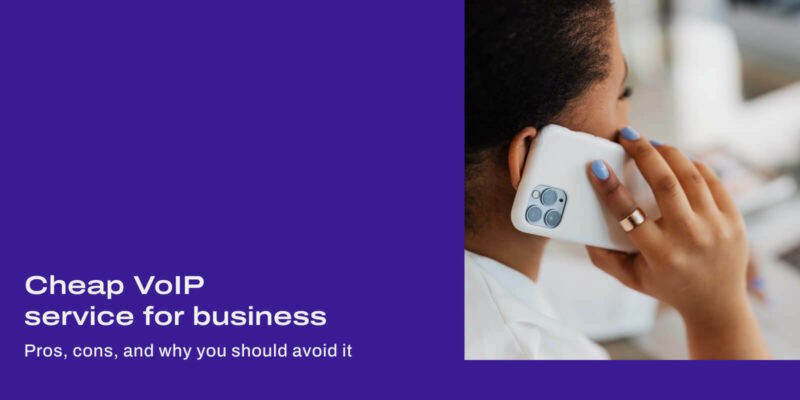 Over the last two decades, Voice over IP (or Voice over Internet Protocol) technology has proven itself to be the superior choice when it comes to business communication. When compared with PBX, landline phones, and traditional phones, VoIP phone systems are exponentially cheaper, more flexible, scalable, and packed with useful tools and functionality that enhance every phone call.
When selecting the best VoIP service provider for your business, there are a few factors to consider—beyond just pricing. Having run GetVoIP and working in the VoIP and Unified Communications space for over 10 years, one of the most common themes I see is the focus on pricing.
Of course, businesses generally want to pay less—and there are even free VoIP solutions on the market—but how cheap is too cheap?
Here are a few things to determine before choosing a VoIP phone service provider.

Factors to consider when choosing a VoIP provider
Your business size
The first thing to consider when choosing a virtual phone system is the number of phone lines you will need for your VoIP calls. Some providers cater to startups and SMBs, while others are designed for enterprises.
If your business has more than one location, keep in mind that some providers may charge an installation fee for each location. Often if a VoIP provider has a price tag that seems too good to be true, it's because there are hidden costs.
Another thing to consider when it comes to business size is scalability. If you are planning for your business to grow and expand, you should choose a provider that can scale up quickly and seamlessly without interruptions in service.
Features
After size, the next thing to determine when choosing a provider is what features your business needs and wants. Some popular VoIP phone features and offerings are unlimited local and long-distance calling, auto-attendant, softphones, IVR, call routing, messaging, virtual fax, and of course, mobile app calling.

Most providers include several features and may charge extra for premium features. This is another area where cheap or free VoIP providers can easily sneak in hidden costs. If you determine in advance which features are essential for your business and find out exactly what is included in a provider's VoIP plan, you can avoid these hidden fees.
Cost
Once you have determined how many lines you need and what features are on your must-have list (beyond just getting the VoIP number), you'll want to take a look at your budget and compare the costs of your top providers. The best VoIP providers will offer tiered pricing plans that range from affordable limited plans to more expensive robust plans with premium features and VIP customer service.
Although there are free small business VoIP options out there as well, they generally have very limited calling features, a lower level of customer service, and additional costs for basic features like caller ID, call waiting, and call forwarding.
They also tend to nickel-and-dime folks by offering only unlimited inbound calls or charging per minute in the fine print.
As an example, Dialpad's least expensive pricing plan ($15 per user per month) comes with unlimited calls in the US and Canada, toll-free number support, and an easy-to-use interface that lets you set up new users or phone numbers on your own in just a few clicks:

Customer service
If communication is mission-critical for your business, you'll definitely want to consider the service provider's customer service availability and reputation in the case that issues arise.
Going with a free or cheap VoIP phone service can really sting when it comes to product support. A free service will likely offer no assistance beyond (often outdated) self-service forums. If customers cannot get a hold of you, you could end up losing out on deals, tarnishing your company's reputation, and even losing loyal customers.
Security
Free and cheap VoIP providers are going to cut corners wherever they can to ensure they still make a profit. If they sacrifice security, however, the effects could be devastating. A data breach could cost a company anywhere from thousands of dollars to millions.
If your cheap VoIP provider is providing cheap security, it could end up being very expensive indeed. Before choosing a provider, make sure that they use encryption for all data and are in compliance with national and International must-have security standards such as SOC2® Type II, GDPR, and CCPA.
Cheap VoIP service: What's really behind the price?
Every business has a budget and all businesses want to avoid overpaying for phone service. However, cheap calling plans do not always equate to value or quality.
Looks can be deceiving. When switching over to VoIP, it's best to do thorough research and focus more on value than cost. (And as you'll see, the list of cons outweighs the list of pros by quite a bit.)
Pros of cheap VoIP service
Price tag. The monthly cost per line is low and you can potentially save money after paying initial installation costs.
Scalability. Some providers offer cheap or free plans for small teams and allow you to easily scale as your business grows and you can afford it.
Good for small teams. For teams of one or two people, a cheap or free VoIP service may be all that you need. Especially if your company has very little call volume, and you and you don't need video conferencing.
Cons of cheap VoIP service
Hidden costs. As mentioned above, if a business VoIP plan seems too good to be true, it likely is. Hidden costs include add-on features, installation fees and phone number or porting costs.
Contracts. Cheap providers don't offer service level agreement contracts or guarantee uptime. Interruptions in service and a lack of support can lead to lost business.
Limited in features. Free and low-cost plans will include only the most basic VoIP features, which may not give you essential business features like custom voicemail and call recording or call center recording.
Limited calling options. Things like international calling and local numbers will likely not be included.
Lack of support. For the cheapest options, there will be very little if any customer support. If you have issues with the product or if your customers cannot reach you, you are left to deal with it alone.
Lack of security. Free and cheap VoIP services are generally unable to provide high-quality security and encryption to ensure that your data is protected.
Lack of privacy controls. Privacy is important because if sensitive data gets into the wrong hands, there could be a costly and reputation-damaging data breach. With cheap VoIP, there are generally no privacy controls meaning that everyone in your organization will have access to all of your data.
Lack of unity. The use of a free or cheap VoIP service usually requires the use of many other free/cheap services in order to get all of the capabilities that your business needs. This ends up wasting a lot of time as you and your team try to figure out how to navigate different platforms and go back and forth between them.
How can your business save by using VoIP?
First off, going with a cheap VoIP service probably won't save your business money in the long run (in fact, it's likely to cost your business) but your company can still—and many companies do—save a lot of money by switching over to VoIP.
For example, "find me, follow me", just one of many VoIP features, is estimated to save each employee 30 minutes per day. For a company of 100 employees, that's 50 hours per day and 13,050 hours per year. That's more than the work put in by six full-time employees. Find me follow me is a feature that allows you to call an employee on whatever device they are using at the time so you don't waste any time trying to reach people.
There are dozens of other VoIP features that can not only save your business time and money but can help your business grow. Here are some more ways your business can save with VoIP:
Cheap calling fees: local and international
The main advantage of VoIP is the low cost of local and international calls. Because VoIP uses Wi-Fi or an Internet connection to route calls and not copper wire, the cost is about half of traditional telephony for local calls and a fraction of the cost for international calls.
International calling with a traditional landline is generally charged by the minute with different rates for different countries. Many VoIP providers offer unlimited International plans or per-minute rates that are as low as $0.02 cents/minute.
No equipment needed
Office desk phones can cost upwards of $1,000 per phone. With a legacy business phone system, they are necessary—but with business VoIP, you can access your communication system through any mobile phone or desktop computer. This means that your team can communicate using devices they already own and use every day, all through a single VoIP app.
This saves on initial setup costs, but it also saves when it's time for your business to scale. Imagine that business doubles and you need to hire 50 new employees. You now need 50 new legacy phones while adding 50 new lines to your traditional business phone plan. It would probably take weeks, if not months to set up—and the costs would be astronomical.
With VoIP, you would only pay for the extra lines needed (likely an affordable increase to your monthly phone bill) and the setup could be done in minutes.
No need to spend on maintenance
With traditional landlines, maintenance costs must be built into your budget. Legacy phones often need repair and most become obsolete after a few years. With a traditional telephone system, you'd be repairing and replacing phones year-round.
Alternatively, business VoIP leverages the power of the cloud so there is no need for maintenance. Software updates happen automatically just as they do with a mobile phone. With business VoIP, you can eliminate maintenance costs completely.
Free faxing
With traditional business phone systems, you will need an extra phone line in order to fax. Then, of course, you would need a fax machine and there would be maintenance costs associated with that as well.
With business VoIP, virtual faxing is a common feature, requiring no additional lines and no equipment. You can even fax from a mobile device. The faxing costs of your company can also be completely eliminated by switching to VoIP.
Advanced VoIP features
Advanced VoIP features are designed to save you and your employees time, money and frustration. The features that are most helpful depend on what your company does, but here are some of our favorite money and time-saving features:
Analytics: Analytics is vital to cutting operational costs and increasing customer satisfaction. Analytics can give you insight into everything from agents' performances to call volume to customer satisfaction: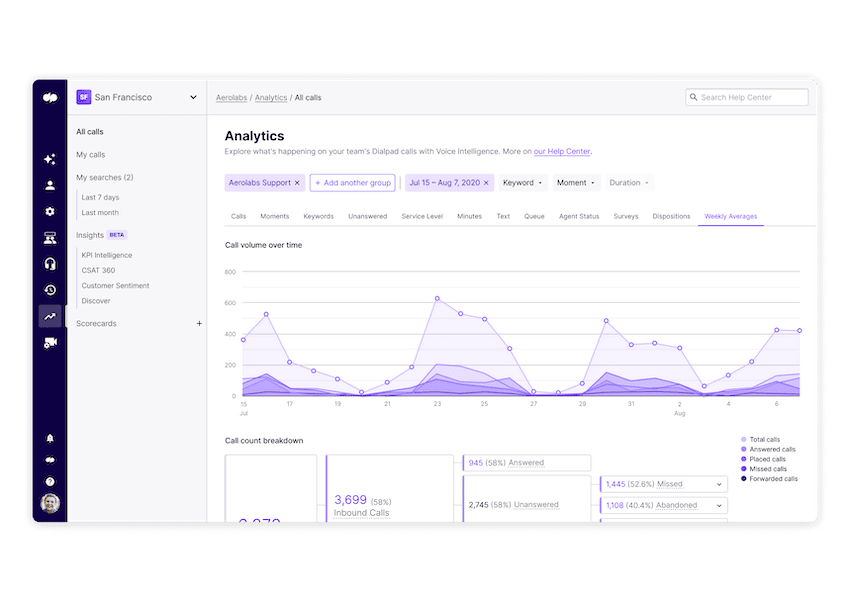 Having this data allows you to staff a call center with the right people and get rid of campaigns and processes that simply aren't working.
IVR: IVR stands for Interactive Voice Response. Essentially, IVR is an automated system that you design for your customers to interact with when they call your business. IVR saves your company money because it can help many of your customers solve their own issues without ever having to speak with an employee. Dialpad not only has an IVR feature, but also has an analytics dashboard that shows you which menu options are being used most frequently: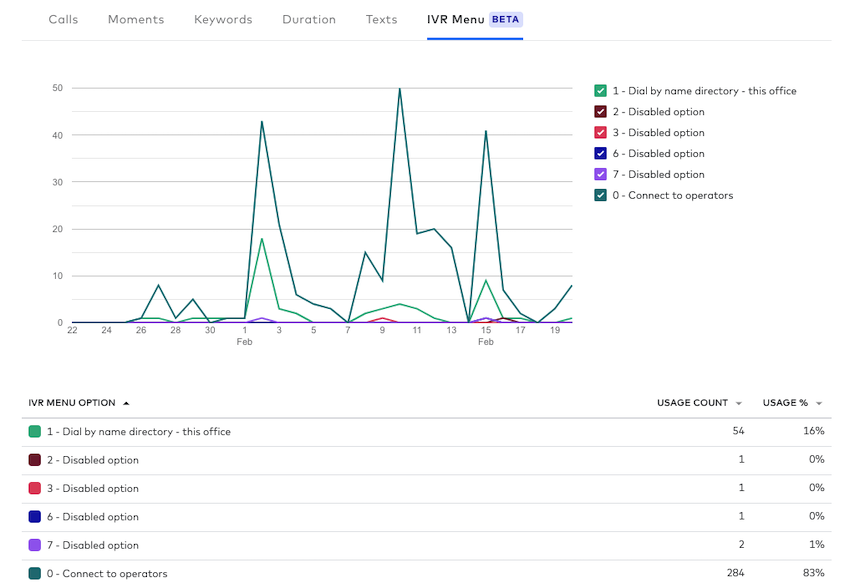 Auto attendant: An auto attendant is a type of virtual receptionist that routes incoming calls to the correct person. With an auto attendant, your company will get fewer spam calls when robots cannot dial a number to be routed somewhere specific. This, combined with the fact that your employees aren't wasting energy directing calls to other departments, saves your business valuable time.
Visual voicemail: Another major time waster is listening to voicemail messages. With visual voicemail, you can receive a transcription of voicemails sent directly to your device. This allows you to keep voicemail messages organized and prioritize responses—and saves loads of time because we can read faster than we can talk.
(Plus you won't have to jot down any information from the voicemail like a callback number because you already have the transcription.)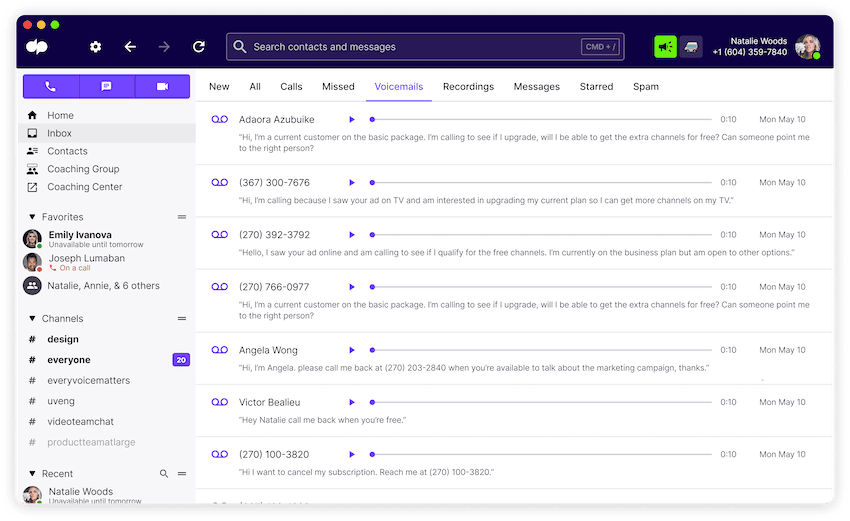 How Dialpad can help your business
Built by the team behind Google Voice, Dialpad has been recognized as a leader in the business communications space for years and offers innovative solutions for startups, SMBs, large enterprises, contact centers, and sales teams.
Dialpad's platforms and tools can be easily and quickly implemented so that your business can cut costs and increase earnings right away.
All-in-one platform
Dialpad's all-in-one business communication solution allows you to manage calls, texts, and voicemail all in one place from any device. Without having to check different places for customer inquiries, you have more time to focus on what you do best while your customers get quicker responses. You can also communicate with your employees in a rich team collaboration app that allows you to chat, share files and move projects forward. The platform includes video conferencing as well as built-in AI to take notes at meetings.
Dialpad's team chat and video conferencing capabilities open up the possibility of having your team work remotely which saves on overhead and increases productivity.
Built-in artificial intelligence
Dialpad Ai is the newest way that Dialpad is leveraging the power of its built-in AI and machine learning to help train employees, solve problems, uncover insights and help your business grow. Dialpad Ai analyzes everything that happens before, during, and after a call and, by using AI and machine learning, Dialpad is able to give you actionable insights to cut costs, increase efficiency, make more sales, and inform your business decisions.
Dialpad's top features
Dialpad includes a plethora of advanced features to help your business save money.
Multi-level auto attendant

Robust analytics and reporting

Online meetings

Voicemail transcription

Automatic post-call notes
How Dialpad compares to cheap VoIP solutions
From what I've seen in the VoIP space, Dialpad's pricing structure is competitive. It starts at $15/user/month for its "Standard" plan which is comparable to other top VoIP providers. There are cheaper options of course, like Grasshopper or even Skype, but as noted above, they come with flaws and hidden fees that actually make them much more expensive options when you factor in things like lost business.
Here are seven ways that Dialpad actually saves you more than cheap VoIP while providing more value and peace of mind.
No hidden costs. When you sign up with Dialpad, you don't have to worry about hidden fees. Installation and setup are free and there is no need to purchase any equipment. All the features you need and then some will be included in your plan.
Uptime. Dialpad runs on the Google Cloud Platform and its worldwide data centers so you can plan on 100% uptime. With enterprise plans, you can get a 100% uptime SLA.
60+ advanced features. Free and low-cost plans will include only the most basic VoIP features but Dialpad includes many popular and powerful features such as call recording, video conferencing, multi-level auto-attendant, and voicemail transcription in every plan including its least expensive "standard" plan.
A wide range of integrations. If your business is already using other software or CRMs, Dialpad likely has an integration for it. For example, its Salesforce CTI integration is extremely robust. Not only does it automatically log all activities and calls in Salesforce, but it can also embed Dialpad's dialer into your Salesforce dashboard:

Unlimited calling. Every Dialpad plan comes with unlimited calling in the U.S. and Canada along with very low rates for international calls. You can make calls and send texts through the app on your Mac, PC, Android or iPhone (and even tablets like iPad).
Stellar customer support. With cheap VoIP, there will be very little if any customer support. With Dialpad, support is available 24/7 online, and with the Pro and Enterprise plans you can also get access to support via phone and/or dedicated account manager.
Highly secure. Unlike free and cheap VoIP services, Dialpad's platform uses single sign-on, automated user provisioning, and additional security and encryption to make sure your VoIP Calls are protected. Dialpad takes security very seriously and is in compliance with SOC2 Type II, GDPR and Privacy-Shield, HIPAA, and CSA.
Privacy and control. Dialpad gives you full control over which teams have access to certain features. Enterprise customers can set their own retention policies to remove, archive, or anonymize data on a custom time interval and admins can configure call recordings settings. Analytics and export capabilities for sensitive data can also be managed by admins.
(For additional context, here's what Dialpad users have to say.)
Why Dialpad is better at saving costs than other VoIP providers
Dialpad is better at cutting costs than other providers because Dialpad is a unified communications platform that was designed since the very beginning to give businesses the flexibility they need to grow and scale as quickly as possible.
Over the years Dialpad has doubled down on AI, automation, and machine learning and has integrated intelligence into nearly every aspect of its platform. This means that you get the best insight into your business with Dialpad.
Better insight means that you can remove the waste from your company at every level. Not only will this get your business to a place of greater efficiency and productivity, but it will also bring greater purpose and satisfaction to your employees who can then focus on what they do best.
Final thoughts
Unlike with a home phone service or residential VoIP, companies have to be much more choosy with business communication solutions. It can be tempting to choose a VoIP provider that offers free or very cheap service. Just like junk food is inexpensive to buy, but causes expensive medical issues, cheap VoIP service will absolutely end up costing you in the long run. Don't feed your business junk food. Invest in quality solutions for your business that are as good in the long term as they are today. When you do this, your business will grow and thrive for years to come.
Looking for a cheap VoIP service for your business?
Try Dialpad's unified communications platform, which gives you phone calls, video meetings, and SMS/MMS + team messaging for free. It takes just a few minutes to get started with your own virtual business number! Or, take a self-guided interactive tour of the product!
This post was written by Reuben Yonatan, Founder/CEO at GetVoIP, a comparison resource for cloud communication solutions. Yonatan works with companies to meet the needs of their business communication stack.