Back to Blog
When 8x8 doesn't add up: The best 8x8 alternatives for business communications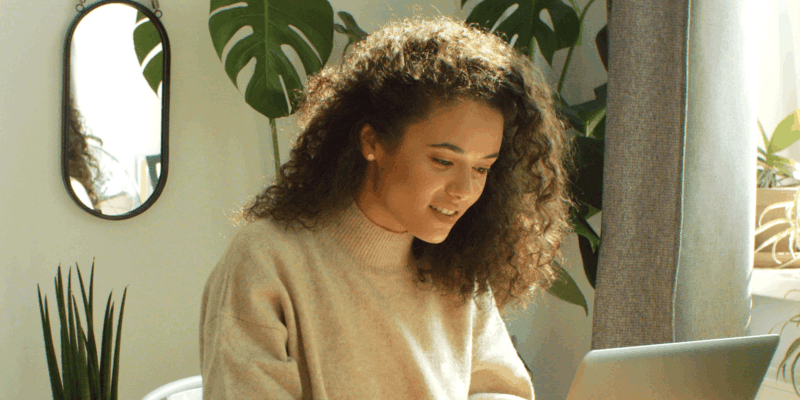 If you're looking for a new communications solution, you'll definitely have seen 8x8 pop up in your search. It's a well-known name in business communications.
8x8 has its good points, and its XCaaS branding sounds interesting, but if you're looking at 8x8 alternatives, there are a few options that give you way more bang for your buck. Let's dig into the alternatives, but first, let's see what 8x8 has to offer.
What is 8x8?
8x8 has been around for a while, and offers a VoIP phone system with advanced call management, video conferencing, team chat, and a contact center option. There's also 24/7 technical support via live chat and phone for users of some products (dependant on the plan you're on).
Pricing plans start at $15 per user per month for 8x8 Express, which gives you up to 5 users and unlimited calling in the US and Canada, plus auto attendant, intelligent call routing, voicemail, and music on hold. You can upgrade to the next tier at $28 per user per month, while the most advanced plan is $57 per user per month at regular price.1
Reasons why you might look for an 8x8 alternative
You're looking for a fully integrated platform
Although it's presented as a unified communications platform, 8x8's features aren't quite as tightly bound together as, for example, Dialpad's. The contact center offering is a case in point—8x8 was planning to build its own product, but is now reselling the Genesys contact center solution through a new partnership.
That's actually quite a common practice for UCaaS companies, but what it means is that 8x8 doesn't have full ownership of its platform (which could be tricky in situations like if you need technical support or want to provide feedback on the product roadmap).
A fully integrated platform also makes for a much more consistent user experience, as you have a single interface for all your comms and data, with no need to toggle between different screens or systems. That's why Dialpad builds its own software and owns every bit of its code.
You want the best value for money
You've probably realized already that "value for money" can mean different things to different businesses, but it's something to keep a close eye on when you're researching 8x8 virtual office alternatives.
8x8's pricing starts at $15 per user per month for the Express package, which is pretty standard at first glance, especially if you're on a tight budget. But this level only gives you limited features, and you have to pay quite a lot more for the advanced ones.
If there's one tip I can give you, it's to have a serious think about what your business needs—and what it's going to need in the future—before committing to a solution based purely on price.
Consider how much it will cost to implement, configure, and support your chosen software. If it's tricky to set up and learn, the hassle could negate the affordable price point.
To use Dialpad as an example again, the lowest-priced tier is $15—exactly the same as 8x8 Express. They share some features, like smart call routing. However, Dialpad's $15 plan provides additional value such as built-in AI, call analytics, and voicemail transcription:

And because it's truly integrated, it offers a much lower total cost of ownership than paying for a bunch of separate apps.
👉 Dialpad tip:
Watch out for hidden implementation fees for adding integrations. Make sure you know exactly what you're paying for!
You need a wide variety of features
8x8 isn't short on features—it's just that some of them may only be available if you're willing to pay top dollar. Which isn't ideal when you're looking for a comprehensive platform. That's why it's important to take any solution for a free trial test-drive before embarking on a greater commitment.

Take a closer look at the top 9 alternatives to 8x8
There are a lot of competitors to 8x8, some of them more viable than others. Narrow down your options by checking out this list—­and to make things even simpler, we've divided them into two categories.
Category A: All-in-one communications
Solutions in this category provide unified communications—typically voice, video, and messaging—in one package. Many of these are also 8x8 cloud contact center competitors.
1. Dialpad: An easy-to-use communication platform with built-in AI

Dialpad really is an all-in-one solution, enabling you to keep all your conversations and customer data in one central place. The Ai Voice plans start at only $15 per user per month, and include unlimited calls in the US and Canada, unlimited video calls, SMS/MMS and instant messaging, and more. (If you have a support or sales team, there's also a fully integrated contact center option.)
What makes Dialpad an excellent alternative to 8x8?
In terms of a modern communications platform that gives you both UCaaS and CCaaS functionality—with industry-leading AI included—Dialpad is indisputably the top option.
We'll get more into the features in a bit, but user-experience-wise, Dialpad has very smooth onboarding and setup, and you don't have to call your IT team to help with basics like adding extra users or a new auto attendant greeting. If you do need assistance, there's 24/7 support via phone and live chat (with a real human!) for Pro plans and up. Even if you're on the least expensive plan, you still get 24/5 support via live chat. And of course, you always have the detailed online Help Center.

Like 8x8, Dialpad's most basic paid plan gives you unlimited calling in the US and Canada, plus affordable international calling with 70+ countries supported, unlimited meeting recordings, AI-powered call and voicemail transcriptions, and built-in call analytics.
The system is built on the Google Cloud Platform for top-notch security, reliability, and call quality, with a unique 100% uptime SLA for Enterprise plan customers.
But don't just take our word for it. Here are the TrustPilot ratings for Dialpad and 8x8:



What you get with Dialpad
Seamless switching between devices

If you have a remote team or spend a lot of time away from your desk, you need a solution that works on all devices—and the ability to switch seamlessly between them without losing the discussion thread. 8x8 only has limited device-switching capabilities, whereas Dialpad automatically syncs your conversations across devices.
That means you can communicate and collaborate with colleagues or customers on whichever channel is most effective—or even use Call Flip to continue an ongoing call on another device. And you'll be able to see all these interactions in a single interface, whether you're using iOS, Android, Mac or PC.
Robust business messaging
There's a lot that Dialpad's business messaging can do. You can ask a quick question without typing out an entire email or picking up the phone, collaborate with your team on group chat, and send updates or reminders with bulk texts.
While 8x8 does include messaging capability, Dialpad gives you robust messaging including SMS/MMS and instant messaging. And you can even start a Discord-like temporary voice chat from a messaging conversation with Dialpad's Sidebar feature: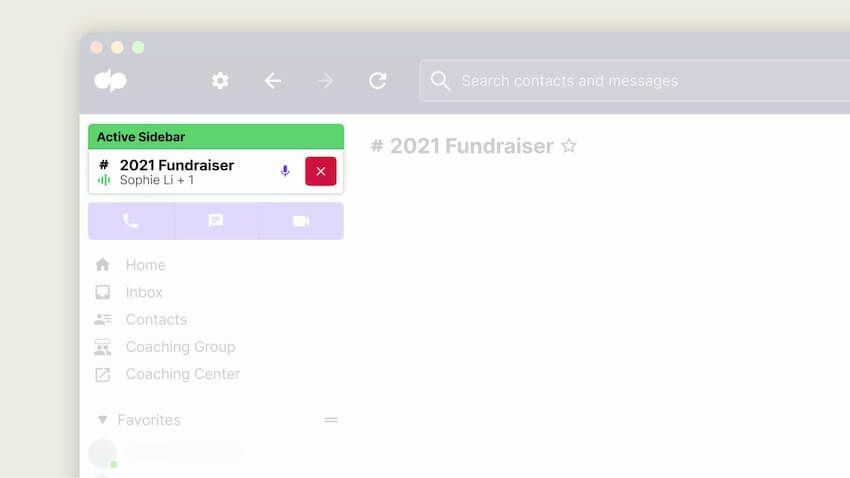 👉 Dialpad tip:
Send business SMS texts and make work calls on your personal cell phone without displaying your private number, thanks to Dialpad's customizable caller ID.
Industry-leading AI
Dialpad's communications platform is the only one that has AI built into the product—and it's available on all plans. Known as "Dialpad Ai," the conversation intelligence technology has analyzed over five billion minutes of business conversation data, and harnesses natural language processing (NLP) to transcribe calls and meetings in real-time, with speech analytics picking up customer sentiment and frequent keywords and phrases.
8x8's AI offering largely takes place via partnerships with other vendors, and most of the features are only accessible to managers using the contact center product—usually at an extra cost. Speech analytics, for example, is only available on the more expensive X8 plan.
Real-time coaching features
8x8 doesn't give you live coaching either. Its top-priced contact center plan lets managers monitor calls, but that's about it. Dialpad Ai gives you sophisticated real-time coaching features, alongside other handy tools like call monitoring and unlimited call recording.
RTA (Real-Time Assist) cards pop up automatically on an agent's screen when a customer says a particular word or phrase. They provide relevant info so the agent doesn't have to go look it up—and they even point out if someone's talking too fast or using too many filler words.
Meanwhile, managers can oversee all ongoing calls (and real-time voice transcriptions) on a live dashboard, which also shows the sentiment for all active calls in real time. This helps managers immediately see which agents need support and jump in to assist while the call is still happening:

A wide range of integrations
Dialpad integrates seamlessly with software like OneLogin, Google Workspace, and Okta, making it even easier to deploy new users and handle identity management. Automatic provisioning and de-provisioning help decrease manual workloads as well as improving security and compliance.
OneLogin's single sign-on (SSO) integration with Dialpad means you don't have to remember multiple passwords or usernames, while Okta ensures strict authentication for the latest cloud technology. The Google Workspace integration adds business productivity tools to Dialpad's unified communications platform, which automatically populates meeting invites with a video meeting link, for example. No more juggling different windows, tabs, and logins.
Pricing
Standard: $15 per user per month; Pro: $25 per user per month; Enterprise: Get in touch!
Try out Dialpad for free
Try out the many features Dialpad provides for free. Signup takes just a few minutes, and you'll be set up with a virtual phone number too. Or, download the G2 Report that compares user reviews of Dialpad against 8x8!

2. Nextiva
Nextiva is another 8x8 competitor whose solution includes VoIP phone, video conferencing and messaging.
What makes Nextiva a good alternative to 8x8?
Nextiva is quite comparable to 8x8, and offers volume discounts from time to time—the more users you have, the lower the price. The lowest-priced plan still costs a couple of dollars more than 8x8 Express, but the higher tiers work out cheaper if you have 100+ users.
Depending on the plan, you can have up to 250 video conference participants. Other useful features include live chat with custom chat buttons, analytics, and a customizable auto attendant. However, call recording and transcription are only available at the top level (remember, these are available in all Dialpad plans).
It's important to note that Nextiva, like 8x8, is reselling another company's software as its own for its UCaaS and CCaaS products. This can cause issues if you have to go through a third party for integrations and customer support.
Pricing
Essential: $25.95 per user per month; Professional: $30.95 per user per month; Enterprise: $40.95 per user per month (regular pricing)2
3. RingCentral MVP
RingCentral MVP offers an all-in-one cloud solution for enterprise VoIP, video, SMS and team chat. The higher plans have a decent array of features, which we'll cover shortly.
What makes RingCentral MVP a good alternative to 8x8?
The platform beats 8x8 for device-switching with its desktop and mobile apps, and it has a call flip feature like Dialpad's. It also offers chat and messaging capabilities, plus extra integrations and a higher number of participants for video meetings.
RingCentral also has real-time analytics and reporting, and voicemail transcription. There's also a contact center package (pricing not shown online). But—yet again—even though it calls itself an integrated unified comms and contact center platform, it's actually reselling another company's contact center software.
Be aware that even though the Essentials package comes with basic call management, some essential features like automatic call recording and virtual fax are limited to higher tiers.
Pricing
Core: $30 per user per month (up to 20 users); Advanced: $35 per user per month; Ultra: $45 per user per month (regular pricing)3
4. Aircall
Aircall is a cloud phone system that provides voice calling and VoIP call center features that let you manage your calls. However, it's a little more expensive than most of the other competitors on this list.
What makes Aircall a good alternative to 8x8?
One advantage for Aircall is that it owns its own platform, rather than reselling software from other companies. It's easy to use and flexible, with apps for both desktop and mobile, and has a large set of integrations to help you build your tech stack (although not Google Workspace or Microsoft 365, oddly).
The Essentials tier gives you a wide range of call management features, including recording, IVR, custom hold music, ring groups, and voicemail by email. And so it should­—it doesn't come cheap! However, it has only basic analytics and lacks a Salesforce integration.
One major downside is that the platform has no video functionality. As good as the calling features may be, you'd have to pay for (and switch in and out of) a separate platform for video. While Aircall does have AI transcription, its AI doesn't appear to do much else, like live coaching or sentiment analysis. (Learn more about the top Aircall alternatives.)
Pricing
Essentials: $30 per user per month; Professional: $50 per user per month; Custom: (ask for quote). You have to pay an additional $6 for each new number added to your account.4
5. GoTo Connect
GoTo Connect is another of the more popular 8x8 VoIP competitors, offering video, chat, and texting alongside phone calls. Formerly known as Jive, it's now part of LogMeIn, which houses all the GoTo products.
What makes GoTo Connect a good alternative to 8x8?
Pricing is relatively simple—there are just two tiers to choose from. The system is easy to set up and configure via the visual editor. It scores well for customer service, with phone support, email, and tickets, plus user guides, FAQs, and videos, plus a community for crowdsourcing answers.
There's a mobile app that lets you call from any device, anywhere, with free international calling for up to 50+ countries (in the higher plans). Video meetings enable up to 250 participants, with screen sharing, collaboration, and analytics.
The Basic tier has enough features to get you started, including auto attendant, call forwarding, and ring groups, although video meetings are limited to four attendees. Call recording, voicemail-to-email, and analytics are reserved for the higher tiers (you'd get all of those with Dialpad's lowest pricing tier).
Pricing
Basic: $27 per user per month; Standard: $32 per user per month5
Category B: Bare-bones entry-level options
The following options are aimed at smaller businesses that don't require so much in the way of communications. They have limited features and often don't have a unified platform—but the funny thing is their pricing is comparable to the more robust options in Category A. In fact, Dialpad, for instance, is cheaper than many of these.
6. Grasshopper
Grasshopper adds a business line and virtual phone system to your personal phone so that you can keep work and personal calls separate. It's aimed at smaller businesses and solopreneurs.
What makes Grasshopper a good alternative to 8x8?
If your business is small enough that you don't need all the bells and whistles of a solution like 8x8, Grasshopper is a decent option. It's good for maintaining privacy while working remotely, with the ability to have two numbers on a single phone so that customers can call your cell without needing your personal number.
There's a long list of vanity, local, or toll-free numbers to choose from. A desktop and mobile app are included in all plans—as are voicemail, call forwarding and Wi-Fi calling. However, just like Aircall, there's no video conferencing or instant messaging, contact center functionality, or third-party integrations.
As the features are the same in every plan, pricing is simple—it's based on how many numbers and extensions you have. The Solo plan gives you one phone number and three extensions, but will set you back $26 per user per month. That's a little pricey compared to something like Dialpad, which gives you much more functionality (at a lower price too).
Pricing
Solo: $26 per month; Partner: $44 per month; Small Business: $80 per month6
7. Ooma Office
Designed for small businesses who want to get up and running quickly, Ooma is a business phone system with a decent selection of call management features.
What makes Ooma Office a good alternative to 8x8?
Ooma Office has just two pricing plans, so it's easy to compare them. If your business uses a lot of different devices and isn't desk-bound, the seamless call transfer and call flip features will prove useful, as will call forwarding and the simultaneous ring feature (though this is not uncommon—almost all the other alternatives on this list have these features).
The cheaper tier has HD voice calling, hold music, call blocking, internet fax, virtual receptionist, call park, ring groups, and SMS messaging. But even though it costs more than 8x8 (and Dialpad), it doesn't include video conferencing.
For that, you have to choose the Pro tier, where you'll also find the desktop app, call recording and voicemail transcription. Neither plan has team messaging, which is another reason you'd be better off with almost any of the options in Category A.
Pricing
Ooma Office: $19.95 per user per month; Ooma Office Pro: $24.95 per user per month7

8. OnSIP
OnSIP is a cloud-based VoIP phone system with apps for mobile, desktop, and browser. It claims to be able to replace your existing phone system in less than an hour.
What makes OnSIP a good alternative to 8x8?
OnSIP's pricing structure is more flexible than 8x8's. OnSIP lets you choose a base plan and add extra features depending on your needs. With no long-term contracts, you can scale these up or down as needed. With the Unlimited plan, you also get free desk phones or headsets.
This plan gives you auto attendants, ring groups, call park, music on hold, voicemail-to-email, and unlimited standard calling minutes. The Pay-as-you-go option, for users with lower call volume, has many of the same features but with user limits. Add-on features are priced individually, and include extended call area, e911 service, and number porting.
The "sayso" web chat feature allows customers to chat with sales teams through your website.
On the downside, video conferencing only accommodates up to five people, and there's no online fax option. You have to make a special request for extended international dialing.
Pricing
Unlimited: $18.95 per user per month; Pay-as-you-go: $49.95 per month per account8
9. Phone.com
Phone.com is a business communications solution with voice calling, video conferencing, and text messaging. Each of the three pricing bands offer a different range of features.
What makes Phone.com a good alternative to 8x8?
It's certainly cheaper than 8x8, which makes it an attractive option for small businesses. The Basic plan includes call forwarding and call transfer, plus a mobile app that lets you turn your iPhone or Android into a Phone.com extension and call using your mobile carrier, 3G/4G, or Wi-Fi.
At this pricing level, you also get video conferencing for 10 participants, toll-free number support, and 50 standard voice features. However, you have to upgrade to Plus for business texts, and to Pro for recording, analytics, CRM integration, and voicemail transcription.
The Basic plan seems affordable at first glance, but beware of the caps for inbound and outbound calling and texts, with charges if you go beyond these limits. And many features that are pretty basic and usually come included are treated as add-on features that cost extra, such as unlimited minutes, text messaging, and call recording.
Pricing
Basic Users: $11.99 per user per month; Plus Users: $15.99; Pro Users: $23.99. Volume discounts available9

What's the best 8x8 alternative for your business?
The field of business communications is a crowded one, and there are a few serious competitors to 8x8.
In our opinion, Dialpad's easy-to-use unified communications platform packs a wealth of advanced features into its basic plan, and is a truly integrated all-in-one platform that's entirely owned and built in-house—and at the very least, it's worth checking out with a free trial or product tour.
Alongside its powerful AI technology, Dialpad is also recognized for its reliability, security, scalability, and customer service. If you need any more reasons why it's the best alternative to 8x8, check out the review comparisons on GetApp:
Looking for the best 8x8 alternative?
Get a personal walkthrough of Dialpad to see how it can empower your teams to handle all their internal and external communications—from one platform. Or, take a self-guided interactive tour to play around with the app first!
18x8.com/products/plans-and-pricing

2nextiva.com/nextiva-pricing.html
3ringcentral.com/office/plansandpricing.html#office
4aircall.io/pricing
5goto.com/pricing/connect
6signup.grasshopper.com/plans
7ooma.com/small-business-phone-systems/plans
8onsip.com/pricing
9phone.com/pricing