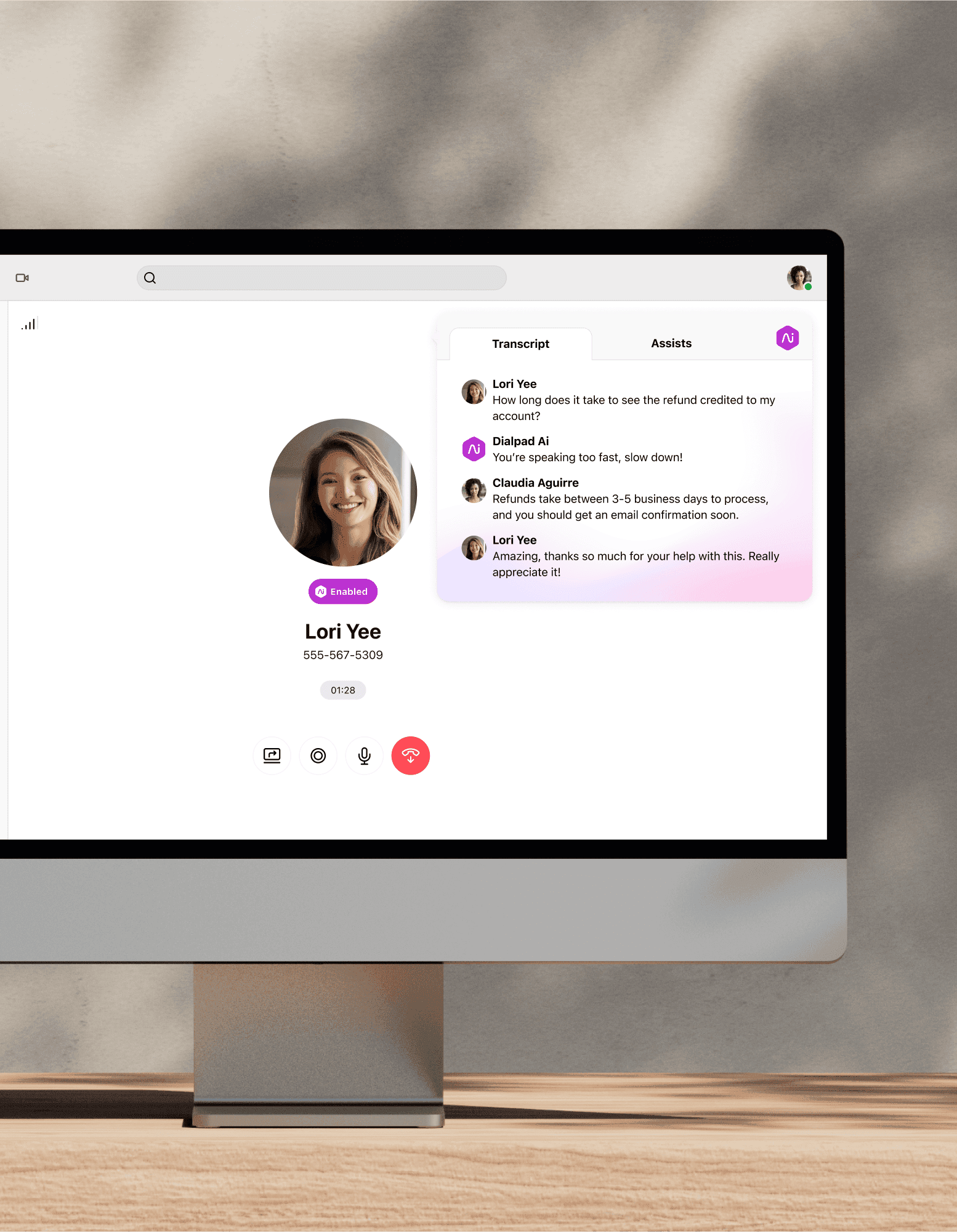 SET UP IN MINUTES
Outbound call center software
Is your team wasting their outreach efforts and time on manual dialing? See how Dialpad's AI-powered sales engagement platform empowers teams to handle both outbound sales calls and incoming calls with time-saving features like click-to-call, AI-powered call monitoring, call queues, and more. Book a product tour now!
What is outbound call center software?
Outbound call center software is an app or platform that helps businesses—usually sales teams specifically—manage their outbound calling processes. It automates many of the tasks involved in making and managing outbound calls like local phone number management, call recording, CRM integrations, and more.
Dialpad: More than just an outbound call center solution

Truly unified communications
With Dialpad, you can make phone calls, send SMS/MMS messages and have video meetings in the same app. On top of that, you can even handle all your omnichannel customer interactions, including social media messages and live chat, all in a single platform.
CRM integrations
Customer relationship management (CRM) platforms are indispensable for sales and support teams. Dialpad integrates with CRMs like Salesforce, HubSpot, and Zendesk—and other tools like Microsoft Teams—to streamline workflows and embed a CTI power dialer inside those tools (which means reps don't have to switch between windows to make phone calls). Or, build your own workflows with the open API!
Give your reps sales superpowers
Dialpad Ai can empower sales teams in a range of powerful ways, from transcribing calls in real time, to inferring customer satisfaction (without customers needing to fill out CSAT surveys) and even analyzing sentiment of calls (also in real time). Want to have a sales chatbot on your website? Then you should really get a demo of Dialpad Ai.

Help sellers hit every step in their calls
With Dialpad's Ai Playbooks, coaches and supervisors can track rep adherence to sales methodologies like BANT, SPICED, and SPIN more easily. Dialpad Ai can automatically suggest questions and phrases that they need to say during a call (for example, asking about budget or purchase timelines), understand whether the behavior was met, and check the task off the list (or notify managers if this isn't being done).

Voicemail drop
For outbound call center reps who often make hundreds of calls in a day, having to leave a unique message for every unanswered call wastes valuable time that could be spent on an actual conversation with a prospect. With Dialpad's voicemail drop automation, reps can easily drop a prerecorded message for each unanswered call that goes to voicemail by clicking a button.
Looking for an outbound
contact center solution?
Book a demo of Dialpad's sales engagement platform or, take a self-guided interactive tour of the app on your own first!

Local presence
People are more likely to answer a call from a number with an area code they recognize. For this reason, giving your reps the ability to make phone calls from local numbers (sometimes called a local presence feature or package) can increase connection rates for them and get them more at-bats with prospects.
Call recording
Dialpad's sales engagement platform has not only a call recording feature, but also real-time transcription functionality, since most people can read transcripts more quickly than listening to the actual audio. Perfect for both post-call analysis and training purposes.
Built-in call analytics
Make it easy for supervisors to effectively track metrics and KPIs for individual agents, teams, and outbound campaigns overall with Dialpad's contact center analytics. See real-time data for things like call durations, how often tracked keywords came up, and more.

Intelligent call routing
Want to update your call routing and IVR (interactive voice response) flows? You can do that with just a few clicks in your dashboard. Choose from skills-based call routing, round-robin, and more.
Real-time coaching, at scale
Whether you're onboarding new reps or want to reduce the workload for managers, Dialpad's Ai-powered automation can help with that. For example, if reps are getting tricky questions about pricing, you can create an RTA (Real-Time Assist) card with tailored notes about your pricing plans, and set it to pop up on reps' screens when "price" is spoken on a call.

24/7 customer support
Dialpad's help desk team is available 24/7 worldwide on every level of Dialpad Ai Sales Center's paid plans, through phone calls and live chat. Or, find answers to common questions in the detailed online Help Center!
The benefits of having a good piece of outbound call center software
A good piece of outbound calling software can provide your business with a number of important benefits. Here are a few.
1. It improves your sales process
One of the biggest benefits of having a cloud-based call center solution is that it can help your call center agents increase call volumes, pull up customer data more easily.
Not only does this help them close deals more quickly because of the increased agent productivity, it also empowers them to provide a better overall customer experience.
Compared with older on-premises outreach phone systems, cloud-based VoIP providers also give sales call center teams more flexibility, since they can take sales calls from anywhere, on any device—not just in an office at a computer.
2. It helps you scale up faster
Another benefit of using modern outbound call center software is that it can help your company scale up and expand internationally faster.
With Dialpad, for instance, you can purchase local or toll-free phone numbers in different regions and countries with just a few clicks from your online dashboard. Want to add more live agents to your sales team? You can buy more licenses from your dashboard too—and all at a much more cost-effective price than with on-premises telephony providers.
3. It makes your sales team better
A good outbound contact center solution doesn't just automate manual dialing to help your reps make more outbound calls. That's just table stakes.
To give your sellers that extra leg up, look into call center AI, which will give your reps real-time coaching—without managers having to sit in personally on every call—and provide managers with real-time insights about things like competitor mentions, pricing questions, objection handling, and more. Understand why you're winning (or losing) deals, what prospects are saying, and glean 360-degree insights from the conversations you're already having with prospects, every day. That's the power of a good outbound contact center solution.
Ready to try Dialpad's outbound contact center software?
All of the things we listed above come included with Dialpad Ai Sales Center. Our unique, proprietary AI functionality is built directly into the platform, and empowers both reps and managers to close more deals, more quickly. See how it works now!
Outbound contact center software like you've never seen before
Book a demo of Dialpad's AI-powered sales engagement platform, or take a self-guided interactive tour of the app on your own first!
FAQs about outbound call center software
How does outbound call center software work?
Outbound call center software typically works by allowing sales reps or agents to make outgoing calls to customers or potential customers on behalf of a company, kind of like a super-powered phone system.
This is in contrast to inbound call center software, which tends to prioritize functionality like call distribution, self-service options, customer callback, and chatbots. (Omnichannel or blended call center software will allow agents to handle both inbound and outbound communications.)

What is an outbound dialer system?
Can you automate outbound calls or cold calling?