Back to Blog
10 Zoom alternatives for small businesses, video calls, and conferencing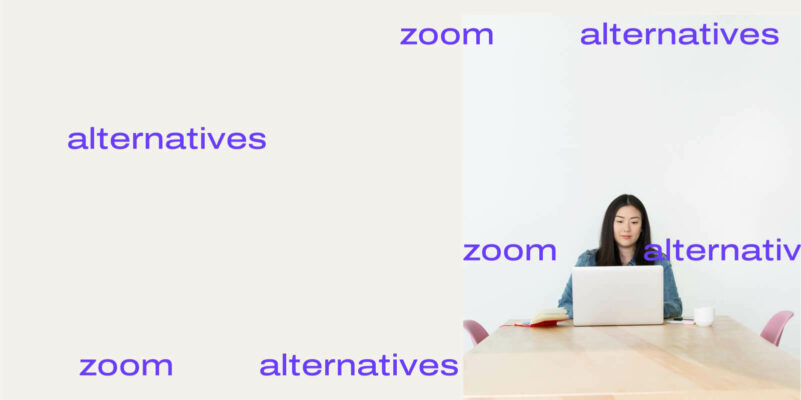 Love them or hate them, meetings are an essential part of every job, promoting effective communication across businesses and ensuring they run smoothly. And in the wake of the coronavirus pandemic, online meetings and video conferencing became even more important for team collaboration.
While Zoom is a well-known player, there are several software alternatives that offer more agility, scalability, and flexibility—while avoiding the security and data routing issues that are associated with Zoom.
I'll break down some of the drawbacks of using Zoom, and the best Zoom alternatives for small businesses and enterprises.
What is Zoom?
Today, Zoom is best known as a video conferencing platform and popular tool for everything from remote working to virtual happy hours.
It's comparable to other video conferencing tools like Microsoft Teams and Google Meet, insofar as it specializes in video communications and is known for video meeting hosting.
But, if you're looking for a more unified and secure communications and collaboration solution that includes a robust business phone system, contact center management capabilities, and integrations with popular business software (along with HD video conference technology), then it's worth looking at alternatives.
What are some drawbacks of using Zoom?
Zoom has made strides as a digital communications platform, particularly in its ability to introduce new features quickly. However, with the hurried roll-out of such features sometimes comes bugs and security risks.
For example, their venture into screen sharing left users vulnerable to private information leaking from non-shared applications.
Similarly, the Zoom Windows client was discovered to be exploitable, exposing user passwords—while Apple's Mac OS Zoom app had a flaw that could be abused to install malware or eavesdrop through devices.
Many of the world's largest organizations (Google, NASA, and the FBI among them) now forbid or warn their employees against using Zoom. Not necessarily Zoom's fault, but it's an unfortunate side effect of how popular it was for mainstream consumer use.
👉 Dialpad tip:
If you're concerned about the security and privacy of your video conferencing software, choose a communications platform that offers enterprise-grade security and 256-bit encryption. Dialpad has a host of security features designed to make sure your data stays safe.
How we evaluated these Zoom alternatives for business
If you're deciding on a video conferencing app for work use, there are a few key things to look at, from pricing to ease of use to, of course, security. I'll walk you through some Zoom alternatives based on several factors:
Features
When you're picking a video conferencing service, one of the first things to look at, of course, is the features and functionalities of each, and more importantly the extent to which they'll support your workflow.
At their most basic level, video conferencing solutions should support video chat and audio communications. However, many platforms will offer more advanced and unified features. I'll get into these in just a second.
Customer support
This is an often-underlooked one. If you're relying on video conferencing in your day-to-day work, it's absolutely crucial that issues are corrected quickly to avoid significant downtime in your services. (Especially if you'll be having video meetings with clients and prospects.)
The best Zoom alternatives will offer easy-to-reach and free technical support.
Cost-efficiency
To determine the true value of these Zoom alternatives, I've balanced total cost against features offered.
For example, while some options may offer "free video conferencing," these rarely provide a full suite of features—often, free plans (understandably) will limit things like meeting sizes and length. Because of this, some cheaper plans may be less cost-effective, since you'll have to pay for additional services where needed, such as audio plans for local and international dial-in or call recording storage. Check the fine print carefully.
Audio quality
Reliable, HD audio quality is the foundation of a good video conferencing platform. A service that repeatedly cuts out gives clients a bad impression and undermines the work you've put into preparing for meetings.
Ease of use
Bottom line: The best Zoom alternatives should help you do your work effectively and efficiently. Cloud-based solutions should be easy to navigate and quick to sync messages between your devices. It shouldn't be difficult to start a screen share from your meeting, or share a meeting link with someone to invite them to join.
What makes a great Zoom alternative
And finally, the best Zoom alternatives should be truly unified communications solutions that offer HD video quality—and that can do this with a beautiful, intuitive user interface, at a reasonable price.
10 Zoom alternatives for budgets of all sizes
1. Dialpad: A truly unified communications platform designed for businesses from small business to enterprises

Dialpad is a true UCaaS solution, built on a flexible cloud architecture. What that means: you'll get not only video meetings in the Dialpad app, but also the ability to send SMS and instant messages, and make phone calls (and even send faxes!)—all in one place.
And yes, there is a free video conferencing plan: Dialpad Ai Meetings, (which you can sign up for here and try out) which gives you all the basics you need to do video conferencing with clients, prospects, teammates, and more.
If you do want to level up and also make phone calls and send SMS messages from the app, the basic plan starts at an affordable $15 per user per month—and gives you unlimited calling within your country, the US, and Canada.
What makes it better than Zoom?
Dialpad is a serious Zoom competitor, delivering all the core capabilities of HD conference calls and video calling plus many more advanced features—at a reasonable monthly rate.
Its features include:
A single app for everything
Meet on video without ever leaving the app: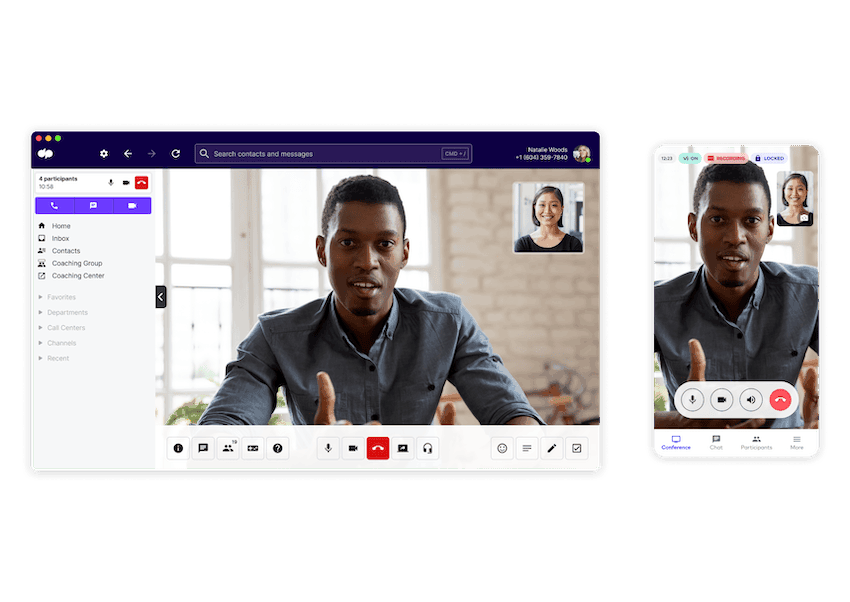 (Zoom does have one app, but you have to toggle between windows for the messaging, phone, and video features.)
High-quality audio
Dialpad offers consistent audio quality and the freedom to access this from anywhere. (Apart from your software, the only things that really limit HD video and audio is your hardware, like your webcam quality and the speed of your Internet.)
Dialpad also offers smart noise cancellation across all endpoints, regardless if you're connecting through PSTN, or using your browser or the mobile or desktop apps to use Dialpad!
(You can also switch between VoIP and carrier calling right from the Dialpad app, so that call quality stays consistent even if your Wi-Fi goes down. Just tap the carrier icon in an active call!)
AI-powered cloud communication
One unique thing about Dialpad is its proprietary artificial intelligence technology: Dialpad Ai.
Not only does it provide real-time transcription for your video meetings and phone calls, it can also track metrics and insights (like how often certain keywords are spoken—this feature is especially popular for contact center teams).

It comes with the most basic paid plan, and here's how that transcription feature looks in action:
In-chat messaging
Want to interact with other meeting participants without interrupting the speaker? With Dialpad, you can have a group chat (just open up the little chat message icon in the bottom left to start chatting)—along with emoji reactions—right in the meeting window:

Cloud-based mobility
Not only does every Dialpad Ai Voice plan come with a VoIP number, Dialpad also lets you make and take calls right from your web browser. Without having to download an app, clients and prospects can easily join meetings. They simply open the meeting link right from the web using any browser—Google Chrome, Edge, Safari, you name it... It's one of the most accessible platforms out there. The desktop and mobile apps work across iPhone (iOS) and Android devices, and PCs and Macs.
Customer support—worldwide
Dialpad makes sure you have the right support whenever you need it. With 24/7 live chat and 24/5 phone support you can call in for expert help, no matter where you live.
The online help center is also on hand for fast self-service issue resolution, and it's easy to find what you're looking for.

Integrations
Last but not least, Dialpad integrates with most business tools. Of course, it integrates with Google Calendar and Microsoft 365 to make scheduling video meetings really easy.
And if you're using other tools like a CRM to track customer interactions? Dialpad's Salesforce integration lets you receive and make calls and texts straight from Salesforce.
Rely on a whiteboard for brainstorming sessions? Dialpad's Miro integration lets team members brainstorm together while seeing each other—just as if you were all in a meeting room whiteboarding together:

Pricing
Dialpad Ai Meetings has a free plan, and if you want to add phone calling and SMS messaging functionality, the Ai Voice Standard plans begin at $15 per month. Pro plans start at $25 per month. (You can try this out by signing up for a 14-day free trial. It takes just a few minutes and you'll be set up with a virtual phone number.)

Pricing-wise, you'll find that most Dialpad alternatives are more expensive, especially with everything that's included in even the least expensive Dialpad plan.
2. Google Meet
Google Meet, alongside Chat, replaces Google Hangouts as their answer to video communications. It's integrated with Google Workspace (formerly G Suite) and, as you'd expect, works seamlessly with their other apps like Google Calendar and Gmail.
What makes it better than Zoom?
Google Meet is a popular Zoom alternative for small businesses because of how cheap and easy to use it is, and offers a quick and easy video calling service right from the web. So, unlike Zoom, you don't have to install an app to get started.
Subscribers can access additional features like screen recording, screen sharing and live streaming but there aren't many extras to choose from.
Drawbacks
If you're a business in need of various communications features, Google Meet isn't the one for you.
Although users might be tempted by access to Workspace, alternatives like Dialpad offer Google Workspace integrations so you can make the most of these tools alongside more advanced and business-friendly features.
Pricing
Free plans available, paid plans start at $6 per month.1
3. Microsoft Teams
Microsoft Teams takes on the likes of Slack and Discord by merging productivity and communication features. Alongside its chat app, it offers video meetings and VoIP calling.
What makes it better than Zoom?
The main feature that makes Microsoft Teams a serious Zoom competitor is of course, its integration with Microsoft 365. It beats Zoom on internal collaboration, with the ability to schedule meetings directly from Outlook and edit files in real time from any app in the Office suite.
Drawbacks
If you need phone calling and texting abilities, Microsoft Teams lets you do that at an additional cost with licensing. It also has many direct routing integrations with providers like Dialpad—which tend to be more robust, since these solutions have a much stronger telephony foundation compared to Microsoft.
Teams' flexibility is severely limited when a subscription isn't also paired with a Microsoft 365 plan, and this might make the service less cost-effective than some of the other options on this list.
Pricing
Limited free version, premium plans start at $4 per month.2
4. GoTo Meeting / Join.me
GoTo Meeting is a business-oriented webinar tool that puts its focus on facilitating remote work. It's part of the GoTo suite of business solutions, and bought Join.me—which is now a part of the GoTo suite (although it doesn't appear to be fully integrated yet).
What makes it better than Zoom?
GoTo Meeting boasts better uptimes than Zoom at 99.5% (the industry standard is 99.999%), and it's a decent Zoom alternative for small businesses, with a few neat bells and whistles.
It has a similar set of features to Zoom, like screen mirroring and smart meeting rooms, but provides some quite original extras, like the draw tool for annotating meetings.
Drawbacks
If you're looking for a close equivalent to Zoom, GoTo Meetings offers comparable features at the same price. However, it doesn't provide many extra functionalities for business use.
On top of this, it can be awkward for clients as it only supports Windows and MacOS platforms. Learn more about the best GoTo Meeting alternatives.
Pricing
Plans begin at $12 with $16 for business use, billed annually.3
5. Cisco Webex Meetings
Cisco Webex Meetings is part of Cisco's video conferencing and collaboration product suite. It's seen some major growth in recent times.
What makes it better than Zoom?
Cisco has no meetings cap, so is better than Zoom for larger conference calls. In terms of functionality, it has the typical features like file transfer, call recording, and the option to password protect meetings. Call quality is also generally more consistent than Zoom's.
Drawbacks
Cisco is slightly pricier than others with comparable features and the desktop app isn't quite as robust as the web version.
It also requires sign-up to access web meetings—not ideal if your customers are in a time crunch.
Pricing
Cisco Webex has a limited free video chat plan, a $14.50 per month Meet plan, and an Enterprise plan.4
6. RingCentral Video
RingCentral, like Dialpad, markets itself as a UCaaS solution with functionalities that span phone calling and messaging in addition to video calling. Unlike Dialpad though, RingCentral is a legacy telephony provider from the landline / PBX days. Which means that even though it's bolted on more and more functionality over the years—like video conferencing—its UI and architecture still retain the fingerprints of its legacy technology background.
What makes it better than Zoom?
It's fully unified in one app, with pretty robust communication channel options.
Drawbacks
The pricing is a little bit odd with RingCentral—there is a free RingCentral Video plan, but if you want to consolidate your tools and add phone calling and SMS / instant messaging, then you have to skip the least expensive pricing tier (Essentials, $19.99 per user per month) and go to "Standard" ($27.99 per user per month) instead.5
In comparison, if you wanted to add phone calling and SMS functionality to video meetings with Dialpad, you'd just go with the most basic plan at $15 per user per month—which gives you unlimited calling within the US and Canada.
Pricing
There's a free plan and a "Pro+" plan that starts at $15.99 per user per month.5
7. BlueJeans: Cloud-based conferencing with high-quality audio
BlueJeans is Verizon's video conferencing offering. It's cloud-based software with collaborative video, audio, and web conferencing, as well as livestreams.
What makes it better than Zoom?
BlueJeans has eye-catching features like Dolby voice, a safe driving mode for mobile devices, and breakout rooms that offer a more seamless transition than Zoom's.
Users can also connect across platforms and subscribers will find all the typical features like file sharing, screen recording, and event scheduling.
Drawbacks
Despite compatibility with most mobile devices, the service doesn't work for touchscreen Windows devices. Some customer reviews online also report significant lag issues in video calls. And finally, if you want more robust team collaboration features that some of the unified platforms on this list have, Bluejeans may be a bit lacking in that department.
Pricing
Standard plans begin at $9.99 per month and increase to $16.66 for Enterprise.6
8. Zoho Meeting
Zoho Meeting is one part of Zoho's suite of online productivity tools. It's a basic video conferencing solution with webinar features that integrate with the rest of the Zoho product line.
What makes it better than Zoom?
Zoho offers no-frills conferencing at a super affordable price that's quite comparable to Zoom. Although the features are limited, Zoho's price makes it extremely competitive. If you're already using other products in Zoho's suite, then it might make sense to just use Zoho for video conferencing too.
Drawbacks
For users seeking anything more than the most basic features, Zoho falls short. It doesn't scale quite as easily with business needs and doesn't offer many of the capabilities that the industry leaders do—like AI-powered features, integrations, and an integrated cloud contact center product.
Pricing
There are three pricing categories: Free, Meeting, and Webinar. Meeting and Webinar have both Standard and Professional options, from $1-3 per host/month and $8-16 per organizer/month, respectively.7
9. TrueConf
The lesser-known TrueConf is a platform that is self-hosted and offers both online and offline communication. It's designed with group conferencing in mind and has dial-in and telephony capabilities.
What makes it better than Zoom?
TrueConf has a rich set of capabilities compared to Zoom, with novel features like integration with surveillance systems. It works on all the popular operating systems and offers reasonably consistent call quality at all internet speeds.
Drawbacks
TrueConf can't quite compete with its UCaaS rivals, since it doesn't have AI-based features, offers limited live customer support, and lacks a single unified interface.

Pricing
Free for 12 users, and if you want an enterprise plan, you'll have to get in touch with their sales team.8
10. Whereby
Whereby is an up-and-coming player, and if you're looking for a Zoom alternative for small businesses that has only video conferencing (no phone calls or messaging), Whereby is actually a decent option.
What makes it better than Zoom?
Whereby's UI is pretty nice, and also has embeddable video which you can add directly into, say, your website. Aesthetically, it's definitely a level up from Zoom.
Drawbacks
The limitation with Whereby is that it's extremely video conferencing-focused. If you want to be able to consolidate your business phone system and other channels like SMS and instant messaging into one tool, then Whereby won't be able to do that for you. You'd need to have a tech stack of disparate apps to cover all those communication channels.
Pricing
Whereby has a free plan, and also a Pro and Business plan at $6.99 and $9.99 respectively (per user, per month).
Meet now, from anywhere, with these Zoom alternatives
If you're looking for a cloud-based communications solution that is more robust than more basic options like Skype or Jitsi Meet, the good news is there are many Zoom alternatives that have free plans, just like Zoom.
With modern and innovative functionalities that are constantly updating, reliable call quality, and scalable solutions—all at an affordable price—Dialpad's the obvious choice for businesses, above other Zoom alternatives.
Find out more, and try it for free today.
Looking for the best Zoom alternative?
Try out Dialpad Ai Meetings with a free-forever plan. Signup takes just a few minutes. Or, take a self-guided interactive tour of the app first!
1workspace.google.com/intl/us/pricing.html
2microsoft.com/microsoft-teams/compare-microsoft-teams-options
3goto.com/pricing/meeting
4webex.com/pricing/index.html
5ringcentral.com/office/plansandpricing.html
6store.bluejeans.com/
7zoho.com/meeting/meeting-pricing.html
8trueconf.com/pricing.html
9whereby.com/information/pricing/