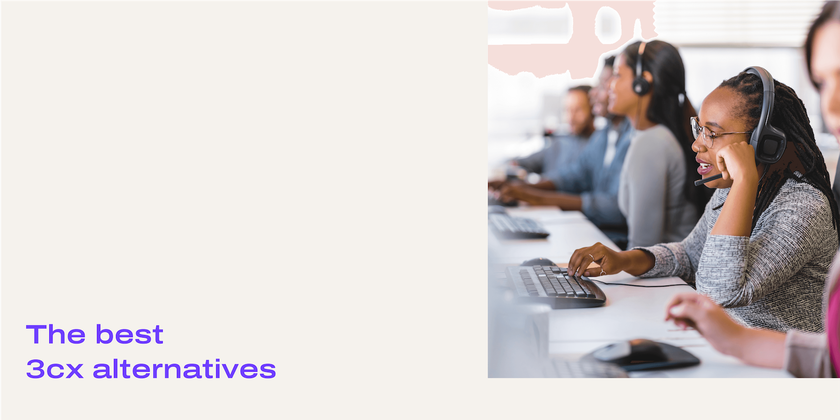 October 19, 2021
If you're considering 3CX or a hosted PBX for your business phone system, there's quite a bit to consider beyond just the basic "is VoIP or PBX better" question.
In this blog post, we'll break down the advantages and disadvantages of 3CX, and other better alternatives that are more flexible and affordable—while still offering the advanced features that businesses need.
Skip ahead if you like:
What is 3CX?
3CX is essentially a business phone system and call center software that offers an on-premises or hosted PBX solution.
It has some cloud functionality, but isn't a truly cloud-based VoIP solution like some of the alternatives below.
And if you need a UCaaS (Unified Communications as a Service) platform that covers different communication channels in one app, then 3CX's features are also quite limited and doesn't have instant and SMS messaging.
Here's why you might want to check out alternatives to 3CX
3CX's pricing model is built around a combination of your number of users and simultaneous calls, meaning that it's going to be very expensive to use in a busy contact center or call center. If you do a lot of business over the phone, then you'll likely outgrow its pricing model even faster than you outgrow its relatively limited feature-set.
3CX was also designed as an on-premises solution, so it's much more constrained from an admin and setup perspective compared to a UCaaS platform. And on a related note, 3CX also has a noticeably smaller library of integrations, so if you're using other software that you want to integrate with your communications platform or phone system, you likely won't be able to get that with 3CX.
Crucially, the customer experience and support with 3CX is paid for separately. That means you have to pay for support—it doesn't come included. More on this in just a bit.
How we evaluated these 3CX alternatives
Features
Every business phone system and communications platform should come with the features that you need. This is an important note because a small business likely won't have the same business communications needs as a Fortune 500.
You have to consider what functionalities your business needs. Will you want to have unlimited phone calls? (It's actually not that expensive!) What about web conferencing, instant messaging, and SMS?
We looked at these channels in addition to your basic call management features like call recording, call tracking, and real-time analytics.
Customer support
If you're running a business, you'll likely need a communication platform that has excellent customer support, because your phone system is the backbone of your business—and downtime can be costly.
If you need an enterprise phone system for a global corporation, this means you may need an even higher level of customer support that includes things like 24/7 support, a help desk, and self-service options.
One of 3CX's biggest weaknesses is its customer support. You have to pay $75 every time you submit a support ticket.1 That's almost unheard of. Almost every provider has some degree of customer support for free, even on the basic plans. Dialpad, for example, has 24/5 customer support on web and live chat, even on its cheapest plan at $15 per user per month (which also comes with unlimited calling in your country, the US, and Canada, by the way).
Cost-efficiency
The cost-efficiency of a cloud phone system comes down to much more than just the initial price tag.
For example, one business phone system might look more expensive, but if the cost includes absolutely every feature you need and unlimited calling and unlimited SMS / MMS, it might end up being more cost-efficient than a phone system that says it costs "$2 a month" but requires you to have a separate tool for SMS and instant messaging, or that charges you by the minute for calls.
There are many SaaS solutions that are priced well, and the ones we're going to talk about each have a few pricing tiers for you to choose from.
👉 Dialpad tip: If you're not sure which tier suits your business, it's a good idea to try out their free trial. That way, you can try out the software's features and see whether it's designed well and easy to use.
Ease of use
As a rule of thumb, the main questions to ask here are "Is this easy to set up?" and "How quickly can I set up new users or make changes to their accounts?"
One of the biggest advantages of going with a UCaaS provider instead of a PBX provider is that it should be much easier to manage your phone numbers, add new VoIP numbers, and even spin up new contact center teams (if you're looking at a CCaaS solution) than on-premises solutions.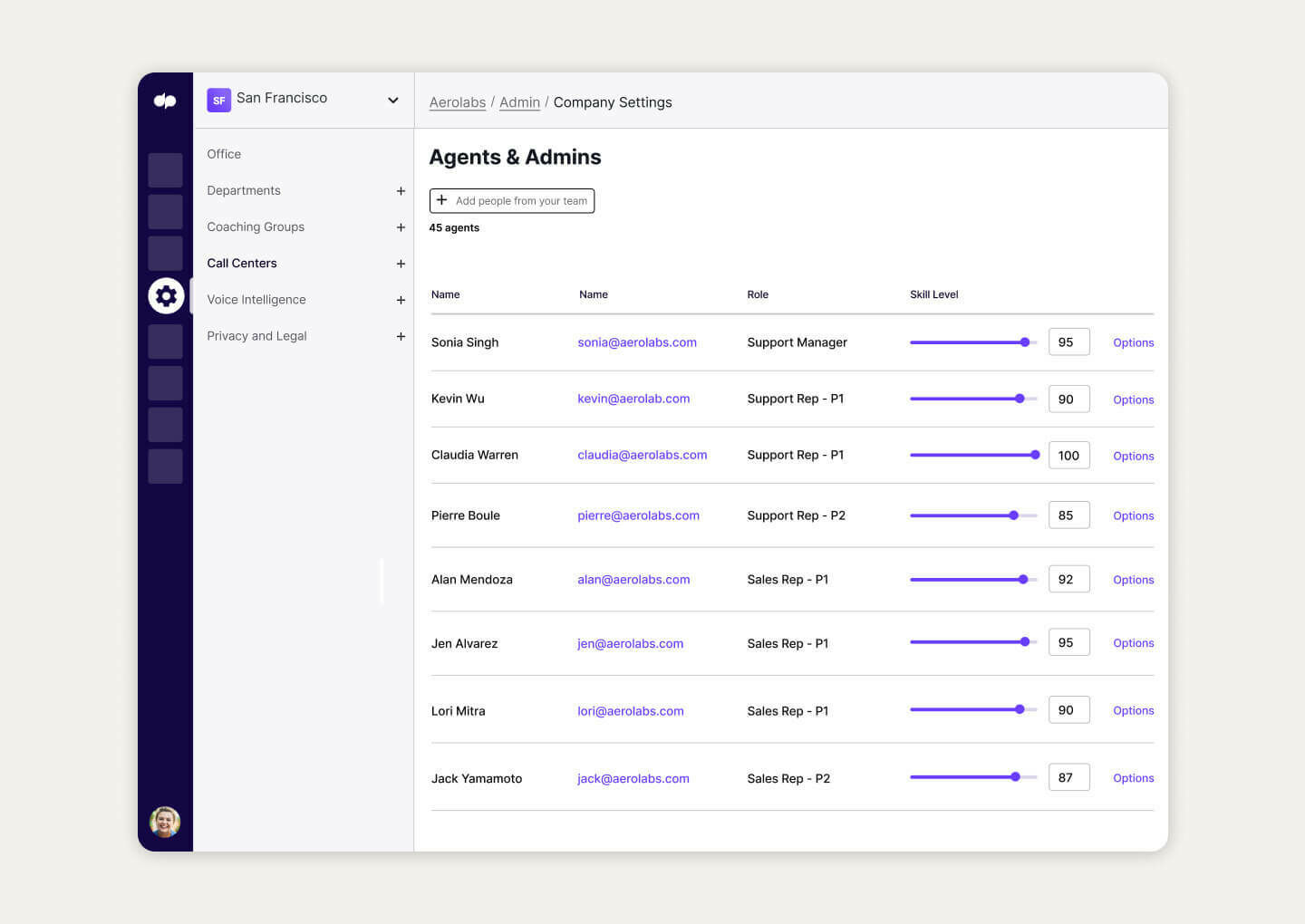 3CX does work on Windows and Linux (which is open-source friendly)—but for some reason not Macs, which may be a dealbreaker for some organizations.
We'll compare each 3CX alternative in terms of ease of use, and also whether it has a desktop and mobile app that works across Mac, PC, Android, and iOS. Some of the options below are even browser-based, meaning you and your clients don't need to download anything—you can join calls right from your web browser: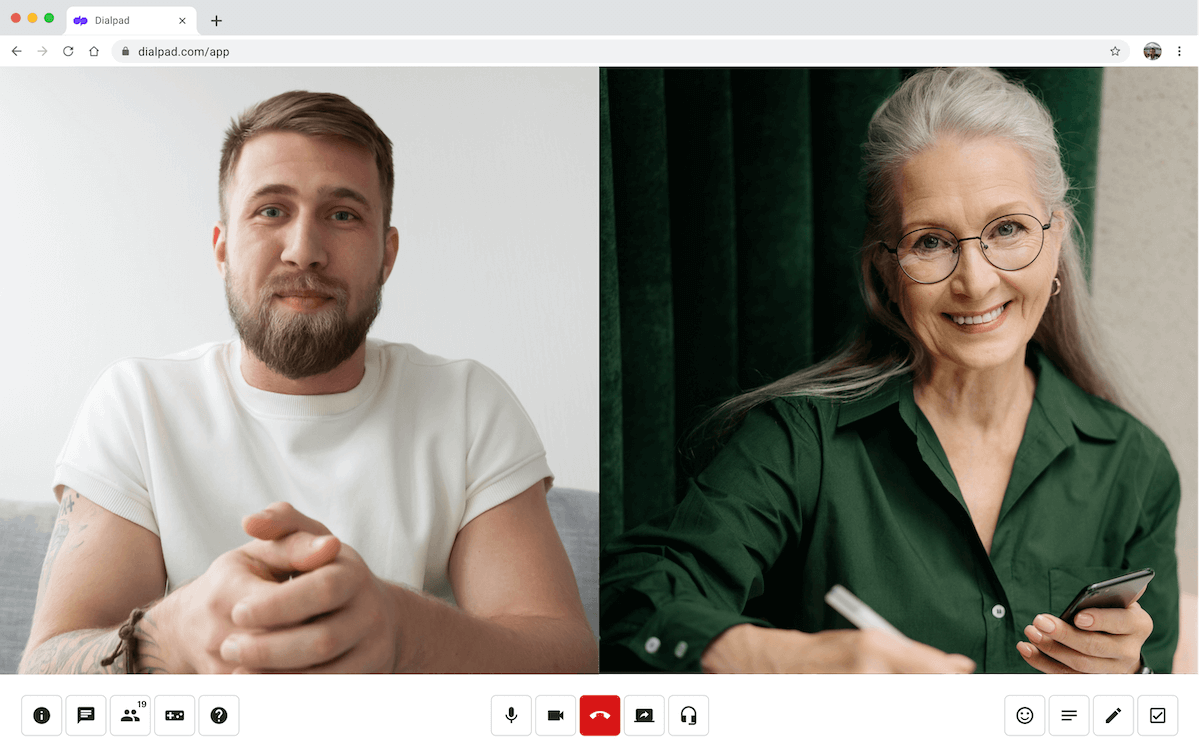 Integrations
The best unified communications platforms and phone systems aren't just for making phone calls—they also integrate with most of the popular business tools out there, like Salesforce, Zendesk, HubSpot, and more: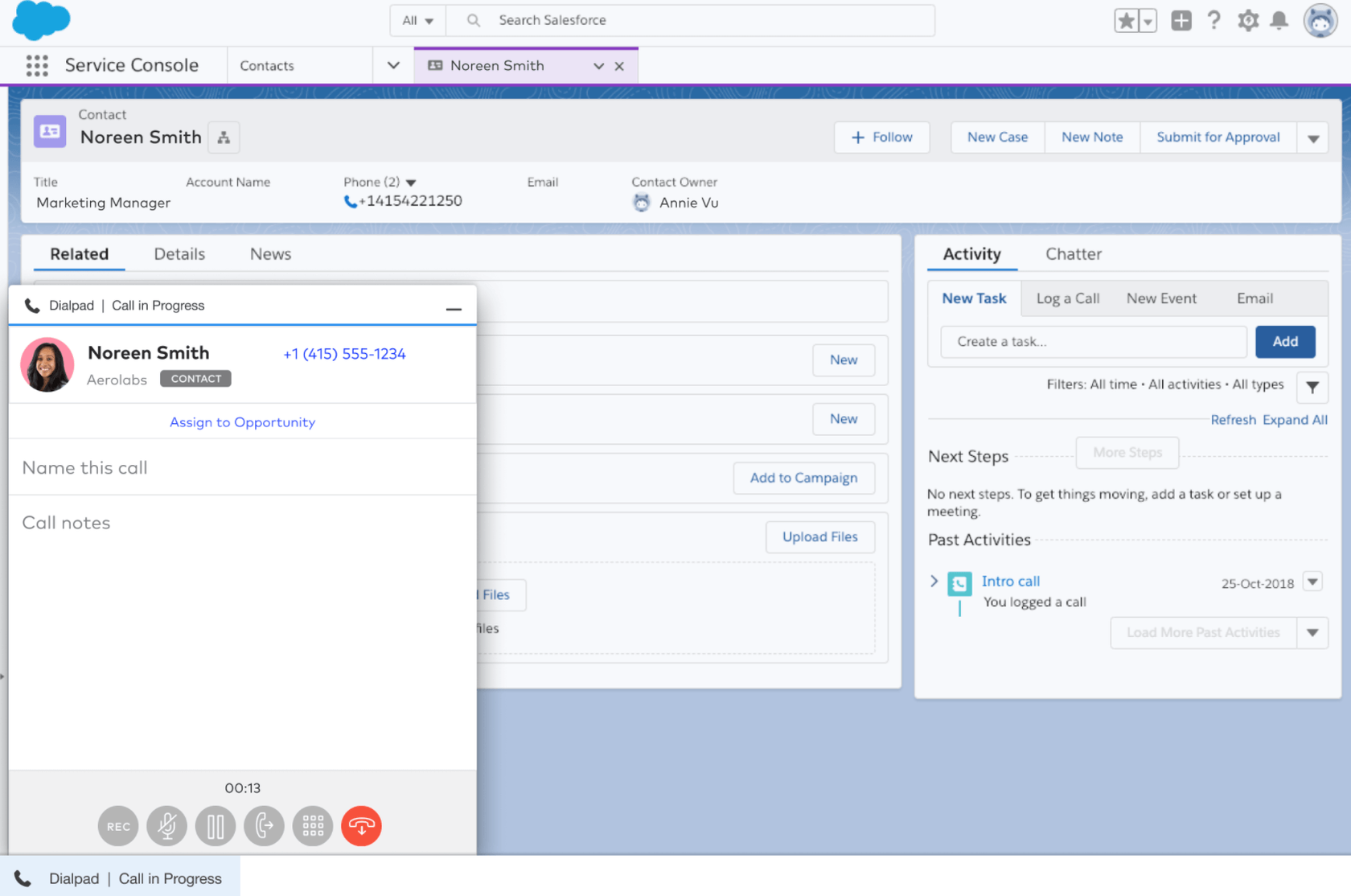 And the really good ones even come with fully integrated contact center platforms:
One special thing to look for if you have some niche tools that don't normally have native integrations is an open API. For example, Dialpad has an open API that lets you build custom integrations with almost any tool out there, not just the big ones like Salesforce and Google Workspace.
The top 8 3CX alternatives
1. Dialpad: A truly unified communications solution that lets you make phone calls, have video meetings, send instant + SMS messages, and more
Okay, hear us out. Yes, we might be a bit biased, but we have a good reason for placing at the top of this 3CX alternatives list.
For one, Dialpad can handle every communication channel you need, including VoIP phone calls, instant + SMS messaging, and video conferencing—all in one desktop and mobile app: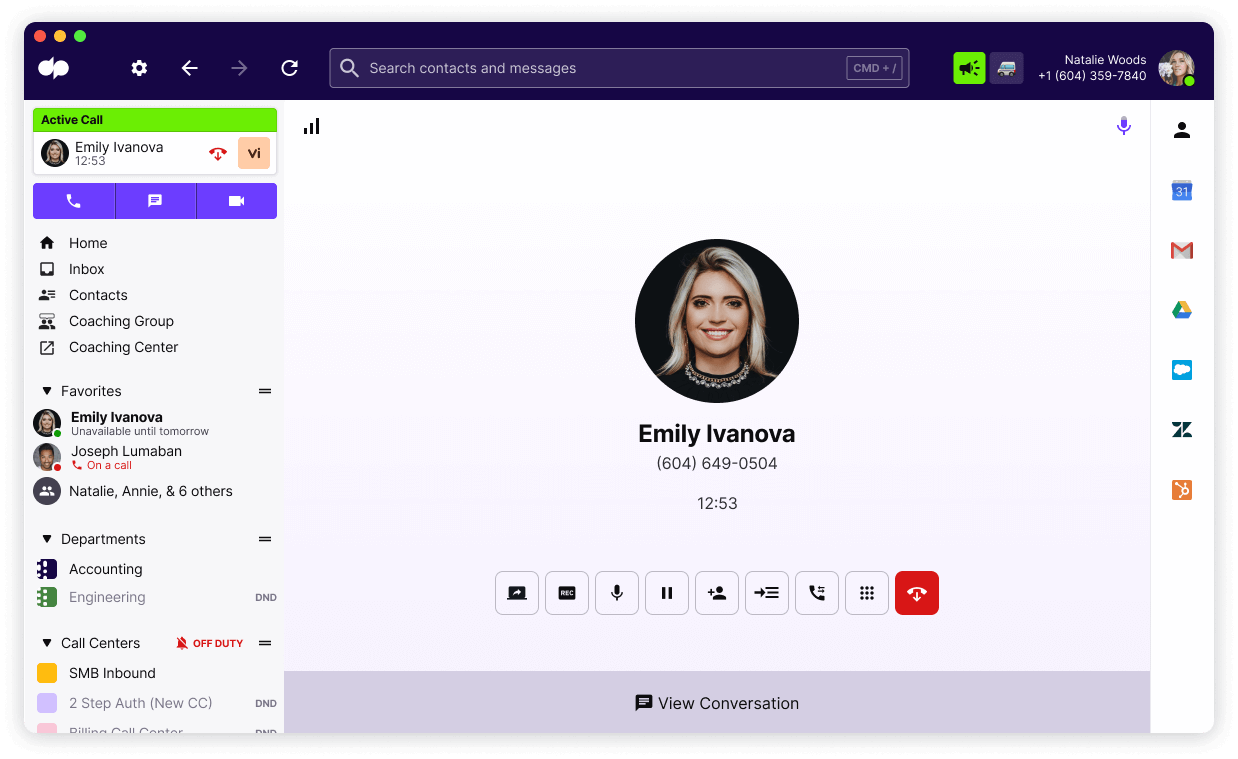 Because it's cloud-based, it's also user-friendly and highly scalable. In fact ClassPass spun up new office locations around the world in minutes using Dialpad. (You can't do that with every UCaaS solution—this is very difficult to do with a provider that uses older telephony technology.) Read more about ClassPass's story here.
You've got your basic call routing, IVR, and call forwarding features in one easy place: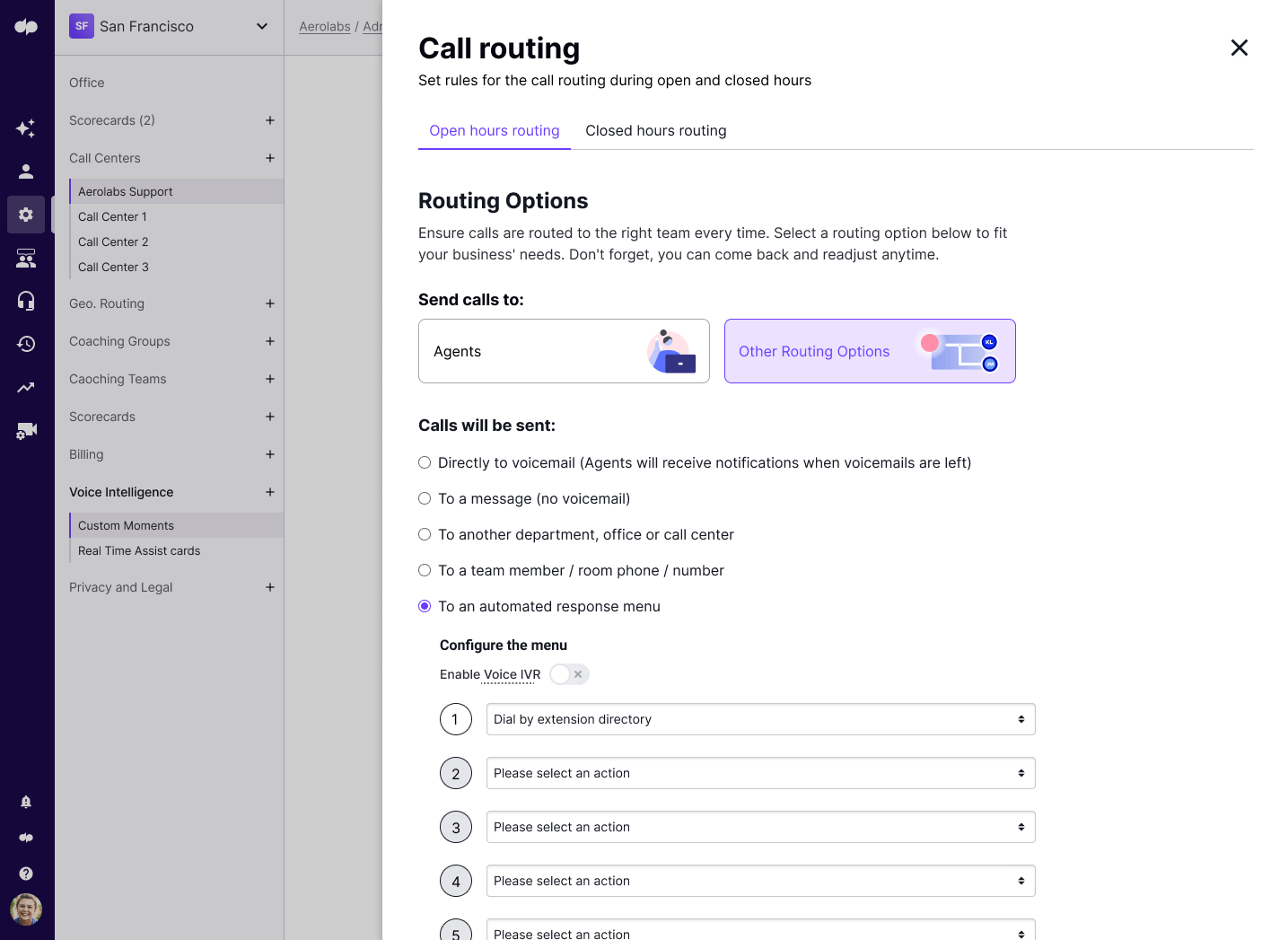 And you can have all those conversations right from your web browser if you don't want to download the browser softphone app.
Dialpad also has a handy call flip functionality, which lets you move a call from your computer to your cell phone (or vice versa) without interrupting or dropping the conversation: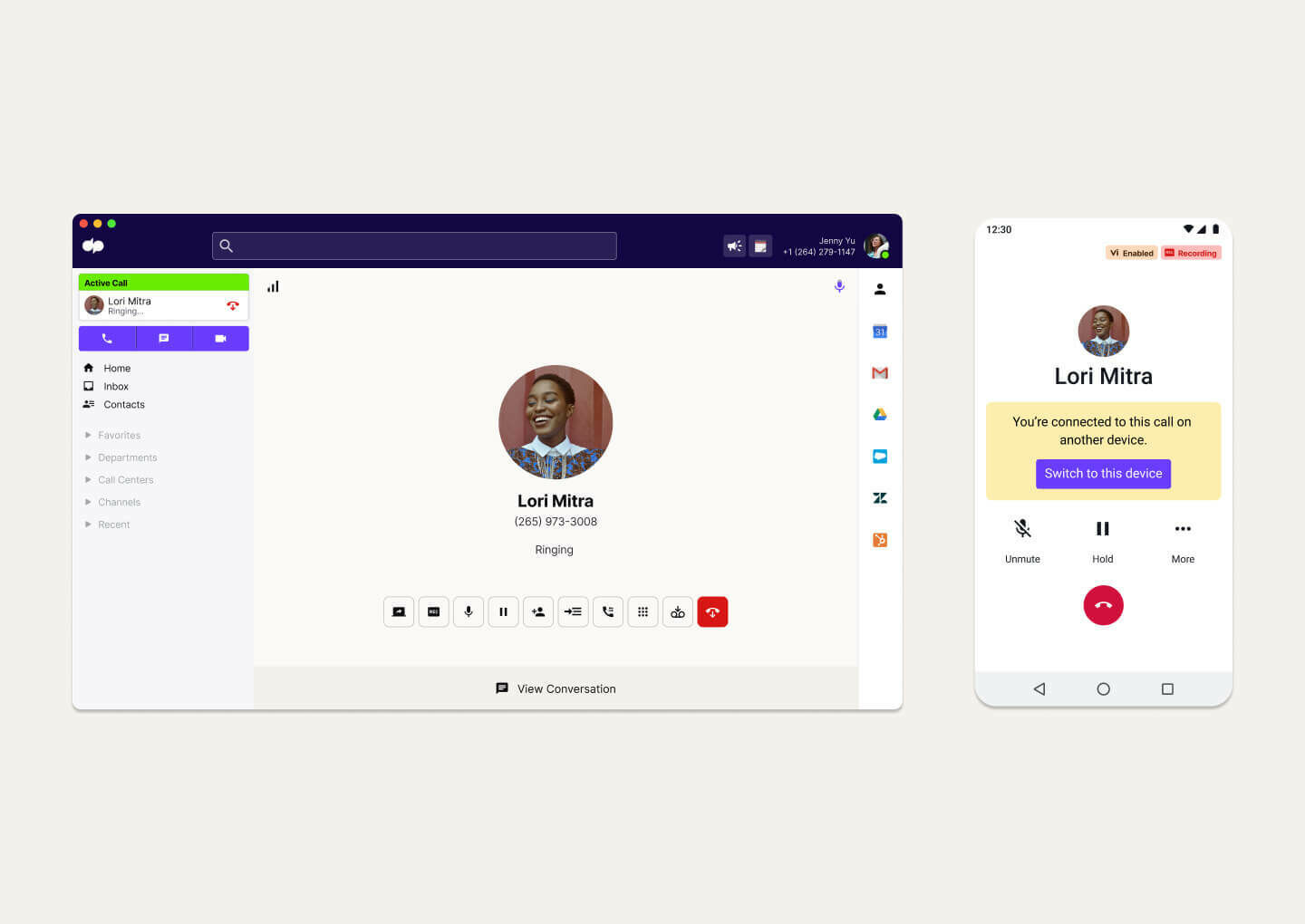 Speaking of cell phones, Dialpad lets you customize your caller ID so that when you're making a work call on your own phone, you can shield your personal phone number: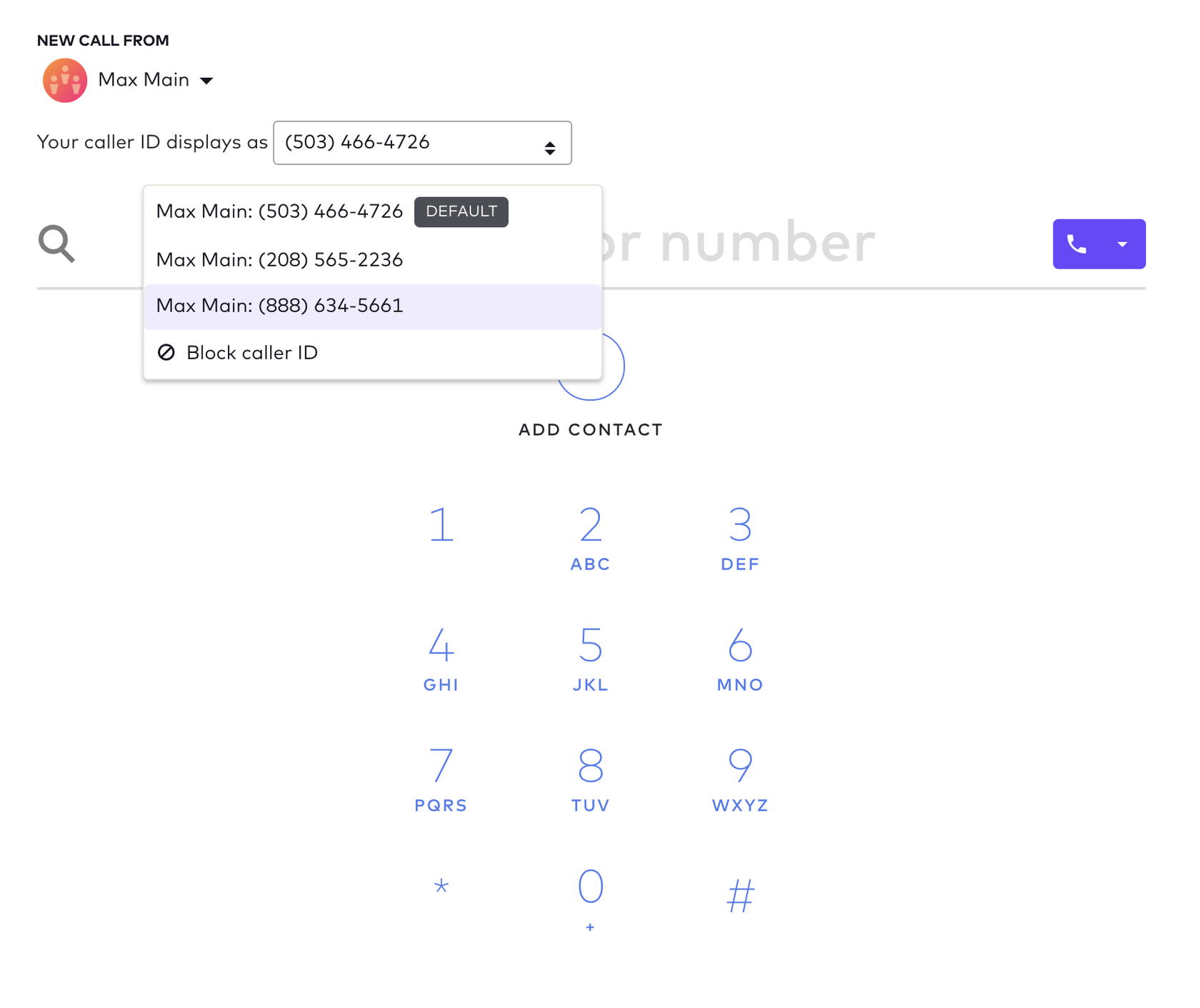 But possibly the most unique thing about Dialpad is its proprietary AI, or Voice Intelligence, which transcribes phone calls in real time. It's especially useful for contact center or support teams, since you can set it to pick up on and track keywords and phrases you're interested in by creating "Custom Moments":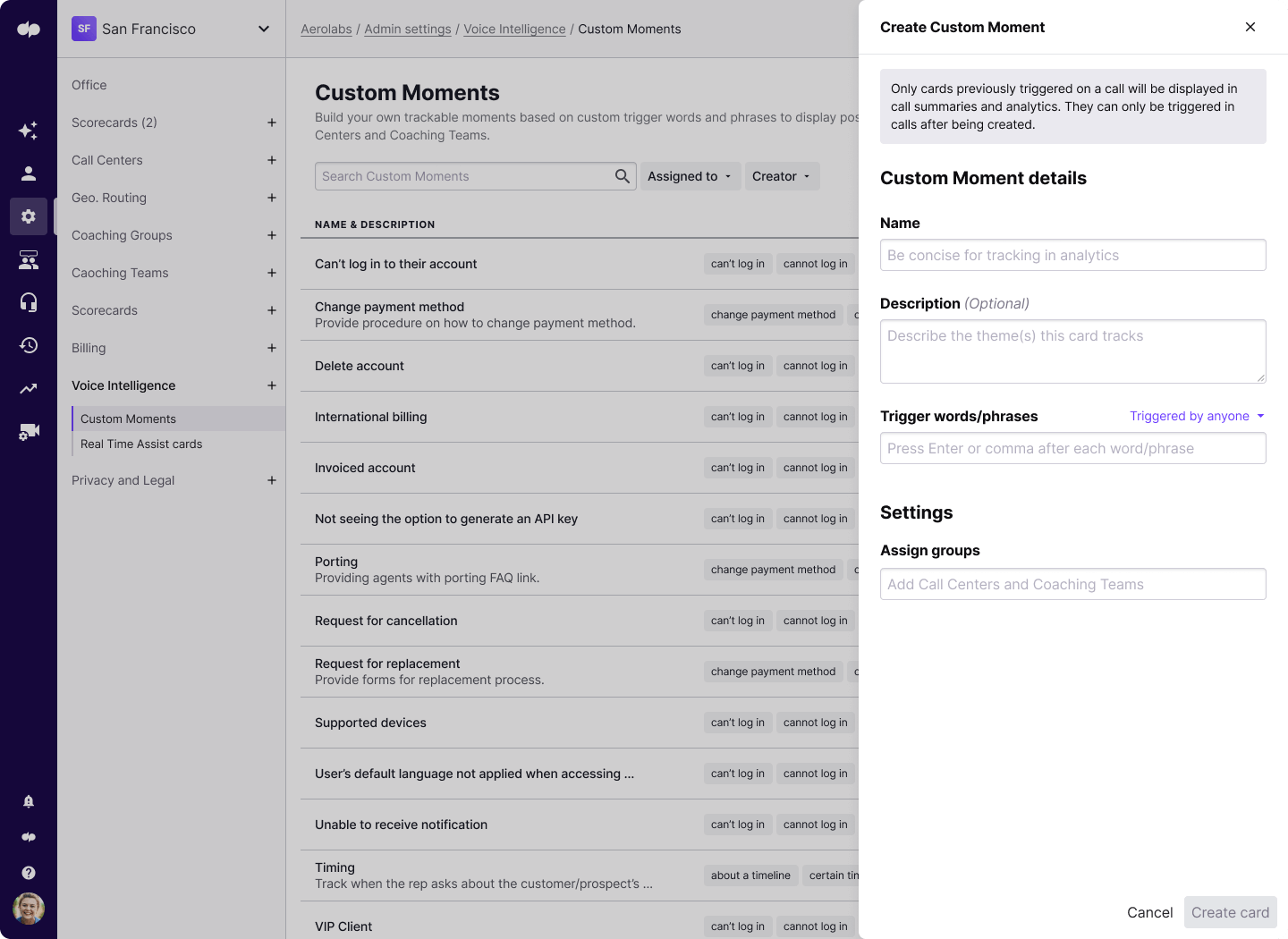 You can also go one step further and create Real-time Assist (RTA) cards that pop up automatically on agents' screens to help them out when a complex topic comes up in conversation: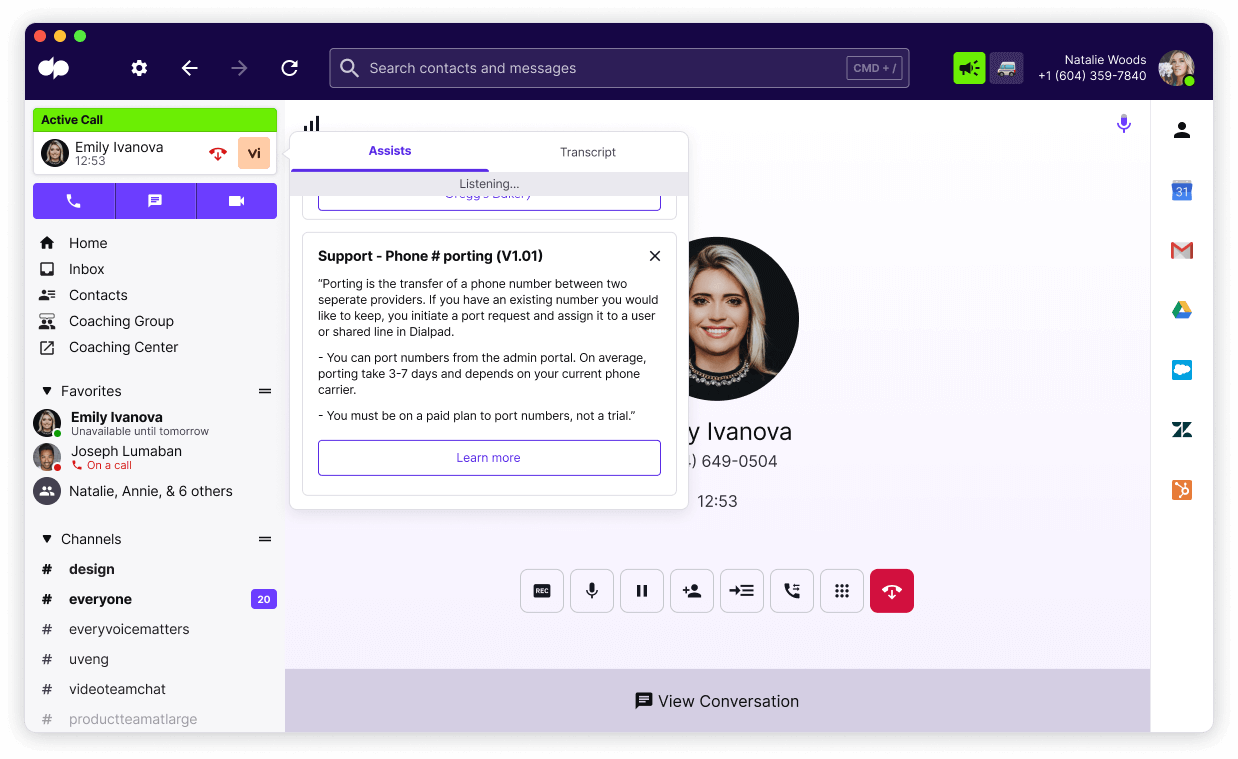 Pricing
Dialpad Talk plans start at only $15 per user per month, and gives you all of these features in addition to unlimited calling in your country, the US, and Canada, and unlimited SMS / MMS in the US and Canada.
What makes it better than 3CX?
Because it's a born-in-the-cloud UCaaS platform, Dialpad is extremely easy to set up. You can literally sign up for a free trial and get a virtual business number in just a few minutes.
No hardware, no server closets needed.
With a global voice network of data centers, Dialpad is able to route calls locally, keeping costs low and quality high. Our unique split cloud architecture allows us to deliver HD, crystal clear voice calls—from pretty much anywhere in the world.
Dialpad also offers a 100% uptime Service Level Agreement for Enterprise customers. And speaking of pricing, the biggest benefit of Dialpad is it offers customer support at every pricing tier, with 24/5 support provided through chat and web on the least expensive plan and 24/7 coverage just one tier above that.
In fact, Computer & Network Solutions Ltd (CNS), which is a managed services provider, actually switched not only from re-selling 3CX to Dialpad, but also switched from being a 3cx customer to Dialpad. Alex Huntington, their Director, said:
"One of the reasons why we decided to become a Dialpad reseller while going through this process was that we were traditionally a 3CX reseller, which was a very large capex project with very little ongoing maintenance and support to make it an annuity-based business... Whereas with Dialpad, one of our business analysts implemented the phone system for us and he managed to get it done. He's not an engineer and never mucked around with a phone system in his life and he got the whole thing running in about a month. So it speaks to how easy and user-friendly Dialpad is."
As far as group video conferencing software that supports large numbers of callers goes, Zoom is a well-known name.
With a simple UI and easy signup process, Zoom has become very popular during the pandemic.
If you only need video conferencing, then Zoom is a fine choice, but if you need other channels as well like phone calls or if you need to support a contact center team, then that part of Zoom's product isn't as well built out yet.
The other big asterisk with Zoom is that because of its mainstream popularity, it's become a target for hackers and "Zoombombings"—so much so that Google, NASA, and many other organizations have banned its use.
Pricing
If you're looking for a unified communications tool, Zoom's plans start at $25 per user per month, but doesn't have meeting transcripts or unlimited call recording.2
What makes it better than 3CX?
One area where Zoom solidly beats out 3CX is in the number of people who can join video conferences.
While 3CX's free model lets hosts invite up to 16 participants, Zoom's allows up to 100 participants. That means that for video conferencing with big groups, Zoom is a better choice than 3CX.
RingCentral is a large UCaaS / CCaaS provider that has been around for a long, long time, since the PBX days—though it's been trying to evolve its functionalities and product to become a VoIP provider.
Today, it has a desktop and mobile app, and in many ways looks the part of a modern communications platform.
One thing to note about RingCentral is that, unlike Dialpad, it doesn't own its full platform. Whereas Dialpad built its own communications and contact center product—which makes for one consistent experience and interface—RingCentral is whitelabelling or reselling another company's contact center platform. That's why its communications app and contact center solution look so different and require separate logins.
Pricing
RingCentral Standard costs $27.99 per user per month, though if you're looking to include open APIs in your bundle, it'll cost $34.99 instead. That makes it a pricier solution than the others we've considered so far. If you want to have all your communications channels, including phone calls, messaging, and video conferences, you'll also have to skip the least expensive tier and pay for the second most expensive one, which is a bit odd.3
What makes it better than 3CX?
If you're looking for pricing that makes sense for a company that makes lots of phone calls, then even with RingCentral's odd pricing structure, you might still come out ahead. Other than that, it does have more communication channels than 3CX packaged together, though unlike competitors such as Dialpad, RingCentral is not "cloud-native," meaning its technology isn't quite as modern or flexible.
(The benefits of that would be things like being able to spin up new contact center teams and set up new offices in very little time—minutes, not days or weeks.)
Like RingCentral, Nextiva offers a VoIP phone system that gives you options for phone calls, video conferencing, and messaging. It also has the usual suspects in terms of available integrations, like Google Workspace, Salesforce, and Microsoft Outlook.
And also like RingCentral, Nextiva whitelabels other companies' products. Unlike RingCentral, however, Nextiva is reselling both its UCaaS4 and CCaaS5 solutions, which is a bit strange, because that is basically its whole suite of products.
Pricing
Nextiva Essential, the cheapest plan, starts at $18.95 each month per user, which is higher than Dialpad's least expensive plan (starting at $15 per user per month) but doesn't include SMS / MMS, which the Dialpad plan does.
You also don't get call recordings until you get to the third pricing level, Enterprise, at $32.95 per user per month.6
What makes it better than 3CX?
Nextiva can be cheaper than 3CX if your business has to make a lot of phone calls, and offers a good range of features and integrations. And like many of the other 3CX alternatives on this list, you won't have to pay to submit a support ticket.
5. GoToConnect
You're likely to have heard of GoToMeeting more than GoToConnect, but these are essentially a video and audio conferencing solution that's part of LogMeIn's suite of products.
If you're looking for more of a UCaaS solution that includes a mobile phone app, virtual voicemail, call forwarding, and an auto-attendant—basically a cloud phone system that includes other communication channels—you can opt for LogMeIn's GoToConnect bundle package.
Pricing
GoToConnects's Basic package starts at a whopping $24 per user per month.7 The pricing goes up from there—which places it at a higher cost than the other 3CX alternatives on this list, and it doesn't give you more functionality either.
What makes it better than 3CX?
GoToMeeting might be a cheaper alternative if your business spends a lot of time on the phones, but 3CX's pricing model makes that an easy bar to clear. On the other hand, if you do want access to the other products in LogMeIn's suite, GoToMeeting might make sense for you. Otherwise, learn more about the best GoToMeeting alternatives.
Cisco Webex is a UCaaS provider that's quite enterprise-focused. What's unique about Webex is perhaps the fact that it makes its own hardware as well.
Like the other competitors on this list, Webex gives you multiple communication channels in one app.
Pricing
Like Dialpad and Zoom, Webex has a free plan that has only video meetings and messaging. The paid plans that include VoIP calls start at $13.50 per user per month.8
What makes it better than 3CX?
The advanced security features that Webex offers make it a more attractive option than 3CX, which doesn't have quite the same level of compliance and data protection. It's also a more mature platform than 3CX, with a wider range of advanced features.
Vonage has a buffet-like approach to its pricing and features. Users can pick which features they want to pay for, which gives you more flexibility—but unfortunately, almost every useful feature is a paid add-on.
The downside is this also tends to mean you'll have to pay for new features whenever you want to try them out, whereas other 3CX competitors offer a huge package of features all at once, many of which you can trial with their free plans.
Pricing
Vonage's pricing solutions are a little more complicated than the others in this list. There's no flat-rate option; each call costs $0.0148 per minute if you're the one placing it, or $0.0052 per minute to receive it. These prices vary depending on which types of calls you're looking to make as well.9
What makes it better than 3CX?
3CX's pricing plans aren't quite as flexible as Vonage's, so if you're really trying to make every penny count, Vonage may be a better option. The other benefit with Vonage is that you don't have to pay the $75 per support ticket like with 3CX.
Despite its steeper learning curve and more complicated UI, Bitrix24 could be a good 3CX alternative if you need a wide range of other features. Bitrix24 has built-in CRM features, a Kanban board project management tool, and even a website builder—which is very unique among the other options on this list.
(Whether all of those disparate tools actually fit in well together and work intuitively is another question.)
Pricing
Bitrix24's least expensive paid plan starts at $39 per user per month, which is double many of the other 3CX alternatives here. The other thing to note is that Bitrix24 does not have phone support—even on its most expensive Enterprise plan.10
What makes it better than 3CX?
Honestly, pricing-wise, you're not getting too much out of Bitrix24 since its plans are so much more expensive than the others on this list. The main reason that you would choose Bitrix24 over 3CX would be if you needed a very basic CRM or website builder, or other built-in task management tools. This breadth of tools might be something that's attractive for freelancers or small businesses, but if you mainly need a communications platform that lets you make phone calls, have video meetings, and send instant and SMS messages, an option like Dialpad would be stronger.
What's the best 3CX alternative for you?
As always, do your due diligence and check out user reviews on third party sites and social media.
We'd recommend trying Dialpad's free trial, of course, as it's really one of the best alternatives to 3CX if you need a robust and flexible communications platform.
It's easy to use and scalable, and has customers across highly regulated industries like insurance, healthcare, education, and more.
If you're looking for a VoIP provider or business phone system that can do a lot more than phone calls, take Dialpad for a test drive.

Looking for a unified communications platform that's easy to use, scalable, and gives you all the communication channels you need in one intuitive app? Take Dialpad for a spin with a 14-day free trial!
Sign up for free
13cx.com/ordering/pricing/
2zoom.us/pricing/
3ringcentral.com/office/plansandpricing.html
4talkingpointz.com/nextiva-competing-around-the-customer-experience/
5talkingpointz.com/nextiva-ccaas-a-broader-vision/
6nextiva.com/nextiva-pricing.html
7goto.com/pricing/connect#
8webex.com/pricing/index.html
9vonage.com/unified-communications/pricing/
10bitrix24.com/prices/