Salesforce Integration
Overview
The Dialpad for Salesforce integration brings smarter workflows, increased call efficiency, and better customer interactions to Salesforce so your teams can focus on driving more sales and closing deals faster.
Dialpad automatically syncs contact details and logs activities like call history, recordings, voicemails, transcriptions and notes directly from Salesforce to your Dialpad apps.
Dialpad also integrates with Salesforce's power dialer and omnichannel capabilities to drive efficiency for both sales and support teams.

Key Features:
Native Calling
Native CTI embedded inside of Salesforce allows for click to call as well as receiving inbound calls
Native CTI includes call controls, note logging, and the ability to log against an existing case or opportunity
Active Dialpad calls can launch the Dialpad Everywhere widget which includes access to:

Contact history with other connected integration platforms (ex: Zendesk)
Real-time transcriptions powered by Voice Intelligence™
Real-time assist cards powered by Voice Intelligence
Call & Message Logging
Automatically log inbound and outbound calls
Automatically log SMS messages sent or received
Automatically log voicemails, recordings, and transcriptions
Sidebar Integration
Display contact profile information from Salesforce natively inside the Dialpad desktop and mobile apps
Match the specific Salesforce contact with listed Dialpad contact if multiple matches occur
Log tasks or notes to a contact profile and automatically sync back to Salesforce
View call activity history from contact profiles
Omni-Channel
Sync agent statuses between Salesforce Omnichannel and Dialpad
Power Dialer
Create calling lists and enable power dialer mode on the Dialpad native CTI
Classic & Lightning
The Dialpad integration is compatible with both Salesforce Classic and Lightning
Salesforce Classic supports click to call which launches the Dialpad desktop app (or Dialpad Everywhere)
Salesforce Lightning supports the native CTI
Coach from Anywhere
Arm reps or agents with the best answers through real-time assist cards that include responses to frequently asked questions as well as a hyperlink to more information
High-Velocity Sales
Allow calls to be triggered from a sales cadence
Mark call tasks as complete after the call
Branch cadences based on dispositions logged through Dialpad
How Dialpad Integrates with this App:
The Salesforce integration is free to install but requires a Pro and Enterprise Dialpad plan type. Teams will also need an Enterprise or Unlimited edition of Salesforce and/or an edition that supports API access. The Dialpad integration is compatible with both Service and Sales Cloud.
How to setup
Connect Salesforce to Dialpad
In order to integrate Salesforce within Dialpad, here are a few things to note:
You must have either Enterprise or Unlimited editions of Salesforce
You must enable API access
Your Salesforce Admin must enable the Dialpad for Salesforce integration
Note:
Dialpad does not store Salesforce activities. It only does a real-time fetch to display information using Salesforce APIs.
Looking for our other Salesforce integrations? Learn more about Classic and Lightning.
To connect Salesforce:
Scroll to the bottom of your contact's profile
Click Connect to Salesforce
Enter your credentials to authenticate the connection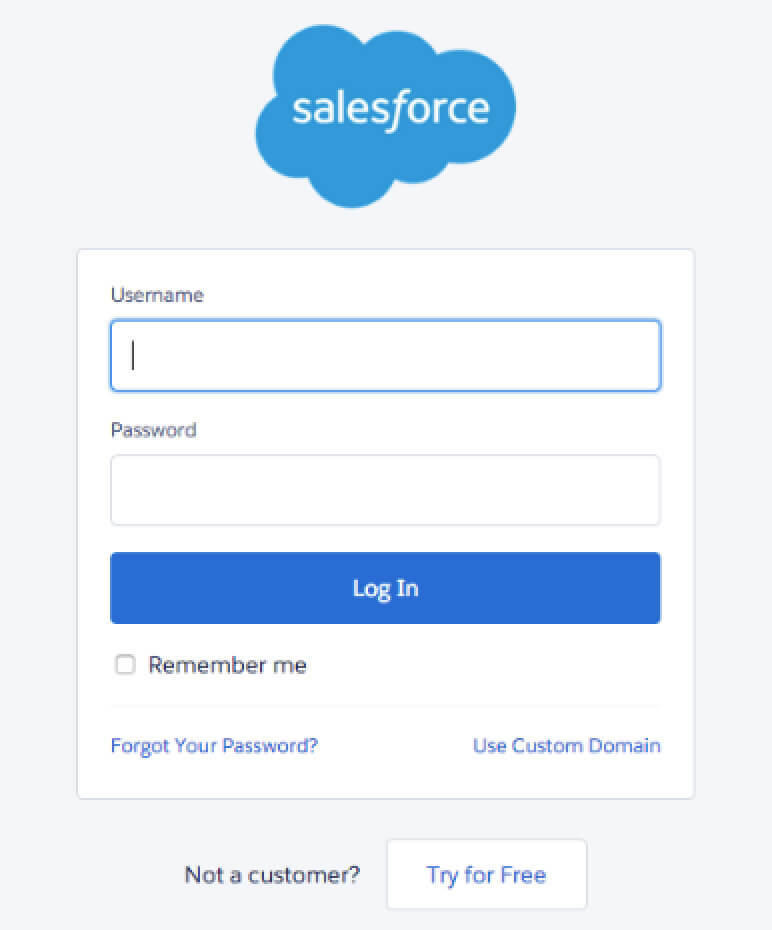 Once you've authenticated this connection you should see a Salesforce match populate on your contact's sidebar whenever you have a match.
In the case where multiple matches appear:
Click on the # of matches
Select the right contact from the populated list
This contact will now sync with your contact in Dialpad

Once you connect, your Salesforce panel will display the following:
Salesforce Record Info
View Contact (in Salesforce)
Log Activity
Open Activities
Activity History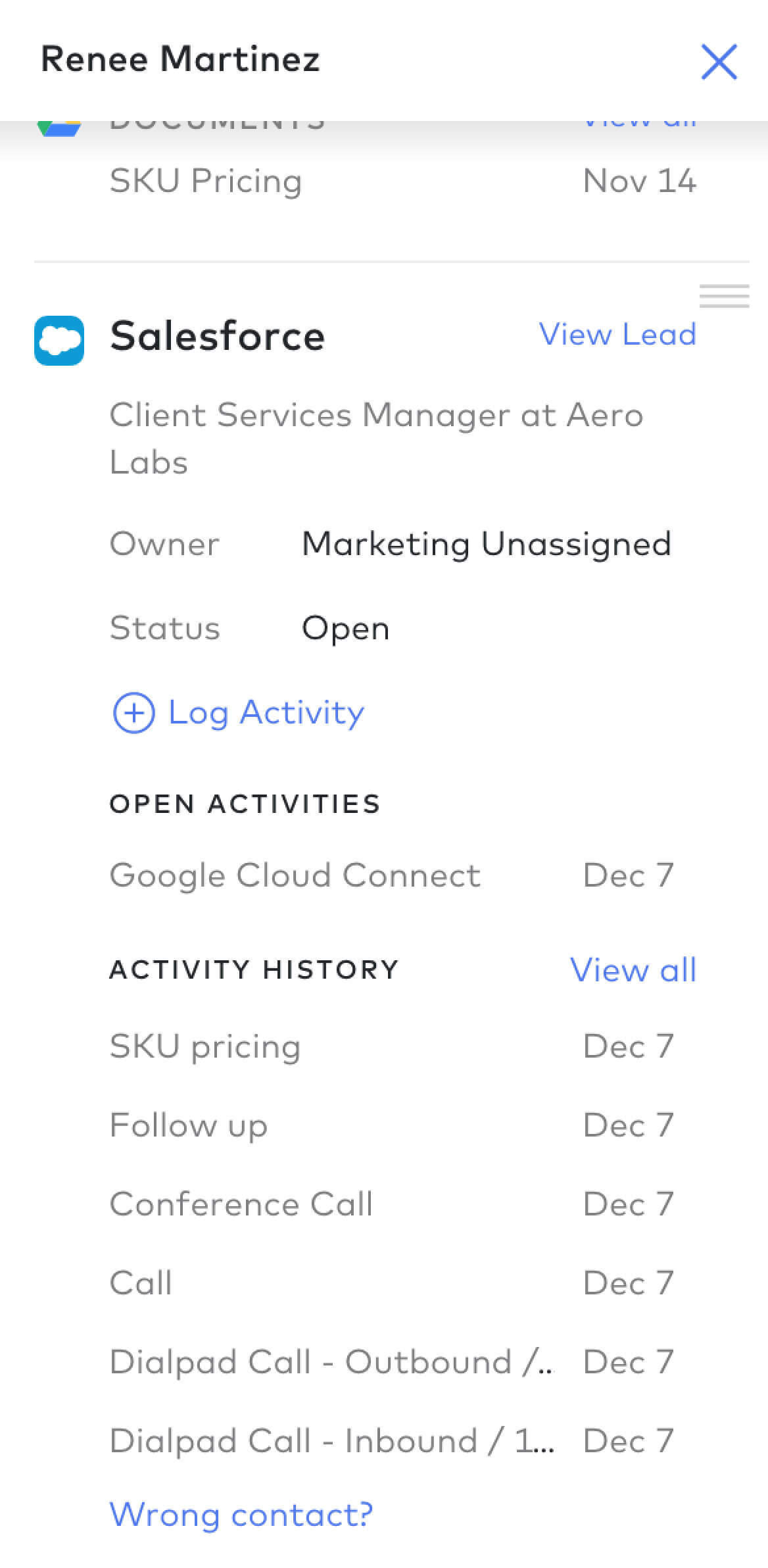 Salesforce Record
This section displays:
Title & Company associated with the Record
Record Owner
Opportunity Stage (if applicable)
Log an Activity
No need to toggle between Dialpad and Salesforce. Click on Log Activity to enter a subject line and any notes. Let's take a closer look at logging an open activity vs logging a completed activity.
Looking to log activity on your iOS or Android device?
Log an Open Activity
You can log an open activity by following the steps below:
Navigate to your contact
Click Create Task before you place a call
Save Activity before you place a call
The open activity will then show up under Open Activities
Log a Completed Activity
To log a completed activity:
Navigate to your contact
Place a call to your contact
On your active call, start typing in your notes
After you're done, click Save
Additional info
Sales is a crucial element in most organizations. They're the savvy influencers who transform leads into conversations into sales into clients. They're the ones who close the massive deals that make for successful quarters and the hundreds and thousand of small ones that keep the lights on. They're an integral part of the success of the enterprise. And you want to make sure they have the tools they need to do their job.

The Dialpad Salesforce Integration helps salespeople work more efficiently. With click-to-call functionality, users don't need to toggle between apps or windows—or worse: pick up a physical phone and manually dial a number. They simply click the number inside Salesforce and Dialpad takes care of the rest. Incoming customer calls? This integration means it happens inside Salesforce. Plus, a record of the call is instantly created and can be logged to cases in Service Cloud.