Power dialer
If you've ever worked in an outbound contact center or call center, you might've lists of phone numbers to call—existing customers, prospects who'd expressed interest, or absolute cold calling. If you or your call center team has to dial hundreds of numbers every day at work, then the power dialer is one of the most powerful automation tools you can possibly have.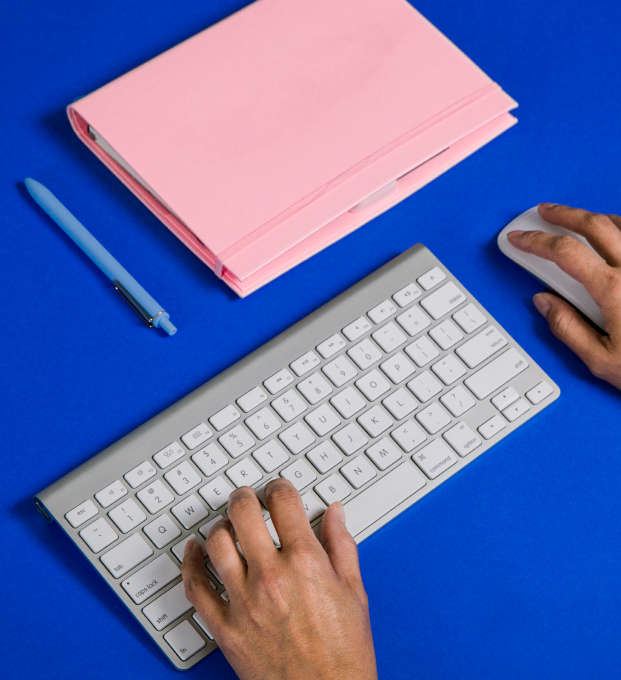 What is a power dialer?
A power dialer is a piece of technology (sometimes comes with your VoIP or business phone system) that automates the process of making phone calls to customers or prospects. It's an essential tool for many contact centers that frequently make a high volume of sales calls.
The power dialer automatically dials the next phone number on your outreach list right as you hang up the previous call. Basically, it saves your agents from having to click or select the next number to call. No more manual dialing.
Fun fact: Power dialers are programmed to not only call the next number when the agent (or customer) terminates the current call, but also move onto the next call on its list if there's no pickup or if there's no live connection because the number is busy.
Power dialer features to look for
Sometimes, contact center software will come with a power dialer. This is generally better than having a separate power dialing system because agents would be able to do everything, including making calls, logging call results, and more—all in one place. Here are some features to consider as you're looking for a power dialer.
Integrations with CRM and other tools
Your dialing system isn't the only tool your team is using. If you're using a CRM or other software, your power dialer should have integrations with these tools.
Dialpad integrates with popular apps like Salesforce CRM, giving you a power dialer right inside your CRM dashboard. Streamline your call center workflows, and empower your team to make more calls with less effort and less time wasted.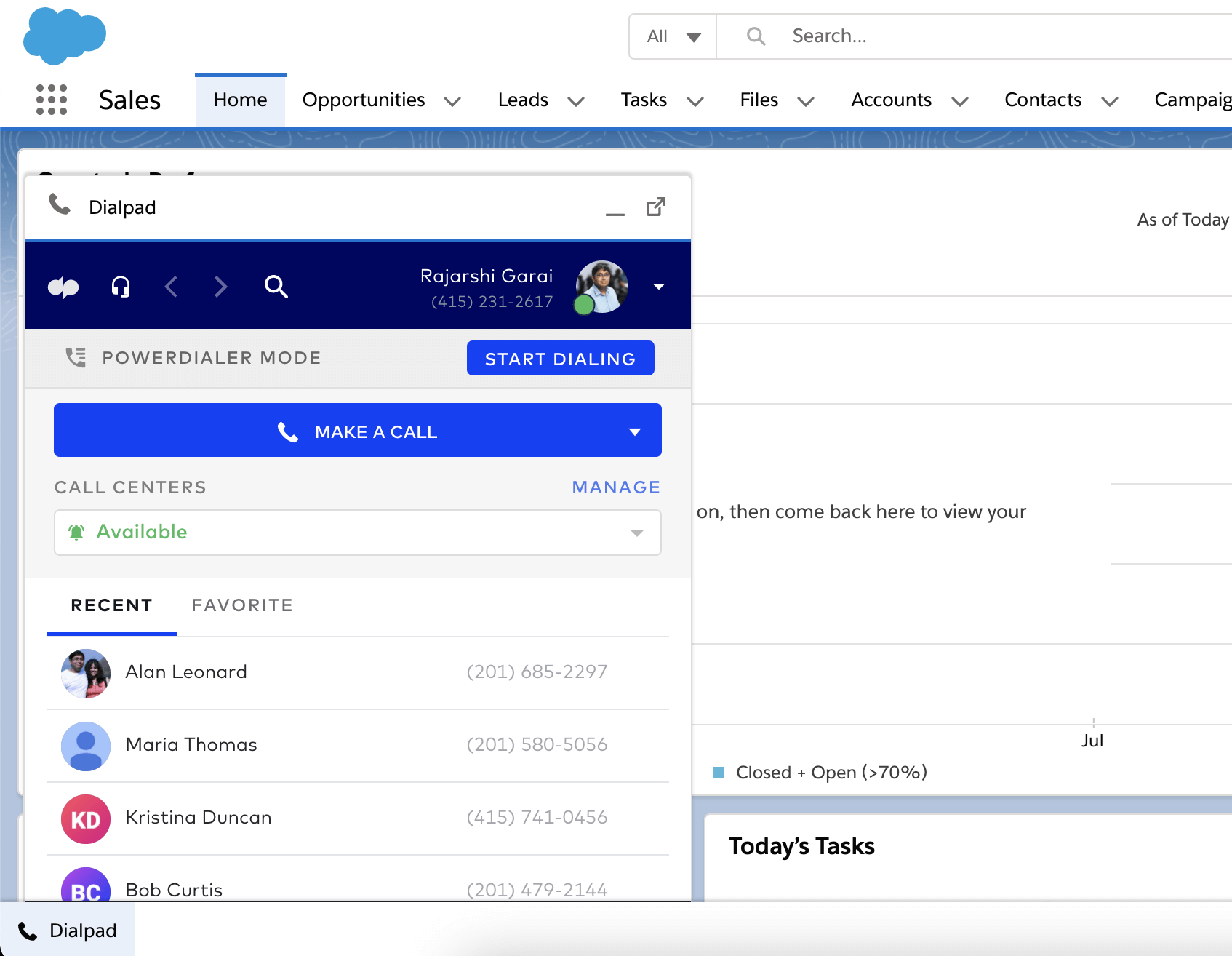 Call recording
An essential supporting feature for your power dialer is the ability to monitor and record calls, which is crucial to contact center management. In Dialpad, you can record calls and also make a "playlist" of calls to highlights where improvements can be made for your team.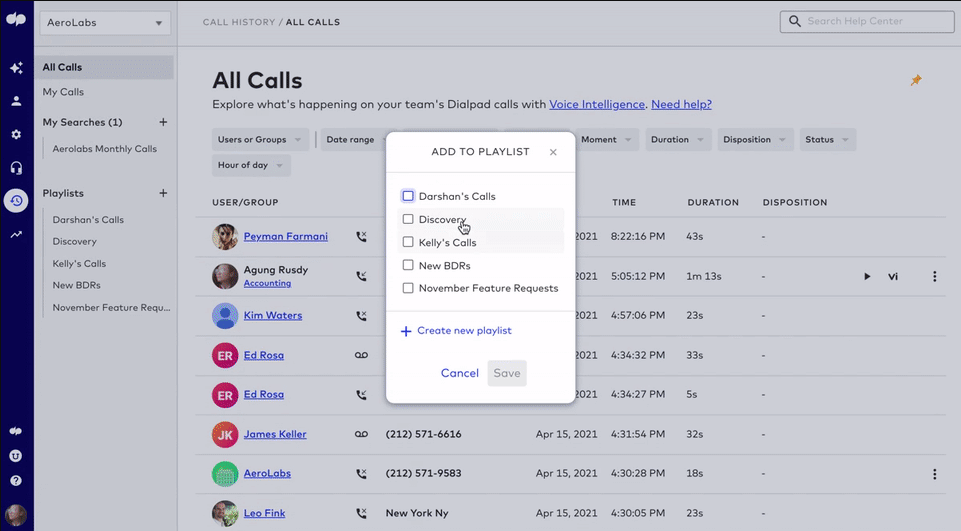 Voicemail drop
You can't always leave personalized voicemails. With so many prospects to call, reps can waste a lot of time. To increase call volume—and the likelihood of having an actual conversation with a prospect—use voicemail drop to pre-record a voicemail greeting. When a prospect's answering machine starts, just click a button to start the pre-recorded message.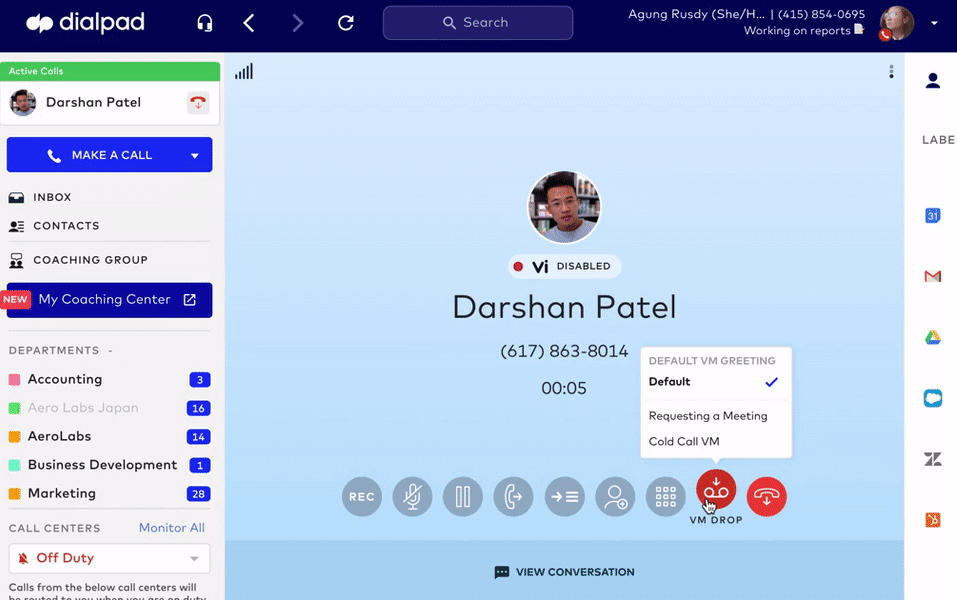 Live-call monitoring
This isn't a must-have, but if you're one person overseeing a large team of outbound agents, you may need to monitor calls in real-time. Dialpad's Voice Intelligence (Vi) technology transcribes calls in real time—and allows supervisors to intervene when needed: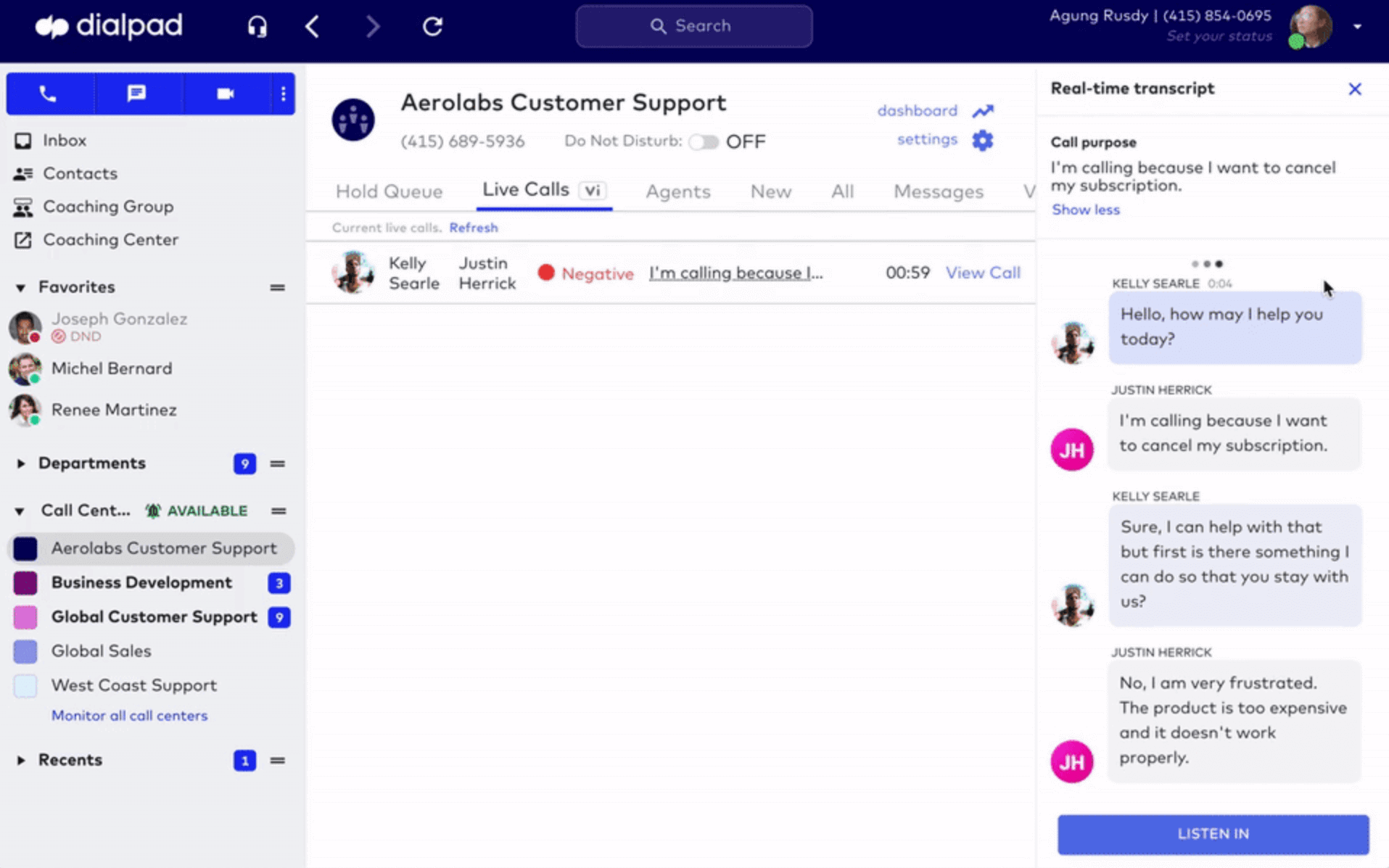 Unlimited call campaigns in many countries
If your contact center team needs to reach a global audience or customer base, make sure your power dialer allows for international dialing. Same goes for if you have an outsourced contact center.
Because Dialpad's contact center platform has telephony built in, you can make international calls, if needed.
How to set up Dialpad's power dialer in Salesforce
Once you're on the Dialpad Sell plan, you can easily set up Dialpad's power dialer for Salesforce.
First, you or an admin who has Salesforce.com (SFDC) admin access will need to set up the initial integration. Then, make sure your agents have the Dialpad app in Salesforce Lightning. Here's how to do that in a few simple steps:
In your Dialpad account, go to Admin Settings > Company Settings > Integrations.

Then, go to Salesforce Options and choose Configure > Powerdialer > EnableSalesforce Powerdialer

That will allow you to link your Salesforce account with Dialpad, and then to sync your reps and contact centers.

Once this is enabled, go to Settings and set any other required factors like call wrap-up times.





FAQs about power dialers
What types of businesses or organizations would use a power dialer?
Power dialer software is useful in pretty much any situation where there is a high volume of outbound calls and you want to eliminate the repetitive tasks of dialing and selecting numbers. If you are using contact center software, this feature is often built into the product.
While the primary use of auto dialers is for sales teams that want to reach as many people as quickly as possible, there are certain industries that would find power dialers especially useful. For example, real estate companies may use a power dialer to do prospecting in a certain neighborhood to look for homebuyers or sellers. Bill and debt collection agencies are another big user of power dialers, as are political marketing agencies or companies running general surveys.
When is it time to invest in a power dialer?
Not all businesses need a power dialer—you may not make enough calls to merit spending the money on one, or your team may not be big enough yet. Here are two questions to ask if you're wondering whether it's time to invest in a power dialer.
Are you ready to move to high-volume cold calling? You may have a certain amount of inbound leads generated through visitors coming to your website and filling out Contact Us forms, but that's a pretty passive strategy and unlikely to be enough to stimulate good growth.
Cold calling and automating follow-ups would be another option to find new customers—but cold calls are notorious for low success rates, which means it's basically a volume game. An auto dialer can help streamline your cold calling efforts and empower your agents to connect with more people, more quickly.
Is your sales team spending too much time on manual work? Low sales figures don't necessarily mean you have unproductive sales reps. It may just be that they're spending too much time on low-value, manual tasks like dialing and entering CRM information. In these cases, you might want to consider a dialing system that integrates with CRM tools so they don't have to do so much data entry (one of the biggest timesucks in contact centers).
How can I improve call quality and performance for outbound calls?
The main thing is to monitor, record, and review calls regularly. This will help you find training opportunities to improve your team's outbound approach because call recordings not only show you if agents are following protocols and scripts, but also help you identify gaps and common objections. (And with such high turnover rates in contact centers, having a rigorously training and monitoring strategy is even more important.)
This is also helpful for settling disputes with customers or partners, since no one can really argue with call recordings as proof. Similarly, you can provide evidence of compliance as well, especially if your business regularly handles sensitive information like credit card data or is in a sector that's highly regulated, like insurance or healthcare.
What is "wait time" in a power dialer?
Wait time refers to the time that elapses between two calls made by your power dialer. Usually, you should have the option of setting the wait time according to your contact center's needs.
I don't run a big call center. Can I still use a power dialer?
Yes! Even small and medium-sized contact centers can benefit from using contact center software—if you have agents making a decent volume of outbound calls every day, and if they have workflows that could be more efficient and streamlined, then you can consider using a power dialer.
What's the cost to make calls with a power dialer?
Pricing can vary depending on the system you choose. With some providers, you have to pay for the power dialer product or feature itself, and then also a per-minute charge for outbound calls.
What are predictive and progressive dialers?
Predictive and progessive dialers are sometimes referred to as types of power dialers. But there are some nuances to both. The main difference is that a progressive dialer initiates a new call only when an agent is available to take it—which is different from automatic dialing. A predictive dialer uses data to try to predict when someone in a contact center team will be available to make the next call. So if everyone is super busy, and one agent is about to finish a call, the predictive dialer will know to start dialing as they're finishing that call. The goal: maximum use of agents' time.
Make more outbound calls in less time with a power dialer
If your business relies on generating leads and conversions by phone, then a power dialer can take your business to the next level.
With Dialpad, you get not only a power dialer but also features like voicemail drop, unlimited SMS text messages, custom caller IDs, call recordings, CRM integrations, and more.