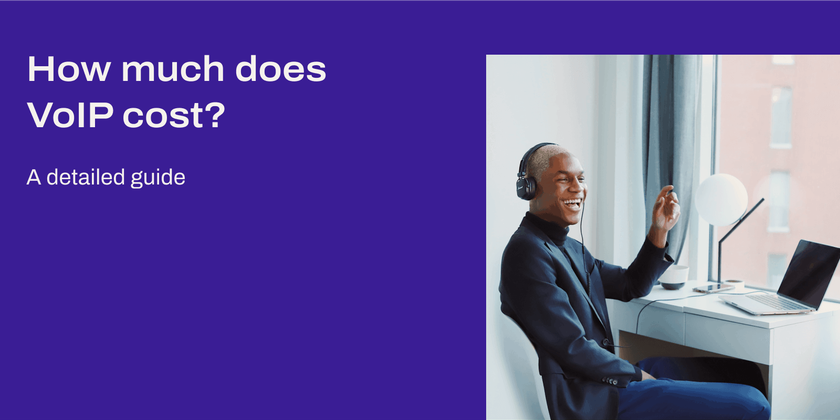 June 15, 2021
When it comes to business phone systems, there are a ton of options. And even within VoIP (Voice over IP) phone services, the market is flooded with providers and plans—that all seem to be structured differently.
One of the main things you're probably looking at when choosing a hosted VoIP service provider and a plan is, of course, the cost.
So, what's a "good price" to spend on your business VoIP? Why spend anything at all when some providers offer plans for a "low, low cost of less than $10 a month" or even free plans?
The rule of thumb here, if you read nothing else, is: If you're paying for a $1 phone service, then expect $1 quality, support, and features.
(Still no such thing as a free lunch, unfortunately.)
In this post, I'll walk you through VoIP costs, how providers structure their plans to look cheaper than they actually end up being, and what to really look for if you're on a budget:
Let's dive in.
How much does VoIP cost? One thing to remember before looking at prices
VoIP phone system costs vary between providers, but one safe assumption to make is that you get what you pay for.
It's tempting to see "free" or a single-digit price—and jump the gun on a service that has tons of hidden fees and/or limited features.
Common pricing brackets when it comes to enterprise solutions are around $30 per user. If you can, try to consider a ballpark range instead of a set number when you're comparing one service provider to another.
The reason why you should do this is because other than the base price, which is the main number you see, there are sometimes other costs associated with the installation and set-up stages, and the post-installation stage too. (More on this later.)
Regardless, this is still cheaper compared to traditional landline phones:

5 VoIP features to consider
So, what features should you consider when you're doing your cost vs value analysis? Some businesses prefer a more cost-effective solution, while others may want to plan ahead for future growth.
Not every business needs the most advanced features in a VoIP solution, so take these as a starting point.
1. Call recording
One important feature to be on the lookout for in business telephony solutions is call recording. Whether you have a contact center or call center, or just need to be able to record team or customer calls, this is often a useful feature to have for many businesses.
Some of the most common reasons why businesses use call recording:
It helps you coach your team more efficiently and do quality assurance

It allows you to pinpoint problems more quickly

It makes legal compliance easier
2. Number porting and the ability to keep your existing numbers
One of the advantages of VoIP over a traditional landline is the ability to easily manage your company's phone numbers. (You're no longer limited to a certain number of phone numbers like when you're dealing with the public switched telephone network, or PSTN.)
Depending on your provider, porting can be very straightforward (or very painful). For example, Dialpad lets you keep your existing business phone numbers to make life easier for you (and your clients and customers).
In fact, you can add and swap VoIP numbers for your team really easily in your Dialpad account—which is great for scalability, especially if you plan to hire rapidly (or ever need to remove users):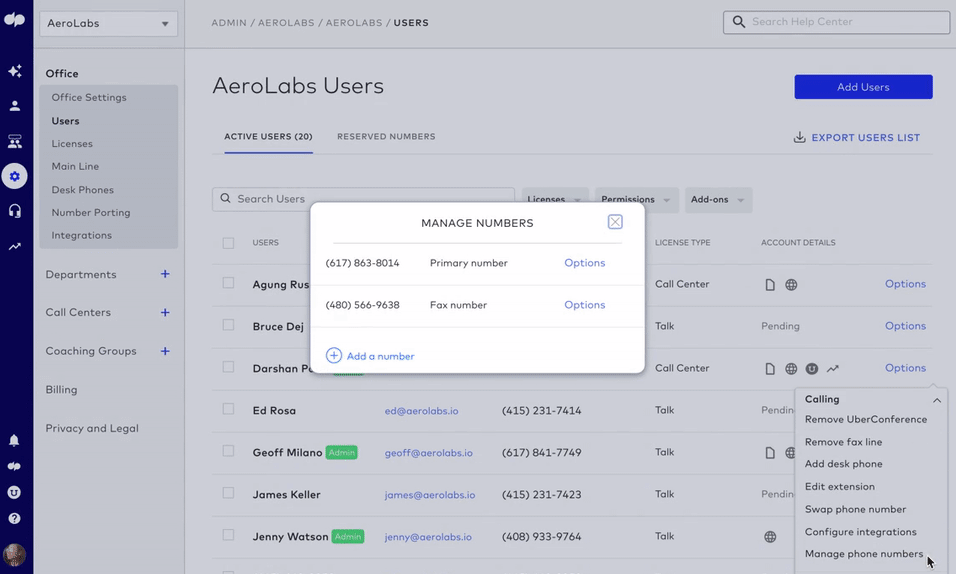 3. Voice-to-text
Voice-to-text is basically a feature that uses technology like artificial intelligence (AI) and speech recognition to translate spoken audio into text automatically.
Some VoIP providers will transcribe your calls and voicemails for you so that you have a written record of all your conversations.
For example, Dialpad not only transcribes your calls (more accurately than Google)—in real time…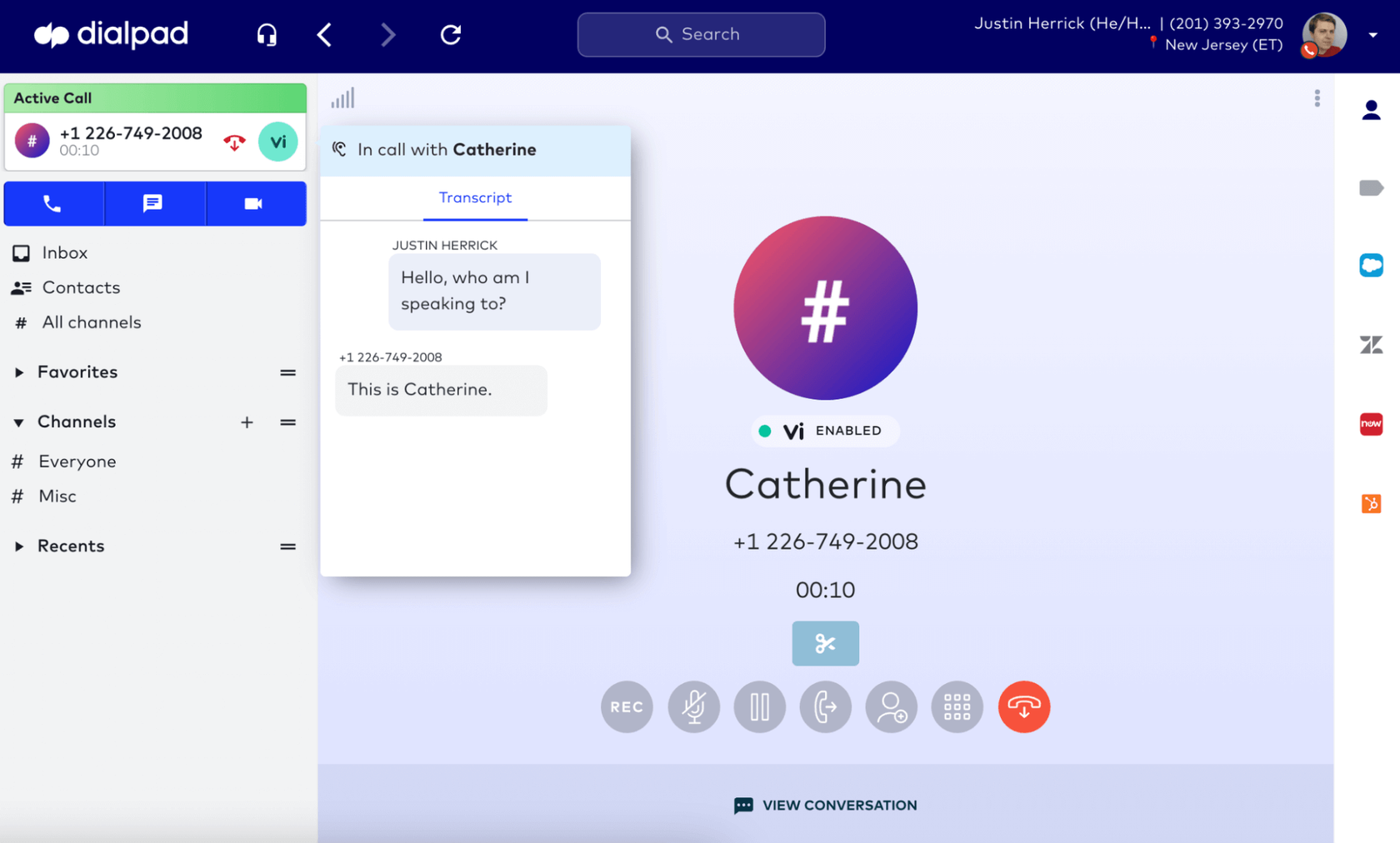 … It also automatically transcribes your voicemail (and sends you an email to let you know)!
4. Forward calls to your mobile phone
With VoIP, you no longer have to be shackled to your desk phone. You can easily answer or make calls via your desktop with a headset, on your office phone, or on your mobile device. This means that you and your team can work from anywhere as long as you have an Internet connection.
You don't have to have a mobile app for Android and iOS either. Dialpad, for example, allows you to have virtual HD conference calls from your web browser—without losing out on any of the functionality you'd have in the app:
Most providers only allow you to make VoIP calls from the VoIP app on your desktop or mobile phone. Many of them do let you join a call from a web browser, but very few are browser-based like Dialpad.
👉 Fun fact: With Dialpad, you can switch between devices, mid-call, without skipping a beat. All you have to do is go on the device you want and select "Switch to This Device" and your call controls will appear as soon as the call switches over: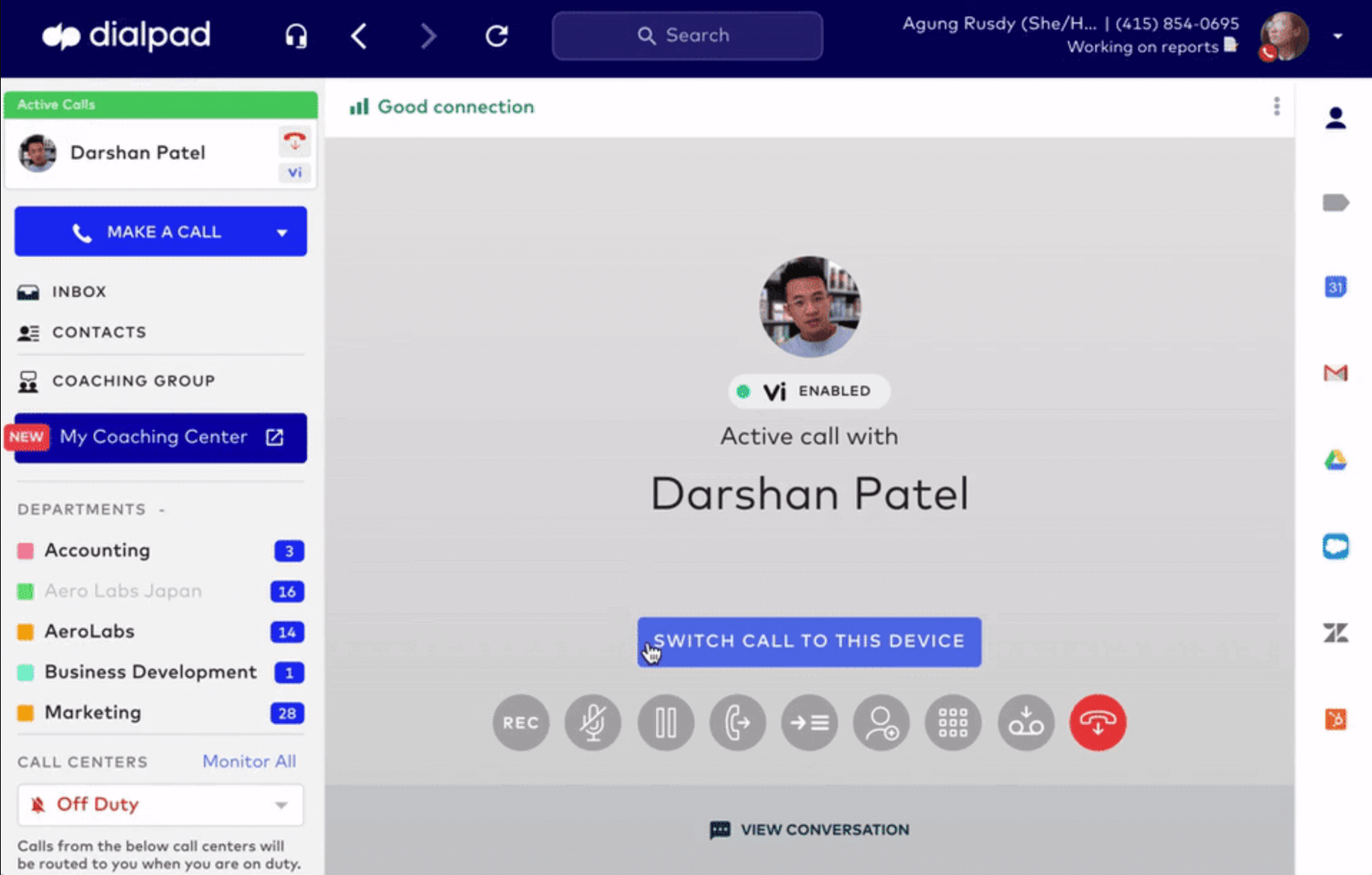 5. Call queuing
Managing incoming calls can be a challenge, especially if you have high call volumes or a small team. However, with call queuing, even small businesses can punch above their weight.
Call queues or hold queues help your business organize and distribute incoming calls, which ultimately reduces wait times and improves efficiency.
There are also features like auto-attendants and IVR (intelligent voice response) menus, which give you multiple call routing options. If your business gets lots of calls on a daily basis, this is a feature you'll want in a phone system.
In Dialpad, you can even see useful analytics like which IVR options are being used (and which ones aren't), which lets you continuously improve your IVR menu so that callers don't have to sit through options that no one uses: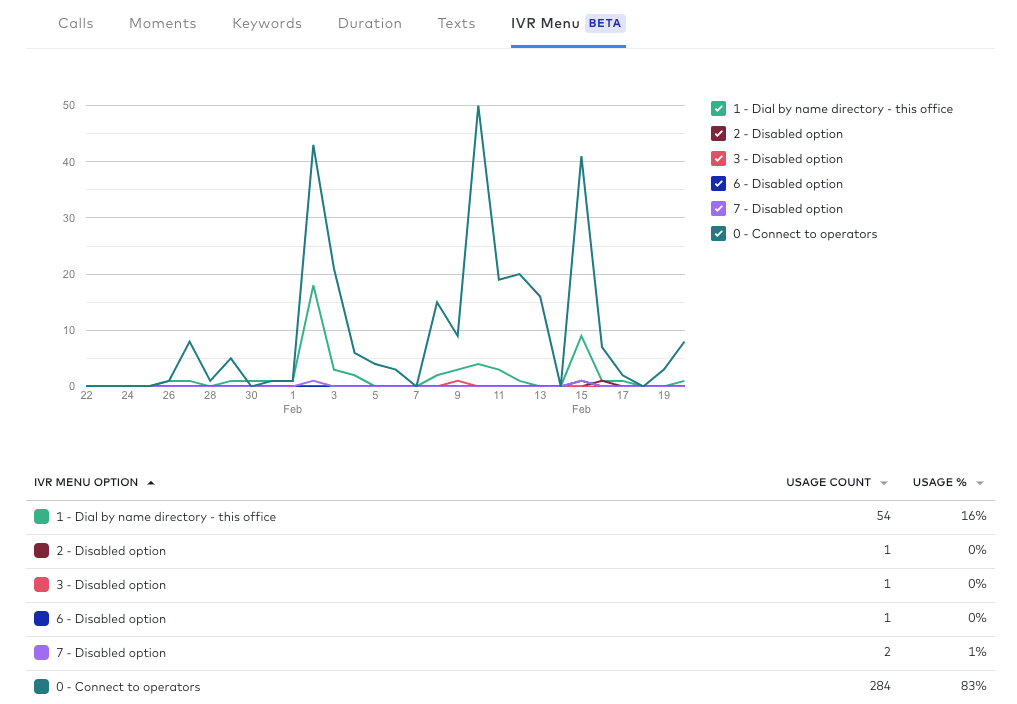 Looking at VoIP costs through the installation and set-up stages
Beyond your initial monthly or yearly subscription cost, there are other things that VoIP users should factor into their budgets.
Generally, it's pretty easy, cost-effective, and quick to set this up compared to a PBX telephone system, but here are some things to be aware of, price-wise, as you're making this business communications switch.
Costs to consider in the installation stage
Do you need to upgrade your Internet connection?
With VoIP, you can get rid of all those pesky copper wires in exchange for an ethernet cable, a modem, and a router. Since VoIP systems are cloud-based, your service provider hosts you via a secure data center and takes care of all the clunky hardware bits.
In fact, your business probably has all of (or most of) the equipment it needs for VoIP.
Just make sure your internet cables, modem, and router are updated and can handle the additional bandwidth that VoIP requires. And, check with your internet service provider to see if they can provide reliable speeds with low outages.
Generally, moving over to cloud communications is quick and easy. It doesn't take long to set up, and you can use your current handset, headset, or desktop phone to work from anywhere.
If you do need better Internet service to work from home, T-Mobile has a partnership with Dialpad that gives you lightning-fast 5G Internet along with a unified communications platform that lets you make phone calls, have virtual meetings, and send business texts and messaging, all in one cost-effective package: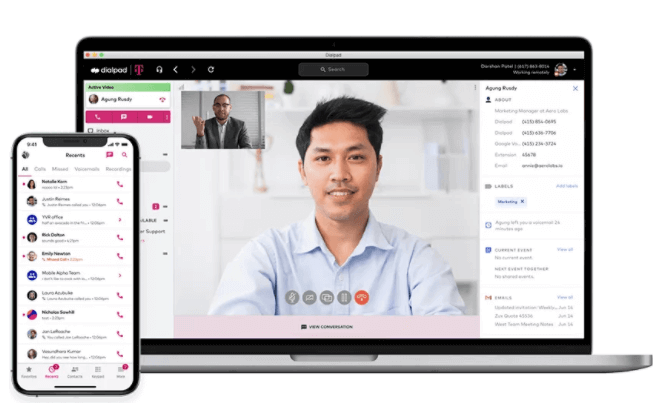 But just because the installation stage is quick and easy, doesn't mean you can avoid any decision-making. Here's a quick guide to help you through the installation process.
Should you pay for phone numbers?
The answer is: What do you (or will you) need? Because VoIP allows for easy scalability, think about the needs of your business right now.
When you start a plan with your service provider, they usually provide you with a free local or toll-free number. You should also be able to port your existing number to your new plan for no extra cost. So, if you're a small business or a business that needs only one number, then you shouldn't be paying for a new number.
However, if you need more business phone numbers or are looking for a specialized number (like a vanity number), you will have to pay for it. Usually, these require a one-time set-up fee and a small monthly subscription charge.
With Dialpad, the system will tell you exactly what you will pay before you commit to adding a line:
Should you buy a special phone designated for VoIP?
You don't have to buy any special phones designated for VoIP. You can easily just use a softphone through your computer or mobile device.
But, if you're itching for the look and feel of the traditional desk phone, there are some phones that are designed to cater to and enhance the experience of VoIP. These special phones can run anywhere from $60 to $1000, depending on what they're meant to do:
Desk IP phones
If you're attached to the look, feel, and functionality of regular desk phones... Desk IP phones give you the look and feel of a traditional landline with all the features of VoIP.
If you want just the basics, these phones can be incredibly affordable. If you're willing to spend a little extra, the best phones support HD call quality and have LCD screens that provide you with special functions.
While it's unnecessary for most businesses, desk IP phones do allow people to stick to what they're comfortable with without missing out on all the great features of VoIP.
Receptionist phones
These phones are similar to desk IP phones, but usually they have an attached module that can be used for easy manual routing.
If you still have a receptionist routing calls, having this device will help them do their jobs more efficiently—but with VoIP, you can have auto attendants or an IVR menu that could easily do the same thing.
This expedites or automates the routing process and frees up one person in your company to do other, more valuable tasks than directing phone calls.
Conference phones
Conference phones are also called starfish phones because of their shape. They're specially designed for conference calls, and come with a speaker and a microphone designed to pick up the audio of an entire room.
These phones are perfect if you're looking to do just audio conference calls, but if you want video conferencing capabilities, then you should look at VoIP providers.
Do you need to hire someone?
If you're busy (who isn't?) and don't have the time or energy to decide on the little settings, you might expect that you'd just have to hire someone to install your new phone system.
But, it shouldn't be necessary. The initial setup should be done by your service provider leaving only a couple of things for you to do. Like setting up voicemail, call forwarding, and call routing rules.
💸 Money tip: Most VoIP providers will have a team or service called "professional services," which basically means they'll do the setup work for you—and charge you for it. It can be quite expensive and most providers will add this on if your company doesn't employ its own systems integrator or tech partner. This is why we stress the importance of an "easy-to-use" or "easy-to-set-up" system—so you don't have to pay an exorbitant amount in professional services fees!
With services like Dialpad, setup (and adjustments!) can be done directly in your dashboard.
Regardless of what their setup services include, your service provider should have good customer support. That's pretty much a non-negotiable—and they shouldn't charge extra for it.
👉 Dialpad tip: If you're setting up your service with Dialpad, we've created a self-service deployment guide to help you through the initial setup phase.
How much should you budget for the actual installation?
With any reputable VoIP service provider, installation should be simple and priced reasonably.
In most cases for businesses with simple setups, you sign up for the service and the system is activated. From there, your team can log on to the dashboard and start making calls right away.
However, if you need some extras, it's good to consider those add-ons when you're putting together your budget. Here are a few examples:
A VoIP adapter: You will only need a VoIP adapter, also known as an ATA, if you're planning on keeping your original desk phones. This allows your team to keep their phones while still making virtual calls over the internet.

Desk phones: If you want new desk IP, receptionist, or conferencing phones, you need to put that in your budget.

Internet hardware: Make sure that your ethernet cables, modem, and router can all handle the increased workload of VoIP. Talk to your internet service provider (or switch to T-Mobile's work-from-home-ready 5G network).
Costs to consider in the post-installation stage
Because VoIP providers are subscription-based, you need to pay the most attention to service costs during the post-installation stage. With SaaS products, there shouldn't be any increased costs or different pricing for regular upgrades and features.
You should, however, factor in training costs, including the amount of working time lost by employees when learning the new system.
Other costs to consider:
The monthly payment subscription
This subscription cost is usually charged per "seat," which means per user.
With Dialpad, you can choose from plans starting at $15 per seat, which includes unlimited calling, unlimited SMS/MMS, custom voicemail greetings, and more.
Watch out for companies that try to nickel-and-dime their customers, even on the enterprise scale. Every VoIP service will have add-on options, so make sure to check if their monthly payment pricing gets inflated by the add-ons the software should have come with anyway.
Toll-free calls
If you have a company that is in or has aspirations towards the national market, you need a toll-free number. These numbers have the iconic area codes of:
Having these numbers allows anyone in the U.S. and Canada to call you without incurring any charges on their end. That means your customers can reach you from wherever they are, without it affecting their wallets—which makes you more accessible. If you have customers who like to be able to call you, this is a must-have.
👉 Dialpad tip: Consider both the monthly subscription cost and the cost per minute when it comes to toll-free numbers. With Dialpad, toll-free numbers cost $15 per month on an annual plan or $17 per month on a monthly plan, and just $0.02 per minute. Most toll-free numbers do include a charge per minute for incoming calls to the number.
Overseas and international call charges
No matter what VoIP service you choose, you should know exactly what to expect when it comes to additional calling and texting fees.
Each provider you consider should have a complete list of how much they charge per minute for calling and text messaging for every country. (For example, take a look at Dialpad's international call rates here.)
Number of VoIP users
Typically, you'll be charged per month based on the number of users you have. For example, at Dialpad, we offer plans starting at $15 per month per user on an annual plan, and it only requires one user to be on the plan.
If you jump to the Pro version (more for small businesses than solopreneurs), it includes more advanced features and costs just $25 a month, and requires you to have three users minimum.
The best part about Dialpad, and using VoIP in general, is scalability—you'll never be paying for inactive users. (As I mentioned earlier, you can easily add or remove numbers right in your Dialpad dashboard based on how your needs change.)

How is the VoIP cost for Dialpad cheaper than traditional phone systems? 4 areas you save on
We've discussed this throughout, but let's break it down—how exactly is Dialpad VoIP cheaper than traditional phone systems like PBX?
Well, you'll save both in the setup and the maintenance of your business telecommunications.
Staffing
With traditional phone systems, you need IT staff to set it up and maintain it. Traditional on-premises hardware associated with older phone systems require a lot of staff hours to set up and even more to maintain. Your IT staff will be perpetually checking your system and dealing with hardware updates.
VoIP, on the other hand, requires very little maintenance in comparison—and your provider's support team is there to support you whenever you have a problem.
Dialpad updates everything on our end for you, with no downtime, and most basic things can be done right in your Dialpad account without having to hire an IT person. Need to add or remove users? You can do that in two clicks. Want to set up a new phone number? Yep, you can do that yourself in minutes too.
Copper wiring
Copper wiring, especially today, requires a significant investment. To add new lines to a traditional PBX system, you need this copper wiring. You also need specialists to come in and install it—which, of course, will cost you. (Both time and money.)
Going with VoIP eliminates that problem completely.
As I touched on above, with Dialpad, you can easily scale the number of lines you have without the hassle and expense of putting in more wires. All it takes is a click of a button to add a line.
Equipment
VoIP requires virtually no equipment! All you need is a connection to the internet and a mobile device, laptop, or desktop computer.
If you do want to use your old desk phones, you may need to get a VoIP adapter, but that's pretty much it.
And to ensure you have the best internet connection, you may also need to update your modem or router, but this is something that most companies today already have.
This is nothing compared to the cost of equipment for traditional PBX telephony, which requires bulky and expensive servers and wiring. It's also less flexible around desk phones—whereas VoIP gives you the option of using or not using desk phones at all, with PBX this isn't really an avoidable expense.
Setup fees
Because VoIP requires no setup, there shouldn't be a setup fee. With Dialpad, you pay nothing extra at the start of your service. Any company that tries to add hidden fees during the initial setup should prompt you to look for other options.
Compared with the setup fees for traditional phones, PBX looks almost like highway robbery, with its installation fees and extra fees to activate your lines (among other costs).
FAQs about VoIP costs
What is VoIP, exactly?
VoIP stands for Voice over Internet Protocol, and it allows you to receive and place phone calls over the internet. It was created in the 1990s by developers who figured out a way to make calls over the internet's data network.
Today, it has fully surpassed the capabilities of a traditional PBX system and has become the backbone of many UCaaS (unified communications as a service) platforms that you can use to make phone calls.

Is VoIP cheaper than a landline?
Yes!
That's because VoIP doesn't require the hardware or maintenance that a landline phone does. With traditional PBX, your bill can exponentially increase if you encounter any problems, or if your system to be serviced, or if you need new equipment... You get the idea.
With VoIP, you know what you're getting and exactly what you're paying for it. It's generally always more cost-effective than a landline—with a lot more features.
Can you use a normal phone with VoIP?
You can use a normal phone with VoIP. If you want to use your original desk phone, all you need is a VoIP adapter.
You can also just use your personal mobile phone via the Dialpad mobile app (for both iOS and Android!) to make and receive calls through your business phone number.

How much is VoIP monthly?
It depends on your plan, how many users you have, and if you have any personalized numbers. For the Standard and Pro versions, Dialpad is $15 and $25 per month, per user respectively. Then you add in international and toll-free calling minutes and phone number subscriptions.
If you ever want or need a breakdown of your bill, you can always find it in your Billing Summary, which shows you your current plan and any individual charges on your account.
How is VoIP billed?
VoIP is a subscription-based service, and typically you have the option to pay monthly or annually. With Dialpad and most service providers, you save more by going on an annual plan rather than a month-to-month plan.
On your statement, charges are broken down based on the number of users, room, and/or fax lines. It should also be broken down by local and toll-free lines. Then, at the bottom, are the charges for taxes and fees.
Is VoIP worth it?
I'm biased, so I'm going to say yes—but that doesn't change the fact that the cost savings you get with VoIP come with the substantial bonus of getting all the advanced features and analytics that you wouldn't find in a traditional phone system.
Not only that, you also don't need expensive telephony hardware or equipment—and you don't have to worry about upgrades or maintenance, and you have the freedom to work from anywhere.

There's just so much that VoIP gives you that PBX systems can't match, along with the transparency in the cost of a VoIP service that's hard to get with a traditional phone company.