Back to Blog
The 7 best easy-to-use (and affordable!) Aircall alternatives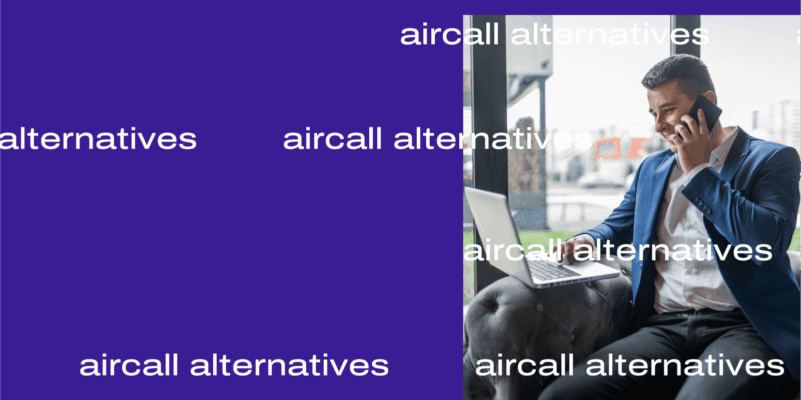 So, you've been looking into Aircall—a cloud phone system with lots of call center features—but you're not quite sure it's the right choice.

We get that. Aircall does have some limitations, like a lack of an integration with Google Workspace and no built-in artificial intelligence (AI). So how do you find Aircall alternatives that give you a little bit (or a lot) more?
The good news is there are quite a few options. We've done a little digging and research and chatted with a few customers, and in just a bit, I'll go over what we've seen in terms of what Aircall can and can't do—and which affordable, easy-to-use providers might be better options.
What is Aircall?
Founded in 2014, Aircall is a cloud-based call center and phone system that's pretty new on the scene. It comes with most of the basic features you'd expect, like phone call recording, call monitoring, IVR, and voicemail.
Why businesses like it
Specifically, small businesses tend to like Aircall because it's fully geared toward, well, small businesses. Compared to most legacy solutions (and there are quite a few of them in the call center software space), Aircall is pretty easy to use and cheap.
Why you might look for an Aircall alternative
On the other hand, there are a few reasons you might look for an Aircall alternative—these aren't deal-breakers for everyone, but you should at least be aware of them.
You want to unify your business communications on a single app
If your team is using one app for phone calls, another for video conferencing, another for messaging, and yet another for your contact center, then you've probably thought about consolidating those tools.
(Yes, it is possible to have both your UCaaS and CCaaS solutions in one integrated platform.)
With Aircall, you can't really do that—you'd still have to toggle between different apps and integrations to access all those business communications channels. While Aircall does say they have a call center software and a business phone system, they don't have one unifying platform that offers a contact center, phone system, video conferencing, and messaging all in one.
If this is something that matters to you, then some of the Aircall alternatives below will be a better all-in-one option that gives you a unified workflow.
You need better call quality
Aircall's call quality is actually one of the most common reasons why we've seen businesses leave Aircall for Dialpad, and if your business does handle a high volume of inbound or outbound phone calls (or both), then this is something to keep in mind when you're choosing a contact center software solution.
Fun fact: Dialpad's unique split cloud architecture and global voice network are designed to give you excellent call quality around the world (and our Enterprise customers also enjoy a guaranteed 100% uptime SLA—which is unheard of).
You want AI-powered features like real-time coaching and sentiment analysis
One of the biggest things that Aircall doesn't have is built-in AI. Most people might hear that and think, "Oh, why does that matter anyway? AI's just a fancy nice-to-have." But, if you manage a contact center team, then AI is arguably one of the most important things you need to help your agents perform at their highest level—with minimal help from managers and supervisors.
(I have regular chats with leaders on both our Customer Support and Sales teams, and this is something that keeps coming up. In fact, they've written about it—learn more about AI in customer service and AI in sales if you're curious.)
For example, Dialpad's contact center software can pop up Real-time Assist (RTA) cards on agents' screens with helpful notes on tricky subjects. If a supervisor notices that there's been a lot of calls about pricing, they can create an RTA card with notes on that subject, and set the trigger words that, when spoken on a call, would pop up that card on the agent's screen: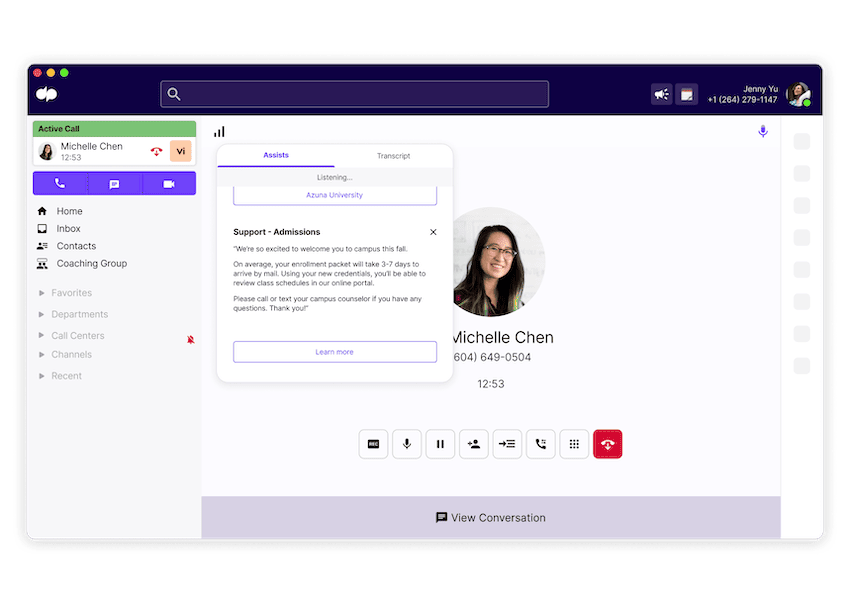 It used to be that supervisors had to personally sit in on calls and maybe message the agent on the side when they ran into difficult questions—now, with AI, they can do things like this and coach at scale.
I'll show you a few more examples below of what AI can do for contact centers in just a few moments.
The 7 best Aircall competitors that are affordable and versatile
So, if you're not sold on Aircall's call center software and curious about what else is out there, let's take a closer look at other comparable (and possibly better) options.
👉 SIDE-NOTE:
Even though Aircall does occasionally refer to itself as a phone system without mentioning call center capabilities (which is a bit of a head-scratcher), most folks who are looking for Aircall alternatives are likely looking for something that can help manage a call center. Because of this Zoom / Zoom Phone isn't on this list.
1. Dialpad: A truly unified communications that's easy to use and set up
If you like Aircall's ease of use, but want a little more out of your contact center software, then Dialpad should be one of the top picks on your shortlist. Here's why.
As a top Aircall competitor, Dialpad is a fully integrated communications platform. Now, we know lots of software providers out there say that they do "unified" communications, but that's often not actually the case.
Most, like Nextiva and RingCentral (more on that below) are actually reselling or whitelabelling other companies' software, meaning the user interface is often different and you may need different logins or different accounts.
Aircall does not do this—but they do still lack that "unified communications" aspect. That means if you want to send text messages or have video meetings, you'll need to pay for other software to do that.
With Dialpad, you do get all those communication channels in one platform. That means you can send text messages…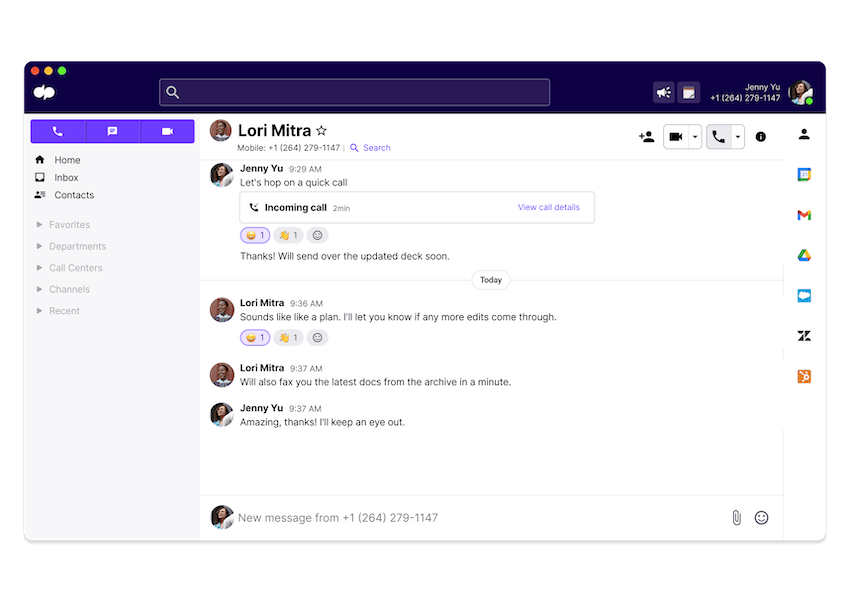 … Manage your call queues and make changes to your call routing easily from your app or just by logging in on a web browser:

Yes, Aircall has a call center software and a cloud phone system product—but again, it doesn't cover other communication channels and the telephony side doesn't seem to be very robust as the call quality is a recurring complaint that we hear from ex-Aircall customers.
Like Aircall, Dialpad's platform is super user-friendly, and you can do everything from adding agents to different contact center teams to managing phone numbers, right from your online dashboard:
Again, Aircall does get a lot of things right and isn't a bad call center software at all—and they do get great ratings on sites like GetApp. Dialpad just stacks up very well against it:


What else do you get with Dialpad that you don't get with Aircall?
AI-powered real-time transcriptions and coaching
Most call center software, like Aircall, have some form of call monitoring functionality (like barging and whispering), but AI-powered automations can take this a step further.
As we mentioned earlier, Dialpad's Real-time Assist cards can pop up automatically on agents' screens with tailored notes on tricky questions. But that's not all it can do. Dialpad's AI can transcribe calls—also in real time, with a high level of accuracy.
Not only that, it can also do live sentiment analysis, which makes it easier for a supervisor to oversee multiple active calls and spot when a conversation is going south. If it looks like an agent might need help, the supervisor can quickly scan the real-time transcript to help them decide whether they need to jump in on the call: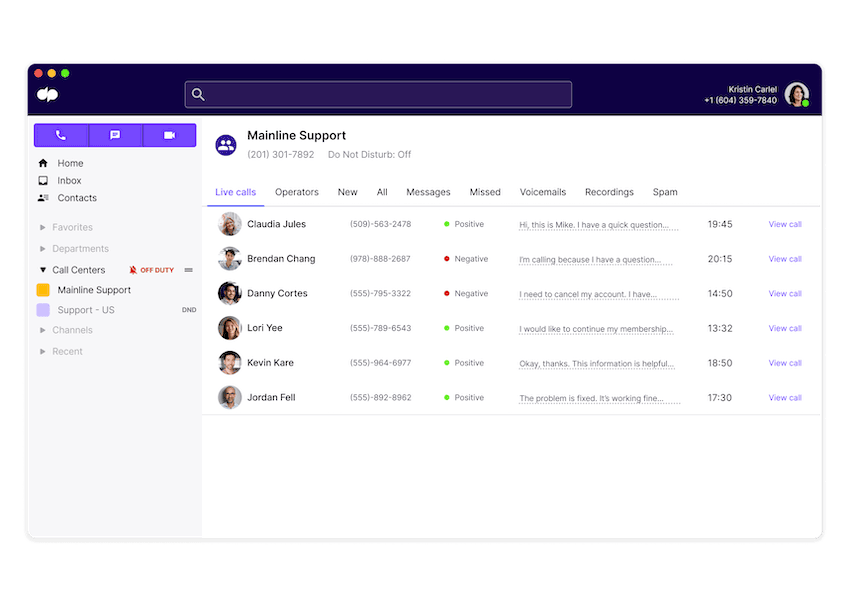 And besides that, the AI can also track when certain keywords or phrases are spoken.
For example, let's say your business just launched a new product or feature that had some unforeseen issues, and you want to see how often callers are asking about it. In Dialpad, you can create a "Custom Moment" to track those trigger words:

It's a very useful automation for both inbound and outbound call center teams, and if you do notice a spike or unusual trends, you can dig into the transcripts and call recordings to get more context.
The best part? All of this is built in-house by Dialpad's team and included right into the Dialpad Ai Contact Center platform—it's not an add-on.
❓ DID YOU KNOW?
At Dialpad, our AI team includes not only engineers and applied scientists, but also linguists! This is unique—most "AI" teams don't have actual in-house linguists working with their engineers. Learn more about how they work together to build our AI engine.
Analytics included in all plans
With Dialpad, you get call analytics (like missed calls, abandoned calls, agent leaderboards, and so on), and heat maps that display call volume patterns and average speed to answer included in all plans:
Aircall offers only "basic analytics" on its lowest pricing plan (not sure what "basic" analytics includes), and more advanced analytics on their higher-tiered plans.1 Again, not sure what "advanced" analytics means exactly here.
With Dialpad, you can even see IVR analytics, which show you which IVR options are being used most (or least) by your callers:
This way, you can continuously improve the calling experience and refine the IVR options based on that data. There are also service level alerts, which automatically sends notifications to contact center managers when service levels dip below a certain threshold:

More robust integrations
Aircall actually does have a large set of integrations, so let me clarify this a bit. Like Aircall, Dialpad comes with the usual suspects when it comes to integrations for managing customer relationships, like Salesforce, Zendesk, Zoho CRM, HubSpot, and so on. For help desk and support teams, these are essential.
And both also have Zapier integrations and an API that you can use to build custom integrations.
For legal practices, Dialpad is unique in that it has law-specific integrations, like with LawGro and Clio: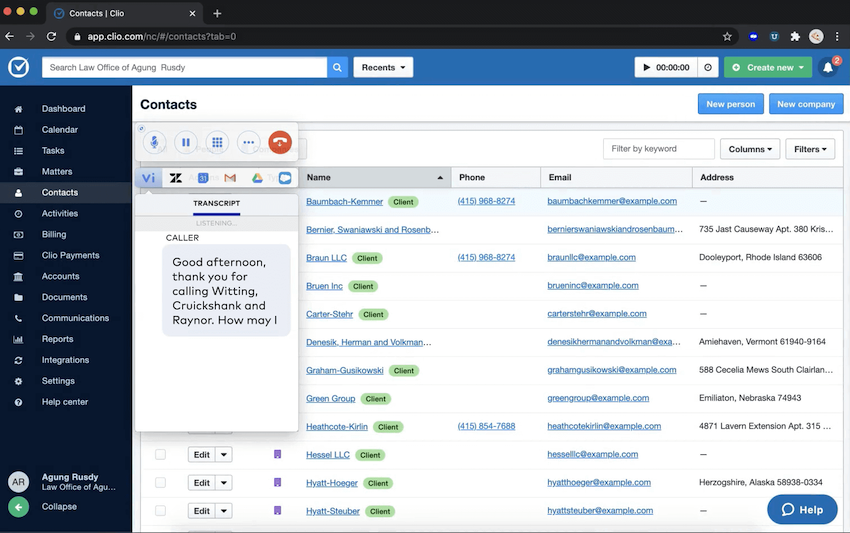 And beyond that, Dialpad's Salesforce integration works on mobile app as well, which is very rare. Most Salesforce integrations are designed for desktops only. With Dialpad, you can really work from anywhere that has a good Internet connection.
(If you're looking for a contact center platform that's fully integrated with a unified communications app, here's a head-to-head breakdown of Dialpad vs Aircall.)

Security and compliance
Dialpad is HIPAA-compliant, SOC2® Type II compliant, and GDPR-compliant, and any calls over its VoIP network and in-transit web requests are encrypted using TLS. At rest, application data is permanently stored using AES 256-bit on the Google Cloud Platform. There are also integrations for access management via SAML and SCIM from providers like Okta, Azure, OneLogin, and more.
Other features:
Book a product tour to see how easy it is to set up and use Dialpad's virtual contact center platform!

See how easy it is to set up and use Dialpad's virtual contact center platform
Book a product tour now!
2. Cloudtalk
What makes it a good alternative to Aircall?
Cloudtalk does start at a lower price in terms of its plans, and like Aircall, is very small-business focused, which means you can probably get it up and running relatively easily compared with more "legacy" solutions on this list like RingCentral and 8x8.
In terms of integrations, Cloudtalk is also pretty comparable to Aircall, and like Dialpad, both have open APIs, so if for whatever reason you don't like Aircall, Cloudtalk could be a good alternative.
Pricing
Cloudtalk starts at $25 per user per month, and as you pay more and go up the pricing tiers, you'll get other features like call monitoring and the Salesforce integration.2

3. Talkdesk
What makes it a good alternative to Aircall?
Talkdesk has a pretty well-rounded set of call center functionality like IVR, call routing, call queues, and voicemail. Compared to Aircall, it's more robust, and probably more scalable as well, since Aircall is so small-business focused.
You'll see this reflected in their pricing as well, which we'll get into below. If price is no object, then you'll probably have a more full-featured call center software with Talkdesk.
Pricing
Talkdesk does cost more than Aircall, which makes it less budget-friendly for smaller businesses and startups. Their first tier plan is $75 per user per month, and the next tier jumps to $95 per user per month.3
4. NICE inContact

What makes it a good alternative to Aircall?
Nice inContact is another cloud-based contact center that lets businesses manage communication channels like chat, social media, and voice. And they're actually what RingCentral is using to provide their "unified communications" platform. (Essentially, RingCentral has an agreement with NICE to resell / whitelabel their product alongside their own phone system and messaging app—while marketing that as their unified platform.)
Like Dialpad and Talkdesk, NICE is an option that works nicely for a larger organization or enterprise-size businesses. So, if you have plans to scale up in the near future, these will be more growth-friendly options than Aircall.
Pricing
Plans start at $90.00 to $100.00 per user, per month.4
5. Genesys
What makes it a good alternative to Aircall?
Genesys is another cloud-based contact center platform that's been around for some time, and like many of the top Aircall alternatives that made it onto this list, comes with features for teams that make both inbound calls and outbound calls (like an auto dialer, social media messaging integration, and IVR).

Pricing
Genesys Cloud CX 1, the lowest pricing tier, starts at $75 per user per month, and covers only inbound calls and outbound calls (no digital channels). The next tier bumps the price up to $110 per user per month.5
6. 8x8
What makes it a good alternative to Aircall?
8x8 is a unified communications platform that's been around since the PBX telephony days. It did make an attempt to build its own contact center product with features like IVR and CRM integrations at one point, but has since given up and is now reselling Genesys' product.6
Pricing
8x8's first tier in their call center pricing plans starts at $95 per user per month. One thing to note is that you don't get chat or SMS until you get to the next level up at $105 per user per month.7
7. RingCentral
What makes it a good alternative to Aircall?
RingCentral is one of the oldest Goliaths in the telephony and communications space. Even though they market themselves as a VoIP phone system today, their technology is still not quite the same as solutions that were born in the cloud.
The advantage of this, of course, is that they're a recognizable name and not likely going to go under tomorrow for some unknown reason. The downside of course, is that the technology is built on legacy PBX infrastructure and is less flexible (say, to set up and configure). Yes, RingCentral does have basic features like call routing, voicemail, call monitoring, and call recording.
But the actual experience of setting up new agents, adding phone numbers, and doing other everyday tasks isn't quite so easy, which is why RingCentral is quite far down this list. The other thing is that as mentioned earlier, RingCentral's call center software isn't its own—it's NICE's (#5 on this list).8
All that being said, if you're looking for a solution that can grow with you and has other communication channels like SMS messaging, then RingCentral is a competitor to consider.
Pricing
RingCentral's contact center plans have four pricing tiers, but there's no info on their website. If you want to learn more, reach out to them.
💡 QUICK NOTE:
Both RingCentral and Nextiva9 don't actually own their own call center software. They're both reselling other company's software, and Nextiva doesn't make the list because they're reselling another company's UCaaS10 product as well.
Is Dialpad the best Aircall alternative? Only one way to find out
No matter what kind of customer experience team you're running, whether it's a customer support team or a sales team, having a contact center platform is key if you're handling a large volume of communications.
Probably the most attractive thing about Aircall is its ease of use, which seems to be especially hard to find when it comes to contact center solutions. If you need functionality that Aircall doesn't have, like video conferencing and built-in AI—but don't want to compromise on that ease of use—then Dialpad is probably one of best Aircall alternatives to try out.
Get a personalized walkthrough of Dialpad's cloud contact center platform!
Book a product tour and our team can walk you through how it works!
1aircall.io/pricing/
2cloudtalk.io/pricing
3talkdesk.com/pricing/
4getvoip.com/blog/2020/09/02/nice-incontact-pricing/
5genesys.com/pricing
6enterpriseitworld.com/8x8-and-genesys-partner-to-integrate-8x8-cloud-unified-communications-with-genesys-cloud-cx/
78x8.com/products/plans-and-pricing?locale=us
8channelfutures.com/telephony-uc-collaboration/ringcentral-nice-extend-partnership-to-offer-ringcentral-contact-center
9businesswire.com/news/home/20210609005705/en/Nextiva-and-Five9-Team-Up-to-Help-Businesses-Deliver-Seamless-Customer-Communications
10talkingpointz.com/nextiva-competing-around-the-customer-experience/