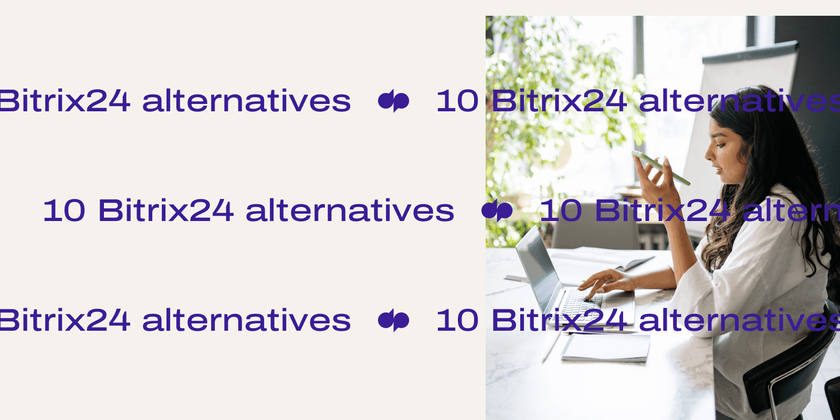 October 17, 2021
With remote work increasing in popularity around the world, businesses are looking for software solutions that empower them to connect and collaborate in real-time no matter where employees are located.
Task and team management software solutions like Bitrix (others include Asana, Wrike, Trello, Basecamp, Jira, and so on) play a crucial role in facilitating this.
If you've tried out Bitrix 24 and decided it's not for you (maybe it's too expensive or lacking in key functionalities), then the good news is there are lots of very good Bitrix24 alternatives—at comparable (or even lower) prices.
Skip ahead if you like:
What is Bitrix?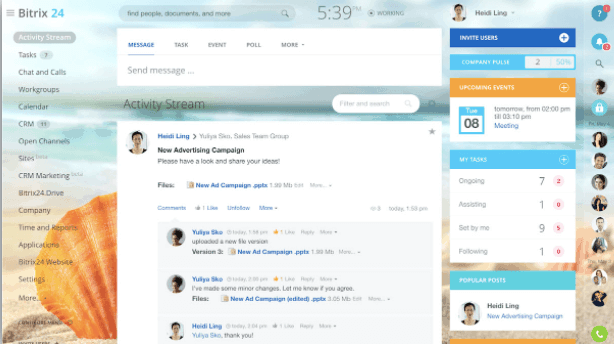 Bitrix24, or Bitrix, is an open source intranet project management platform whose main functionality includes a basic customer relationship management (CRM) and team collaboration features like Gantt chart and Kanban board functionality (ideal for time tracking and agile project management).
It even has customizable templates for website building.
Why would you want a Bitrix24 alternative?
As a basic collaboration tool, Bitrix24 is fine, but if you need to be able to make business phone calls in a cost-effective way, that pretty much removes it as a viable option for most businesses.
Bitrix isn't known for its telephony product, and its pricing packages reflect that.
The lowest pricing plan tier is at least double the price of many of the Bitrix24 alternatives in the list below, while not providing any more features than those options.
Although Bitrix provides a mish mash of different CRM and project management functionality, there are some basic areas where it falls short when it comes to everyday communications.
One of the biggest things to know about Bitrix off the bat is that it does not have phone support—even on its most expensive Profession plan, which costs $120 USD per month.1
If you want customer support, you'll have to go to their live chat or use their online Help Center.
Another issue is that Bitrix almost tries to do too much. Yes, it has a CRM and a website builder and a contact center and Kanban boards and file sharing—but there's a reason that almost no providers will branch out their product into so many disparate areas like this.
The biggest challenge is that it's hard to keep the user experience cohesive and simple when you have so many distinct tools—and you'll see this reflected in its pricing, which is very high compared to almost all the other solutions below, which offer the same, if not even better, functionality at much more affordable prices.
A few things to consider when looking at Bitrix24 alternatives
Customer support
One of the biggest factors to look for in any software you purchase for business use is robust customer support.
This is actually one of Bitrix's biggest weaknesses, and as you'll see later on, even competitors that have free or less expensive plans provide more robust customer support, and across different time zones too.
Depending on your business hours, you may need 24/7 support, whether that's over the phone or via live chat. Live chat support and a self-service option like an online Help Center are table stakes—but if you run a larger enterprise or have a global customer base, you're likely better off with a provider that can give you worldwide 24/7 support.
👉 Dialpad tip: Some UCaaS/CCaaS providers provide 24/7 support in the US only. Make sure you check the fine print if you'll need support in other time zones. (Dialpad does provide 24/7 worldwide support starting in its Pro plan—which is even less expensive than Bitrix's comparable pricing tier.
Cost-efficiency
We also looked at how cost-efficient each Bitrix24 alternative is. We consider whether it's available with tiered pricing that's affordable for small businesses and whether it's a scalable solution that can be flexible and grow with your business.
For example, can you start with just one or two business phone lines to start, then add more later? Your communications platform or phone system should let you do that easily on your own without waiting days or weeks for their support team to make those changes for you.
Here's how it looks in Dialpad, for instance—just a few clicks to add a phone number for a new employee: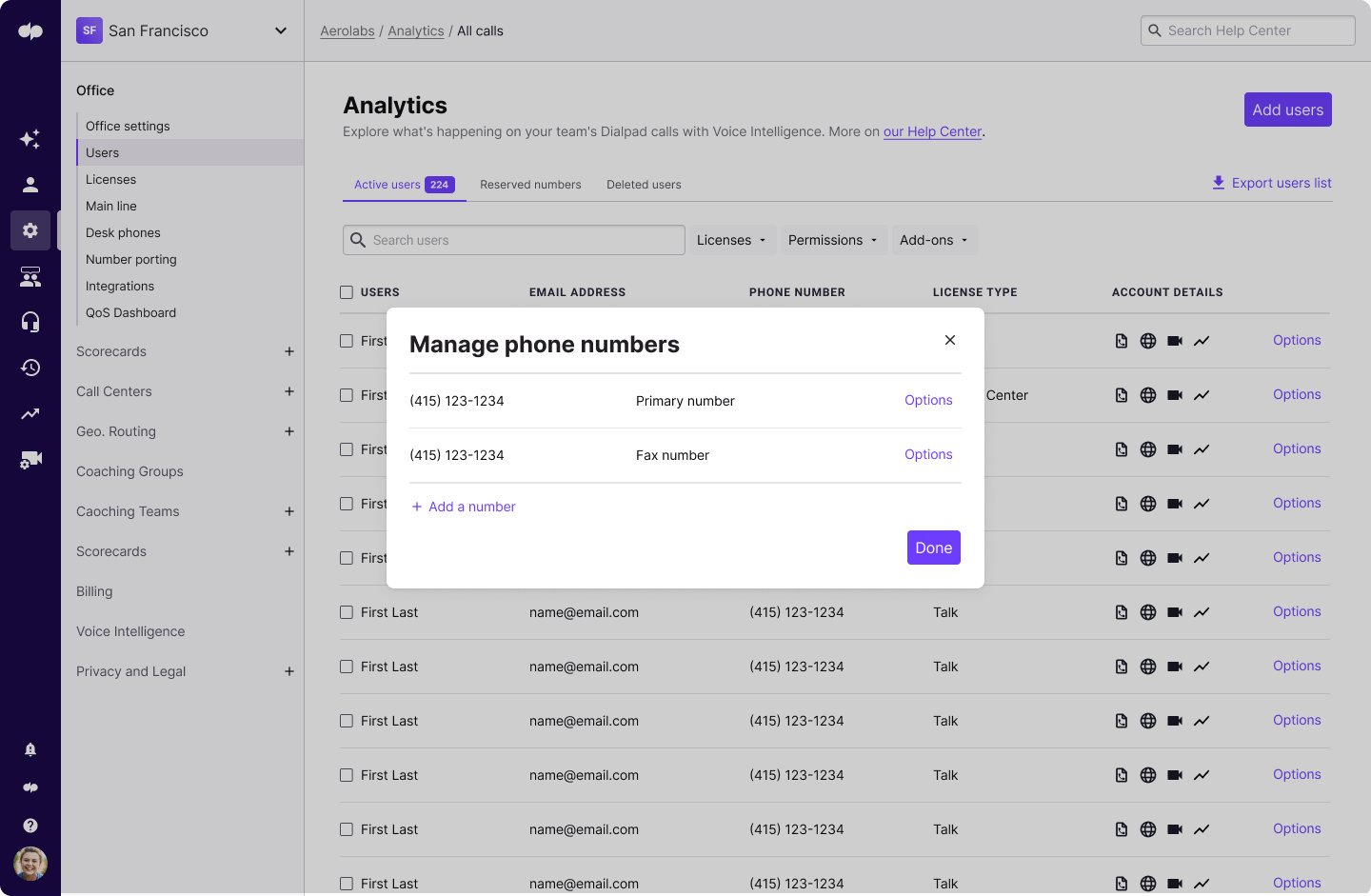 Like Bitrix, many of its SaaS competitors have free plans that offer things like unlimited video meetings. But one odd thing about Bitrix's pricing is that it's a bit confusing to see what you get. For example, Dialpad's first paid tier is only $15 per user per month and clearly states you get unlimited calling in the US, Canada, and your country—while Bitrix's first paid tier is $34 per month, but doesn't say what kind of phone calling minutes you get.
Integrations
The whole point of a communications and collaboration platform is to streamline your workflows as much as possible. To make sure the solution you choose empowers your team to be as productive as possible, it's generally best to choose something that integrates with the business apps and tools your team is already using.
Bitrix has its own CRM functionality, but if you're looking for a communications platform and you're already using Salesforce, HubSpot, or Zoho as your CRM, then you'll probably want an integration with that.
You're also unlikely to need separate project management software like Trello or Asana if you're using Bitrix—and it does integrate with basic productivity tools like OneDrive, Gmail, and Google Drive.
But, it doesn't integrate with more industry-specific tools (like Clio for law, as an example) or other tools for more specific use cases like sales engagement.
👉 Dialpad tip: Beyond having a large library of integrations, Dialpad's open API and Zapier integration lets you create custom integrations to even the most niche tools.
The top 10 Bitrix24 alternatives and how each one compares
A few things to remember: we're looking at unified communications and contact center alternatives to Bitrix in this list. That being said, if you're looking specifically for a CRM or a project management tool, or a website builder (or a combination of those things)—you can stop reading because out of these options, only Bitrix will give you all those things.
But if you're looking for a versatile communications platform that lets you make phone calls, have video meetings, send instant + SMS messages, run contact center teams and more, all from one app, then keep reading.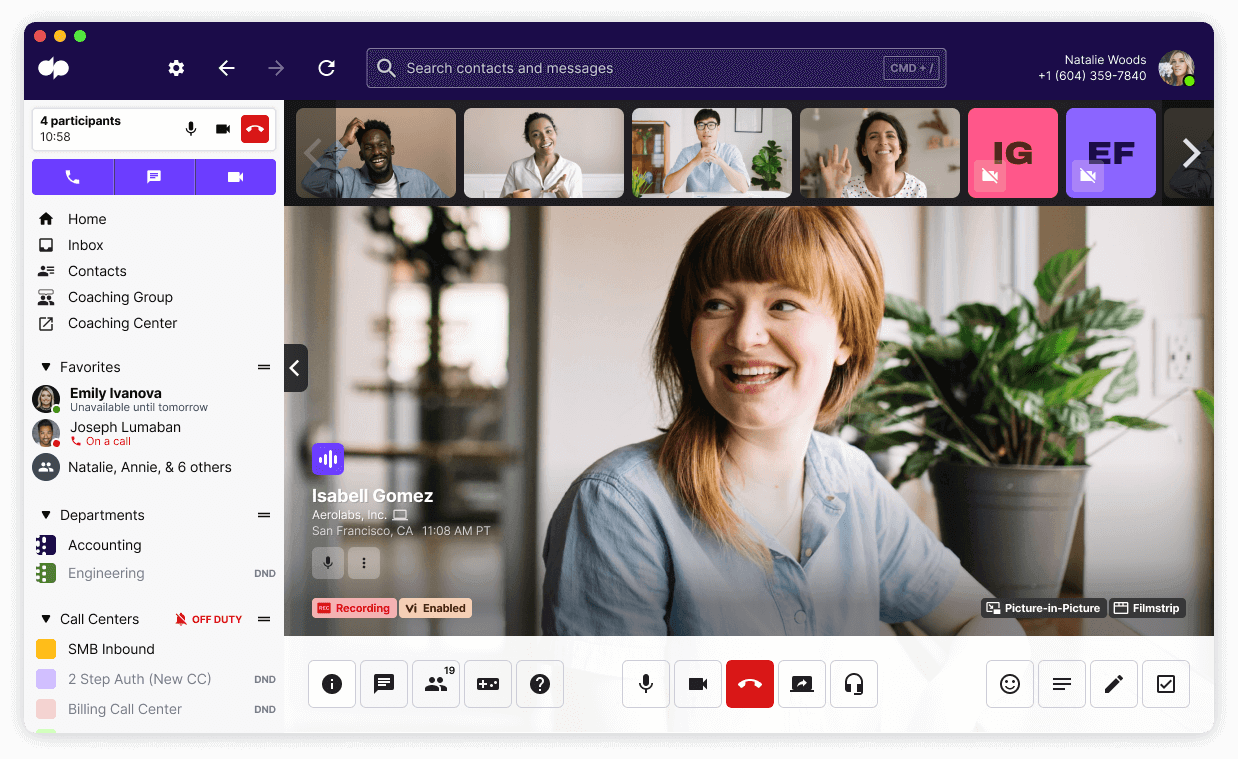 In terms of overall functionality, ease of use, and price, Dialpad offers all the functionality of Bitrix24 (and more) in a more robust and feature-rich platform.
Dialpad isn't just a business phone app. It's a cloud-based unified communications solution that brings together phone calls, instant and SMS messaging, video meetings, and even a contact center platform—all in a single app that's easy to deploy, manage, and use—on iOS, Android, Mac, and PC.
With Dialpad, onboarding is easy and takes just a few minutes, and your team won't have to waste time toggling between different windows and tabs to get work done.
Communicate on any channel
Dialpad brings together voice, video, and messaging in one intuitive platform. Your team can set up group chats to collaborate on projects, chat face-to-face in a video meeting, and have phone calls with customers all from the same place: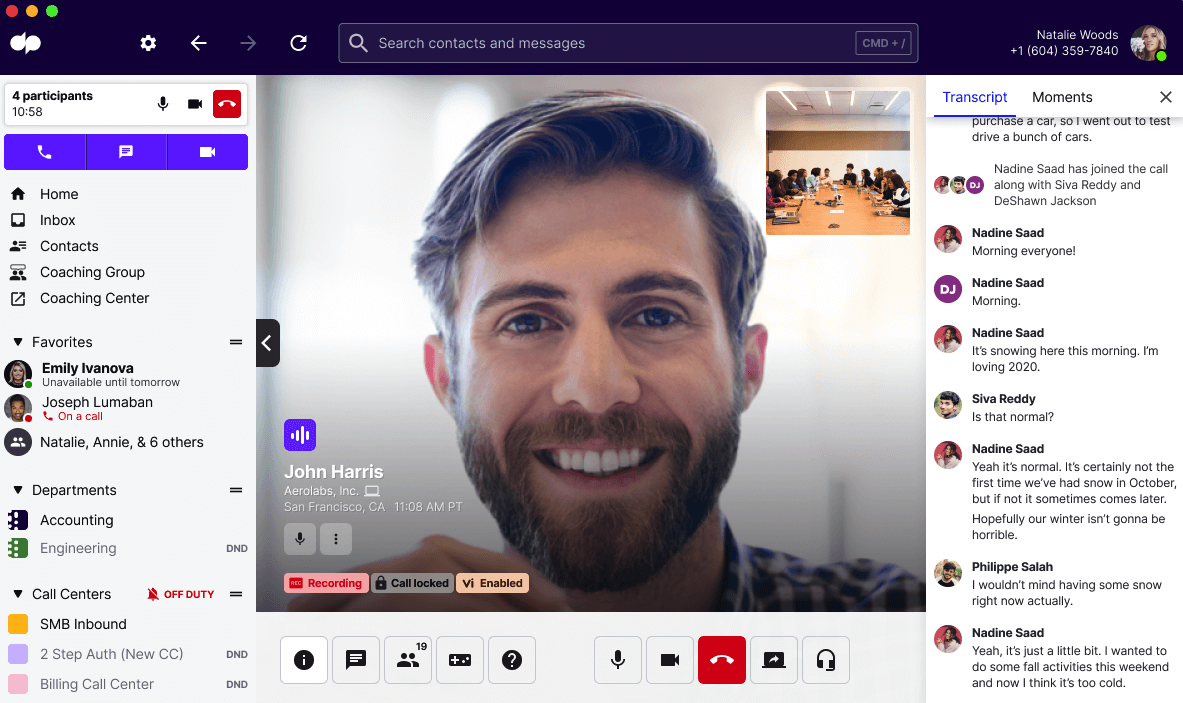 And if you're having virtual meetings with clients or prospects who don't want to download the app, no problem. Dialpad is fully browser-based, which means you can host and join meetings from a web browser without losing any functionality: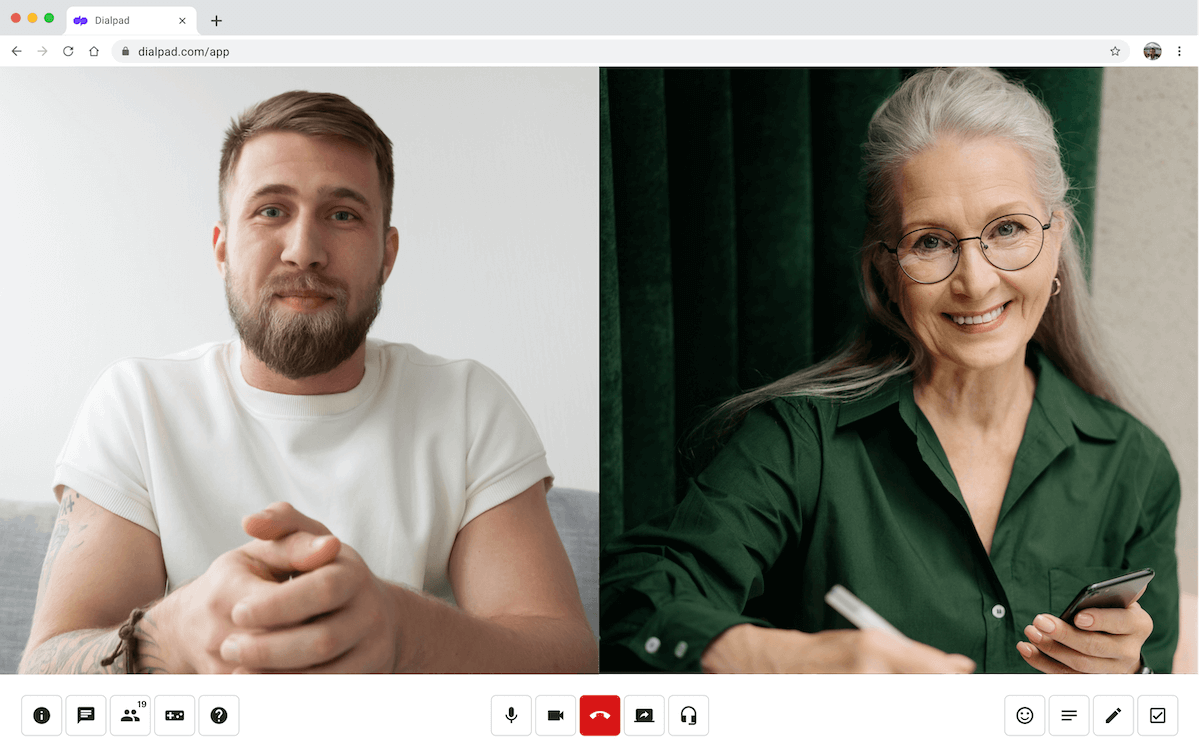 Robust security
Dialpad is built on the Google Cloud Platform and offers enterprise-grade security and reliability to ensure all your business communications and data are protected. Your internal and external communications are encrypted, and Dialpad is also HIPAA-compliant and SOC2® Type II compliant, among others.
Advanced screen sharing
Not only does Dialpad have video conferencing, it also has built-in screen sharing so you can review visuals and mockups easily with remote team members. Dialpad also integrates with Miro, a digital whiteboard app, to make it feel like you're brainstorming with your teammates together in the same conference room: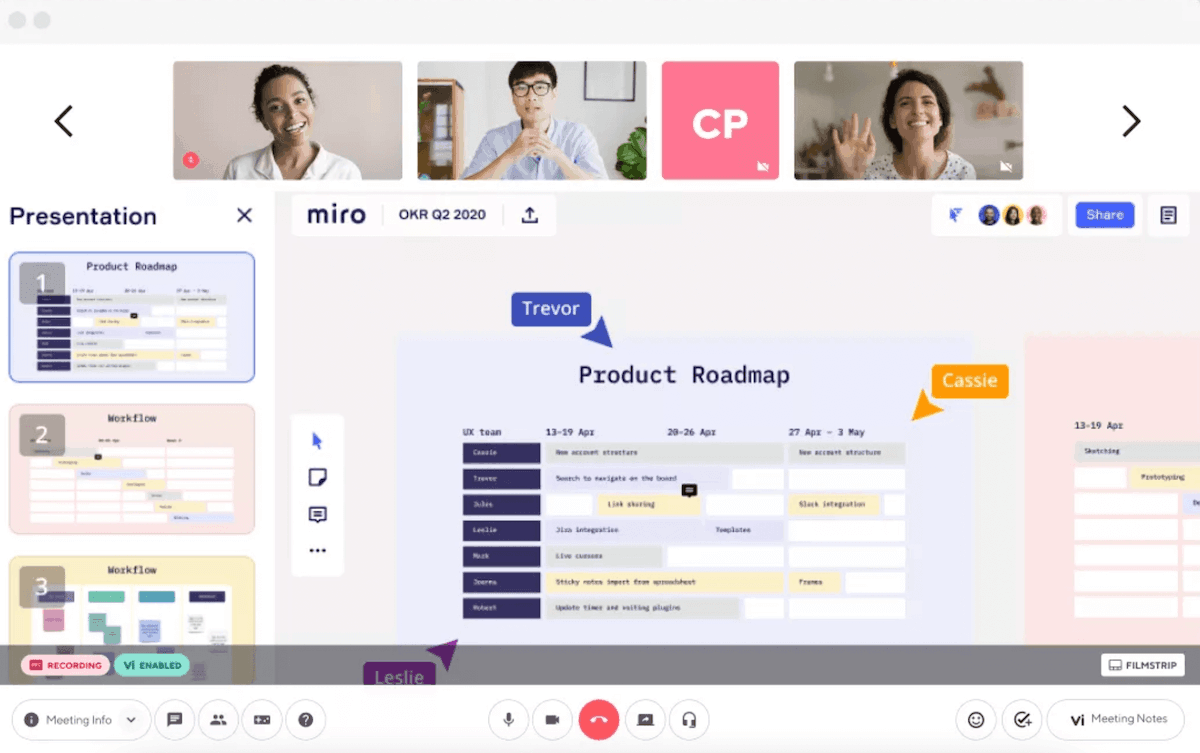 Advanced calling features
Even though Dialpad is much more than a business phone system, it has all the advanced calling features that a business or organization would need. From unlimited call recording, to intelligent call routing, to interactive voice response (IVR), to voicemail, Dialpad comes with everything you need to handle day-to-day communications built right in: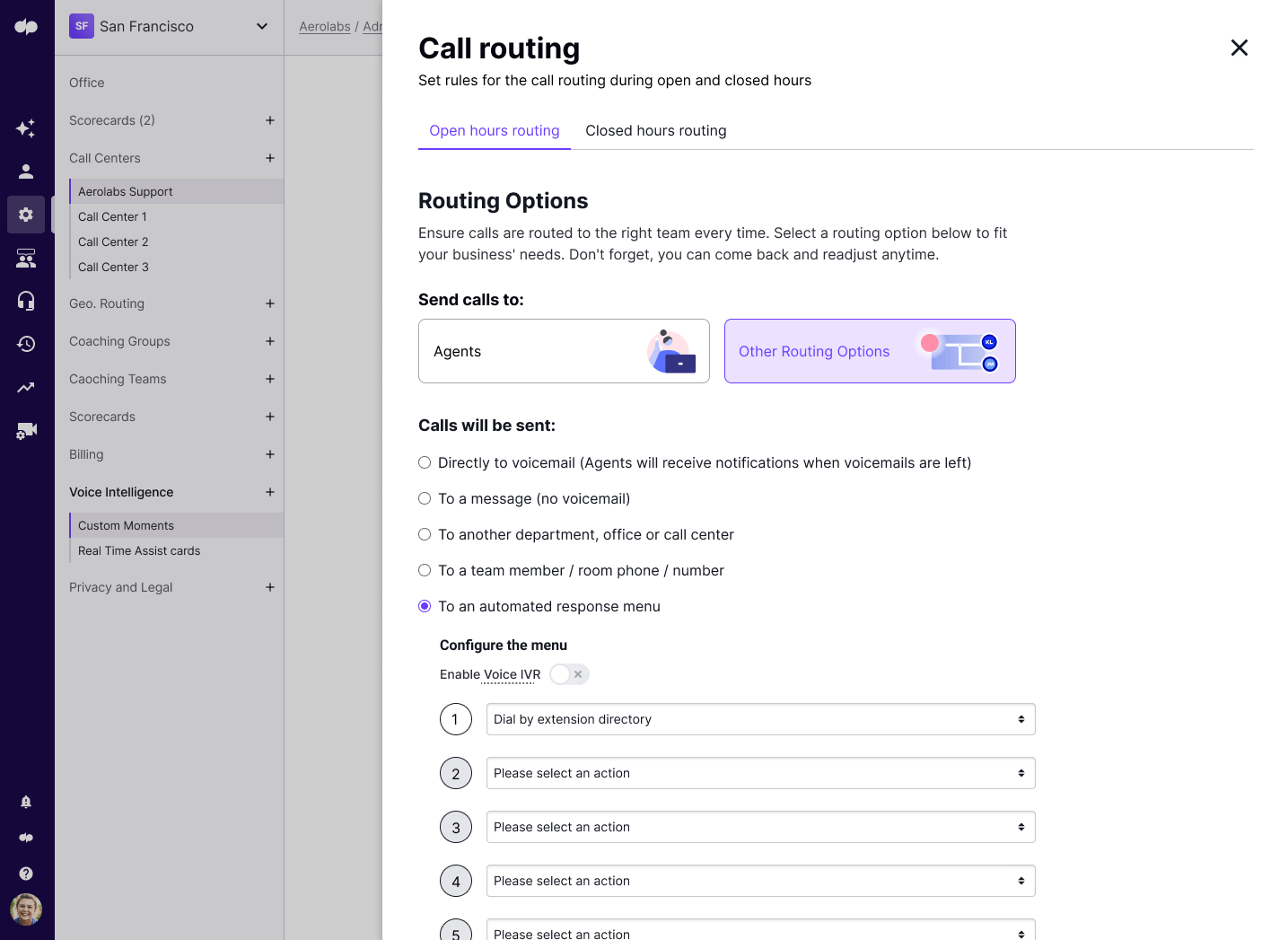 Fully integrated contact center
Unlike many communications platforms, Dialpad has a fully integrated contact center platform if you need it. If you have a customer support, sales, or contact center team that needs to handle a high volume of communications, your agents and supervisors can do that—again, right in the same app.
👉 Fun fact: Another unique thing about Dialpad Ai Contact Center is that it works on the mobile app too, which means agents can also work from anywhere.
That's one thing Bitrix does not have… And nor does it have this:
Voice Intelligence (The secret sauce)
What really sets Dialpad apart, though, is its AI. Named Voice Intelligence, or Vi, this is built by Dialpad's own team—no third parties—from the ground up.
What it does: Vi can transcribe calls in real time. Not a few hours or a few days after—you can see the running transcript in real time. (And it's more accurate than even Google.)
But not only can it transcribe calls accurately, Vi can also pick up on certain keywords and phrases and how frequently they're spoken on customer calls. For example, say you wanted to see how often customers are calling you about a new product that you just launched. You can create a "Custom Moment" in Dialpad to track how often that product name is said: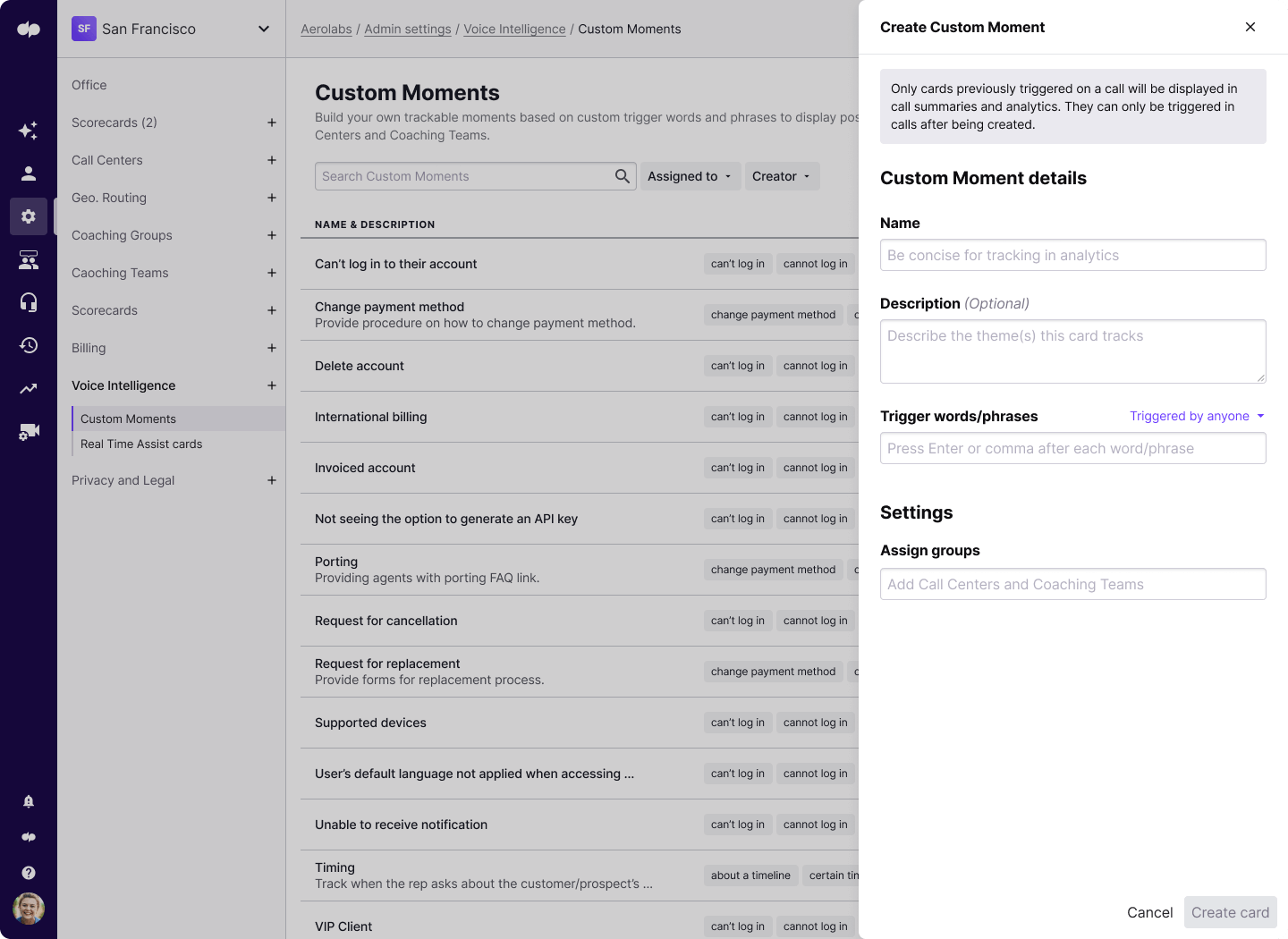 Not only that—and this is more for customer support and contact center teams—you can also go a step further with Vi and use it to pop up Real-time Assist (RTA) cards on your agents' screens with little cheat sheets when tricky topics are spoken on calls: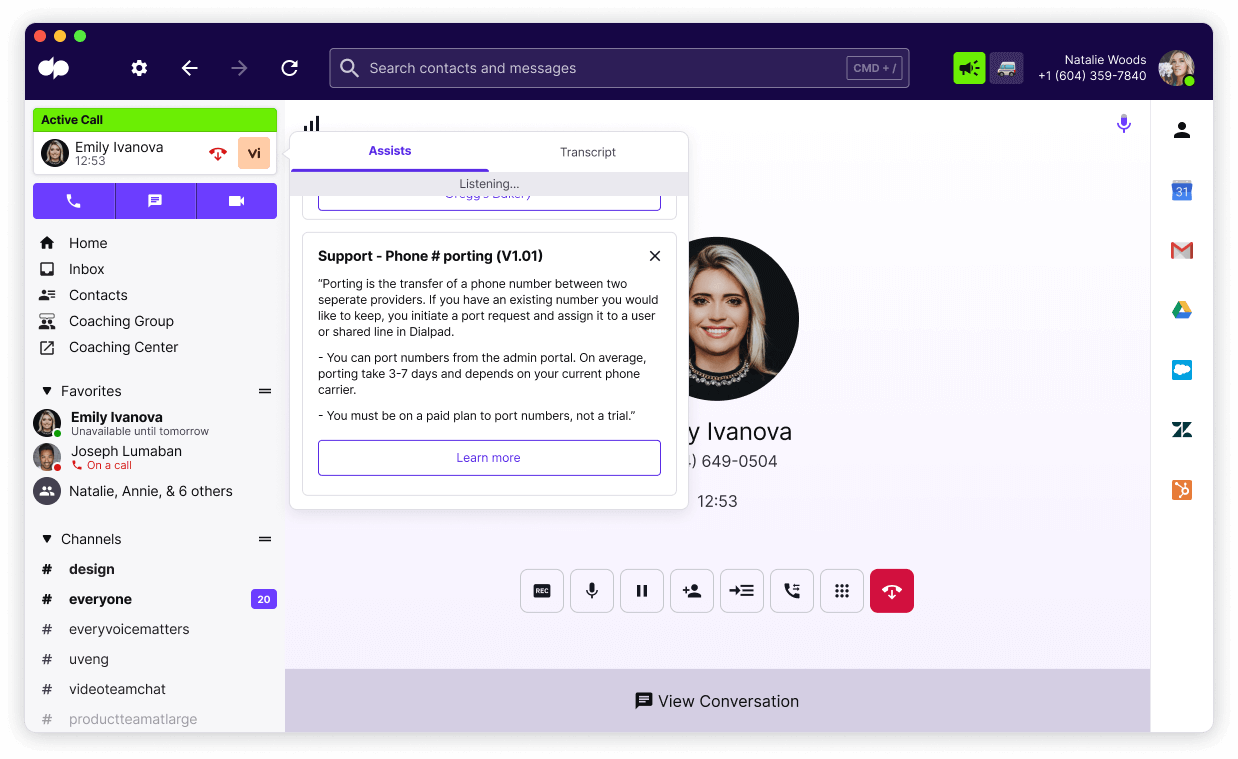 A huge selection of integrations
As if that wasn't enough, Dialpad also integrates with many of your favorite business apps—and if it doesn't, its open API will let you build custom integrations with pretty much anything you want.
CRM tools like HubSpot, Zoho CRM, and Salesforce:



Productivity software like Google Workspace, Google Drive, Microsoft 365, and Dropbox

Customer service software like Intercom, HappyFox, and Zendesk

Workflow automation tools such as Zapier

Sales engagement tools like Outreach and Wingman

And many more
Plans and pricing
Pricing plans start at $15 per user per month (billed annually) for Dialpad Talk's Standard plan, which comes with unlimited calling in your country, the US, and Canada, and unlimited SMS in the US and Canada.
On top of that, it also includes unlimited video meetings, unlimited call recording, call forwarding, a multi-level auto attendant, and a lot more.
This is a scalable and affordable option for small businesses and gives you all the advanced features and functionality you need to grow (note that many other alternatives offer far fewer features and are much more expensive).
If you want to take things up a notch, Dialpad's Pro plan is $25 per user per month (billed annually), and for enterprises, Dialpad's Enterprise plans come with additional features like 100% uptime Service Level Agreements (SLAs), unlimited office locations, custom data retention policies, and more.
Book a product tour to check it out.
What makes it better than Bitrix24?
If you're in the market for a scalable and versatile all-in-one business communications platform that combines everything your team needs to collaborate and work from anywhere, Dialpad's the best choice.
There are plenty of things that set Dialpad apart from Bitrix, one of which is that it's affordable for small businesses. Although Bitrix has a lot of handy features, you won't be able to leverage its full potential without forking out for its professional plan.
Dialpad, on the other hand, offers all the key features a great communication and collaboration platform should have, even on its most basic plans. Not only that, Dialpad grows with your business and offers all the flexibility you need to empower remote teams.
👉 Further reading: See how Westward360 used Dialpad to keep its remote teams all aligned and providing a consistently excellent customer experience!
Zoom is a video conferencing solution that's been very popular with mainstream consumer users, and you'll often see it used for everything from business meetings to virtual happy hours.
If you're looking for a basic video conferencing tool, Zoom is fine as an option. You can host video conferences capped at 40 minutes on the free plan, and it also has a relatively new Zoom Phone product that can handle phone calls as well.2
But it's important to note that Zoom has been the subject of many security concerns, and has also been banned by organizations like Google, NASA, and even Taiwan and the Australian Defense Force.
What makes it better than Bitrix24?
Zoom is an easy-to-use platform that covers your basic communication needs, and although Bitrix has a more extensive list of features for project and team management, it's still limited in terms of how many people can use the platform before it becomes too costly for small businesses.
Plus, its video chat functionality is more suited to simple meetings since its free plan doesn't let you screen share (which both Dialpad and Zoom do).
3. Ooma Office
Ooma Office is a simple solution that provides most of the basic features of a business phone system like HD voice, call blocking, and call transfer. It's available on two pricing plans which are both relatively affordable for small businesses.3
Note that Ooma Office does slack a bit in terms of more advanced features like HD video meetings and messaging, which can be crucial to remote team collaboration.
What makes it better than Bitrix24?
If you're looking for a straightforward solution that's easier to use than Bitrix, Ooma Office is a viable solution. But its limited functionality means it doesn't offer much beyond a simple business phone system.
If you want a solution that brings together all of your business communications in a cloud-based platform and a whole host of features for managing and collaborating on projects, Ooma Office probably isn't for you—you'll benefit from a unified communications platform like Dialpad.
Like Dialpad, RingCentral markets itself as a UCaaS platform. Its platform integrates a business phone system with video conferencing and messaging, and it's been around for a few decades now.
Note that the pricing for RingCentral is a bit strange. There's a free plan for video meetings, but if you want to access features like basic phone calling and messaging, then you'll need to skip the basic paid plan and go with the second most expensive subscription.4
Comparatively, Dialpad gives you unlimited phone calling and SMS meetings in addition to unlimited video conferencing on the most basic plan ($15 per user per month) and you'll get unlimited calling and texting in the US and Canada too.
What makes it better than Bitrix24?
Like many of the options on this list, RingCentral consolidates most of your communication and collaboration needs in a single app, and you can trust the company won't go down anytime soon because they've been around for so long.
In terms of having a complete communications package, RingCentral is likely a better option than Bitrix.
Nextiva is another VoIP provider that you've probably heard of. Its software includes a business phone system that offers video meetings and messaging.
Nextiva, like RingCentral, also resells other companies' software as their own. The only difference is that RingCentral is reselling its contact center solution, whereas Nextiva is reselling both its UCaaS5 and CCaaS6 products.
This can complicate the process of accessing customer support or integrations, as you'll need to go through a third party. Instead, Dialpad operates with its own software which makes it simple to access everything from the Dialpad app.
What makes it better than Bitrix24?
If you're looking for a basic business phone system that offers features like team messaging and app integrations to keep your team productive, Nextiva is a comfortable Bitrix24 alternative. However, it's not a truly unified communications solution, so if you want to consolidate all your business processes into a single app, you might want to look at something like Dialpad instead.
6. GoToMeeting / GoToConnect
GoToMeeting is a business communications tool that's designed for connecting remote teams to facilitate communication and collaboration. With this software, meeting hosts and participants can use screen sharing, drawing tools, and in-meeting chat.
GoToMeeting is simple software that's easy for anyone to use, but its functionality doesn't offer much beyond video conferencing unless you go with GoToConnect, which includes a phone system.
What makes it better than Bitrix24?
If you're looking for a simpler, more straightforward alternative to Bitrix24 that offers a video calling feature, GoToMeeting is an option that's more affordable for small businesses. But it also doesn't offer any extra functionalities beyond the bare bones.
The plans for GoToConnect starts at a pretty high price though, and for what you're paying, the other alternatives on this list can give you a lot more. Learn more about the best GoToMeeting alternatives.
7. Webex
Webex by Cisco allows users to call, message, and meet from a single app. One feature that makes Webex stand out as a Bitrix alternative is that it allows users to multi-stream HD video meetings.
You can share files, conduct online meetings with screen sharing and polling, and integrate the platform with different software apps to boost productivity. (Learn more about the best alternatives to Webex.)
What makes it better than Bitrix24?
Webex offers a more intuitive interface than Bitrix. In this way, it's simpler to use and offers much of the same functionality that's priced, like the other alternatives on this list, more affordably, though if you need to have lots of phone calls frequently, its pricing model isn't as good as some of the providers that have unlimited calling, like Dialpad.

Vonage is a cloud-based business phone system that's available on desktop and mobile. It's quite well known, as like RingCentral, it's a public company—and like Ooma, it has a residential arm of the business too and provides VoIP numbers.
Although Vonage is aesthetically more pleasing than Bitrix, one important thing to note is that its pricing plans come with little functionality and are probably its biggest weaknesses—many basic features, like call recording and visual voicemail, are paid add-ons.8
What makes it better than Bitrix24?
Vonage offers many of the same features as Bitrix24, along with more robust video calling features like screen sharing and polling for video meetings. But if you're looking for something with straightforward pricing and that includes all your basic communication needs in a simple package, something like Dialpad would be a better option.
3CX is a communications system that allows users to call, meet, and chat internally among teams and externally with customers. It also offers call center functionality, features like caller ID, and integrations with productivity-enhancing tools like Microsoft Teams—but these are reserved for the highest paid tier.
If you're looking for a Bitrix alternative, then 3CX could be an option, but its pricing and range of features leave a bit to be desired.
What's most concerning, perhaps, is that according to its pricing page, every Support ticket costs $75.9
What makes it better than Bitrix24?
3CX is pretty on-par with Bitrix24 when it comes to features. Both platforms are relatively expensive when you require functionality that goes beyond their basic pricing plans, which is why you're better off with a unified communications platform that's affordable for small and growing businesses, like Dialpad.
8x8 is another communications platform that's a viable alternative to Bitrix24 for businesses that need remote-team-friendly features like video conferencing.
8x8 allows users to record meetings and integrate the platform with calendar apps like Google Calendar, Outlook, and Microsoft 365 to streamline task management. Like RingCentral, 8x8 has been around for many years (although one of the disadvantages of that is it means their technology is also older and less flexible than cloud-native solutions).
What makes it better than Bitrix24?
Again, if you need a commmunications platform that gives you different channels like phone calls and messaging, 8x8 is a stronger choice than Bitrix. But if that's the case, there are other unified communications platforms on this list that are comparable or better, so make sure to try out the free trials as you're narrowing down your shortlist.

What's the best Bitrix24 alternative for you?
If you're looking for something that lets you make phone calls, have video meetings, and send instant + SMS messages all in one place, there are many options that are better—and better priced—than Bitrix.
We can't tell you that Dialpad is 100% the best for you, because if you do need a CRM or project management Kanban tool, Bitrix will be a better option.
In our humble opinion, Dialpad is one of the best Bitrix24 alternatives if you need a robust and flexible communications platform. Not only does it include all the communication channels you need, it also fully integrates with Dialpad's contact center platform and has built-in AI that can do things like transcribe calls in real time.
Why not see for yourself?
Take Dialpad for a test drive with a 14-day free trial. It takes just a few minutes to get set up with a virtual business number!
Sign up for free
1bitrix24.com/prices/
2zoom.us/pricing
3ooma.com/legal/rates/#office-plan
4ringcentral.com/office/plansandpricing.html
5talkingpointz.com/nextiva-competing-around-the-customer-experience/
6talkingpointz.com/nextiva-ccaas-a-broader-vision/
7goto.com/pricing/connect
8vonage.com/unified-communications/pricing/
93cx.com/ordering/pricing/