Customer Stories
See how PetPartners Inc keeps 100+ employees across 22 call centers connected
Pet owners will be the first to tell you that they'll do anything to keep their fur babies safe and healthy. The moment their pets get sick or hurt, they're ready to contact their vets and do whatever it takes to help.
PetPartners, Inc. is a pet insurance company located in North Carolina (products underwritten by independence American Insurance Company) that provides accident and illness coverage for dogs and cats across the United States. With over 100 employees across 22 call centers, PetPartners, Inc's call center agents frequently need to be available at a moment's notice to help their customers with veterinarian expenses.
If you think that sounds hectic, you'd be right. That's also why PetPartners needed a strong communications platform.
This call center's biggest pet peeves
Before Dialpad, PetPartners tried a few different telecommunications solutions. Their old platform had constant outages, and managing the call center was a tiresome task—any time they needed customer support, even something as simple as reaching someone at their provider for help was arduous.
"We had to deal with days of outages at a time, which cost valuable time and money," said Adam Blodgett, the Customer Care Supervisor at PetPartners.
It was clear. PetPartners, Inc. needed a new phone system.
Specifically, one that was reliable, could support their multiple call centers, offered all the features they needed, and could scale to add new call centers and agents as the company grew: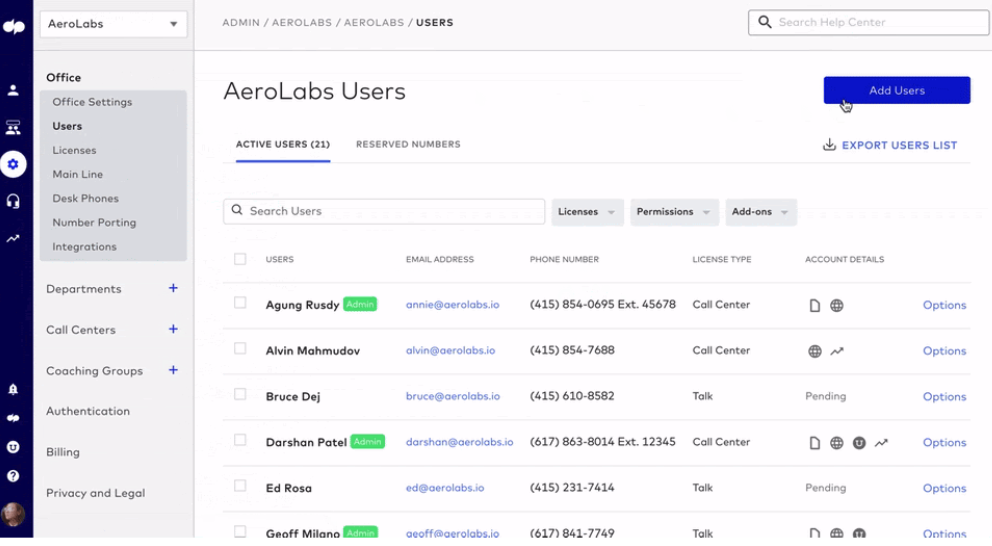 "We exploded in growth, and we needed to scale, and honestly, I will say Dialpad made that easier," Adam said.

"I 100% believe that Dialpad made scaling our business easier, because I'm in control of so much. I have the ability to add new people, add new call centers, change phone numbers—all on my own."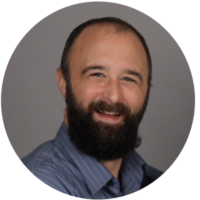 Adam Blodgett
|
Customer Care Supervisor
"Setting up a call center now is just so easy for me, I love that"
After switching to Dialpad, PetPartners was able to keep its teams up and running far more easily. The constant crashes they experienced with previous providers were a thing of the past, and any issues or questions that did come up were addressed quickly, allowing PetPartners' agents to focus on serving their customers instead of troubleshooting.
With a whopping 22 call centers, Adam and his team now have a much easier time setting up and managing call centers and agents. There are no more hoops to jump through, as Dialpad's admin dashboard features a clear, user friendly interface that makes scaling, setting up contact center analytics, and managing teams simple: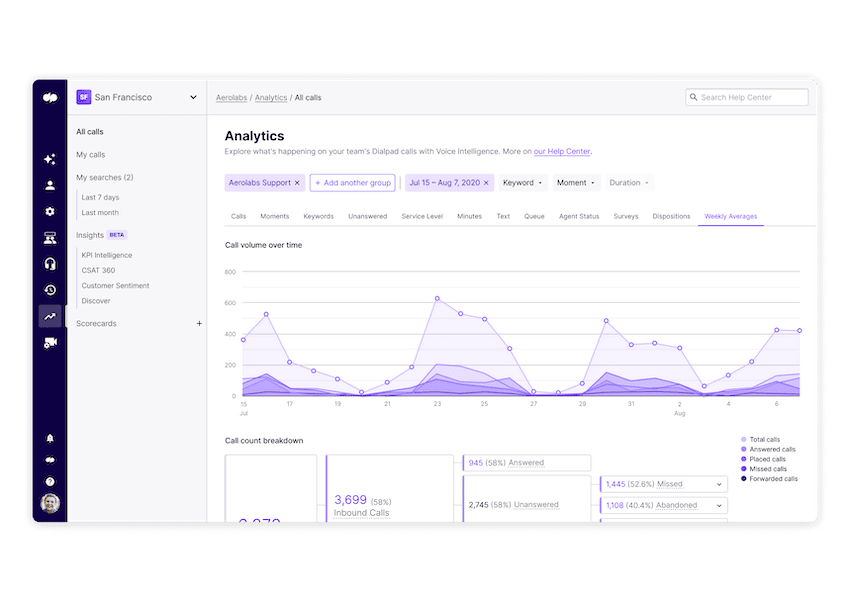 "Setting up a call center now is just so easy for me, I love that," said Adam. "I love how easy it is to add additional agents, because we're hiring constantly, so it's so much easier for me to just add somebody. I can do it the day they're hired—add somebody, send a request, and then I can just plug them into the call centers I need. That part is easily my favorite."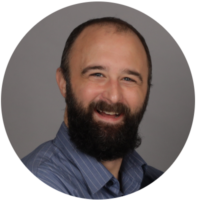 Adam Blodgett
|
Customer Care Supervisor
22 call centers... and growing
As PetPartners continues to grow, Dialpad's scalability is their secret weapon. In fact, the call center teams have grown to the point where they wouldn't even be able to fit everyone into one office building once remote work is no longer necessary.
(Luckily, Dialpad enables PetPartners to quickly set up remote agents and keep everyone connected no matter where they work from.)
Along with Dialpad's reliability and uptime, there are tons of features that the PetPartners team loves using.

"We really like Dialpad Ai, that's not something everybody has," Adam said. "It allows us to review calls way faster—like I can see what part of the conversation I need to review and just listen to that part, because I can read through the transcript and determine what I need to review."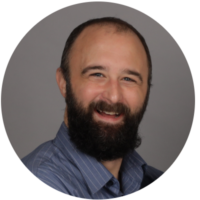 Adam Blodgett
|
Customer Care Supervisor
Fun fact: Dialpad's artificial intelligence feature (that we built ourselves!) that recognizes speech and analyzes it to help insurance agents and their managers train and onboard employees by letting them listen in on calls and even pops up Real-time Assist (RTA) cards automatically when it detects that a customer brings up a competitor or tough pricing question, for instance: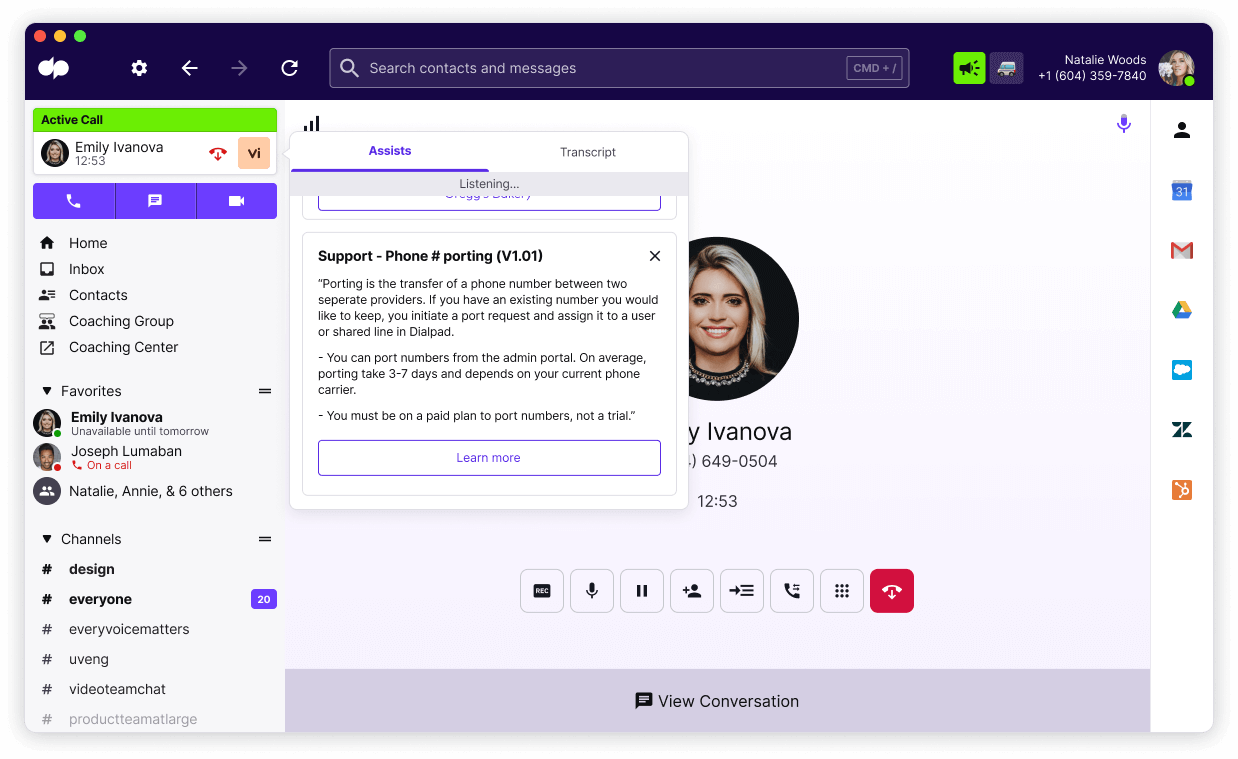 PetPartners, Inc.'s call center relies on Salesforce, so Dialpad's Salesforce integration is great because it lets them click to call directly from Salesforce and automatically logs everything from calls to voicemails and recordings too. Less manual work, more time talking to customers and prospects: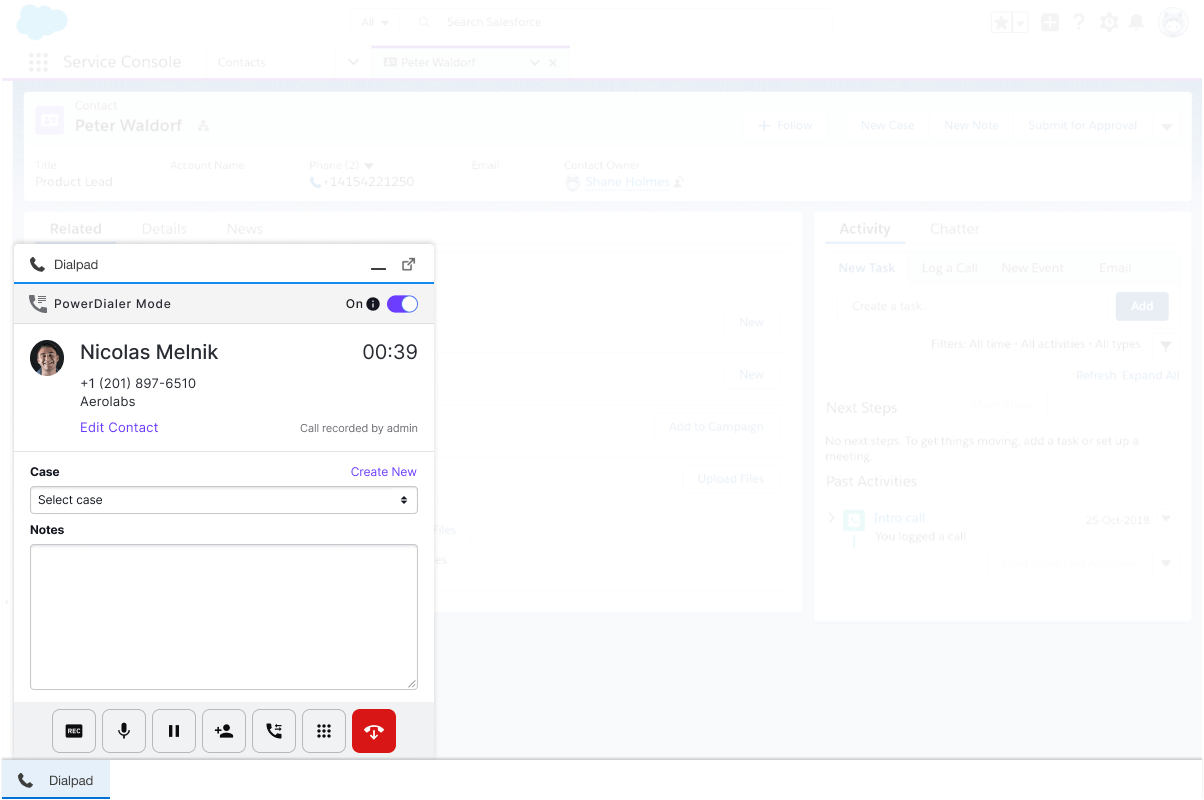 Healthy pets, happy customers
Switching to Dialpad has helped PetPartners, Inc. remain available and productive, with new tools and features to help scale, onboard agents, and keep customers satisfied. As PetPartners, Inc. continues to grow, Dialpad will be there to help keep agents connected to each other and PetPartners, Inc. customers, so they can continue to provide insurance that helps pet owners keep their pets healthy and happy. That makes PetPartners' story a success in every way.
Want to see how Dialpad can help your contact center teams? Book a product tour now!