Back to Blog
The 8 best RingCentral alternatives for small businesses and enterprises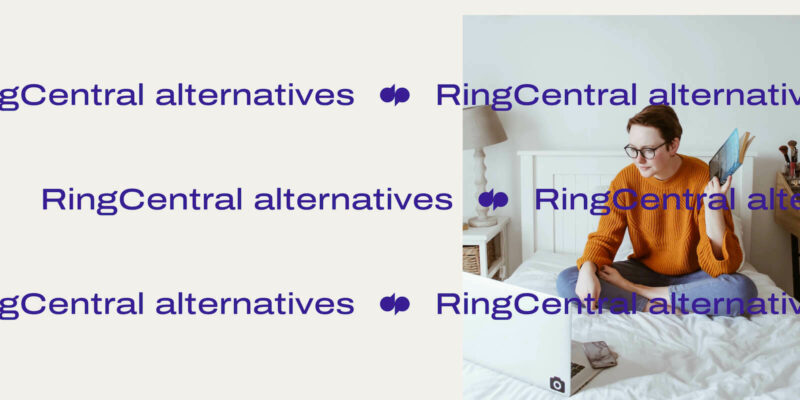 Whether you're running a startup from your spare room or looking for a robust enterprise phone system (more likely the latter if you're considering RingCentral), being able to communicate with teammates, customers, prospects, and more is crucial—which means it's crucial to choose the right solution.
And for many companies looking for a VoIP (Voice over Internet Protocol) business phone system / contact center software / unified communications platform, RingCentral is one name that pops up frequently.
If you're not sold on it yet (totally fair) and want to look at other options first, keep reading for a detailed breakdown of how it stacks up against eight of the best platforms out there for businesses.
RingCentral's strengths and drawbacks: A quick note
Here's the thing. RingCentral has been around for 20 years, so they must be doing something right. You might even decide, after reading this post, that you want to choose them—and that's cool. But there are certain areas where, in our humble opinion, other providers score better.
For example, RingCentral does offer some feature-rich plans, with things like team messaging, call management, and video conferencing. But companies on smaller budgets may find it a little pricey, especially as not all users get functionality like call recording, real-time transcription, or Salesforce integration as standard. (These do come included with some other providers—more on that below.)
RingCentral's Essentials plan ($32.99 user/month, regular price) includes unlimited business SMS and file sharing, but things like unlimited audio conferencing and call recordings are limited to higher tiers.1
(We'd highly recommend checking out customer reviews or third party sites like G2—don't just take our word for it.)
Here's how we evaluated these RingCentral alternatives
To put this list together, we considered the aspects that matter most to business owners and employees, and used this criteria to assess each solution:
Features
Aside from price, this is probably the first thing you'll want to hear about. All the providers we researched offer a range of features, but in most cases, the level of phone services and functionality you get will depend on the pricing band you choose.
(Extra points for having business must-haves like auto-attendant, text messaging, and voicemail included in the basic plan. Which Dialpad does have, by the way.)
Customer support
Let's face it, some unified communications platforms are better at customer support than others. If your business operates internationally, you'll probably need 24/5 or even 24/7 support globally—some providers only have US-based support or limited hours, so make sure to check the fine print here for the pricing tier you're considering.
It's also not uncommon for companies with a heavy focus on enterprise customers to "tier" their customer support. (Which means that if your business represents only a few hundred or thousand dollars a month in revenue, or unless you're Bank of America or Delta Airlines, you might not get the best support possible.) So make sure you read the reviews for all of these RingCentral alternatives' customer support!
Cost-efficiency
We won't tell you that pricing is an important consideration or "you get what you pay for" since that's a given, but we will say that it's best to consider the total cost of ownership, no matter which RingCentral alternative you're looking at.
In other words, don't just look at the initial price tag! Beyond the overall price per plan, we evaluated these options based on things like whether you have to pay extra for add-on features, per-minute calling rates locally and internationally, and setup or onboarding fees (which you might not hear about until you're deep in the sales process).
Call quality
Whether it's for professionalism or just being able to talk to your teammates on a daily basis, call quality is huge for businesses that are looking for a phone system. It's no use getting a cheap business phone system that charges you a couple bucks a month if the call quality is so bad that you can't get through a conversation properly—and there's no faster way to ruin your NPS score or customer satisfaction.
Ease of use
These solutions are meant to make hybrid and remote work easier for your employees, not harder. And yes, they should pick up the slack for your IT team and be easy to administer. So, we took into consideration the time it takes to get up and running, the intuitiveness of the mobile and desktop apps, and how easy it is to do things like porting your number.
We also considered how scalable the platform is—a crucial but underrated factor for growing businesses.
Integration
Unified communications are all about, well, keeping your communication channels in one place and consolidating data as much as you can. One interesting thing about RingCentral is that even though it bills itself as an integrated UC (unified communications) + CC (contact center / call center) platform, it's actually reselling another company's contact center platform.2 (Specifically, NICE CXone—while these two companies comarket, they operate as two completely separate entities.)
Just something to consider, as this usually means different account logins and user interfaces or experiences between your contact center and unified communications platform.
What makes it a great RingCentral alternative?
And finally, as well as the overall functionality of each solution, we'll also look at how it compares directly with RingCentral.
The 8 best RingCentral MVP alternatives for small businesses and enterprises
1. Dialpad Ai Voice: A truly unified platform with powerful Ai technology

Dialpad is a cloud-based unified communications system, promising unbeatable reliability (100% uptime for enterprise customers) thanks to worldwide data centers and 24/7 global support.
Because it's built on the Google Cloud Platform, Dialpad offers excellent security and reliability, and also excellent call quality. (This was something that was really important for Bing Lee, which has over 40 locations and needs good call quality at all of them.)
Not only does Dialpad give you video meetings, messaging, and phone calls all in one app…

It also has a fully integrated cloud contact center platform that—uniquely among all of these RingCentral alternatives—has the same aesthetic and user experience as the UC side. It's built and maintained by our own in-house team, and you can use your web browser without needing to download anything, which also goes for contact center agents, who can work from anywhere just like your average office worker.
Dialpad also has built-in analytics to make life easier for managers and supervisors. For example, there are heat maps that show call volume and average speed of answer:
It can also recognize and track keywords and phrases—which, for example, means that Sales and Support teams can track how frequently competitor names and features or issues come up on calls with customers and prospects:
But that's not all. To take this one step further, Dialpad can also trigger Real-time Assist (RTA) cards automatically when keywords or phrases are spoken on calls. These are essentially customizable cheat sheets that can help agents and reps with tricky topics as they're talking to customers. For example, if your Sales team gets lots of questions about pricing, you can create an RTA card with pricing notes and set it to pop up when "price" or "pricing" is said on a call:

What makes Dialpad a good alternative to RingCentral?
RingCentral, like many long-established business phone services, has been around for decades. Whether or not their telephony architecture has been updated, or how much it's been updated, in recent years is not clear—what we do know is that Dialpad is built on a unique dual-cloud architecture that is both modern and extremely flexible.
Not only that, both Dialpad's unified communications and contact center platforms are built and supported in-house (not the case for RingCentral's contact center solution, which is white-labeled or sold on behalf of another company).
Generally, it also takes longer to set up a new user on RingCentral (more, if you're starting a contact center)—we encourage you to try the free trial and see for yourself what the process is like. With Dialpad, you can add new users easily yourself and set up phone numbers for them in seconds:

RingCentral does have more integrations, but Dialpad's app marketplace is growing every day, and its open API makes it possible for you to build custom integrations with whatever tools your team is using. (Plus, Dialpad integrations are available to all users, not just contact center agents.)
As of right now, Dialpad has integrations with popular software like Salesforce, Microsoft Teams, and more.

Standard: $15 per user per month
SMS and MMS, unlimited calling, call controls, voicemail transcription, Google Workspace and Microsoft 365 integrations, custom off-hours routing, multi-level auto attendant, a free local VoIP number, toll-free number support, and more

Pro: $25 per user per month
Everything in the Standard plan plus hold queues, a wider range of integrations including Salesforce and Outreach, 24/7 phone and chat support, and more

Enterprise: Everything in Pro plus service level agreements and custom retention policies
Try one of the best RingCentral alternatives out there!
Sign up for a 14-day free trial to take it for a spin! It takes just a few minutes (even faster if you sign up with your Gmail or Microsoft 365 account) to get set up with a business phone number. Or, take a self-guided interactive tour of the app!
2. Grasshopper: Designed for (super) small businesses
This virtual phone system is another well-known RingCentral alternative, although it's aimed specifically at smaller businesses that are looking for affordability over functionality.
Grasshopper does require an existing line to forward calls from, and you can download the mobile app to use it on the go. It has call forwarding and Wi-Fi calling on every plan, but lacks the "unified communications" piece—there's no video conferencing or instant messaging, and if you need a contact center platform, it doesn't have that either. Learn more about the best Grasshopper alternatives.
What makes it a good alternative to RingCentral?
Grasshopper markets itself as being for small businesses specifically, so price-wise, it may be more affordable than RingCentral. In terms of ease of use, we'd probably recommend trying out the free trial and comparing it with RingCentral's user experience. If your business is very small or doesn't have many communications needs, you might find that Grasshopper gives you enough functionality without needing to go with RingCentral since it has the basics like a desktop and mobile app and voicemail included in all plans.
Another winner is that you can have two phone numbers on a single phone, so customers can reach your mobile without needing your personal number. Inbound and outbound faxes also go from the same business number.
Pricing
Solo: $26 per month (one phone number and three extensions)

Partner: $44 per month (three phone numbers and six extensions)

Small business: $80 per month (five phone numbers and unlimited extensions)3
3. Nextiva: An established name in the communications space
Another relatively well-known provider, Nextiva offers a VoIP phone system that includes video conferencing and messaging like Dialpad.
The Essential plan includes integrations with Microsoft Outlook and Google Contacts accounts, while the next tier brings in integrations with tools like Salesforce, HubSpot, Zendesk, and Microsoft Teams—similar to RingCentral.
Also like RingCentral, Nextiva is reselling another company's software as their own, except it's reselling both its UCaaS4 and CCaaS5 products. Again, this can make things like integrations and getting customer support especially tricky since you may have to go through a third party—for both platforms—so keep that in mind.
What makes it a good RingCentral alternative?
Nextiva is quite close to RingCentral in terms of the features you get on both the basic and premium tiers, from calling to business SMS messaging. This one is pretty close to call between the two, and for us it comes down to personal preference—the user interfaces are a bit different, and the functionality might vary a little, but there aren't too many major differences beyond that and maybe pricing.
Pricing
Essential: $25.95 per user per month
Unlimited calling in the US and Canada, 1,500 toll-free minutes, unlimited Internet fax

Professional: $30.95 per user per month
Unlimited conference calling for up to 40 participants, video calling, 3,000 toll-free minutes

Enterprise: $40.95 per user per month
Unlimited conference calling and participants, call recording, 12,500 toll-free minutes6
4. Ooma Office: For desktop-based users
Ooma Office keeps things simple with just two pricing plans, both affordable for small businesses and with the ability to get up and running in a very short time.
The packages are available without a contract, and the lower tier has most of the basic features you'd need in a business phone system, including HD voice, hold music, and call blocking, while call transfer happens seamlessly between devices. You'll also get ring groups, a conference bridge for meetings with up to 10 participants, and an auto-attendant with custom messages and rules.
Upgrading to Pro adds call recording and voicemail transcription. (Neither plan has team messaging, which is where you'd be better off with Dialpad.)
What makes it a good alternative to RingCentral?
The price is probably lower, which small businesses will like. If you're looking for a cheap, basic business phone system with simple pricing, Ooma Office could be a good RingCentral MVP alternative.
Pricing
Ooma Office: $19.99 per user per month
Unlimited calling in the US, Canada, Mexico, and Puerto Rico, basic call management and mobility features

Ooma Office Pro: $25.99 per user per month
Video conferencing, call recording, and voicemail transcription7
5. Vonage Unified Communications: Good call quality and flexible routing
Vonage is a cloud-based VoIP service with a mobile and desktop app. Out of all these RingCentral alternatives, Vonage is probably the most "a-la-carte" focused, meaning the plans themselves come with very little functionality included in comparison, and everything can be added for a fee.
It doesn't have its own built-in video conferencing software, but uses a third party, Amazon Chime Pro Tier, instead. It does have team messaging, where everyone with the app can start or join group chats, share files, and participate in video and voice calls.
What makes it a good alternative to RingCentral?
If you're looking for flexibility, then RingCentral's plans aren't quite as customizable as Vonage's a-la-carte scheme—without the ability to pick and choose, you may end up paying for features you don't even need.
When it comes to toll-free numbers, RingCentral does have more—but the downside is that it doesn't test them as extensively as Vonage (so we'll call that a draw). Vonage wins out on customer IT support—though it costs extra—with the Vonage Support PLUS add-on to help with hardware installation, virus removal, and third-party integrations.
Pricing
Mobile: $19.99 per line per month
Unlimited calls in the US, Canada, and Mexico, unlimited SMS, team messaging

Premium: $29.99 per line per month
Unlimited video meetings with up to 100 participants, a multilevel auto-attendant, CRM integrations

Advanced: $39.99 per line per month
15 hours of on-demand call recording (which isn't a lot to be honest), visual voicemail, white glove setup services8
6. GoTo Connect: An affordable option
For small teams and freelancers who need straightforward and affordable cloud communications, GoTo Connect offers simple setup and pricing, plus enough features to get you up and running.
Formerly known as Jive, it's now part of LogMeIn, which now houses all the GoTo products. GoTo Connect combines Jive's original cloud phone system with GoTo Meeting's video and audio conferencing solution for a unified package. Learn more about the best GoTo Meeting alternatives.
Tools include auto attendant, mobile apps, call forwarding, virtual voicemail, and ring groups—and they're all simple to set up and make changes to.
What makes it a good alternative to RingCentral?
GoTo Connect rates well online for customer service, with phone support, email, and tickets, plus customer support content like data sheets, user guides, FAQs, and videos. It even has a helpful community for crowdsourcing answers to questions.
The pricing scheme is also attractive in comparison to what you might get charged at RingCentral.
Pricing
Basic: $24 per user per month (for 20 or fewer users)
Unlimited extensions, call forwarding, auto-attendant, video meetings for up to 40 people

Standard: $29 per user per month
Call recording, real-time analytics, video conferencing for up to 150 users, international calls to 50+ countries

Premium: $39 per user per month
Call analytics, monitoring, barging, video meetings for up to 250 users, 5,000 toll-free minutes9
7. Mitel MiCloud Connect
Mitel has been in business for over 40 years (not bad for a company that swapped selling lawn mowers for telephony!) and is recognized as a tried-and-tested brand. Like Dialpad, it's built on Google Cloud.
It offers a combination of on-premises and cloud-based PBX hosting, and includes the standard comms functions of phone, text, and video calling. You'll also find tools like customer ID, automatic speech recognition, and call routing—plus a dashboard with real-time performance updates.
They don't openly advertise prices, so you need to get in touch for a quote or demo.
What makes it a good RingCentral alternative?
Mitel scores highly on ease of use and compared to RingCentral, it's generally easier to set up the system and perform ongoing maintenance. Users can access Jump Start and Expert Start options, VoIP phones with a built-in help button, and on-demand support and training.
With no set plans available, Mitel also allows you to build your own system and pay only for the features you want—this makes it a scalable solution for smaller businesses.
The platform works across devices including Android and iOS.

Pricing:
Frankly it's pretty opaque. There aren't any numbers available on their pricing page. You can try and see if you can decipher their pricing plans.10
8. Intermedia: Stable software uptime
Intermedia's big sell is that it promises 99.999% uptime (did we mention Dialpad promises 100% for enterprise customers?), with a financially-backed service level agreement.
Like Ooma, it simplifies things by having just two pricing plans, and both have a range of features including voicemail transcription, auto-attendant, caller ID, and customizable hold music.
What makes it a good RingCentral alternative?
The pricing plans are simple to understand, and the cheaper one—Unite Pro—allows for 100 participants in video conferences and 200 in audio. That's way ahead of RingCentral, although it's worth noting that the cheaper option is almost twice as expensive as Dialpad's least expensive plan. Pro also includes pretty much all of RingCentral's features (apart from real-time supervisor functions like whisper and barge).
Intermedia also offers 24/7 customer support, but they don't say online whether it's US-only or worldwide.
Intermedia doesn't make you sign up for annual contracts, which is a bonus for smaller businesses. And you get unlimited calls in the US, Canada, and Puerto Rico, alongside international calling.
Pricing
Unite Pro: $27.99 per user per month
10GB of file backup, sync and sharing

Unite Enterprise: $32.99 per user per month
200 participants in audio and video conferences, supervisor functions11
Which is the best cloud-based communications solution alternative to RingCentral?
Choosing a VoIP provider for business communications is a tough task. It's a very crowded market and it can be difficult to figure out the specifics of a solution until you start using it.
If you're leaning towards a certain service provider after reading this post, we'd suggest trying it with a free trial (Dialpad lets you do this for 14 days, and you can even sign up via your Google or Microsoft 365 account).
As we mentioned earlier, there are a lot of RingCentral competitors offering very similar phone systems, so make sure you scrutinize those feature lists to see which gives you the most bang for your buck. Compare not only the price tags for each plan, but also the features that are included in each one. For example, RingCentral's least expensive Essentials plan doesn't necessarily have everything that comes in Dialpad's least expensive Pro tier.

We may be just a bit biased, of course, but if your business is looking for a cloud-based communications solution with robust and modern functionality—at an affordable price—then take Dialpad for a test drive.
Check out the best RingCentral alternative!
Looking for RingCentral competitors that could give your business a more flexible, agile, and affordable way to communicate with customers, prospects, and teammates? Sign up for Dialpad's free 14-day commitment-free trial. Or, take a self-guided interactive tour of the app!
1ringcentral.com/office/plansandpricing_a.html#office

2channelfutures.com/telephony-uc-collaboration/ringcentral-nice-extend-partnership-to-offer-ringcentral-contact-center
3signup.grasshopper.com/plans
4talkingpointz.com/nextiva-competing-around-the-customer-experience/
5businesswire.com/news/home/20210609005705/en/Nextiva-and-Five9-Team-Up-to-Help-Businesses-Deliver-Seamless-Customer-Communications
6nextiva.com/nextiva-pricing.html
7support.ooma.com/office/ooma-office-pricing-chart/
8vonage.com/unified-communications/pricing/
9goto.com/pricing/connect
10mitel.com/voip/pricing
11intermedia.com/products/unite/pricing