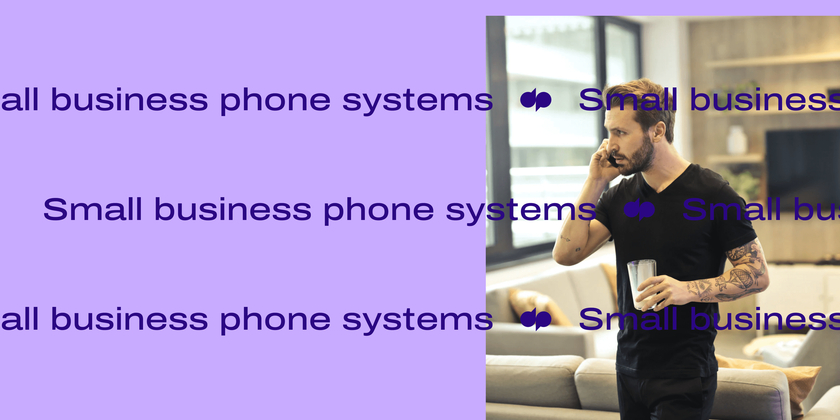 January 23, 2022
There's so much an automated phone system can do for your small business. From call forwarding to customizable IVR (Interactive Voice Response), a modern and well-designed platform can revolutionize the way you operate.

For most small businesses, affordability is an important factor—but you don't have to sacrifice on unique and useful features. There are some great phone systems that are easy to use, cost-effective, and surprisingly feature-rich.
We'll walk you through some of the best ones below.
Skip ahead if you like:
What is an auto attendant?
An auto attendant is a telephony feature that you'll find in most VoIP (Voice Over Internet Protocol) phone systems.
You'll sometimes hear it used interchangeably with IVR (Interactive Voice Response), virtual receptionist, auto receptionist, or ACD, which are mostly similar call routing features that basically let your callers direct themselves to the right person or team.
It's especially popular with call center teams or businesses in general that receive a large volume of inbound phone calls.
How does an auto attendant phone system for small business work?
At its core, the concept of an auto attendant phone system is pretty simple. Customers call in and choose an option from your routing menu, either verbally or by using their keypad, and the system will send their call to the right department or agent.
If your business is getting bogged down by calls or your office receptionist is still manually transferring callers, then this is a much better way of doing call management.
Today, there are many options that are cloud-based, meaning you don't have to have a bunch of on-premises desk phones or hardware in a server closet in your office. Instead, you can take calls from your computer or other mobile devices like cell phones and tablets using a softphone app.
Other features to look for in a business phone service
Beyond just taking inbound calls and auto attendant features, business phone systems can do a lot of other things too. Here are a few of the best features that small businesses can get (at an affordable price!) by choosing the right phone system.
Unified communications
Today, you're more likely to hear about "unified communications" or UCaaS solutions compared to just business phone systems. The main difference is that UCaaS service providers give you other communication channels beyond phone calls, like video conferencing, SMS/MMS messaging, instant messaging, and more.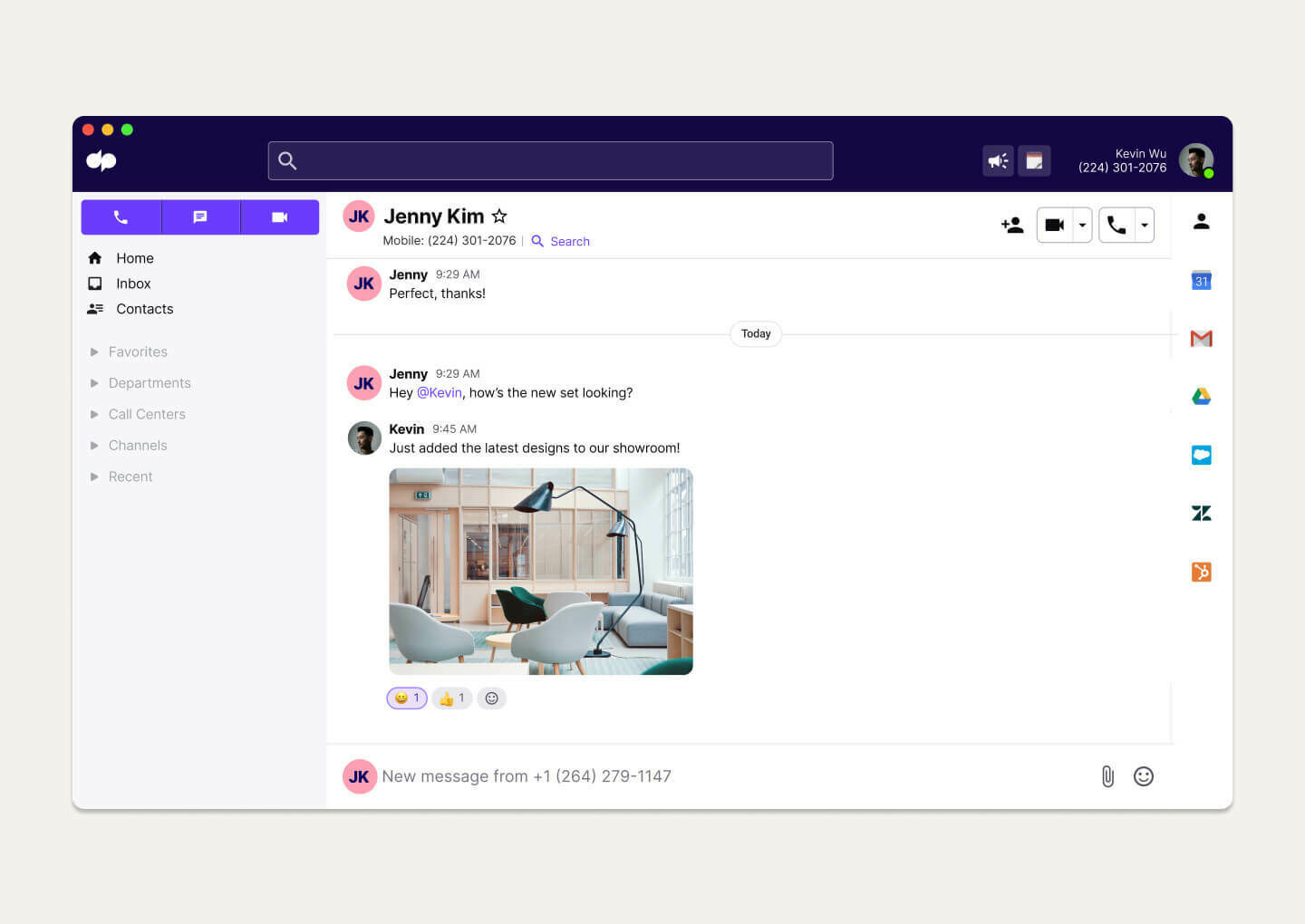 Dialpad, for example, gives you all of those channels in one beautifully designed desktop and mobile app. And it's fully browser-based too, which means that if your clients or prospects want to join your video conference or conference call, they can just click a link to join from a web browser—no downloads needed:
Fully integrated contact center platform (if you need it)
What if you have a customer support team or call center team? In most cases, you'd need a contact center platform to handle such a large number of calls or messages.
And even though contact center software can be a very useful tool for small businesses, traditionally, they've been priced out because these tools have always been so expensive and enterprise-focused. Not anymore.
With Dialpad, for instance, even small businesses can access a contact center platform that lets their teams manage customer inquiries and do high velocity sales.
It's easy to use, and you can add agents to different departments, manage phone numbers, and more, all from your online dashboard: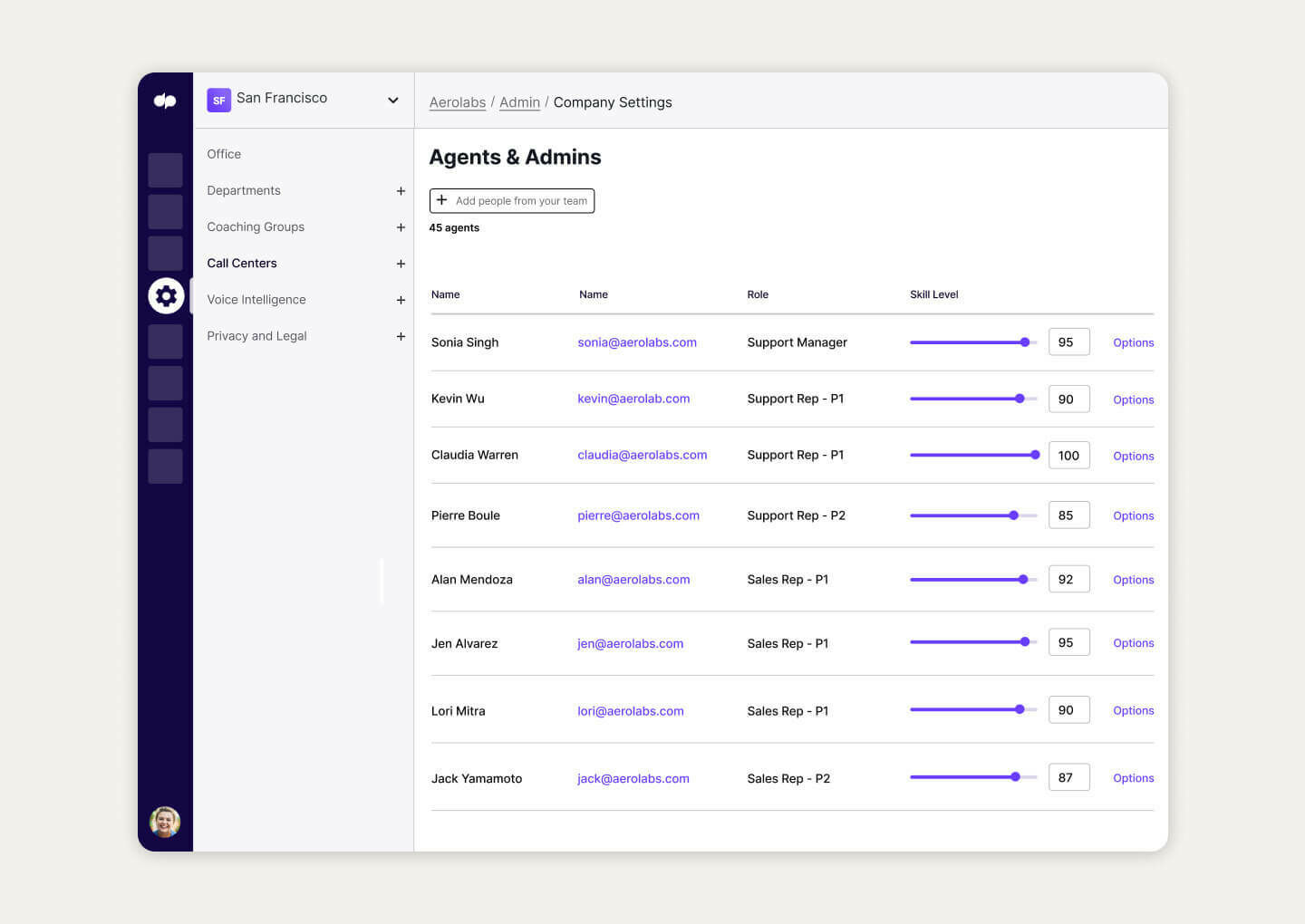 And the best thing? It's fully integrated into the unified communications platform. That means everything is in one cohesive user interface, one login, and one account.
Flexible call routing
For any business that gets incoming calls on a daily basis, an intuitive call routing feature is a must-have. It used to be that you'd have to phone into your phone service provider's tech support and wait hours or even days for them to make changes to your call routing menus.
Today, platforms like Dialpad let you make those call routing and call transfer changes yourself in minutes.
The flexibility of Dialpad's call routing system means you can set a number of different criteria, to be directed to various extensions. This allows for greater customer satisfaction, as they're routed to the best agent for their query. And, if the call needs to be escalated to a line manager, the agent can simply use the call transfer feature to an internal or external number without the customer losing their place in the queue.
Built-in IVR analytics
Did you know that your IVR menu can be a valuable source of information about your company's on-the-phone experience?
How? Well, let's say you have an IVR menu that greets people when they call you. How do you determine which options to include in that menu? How do you decide whether you should let someone get to your Billing department or Bookings department from the main menu—or bury that a little bit deeper in the menu options?
If you're like most companies, you probably have no tangible evidence to back up those IVR menu choices. No longer!
Communications platforms and cloud phone systems like Dialpad can show you which options are being used by customers—and which aren't at all—so you can continuously improve that IVR experience and make it as efficient as possible: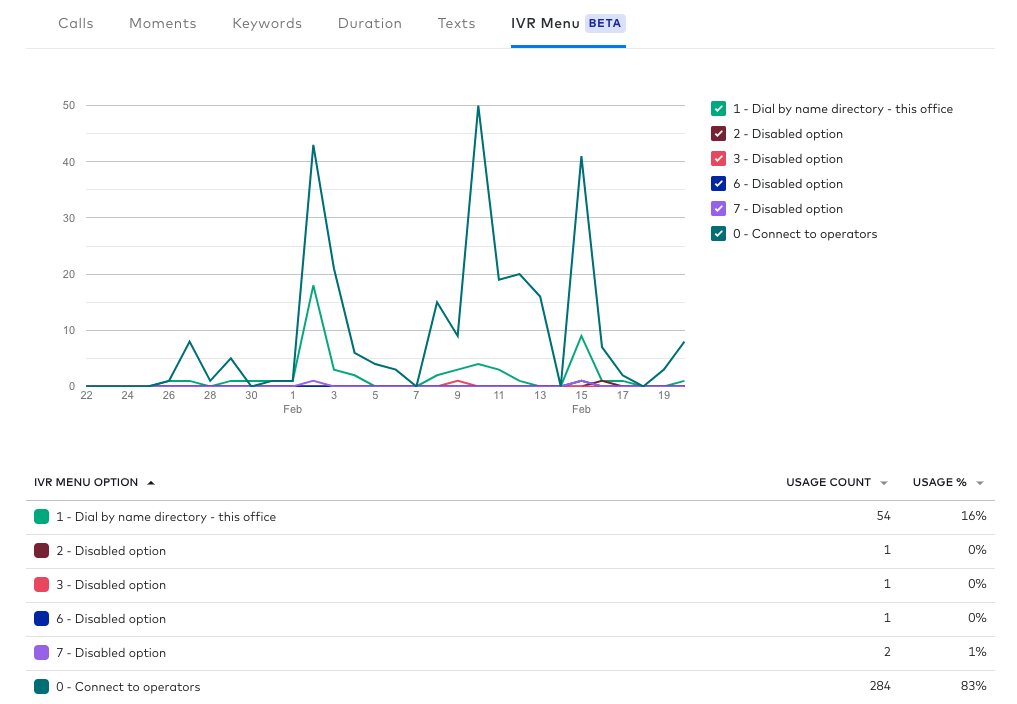 3 benefits of using a small business phone system with an auto attendant feature
So, why should your small business upgrade to a virtual phone system with an auto attendant? Here are a few of the benefits.
Less time wasted on spam calls
Spam calls are frustrating and time-consuming—especially if you receive a ton of these a day. An auto attendant can filter out those spam callers for you without your office manager or agents manually dealing with them.
Many systems can also block robocallers and intercept telemarketing sales before the first ring, since bot spam callers can't make it through the rounds of questions from the auto attendant.
It makes call flow management easier
One of the biggest advantages of having an auto attendant is that it can manage incoming calls for you and direct your callers to the right place with minimal intervention from live agents or employees.
Dialpad, for example, lets you set up and make changes to your call routing, send people to voicemail, and so on, right from your online dashboard.
For small businesses with limited resources and small teams, this is a much more efficient (and cost-effective) way to manage inbound calls compared to having an employee do this repetitive and relatively low-value work.
(And this is even more true if you get a high volume of business calls every day!)
It reduces call queue wait times
Most customers anticipate being put on hold when they're making a call to a business or contact center. It doesn't mean that's a good experience though (especially if you've bad hold music—or no hold music at all).
Because an auto attendant feature can direct callers quickly and efficiently to the right departments, those people can get their questions solved more quickly.
And that ultimately reduces the amount of time that other people might have to wait on hold!
Overall, that reduces your wait times—and creates a better customer experience.
The 6 top small business phone systems with built-in auto attendants
1. Dialpad: A truly unified communications platform with all your business phone essentials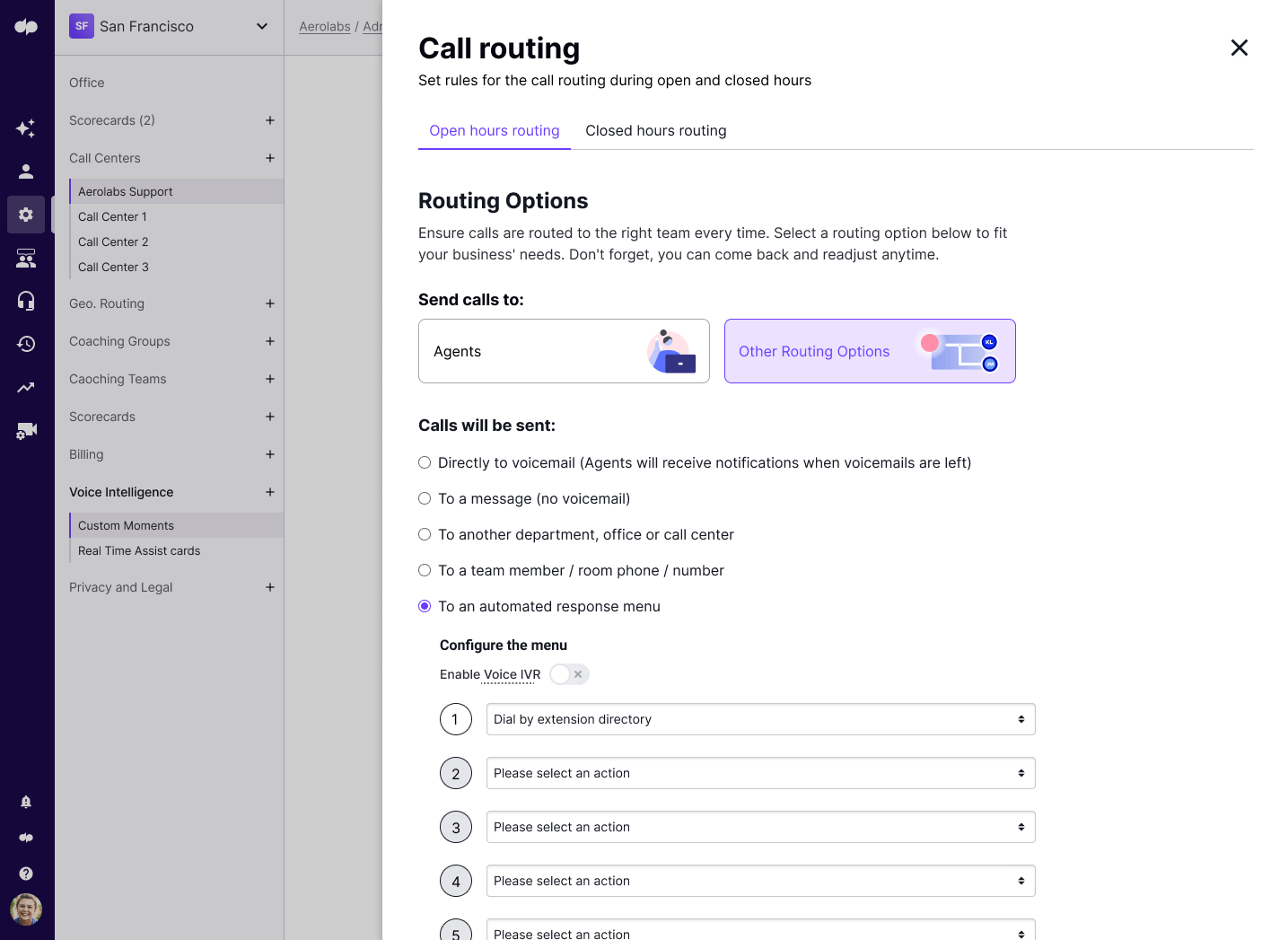 Okay, so technically, Dialpad isn't just a business phone system. It's a cloud-based unified communications platform, and it's one of the best ones out there.
Yes, we may be a bit biased, but Dialpad is loved by businesses of all sizes for a good reason. It's incredibly easy to use.
Sure, it comes with all your UCaaS must-haves, like phone calls, video conferencing, instant messaging, SMS/MMS messaging, and more. And of course you can call someone from the desktop app or mobile app by just typing in their phone number or pulling up the name directory.
But Dialpad also comes with all the features you'd expect (and even some surprising ones) in a very advanced business phone system. There's the customizable caller ID, which lets you make business calls from your own mobile phone while shielding your personal phone number: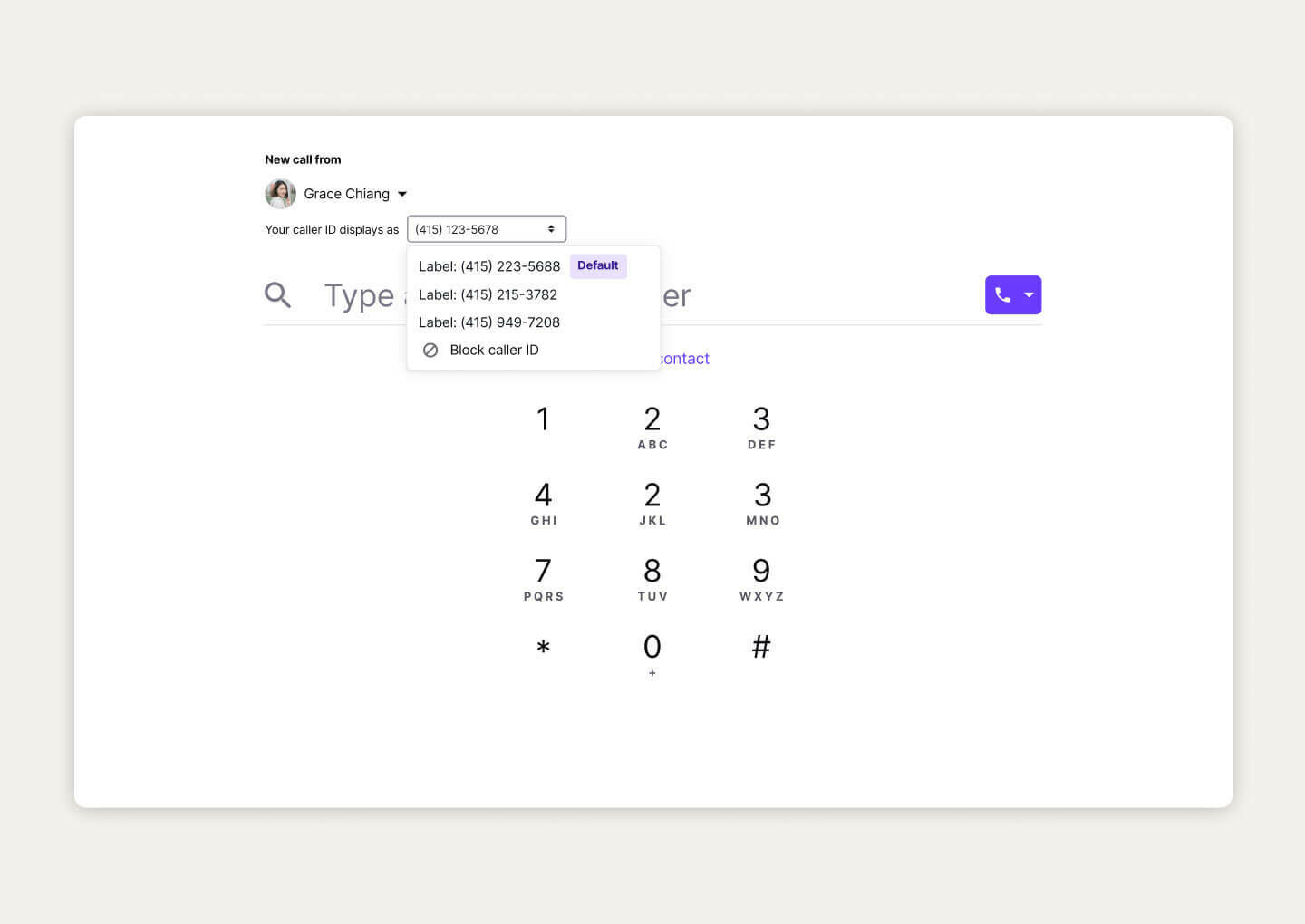 There's the auto attendant and IVR feature, of course. And you can even set your hold music to whatever you want. One of our team's favorites? Rick Astley:
[image]
You can set up to five call forwarding numbers (to your mobile phone, a colleague, a landline, whatever you want), along with simultaneous ring, so you never miss a call: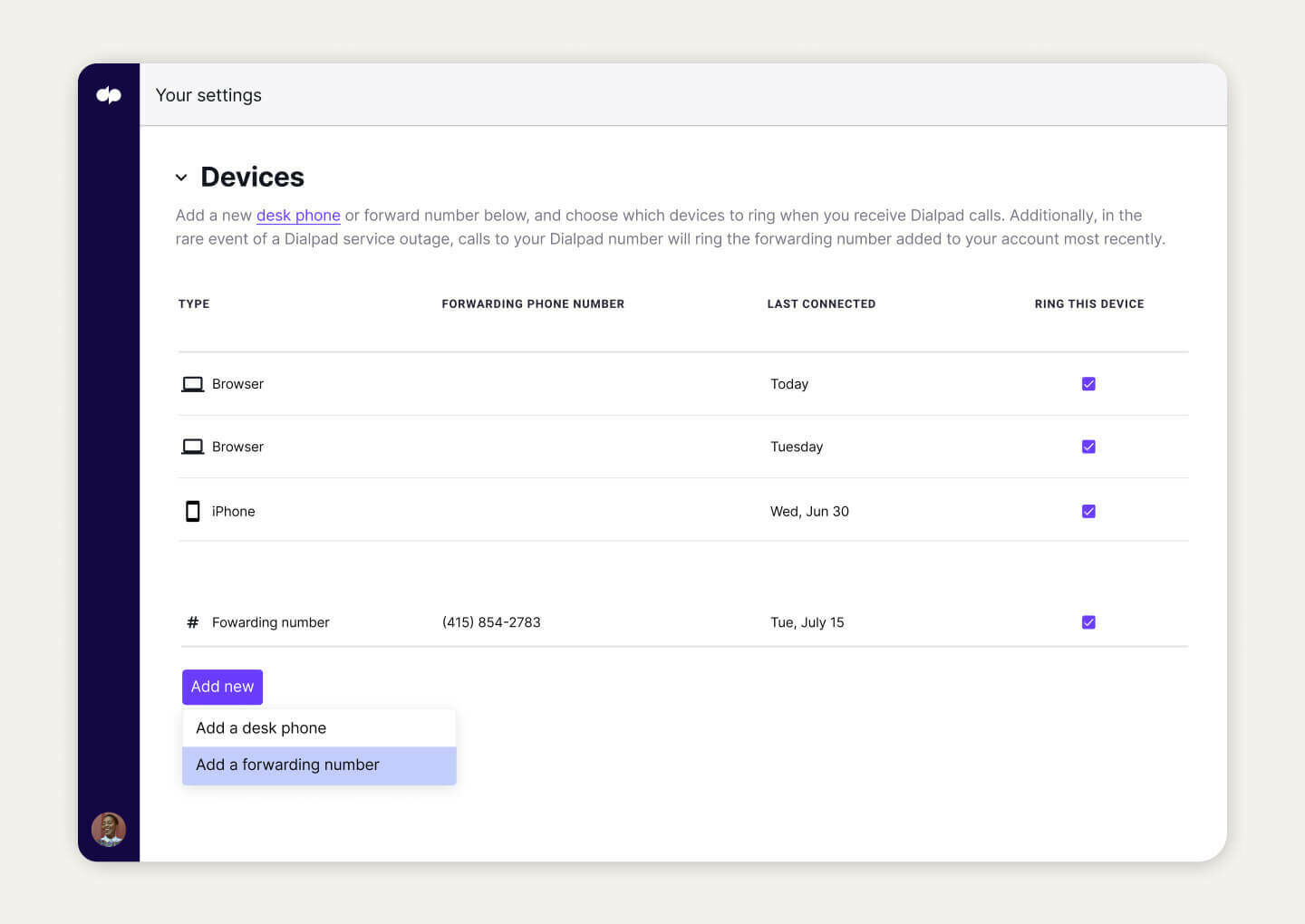 And Dialpad's team can help you port your existing numbers over too.
But above all, it always comes back to an intuitive design that's built to be easy for anyone to use. It just works—across iOS, Android, Mac, and PC—and your clients and prospects can join your video meetings and conference calls without downloading any apps or software: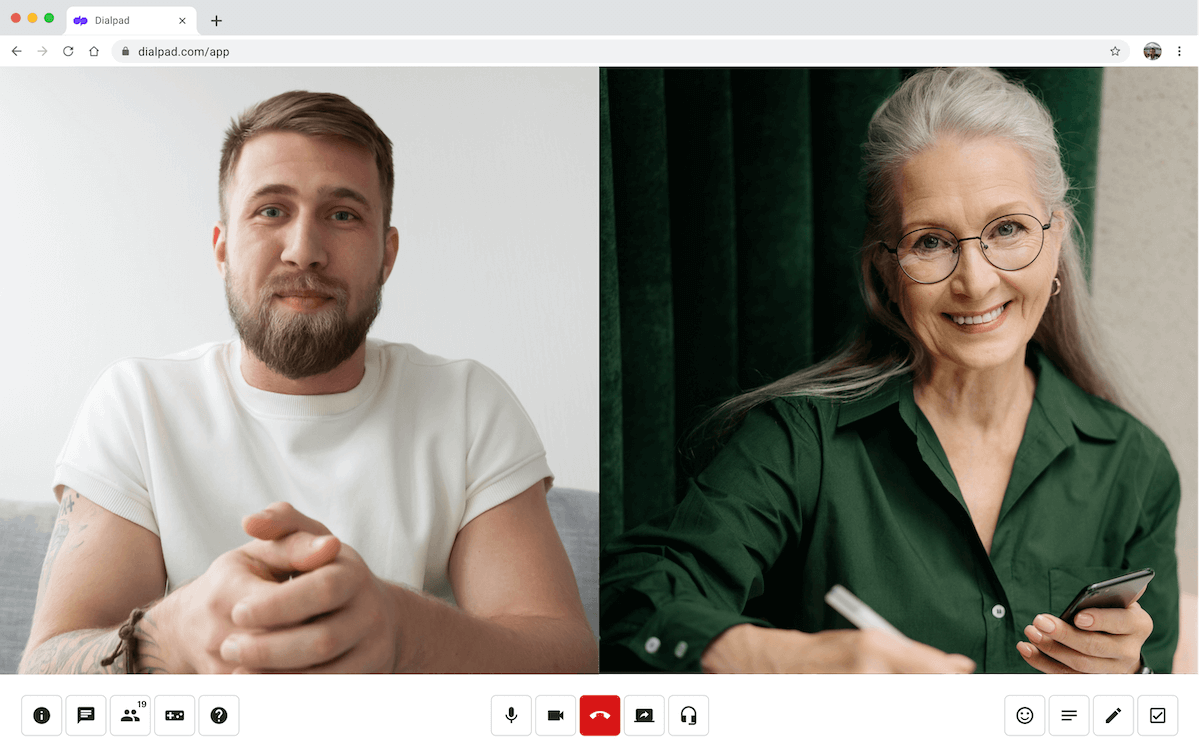 Some of our small business customers' favorites (available at the lowest-priced plan at $15 per user per month):
Unlimited calling in the US, Canada, and your country

Unlimited SMS and MMS

Multi-level auto attendant and custom off-hours routing

Call controls (call forwarding, transfer, hold, mute)

Custom voicemail greeting

Real-time transcripts of conference calls and video meetings

Voicemail transcription—also in real time

Integrations with CRMs like Salesforce and HubSpot, and also a range of other tools including Google Workspace (formerly G Suite) and Microsoft 365

24/5 customer support over live chat and web, worldwide (you can upgrade to 24/7 support over the phone as well on the next-level-up plan)
Pricing (per user per month): Standard ($15), Pro ($25); Enterprise (custom). All billed annually.
👉 Sign up for a 14-day free trial to take it for a test drive!
2. RingCentral
RingCentral is one of the more well-known cloud-based communications platforms with a VoIP phone system, much like Dialpad. Even though today they market themselves as a cloud phone system, they've actually been around for decades and their technology is built on a traditional PBX system.
(That's one of the biggest differences between RingCentral and Dialpad, since Dialpad is cloud-native and is built on a more modern and versatile cloud architecture.)
Anyway, RingCentral offers the main communications channels you'd expect, like voice calling and text messaging. But for some reason, its most basic plan, Essentials, does not include video conferencing, nor does it include even basic integrations like Google Workspace and Microsoft Teams.2 For this reason, it's further down this list.
While it does hit many of the key small business needs, it doesn't quite compare to Dialpad in terms of ease of use and administration. (If you want to try it out yourself, we encourage you to sign up for a free trial and compare both!)
Some of the features you get in RingCentral's lowest-priced plan:
VoIP phone and toll-free number support

Unlimited calls within the US and Canada

Voicemail-to-text

Team messaging

Mobile apps
Pricing: Essentials ($19.99 per user per month), Standard ($27.99), Premium ($34.99), Ultimate ($49.99).1
3. Vonage
Vonage is another relatively well-known phone system provider that markets itself toward small businesses. It offers basic features including local and long-distance calls, a desktop app, and a mobile app.
One of the biggest drawbacks for Vonage is the lack of scalability. Many features that you'd expect to be included in a basic unified communications or cloud phone package are add-ons that you have to pay extra for, like a multi-level auto attendant, call recording, and voicemail transcription.
These aren't exactly advanced features, and really, should be included in a basic plan. (At least, if you're looking at comparable providers.)
Some of the features you get in Vonage's lowest-priced plan:
A mobile and desktop app

Unlimited calls and SMS (They say, "Reasonable and acceptable usage applies for unlimited calls and unlimited SMS"—we're not quite sure what that means to be honest)

Unlimited team messaging

20+ third-party integrations
Pricing: Mobile ($19.99 per user per month), Premium ($29.99), Advanced ($39.99).2
4. Nextiva
Much like Dialpad and RingCentral, Nextiva is a UCaaS provider that offers a single platform that lets you make phone calls and have video meetings.
Nextiva is also another name that has been around for quite a few years, but for small businesses, what's important to note here is that you don't get call recording and mobile SMS/MMS until you get to the upper tier plans.3
The other thing to know about Nextiva is that it is reselling or whitelabelling both its call center4 and unified communications platforms.5
Some of the features you get in Nextiva's lowest-priced plan:
Basic call management features like auto attendant

Team messaging

Toll-free phone number support

Integrations with Outlook and Google Contacts

Mobile and desktop app
Pricing: Essential (from $18.95 per user per month), Professional (from $22.95), Enterprise (from $32.95), Ultimate (from $57.95).
5. Grasshopper
Out of all the options on this list, Grasshopper, Vonage, and Ooma Office are probably the two that are most explicitly focused on small business owners as an audience.
At its core, Grasshopper is a good basic service that lets you keep your personal and business phone separate, since your regular phone number is masked by a dedicated business phone number. It's also relatively fast and simple to set up, giving you access to a phone system with features like SMS and IVR.
But, it's lacking more advanced features like video conferencing and a wide range of integrations. Its most basic plan is also quite a bit more expensive than comparable plans from other competitors, so it's not the most budget-friendly option for a smaller business on a tighter budget.
Some of the features you get in Grasshopper's lowest-priced plan:
A mobile app

Local or toll-free numbers

Text messaging and voicemail transcription

Call forwarding and transfer
Pricing: Solo ($26), Partner ($44), Small Business ($80). All plans have the same feature set—the price difference is based on the amount of phone numbers and extensions, and prices are a single fee, not per user.6
6. Ooma Office
Ooma offers small business phone systems using VoIP technology. There is a mobile app for iOS and Android, and the basic plan does include an auto attendant that lets you create custom messages and route calls to extensions and ring groups.
However, to access some of the other services like video conferencing, screen sharing, SMS, voicemail transcription, and call recording, you'll need to up your budget and choose one of the higher payment plans.
Compared to other options on this list, like Dialpad, whose base plan starts at $15 per user per month, Ooma's plans don't come with as many features and also cost more, putting it further down the list.
Another thing to note about Ooma is that it's not necessarily a business-focused product—yes, it does market itself to small business owners, but it also has a large residential arm of the business that focuses on home phone services. It's not a deal-breaker by any means and many small businesses do use Ooma, but if you have plans to grow your business and think you'll need a more sophisticated phone system, this may not be the best option.
Some of the features you get in Ooma Office's lowest-priced plan:
Virtual receptionist

A local extension

Call park, transfer, and forwarding

One conference bridge per user

One virtual fax per user
Pricing: Office Base ($19.95 per user per month) and Office Pro ($24.95).7
How to start using the auto attendant feature on your business phone system
Setting up an auto attendant to greet your customers and direct them to the right place is generally pretty straightforward.
Step 1: Make sure your cloud or VoIP phone system actually comes with an auto attendant feature. Not every provider includes this in their basic plans, so check the fine print.
👉 Dialpad tip: If you have a remote or hybrid team, then a VoIP service is almost always a better option than an on-premises phone system. Because VoIP phone systems use your Internet connection to make and receive calls, as long as you have a strong Internet connection, you should be able to work from anywhere (with more affordable international calling rates too).
For example, if you're looking at options right now, sign up for a free trial of Dialpad to try it out. It takes just a few minutes to get started, and you'll be set up with a business phone number too.
Step 2: If you chose a good VoIP provider, you should be able to set up your auto attendant from an online dashboard. You can set the time range for when you want your auto attendant to be available. This will typically be your business hours unless you'd like to extend the cut-off point and send voicemail transcripts to your email.
Then, you can record or upload a custom greeting, which is what callers will hear when they call your business.
Step 3: You can now start creating the IVR menu and call flow you'd like your customers to follow, such as, "Press 1 for sales, 2 for technical support," and so on.
Step 4: If you have someone who manages your phone system, make sure they're trained on how to use the auto attendant feature. It helps if your communications platform or phone system is easy to use, of course, but it's not uncommon for some older legacy systems to require days or weeks of training to really get the hang of them.
Make sure they know how to do basic everyday tasks like setting up voicemails and changing routing options.
Create a better customer experience with an automated phone system
Not only can an automated office phone system make your employees' lives easier, it can also considerably improve your customer experience.
No matter how much people like to say that phone calls are dead, your customers are often calling you because they've looked at other avenues of contacting you, like your website or live chat, and found that they'd rather talk to someone.
This is especially common in service-based businesses—and sometimes, it just might be because the information they were looking for wasn't available on your website.

Looking for ways to make the inbound call process easier for your business? Try Dialpad for free for 14 days to see how it is to set up and use!
Sign up for free
FAQs about automated telephone systems for small business
Can I set my auto attendant forward calls to external numbers?
With some providers, forwarding calls to external numbers is relatively simple. When you first sign up with a VoIP provider, you'll be given a main phone line or phone number that's connected to your auto attendant. You should be able to go into your online settings and set up any external numbers to forward calls to, and the auto attendant will automatically forward the call. If your provider is more on the legacy side, you may have to contact a customer support team and wait for them to make the changes.

Is an automated feature like this a viable option for small businesses?
If you're a small business that receives lots of inbound calls each day, then it's likely a viable option for you! It used to be that only enterprise size businesses could afford features like this, but today, auto attendants are commonly found in most unified communications and VoIP solutions.

---
1ringcentral.com/office/plansandpricing.html#office
2vonage.com/unified-communications/pricing/
3nextiva.com/nextiva-pricing.html
4talkingpointz.com/nextiva-competing-around-the-customer-experience/
5businesswire.com/news/home/20210609005705/en/Nextiva-and-Five9-Team-Up-to-Help-Businesses-Deliver-Seamless-Customer-Communications
6support.ooma.com/office/ooma-office-pricing-chart/
7signup.grasshopper.com/plans