Categories
Customer Relationship Management
Products
Ai Voice

Ai Messaging

Ai Contact Center
Overview
HubSpot is an inbound CRM and marketing software that helps companies attract leads online and convert them into customers. Now thanks to Dialpad's native integration with HubSpot, you can access your business phone system and CRM in the same platform with the ability to synchronize your sales data with your call activities. For instance, you can now log your business phone calls in conjunction with specific deals to keep track of your activities with more ease and efficiency.

Dialpad allows users on HubSpot Sales Free, Starter, Professional, and Enterprise to use this integration.
Key Features:
Native Integration
Native sidebar within Dialpad mobile and desktop apps
Ability to tie calls to existing deals within Dialpad
Quick access to dispositions, deal tagging, and call notes/tasks
Activity Logging
Automatic call (inbound and outbound) and voicemail logging
Automatic call transcript logging including moments and action items
View recent activity with quick links to HubSpot
Ability to log both notes and tasks per contact
Contact Profiles
Automatically display contact profiles within Dialpad
Ability to create new HubSpot contacts from Dialpad
Ability to match existing HubSpot contacts to Dialpad contacts
Includes quick link to jump into HubSpot

Did you know you can also use Dialpad within your HubSpot app? Check out the Dialpad Google Chrome CTI to learn how.
How Dialpad Integrates with this App:
The Hubspot integration is available as a CTI and on the Dialpad integration sidebar.
How to setup
Before connecting HubSpot with Dialpad, ensure that you have:

Dialpad Company Admin access, if you wish to connect HubSpot for all offices
A HubSpot Sales Hub account with administrator access
Note:
Users of this integration do not need administrator access to either HubSpot or Dialpad. Enabling integration enables it for the entire company.
To enable for the whole company, navigate to the Company Integrations settings page on Dialpad Admin portal > on Hubspot click on Connect.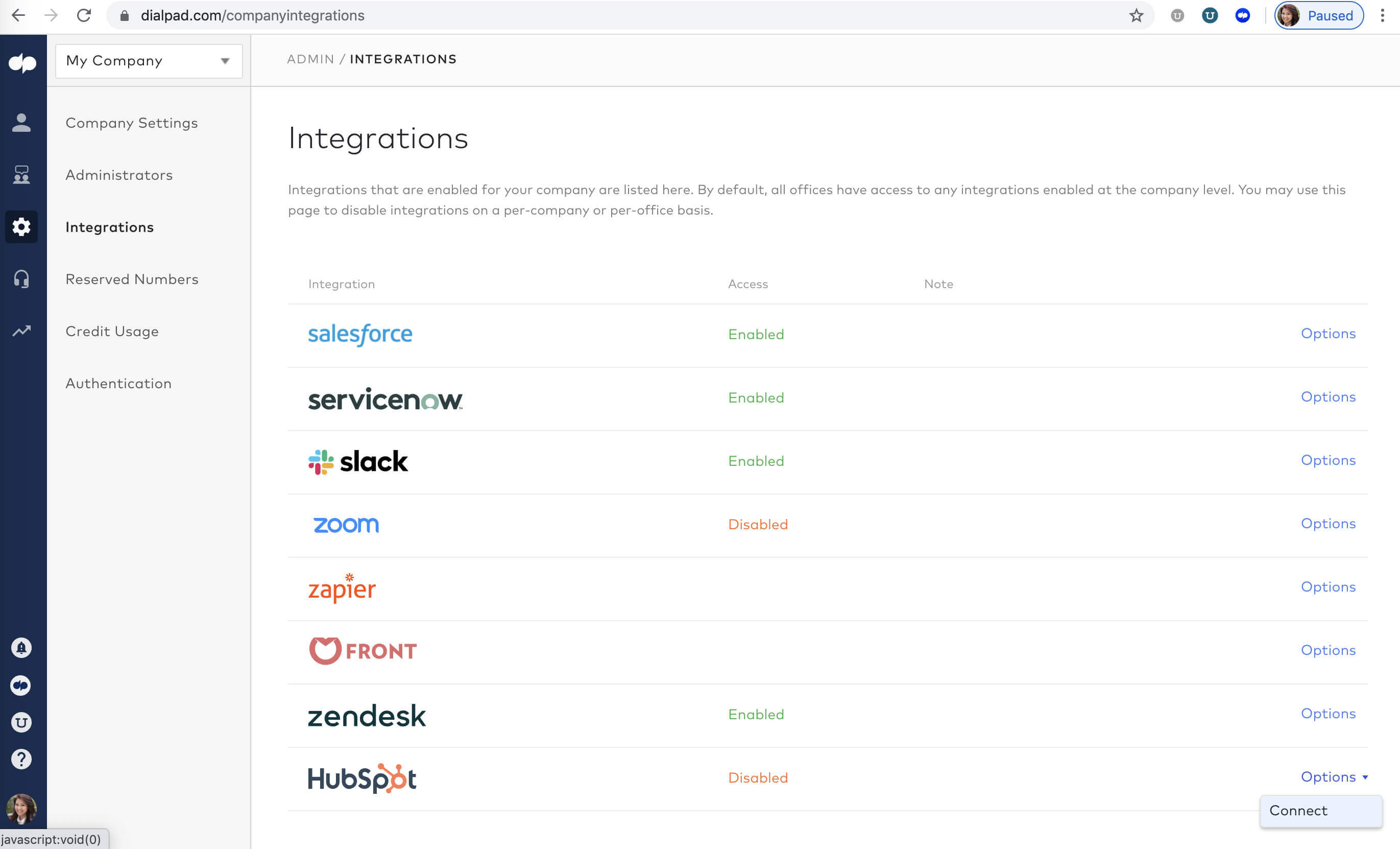 Dialpad will automatically redirect you to the HubSpot login page. Choose one account to connect to Dialpad from your listed HubSpot accounts.

Once the HubSpot account is connected to Dialpad, you will be redirected to the Integration settings page. Under HubSpot>Options, select configure which will bring up the Office Access and Settings tabs.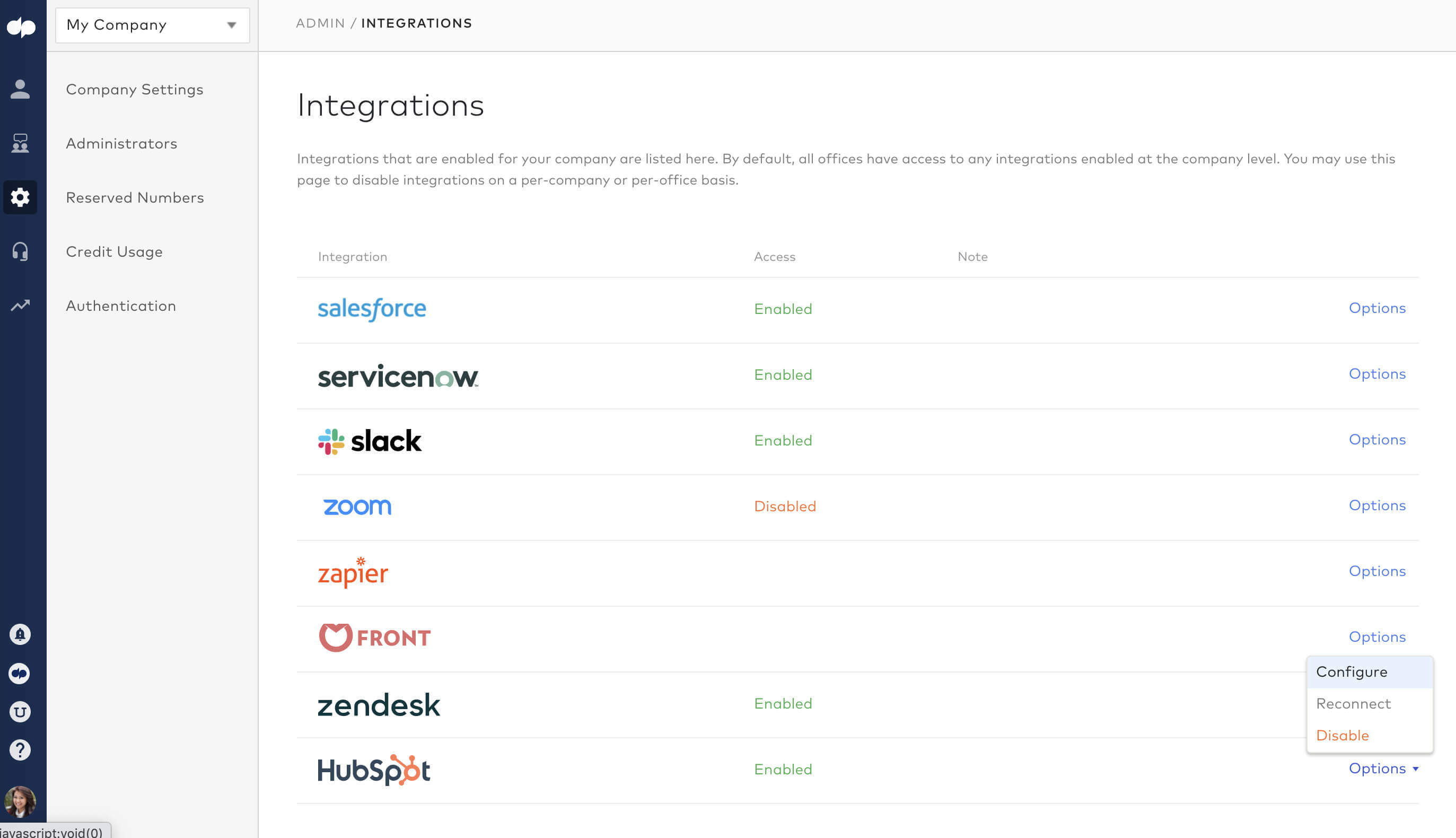 Office access allows you to enable the integration for users belonging to a specific office.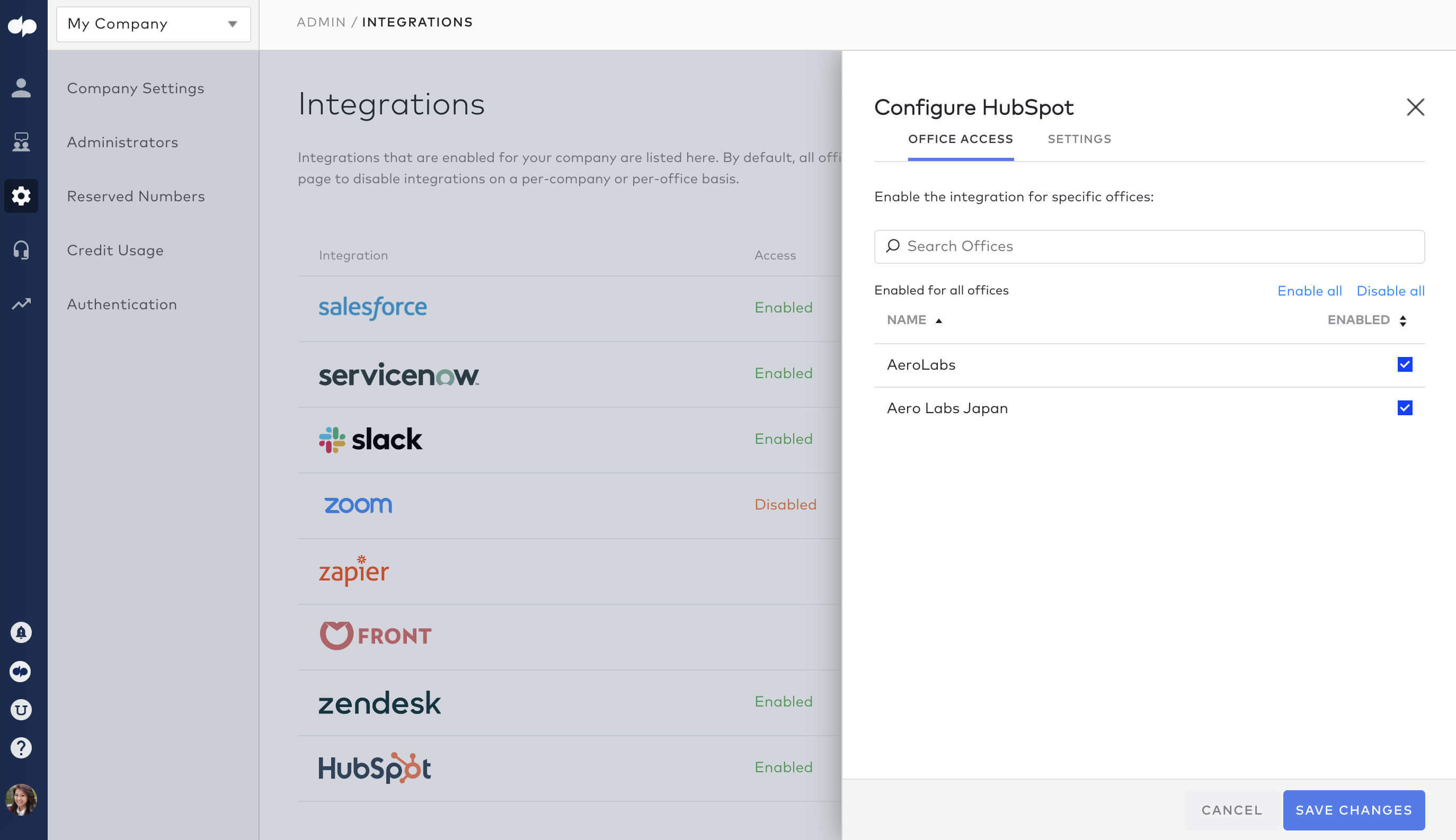 On the Settings tab, select 'Log Calls as Activities' for automatic call logging. You may also choose to post call recordings to HubSpot as well as to generate activities for voicemails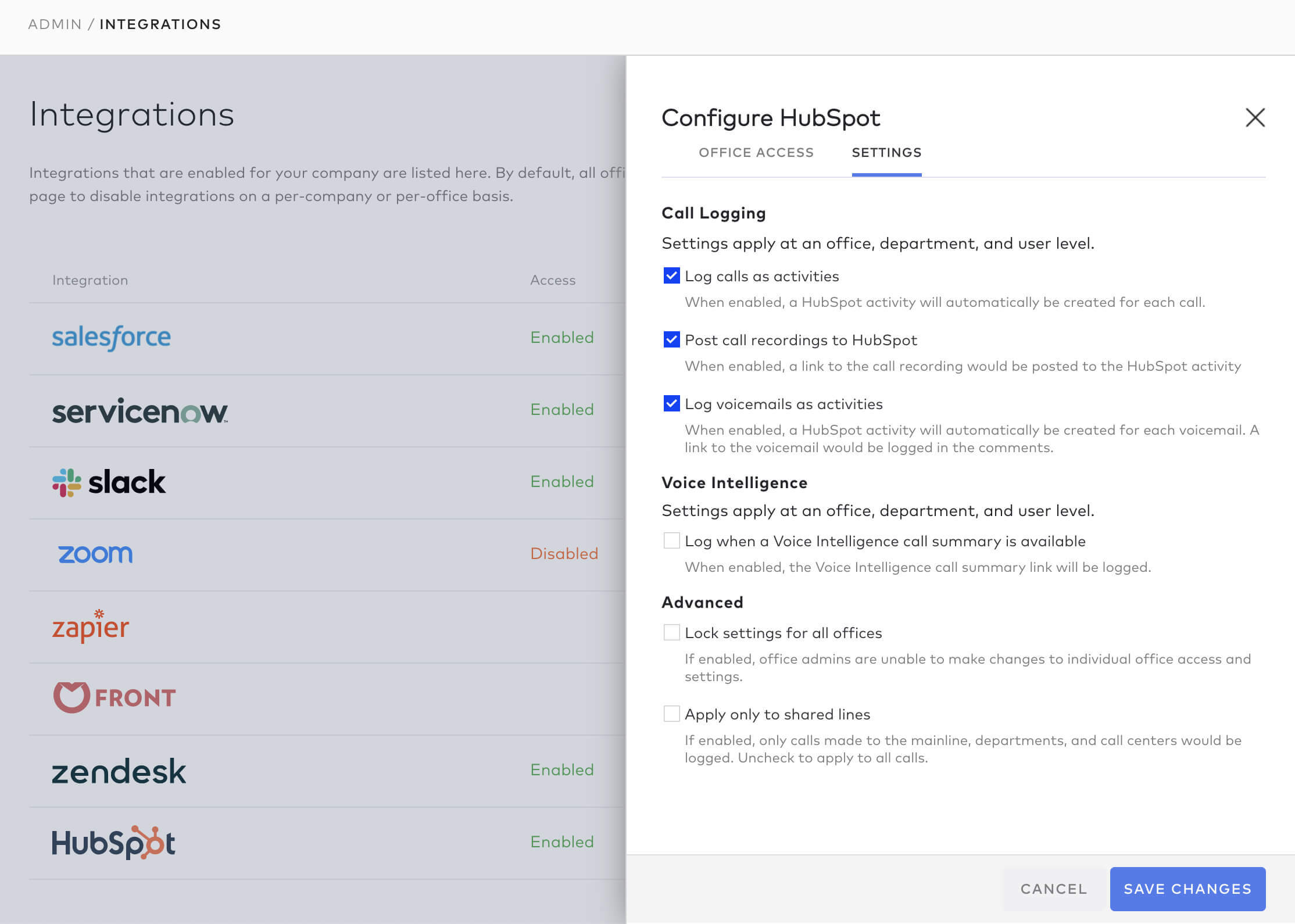 After the completion of these steps, all users with a valid HubSpot Sales Hub account will see the integration in the sidebar of their Dialpad App.

Additional info
Unified Communications
Dialpad's integration with HubSpot presents call activity along with sales data so that you can get a more accurate forecast of how deals are developing. You have the option to create new HubSpot contacts from Dialpad, match existing HubSpot contacts to Dialpad contacts, and go between the two platforms with ease. It's amazing when your tools talk to each other.

Sales Automation
Manual data entry and synchronization issues are a huge nuisance for sales professionals, not to mention that they can take up a lot of time. With HubSpot Integration, you get call logging for both inbound and outbound calls regardless of connected device, full call transcripts, voicemails, and even call notes. The best part? This is all automated so that you can be more productive and spend more time talking with prospective customers.

Customer Profiles in One Place
Whether you are on your laptop or mobile phone, Dialpad displays your contact's profile including any past and open activities right within your app. This way, you can have a clear idea of your prospect and the interactions you have had and review any call notes and transcriptions when needed. This might seem like a small benefit, but the ability to access your customer profiles within one platform can really help to streamline your workflow and help increase your productivity drastically.