Video call online
Need to meet face-to-face (virtually) for work? Sign up with your Google, Office 365, or LinkedIn account to start making online video calls for free. (It takes just a minute.)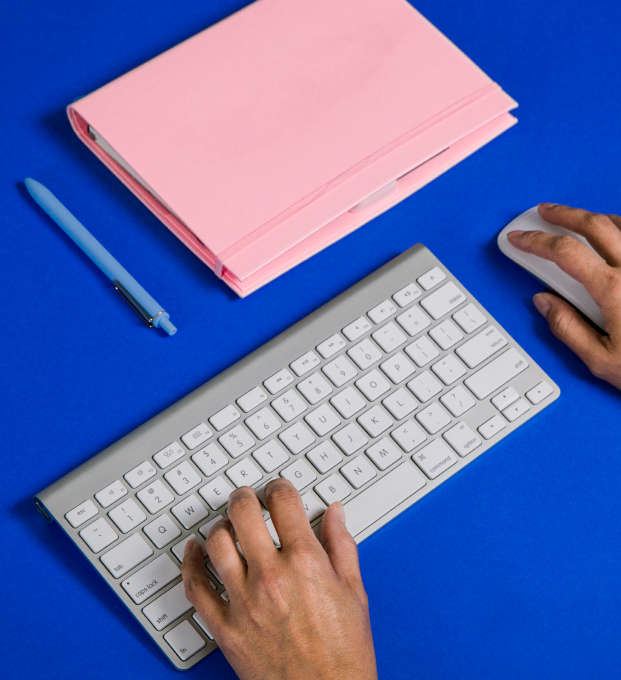 It just isn't practical to have every single meeting in person.
Thanks to advances in technology, you can find quite a few options for high-quality video chat apps with every video calling feature imaginable. As long as you have a great Wi-Fi signal, almost any business can take a hybrid work or remote work approach without an issue.
After all af your employees can't communicate successfully with prospects, clients, and each other, your business won't get very far.
As a replacement to the old-fashioned phone call, video calling is by far the most practical way to stay in touch—and in most cases, more effective than SMS and email. And nowadays, video calling is an affordable option, even for startups and small businesses, than a group chat, SMS, or email.
We use it to keep in touch with loved ones, to meet face to face (virtually) with clients, and for hangouts with colleagues. Anywhere in the world.
👉 Dialpad tip: Generally, "video calling" and "video chatting" can be used interchangeably. Both use a computer or smartphone with an internet connection and (usually) a video calling app. (Below, we'll talk more about video calling options that don't make you download an app.) A video chat or call differs slightly from video conferencing, which tends to involve a larger group of attendees, and is usually used by bigger organizations to meet virtually.
7 features you'll get in Dialpad's video call software
Shopping around is a definite must when it comes to purchasing video call software. There's a massive array of products on the market, each with their own calling features.
Plus, the kind of features a 500-person organization might need will likely be pretty different (and way more expensive) than what a startup needs.
👉 Dialpad tip: If you're a growing business, try to choose an app that is able to expand with you. (For example, is it easy to add—or remove—users as you scale your business up or down?
Okay. Let's look at what you should look for as you're shopping for video call apps.
1. Browser-based video calls
Some video conferencing software will make you download the desktop or mobile app to be able to host the video call.
You'll be able to join a meeting from a web browser, but typically you won't get all the cool features that you'd get in the app.
But Dialpad is browser-based, which means it won't try to force you to download the app. You can host video calls, record, mute, and do everything you can do in the app—right in your browser, on mobile devices or computers: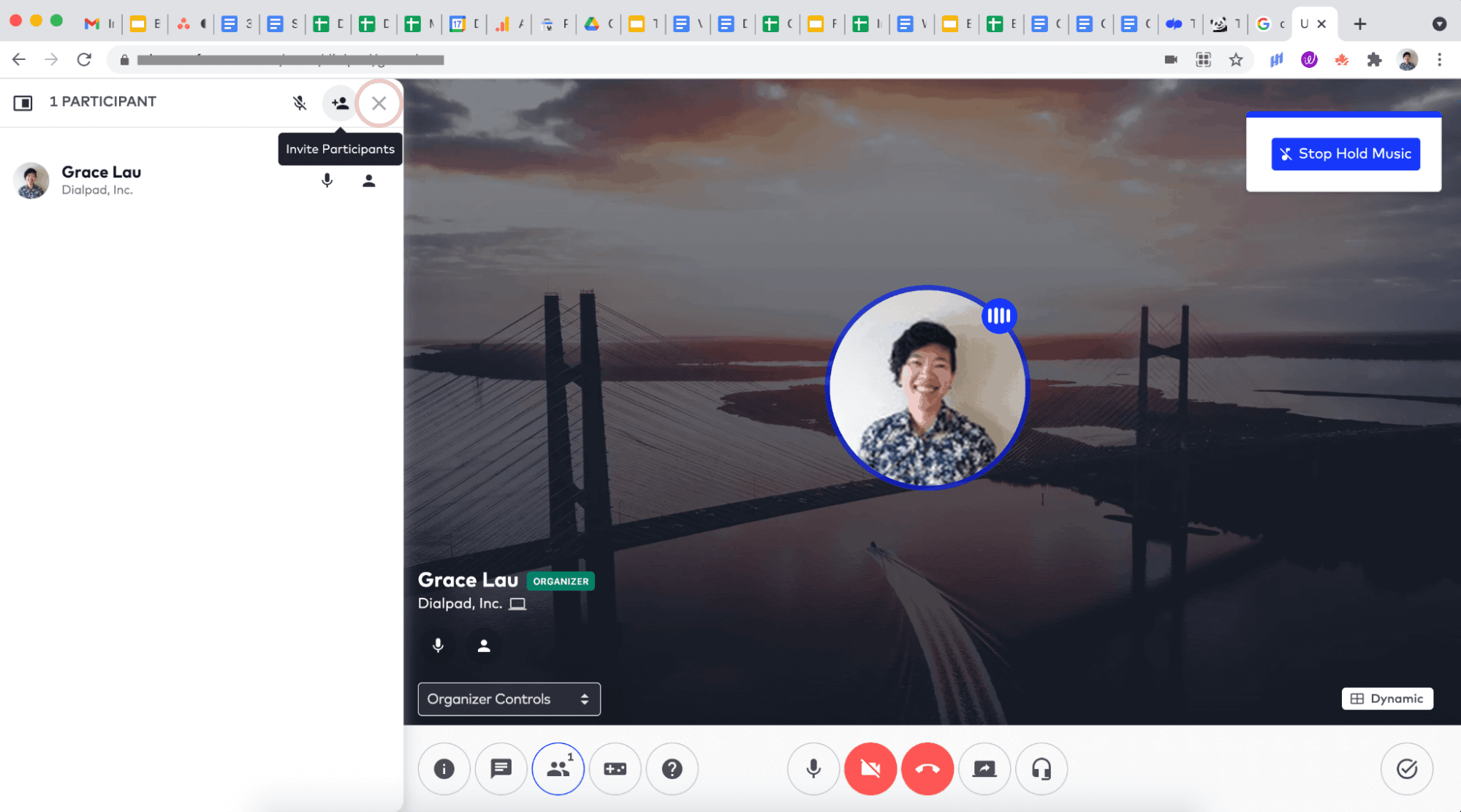 2. Robust call controls
Are all the call controls you need easily in reach? And by call controls, we mean:
Changing your volume level mid-call

Starting a screen share

Muting and unmuting yourself

Turning your video on or off

Recording the call or pausing the recording
As you're trying out different tools, look for a clean, easy-to-use interface that lays out all these options for you right on the screen:



3. Screen sharing
We touched on this earlier, but screen sharing is a handy feature to have for most teams—especially if you do group training or webinars.
If you ever have to share a slide deck or presentation, have a training session, or review a design mockup as a team, then you'll want to be able to share your screen.
For example, Dialpad's screen sharing feature lets you choose between sharing a specific window or tab, or your whole screen—all in just two clicks: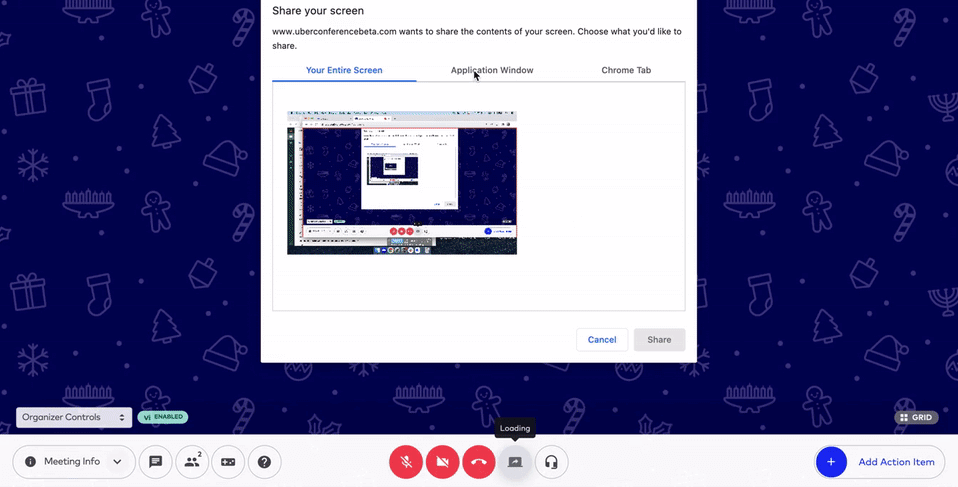 The best part about being able to choose a specific tab? No more colleagues trying to zoom in to spot what else you're looking at (your pop-princess playlist is safe with us).

4. Security
One aspect that many people overlook is the need for top-notch security. (Encryption should come standard!)
After all, aspiring to become an international business and gain customers all around the world is one thing. But there's no point in being able to have global meetings at the touch of a button if anybody can crash your meeting and get access to all your personal data.
Make sure all of the calls on the platform you choose are encrypted, and that you have enterprise-level security across the software—even if your business is nowhere near enterprise level yet.
Some basic features to look for here are host moderator controls. For example, the meeting host should be able to lock the meeting so that strangers can't join, mute participants, and limit screen sharing to just the presenter. Here's how that looks in Dialpad: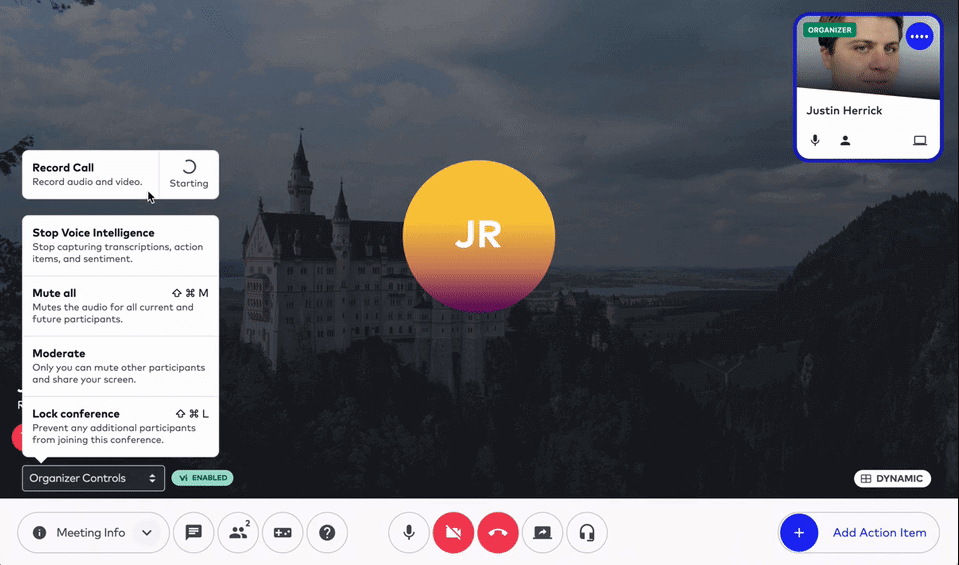 5. Data and analytics
This one is more for admins and office managers who want to keep track of how their teams are using their video call software.
For these folks, it's worth checking out the analytics capabilities of your app. Can you see how many video meetings are happening per week? Is your team adopting the tool and actually using it in their day-to-day work—or are they just defaulting to using phone calls and and Facebook messenger to communicate with clients and each other?
The ability to collect and analyze this data is a must-have—this way, you can look into the efficiencies of your various communication channels and streamline the number of tools you're using.
6. HD quality
No one wants laggy audio or pixelated video quality in a meeting. So, if you have lots of video calls with clients or prospects and need HD video, make sure your video calling platform comes with that: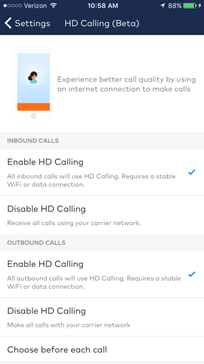 One thing to note though: Even if your video call software has HD (high-definition) quality, that 4k or 1080p won't help if your internet connection is bad. If your software isn't as HD as advertised, check your internet first!
👉 Dialpad tip: At Dialpad, we've got your remote working needs in mind, and we know how important it is to have a good network connection. That's why we've collaborated with T-Mobile to bring you a unified communications platform (yes, there's video, and also voice calling and even SMS) on lightning-fast 5G connectivity. Need reliable HD call quality? This collab is for you.
7. Multiple communication channels
This is a nice-to-have in your video call software, but if your team communicates in different channels, like phone calls and text chat, then you might want to consolidate all those tools into one.
What if, in the same app, you could start a video call or send an instant message or send an SMS—or just make a phone call? That means fewer software tools to pay for and manage—and less time wasted on context-switching for your team.
(And then there are other tools like customer relationship management or CRM, platforms, and Google Calendar, which many businesses need on a daily basis. Can your communication apps integrate with them? Dialpad can.)
How to start video calling in a few simple steps
Whether you're video calling with prospects, clients, or teammates, you can do that in just a few steps.

With today's video calling software options, there's literally a solution for every business size and need.
All you need to get started with video calling an internet connection and a video calling software or platform that works across Apple devices, PCs, iPhones, Android... Anything that you and your clients or prospects use.
Other useful features to have include the ability to record and store call transcripts and summaries in the cloud. The other big thing to look for is ease to use—you don't want to have to hire expensive IT help every time you need to make a small change or ship out expensive equipment.
Dialpad isn't only a video calling solution designed for businesses, it's also a fully-fledged communications platform that brings different channels like phone calls and SMS into one app: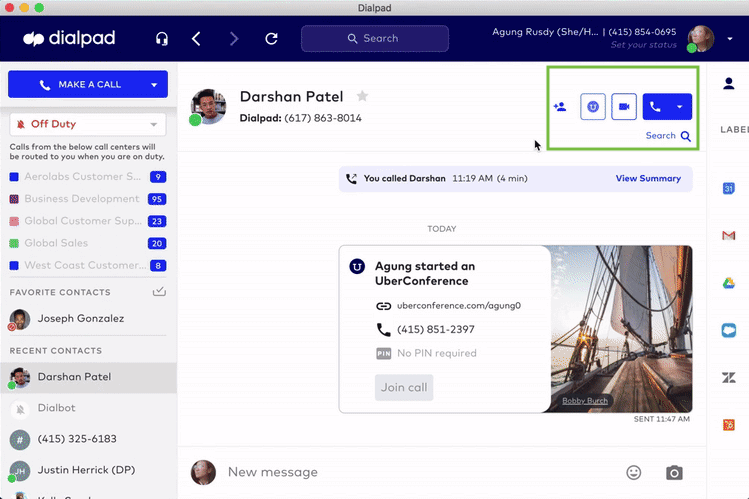 To start a one-on-one or group video call in Dialpad, just go into a messaging conversation you have with a contact. (Or you can start a video call using the drop-down in the top left.)

Hit the video call symbol, which is available in the top right of your messaging window.

That's it! This will start a video call with that person.
No need to launch a bunch of different apps, and you can even switch from a voice call to messaging and then to a video conference within the same conversation—all in one place with Dialpad.

Using Dialpad for group video calls: 5 benefits
Debating the cost of investing in video call software? It's worth looking at the savings it can bring in the long run. While it can be tempting to go with options with free video calls (or wonder if you can just use Whatsapp), these options tend to only have the basics—and most businesses need more than that out of their video calling software.
It's more efficient than meeting in-person
Let's face it. The biggest reason for most businesses that choose video calling is because it's more efficient and saves time.
It's better than a phone call in some situations, and allows for more collaboration than an email or instant messaging.
No more booking meeting rooms, no more setting up a group conference call using clunky hardware and waiting for all your participants to dial in with PIN codes.
👉 Dialpad tip: Physical group meetings cost money. There's no way around it. Even for a smallish meeting of around 20 or 30 attendees. There are travel costs, and then there's time spent away from work. If your meeting attendees can join the call from home, then you're saving both time and money—and a lot of it.
It boosts meeting attendance

With Dialpad, everyone can join a video call from home, a coffee shop, or anywhere with just an internet connection. It's better for accessibility since travel isn't convenient for everyone, and allows you to involve more people in meetings—no matter where they are.
It's more engaging than an audio call
Compared to an audio call, video calls are more engaging—and make it harder to hide that you're checking the latest updates on a social network. Dialpad gives you the option for both. Want to meet face-to-face? Start a video call. Or, just turn video off and make it a voice-only call.
You can record the call for review later
Doing training or interviews on your video calls? Dialpad lets you record the meeting so that people who couldn't make it can review what's been discussed.
And not only does Dialpad have a recording feature, there's another neat thing it can do: its Voice Intelligence (Vi) technology transcribes your video meeting in real time (more accurately than Google):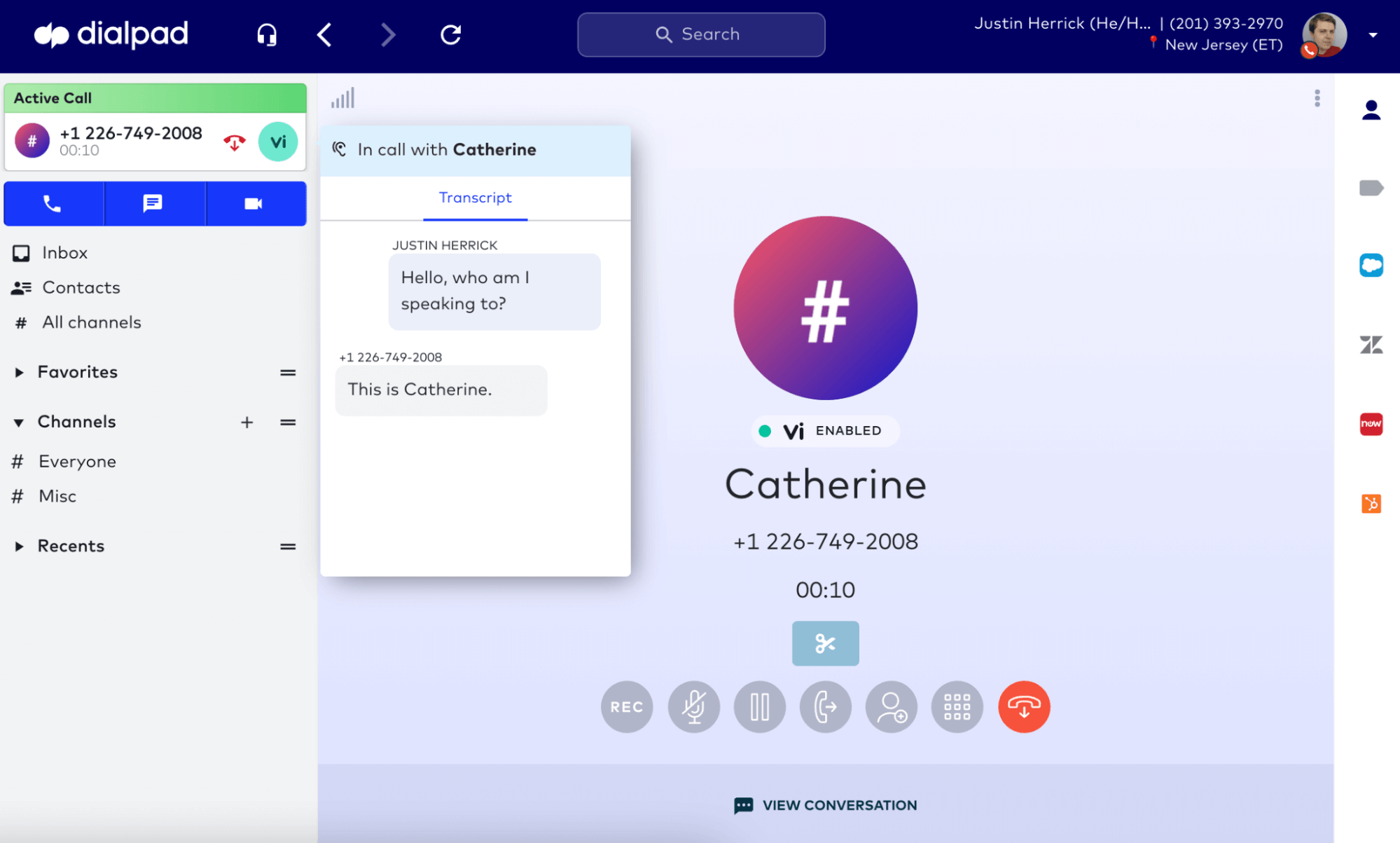 Vi can also highlight key actionable items from the meeting, which you means you can search for specific content within your meeting's transcript and pick out recurring themes or keywords (like when your competitors get mentioned).
It's like having a digital admin buddy alongside you at all times in meetings: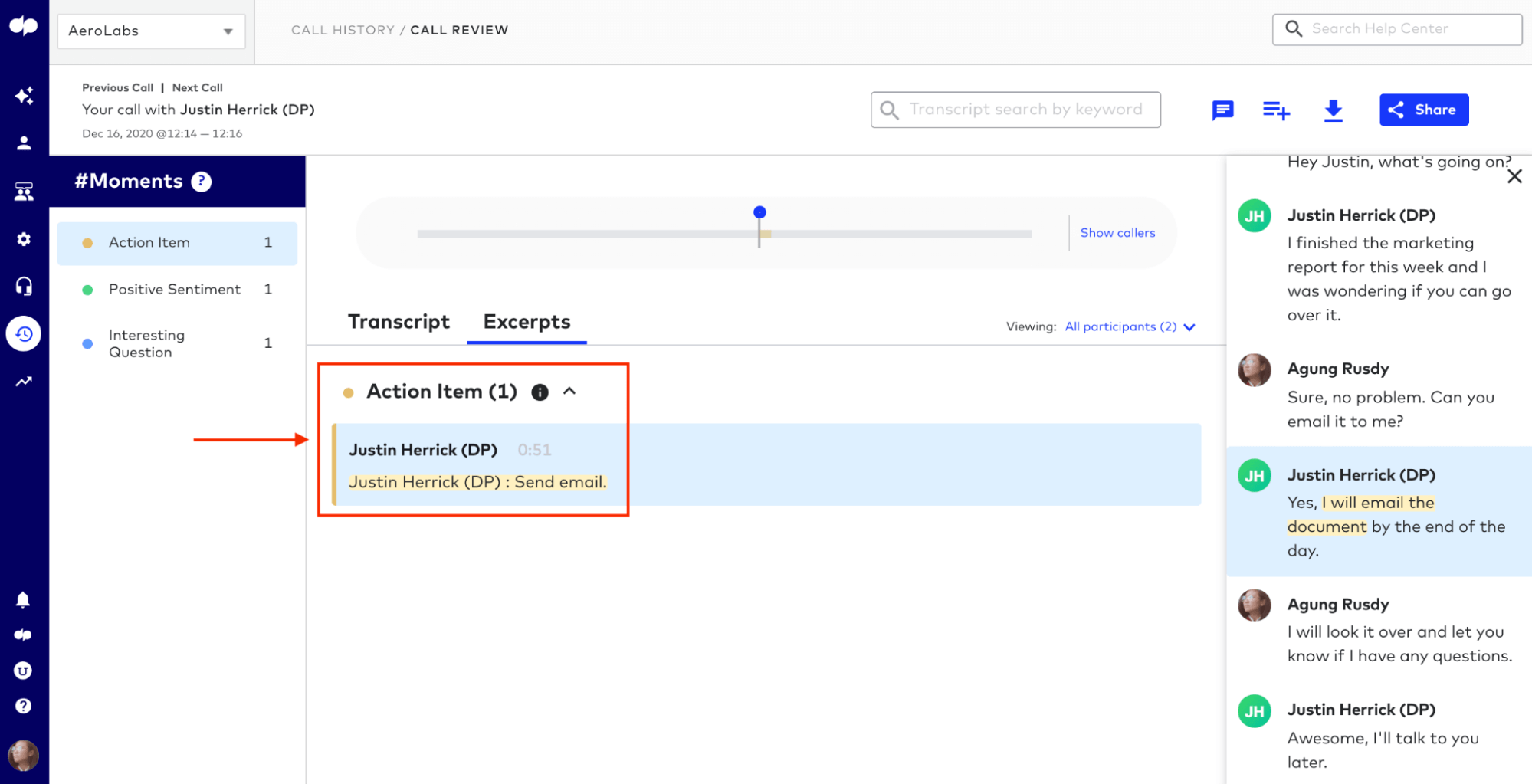 And did we mention Dialpad can automatically email you a post-call summary after your meeting?
It's a better employee experience
Giving employees more flexible working options is a real carrot when it comes to attracting the best new talent for your business.

Equipping your team with video call software means employees can work from anywhere—and opens up your business to the global employment market (which is handy if your headquarters are in an expensive city).

Did you know that over half of TED's (yes, the people who run TED Talks) employees work remotely? See how they use Dialpad to make that happen.
Online video calling: A better way to communicate with teammates, clients, and prospects
There are so many aspects to running a successful business, and communication is a vital one.
If your team is scattered around the world, this is especially important because you probably don't want to fly teammates in and out of the office just to have a meeting.
And for sales teams, running product demos through a video call online is probably a better use of their time than making them travel to do a demo. (Great for saving both time and money.)
Fun fact: Dialpad has HD video calling built right into its communication platform as standard. With it, you can have face-to-face meetings from virtually anywhere. Even if your call is crossing the Atlantic, your conversation will be as clear as one had with a colleague in the same room.

Frequently asked questions about online video calling
Can I make voice-only calls with a video calling app?
But… If you need to make actual phone calls (dialing a real number instead of just "calling" your contact in a messaging app), then you'll need a unified communications or VoIP (Voice over Internet Protocol) platform.
Are certain devices better for making video calls?
It depends on what app you use! For example, Dialpad's app is available across multiple devices for Windows, Mac, iOS, and Android. The nice thing about Dialpad in particular is that, as we mentioned above, it works just the same in a web browser as it does in an app. Don't want to download the app? No problem.
What can I use video calls for, realistically?
Of course, the main benefit of video calls is that it gives you that valuable face-to-face human element in meetings. Some of the best apps have built-in features like screen sharing and file sharing, and even a live chat box for asking questions in real-time without interrupting the speaker. This makes video calling especially useful for onboarding new employees remotely. All your new hires have to do is log on and click a link or download an app to join video meetings with different teams to get onboarded.
Can I use video call with people outside of my organization?
This way, there's no need for traditional analog telephone lines and phone numbers—your whole communications system works through an internet connection. This set-up gives you clear, reliable service, no matter how spread out your team is.
How many minutes of video call does my account include?
The video call function is unlimited, so think of it as free video calling!