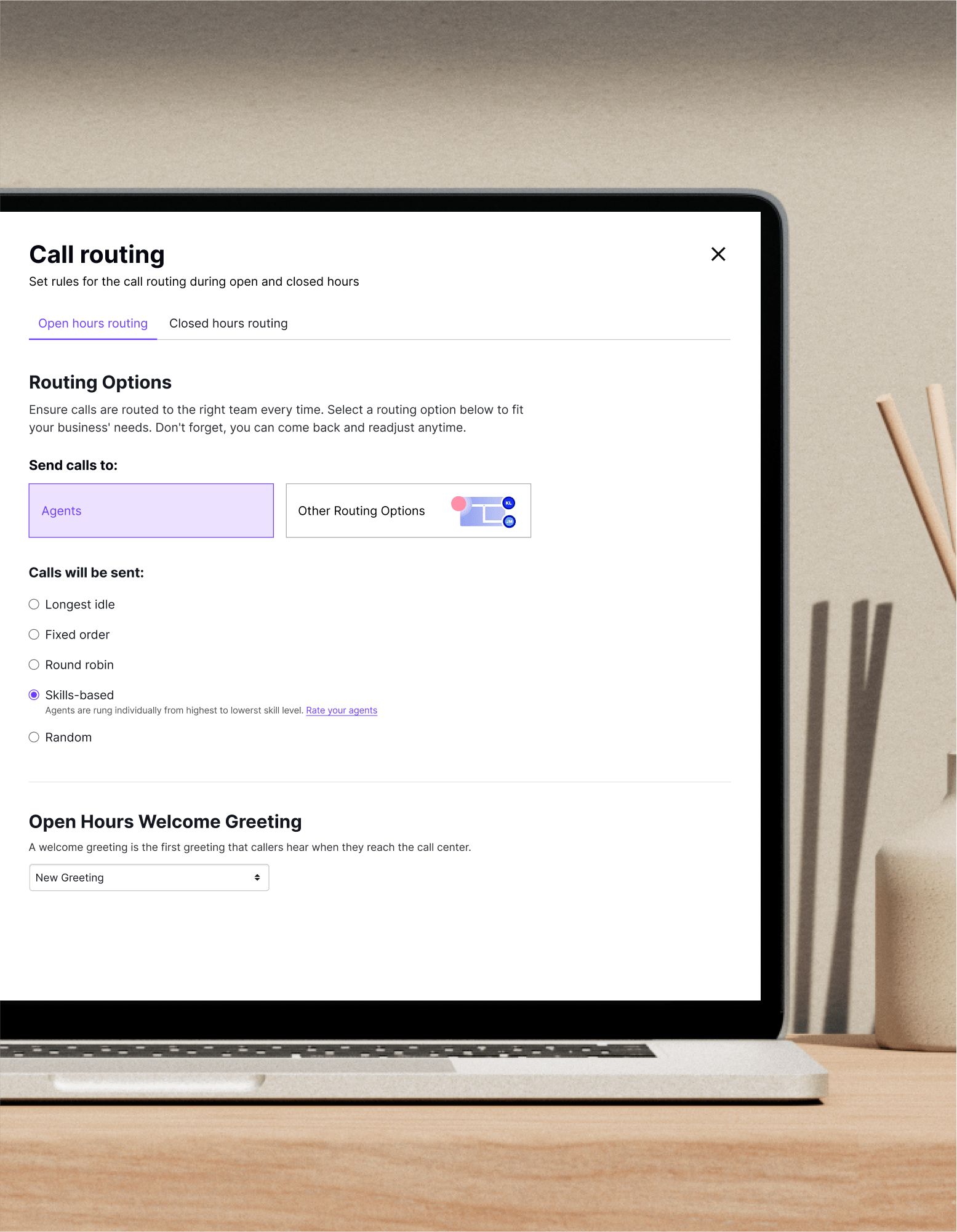 Virtual receptionist service
Need an automated call answering service? Dialpad's virtual receptionist feature helps you provide a better customer experience while automatically directing phone calls based on your custom incoming call routing options.
Set-up in minutes, no IT help needed
Make changes with a few clicks
Sign up for a free 14-day trial!
What is a virtual receptionist?
There are technically two meanings of "virtual receptionist." It can describe a:

Live answering service hired by your company, where your calls are handled offsite by human agents from another provider (they're "virtual" because they're not actually based in your office), or

An auto-attendant phone feature that can be programmed to do everything a live operator would do, such as playing pre-recorded greetings, routing calls, taking voicemail messages, and scheduling appointments.
How does Dialpad's virtual receptionist feature work?
When someone calls your main company number, your virtual receptionist greets them and presents them with a prerecorded message that lists all of your department options.
The caller is then prompted to enter the number that corresponds with the department or person they're trying to reach, and the virtual receptionist will then transfer the call to that department or individual.
With Dialpad's AI-powered customer engagement and collaboration platform7, you can route calls to individual team members or specific departments, or have them sent to voicemail or an automated menu when nobody is available to take the call. It's easy to set up and make changes to the system online in your dashboard.
Why use a virtual receptionist service?
Between meetings, appointments, deadlines, and just putting your head down to get work done, you won't always be available to take every incoming call. But if you don't pick up the phone, you could be missing out on new business—and creating a poor customer experience.
With a virtual receptionist service, you have an automated call handling system that can take care of your incoming calls without the help of an actual human being. It eliminates wasted time and human error, gives customers a smoother experience, and empowers them with self-service options.

"
I wanted. . . something that makes it easy to transfer calls and make calls to other departments and people regardless of where they are. When I implemented Dialpad, I just felt my whole business was connected better.
"
­Zak Saboune
President, Service Today
What else do you get included with Dialpad?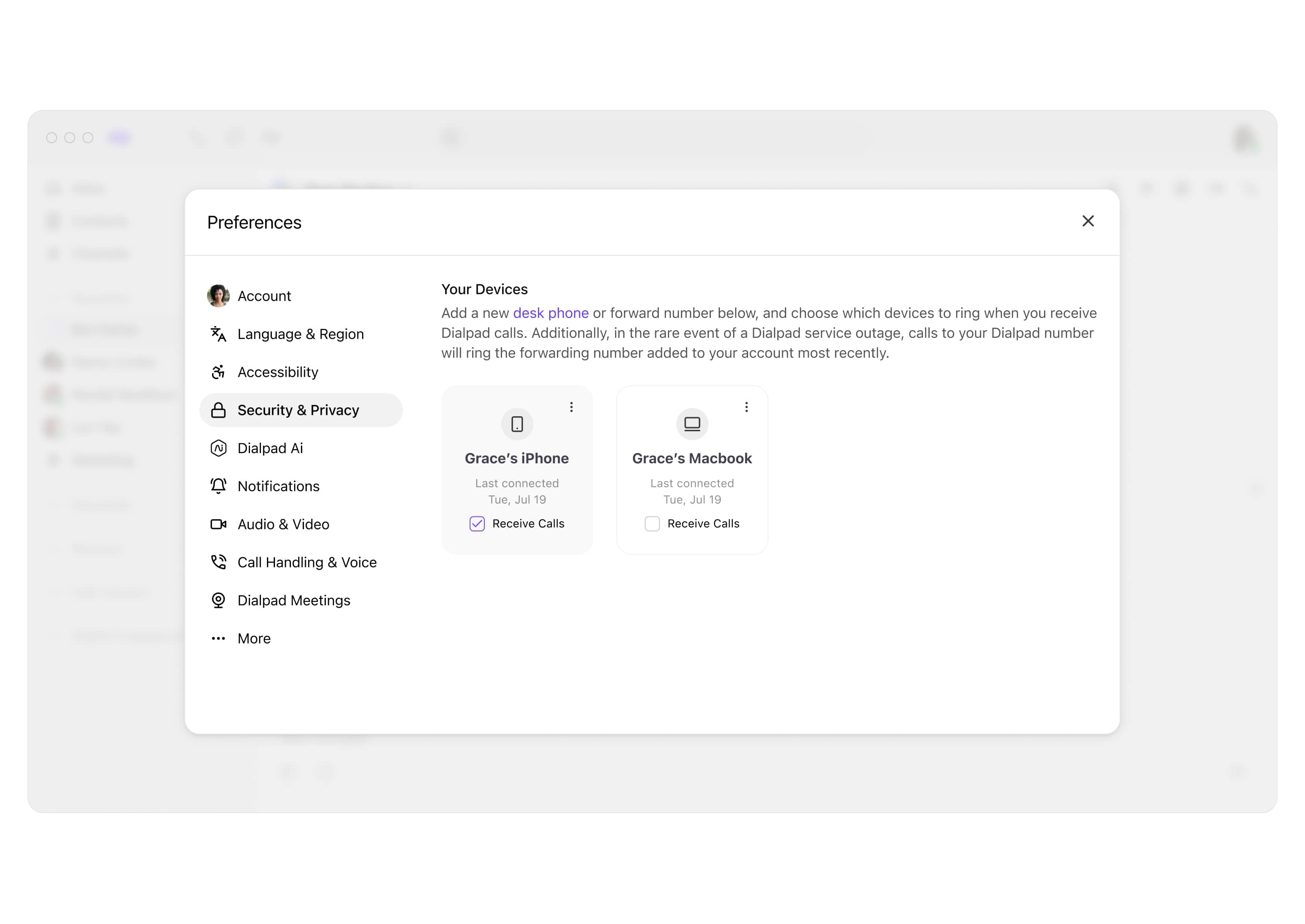 Call forwarding
Add up to five call forwarding numbers in Dialpad. You can forward calls to your cell phone, a colleague, another team, or even a landline!

Easy call routing
Having a good call routing service can help a whole range of organizations, from law firms to healthcare providers to insurance companies. With Dialpad, you can easily make changes to how the system is set up to answer calls, right from your online dashboard.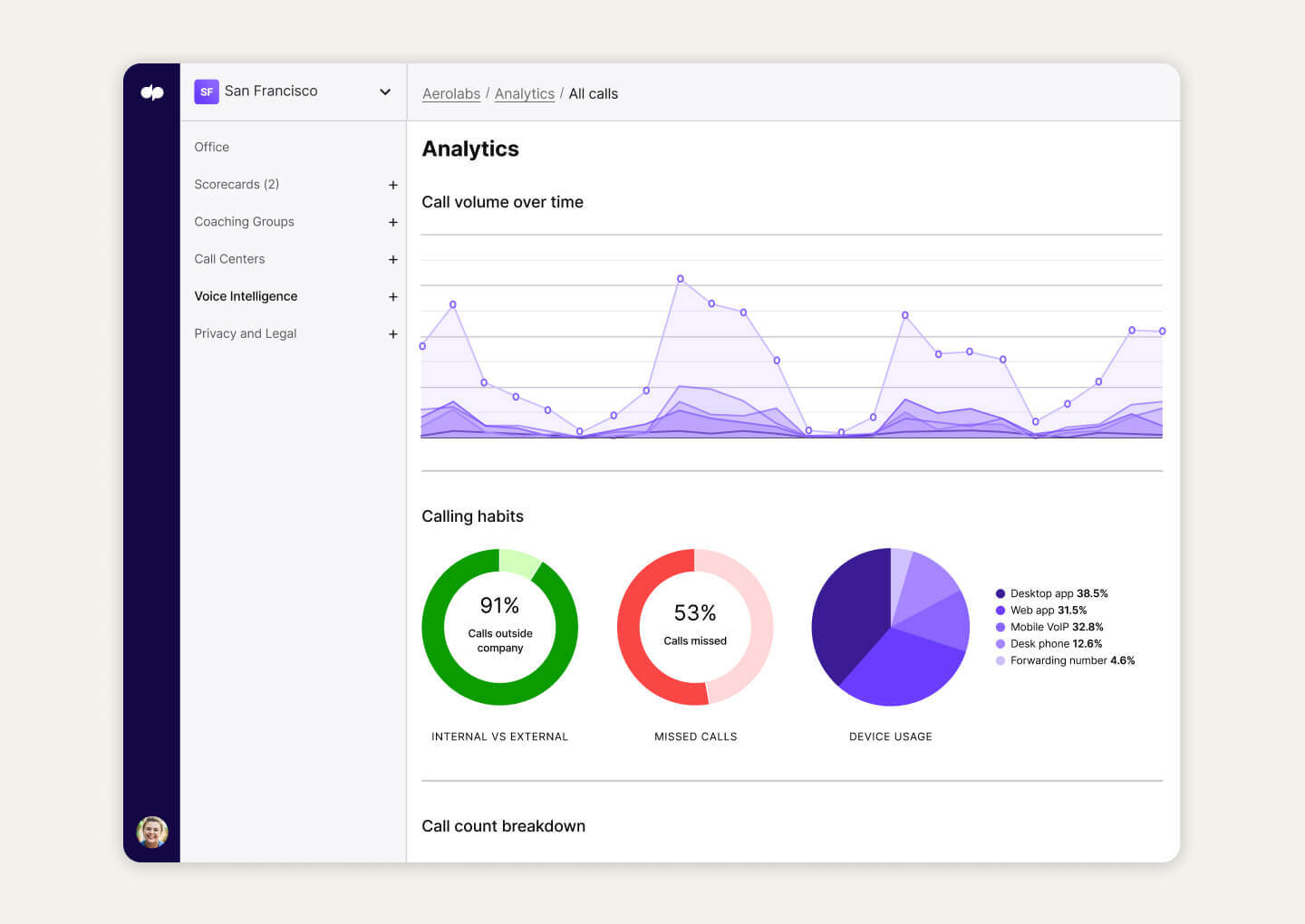 Built-in call analytics
Understand how your call volumes are trending, how many phone calls you're getting (and missing), and more with Dialpad's intuitively designed analytics dashboard. No need to call support or wait for someone to pull the numbers for you—see it all in your online account.

A fully integrated contact center
If you run a sales, support, or other call center team of agents, Dialpad also has a contact center platform that is 100% integrated into its phone system product. That means you get one consistent user experience, one account, and one login.

Excellent customer support
Get 24/5 or 24/7 customer support on live chat and phone depending on your plan. Plus, there's always the detailed online Help Center where you'll find answers to all the common questions.
Send your incoming calls to the right place
Turn callers into customers with a smooth and frictionless experience when they call your business. Use a virtual receptionist service to welcome callers with a personalized greeting, provide them with important information, direct them to the appropriate department, or prompt them to leave a message.
Dialpad's virtual receptionist feature allows you to:
Filter and manage call flow by time of day or day of the week.

Direct calls to specific individuals, groups, or departments.

Prioritize calls by creating separate departments to increase operational efficiency.

Record personalized greetings by department so callers always know they've arrived in the right place.

Customize greetings for special occasions such as Christmas holidays and promotions.

Ensure customers reach the correct department without delays.

Reach both remote and in-office workers in the exact same way.

Configure IVR from any browser, at any time of day.
All of these features and options exist to make it easier for you to manage call volume and better help incoming callers—without needing a real person to do it manually full-time. And call routing can be more efficient than call screening or forwarding, because there's no need for you to collect information or manually route each caller to the right phone line or person—the system is smart enough to do this for you.

How to set up your own virtual receptionist service with Dialpad
Choose your phone number
Once you sign up for an account, Dialpad offers a wide choice of phone numbers for your business. You can get toll-free or local numbers if you want (a memorable vanity number will help them remember your company name).
You can also port existing numbers over to Dialpad.
One neat thing Dialpad can do is allow you to customize your caller ID. This way, when you make outbound calls from your cell phone, you can shield your personal phone number and display your business number to prospects or clients.

Record your greetings and messages
To create the messages and instructions you want your callers to hear, navigate to Admin Settings > Departments > Business Hours & Call Handling > Call Routing in the Main Line Admin panel.
You'll want to record a general welcome greeting, voicemail messages for various departments and people, and a menu of options for callers to choose from (connect to a department or person, leave a voicemail, go back to the main menu, etc.).
You can also create error messages that are played if the wrong button is pressed, or if you need to inform callers there's a problem with the system and they should try again later.
Dialpad does offer default messages, but it's more personal if you record and upload your own.
Create your menu and call flow
Now that you've recorded your messages, you'll be able to choose which ones get played at what times, and program your menu accordingly. Take care that all the options make sense, so that calls always follow the shortest route to their destination.
You also need to decide the most suitable outcome for each type of call. For example, if a caller wants to speak to a particular department but there's nobody available, where should that call go? What is the "next best" route—is there another department that could handle the query, or is it best if the caller leaves a voicemail?
Create your call routing strategy
There are various kinds of call routing, and you have to consider which would best suit your business. You can use existing data to help with this—look at the most common queries and see which people or departments have been best-placed to deal with them.
Options include longest idle routing, fixed order or round robin routing, or simultaneous routing. You might also choose direct routing (calls are always sent to the specific department), or percentage routing, where you allocate a specific volume of calls to a certain team:


Dialpad also offers skills-based routing, which uses a proficiency ranking for each type of call. Each agent is rated from 0-100 for each particular skill set, and calls are then directed accordingly. All of these can be set up in the Admin > Call Routing section.
Set up your other basic communications features
Of course, all Dialpad plans give you access to the latest call management technology—including not only custom routing and call forwarding, but also call and voicemail transcription and real-time analytics.

👉 Dialpad tip:
One of the benefits of Dialpad is that it is cloud-based, so you don't need a ton of expensive on-site hardware to use it. The mobile app runs on employees' own devices if they're working remotely, or you can opt to use your office computers as softphones.

"
We were so tired of poor call quality, dropped sales and customer calls, and limited functionality. It was hamstringing our business. Since moving to Dialpad, everything about our business communications experience has improved tremendously.
"
John Garza
Director of Sales, Jungle Disk
Make call routing a breeze with a virtual receptionist
The best virtual receptionist services greet your callers effectively and efficiently, and make sure that all incoming calls are routed to the right place. It's much more cost-effective than hiring or outsourcing to a human answering service, and with good UCaaS or business phone systems like Dialpad, can be easily customized to suit your needs.
Whether you have existing or new clients calling, it's a feature that fits in perfectly with the growing culture of remote work, since it helps to connect dispersed offices without a physical headquarters.

Get more than a virtual receptionist service
With Dialpad's AI-powered collaboration platform, you get video conferencing, SMS/MMS messaging, and more—all alongside your essential VoIP phone system features. Try it now with a 14-day free trial. It takes just a few minutes to get set up with a virtual business number. Or, book a demo with our team!
FAQs about virtual receptionists
Does virtual receptionist cost extra?
Nope. Dialpad's virtual receptionist (auto attendant) is a standard business feature and included in every business phone plan at no extra cost. That means you're also getting Dialpad's other features, whereas some phone answering services, such as Nexa, charge additional fees for things like CRM admin support, calendar appointment-setting, and text messaging.
Maybe you've considered outsourcing to a live virtual receptionist service such as Smith.ai, Ruby Receptionists, or PatLive, but you're still effectively paying for human employees. An automated system will cost you less in the long run, especially if it's part of a cloud-based platform that already represents great value for money.
If you want to, you can still choose to employ a live receptionist during the workday, but use a virtual receptionist outside of business hours to help callers find information and answers to simple queries. You're in complete control of the hours you want your auto-attendant to be active.
Dialpad's virtual receptionist is a very affordable way to make your business more efficient and give a professional appearance to all callers. Find details for plans and pricing here.
What happens if the department a caller is trying to reach is busy?
Can I customize my greeting message?
What happens if none of the operators are available to answer a call?
How do I establish a logical call sequence for my virtual receptionist?
How do I make recordings sound inviting and approachable?
What should employees know about the virtual receptionist?
How many options is ideal for a virtual receptionist?
How does a virtual receptionist improve productivity?