Integrations
Bring together all your existing tools to manage an agile, fully-functional call center in Dialpad.

Log calls to a customer relationship management (CRM) database automatically, or track customer support tickets without jumping between apps. Workflows normally live across several platforms, but Dialpad's integrations with top-tier software providers improve productivity by syncing these tools to share insightful data.
Track Support Tickets Faster Than Ever
Tickets tell the whole story, and our integrations with platforms such as Zendesk and ServiceNow automate every part of them. Dialpad's customer service software integrations create, locate, and manage tickets. First-time customers reaching out will get a ticket created as soon as an agent answers, allowing the agent to start taking notes. As for known customers, existing tickets are displayed instantly and include reference numbers, case details, and more data specific to each customer. Tap into contextual customer information that leads to a stronger customer experience.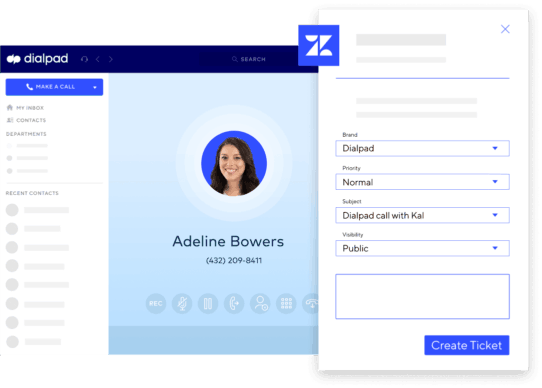 Seamless, Quick Setup & Sync
We know that you're busy, so don't worry about wasting time setting up an integration properly. Dialpad's integrations are enabled and ready to use in just a few clicks. Sync your call center once, then agents' calls, messages, and notes are constantly updated between Dialpad and the integration's source. Take the legwork out of managing these tools and return to focusing on meaningful customer interactions that boost a call center's performance.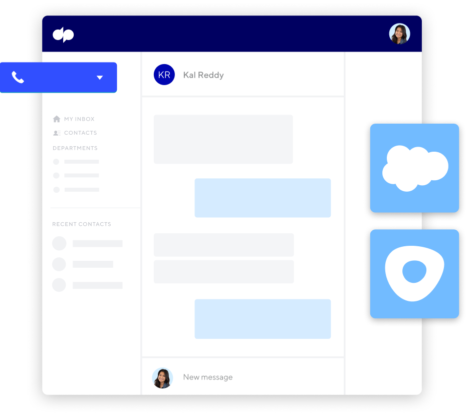 CRM Where You Need It, When You Need It
Stay in your CRM app — information crucial to your business lives there. Salesforce and Kustomer integrations run Dialpad to display contact profiles and automatically log calls, voicemails, recordings, transcriptions, and more in a single place. Dialpad and CRM databases also streamline coaching — our Voice Intelligence listens for keywords to offer real-time assist cards while agents are on calls. CRM is an always-on component and needs attention during calls, not minutes or hours later.
Hear What Real Dialpad Customers Say