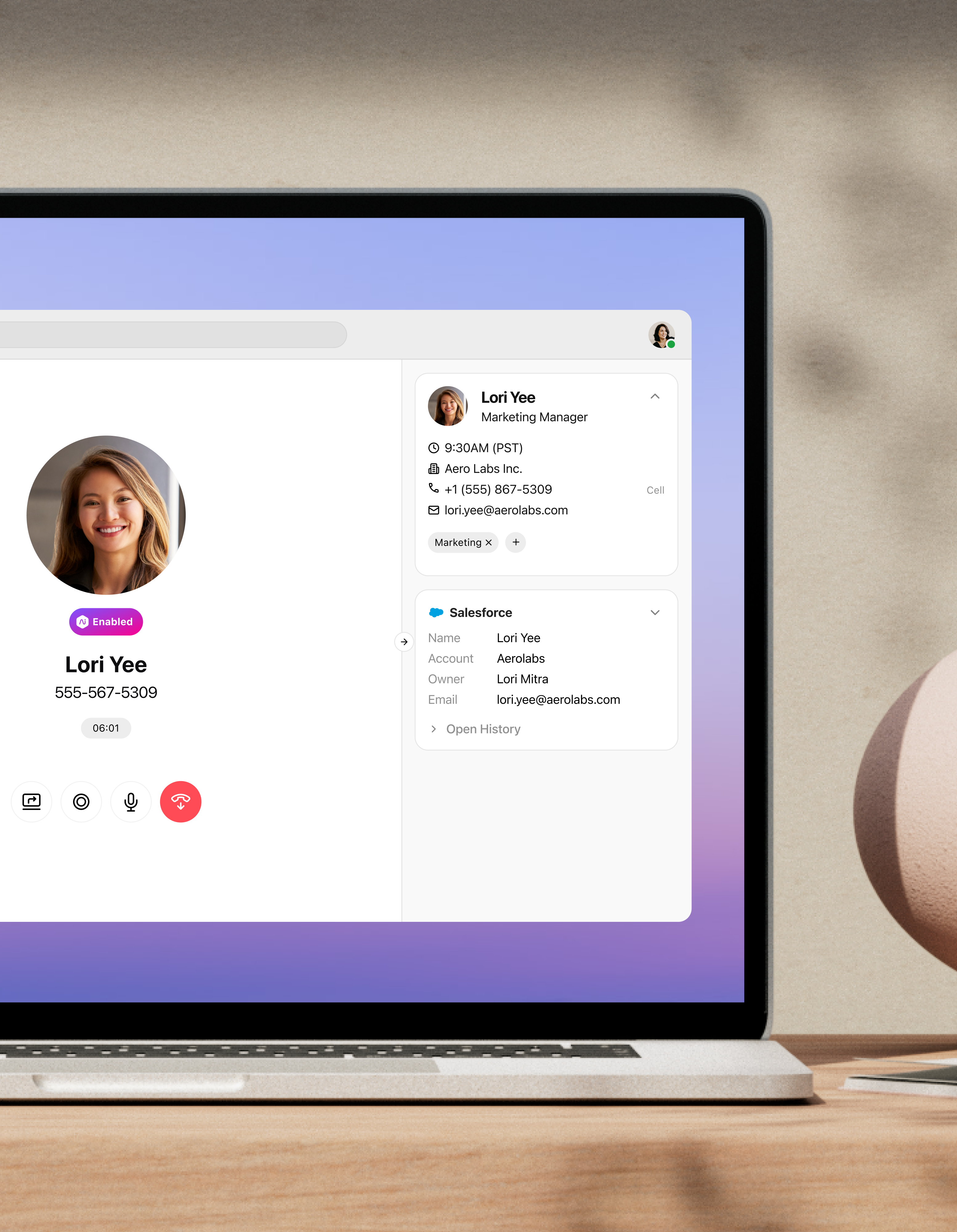 Contact center integrations
Bring together all your existing tools to manage an agile contact center or call center. The right integrations will automatically log calls to your customer relationship management (CRM) platform, let support agents jump on a call from a live chat, and more. See how you can streamline workflows (and software providers) with Dialpad's AI-powered customer engagement platform!
The benefits of leveraging contact center integrations
Track support tickets faster than ever
Tickets tell the whole story, and Dialpad's integrations with platforms like Zendesk automate every part of them, and lets agents tap into contextual customer information that leads to a stronger customer experience. Dialpad's customer service software integrations create, locate, and manage tickets.
For known customers, their past and existing tickets are displayed instantly and include reference numbers, case details, and more data specific to each customer.
Seamless setup and syncing
Dialpad's integrations are easy to use and ready to use in just a few clicks. Sync your contact center or call center once, and your agents' calls, messages, and notes will be automatically updated between Dialpad and your other tools. Take the legwork out of managing these tools and get back to focusing on meaningful customer interactions and improving your contact center's performance.
Your CRM where you need it, when you need it
Stay in your CRM app. After all, your customer information lives there. Dialpad integrates with tools like Salesforce and Kustomer to display contact profiles and automatically log calls, voicemails, recordings, transcriptions, and more—all in a single place. A good CRM integration can also help you streamline coaching. Dialpad Ai, can pick up on keywords you want to track (like "refund" or "money back") and even automatically pop up Real-time Assist (RTA) cards for agents when tricky questions come up.
Contact center integrations that Dialpad's customers love
Dialpad's contact center software integrates with a whole host of other tools that agents and supervisors use. These range from CRM software that harness customer data, to workflow management software that help with scheduling and tracking KPIs and answer business needs to marketing tools—and many more.
Let's look at some of the most important functionality and integrations to consider for your cloud contact center solution.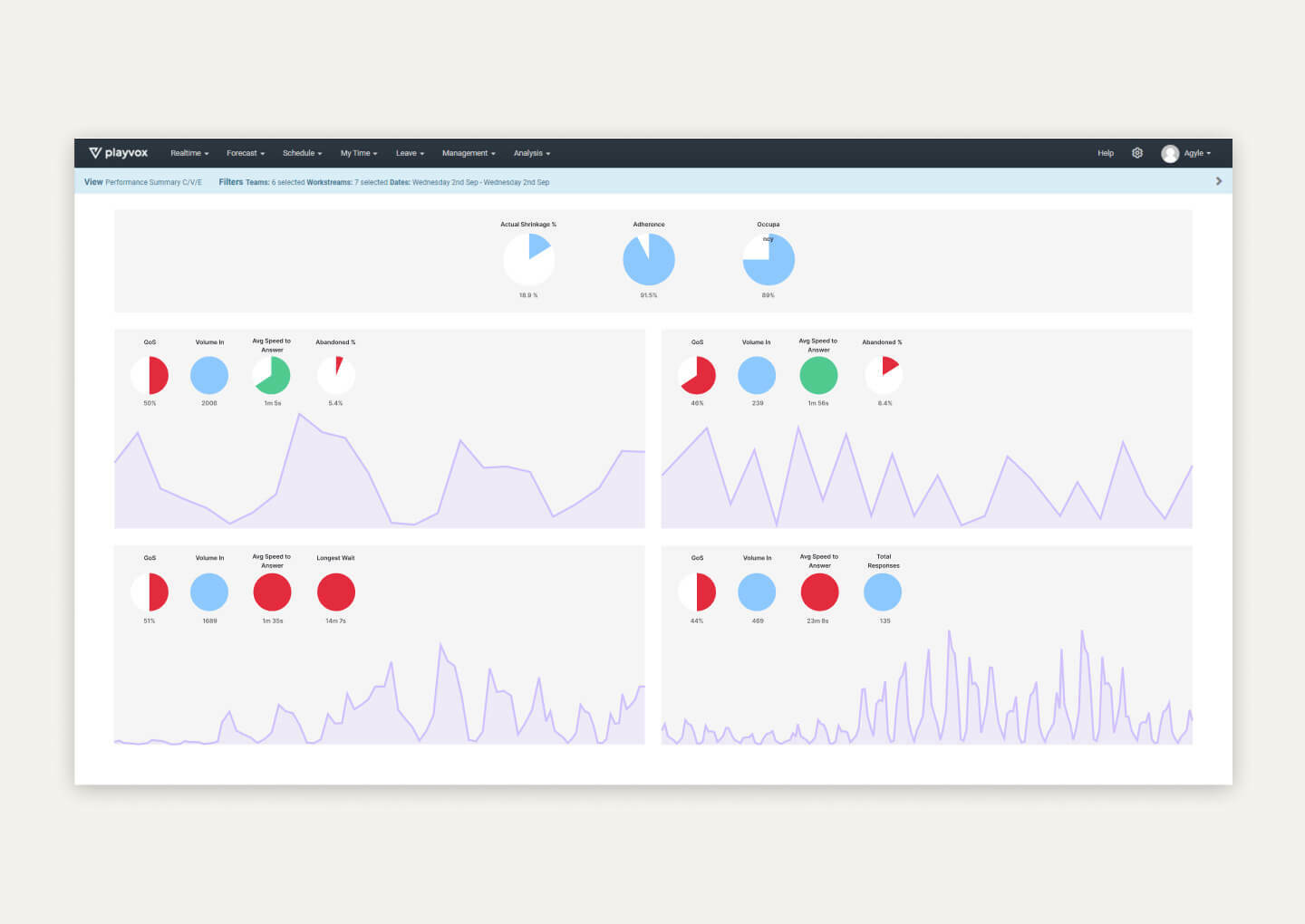 Playvox WFM + QM
Dialpad's two Playvox integrations are designed to help supervisors manage their workforces efficiently. The workforce management integration makes it easy to assign the right number of staff members per shift, as well as sort out who's working where and when so all inbound calls are efficiently handled. The quality management integration, on the other hand, has gamifications and agent engagement features to empower contact centers to provide the best possible customer experience.
Salesforce
This integration lets you seriously streamline workflows for sales and support reps by syncing your contact center platform or business phone system with Salesforce's CRM software. Make phone calls from right inside Salesforce, and the integration will also automatically log phone calls and other activities.

Zendesk
Dialpad's Zendesk integration lets contact center and call center agents make HD calls right from inside Zendesk with the CTI dialer. The integration also automatically checks if callers have had previous interactions or tickets with you before, and generates support tickets automatically for any incoming calls that reach your contact center, which streamlines routing and workflows.
Microsoft 365
If you're a Microsoft shop, you likely need direct routing or connectors to telephony or SMS. Even though Microsoft has features for email and document sharing, it still doesn't have robust phone system or contact center-specific features. Dialpad has a direct routing integration with Microsoft Teams that solves this problem.
Intercom
If you have agents responding to live chat messages in Intercom, this integration lets them hop onto a phone call with a customer right from the live chat window. (This usually comes in handy when customers have particularly tricky questions.)
The interactions are automatically logged in both Intercom and Dialpad, which means agents can access customer relationship data from the Dialpad or Intercom app, and they can still use Dialpad's call recording functionality while speaking with customers via Intercom.
HappyFox
The HappyFox integration is all about omnichannel customer engagement. This makes it an ideal match for Dialpad's contact center platform, which integrates with it to let agents manage both their contact center and help desk in one place.
Front
This app integration is designed to help contact center agents and supervisors keep shared inboxes organized, as well as facilitating teamwork on all channels. With the Dialpad integration, you can make and take calls from your inbox and connect with customers and coworkers alike.
Outreach
Outreach is one of sales teams' favorite tools, and if your sales reps are reaching out to prospects using email + phone call sequences, then the Outreach and Dialpad integration is all you need to keep that organized.

Okta
Put simply, the Okta integration helps keep you and your company's data secure. Okta is one of the most popular security tools out there, and ensures you can access all your cloud-based apps without worrying about security breaches by adding authentication layers that protect you. This is especially useful if you have agents and supervisors who work from home.
Zapier
If you're looking to connect your apps and implement workflow automation, look no further than Dialpad's Zapier integration. Zapier is best thought of as a kind of "translator" for APIs. With it you can connect Dialpad to a whole host of your other business-critical tools.

👉 Dialpad tip:
Automation is one of the most important elements of a good tech stack. Integrations like these, along with the many others that Dialpad has, can help support and sales teams automate repetitive workflows and boost customer engagement across platforms.
HubSpot
With a marketing, sales, and CRM product, HubSpot is a popular choice for businesses that are looking for ways to generate more leads and boost conversions. Dialpad's HubSpot integration lets contact center and call center agents make phone calls directly from the HubSpot dashboard, and automatically logs calls and other activities.
Zoho CRM
Zoho CRM is another well-known CRM platform that brings sales, marketing, and customer support activities into one app. Like many of the other CRM integrations above, the Dialpad + Zoho CRM integration saves agents time by letting them click-to-call through Dialpad's CTI in Zoho CRM, automatically matching callers to contact records, and more.

Need a contact center platform that plays nice with others?
Not only does Dialpad Ai Contact Center integrate with a wide range of tools, it also comes with contact center must-haves like an ACD, custom call routing, unlimited call recordings, and more. Book a product tour to see how it can make your agents' and supervisors' lives easier!
FAQs about contact center integrations
What are contact center integrations?
Contact center integrations are pre-built connections to third-party apps that let your contact center software "talk to" other tools. Often, what this looks like is data being automatically synced (like a phone call made through your contact center being automatically logged to Salesforce) without you having to manually record or enter that information.
These integrations can also let you add certain contact center functionality to those other tools. For example, Dialpad's HubSpot integration lets you get real-time transcriptions (a Dialpad feature) right inside your HubSpot interface while you're on a call.

How can contact center integrations improve customer engagement?
Can all of my Dialpad users use integrations?
What integrations are useful with my contact center or call center software?
Which different CRM software solutions integrate with Dialpad?