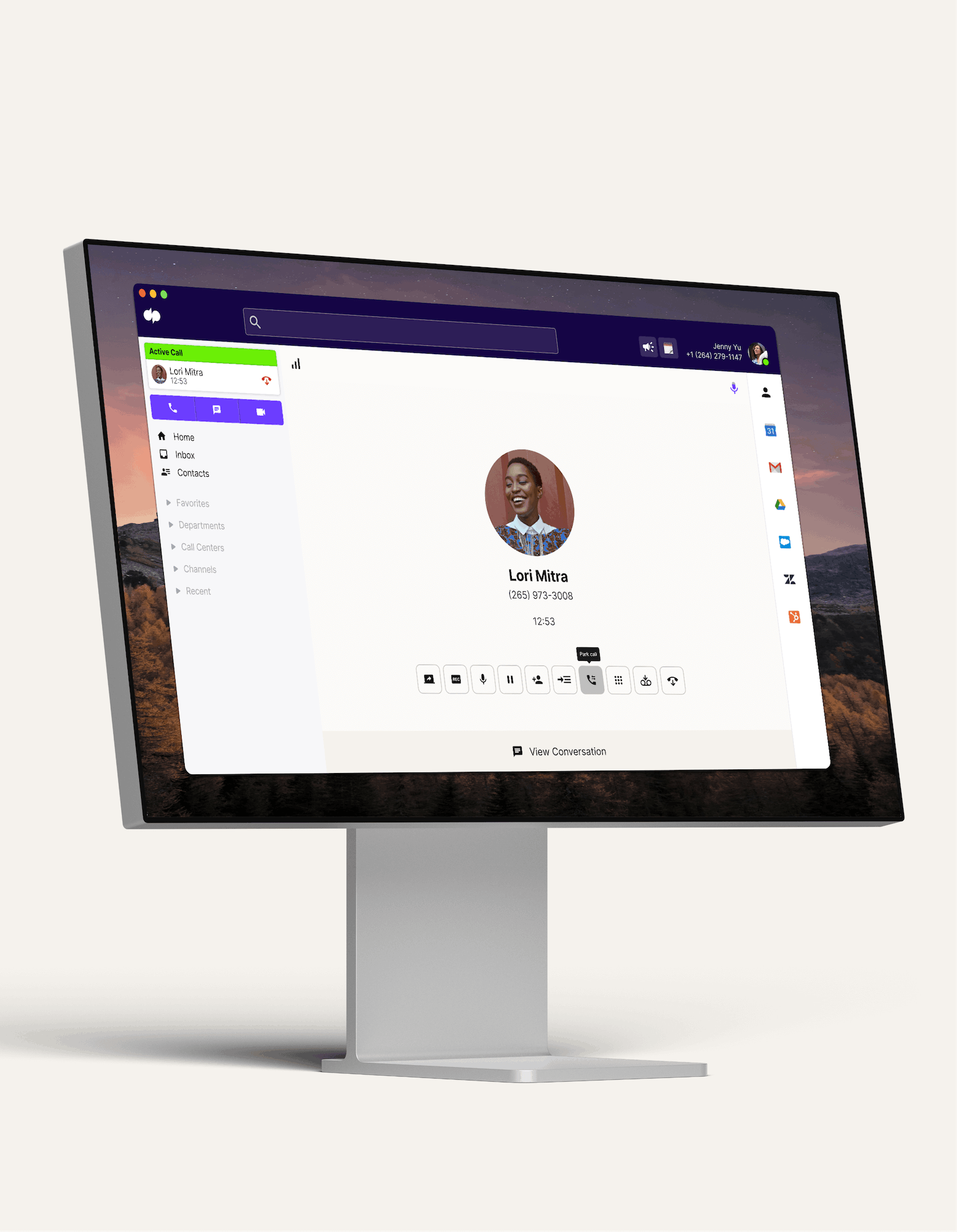 Call Park
Need to manage large volumes of incoming calls? Dialpad's Call Park feature allows agents to handle calls as a team by moving incoming calls to a "parking lot" where teammates can then pick up the calls from another extension. Try it free with a trial of Dialpad's AI-powered collaboration and customer engagement platform!
Sign up for a 14-day free trial!
What is Call Parking?
So, what exactly is Call Parking?
Essentially, Call Parking is a feature that you'll find in certain unified communications platforms or business phone systems that's designed to help you manage many incoming calls at once. Putting a call in park is actually pretty similar to a good old-fashioned hold—with one main difference.
Call Parking does allow you to place an active call on hold, but the difference is that you can then continue talking on another call park extension number. The parked caller will hear your chosen hold music—but unlike in a traditional call hold scenario, they won't stay connected to the original phone line.
Instead, they're placed in a communal "Call Parking Lot" where another available agent can pick them up. In other words, a call remains "parked" until someone picks it up again. This is a super valuable tool—why? Because it offers that all-important flexibility that busy contact center teams in particular need.
With Call Parking, your callers get to talk to a human—without being brushed off to voicemail—every single time.

Call Parking in Dialpad
More efficient than holds
With Dialpad's Call Parking features, all an agent has to do once they answer a call is hit the Park button. The call will then be parked on the Main Line, and Dialpad will confirm this with messaging on the agent's screen.

Have busy phone lines?
Call Parking is great for call-heavy industries, particularly for contact centers that handle busy incoming phone lines. Insurance contact centers, for example, can use call park features as part of a call routing strategy, so that customer calls can be taken more efficiently.

No more voicemail dead ends
Reduce the likelihood of your incoming calls getting sent to voicemail with Call Parking, since it places calls in a virtual parking space until another agent is available for call pick-up. But if you do get voicemails, Dialpad's visual voicemail feature transcribes messages so that you can scan them quickly instead of reading each one.

Create VIP "parking spaces"
If you have VIP customers, you can create priority call parking spaces so that their calls get picked up first. (You may not want to advertise that though.)

Fully browser-based
Park calls—and do everything you can do in the Dialpad app—right in your web browser—no app downloads needed.
Try Call Parking today for free
Sign up for a 14-day free trial of Dialpad to get set up with a virtual phone number and start using Call Park now. Or, get a personal walkthrough of the platform with our team first!
How do parked calls work exactly?
Basically, you've got a pool of authorized users (usually a customer support team or agents in general) that can access the Call Park feature. Any of these pre-authorized users can pick up the calls that end up in the "Call Parking Lot," making it the perfect distribution system for contact centers or departments with shared calling responsibilities.
Generally, call agents have a few options. They can:
Pick up the call directly

Put the call into the call park

Pick up a parked call

Transfer a parked call
👉 Dialpad tip:
With Dialpad, it's quick and straightforward to park a call on your Main Line, and the Call Parking feature is available on Dialpad Pro and Enterprise plans.
Use Call Park in a few easy steps from your business phone
Call Parking works with many different business communications setups, from VoIP systems and IP phones to physical desk phones to cloud contact center phone systems, to different devices (Android, iOS) that connect to your main network.
Some cloud phone systems and contact center solutions come with Call Parking features included.
👉 Did you know?
In Dialpad, you can access Call Parking features through your web browser and also Dialpad's desktop and mobile app for PC, Mac, Android, and iOS.
Once you have your device of choice ready, all you have to do is to park a call on your Main Line.
If you're parking a call from Dialpad's desktop or mobile app
Step 1: Open the Dialpad app or log in on your web browser.
Step 2: Once you're on an active call, select Park.
Step 3: Dialpad will park the call on the Main Line for another team member to pick up.
Step 4: Pick up your next call or go back to whatever you were doing!
To un-park or pick up a call:
Step 1: Choose the Main Line you want to pick up the call on from your list of departments.
Step 2: Select Park > Take call.
Step 3: From the list of parked calls, choose the caller ID you want to un-park / pick up.
That's it!
If you're parking a call from Polycom VVX OBi
If you want to park a new call from your desk phone, the process is very similar:
Step 1: Pick up your desk phone device during an active call.
Step 2: Select More > Park.
Step 3: Dialpad will park the call on the Main Line for your teammate to pick up. Done!
To un-park or pick up a call from the Dialpad app:
Step 1: Select More while you're not on an active call.
Step 2: You'll see all the calls parked on the Main Line.
Step 3: Select Parked calls to pick up any of the parked calls.
It's that easy.
With Dialpad's Call Parking features, you can park up to 100 simultaneous incoming calls on your Main Line for your teammates to pick up. Now that's teamwork.
👉 Did you know?
There are 2 main types of Call Parking: simple and advanced Call Parking. With more advanced Call Parking, agents can park active calls to be picked up later by specific call agents (for example, agents with a certain skill or from a particular department). Some advanced Call Parking features will even let you place incoming calls in "private" parking spots, where only authorized agents will be able to pick them up.
Park calls to pick up from anywhere—literally
Whether you're working at a growing small business or a huge enterprise, Call Parking is an important feature to have if you're on the phones all day, every day.
This is especially true for businesses that have multiple phone numbers that customers can use to get in touch, or just those that receive lots of incoming calls on a daily basis.
If you don't want your incoming callers to go to voicemail all the time, or want to make sure they always reach a human the first time around, then check out Call Parking.
Interested in call parking?
Book a demo to see how it works, or take a self-guided interactive tour of the app first!