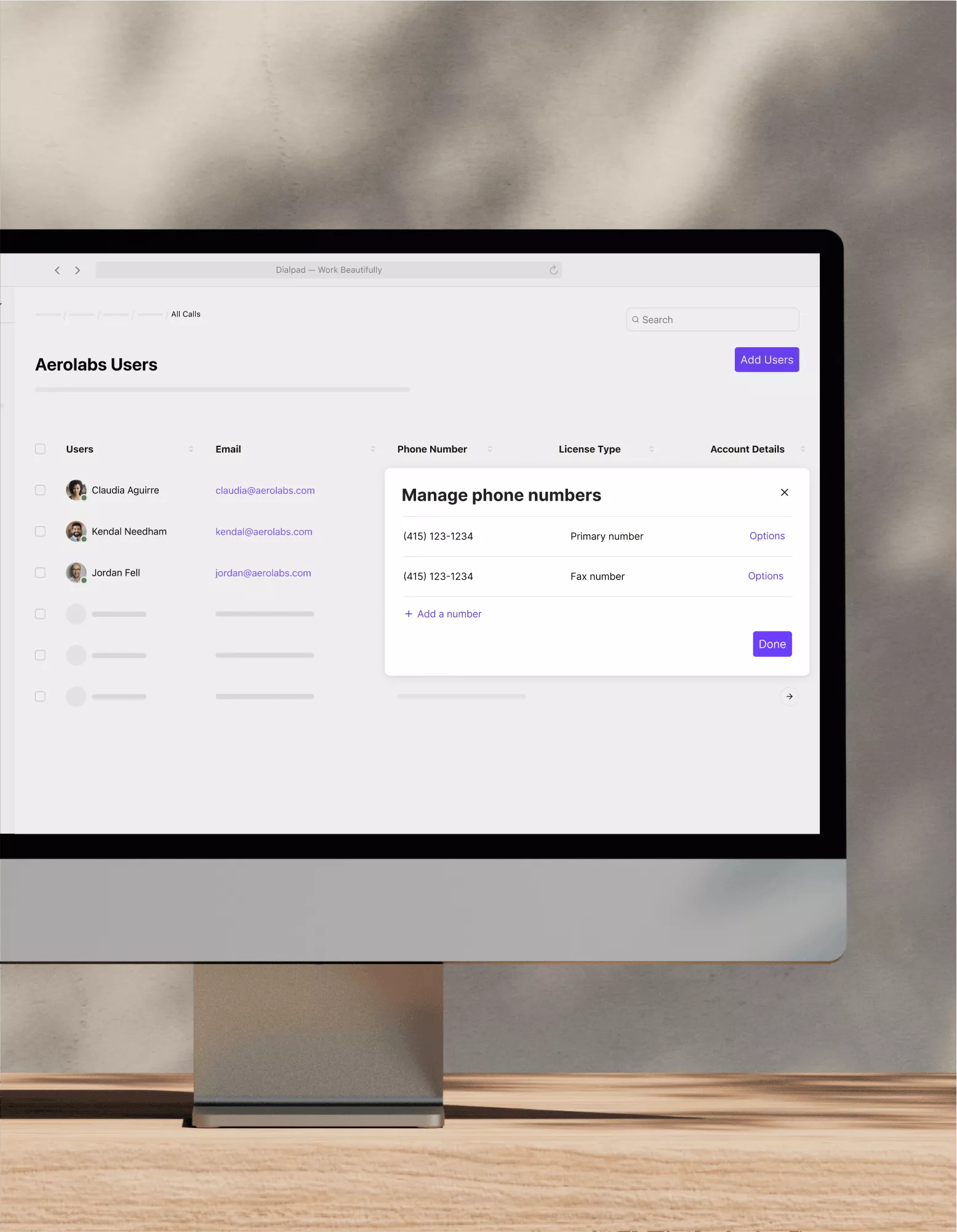 free trial
Local phone numbers
Need a local business number? With Dialpad's AI-powered collaboration platform, you can get set up with a virtual local number in minutes by signing up for a free trial. Try it out!
Sign up for a free 14-day trial!
Reduce calling costs with a local business number
Calling a prospect or client with an area code that they don't recognize can reduce the chances of them picking up your call, especially when long distance costs are a concern.
When you can provide a local phone number for customers to call, your callers don't have to worry about long distance charges. It's good for your own team too, especially in sales, because most people are more likely to pick up a call from a local number than a call from a long-distance phone number.
Best of all, no matter where you are—from Fresno to Fond-du-Lac—you can get a local phone number in just a few minutes with Dialpad.
What you get along with a local phone number

A communications platform
Even with Dialpad's most basic plan, you get a robust communications platform that includes phone calls, video meetings, and instant + SMS messaging, all in one desktop and mobile app.

Real-time transcriptions
Dialpad's artificial intelligence, called Dialpad Ai, is built by our own team from the ground up. What does it do? Not only does it transcribe calls—in real time—it also helps contact center teams in particular with Real-time Assist (RTA) cards and keyword tracking in conversations.

Easy call forwarding
Forward your phone calls to your cell phone, your colleague, another department, or even a landline. With Dialpad, you get a maximum of five call forwarding numbers.

Customizable call routing
No more waiting for an IT team to change your settings, With Dialpad, you can make changes to your IVR and routing on your own, in minutes, right in your online dashboard.
Every Dialpad plan comes with a local business number
Dialpad's plans start at $15 per user per month, and comes with a local phone number included, along with unlimited calling in your country, the US, and Canada—and also a ton of other features. Sign up for a 14-day trial to try it now, or take a self-guided tour of the app!
Get a local phone number for your conference calls
Beyond just local business numbers, Dialpad's video conferencing software also gives you local conference numbers so that your conference call participants can enjoy free web conferencing by dialling into a familiar area code.

With Dialpad, even on the most basic pricing plan, you get a local phone number included. Just let us know what area code you are looking for and we'll give you a list of all the available numbers we have.

For companies based in Canada, we also offer local area codes for a range of cities like Toronto, Vancouver, Montreal, and Victoria.
How to get a local phone number with Dialpad
With Dialpad, adding a local business number to your main company number, Department or Contact Center is easy and takes just a few minutes. Just navigate to your Settings and choose Add a Number.
From here you'll be able to:
Check how many local licenses you have and add a business phone line
Confirm the new phone number or select it from the Change menu
Add a label to your new local business number
You also have the option of getting toll-free numbers as an add-on.

Area codes you can get a local business number for
With Dialpad's Ai Voice plans (which start at only $15 per user per month), you get a local area code number included with Dialpad's communications platform / cloud business phone system. That means you can make phone calls, have video meetings, send instant messages and SMS/MMS messages, and more—all from an intuitive desktop or mobile app.
Here are the area codes you can get a number for with Dialpad:
Western US

Midwestern US

Northeastern US

Southern US
FAQs about local phone numbers
Can I change my local phone number or local conference number?
Yes! You can add or change your local phone number at any time in Dialpad in your online dashboard. Or, get in touch with our support team and we can help make that change for you.
Am I locked into a contract?
Can I have different local phone numbers?
Will this phone service scale as our business grows?
Do you have local phone numbers outside the US and Canada?
Can I move an existing number into Dialpad?
Why get a local business number?