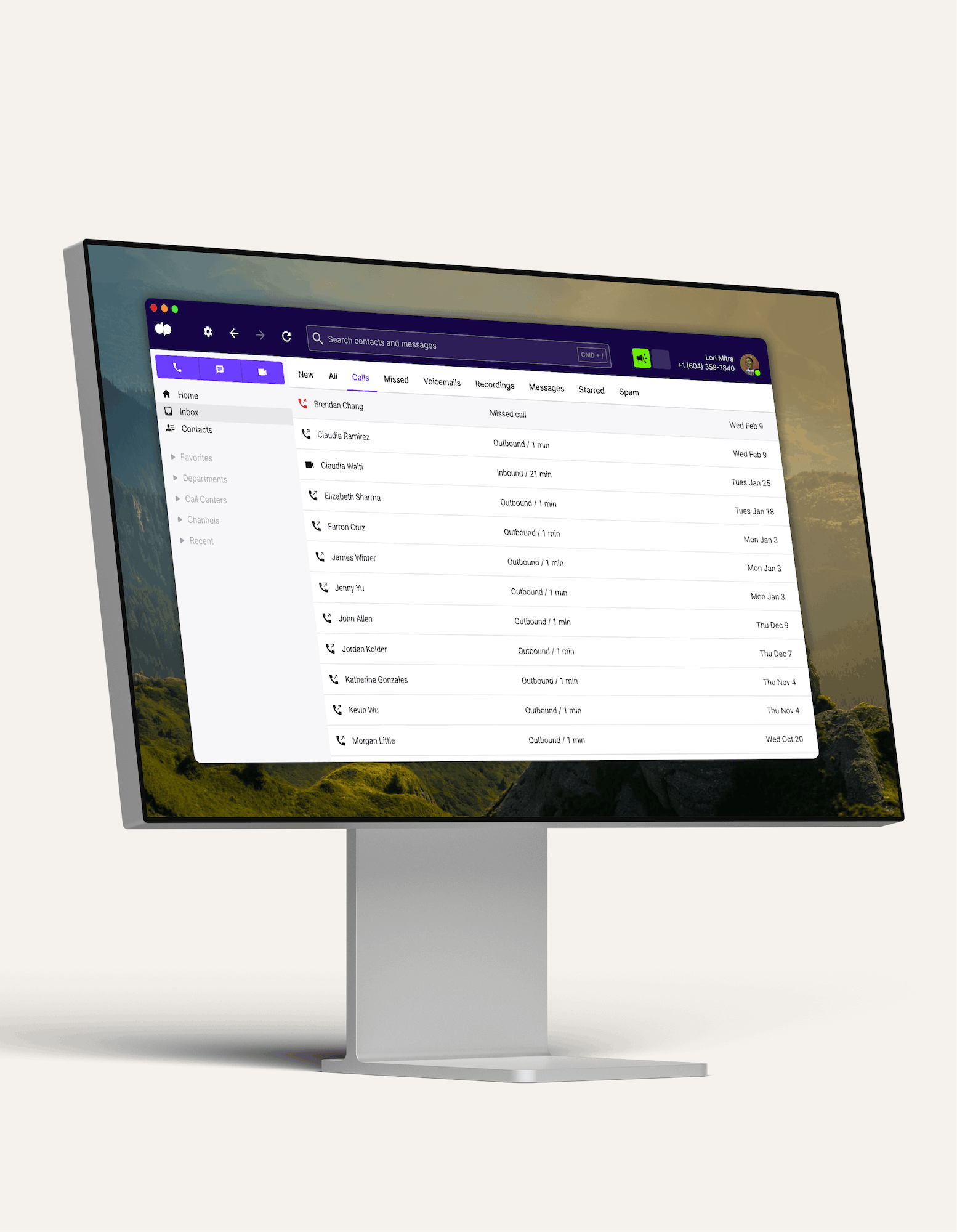 Voice call
Dialpad's AI-powered collaboration platform gives businesses industry-leading voice calling using modern VoIP technology that's designed to give you crystal-clear business calls. Try it free! It takes just a few minutes to get set up with a virtual phone number.
Sign up for a free 14-day trial!
When it comes to communication in business, the phone call is still king. The ability to pick up a phone and dial someone remains the most efficient way to to get in touch—whether you're making a sale, fleshing out project details, or resolving a customer issue.
A good cloud-based phone system takes all the power of the business phone call and moves away from the constraints of a desk phone and puts it to the devices you already use every day.

With Dialpad, your ability to make a business call is never limited by where you are. It can happen at your desk, on your walk into the office, or on the other side of the world. As long as you have an Internet connection, Dialpad puts the world at your fingertips.

With Dialpad, you get a lot more than a business voice calling or phone system
Dialpad isn't just a business voice calling system. With industry-leading AI integrated into its platform, it offers a wide range of advanced features and functionalities—all built in—that are designed to enhance the calling experience for incoming callers, contact center reps, and both external and internal communications.
Unlimited calling
Dialpad's plans start at only $15 per user per month, and give you unlimited voice calling in your country, the US, and Canada, along with competitive international long distance rates.

Not just a phone system
Dialpad's robust collaboration platform gives you not only phone calls, but also video meetings and instant + SMS/MMS text messages—all in one convenient app.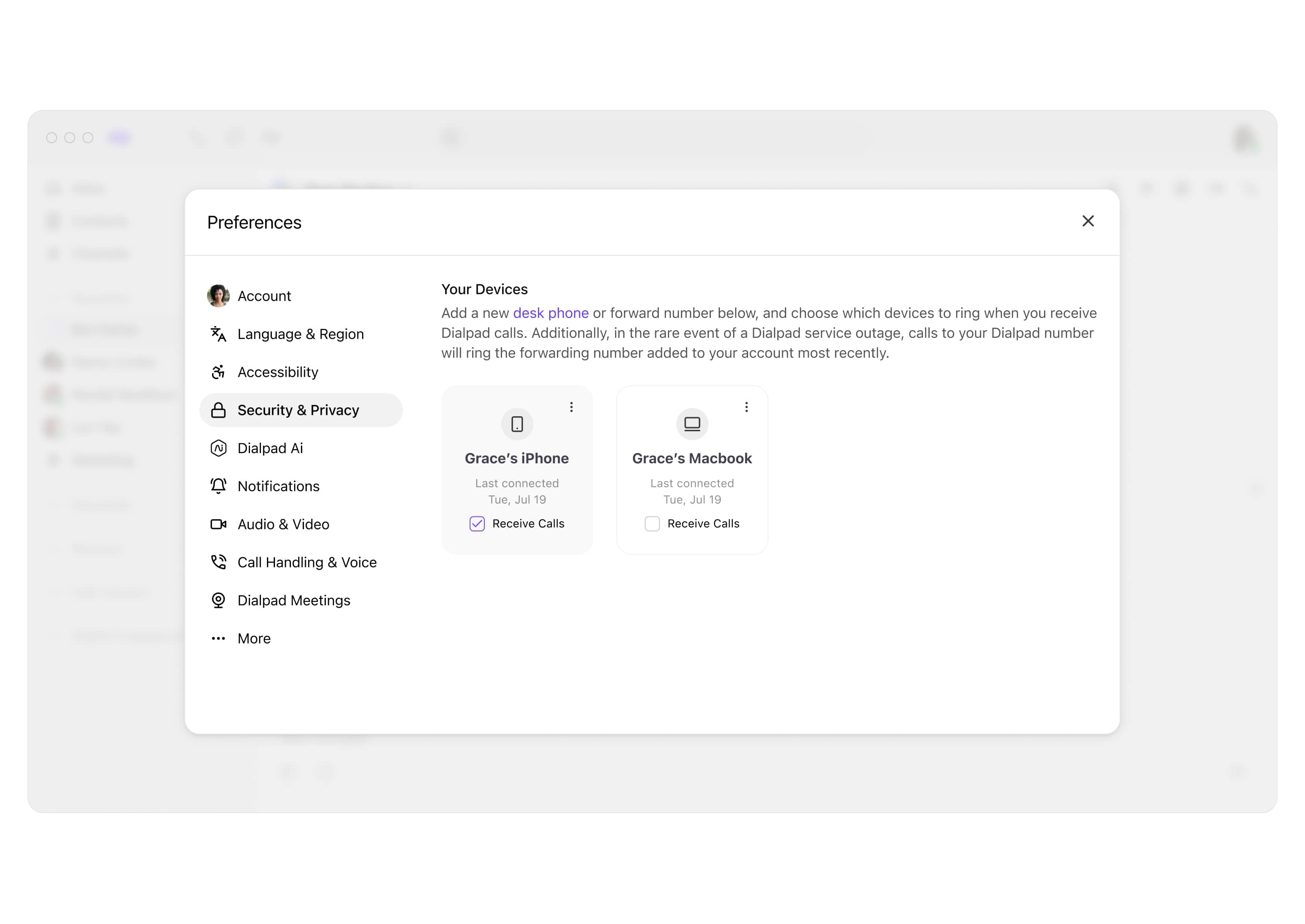 Call forwarding
Forward calls to your cell phone, your colleague, another department, or a landline. With Dialpad, you can have up to five call forwarding numbers set up.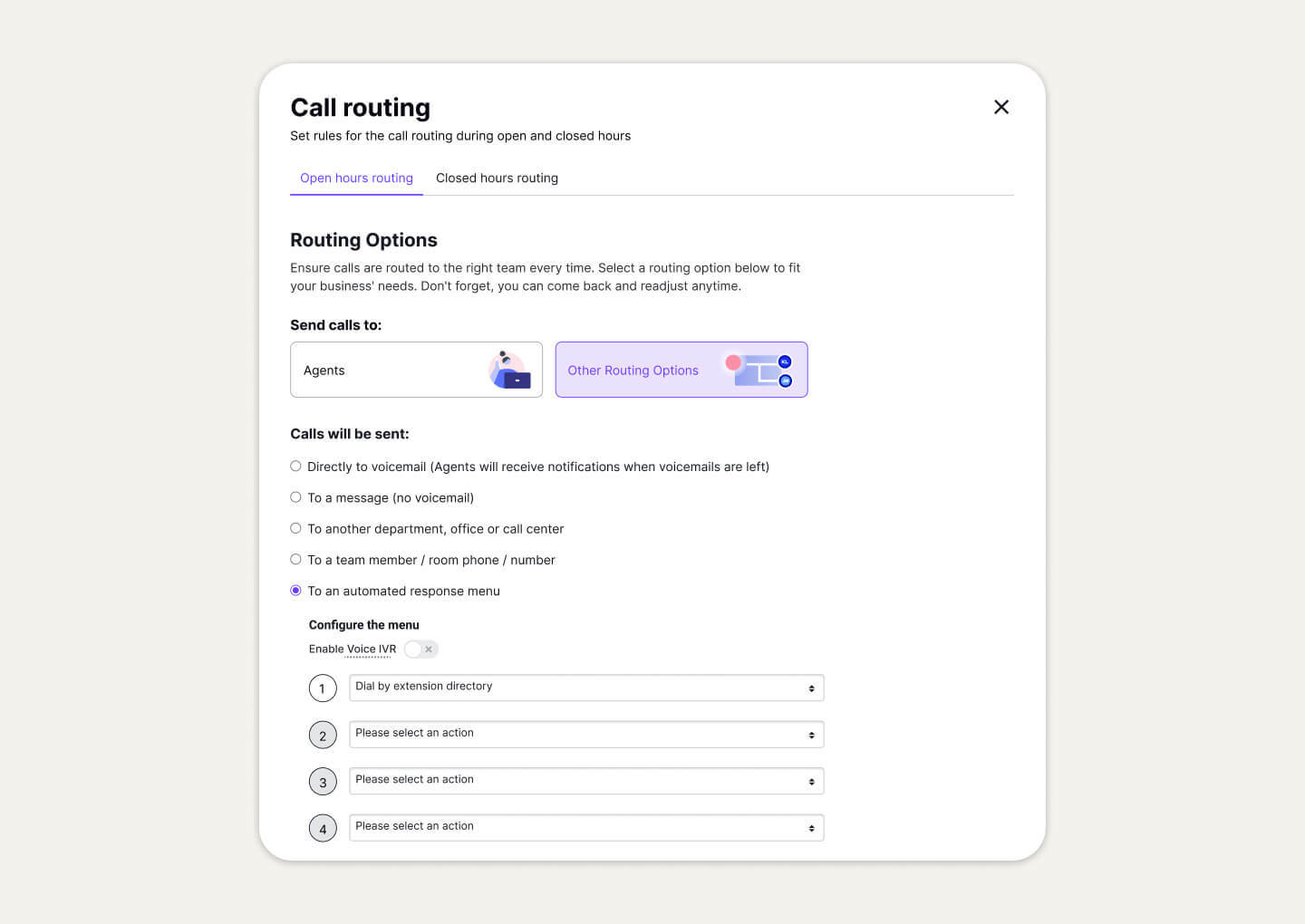 Easy call routing
If your business gets incoming calls from clients or prospects on a regular basis, you need a good call routing feature in your phone system. With Dialpad, you can customize your routing options in just a few minutes, right in your online dashboard.
Get unlimited phone calls with Dialpad
Sign up for a 14-day free trial to take Dialpad for a test drive! It takes just a few minutes to get set up with a virtual business number and start making voice calls. Or, take a self-guided interactive tour to play with the app on your own first!
A fully integrated contact center
If you need it, Dialpad has a contact center platform that's 100% integrated with its phone system. That means one consistent user interface, one login experience, one account. Unlike many other providers, Dialpad isn't reselling third-party software—which is why we've been able to build the same easy-to-use, intuitive experience into Dialpad Ai Contact Center!
Call recording
The ability to record phone calls is incredibly useful—it helps you detect communication pitfalls that could be impacting customer satisfaction. With Dialpad, you can listen to call recordings right from the Dialpad app, or download recordings to listen to whenever you want.
Keep your phone numbers
Unlike traditional landline numbers, a VoIP number (or virtual voice number) is portable—you can take it with you. Switching to Dialpad? We'll help you move your phone numbers to your new workspace with us.
Automated post-call summaries
The best business phone and business voice calling solutions offer more than basic calling functionalities. With Dialpad's generative AI, you and your meeting attendees will get call summary emails that capture the most important data and action items from your calls.


App and browser compatibility
It's vital that your calls can be made from both your web browser and desktop and mobile apps. Not all your clients and prospects will want to download an app to join your calls. That's why Dialpad is fully supported on PC and Apple computers, iOS, and Android.

Robust security
All phone systems need to be secure, but in a business setting, this takes on a whole new level of importance. A good VoIP provider should undergo regular security audits and be fully compliant. Dialpad offers single-sign-on capabilities, access management integrations, automated user provisioning, and in-meeting security settings like the ability to remove unwanted guests, muting participants, and more.

Real-time transcription
Dialpad's unique artificial intelligence is built by our own team, and can transcribe your calls and meetings—in real time—meaning there's no need to take minutes ever again. You can also search for keywords and phrases in the transcript, and Dialpad Ai can even track how often keywords and phrases (like your competitors' or features' names) show up on customer calls.

Low long-distance call rates
Need to make frequent calls overseas? Then you'll want affordable long distance call rates. Not only does Dialpad let you make unlimited calls in your country, the United States, and Canada States for free, our international rates are also some of the lowest around.
Integrations with your favorite tools
Get the best business phone features right inside other tools you're already using, like CRMs and ticketing software. There's Google Workspace, Microsoft 365, Salesforce, Okta, and more—and you can even build custom integrations with Dialpad's open API.
👉 Fun fact:
When it comes to conference calling, PINs can become a nightmare. With Dialpad, it's left up to your discretion whether you want to use a PIN entry system or not for conference calls. You and your admin can easily manage PIN settings right from your online settings.
How to get started with voice calling on Dialpad
Once you've chosen your preferred calling plan and set up your caller ID settings, there are several easy ways to make your first call with Dialpad.
You can choose to make your call from the main dialer screen, the search bar, or from a chat thread. And you can do all this from the desktop or mobile app on a computer, tablet, cell phone, or a desk phone. (If you're making a call directly from the Dialpad desktop app, all you have to do is enter your contact's name or number and select the phone icon in the top-left hand corner.)
If you want to make a call directly from an existing chat conversation, just hit the phone icon to connect with your contact immediately.

👉 Dialpad tip:
When you're making a call from chat, you can keep messaging your recipient during your active call by going to "View Conversation."
Start making voice calls with Dialpad for free
It's not just a phone system. Sign up for a 14-day trial to get set up with a virtual phone number and see how easy it is to make phone calls, have video meetings, and more with Dialpad. Or, take a self-guided interactive tour of the app first!
Dialpad's voice call plans
Dialpad Ai Voice
Need a cloud-based business phone system for making phone calls? Just sign up for any Dialpad Ai Voice plan, and you'll be able to connect with teammates, prospects, and clients over voice calling and messaging. The app works across laptops, desk phones, cell phones, tablets, and desktop computers—and you can even seamlessly flip a call between devices with interrupting the conversation:

👉 Further reading:
After a period of significant growth, Service Today (a plumbing and electrical air conditioning residential services provider) needed a reliable communications platform for their distributed offices across Australia and the Philippines. They found a way to connect with their existing CRM to provide customers with even better service and higher call quality. Get the full story here.
Dialpad Ai Meetings
Don't need phone calls but want to be able to make audio or video calls? Dialpad Ai Meetings lets you do that—no PINs or downloads required. It's essentially a video conferencing solution that lets you have unlimited video meetings with HD video and audio. Go from messaging to meetings from the same app, and get built-in security features like virtual waiting rooms, moderator controls, and more.

Why use Dialpad to make calls when I have my own phone number?
Most small to medium businesses use Dialpad as an office phone system to keep their business number and their personal numbers separate. This way, you can take work calls on your cell phone without sharing your personal number with clients and coworkers.
(Dialpad also offers numerous other business features that personal lines do not.)
What technology does Dialpad's voice calling use?
How many minutes of voice calling do Dialpad's plans include?
Can I make calls from any device?
Does Dialpad use traditional phone lines to make voice calls?
Do I have to manually dial in numbers to make voice calls?
How do you accept a call using Dialpad?
Do you have to pay more for calling?
How does Dialpad's call quality compare to a traditional PBX system or a cell phone?
Can I use Dialpad to call a landline number?
Can I just get voice calling with Dialpad?