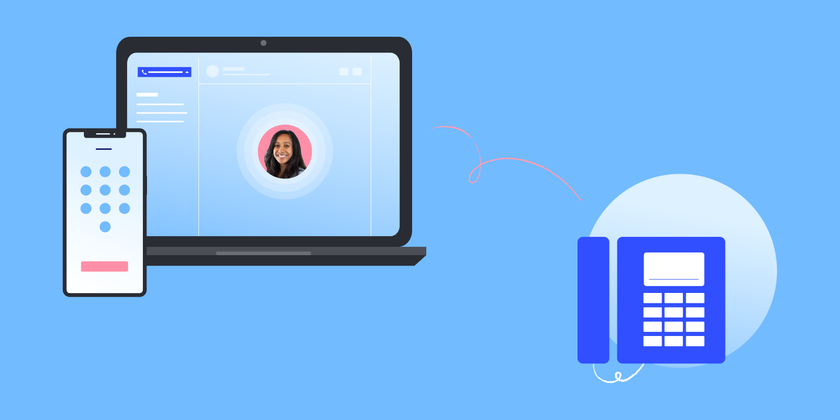 April 21, 2021
Have you ever wondered what the difference is between VoIP and landline for business phone systems?‌
While most business phone systems relied on desk phones and landlines in the past, times are changing. Business communications are rapidly transitioning over to VoIP phone systems, especially true in light of the changing workplace landscape as the workforce becomes more and more distributed, and remote operations continue to expand across a variety of industries.

However, it can be helpful to take a closer look at how the two compare to assess which approach is best for your business. First things first: let's clarify what a landline actually is.

What is a Landline?
The more correct term for a landline-based phone system would be "analog phone system." Sound is transmitted via electrical pulses through a system of wires. These wires are typically installed by the local phone company and connect to the phone service provider.

What Is a VoIP Phone System?
VoIP—which stands for "Voice over Internet Protocol"—relies on just an internet connection to place and receive phone calls. Being internet-powered also enables VoIP systems to provide more advanced calling features. VoIP phone systems also go by other names, like "hosted phone service" and "digital phone service."

Unlike analog phone systems, VoIP phone systems convert sound into data packets. These packets are transmitted over the internet to a VoIP provider, and the provider takes over to route and direct calls between itself and the Public Switched Telephone Network (also known as PSTN).

What to Consider When Choosing Between a Landline and a VoIP Phone System
While VoIP call quality depends on your internet connection, analog phone service is subject to bad weather, installation and repair expenses, and pricey long-distance charges. In this section, we'll see how VoIP and landlines compare in terms of:
VoIP vs. Landline: Cost
Setting up a landline for your business phone might cost you a pretty penny. After all, you're going to need hubs, switches, phone sets, routers, adapters, and a network of wires that connect to the PSTN, among other equipment. You'll also be paying a monthly fee to a phone service provider. For small- and medium-sized businesses, the costs can add up and be overwhelming.

VoIP offers a more flexible and cost-effective solution. Many VoIP providers allow businesses to bring their device, as any internet-enabled device can make cloud-based calls—including smartphones, tablets, laptops, desktop computers, and even desk phones.

With VoIP phone systems, you can get started with no special equipment or hardware expenses. While VoIP providers usually charge a monthly fee, there is a range of pricing plans available depending on your needs.

What's great about cloud-based communications is that there are no hidden equipment costs. This makes them more cost-effective compared to setting up a landline-based system—and significantly more convenient too.
VoIP vs. Landline: Ease of Use
As discussed above, landlines involve a great deal of upfront effort, equipment, and expenses. Aside from various equipment needed, it will also take a lot of time to lay down a network of wires that connect to the PSTN.

With a VoIP provider like Dialpad, you can have your business phones set up and running within minutes. As soon as you have your Dialpad account, you can access a single, centralized location where you have the ability to:
It's that easy. You can also seamlessly switch between devices and your customer information stays synced automatically. And since VoIP phone systems are lightning-fast compared to analog systems — calls can be connected in milliseconds while maintaining high call quality.
Contrast that with the amount of time, energy, and money it takes to set up a landline system. VoIP wins this category by a landslide.
VoIP vs. Landline: Maintenance
VoIP phone systems are relatively easy to upgrade, scale, and maintain. Like most analog systems, landlines can be time-consuming, difficult, and expensive to upgrade and scale depending on when it was installed.

Depending on VoIP makes much more sense for small- and medium-sized businesses. Companies that are growing fast don't have the energy or resources to expand an analog phone system. With VoIP, you can instantly add new users and quickly get them up to speed.
Why are the Advantages of Using VoIP?
After the deep dive into the differences between VoIP and landlines above, it can be tempting to want to transition as soon as possible to a cloud-based communications system. If you're still unsure, here are some additional benefits of moving your business phone systems to VoIP.
Greater Reliability

VoIP providers base their systems on proven internet technologies. Except in times when internet connections are down, cloud-based calls are often more reliable than their analog counterpart. Even in the event of an internet outage, you can continue to place and receive calls using mobile data on your cell phone.
Unlike other VoIP providers that run their telephony through a 3rd party, Dialpad operates its own carrier network to ensure call quality and reliability. Enterprise customers using Dialpad can also get guaranteed 100% uptime SLA to make sure that important calls are never dropped.‌
Better Sound Quality
Being internet-powered, VoIP providers can incorporate noise suppression technology to reduce static and disruptive background noise.

Most cloud-based communications platforms support high-definition voice calls and can take advantage of wideband audio codecs to supercharge sound quality, making VoIP-based calls crisper and clearer than their analog counterparts.‌
More Flexibility
Cloud-based communications enable you to work remotely without missing a beat with clients and co-workers.

VoIP providers offer secure, private business phone numbers so that you can take the office with you no matter where you go. For example, you can set your personal working hours and then have Dialpad's Virtual Receptionist take care of after-hours calls. You can take calls from your desk at work, your phone at home, and your tablet at your favorite café.‌
Advanced Call Features
Because VoIP-based systems are internet-powered, they come packed with features that can supercharge your calls and communications at work. Dialpad offers an array of useful features, including:‌
Although we've already covered the key reasons to switch, here are more ways VoIP phone systems can help small businesses.
Can I Replace My Landline With VoIP?
Yes, you can, so long as you have a reliable internet connection. If you live in an area where internet outages are extremely common and it's difficult to catch a strong signal on your mobile device, you might want to skip out on VoIP-based solutions for now.

If you're worried about losing critical business phone numbers as a result of giving up your landline and switching over to a VoIP provider, don't be. Dialpad gives you the ability to easily port U.S.-based local and toll-free phone numbers. Depending on the location, Dialpad can also port international numbers.

Boost Your Business Phone System With Dialpad
VoIP phone systems are quickly taking over the business communications landscape.

Why shouldn't they be? They're inexpensive, convenient to use, easy to set up, scale, maintain, and upgrade. You can make and take calls, send and receive messages, and have the ability to access advanced features across any connected device—whether you're in the office, at home, or on vacation.

To keep pace with increasingly distributed employees and customers, it might be helpful to seriously consider moving to a VoIP provider to power your calls. Interested in switching over to a lightning-fast, reliable, and modern communications platform? Try Dialpad and start your 14-day free trial today.