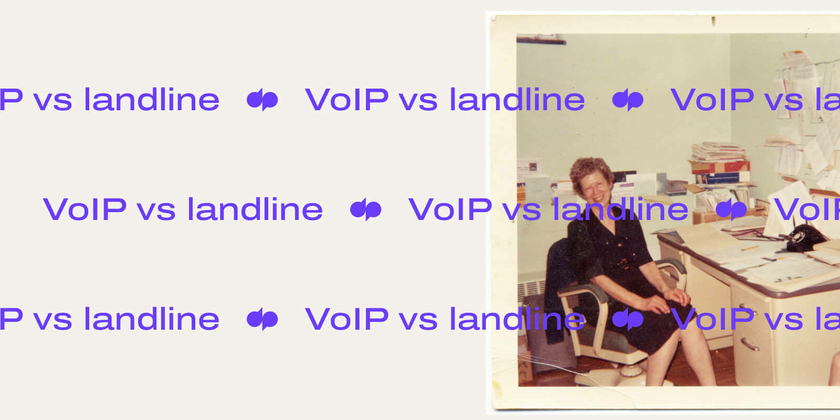 September 28, 2021
Have you ever wondered what the difference is between VoIP technology and a landline service for business phone systems?‌

In the past, most business phone systems relied on desk phones and landlines, but times are changing. Business communications are rapidly transitioning over to VoIP phone systems. This is especially true in light of the changing workplace landscape as the workforce becomes more and more distributed, and remote operations continue to expand across a variety of industries.
However, it can be helpful to take a closer look at how the two compare to assess which approach is best for your business. In this blog post, I'll walk you through:
Don't feel like reading? Bill's an expert on VoIP and landline phone systems, and he can take you through them:
First things first: let's clarify what a landline actually is.
What is a landline?
The more correct term for a landline-based phone system would be "analog phone system." This type of system is also referred to as Plain Old Telephone Service (POTS).
With a landline, sound is transmitted via electrical pulses through a system of copper wires (phone lines). These wires are typically installed by the local phone company and connected to the phone service provider. A traditional landline phone system requires a business to install an on-premises Private Branch Exchange (PBX) to switch calls between users in a shared phone system.
You might have had a landline phone service at your house where you grew up.
What is a VoIP phone system?
VoIP—which stands for "Voice over Internet Protocol"—relies on just an internet connection to place and receive phone calls. Being internet-powered also enables VoIP systems to provide more advanced calling features to improve business communications, often through an app. (VoIP phone systems also go by other names, like "hosted phone service" and "cloud phone service.")
How do VoIP phones work?
Unlike analog phone systems, business VoIP phone systems convert sound into data packets. These packets are transmitted over the internet to a VoIP provider, and the provider takes over to route and direct calls to the Public Switched Telephone Network (also known as PSTN).
VoIP calls can be made from:
VoIP phones

Regular phones with VoIP adapters

Smartphones
What to consider when choosing between a landline and a VoIP phone system
While VoIP call quality depends on your internet connection, analog phone service is subject to bad weather, installation and repair expenses, and pricey long-distance charges. In this section, we'll see how VoIP and landlines compare in terms of:
Cost

Ease of Use

Maintenance
VoIP vs. landline: Cost
Setting up a landline for your business phone might cost you a pretty penny. After all, you're going to need a lot of hardware, including hubs, switches, phone sets, routers, adapters, and a network of wires that connect to the PSTN, among other equipment. You'll also be paying a monthly fee to a phone service provider. For small- and medium-sized businesses, the costs can add up and be overwhelming.
VoIP offers a more flexible and cost-effective solution. Many VoIP providers allow businesses to bring their device, since any Internet-enabled device can make cloud-based calls (including smartphones, tablets, laptops, desktop computers, and even desk phones). All you really need is one of these devices and maybe a headset.
With VoIP phone systems, you can get started with no special equipment or hardware expenses. While VoIP providers usually charge a monthly fee, there should be a range of pricing plans available depending on your needs, and long-distance calling is usually cheaper too.

VoIP vs. landline: Ease of use
As discussed above, landlines involve a great deal of upfront effort, equipment, and expenses. Aside from various equipment needed, it will also take a lot of time to lay down a network of wires that connect to the PSTN.
With a VoIP provider like Dialpad, you can have your business phones set up and running within minutes. As soon as you have your Dialpad account (and internet access), you can simply login to access a single, centralized location where you have the ability to:
It's that easy. You can also seamlessly switch between devices and your customer information stays synced automatically. And since VoIP phone systems are lightning-fast compared to analog systems — calls can be connected in milliseconds while maintaining high quality.
Contrast that with the amount of time, energy, and money it takes to set up a landline system. VoIP wins this category by a landslide.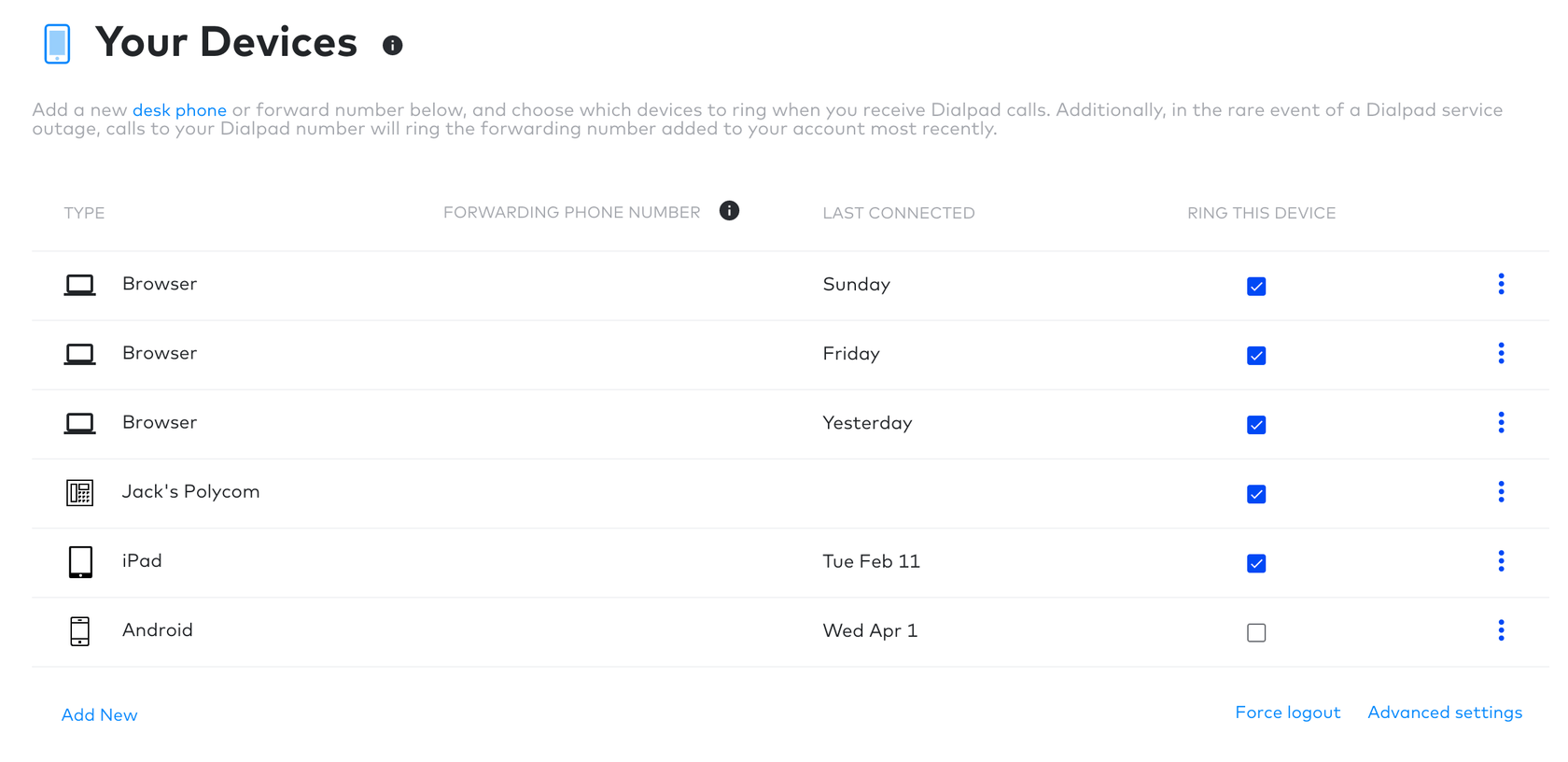 VoIP vs. landline: Maintenance
VoIP phone systems are relatively easy to upgrade, scale, and maintain. Like most analog systems, landlines can be time-consuming, difficult, and expensive to upgrade and scale depending on when it was installed.
Depending on VoIP makes much more sense for small- and medium-sized businesses. Companies that are growing fast don't have the energy or resources to expand an analog phone system. With VoIP, you can instantly add new users and quickly get them up to speed.
VoIP vs. landline: Reliability
Traditional landline telephones are typically pretty reliable and can continue to operate through power outages. VoIP phone systems are also extremely reliable, with most providers boasting at least 99% uptime. Dialpad, for example, offers a 100% uptime SLA for UCaaS users.
As it's completely dependent on the internet, if there's a power outage and your internet goes down, so too will your VoIP system. So one of the main things to take into consideration when switching to a VoIP service provider is that you have a strong and reliable internet connection with ample bandwidth from a trusted internet service provider.
VoIP vs. landline: Scalability
Traditional landline telephony systems require wiring at a physical location. This means that scaling your landline phone system can be complicated and expensive. It's difficult for a system like this to grow and expand as your business does. VoIP offers businesses unparalleled scalability so you can focus on what really matters—growing your business.
With VoIP, you can easily scale your business phone system up or down when you need to. It's easy to add new phone numbers when people join your team or to expand your system to multiple locations. With Dialpad, you can add new users, assign phone numbers, sync them with Google Workspace (formerly, G Suite) or Microsoft 365, and establish their user permissions in a matter of seconds from the administrator portal. It's that simple.
See how Australian retail company Bing Lee used a scalable contact center platform to keep their teams connected—so much so that the business experienced huge growth even during the pandemic hit, as demand for online shopping rose.
Fun fact: Even though Dialpad is a modern cloud business phone system that is designed for remote and hybrid teams, it's still compatible with desk phones. You can provision a desk phone just as easily as you would get a virtual phone number—right in your online account: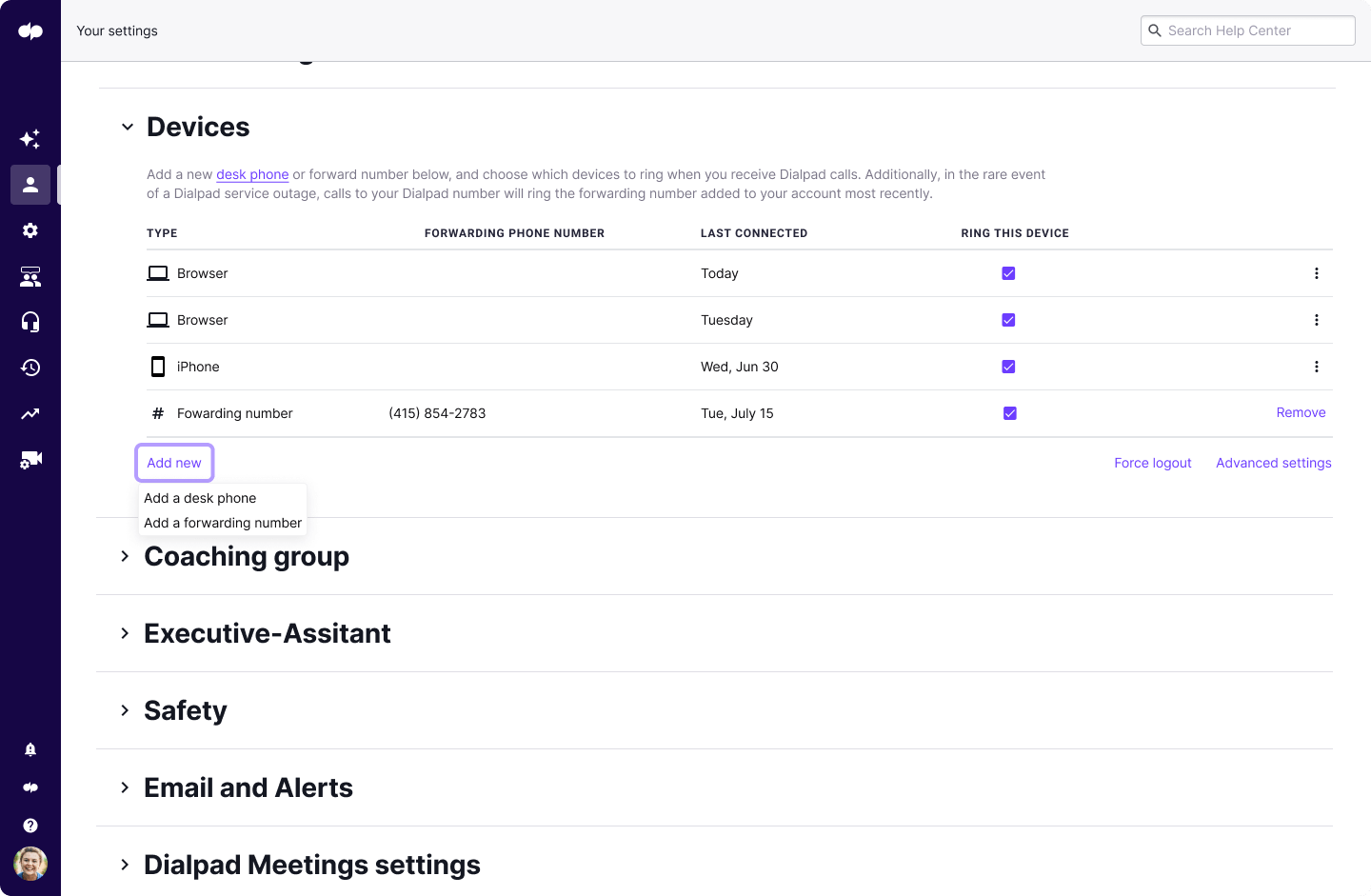 The disadvantages of using landline
Requires physical installation
Landline telephone service requires physical installation, which can be time-consuming and expensive. You'll need to have each line installed in your office, which also means that making any changes will be difficult.
VoIP, on the other hand, operates over the internet so you can set it up quickly and easily to work with your existing hardware. With Dialpad, for example, all you need to do is download the softphone app on your desktop or cell phone and sign in to get started.
Outdated and inflexible technology
If you're no longer using landline phones at home why would you still use them for your business? Landline systems just don't have the flexibility and scalability to keep up with modern business needs—not to mention it's relatively more expensive to scale up.
On the other hand, VoIP services can scale endlessly. You can use a VoIP phone system on your Wi-Fi or broadband-connected computer—or any mobile device, from anywhere.

Single channel communication
Landline phone systems only provide businesses with a single channel of communication: the phone. Today, customers expect to be able to communicate in other ways. Depending on your line of business, customers may want to be able to message, video call, and even live chat with your customer support team.
On the other hand, VoIP phone systems often come with other communications channels in addition to phone calls, like SMS and instant messaging, and video calls:
Higher costs
A landline business telephone system is costly to run. Not only do you have to budget for expensive installation and maintenance costs, you'll also need to think about the high cost of making international calls, depending on the phone company you choose. Scaling your phone system is also costly and tricky, as you'll need to fork out to have new lines installed whenever someone new joins the team.
VoIP is a much more cost-effective (and small business-friendly) solution—no additional costs needed for things like expensive copper wiring or hardware installation.
With Dialpad, you just pick a plan, and for a pretty affordable monthly subscription fee, you get access to an extensive range of advanced features—on top of unlimited calling within your country, the US, and Canada (and also unlimited SMS/MMS within the US and Canada).
Here's a quick look at Dialpad's pricing: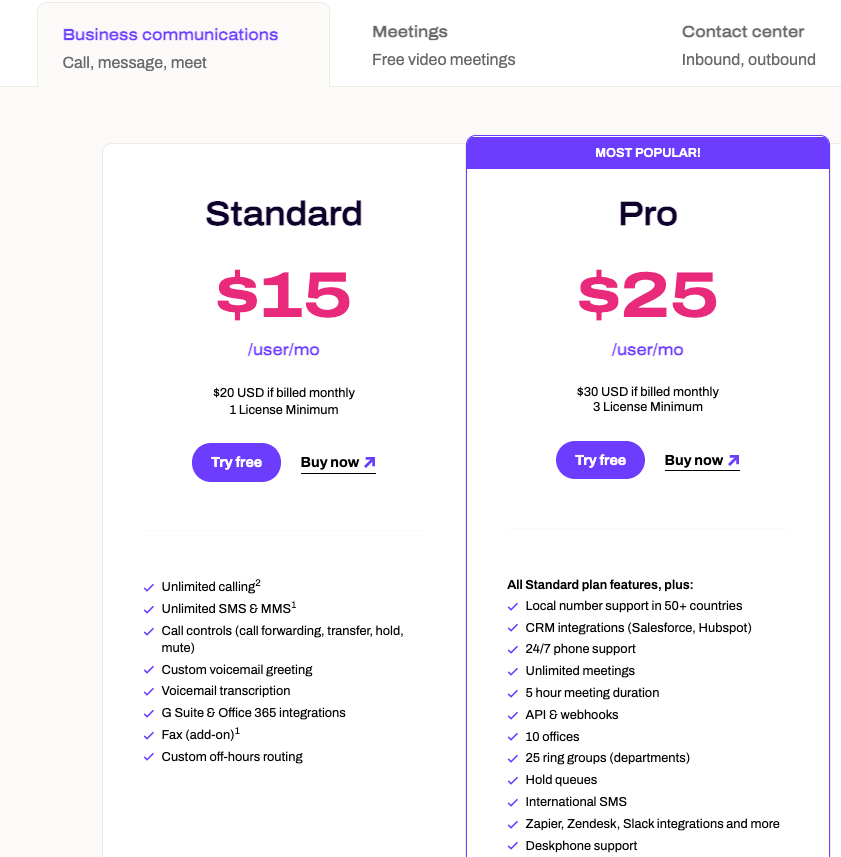 Vulnerabilities to spam calls
Spam calls can be extremely annoying—and just a waste of valuable time. Landline phone systems are vulnerable to these calls, since there's not a robust call screening process in place.
Some VoIP systems offer advanced features to minimize those dreaded spam calls. With caller ID and call blocking functionality, they can help you pick up only the calls you want to pick up! For example, Dialpad uses call blocking and automatic spam prevention to provide users with more control about the calls that make it through on their Dialpad VoIP number.
You can set up Dialpad's automatic spam blocking feature easily in the Call Handling and Voicemail section of your settings. Once set up, Dialpad will give the incoming call a spam rating to determine whether it gets through to an individual user. Calls with a spam score of 100 are automatically blocked. You can also set custom spam blocking for more control over inbound calls: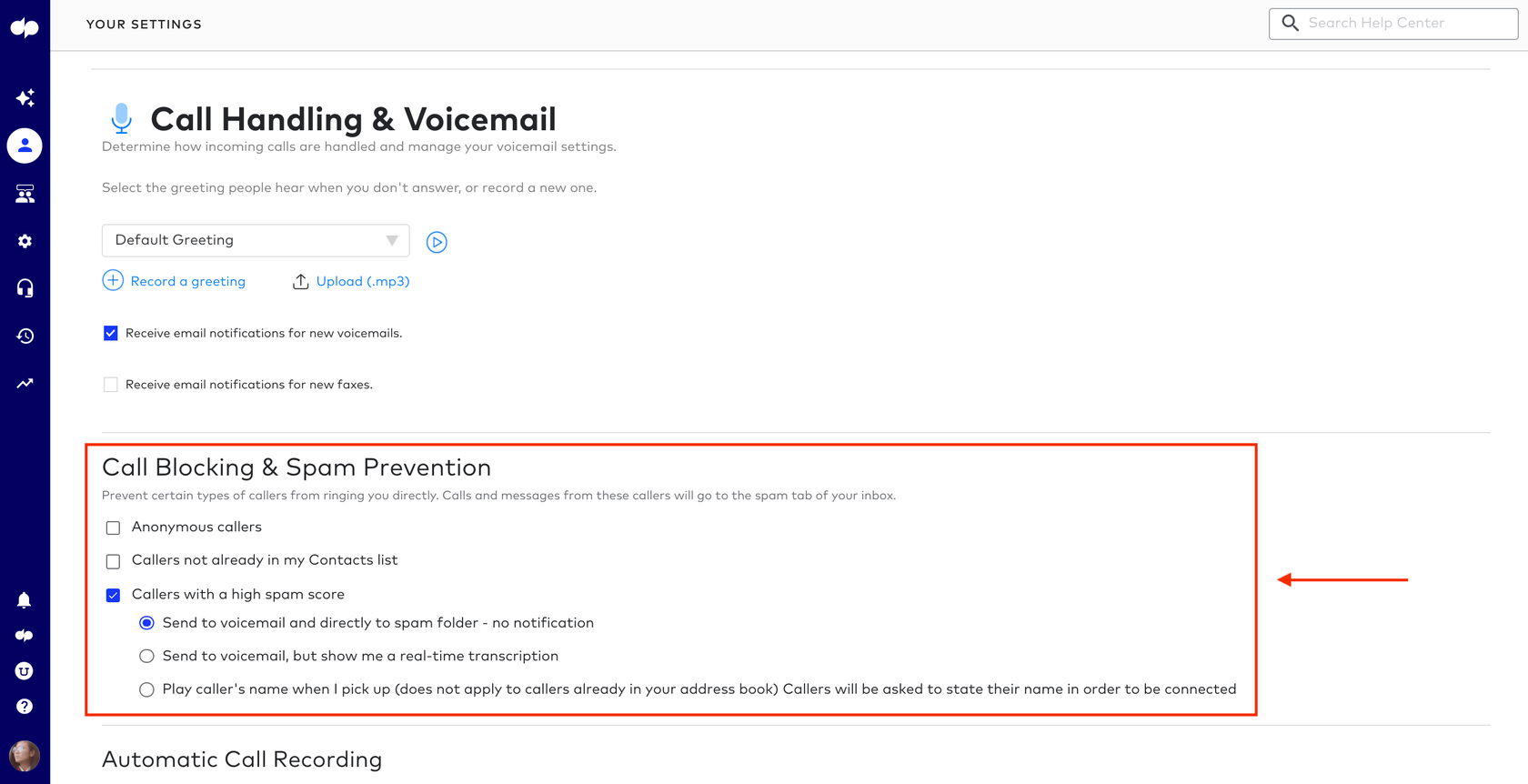 What are the advantages of using VoIP?
After the deep dive into the differences between VoIP and landlines above, it can be tempting to want to transition as soon as possible to a cloud-based communications system. If you're still unsure, here are some additional benefits of moving your business phone systems to VoIP.
Greater reliability
Often, VoIP providers are more reliable than their analog counterpart. (Even in the event of an Internet outage, you can continue to place and receive calls using mobile data on your cell phone.)
Unlike some VoIP providers that run their telephony through a third party, Dialpad operates its own global carrier network to ensure call quality and reliability. If you're looking for an enterprise phone system, Dialpad's Enterprise plan comes with guaranteed 100% uptime SLA to make sure that important calls are never dropped.‌
Better sound quality
Being internet-powered, VoIP providers can incorporate noise suppression technology to reduce disruptive background noise. One thing to remember though is that the quality of your Internet connection can impact sound quality for voice and video calls—so it's important to make sure you have a reliable connection.
A good cloud-based communications platform should support high-definition voice calls.
If you do need a better Internet provider for working from home, T-Mobile has a unique partnership with Dialpad, which gives you lightning-fast 5G and also Dialpad's unified communications platform in one package—you can check it out here.

More communication channels
A major advantage of VoIP is that it opens up the possibility of other communication channels.
For example, beyond just a phone system that uses VoIP technology, Dialpad is really a unified communications platform that integrates different channels—it also lets you send SMS and instant messages, have video meetings, and much more, on top of voice calls and conferencing.

(And it even has a fully integrated contact center solution, if you need it.)

👉 How easy is it to replace my landline with VoIP? It should be straightforward, so long as you have a reliable internet connection. If you live in an area where Internet outages are common and it's difficult to get a strong signal on your mobile device, you might want to skip out on VoIP solutions for now. If you're worried about losing critical business phone numbers as a result of giving up your landline and switching over to a VoIP provider, don't be. Dialpad gives you the ability to easily port U.S.-based local and toll-free phone numbers.
Additional features designed for businesses
On top of the whole unified communications side of things and bringing together video conferencing, phone calls, SMS, and other channels, there are many other customizable and useful features that come with VoIP phone systems.
AI
Some VoIP providers talk about being "AI-powered," but what does that look like? Dialpad's proprietary Voice Intelligence technology is built into all of its products, and not only transcribes calls—in real time—but can also track how frequently topics and keywords come up in calls, and also pop up Real-Time Assist cards.
This is an incredibly valuable feature to help keep detailed records for customer service training and compliance purposes. You can record phone calls and save call transcripts so that you revisit them later if needed. With VoIP providers, you can typically get cloud storage included or paid for (Dialpad includes it for free) so that you can store recordings of your customer calls for training and performance improvement.
Desktop and mobile apps
Dialpad is available on computers and mobile phones, and its app is compatible with Microsoft, MacOS, Google Chrome OS, iOS, and Android. That means your team will be able to work from anywhere as long as they have an Internet connection. You can even seamlessly transfer calls between devices with a single click:

Call routing
It should be easy to set up your call routing options with your VoIP provider. With traditional landline systems, making changes to your routing often involves calling your provider and getting them to help you make changes, which can take hours or days. With Dialpad, for instance, you can adjust your routing whenever you want in your online account:
Auto attendant
If your business handles high call volumes every day, then you should have some kind of auto attendant or virtual receptionist feature. This will take care of manual call routing for you, while making sure your customers and callers will always reach the right department or person.
Visual voicemail
This is another unique feature that you can get with VoIP providers, but not with landline phone systems. Visual voicemail, as its name suggests, is a feature that transcribes your voicemail messages into readable text, so you can keep up to date with voicemails even if you're stuck in a meeting. With Dialpad, for instance, you can easily see all your voicemail transcriptions in the app, and then save, archive, delete, or forward them with just one click:



How different industries are using VoIP
Retail
Independent retailers and large retail chains are turning to VoIP to improve business communications within sales, marketing, and customer service departments.
It goes without saying that retail is a fast-paced business. Companies must provide round-the-clock customer service while constantly developing innovative and groundbreaking marketing and sales strategies to stay ahead of the competition.
That's where VoIP comes in.
Business VoIP phone systems help retail customer service teams to stay on top of customer support requests by integrating with their CRM. This means customer information is easily accessible from a single integrated platform so your agents will never miss a thing. Not only that, they can deliver a highly personalized customer experience to improve customer satisfaction and engagement.
Unified communications platforms are a popular choice for global retail businesses with marketing and sales teams spread across the globe. A tool like Dialpad helps teams connect and collaborate in real-time across borders in the cloud. Call, meet, message, and share files from a centralized location—anytime, anywhere, on any device.

👉 Dialpad tip: See how Tecovas, a direct-to-consumer clothing company, uses a VoIP system that integrates with its CRM to boost online sales.
Hospitality
Businesses in the hospitality industry can also benefit from VoIP. Robust communications is key to succeeding in this fast-paced sector. Hotel chains might have locations all over the world, so having an infrastructure that allows for free conference calling between sites is essential.
This way, teams can liaise with colleagues no matter where they are to ensure a seamless customer experience. Moreover, VoIP systems also empower customer service teams with a range of calling features to enhance the customer experience, so you'll never miss a customer again.
Virtual assistants are another key feature that benefits this industry—if customer service reps are busy, let the assistant handle them. If they don't want to wait, they can request a callback.
Better customer service, improved internal communications, and enhanced productivity are just a few of the ways VoIP can boost business operations in the hospitality industry.

Healthcare
As the healthcare industry becomes increasingly reliant on communications technologies in the wake of the pandemic, VoIP solutions are taking the industry by storm. Today, VoIP-based communications platforms are essential for facilitating the highly personal online medical consultation process.
With VoIP, healthcare professionals can connect internally with colleagues and externally with patients via reliable voice calls and face-to-face video calling. Not only that, VoIP phone systems allow important patient data and appointment information to be stored in a centralized location accessible to those who need it.
Financial services
VoIP is an important tool for financial services, especially in helping firms and businesses stay compliant in today's hyper-connected world. It's not easy to accommodate a growing remote workforce and operate economically, while at the same time ensuring you meet customer expectations.
Many businesses in the finance industry are solving these challenges by switching to VoIP phone systems or more robust cloud communications solutions like Dialpad. Dialpad provides finance and insurance businesses with the flexibility, mobility, and scalability they need to operate today.
With Dialpad, finance professionals can use features like call recording and IVR to stay compliant with the industry's strict standards. Employees can work from anywhere, on any Internet connected device, and rest assured that customer data is protected by enterprise grade security and calls are fully encrypted.
Real estate
Real estate is an extremely competitive—yet lucrative—industry. That's why it's so important for real estate companies to make sure every client receives the best service to seal the deal. To do this, they need to provide an impeccable customer experience that makes them stand out from the crowd. VoIP systems are valuable for achieving this.
Choosing a cloud communications platform with hosted VoIP, like Dialpad, is an effective way for real estate agencies and property management companies to keep in touch with clients and call, meet, chat, and share information about potential properties anytime, anywhere—see how CF Real Estate did it.
Marketing
For creative agencies, marketing is all about communications, whether that's with prospects or clients.
VoIP phone systems facilitate the communication and collaboration necessary for businesses to achieve their marketing goals. Whether it's connecting with customers across various communication channels or collaborating on projects internally with remote teams, VoIP helps marketing teams stay productive, always.
With cloud communications like Dialpad, marketing teams can chat, meet, and share files to collaborate on important projects from a centralized platform.
Things change quickly in the marketing world. With Dialpad, teams can stay productive on the go to make sure they never miss a great opportunity. With virtual phone numbers for international calling, marketing teams can expand their areas of business without forking out on expensive calling costs.
If that's not enough, Dialpad also offers countless integrations with the world's most popular business apps. Integrate with task management tools, CRMs, and much more—no more wasting time toggling between apps! With all your communications channels and customer information in one place, Dialpad empowers marketing teams to facilitate exceptional customer experiences, no matter what.

👉 Dialpad tip: See how HUGE, a global advertising agency, shifted their communications to the cloud to keep their offices all around the world connected with clients.
Boost your business phone system with Dialpad
VoIP phone systems are quickly taking over the business communications landscape.
Why shouldn't they be? They're inexpensive, convenient to use, easy to set up, scale, maintain, and upgrade. You can make and take calls, send and receive messages, and have the ability to access advanced features across any connected device—whether you're in the office, at home, or on vacation.
To keep pace with increasingly distributed employees and customers, it might be helpful to seriously consider moving to a VoIP provider to power your calls. But VoIP isn't the limit. Why not try a complete cloud communications solution to take your business communications that little step further, instead?
Interested in switching over to a lightning-fast, reliable, and modern communications platform? Try Dialpad for free with a 14-day trial!
Sign up for free