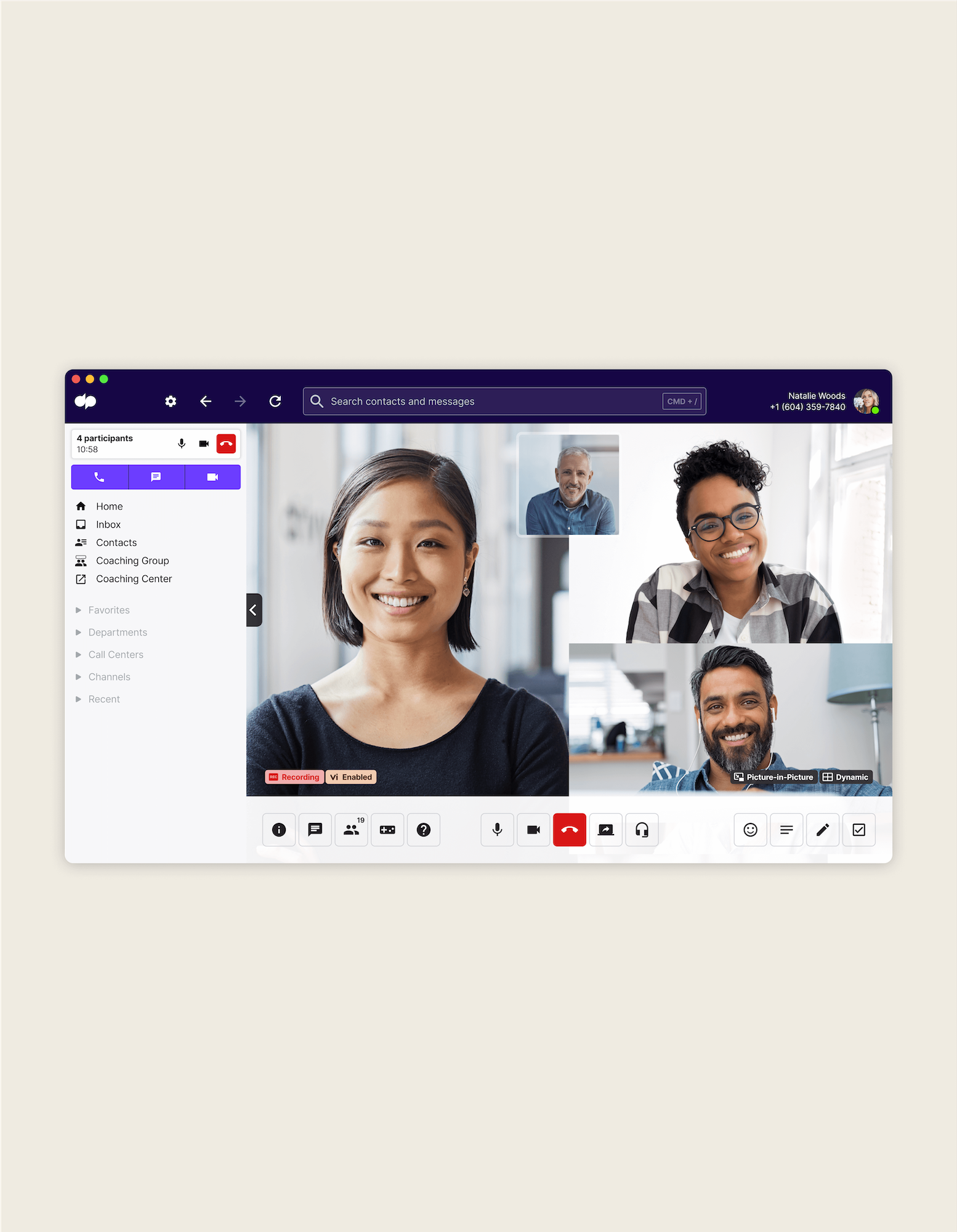 UCaaS: A guide to Unified Communications as a Service
Learn about how UCaaS works and how businesses can use it to communicate more effectively with customers, prospects, teammates, and more. Sign up for a free 14-day trial to try Dialpad's UCaaS platform for yourself!
How does your business talk to customers, prospects, investors, vendors, and so on?
Chances are, you're not just using one communication channel. For most businesses and organizations, it's a combination of phone calls, video meetings, instant and SMS messaging, and more.
And most businesses are also using different communications platforms for each of these channels. You might be one of them.
But here's the thing. If you're using one tool for web conferencing, another one for messaging, and another one for faxing, you (and your team) are probably wasting valuable time managing all those tools. Not to mention you're also probably paying more than you need to in monthly software subscription fees.
This is where a unified communications solution comes in.
What is "Unified Communications as a Service" or UCaaS?
Unified Communications as a Service or UCaaS solutions do pretty much what their name sounds like: they unify or streamline your business communications into one place.
That means that instead of having to use multiple devices and channels, you only need one app or platform to handle all of your communications including voice calls, SMS and instant messaging, video conferencing, and audio conferencing.
UCaaS solutions should always include some kind of phone system, which will usually use VoIP (Voice over Internet Protocol) technology to let you make phone calls over the—you guessed it—Internet.
For example, with Dialpad, you can make phone calls using the softphone app, and even choose what you want to display in the caller ID when you call someone: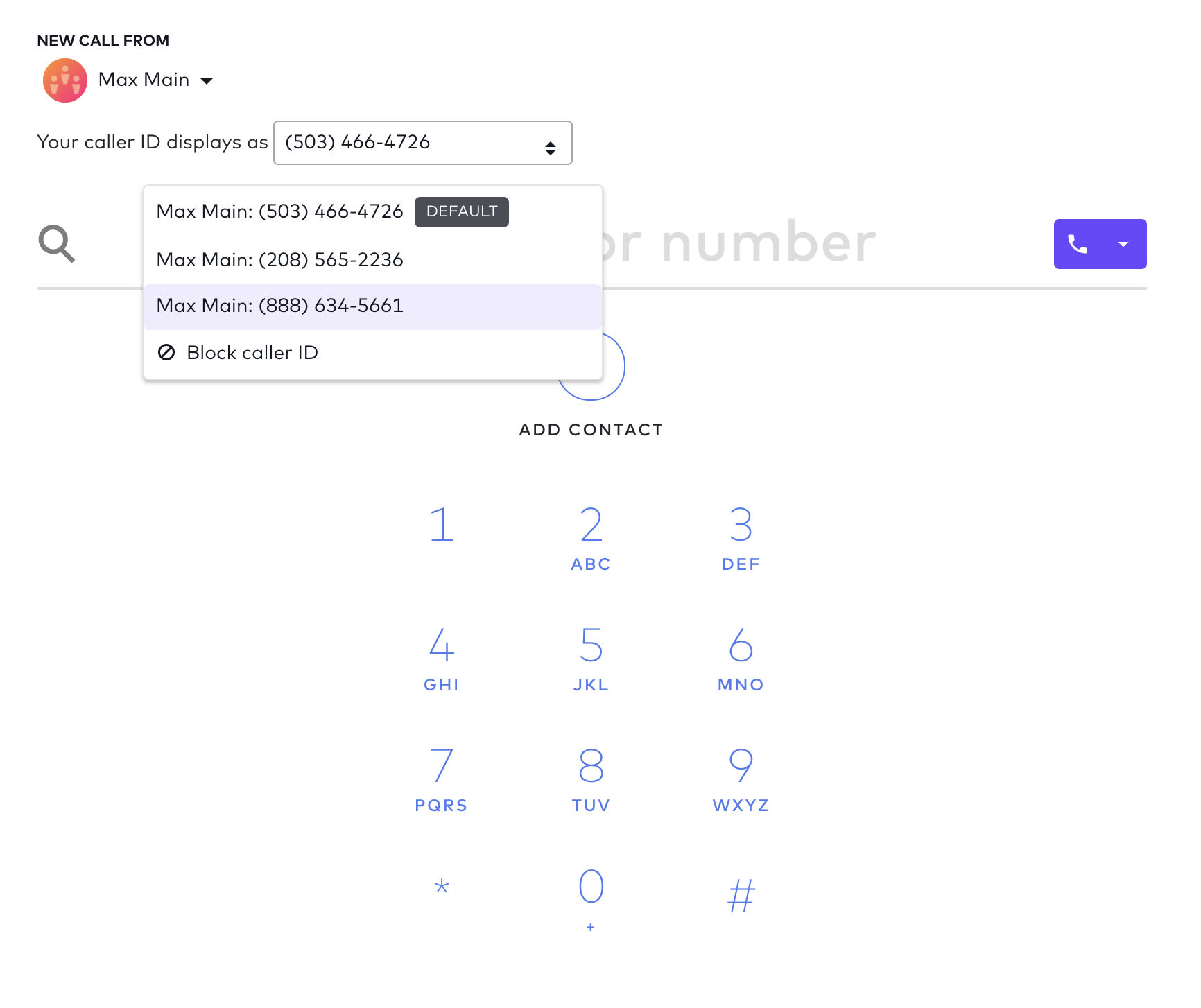 👉 Fun fact:
Many companies that used to be just telephony or on-premises business phone system providers are now evolving to become UCaaS platforms. The tricky part here is that although these companies have been around for a while and made a name for themselves, their technology is quite old. TL; DR - Not all UCaaS platforms are equal—make sure you do your research if you're shopping for one.
The "as a service" part of the name is important because it tells you what the pricing models are like: UCaaS platforms, unlike traditional software, charge you on a monthly or annual basis on a subscription model. This makes it much more affordable for startups and businesses that don't want to pay a huge upfront cost for a communication solution.
How does "Unified Communications as a Service" work?
So, how does a UCaaS solution streamline all your business communications under one umbrella?
There are a few key components that UCaaS platforms tend to share:
The cloud: Because UCaaS is cloud-based, you can move your business communications to a UCaaS model without having to worry about hardware or complicated setups.

Data centers of their own: UCaaS providers often have their own data centers. They use these to host their cloud services, and since the data centers belong to them, they handle all the maintenance and upgrades. In other words, cloud service providers with their own data centers can usually give you an easier and better user experience because they handle all the backend stuff that otherwise would fall to your IT team.
👉 Did you know?
Dialpad has a global voice network and is built on a unique split cloud architecture, which is designed for excellent call quality—always important if you talk to important clients and prospects on the phone regularly.
What about UCaaS vs CCaaS? (And VoIP?)
There are a ton of acronyms related to UCaaS. You've probably heard of a few. Let's break down what they mean.
UCaaS vs CCaaS
While UCaaS can suit every kind of business that needs to communicate with people over different channels, CCaaS (Contact Center as a Service) is more for businesses with contact center needs.
If your business needs both UCaaS and CCaaS, it's generally better to use a unified communications platform that has both—like Dialpad—so that your employees don't have to log in and manage different accounts, or switch back and forth between windows to access their communication tools.
For example, here's how that looks in Dialpad's desktop app—you've got all your UCaaS features (calling, instant messaging, video meetings) in the top left, along with contact center departments and features along the left sidebar. It's all in one convenient place: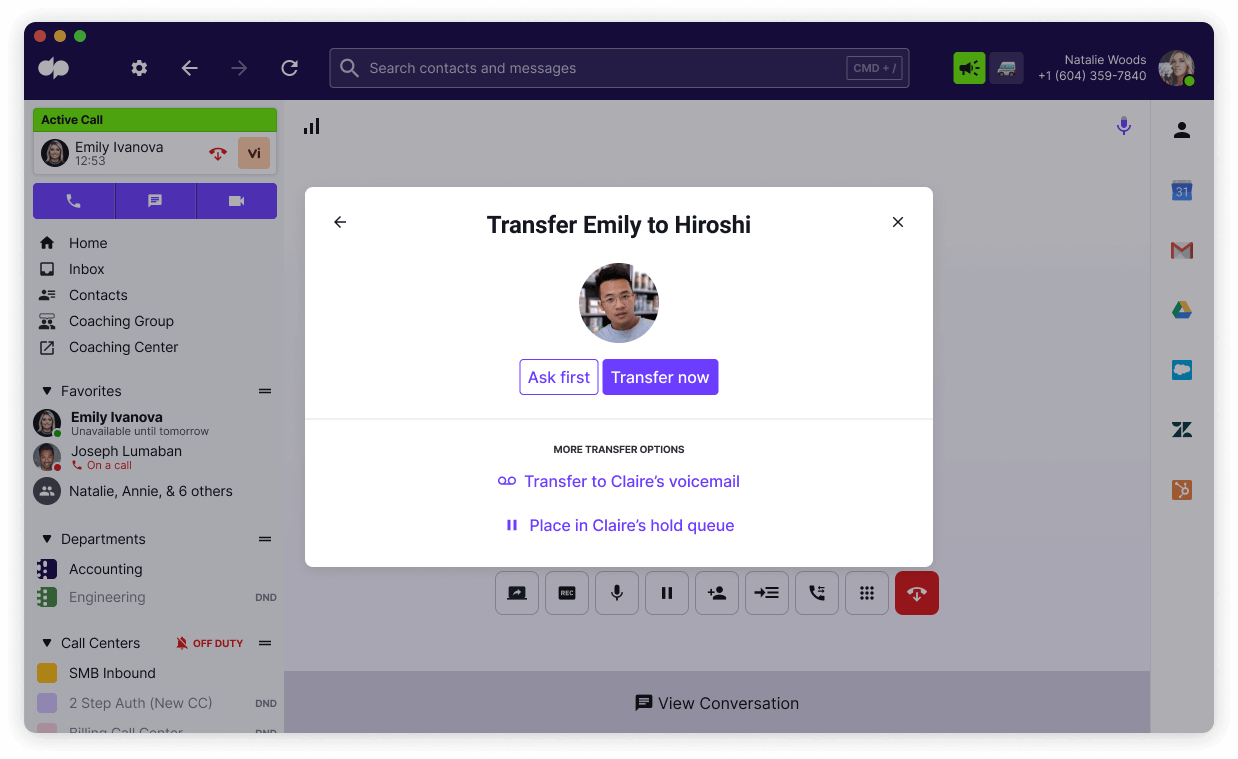 🚨 Look out for:
UCaas or CCaaS providers that claim they have a "unified platform" when they're actually just reselling or whitelabelling other companies' software under their own brand. Typically, this will result in a disjointed experience when you start to use the product—for example, you might have a different UCaaS login experience compared to the CCaaS login experience, they might have a completely different user interface, and so on.
VoIP vs UCaaS
These two are tied pretty closely together since UCaaS uses VoIP (Voice over Internet Protocol) technology for its phone system functionalities. Basically, VoIP makes it possible to have phone calls over the Internet, which is a feature that a UCaaS platform needs.
UCaaS vs PBX
If you're wondering whether you should go for UCaaS or PBX, here are a few quick questions that'll help you figure that out.
Do you want the flexibility of communicating and working from anywhere, without being tied to a physical location? Do you want to be able to pay a monthly subscription fee instead of a hefty upfront price (along with fees for upgrades and new feature updates down the road)?
If you said yes to both, then you'll probably want a UCaaS solution instead of a traditional PBX phone system. (You can learn more about the differences between VoIP and PBX here.)

👀 Thinking of moving your organization to hybrid work?
Grab the Hybrid Work Playbook, which includes real-life case studies and breaks down all things hybrid + remote, from building and sustaining a hybrid workforce to equipping your team for success.
The business benefits of UCaaS
Why are companies using UCaaS platforms? Well, for one, organizations today are under tremendous pressure to provide reliable, fast, and cost-effective communications for a distributed global workforce. UCaaS is a key piece of this digital transformation.
It's essential for distributed and remote workers
If you're working as part of a hybrid or fully remote team, chances are you're able to do that because you're using collaboration tools like UCaaS platforms. From sales teams to customer support teams to marketers, almost every department in a business will need communication channels like a phone service and messaging tool—unified across every computer and mobile device—to work remotely.
One cool thing about Dialpad as a UCaaS solution is that it works seamlessly across different devices. For example, if you're on a phone call on your computer but need to step away to run an errand, you can "flip" that conversation to your cell phone—without dropping the call!
Lower operational costs
UCaaS delivers cost savings on a few fronts. Firstly, it's not hardware-based, which means you get to skip out on installation and capital costs. Secondly, since there's no hardware to maintain, you don't have to devote as many resources to keep it running efficiently.
And beyond expenses, businesses also get way more value from UCaaS solutions. For example, even Dialpad's least expensive plan (starting at $15 per user per month) includes unlimited calling and texting within the US and Canada, call forwarding, video conferencing, voicemail, and more—at no extra cost.
Then there are the operational gains (that also end up saving you time and money), like more streamlined billing and contract management. Think about it: would you rather deal with seven invoices every month, or just one?
Better scalability
One of the biggest advantages of UCaaS, hands down, is scalability. Need to expand and hire quickly in three new countries? You can set those new employees up in a UCaaS platform much more quickly and easily compared to a traditional enterprise phone system.
Whether you're running a small business with limited resources or a large global organization, you have to be able to scale up (or down) easily. For example, in Dialpad, you can manage and add new phone numbers for new hires right from your online account in a few clicks: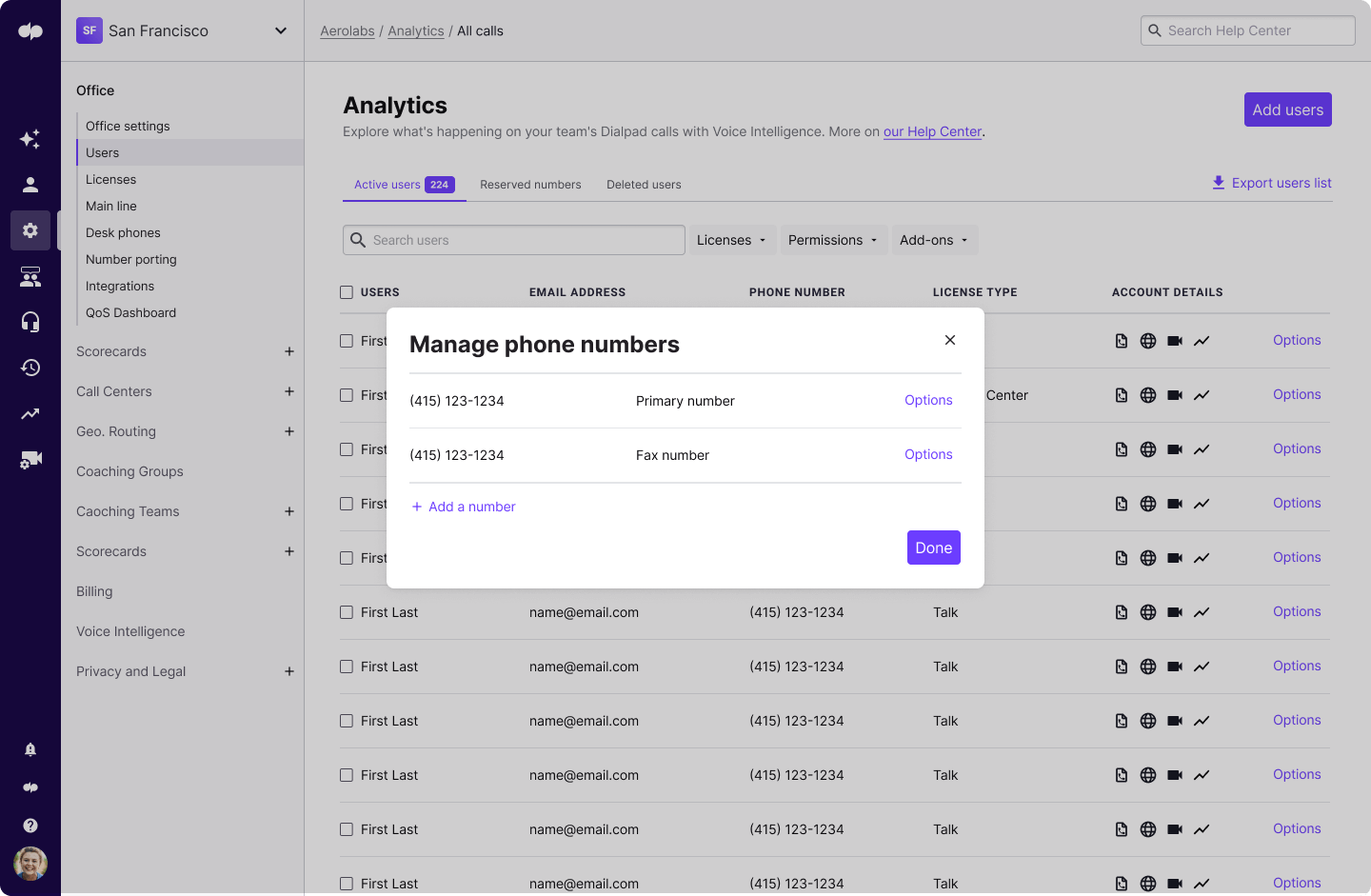 Want to try out a UCaaS platform for free?
Sign up for a 14-day free trial to see how Dialpad can work for you and your team. It takes just a few minutes to get started, and you'll even get a virtual business number at the end of the signup process!
What features do UCaaS platforms typically have?
If you look up UCaaS platforms online, you'll typically find that a lot of their features sound very similar. The main differences usually lie in which of these features are included in each pricing tier for their plans.
That being said, some UCaaS providers will try to nickel and dime you on little things and charge you for every little add-on. Here are a few examples of features to look for, and whether you should expect them to come included:
Unified communications(!)
The most basic and important thing. The idea behind UCaaS is to unify all your business communications, after all, so your solution should have a phone system, SMS messaging, video meetings, and screen sharing—at the very least—all in one platform.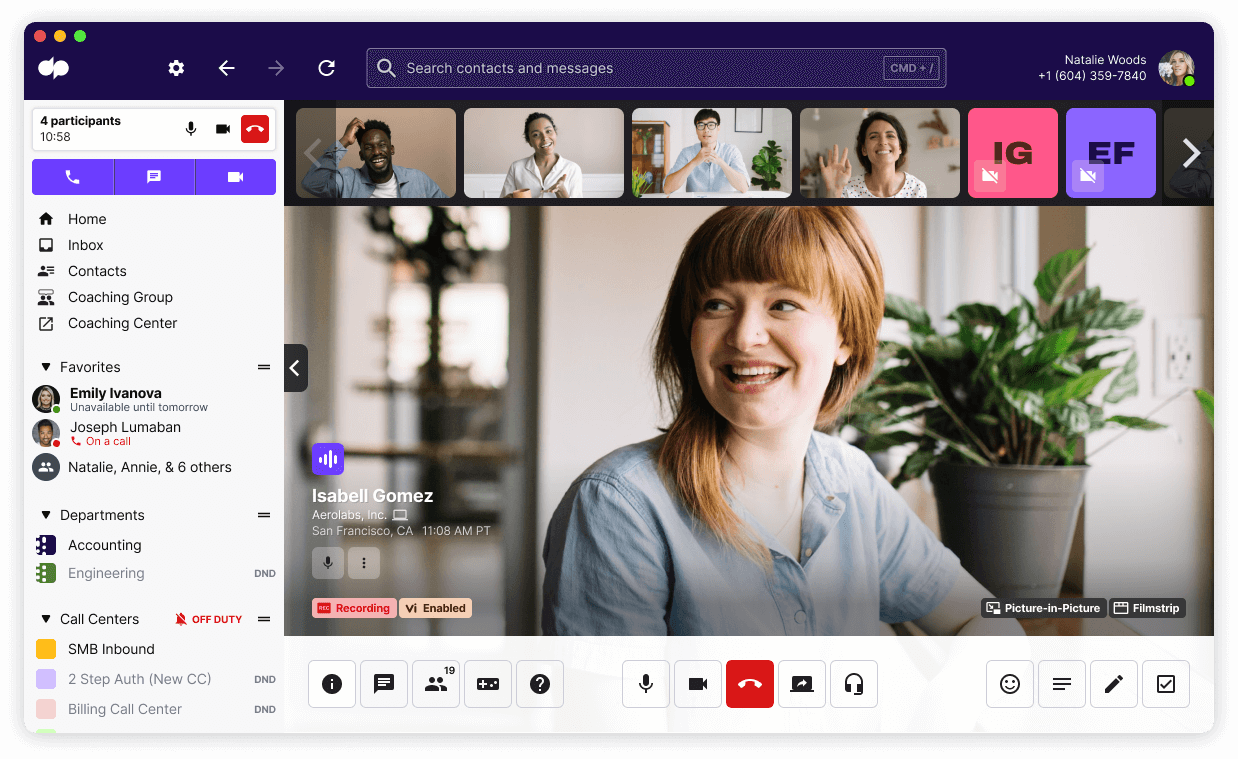 Take screen sharing, for instance. With Dialpad, you can share your screen with someone on mobile—just by texting them a link! They don't need to download anything. All they have to do is open the link that you texted them to join your screen share. This is what's possible when your communications are truly unified.
Call forwarding
Most VoIP solutions should have this included for free. This lets you forward calls to voicemail, another team, an individual colleague, or even your personal number so that you never miss a call. For example, you can set this up in Dialpad in just a few seconds:
Voicemail
With Dialpad, you get a custom voicemail greeting for free—at all of the pricing tiers—and you also get voicemail transcriptions (aka. visual voicemail). You know, for those situations where you're in a meeting and can't listen to that important voicemail, but you need to know what it's about: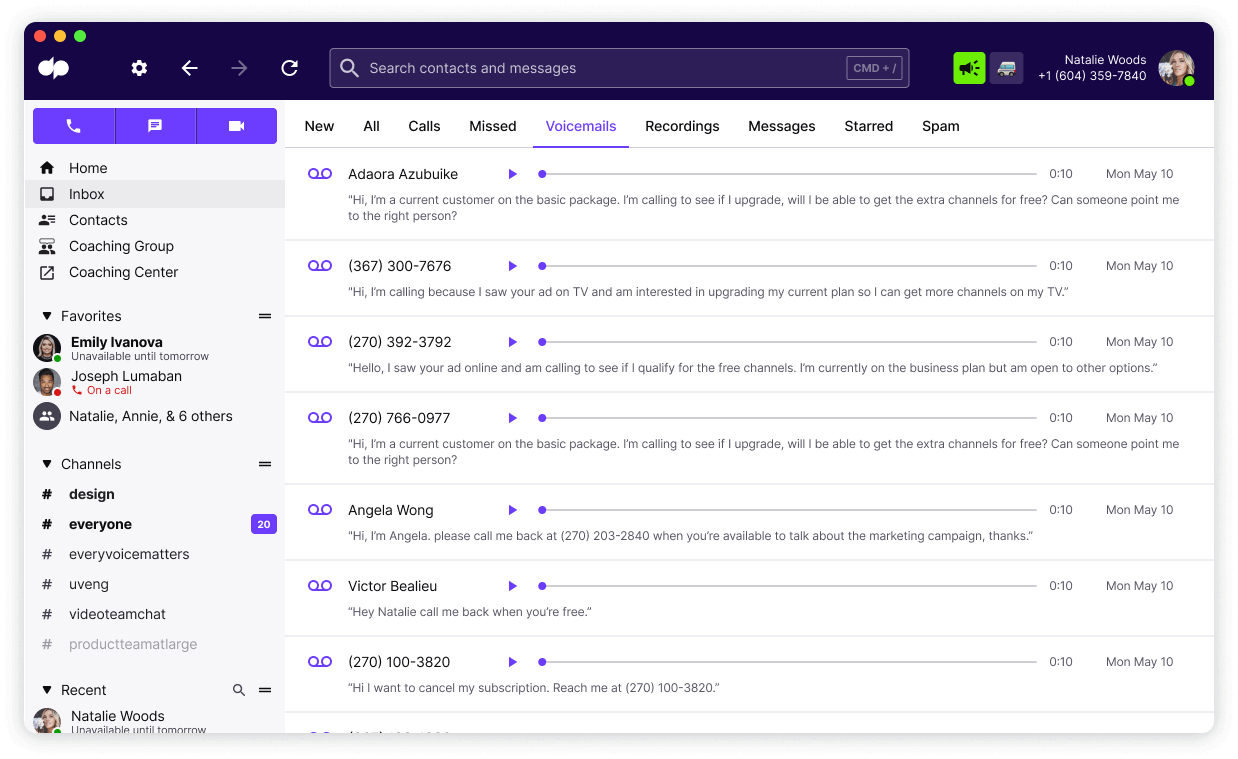 Easy cloud-based admin
We mentioned this earlier, but your UCaaS solution should make it easy for you to do things like set up new users, add upgrades, and manage accounts. These are super basic admin tasks that you should be able to do on your own and should take minutes—not weeks.
An integrated contact center
This isn't a must-have for every organization, but if you have a contact center team, then your contact center software or CCaaS platform should integrate with your UCaaS platform. (Which is exactly what Dialpad Ai Contact Center does!) Your agents shouldn't have to log into one account to talk to customers and have another window open to instant message their supervisors with questions.
Call routing
A good UCaaS solution should have call handling features like call routing to help direct your incoming calls to the right department or person efficiently. For example, in Dialpad, you have a wide variety of call routing options that you can customize on your own in your account: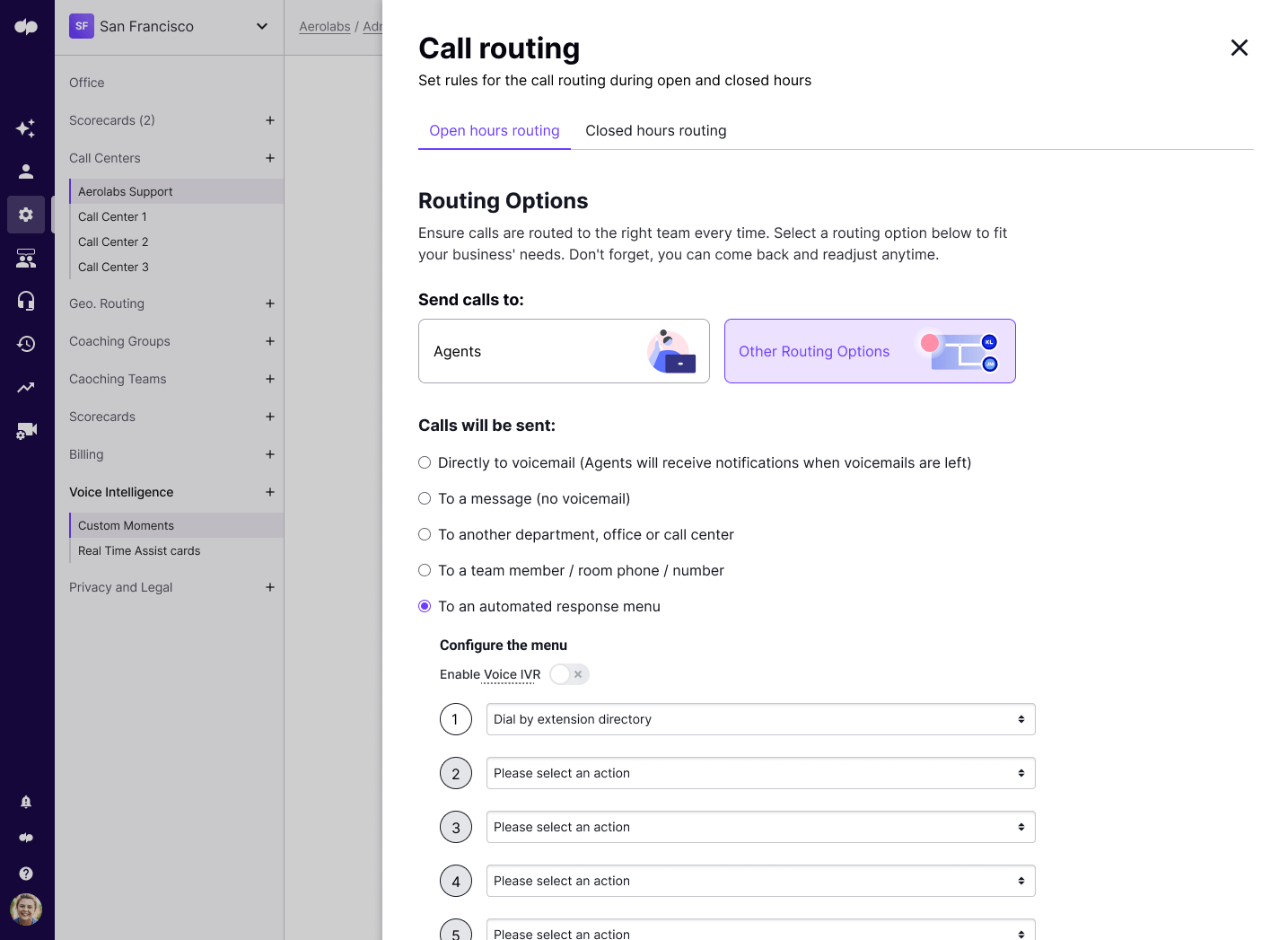 A browser-based user interface
What if you're talking to prospects or clients who don't want to have to download an app to join your video meeting? Not a problem with Dialpad.
You can join and host meetings from a web browser (with full functionality!), which is much more convenient when you're interacting with people outside your company: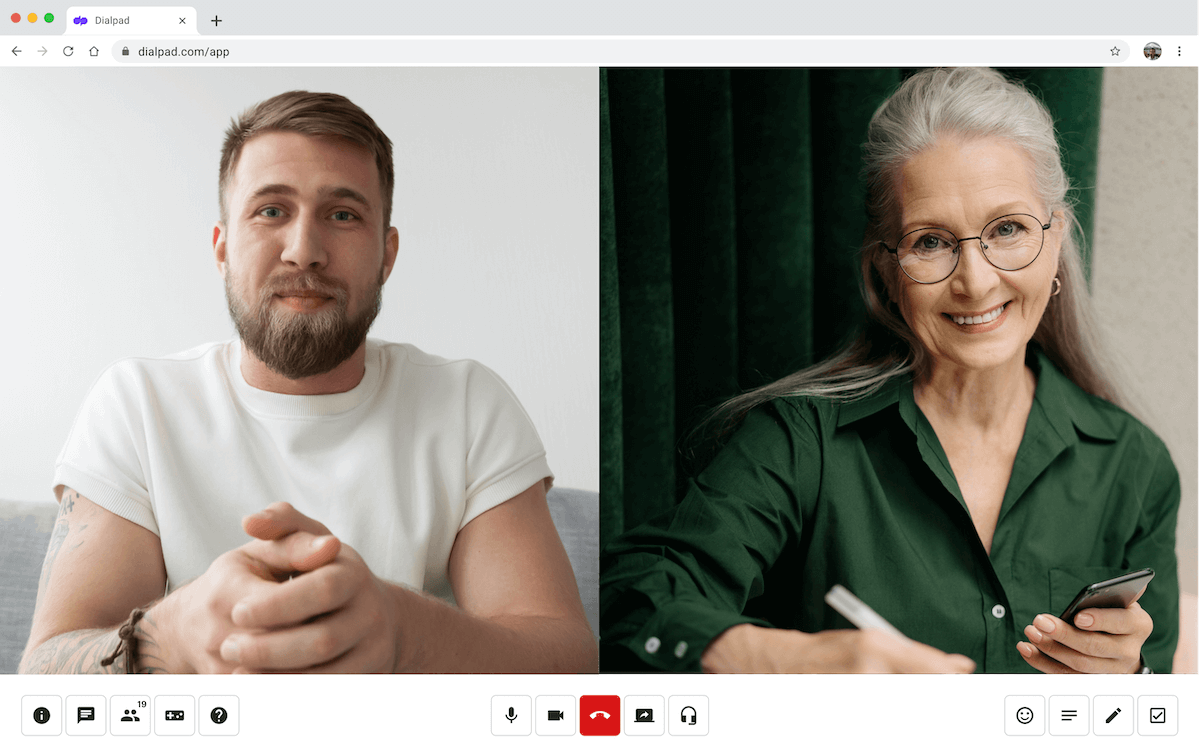 Thinking of moving to UCaaS? 3 questions to ask
1. What is your budget?
Here's the thing. There's a whole range of budget options for UCaaS. There are some that will cost you an exorbitant amount of money every month—and there are some that'll say they're free.
Two good rules of thumb to remember here:
You probably don't need to have the most expensive option out there, and

There's no such thing as a free lunch.
Most options that say they're free or cost only a few bucks a month don't end up actually being that price. For example, one budget UCaaS provider that we won't name has a very low monthly starting price, but charges you per minute for phone calls. For some businesses that don't have a lot of phone calls, this might be fine, but if you talk to clients and prospects regularly, this will probably end up costing you. A lot.
We're a little biased, but Dialpad's monthly plans start at a very reasonable $15 per user per month—and even the most basic plan includes all those features we listed above. That's probably a good starting point to base comparisons with other UCaaS providers on.
2. What is in your current communications tech stack?
You need to know what kind of tech you're using before you can make this big switch.
For example, let's say your employees are using one platform for video conferencing and another for call recordings, and another for your contact center.
If you choose the right UCaaS provider, you'd be able to consolidate these three communications tools into one.
For example, with Dialpad, you get video meetings, call recordings...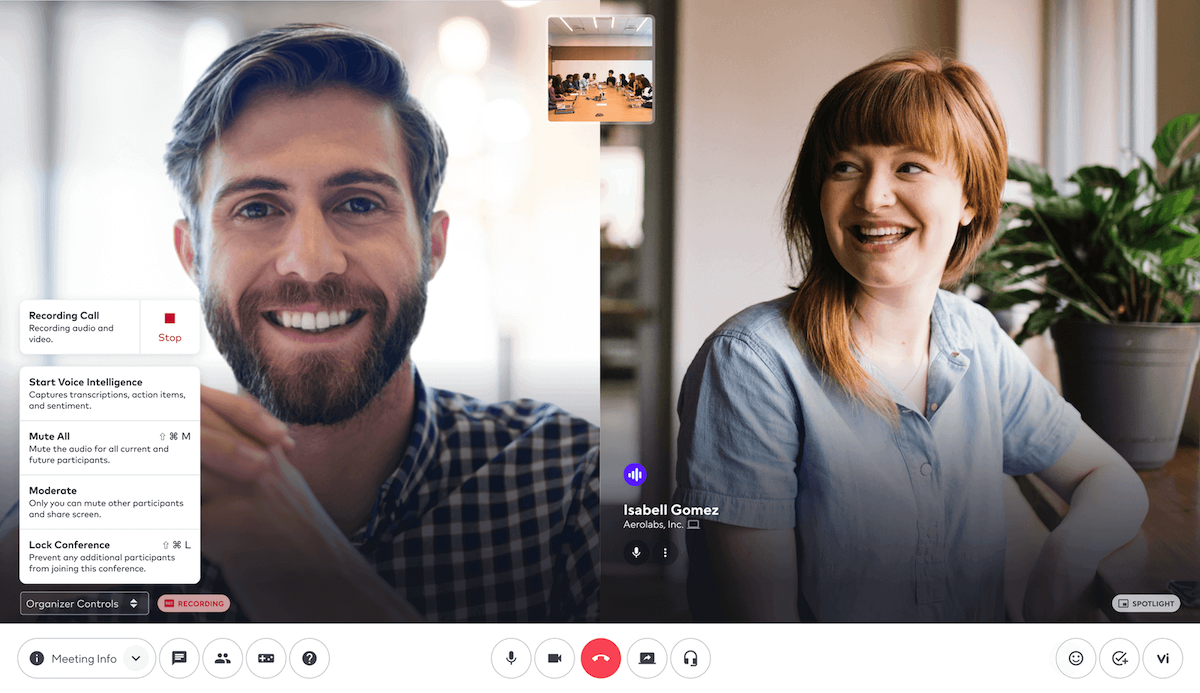 And a contact center platform—that's actually integrated, not whitelabelled or resold!—in one interface.
3. What's in the rest of your tech stack?
You'll notice that we said communications tech stack in the last point. There's a reason for that.
Once you know what you're already using for phone calls, video meetings, and messaging, it's time to look at your other software (like CRMs and ticketing tools).
A good UCaaS solution should integrate with other tools that you're already using! This can help your team save a ton of time because they won't have to copy and paste data back and forth, or toggle constantly between windows and tabs. It's a much more streamlined workflow.
For example, Dialpad integrates with popular software like HubSpot, Zendesk, and Salesforce. Take Salesforce for example, The integration automatically logs activities and calls you made in Dialpad to the relevant contacts in Salesforce, and even embeds a CTI dialer in Salesforce so that your reps can make phone calls right from inside their Salesforce dashboard: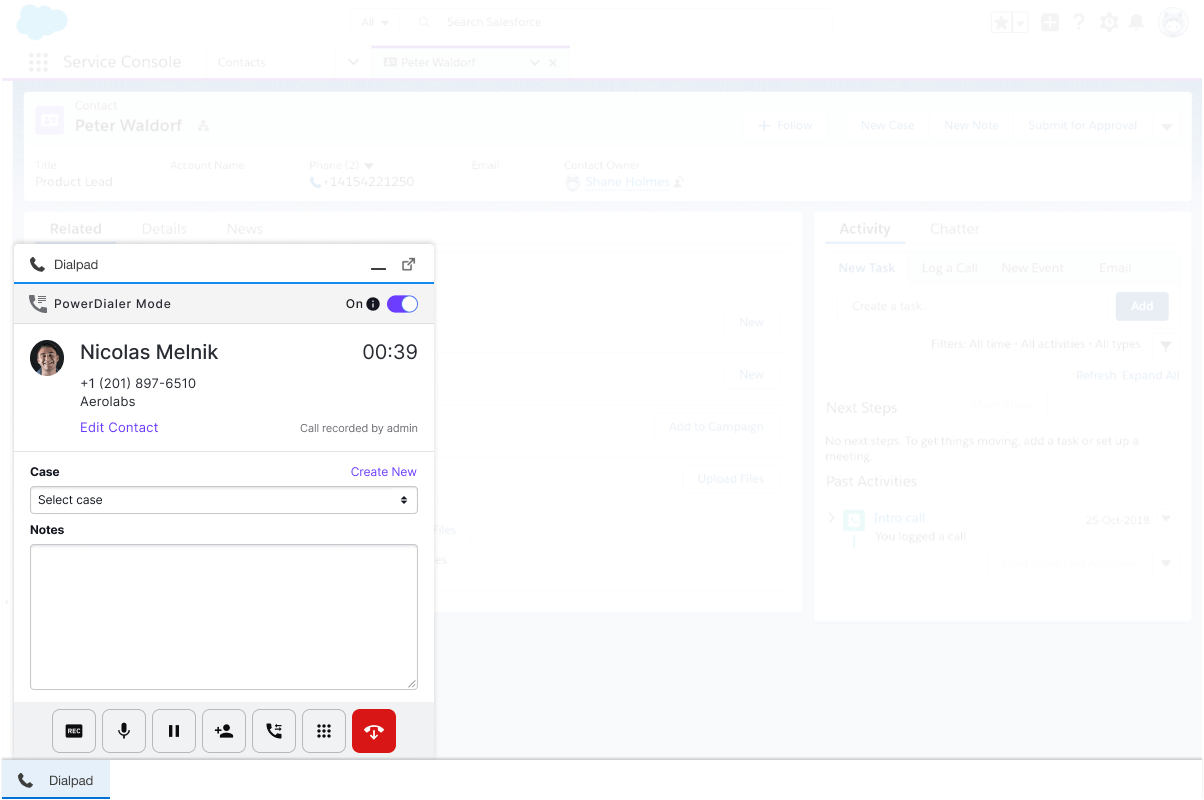 What should you look for when comparing UCaaS providers?
Choosing or switching UCaaS providers is a big decision. We've already talked about features and questions to consider—now here are all of those things in checklist format. Use these as guardrails as you're vetting your shortlist:
Scalability: Can you add users and manage accounts easily on your own without waiting weeks at a time?

Reliability: This is huge for business continuity. Not many businesses can afford for their phone lines or communications to go down—even an hour of downtime can be seriously costly. So, make sure your UCaaS provider meets or exceeds industry standards for uptime. (Dialpad has a 100% uptime guarantee for enterprise customers. More on enterprise communications here.)

Security and compliance: UCaaS solutions handle large amounts of your organization's—and customers'—data. What security protocols does the platform have in place to protect customer data? What strategies or resources are on hand if a breach or issue occurs? If you operate in a heavily regulated industry, does the platform offer the features needed to keep you in compliance?

Support and contact: What levels of technical support and customer service are available, both generally and in the case of an emergency? The best options will provide you with 24/7 worldwide (not just US!) support through a variety of channels such as email, chat, webinars, and an always-accessible online help center.

Cost: While the cheapest option isn't always the best, a good UCaaS platform can help you gain clarity on the costs of ownership. Think in terms of monthly recurring costs and the total cost of ownership over the life of the contract.

Contract: Does the platform require a long-term commitment or do they offer a month-to-month plan? If you have to sign a contract, is there flexibility if you're unhappy with the service or your needs change?

Third-party integrations and APIs: If you're already using other software or tools, then your UCaaS platform should have integrations with those tools. Ideally, these should be native integrations, but Zapier or other third-party integration options also work. (Dialpad also has an open API so that you can build custom integrations for niche tools that your team may be using.)
What are some trends in UCaaS to be aware of?
The UCaaS landscape is constantly changing—here are a few trends to watch:
More robust digital workspaces: As UCaaS features continue to evolve and become more sophisticated, many platforms are taking on the role of full-fledged digital workspaces and collaboration platforms. From file sharing to virtual whiteboarding in real time, the list of things that UCaaS platforms can do is growing—exponentially. For example, Dialpad integrates with Miro, a whiteboard app that to allow teams to whiteboard together without being in the same room: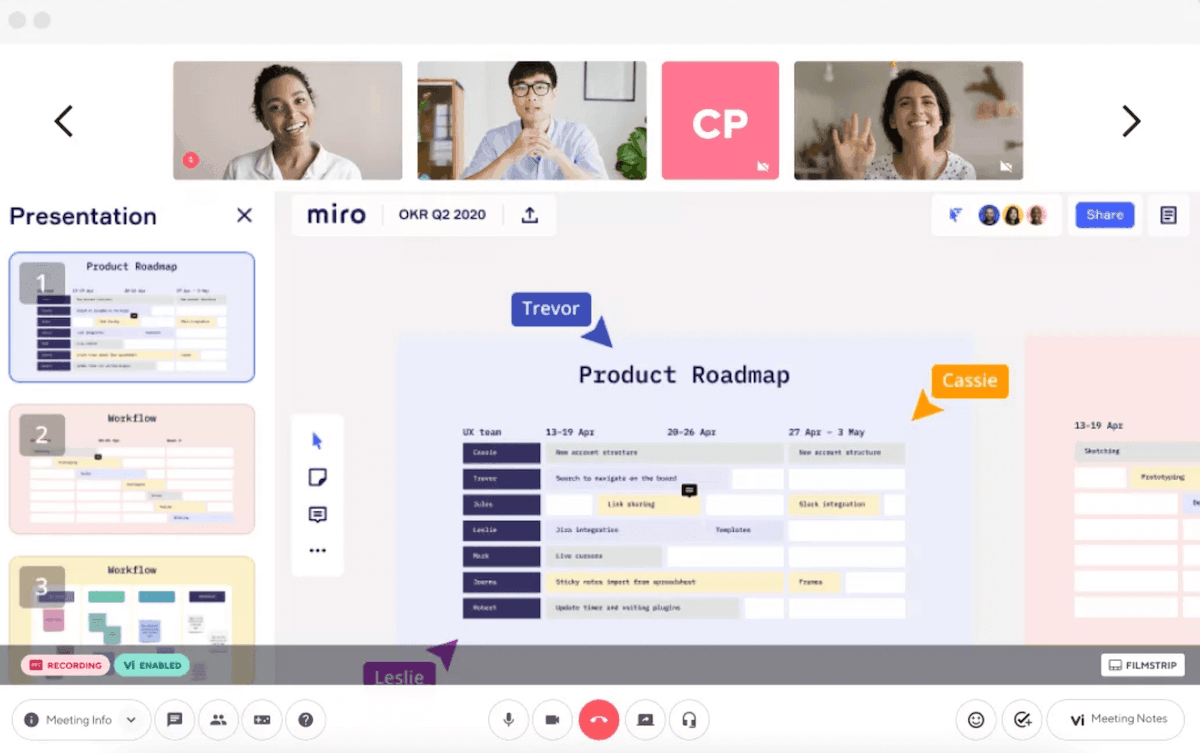 Wider adoption: UCaaS adoption will continue to rise as organizations move toward remote work, hire more distributed teams, cut costs, and take a technology-forward approach to planning.

AI: Artificial intelligence and machine learning are playing an increasingly important role in communications. From transcribing conversations in real time to intelligently routing calls and assessing sentiment, we're only scratching the surface of what AI can do in UCaaS.
Get started with UCaaS and Dialpad
What kind of role is UCaaS going to play in the business world of the future?
Well, if Gartner's survey of businesses is any indication, it's going to be a big part:
Looking for a UCaaS solution?
Whether your business is an SMB or a large enterprise—and whether you started working remotely before the pandemic or not—a good UCaaS provider can help you streamline communications for employees and improve your customer experience, no matter where you choose to work from.

Try Dialpad for free with a 14-day trial!
Talk, message, and meet—all in one place. From phone calls to SMS to instant messages to video meetings and screen sharing, you can do it all in Dialpad's unified platform. Test drive it now!