Guide
Guide to UCaaS: Unified Communications as a Service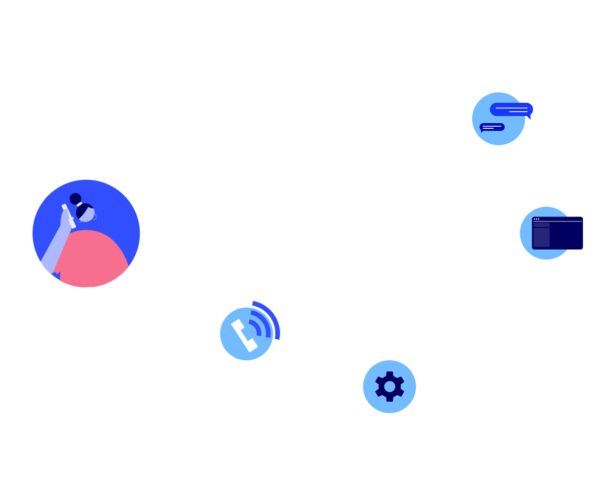 What is Unified Communications as a Service?
The Unified Communications as a Service (UCaaS) industry is growing fast — Transparency Market Research estimates that the UCaaS industry will be worth $79.3 billion by 2024. UCaaS solutions work to simplify business communications across devices and channels using voice solutions, messaging, video conferencing, texting, and even collaboration and document sharing.
UCaaS solutions typically run over an IP connection. This internet-based delivery helps set them apart from other Unified Communications (UC) platforms. It can also play a critical role in increasing reliability, flexibility, and mobility.

When organizations deploy UCaaS solutions, they provide their employees with access to the latest groundbreaking communications technology. It also serves as an essential strategy for streamlining operations, cutting costs, and removing frictions from day-to-day business management.
What Drives the Adoption of UCaaS?
One of the most important factors to consider is why companies adopt UCaaS platforms. Organizations today are under tremendous pressure to facilitate reliable, fast, and cost-effective communications for a distributed global workforce. Whether you are connecting offices around the world or making it easier for your team to work remotely, UCaaS platforms offer a variety of benefits that can help.
Some of the most common benefits businesses see from using UCaaS platforms include:
A global platform solution to streamline communications for both remote workers and regional offices
The ability to quickly deploy state-of-the-art communications features to any connected device with a working internet connection
Reducing telephone expenses by embracing VoIP solutions and providing access to the latest features, including call forwarding, voicemail, and other solutions on the go
Blending VoIP with other features such as video conferencing, text messaging, and collaboration capabilities to create a holistic communications solution that can scale with your business
Embracing technological advancements like Dialpad's Voice Intelligence, which helps lay the foundation for better communications and increased productivity
Operational gains that include saving money, streamlining billing and contract management, and simplifying vendor interface
What Features Do UCaaS Platforms Typically Have?
UCaaS platforms typically offer similar features, but you should still look into the specific features each provider offers to help you evaluate whether they are a good fit for your needs. Some features you should expect from a unified communications platform include:
VoIP services that provide voice solutions over an internet connection
Mobile VoIP solutions that enable users to forward calls or access their work line from any connected device
Supporting features such as call waiting, voicemail, and caller ID for a robust voice experience
Cloud-based administration for things like setting up new users, troubleshooting issues, and evaluating account status
A Contact Center to power your customer success, sales, and market research teams
Call routing to help determine where incoming calls belong and features to manage call flow during peak times
Conference call capabilities
Text and video chat applications for diverse communications
Security features and communications tracking functionality
What is the History of UCaaS Platforms?
PCMag reports that UCaaS is an extension of popular VoIP solutions that took over voice telephony in the last decade. As organizations looked to modernize their voice offerings, VoIP became popular.
With the rapid growth of data networks and internet capabilities, new tools emerged to support collaboration and communications at a higher level. Initially, many of those solutions involve significant upfront infrastructure investments, which became a barrier for all but the largest firms.
As the "as a service" movement became more prevalent, unified communications delivered over internet connection became a possibility. Software expanded the potential for UCaaS platforms — a mix of major players and innovative startups — to bring new offerings to the table. Increased adoption solidified UCaaS as a communications best practice for businesses.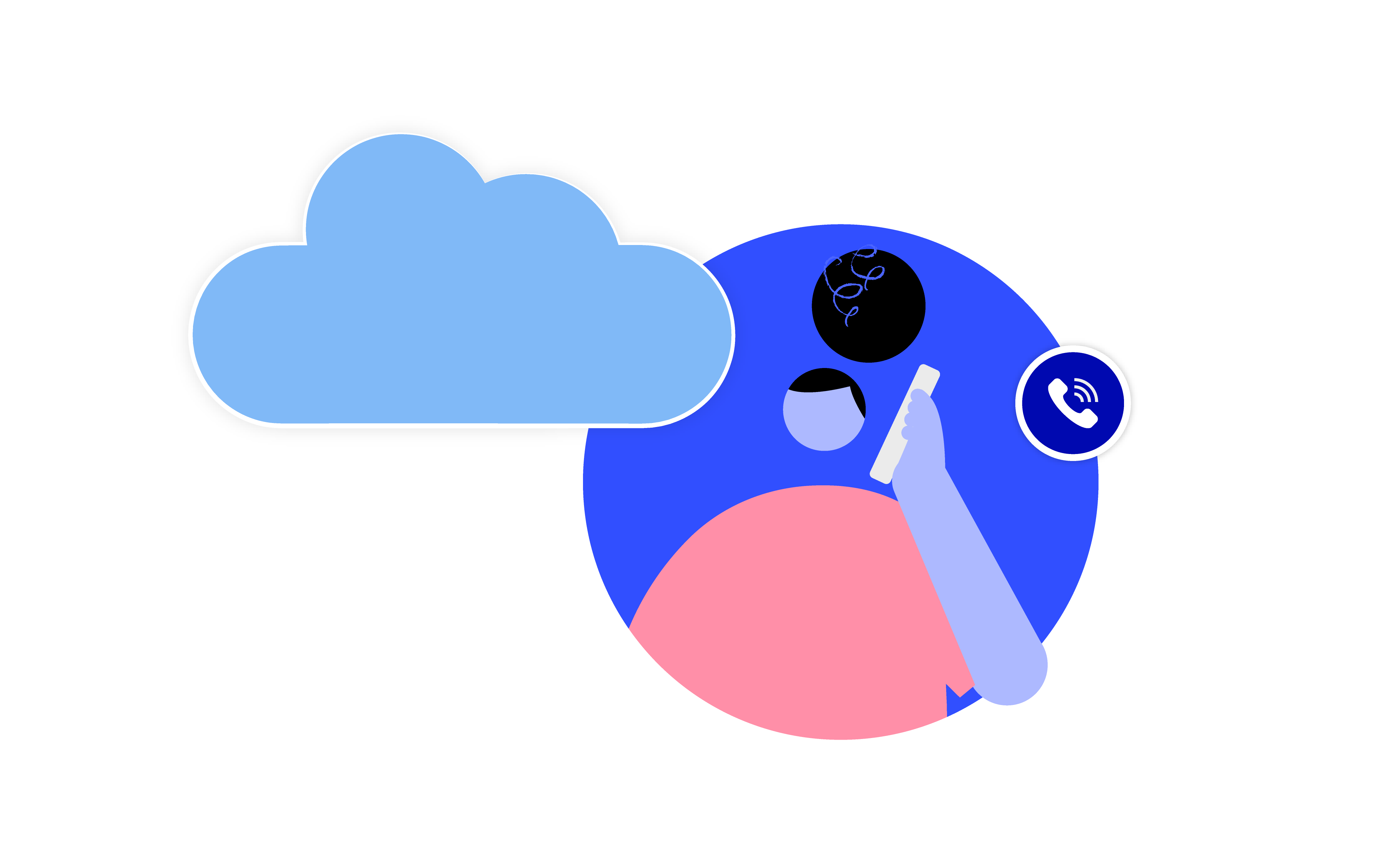 What Are the Latest Trends in UCaaS?
The future of UCaaS is bright, with rapid growth and a host of new features emerging. A few trends to watch include:
Wider adoption: UCaaS adoption will continue to rise as organizations increase remote work, cut costs, and take a technology-forward approach to planning.
AI: Artificial intelligence (AI) and machine learning are helping to improve the performance of UCaaS solutions and expand their usefulness. These technologies can affect things like the ability to intelligently route calls, assess sentiment based on voice tone, and much more.
Migrating to digital workspaces: As UCaaS features continue to evolve and become more sophisticated, many platforms are taking on the role of digital workspaces and collaboration platforms. From file sharing to real-time document commenting, implementing these features alongside traditional UCaaS offerings helps companies develop a centralized digital work plan.
Importance of the marketplace: While third-party integrations are already an important part of unified communications, leading providers are developing a robust network of partnerships to expand the capabilities and impact of their offerings. These marketplaces are likely to become a more significant component of UCaaS value propositions in the years ahead. Introducing APIs will expand what solutions third-party providers can offer.
Services extensions: While UCaaS is primarily a technology as a service offering, another trend you can expect to see is the rise of additional service solutions. From managed services style monitoring and security solutions to pairing a UCaaS call center with a talent management solution, unified communications companies are finding creative ways to increase the value they deliver to customers.
Better data management and analytics: All aspects of today's business world rely on data. Organizations are increasingly finding tools to help them manage, monitor, report, and improve their systems' performance. UCaaS is well-positioned to benefit from this trend, with organizations leveraging automated reporting and intelligence features to speed up customer service, analyze performance, and explore how data can support better decision making and customer experiences.
Integrating augmented reality: Augmented reality is another technology that's intersecting with UCaaS. Many companies use it today for remote training or to help guide junior resources through complex technical repairs. These solutions are often separate from the UCaaS platforms, but one trend you can expect to see is greater integration.
What Should You Look for When Comparing UCaaS Providers?
Switching to a UCaaS provider is a big decision. This partnership will determine how productive employees are and how easy it is for customers to reach you. Choose carefully and look for a UCaaS partner with:
Useful features: What features does the UCaaS platform offer and support? How does that align with your use case and plans to leverage the solution? The best fit can meet your needs today and scale with you as you grow and evolve.
Reliability: look at features such as reliability and uptime to determine if they are the right partner. Any provider you work with will ideally meet or exceed industry standards for uptime.
Security and compliance: UCaaS solutions handle significant amounts of your organization's data and tie in intimately with your network. What security protocols does the platform have in place to protect customer data? What strategies or resources are on hand if a breach or issue occurs? If you operate in a heavily regulated industry, does the platform offer the features needed to keep you in compliance?
Support and contact: Another factor to consider when selecting a communications platform is contact options and support. Will the provider offer you a dedicated account representative? What levels of technical support and customer service are available, both generally and in the case of an emergency? The best options will provide you with 24/7 support through a variety of channels such as email, chat, and call center.
Cost: UCaaS platforms can be a powerful way for businesses to save money. While the cheapest option isn't always the best, a good UCaaS platform can help you gain clarity on the costs of ownership. Think in terms of monthly recurring costs and the total cost of ownership over the life of the contract.
Contract: Does the platform require a long-term commitment or do they offer a month-to-month solution? If you have to sign a contract, is there flexibility if you are unhappy with the service or your needs change?
Third-party integrations: Often, a UCaaS platform can benefit from extended capabilities thanks to third-party integrations. When you evaluate a provider, take time to explore what third-party integrations they support if you need to add functionality down the line.
Get Started with UCaaS & Dialpad
UCaaS providers help organizations streamline and improve their communications technology platforms. Dialpad offers fast, flexible, and cost-effective solutions that help your business stay connected and support every kind of conversation. Make smarter calls to improve your employee and customer experience. Start your free 14-day trial today to see how Dialpad can meet your unified communications needs.