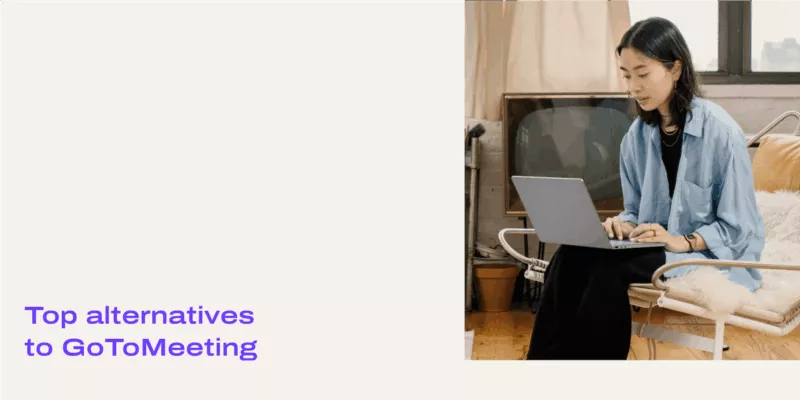 If you're considering GoTo Meeting for your web conferencing solution, but aren't quite sure if it's the right fit for your business (or if there are better options out there), then this guide will break down some of the best alternatives to GoTo Meeting.
Before we compare some of the best GoTo Meeting alternatives, let's look at what GoTo Meeting can do, and some of the most common reasons why businesses want to look at other options first.
What is GoTo Meeting?
GoTo Meeting markets itself as a simple web conferencing platform with HD video that connects dispersed and remote teams online. (A bit of history: it gobbled up join.me, which it rebranded as GoTo Meeting.)
The way its product is packaged though, is a little less simple.
With GoTo Meeting specifically, users can host and join video, audio, and web meetings from any meeting room or remote location using a Mac, PC, or iOS/Android smartphone device.
In addition to that, there's a separate product in the suite, GoToConnect, which is the more "all-in-one" version and includes a VoIP phone system that allows for making phone calls in addition to video conferencing.
Essentially, GoTo Meeting offers a basic video chat tool with screen sharing, whiteboard, dial-in conference lines, and webinar functionality (though you'll have to pay more for it). Typically, it's one of the options that businesses come across when they're looking for something that goes beyond the limited capabilities of basic video conferencing tools like Skype, Bluejeans, and Google Meet (formerly Google Hangouts).
Why would you want to find alternatives to GoTo Meeting?
The biggest knock on GoTo Meeting is probably that it doesn't have a free plan. Its least expensive plan is $14 per user per month, at regular price.1 And the features that it comes with are very similar to most providers' free video conferencing plans.
For small businesses that are looking for a free video collaboration tool, this might be a deal breaker.
Not having a free version is very unusual, as most UCaaS providers offer a free video meetings plan, and then have higher-tiered pricing plans for things like phone calls and SMS/MMS messaging.
Add to that the fact that GoTo Meeting's least expensive pricing plan doesn't come with basics like unlimited cloud recording or voice transcription1, and most businesses would likely be better off with a free video conferencing plan or even paid plan from one of the more robust providers on the list below.

A few factors to consider as you evaluate GoTo Meeting alternatives
If you're evaluating web conferencing software alternatives to GoTo Meeting, here are a few considerations to keep in mind:
Features
Does the tool offer all the basic features you get with GoTo Meeting, like unlimited video calls, instant messaging, screen sharing, and a mobile app?
Then, the next question is what extra features your GoTo Meeting alternative offers. How much extra do you have to pay for voice calls? Is there integrated contact center functionality?
Customer support
Does the solution provider offer round-the-clock remote support in case anything goes wrong?
Can you get phone, web, and chat support around the world (not just in the US)? What hours is support available? Is there an online Help Center where you can find answers anytime?
Cost-efficiency
Video conferencing platforms like GoTo Meeting should be a cost-effective option for communications, and the fact that it doesn't have a free pricing plan can be a blocker because it's something that you'll easily be able to find in many of the alternatives below. Once you compare the plans and features, it's pretty clear that most of the GoTo Meeting alternatives cost less and give you more functionality.
Ease of use
You've got enough on your plate without having to spend valuable time dealing with difficult-to-use video conferencing software.
When you're looking at and trying alternatives, make sure to look at the setup process (how long does it take to set up or add users?) and how easy it is for attendees to join online meetings. Do they have to download an app, or can they join from a web browser by clicking a link?
Dialpad, for example, lets you do exactly this—and if you tend to have online meetings with prospects or clients (who may not want to download an app just to join your meeting), then this is an important feature to have:

(Fun fact: Dialpad was recognized by TrustRadius in the ​​its 2021 Best Feature Set and Best Usability Awards.)
Range of integrations
Integrations are important because they connect your favorite business apps to help you minimize data entry and streamline workflows. (Example: Creating a Google Calendar event and having the meeting link automatically populated.)
The top 10 GoTo Meeting alternatives and competitors, ranked
1. Dialpad: A truly unified communications platform that lets you talk, message, and meet in one place
Dialpad is our number one GoTo Meeting alternative—and no, it's not just because we're a little biased.
Not only is Dialpad a solid web conferencing tool with a robust free plan, it's so much more. At its heart, Dialpad is a unified cloud communications solution that lets you have HD video meetings, hop on a phone call, send an SMS or group chat, do file transfers, and more, from an intuitive user interface:
Dialpad's high-quality video ensures that all participants have a smooth experience, and the desktop and mobile app works across iOS, Android, Mac, and PC—and equally importantly, it's easy to deploy and manage.
Whether you're running a small business or large organization, if you need a robust communications platform that just works on your computer or mobile device, Dialpad is one of the best options out there. You can invite someone to a video conference or share your screen with someone just by sending them an SMS with a link in it—again, no downloads needed:
Here's a closer look at some of the unique things you get with Dialpad.
Built-in real-time transcriptions, powered by industry-leading AI
Dialpad Ai combines natural language processing (NLP), voice recognition, and machine learning to transcribe calls in real time—more accurately than almost all leading competitors:
It's one of the few features that aren't available on the free plan, but it's well worth it for teams that have lots of customer calls or need automated note-taking or transcriptions for their online meetings.
Not only that, Dialpad Ai can also recap your meetings into a concise call summary with action items and other key highlights:

If your business deals with a large volume of inbound inquiries, you probably rely on some kind of cloud contact center software to facilitate those all-important conversations that drive your business. With Dialpad, the internal communications platform and contact center platform are fully integrated, to keep all your communications in one place:

What makes it the best GoTo Meeting competitor?
If you're in the market for a versatile and scalable all-in-one communications solution that's more than just video conferencing software, be sure to try out Dialpad.
Not only is it intuitively designed (fun fact: Dialpad was built by the team that created Google Voice), Dialpad brings together all your communication and collaboration needs into one tool that's robust, but not overly complicated.
On top of that, its pricing is reasonable for both small businesses and enterprises, with a free video meetings plan—if you need phone calls, Dialpad's most basic plan starts at only $15 per user per month, and comes with a virtual phone number, unlimited calling in your country, the US, and Canada, business phone essentials like call forwarding and call routing, and a lot more.

Try Dialpad for free for 14 days
Signup takes just a few minutes, and you'll be set up with a business phone number too. Or, take a self-guided interactive tour of the app first!
2. Zoom
Zoom took over the world's laptops when the global pandemic hit, and there's a reason it's high up on this list of video conference tools at #2.
But is it a good GoTo Meeting alternative for businesses?
Like Dialpad, Zoom allows you to have video meetings and webinars (though this is also paid) as well as do screen sharing and send group chats on the platform. One of the biggest disadvantages of Zoom, of course, is security. Because of its widespread mainstream popularity, Zoom has also been the target of many cyberattacks and "Zoombombings." So much so, that Google, NASA, and other organizations have banned their employees from using Zoom.
What makes it better than GoTo Meeting?
That being said, Zoom is one of the more feature-rich video conferencing platforms. Like Dialpad, Zoom has a free video meetings plan, which GoTo Meeting doesn't have at all.
3. RingCentral MVP
RingCentral is a business communications solution that's been around for decades. Like Dialpad, it offers voice calls, meetings, messaging, and contact center functionality (though its contact center platform is whitelabeled and not its own). Compared to GoTo Meeting, RingCentral has a pretty wide range of functionality.
What makes it better than GoTo Meeting?
Again, RingCentral does have a free video chat plan that lines up well with GoTo Meeting's paid Professional plan—and it doesn't make sense to pay for a plan when you could get the same or even better features for free elsewhere. That being said, RingCentral is generally considered a legacy provider and started out in the telecoms space—which means that it's not quite as flexible or scalable as cloud-native solutions like Dialpad and Zoom.
4. Webex
Cisco Webex is an audio and video conferencing platform designed for businesses. Users can have real-time video meetings and conference calls—however, one of the biggest hindrances of Webex is that you have to download the application to use it.
If you have video meetings with people outside your company often, this can be a dealbreaker as many people prefer not to have to download an app just to join an online meeting.
What makes it a good GoTo Meeting competitor?
Cisco Webex is quite a mature product compared to GoTo Meeting, and again, it actually has a free plan that lets you have online meetings with desktop sharing.
5. Nextiva
Nextiva is another business VoIP solution that combines a range of collaboration tools into its UCaaS platform. However, its video conferencing product is not its own—it's actually Amazon Chime, whitelabeled under Nextiva's brand so that it can market itself as a "unified" communications solution. This is in addition to the fact that Nextiva's VoIP2 and contact center solutions3 are both also whitelabeled and not built by its own team, which is even more unusual.
Like GoTo Meeting, Nextiva doesn't have a free plan for its video conferencing product4—so if this was a reason that you were looking elsewhere, you can skip to the next option on this list.
What makes it a good GoTo Meeting competitor?
Nextiva has been around for quite some time, and even though its video conferencing product isn't its own, it generally has a good reputation in the industry. However, it's further down this list because of the lack of a free meetings plan.
6. Vonage
Vonage is a business and residential communications solution that lets you communicate through different channels in an app. However, even though it's an established brand, there is no free video conferencing plan and you don't get meeting recordings unless you're on the most expensive plan.
Learn more about the best Vonage alternatives.
What makes it a good GoTo Meeting competitor?
Vonage is overall pretty similar in functionality to GoTo Meeting—it's more down to your personal preference, what interface you like, and if there's any niche features that you get with one and not the other.
7. Ooma Office
Ooma Office is a small business phone system that could be a fair alternative to GoTo Meeting—but really, only if you need a business phone system, and if that's the case, the other UCaaS providers on this list are stronger options. If you're a small business or looking for an affordable video conferencing solution, there's also no free plan with Ooma Office, so this isn't the best option here.
What makes it a good GoTo Meeting competitor?
Again, the two are pretty close and it really depends on what your specific business needs. Ooma Office started out as a telephony provider, so its phone calling features are stronger than GoTo Meeting, while GoTo Meeting has more video conferencing-focused features like webinar functionality. If you aren't interested in any phone-related features, GoTo Meeting might actually be a better option.

8. Bitrix24
Bitrix24 is a collaboration platform that is a mish-mash of many vastly different features like audio and video calls, group chat, project management tools, a CRM, website builder, and more.
This is probably both the best and worst thing about it, since you get a huge variety of tools—but it may be more of a Jack-of-all-trades, master-of-none situation. We can't tell you which it is, but if you're curious, it's probably best to try it out yourself.
One good thing is that Bitrix24 does offer a free version for businesses.
What makes it better than GoTo Meeting?
Whereas GoTo Meeting is limited to video communication tools, Bitrix has the website builder and project management tools too, so if you want a bunch of different collaborative tools without paying for anything, this might be a better option that GoTo Meeting.
9. 8x8
8x8 does have a video conferencing software, but it's probably best compared to RingCentral and Nextiva in that they all started as telephony providers.
It doesn't have a free video meetings plan—8x8's lowest pricing tier is a "Small business phone system" plan, and as you go up the tiers you'll get things like webinar functionality.
Like those GoTo Meeting alternatives, 8x8 is among the old school "legacy" brands.
What makes it better than GoTo Meeting?
Similar to Ooma Office, if you need a phone system, 8x8's base plan includes those features at a lower price than GoTo Meeting.5 But if you do need the business phone system features, then you should be comparing 8x8 to some of the top options on this list, like Dialpad, and seeing what you get.
What's the best alternative to GoTo Meeting for your business?
If you're looking for GoTo Meeting alternatives, it's worth checking out Dialpad.
Dialpad unifies your business communications while providing you with all the tools you need to effectively communicate, collaborate, and get work done. Video conferencing software is a must, but today's world of hybrid and remote work requires more robust solutions!
With Dialpad, you can integrate all your favorite business apps to create a truly unified virtual workspace that empowers employees to work from anywhere, on any device. As the world of UCaaS continues to evolve, it's important to choose a solution that'll grow with your business. Dialpad does just that.
With built-in AI and countless integrations that help your teams to work smarter, Dialpad is a clear choice if you want to give your business the competitive edge it needs to succeed.
Ready to take Dialpad for a test drive? Take it for a spin with the free 14-day trial today.
Ready to try the best GoTo Meeting alternative?
Try Dialpad for free—signup takes just a few minutes, and you'll be set up with a virtual phone number. Or, take a self-guided interactive tour to play around with the app on your own first!
1goto.com/pricing/meeting

2talkingpointz.com/nextiva-competing-around-the-customer-experience/
3businesswire.com/news/home/20210609005705/en/Nextiva-and-Five9-Team-Up-to-Help-Businesses-Deliver-Seamless-Customer-Communications
4nextiva.com/nextiva-pricing.html
58x8.com/products/business-phone