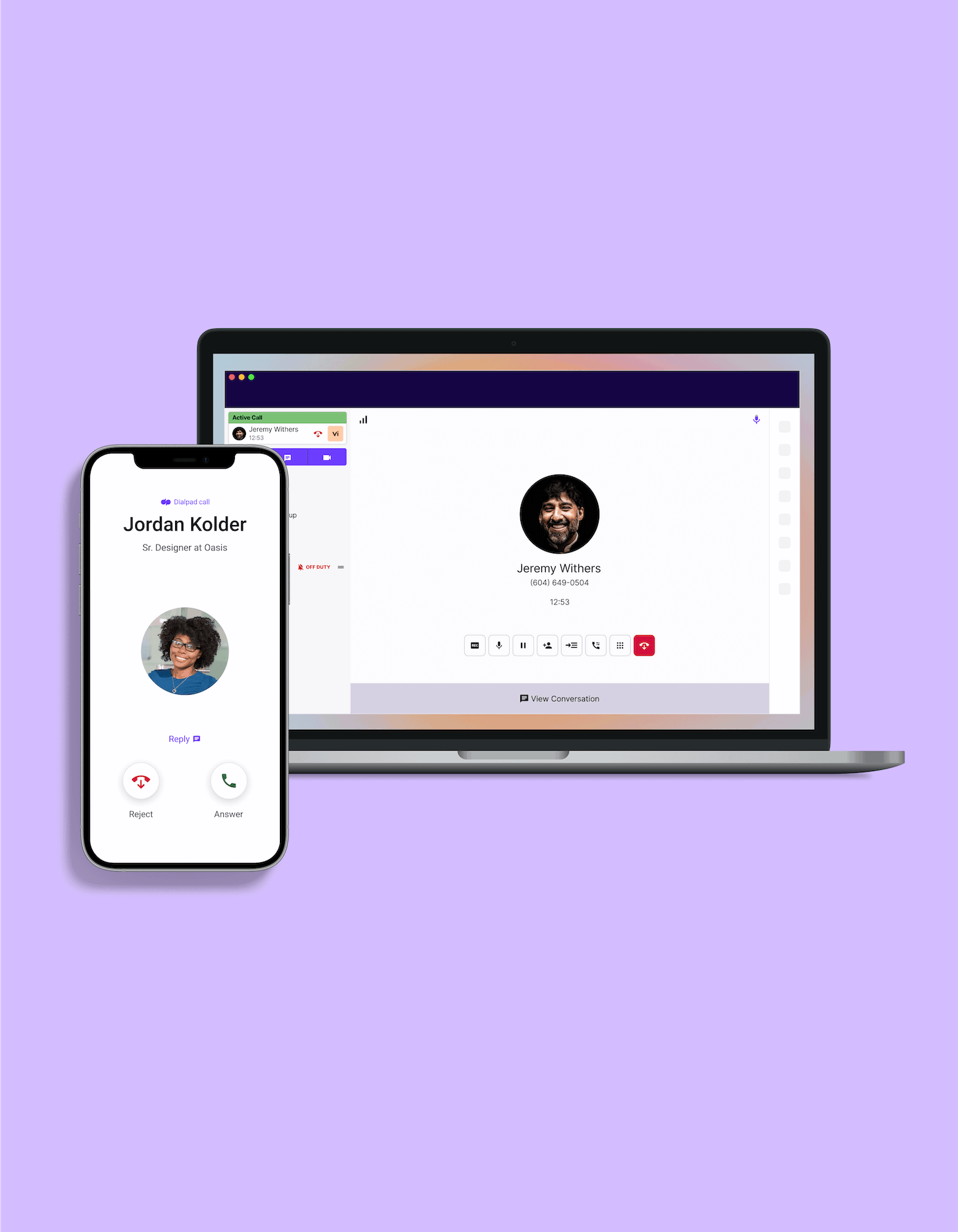 A built-in business voicemail feature
Need a phone system with a voicemail feature? Dialpad's communications platform has exactly that. Handle missed calls professionally and access messages from anywhere with Dialpad's flexible and intuitive voicemail feature. See how it works with a product tour.
A better way to manage voicemails
If you can't answer every call, then voicemail is a must-have.
Whether it's an important client call or a prospect calling you back to close the deal, having an easy way to access and retrieve voicemails is crucial, especially if you're in sales or business development.

With Dialpad, you can set up, make changes to, and listen to voicemails easily. Thanks to a PIN-less message system, you don't have to wade through tiresome prompt menus to access your voicemails or settings. You can even easily adjust the number of times the phone rings before a call is sent to voicemail.
"
Dialpad can do voicemails, it can do faxes, it can do so many different things. I use Dialpad for pretty much all of my communications. The fact that if somebody calls and it'll pop up on my cell phone even if I'm not in front of my computer has been a huge help.
"
Steve Miller
Owner and Attorney, Miller Law Firm
Setting up your voicemail greeting
With Dialpad, you can set up your voicemail greeting in just a few seconds. Record your own greeting, use an existing MP3 file, or just use the default recording that's already set up in Dialpad.
Your recordings can be up to 45 seconds long, and you can upload MP3 files that are 10MB max.

(You can also save several voicemail recordings in your account in case you want to change your message later for when you're out of office.)

Learn more about recording your voicemail here.
Retrieving your voicemail
All of your voicemail messages are automatically saved to your inbox under your Voicemails tab. Here, you can open your inbox to play back a voicemail, listen in to a voicemail as it's being recorded, or delete messages that you no longer need.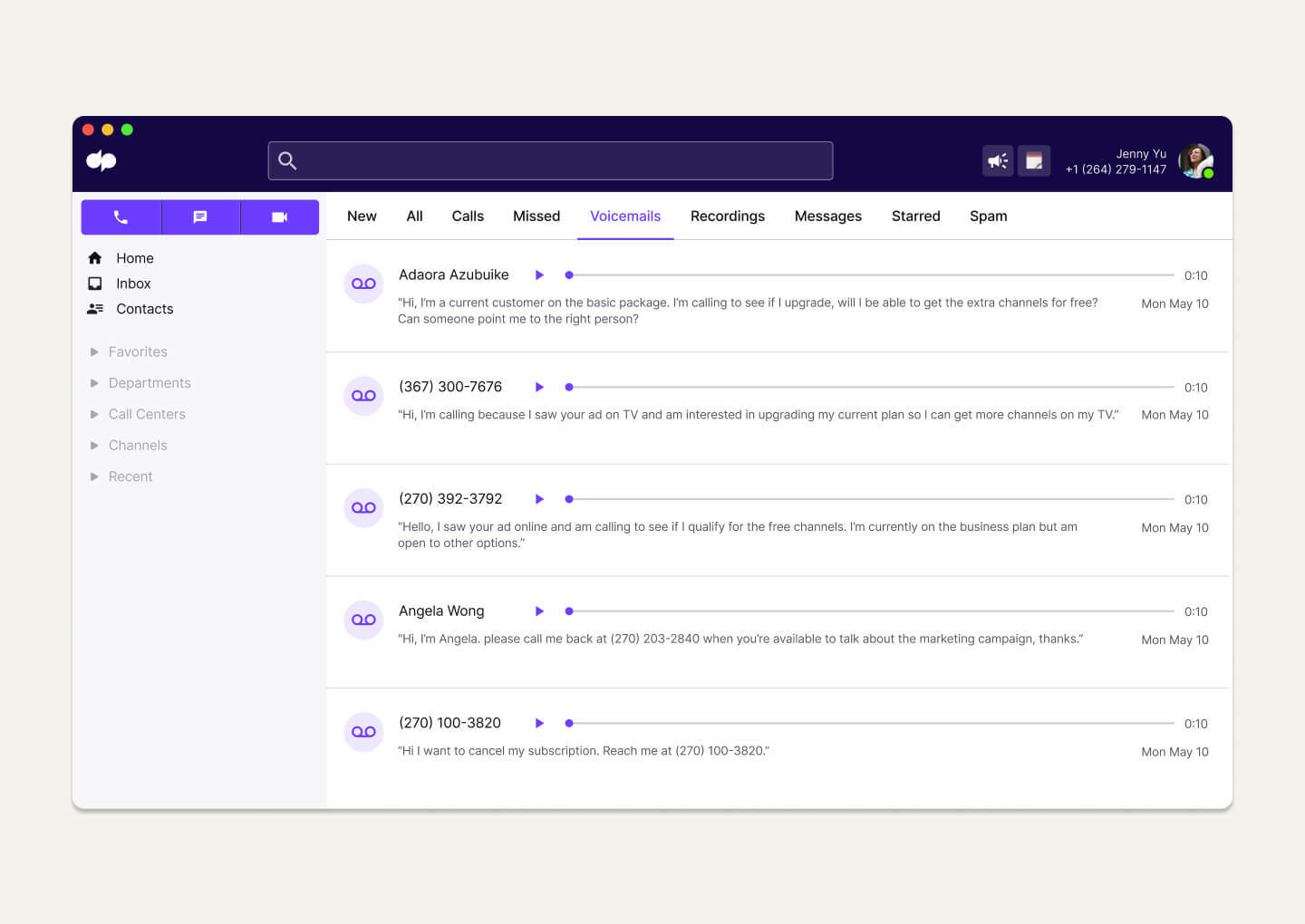 To make them easier to sort, Dialpad stores voicemail messages in your inbox along with the caller ID, the time the call was made, and the call duration.

From there, you can download the voicemails as an MP3 file to save on your computer or USB drive, or send it in an email. Alternatively, you can have your voicemails backed up directly to your Google Drive by going to "Advanced Settings" and selecting "Cloud Backup."

(To make sure you don't miss a message, you can also choose to get an email sent to you every time you receive a voicemail message.)

If your Dialpad calls come through to your cell phone, and you don't want your normal cell phone voicemail to pick up the message, you can apply a setting to have all those voicemails sent to your Dialpad inbox too. Because everything is in one convenient app, you'll be able to check your missed calls, listen to call recordings, and more, all right here: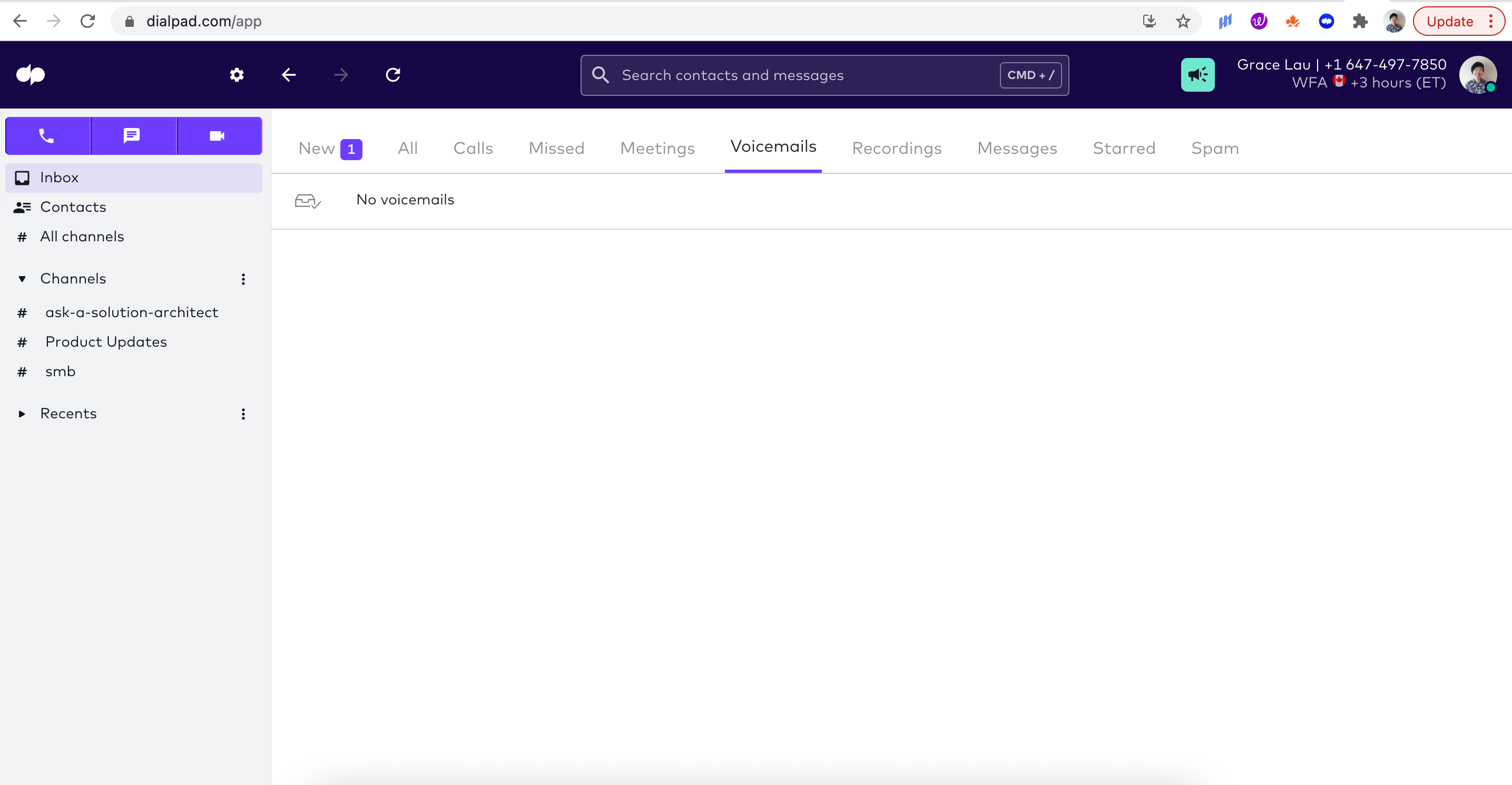 Need a business voicemail feature?
Dialpad's unified communications platform lets you make phone calls, have video meetings, and send instant + SMS messages—all in one app. And of course, it has an easily customizable voicemail feature built right in. Get set up with a virtual business number in minutes and try it out with a 14-day trial!
Frequently asked questions about voicemail
Can I set different voicemail greeting messages for when I go on vacation?
Yes! You can save several personalized voicemail messages—like an out of office message—in your account and activate them as you need to.
Does the voicemail feature cost more?
Can I make sure that my calls are not routed to my cell phone's personal voicemail?
Can I access voicemail on all devices?
Can I get transcriptions of my voicemails?