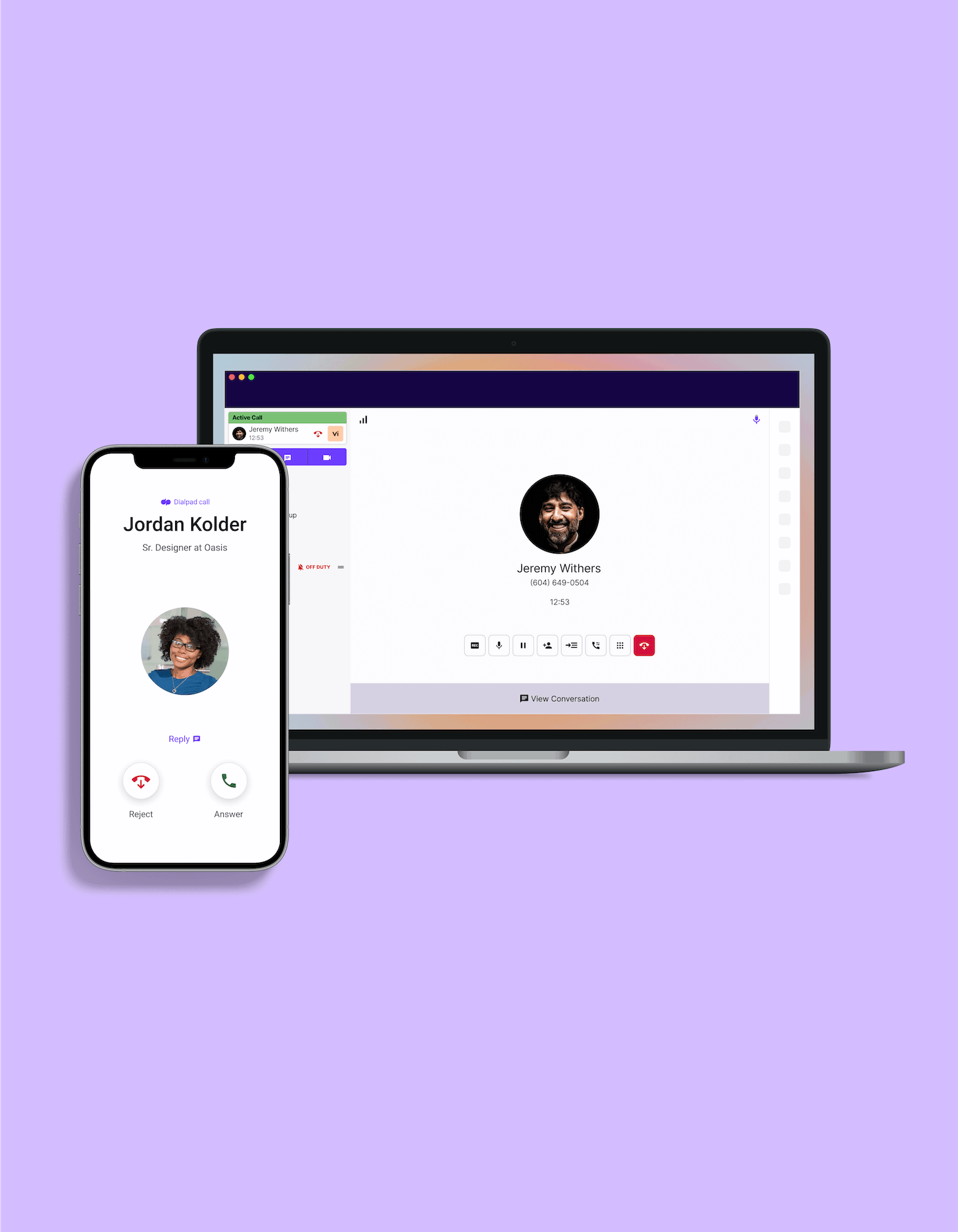 A built-in business voicemail feature
Need a phone system with a voicemail feature? Dialpad's communications platform has exactly that. Handle missed calls professionally and access messages from anywhere with Dialpad's flexible and intuitive voicemail feature. See how it works with a product tour.
What is a business voicemail service?
A business voicemail system is similar to the usual voicemail features you're used to—someone calls you, you're not available to pick up the call, and they leave you a "voicemail" message that you can listen to later.
The difference with business voicemail features is that the functionality is a little more sophisticated. The best business voicemail systems can do everything from providing playback, offering automated notifications (to your email inbox, etc.), handling transcription, and incorporating a variety of other useful features.

"
Dialpad can do voicemails, it can do faxes, it can do so many different things. I use Dialpad for pretty much all of my communications. The fact that if somebody calls and it'll pop up on my cell phone even if I'm not in front of my computer has been a huge help.
"
Steve Miller
Owner and Attorney, Miller Law Firm
Setting up your voicemail greeting in Dialpad
With Dialpad, you can set up your voicemail greeting in just a few seconds. Record your own greeting, use an existing MP3 file, or just use the default recording that's already set up in Dialpad.
Your recordings can be up to 45 seconds long, and you can upload MP3 files that are 10MB max.

(You can also save several voicemail recordings in your account in case you want to change your message later for when you're out of office.)

Learn more about recording your voicemail here.
Retrieving your voicemail
All of your voicemail messages are automatically saved to your inbox under your Voicemails tab. Here, you can open your voicemail box to play back a message, listen in to a voicemail as it's being recorded, or delete messages that you no longer need.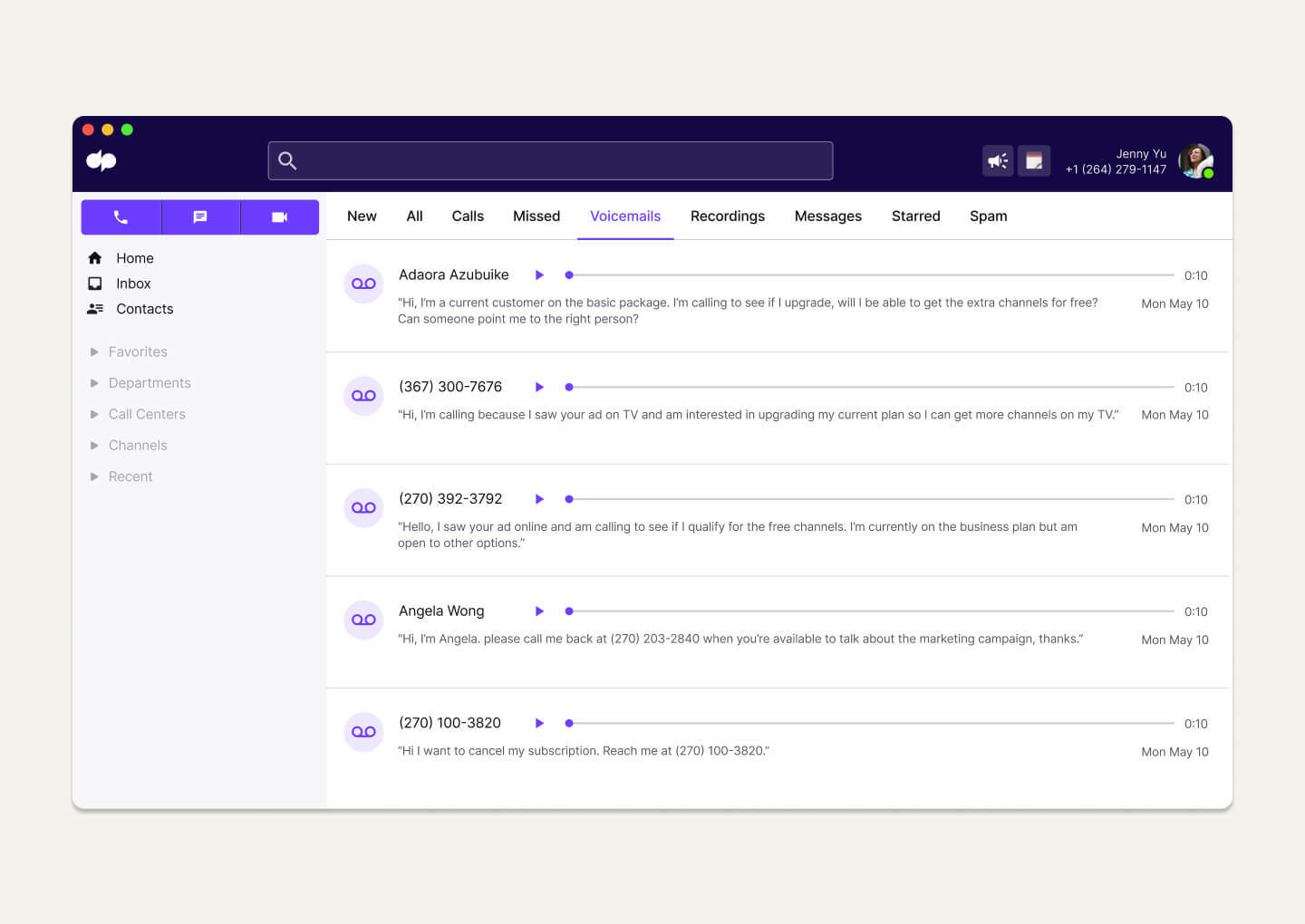 To make them easier to sort, Dialpad stores voicemail messages in your inbox along with the caller ID, the time the call was made, and the call duration.

From there, you can download the voicemails as an MP3 file to save on your computer or USB drive, or send it in an email. Alternatively, you can have your voicemails backed up directly to your Google Drive by going to "Advanced Settings" and selecting "Cloud Backup."

(To make sure you don't miss a message, you can also choose to get an email notification sent to you every time you receive a voicemail message.)

If your Dialpad calls come through to your cell phone, and you don't want your normal cell phone voicemail to pick up the message, you can apply a setting to have all those voicemails sent to your Dialpad inbox too. Because everything is in one convenient app, you'll be able to check your missed calls, listen to call recordings, and more, all right here:
You can also forward your voicemail messages to teammates if needed in Dialpad:
Dialpad: Not just your typical voicemail app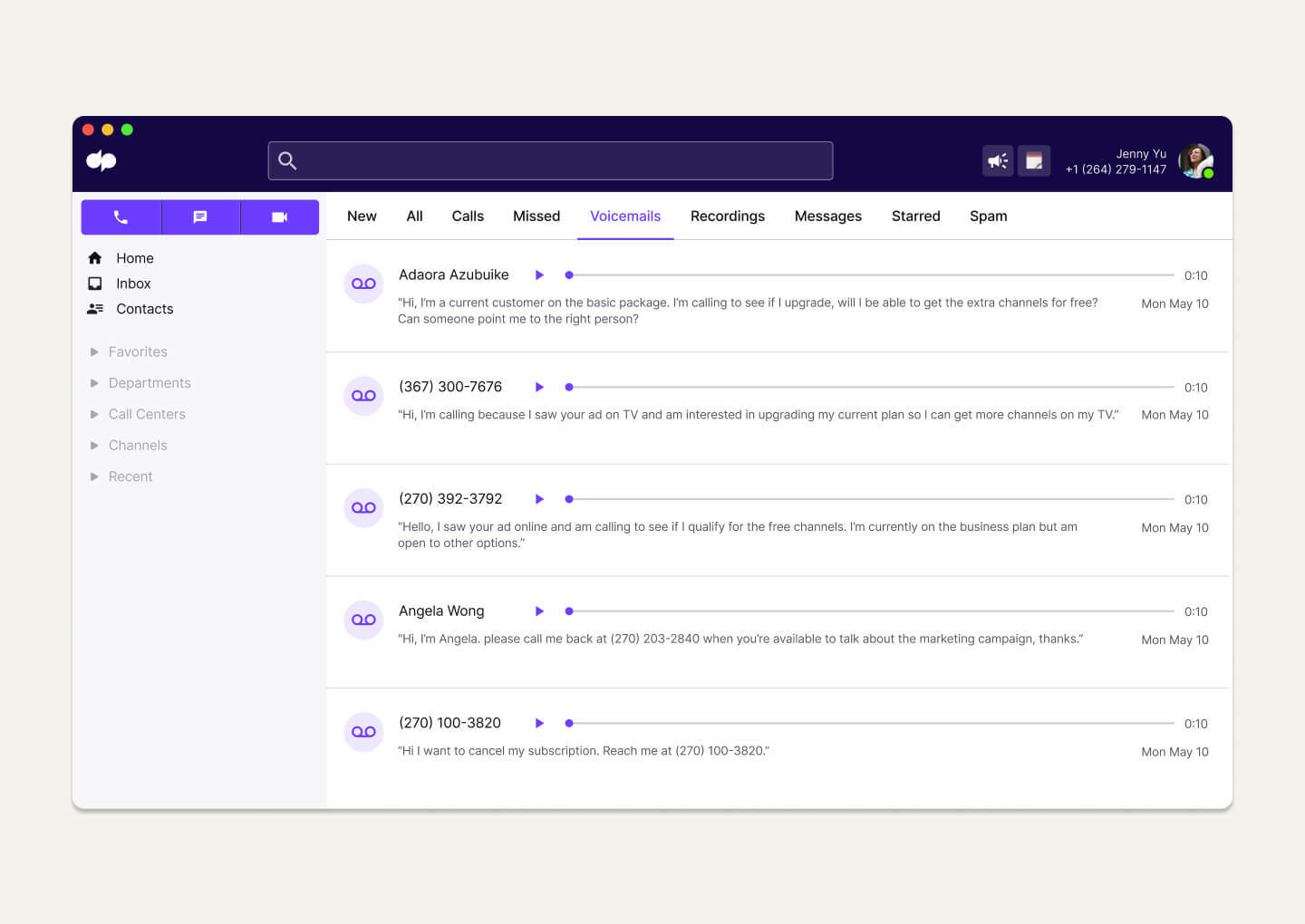 Voicemail transcription
With Dialpad's voicemail transcription feature, not only do you get real-time voicemail-to-text, but it also transcribes your video meetings and phone calls—again, in real time.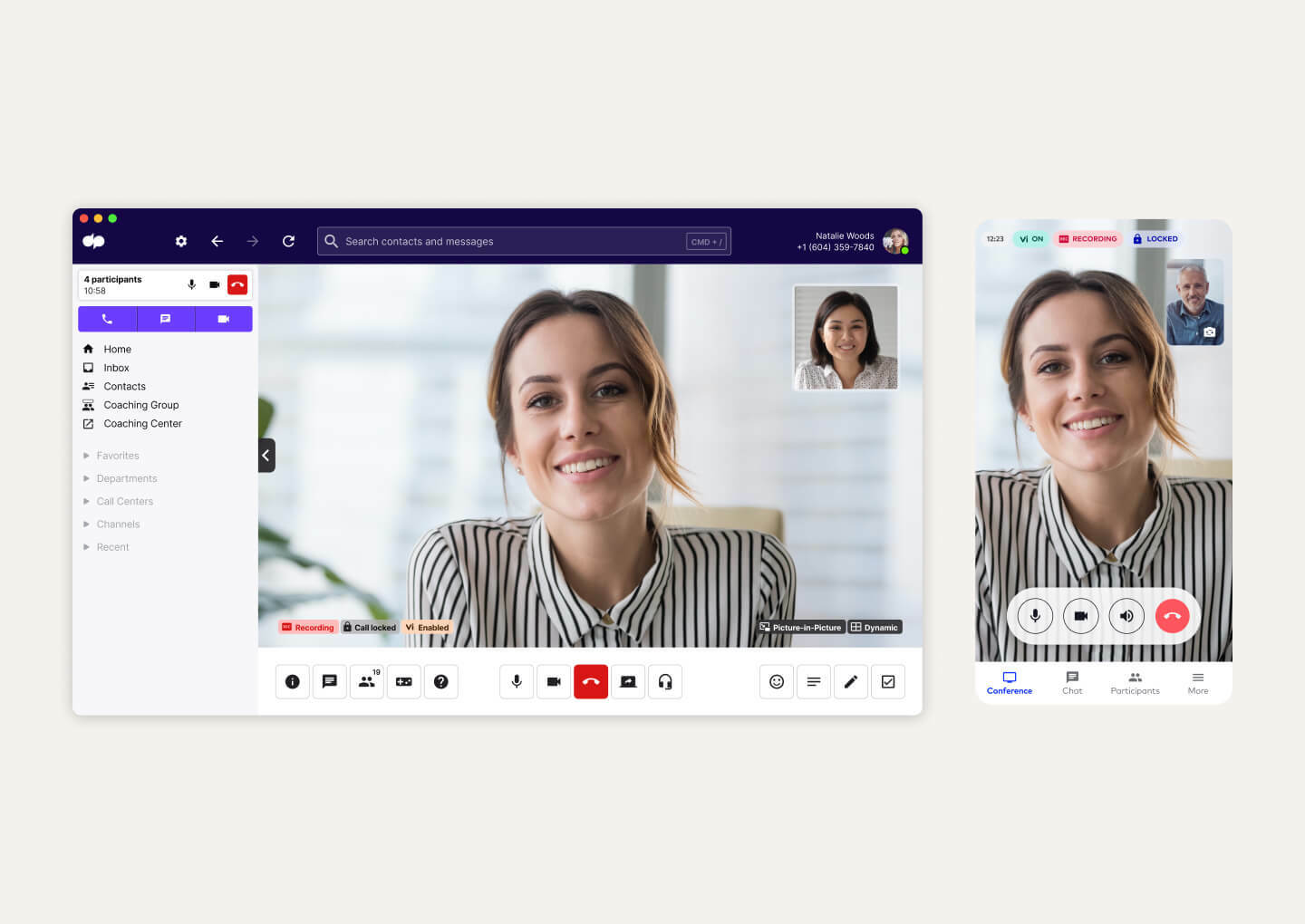 Truly unified communications
Make phone calls, have video meetings, send SMS text messages, and yes, get voicemail notifications too, all from Dialpad's desktop or mobile app. All you need is a Wi-Fi connection or a cellular network, and the app works across iOS, Android, PC, Mac, and even web browsers!
Easy setup
From managing and adding phone numbers, to updating your voicemail greeting and adding users, Dialpad is incredibly easy to use. You can do all your everyday admin tasks, like these, right from your online dashboard.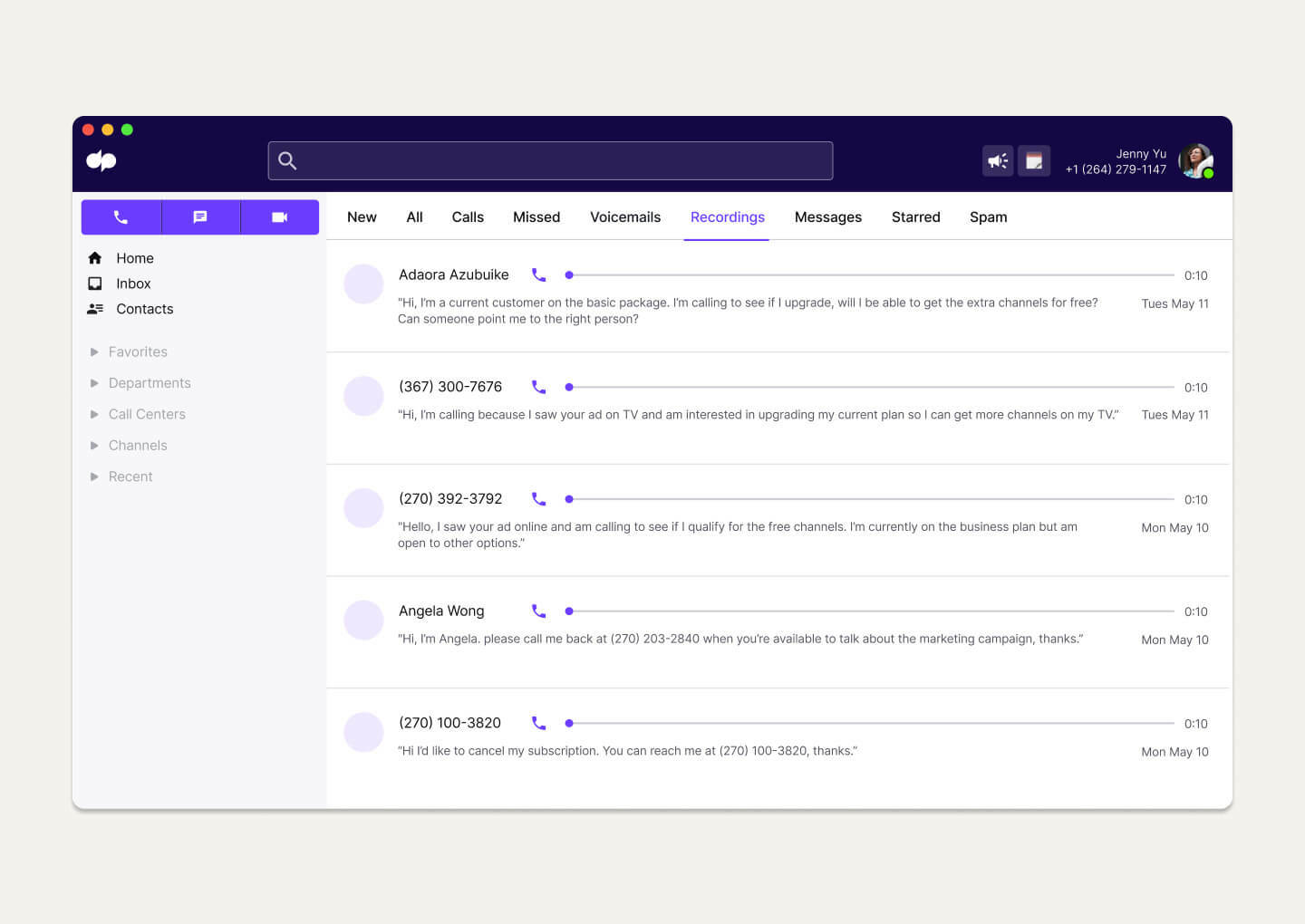 Unlimited call recordings
Need to record calls for training or compliance reasons? Dialpad lets you record calls and video meetings with just a click or tap. To listen to your recordings, just go into your inbox view in the app, where you'll see them, along with your voicemail messages, missed calls, and more!
Voicemail drop
This is a bit of a different feature, but if you have a sales team that does a lot of cold outreach, Dialpad's voicemail drop feature lets them pre-record a voicemail message and "drop" it into the call when they hit a prospect's inbox. (This can save hours of time a week depending on how many calls reps make!)
Need a business voicemail feature?
Dialpad's unified communications platform lets you make phone calls, have video meetings, and send instant + SMS messages—all in one app. And of course, it has an easily customizable voicemail feature built right in. Sign up for a 14-day free trial to get set up with a virtual business number in minutes and try it out!
Frequently asked questions about voicemail
What's the benefit of visual voicemail?
Voicemail transcriptions are useful for a few reasons, but the biggest one is that sometimes, we just can't listen to an audio file or voicemail message. You might be in back-to-back meetings, or just be otherwise occupied during the day. If you have a real-time voicemail transcription feature, you can quickly scan the message and see why your caller wants to reach you, without having to step out or take a pause to listen to the audio.
Can I set different voicemail greeting messages for when I go on vacation?
Does the voicemail feature cost more in Dialpad?
Can I make sure that incoming calls are not routed to my cell phone's personal voicemail?
Can I access and use voicemail on different devices using Dialpad?
Can I get transcriptions of my voicemails?
Do I need to pay for a separate voicemail provider?