Back to Blog
Top 10 alternatives to Webex for business meetings and conferencing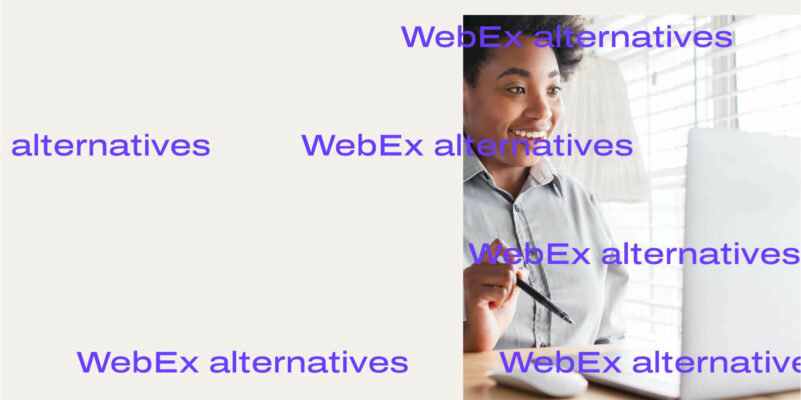 In today's hyper-connected digital world, video conferencing is an essential tool for keeping businesses connected to teams and customers in real-time. Whether it's your team or your client base that's spread across the world, video meetings are a great channel to use in order to stay in touch.
Not only does video conferencing software for small business increase employee engagement and productivity, it also helps businesses save on travel costs. (In fact, companies save $11,000 annually per employee by using video conferencing tools!)
If you're in the market for calling and video conferencing software, you'll likely come across Cisco Webex. Webex is a well-known overall collaboration and video conferencing solution—but it definitely has its limitations.
But with so many different web conferencing tools out there, how do you know which one is right for your business?
In this article, we're look at 10 feature-rich, robust Webex alternatives that are designed for businesses.
What is Webex?
Cisco Webex is a communications solution that's marketed to enterprises for things like video conferencing, VoIP calling, screen sharing, and webinars. The platform has features that have made it a relatively popular tool for office or remote work, but it's not always the best choice for everyone.

Webex's cloud phone system enables you to manage customer calls with basic features like call waiting, call forwarding, and call routing. With a desktop and mobile app, participants can join meetings whether they're in the office meeting room or on-the-go.
During video meetings, you can take advantage of collaboration tools like screen sharing, a digital whiteboard, built-in chat, polling, and Q&A functionality. You can also record webinar events which is handy if you want to share them with your team later or use them for training purposes.
Why would you want to consider alternatives to Webex?
Webex's free version might stand out for small businesses, but it's pretty limited in terms of functionality.
Webex's no-cost web conferencing is capped at 50 minutes, which is decent but might not have all the features you need to facilitate team meetings or workplace collaboration. Although it's a potential option for small teams, as your business grows it might not provide the scalability and reliability you need. It can also get pretty expensive as you leave the free video chat plan and move up the tiers.
Despite the range of great features that its video and audio conferencing solution provides, speed and video quality can be affected when using some of them like desktop sharing or screen control. More importantly, it requires meeting participants to download the application before joining—something that almost none of the Webex competitors requires because it makes it unnecessarily difficult for clients and prospects to join your meetings.
How we assessed these Webex alternatives
Features
Of course, this is a big one. We looked at whether these alternatives offer all the key features that Webex does, like HD video conferencing, screen sharing, VoIP calling, messaging, and integrations with other business apps.
More importantly, are these features included in its basic plan or do you need to upgrade for full access?
Customer support
Does the service provider offer robust customer support? You might think this is a given, but it's not always the case! If you're managing a busy remote team located in different time zones throughout the world, you'll want to ensure the provider offers 24/5 or even 24/7 support options.
Make sure to check the pricing tiers for your Webex alternative and what level of support it comes with.
Ease of use
You've probably tried to join a Webex meeting at some point, and found that you need to download the Webex client in order to be a part of the conference. The result is usually that the first five minutes of the meeting are spent waiting for people who show up late because they are downloading and running the .pkg or .exe.
Imagine the impact that can have on your customers and prospects when they try to join that call. (Downloading the pkg is the first option Webex gives you, because you can only get full access to the features that you paid for with the desktop app.) There is an option to join via your web browser, but some features will be limited there.
When assessing the ease of use for each platform, we considered how long it takes to get started, how intuitive the desktop and mobile apps are, and how easy it is to manage as an administrator. We also looked at its scalability, which is an important factor for growing businesses to take into account.
Cost-efficiency
We looked at how cost-efficient each solution is both initially—for instance, what pricing plans it offers—and in the long run.
For most businesses, there's no point in investing in a cheap solution that doesn't have the capacity to scale as your organization grows. So, it's important to look at whether you'll have to fork out extra for add-on features, local and international calling, or new user and onboarding fees.
Call quality
Whether you're talking to customers, prospects, or teammates, there's nothing more frustrating than a poor-quality phone call. You know, the kind where you have to ask someone to repeat themselves every second sentence—which is definitely going to impact your customer satisfaction scores, by the way.
Because of this, call quality is a super important metric that we've used to help determine which of these Webex alternatives are the best option for your business.

Integration
If you want to make your digital workspace as productive as possible, you'll want the option to integrate your communications platform with all of your other favorite business apps. Think CRM, productivity, sales engagement, workflow automation apps, and so on.

Top 10 Webex alternatives and competitors
1. Dialpad: A truly unified, born-in-the-cloud platform that lets you talk, message, and meet in one place

Dialpad provides businesses with all the same functionality as Webex—and then some.
It's much more than just a web conferencing platform or phone system. Dialpad is a cloud-based unified communications solution that brings together voice, video, and messaging, together in one app. It's designed to help remote and hybrid teams collaborate with each other (and communicate with clients and prospects) easily, whether they're in a meeting room or working from anywhere.

No more wasting time toggling between Skype and Slack or Gmail and Adobe Connect—your team can get everything done in a single, unified workspace. The desktop and mobile app works across Windows, Mac, iOS, and Android devices.
Built on the Google Cloud Platform, Dialpad offers high-quality calls, unbeatable reliability (100% uptime SLA for enterprise customers), and robust security to keep your business and customer data safe.
If you need video calling or online meetings, you can do it right in the same window where you'd make phone calls and send SMS messages from.
And of course, there's a screen sharing feature that lets you choose whether you want to share a single tab or window, or your whole screen with desktop sharing:

Fun fact: Whereas free video conferencing solutions are usually affected by the quality of your Internet connection, Dialpad also automatically adjusts video resolutions based on your available bandwidth, so you don't have to worry about freezing up and missing out on important details. If you want to have a whiteboard session with your remote teammates, Dialpad integrates with Miro to let you do that—just as if you were all in the same meeting room:
👉 Did you know?
Dialpad also has a fully integrated cloud contact center platform that empowers your business to provide world-class customer service, with features like IVR, workforce management tools, and dashboards combined with all your communications in a single workspace. And yes, your contact center agents can work from anywhere too, since the contact center platform also works on mobile!
What makes it better than Webex?
For one, Dialpad doesn't require any downloads to work—which is maybe one of the biggest annoyances with Webex. It's fully browser-based, meaning you get full functionality in your video meetings and can still send instant and SMS messages, right inside your web browser:

It's also designed for hybrid team environments—if you're in a huddle room, you can move a meeting from your cell phone to the conference room TV with just a tap:
Finally, if you need to make phone calls regularly, Dialpad's most basic plan comes with unlimited calling—something that Webex does not come with (it's an add-on that you have to pay extra for).1
Features:
Unlimited calling in your country, the US, and Canada on the most basic plan
Instant and SMS/MMS messaging in the US and Canada on the most basic plan
Integrations with CRMs and other tools like HubSpot, Google Workspace, Microsoft 365, Outreach, Salesforce, and more
And open API if you want to build your own integrations
Sign up for a 14-day free trial to get started with a virtual phone number!

🗒️ See what IT leaders look for in a phone system
Grab the CIO Buyer's Guide, (written by our own CIO, who's done a lot of phone system shopping in her time!), which will walk you through what features to look for, nuances to pay attention to when comparing providers, and more!
2. Zoom
Zoom is another popular online meetings solution for small businesses. Originally popular with mainstream consumer users, Zoom is now more widely used by businesses because it's a relatively simple-to-use video conferencing software.
Like Dialpad, it also has a desktop and mobile app, desktop sharing, and meeting recordings.
The biggest disadvantage of Zoom is probably the fact that it's a popular target for hackers and other security concerns, likely owing in large part to its mainstream popularity. This has led to many large organizations like Google and NASA banning the use of it.
The other potential disadvantage of Zoom is the fact that it started out as a video conferencing software—not a phone system. Its telephony product isn't quite as built out as other options on this list, and even though it does have a Zoom Phone product, the overall call quality and experience has a bit of catching up to do.
What makes Zoom better than Webex?
Zoom and Webex are both decent options if you're looking for basic video conferencing software to connect remote teams. Zoom's affordable small business plan also allows you to add up to 300 participants, whereas Webex's starting plan is limited to 150. But if you're looking for a more versatile solution that combines all your communications and collaboration tools in a single platform, Dialpad is a better choice. Learn more about the best Zoom alternatives.
3. Ooma Office
Ooma Office is a business phone system that's built for small-medium businesses. There are just two pricing plans, which are both relatively affordable and easy to get set up.
The lower-tier plan provides basic business phone system features such as HD voice, call blocking, auto-attendant, and seamless call transfer between devices. But, if you want to access its video conferencing service you'll need to upgrade to its Pro plan. (Note that neither plan offers messaging or collaboration tool integrations.)
What makes Ooma Office better than Webex?
If all you need is a basic phone system with simple no-contract pricing, Ooma Office is an adequate alternative for small businesses. But if you're looking for a more robust unified communications solution that lets you do other things too, like have video meetings and send SMS and instant messages, virtual faxes, and more in one place—while still being affordable for small business budgets—check out Dialpad.
4. RingCentral
RingCentral is a well-established cloud communications solution that integrates voice, messaging, and virtual meetings. Like Webex, RingCentral has different collaboration tools on both their small business and enterprise plans, including a range of integrations.

Its pricing tiers are a bit odd, as there's a free video conferencing plan (which Dialpad also has), but the most basic unified communications plan does not come with video conferencing. You have to go up to the next level, and the plans can get pretty pricey.2 Alternatively, Dialpad's Standard plan offers unlimited calling, unlimited SMS and MMS, and advanced calling features from the get-go.
What makes RingCentral better than Webex?
RingCentral and Webex are actually quite similar. Both have been around for a very long time and are targeted at enterprise companies. It does have a slightly better pricing model for phone calls than Webex. Learn more about the best RingCentral alternatives.
5. Nextiva
Nextiva is a VoIP phone system that includes video meeting and messaging, which is similar to other options on this list like Dialpad and RingCentral. With the Essential plan, you can integrate your communications platform with Microsoft Outlook and Google Contacts, but you'll need to upgrade to the next tier for integrations with CRMs, Microsoft Teams, and customer service software.3

What makes Nextiva better than Webex?
Although Webex's Standard plan provides businesses with a range of calling features, the list isn't as extensive as what you get with Nextiva. But, neither match up to what you get with Dialpad (hosted contact center, proprietary AI technology that's built into all its, advanced analytics, and so on). Get a closer look at how Nextiva compares to Dialpad.
6. GoTo Meeting: An array of third-party app integrations
GoTo Meeting is another well-established Webex meeting software alternatives, and is part of a product suite that includes GoTo Webinar and join.me.
You can host video conferences on desktop or mobile, and use plug-ins for Microsoft and Google Calendar. GoTo Meeting is a basic virtual workspace that works if you just need to connect remote teams, but if you want a more robust and aesthetically pleasing platform with collaboration features, you're better off with some of the other options further up this list. Learn more about the best GoToMeeting alternatives.

What makes GoTo Meeting better than Webex?
Its simplicity is one of the main reasons it stands out from Webex. GoTo Meeting features a simple user interface that anyone can use. You don't have to download an app to participate in meetings, and you can set up an account in minutes (though that's not unique among the Webex alternatives here).
7. Vonage
Vonage is another cloud-based VoIP service that offers HD video conferencing, calling, chat, and a mobile app. With Vonage, you get a range of calling and collaboration features in a unified platform, and like Dialpad, its team messaging features enable users to chat on mobile or desktop, collaborate with file sharing, and start video or voice calls with a single click.
One thing that's important to note is that Vonage's video conferencing software is operated using a third-party, Amazon Chime Pro Tier.
What makes Vonage better than Webex?
Vonage offers easily scalable communications that enable small businesses to access enterprise features for an affordable price. Webex, on the other hand, gets pretty expensive when you need access to features like cloud recording and host/participant customization. See how Vonage stacks up against Dialpad.
8. 3CX
3CX is a communications platform for businesses that rely on online meetings, webcasts, and webinars to get work done. Unlike some of the other names on this list, 3CX is a PBX phone system with video conferencing and annotation features—you can learn more about VoIP vs PBX here.

What might make 3CX better than Webex?
The pricing is very competitive—but if you're not super-price-sensitive, it's debatable whether this is objectively a better option than Webex. Learn more about the top 3CX alternatives.
9. Bitrix24
Bitrix24 is a collaboration platform that provides users with a unified workspace to handle their daily tasks and business operations. What's unique about it is it has a CRM product as well.
The free plan includes team chat, HD video calls, and limited collaboration tools. As you move up through the pricing tiers, the number of features increases. With the Professional plan, businesses can access some basic features along with more advanced sales and automation tools. Learn more about the best alternatives to Bitrix24.
What makes it better than Webex?
Unlike Bitrix24, Webex offers limited collaboration capabilities for businesses that depend on a virtual workspace to get work done. You can choose from four pricing options that cater to different business needs. The free plan is alright for small businesses that just need to message and video chat, but if you need a phone system, Dialpad's pricing might be better since you have to buy credits separately for calling.4
10. 8x8
Like Dialpad, RingCentral, and Nextiva, 8x8 allows you to make web conference calls. 8x8 does have a free plan, which might make it a good option for small businesses looking for a simple video conferencing solution.
Like Dialpad, 8x8 is accessible through browsers like Google Chrome if you want to have a video call or start a screen share.
What makes it better than Webex?
8x8 is perhaps the most similar to Dialpad in terms of pricing—it has unlimited calling but is more expensive (which is still better than Webex's pricing), but its AI technology isn't quite as robust as Dialpad's.5 (Learn more about how 8x8 compares to Dialpad.)
Why Dialpad is one of the best alternatives to Webex
We advocate exploring your options before deciding on the best Webex alternative for your business. You could even investigate other options, like BlueJeans or Google Hangouts, and check out customer reviews on social media, but we can't send you off into the big wide world of web conferencing software without offering one last piece of advice: try it out.
Whether you're a small business or large enterprise, the best Webex alternative should give you not only what you need today, but also what you'll need in the future. From adding new users easily to spinning up new contact center teams in minutes, try to anticipate what features you'll need as your organization grows, and go from there.
What's the best Webex alternative?
Want to try a good Webex alternative? Get a personal walkthrough of Dialpad to see how it can work for your organization! Or, take a self-guided interactive tour of the app!
Is there a free alternative to Webex?
Yes, there are some free alternatives to Webex out there. There are solutions like Dialpad Meetings and Zoom which have free plans that typically limit video conferences with a time cap or participant limit.
For some small businesses, a free plan might be sufficient, but if you have larger team meetings or very long meetings, you'll likely need to upgrade to a paid plan.
1goto.com/pricing/meeting

2talkingpointz.com/nextiva-competing-around-the-customer-experience/
3businesswire.com/news/home/20210609005705/en/Nextiva-and-Five9-Team-Up-to-Help-Businesses-Deliver-Seamless-Customer-Communications
4nextiva.com/nextiva-pricing.html
58x8.com/products/business-phone