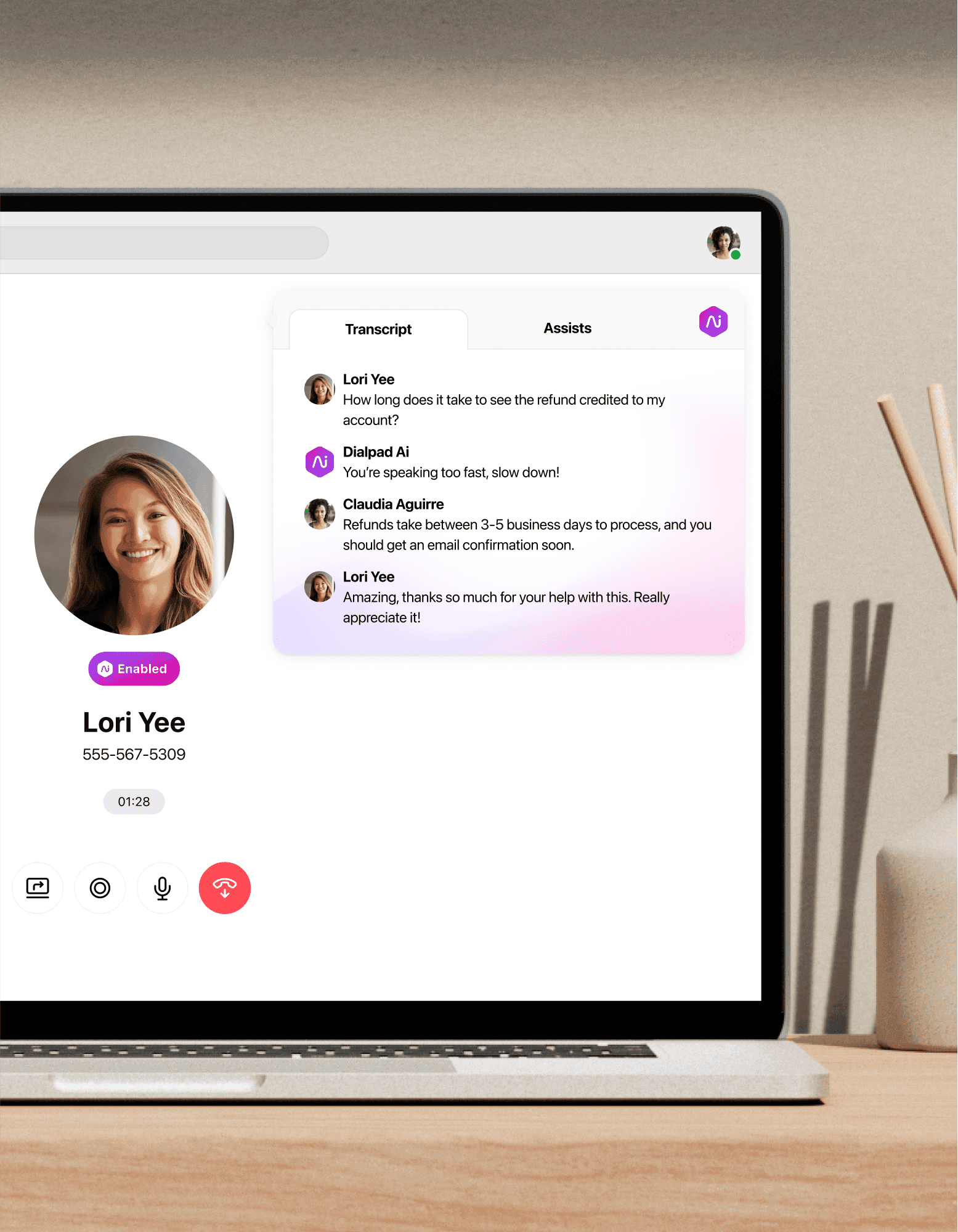 Designed for remote agents
VoIP call center
Want to move on from PBX, or just interested in using a VoIP call center platform? Dialpad Ai Contact Center is easy to admin and use for both agents and supervisors. Book a product tour to see how it works!

Set up in minutes
Built-in AI that transcribes calls in real time
Truly unified CCaaS + UCaaS in one platform
What is a VoIP call center?
Essentially, a VoIP call center is a piece of software that call center teams use to manage a high volume of outbound and incoming phone calls with customers, prospects, employees, or any other audience.
The software uses Voice over Internet Protocol (VoIP) technology, which means your call center team can work from anywhere with a good Internet connection—and it also means you can easily set up a new call center team around the world in a matter of minutes (instead of weeks or months).

👉 A quick note on "contact centers" vs. "call centers":
Traditionally, call centers dealt specifically with phone calls (hence the name "call center"), but today, that's changed. Most businesses have evolved to a contact center model because sales and customer support teams in particular manage other types of customer interactions too, like SMS messages and live chats. If you hear about "omnichannel" communications, this is what that's referring to.
Reasons why businesses are switching to VoIP call center solutions
More and more businesses are moving away from on-premises solutions to cloud or VoIP call center platforms. Here are a few reasons why.
More accessible data
VoIP call center solutions don't just let agents take phone calls. Some even have built-in dashboards that help you track common KPIs (key performance indicators).
Want to know how long your agents spend on the phone with customers? Track average call time. Want the numbers on how quickly agents pick up a call? Get real-time metrics on the average time it takes agents to answer the phone.
With a traditional analog call center platform, you'd typically have to contact their tech support team or get your own IT team to pull these KPIs for you. With an AI call center, on the other hand, you'll have a wealth of customer intelligence and real-time analytics at your fingertips:


More flexibility and customizability
When you set up a call center, you'll need to hire a team (size dependent on your operation). The beauty of investing in a VoIP call center platform is that not only the cost-effectiveness (more on that in just a bit), but also the time savings you get.
Because the VoIP calls go through the internet, your call center agents can work from anywhere—their home, a co-working space, wherever. As long as they have internet access, your agents have the flexibility to choose their workspace. This also allows you to build a remote team more easily, which means you can keep costs down—and your employees will have a better work-life balance on their terms.
On top of the flexibility, a VoIP call center solution also gives you more customizable features. For example, you can easily update your auto-attendant messages, voicemail messages, even your hold music with just a few clicks. Long story short, the ease of use and customizations that you get with VoIP providers are unheard of in analog phone systems and call center solutions.
Lower costs
Setting up a traditional analog call center can be extremely cost-prohibitive to many businesses, especially small businesses and startups.
Call centers using the PSTN (Public Switched Telephone Network) must first invest in expensive hardware like transmission lines and onsite equipment. Certified installers need to come in and connect all that on-premise hardware and down the road, there'll be additional hardware maintenance and upgrades too.
VoIP call center solutions have a much smaller footprint in terms of cost and requirements. Once you choose a VoIP call center software provider, there's often minimal installation involved. Typically, you set up a phone number, select the number of lines you want, complete some run-of-the-mill admin (like setting your business hours), and you're good to go.

Essential features to look for when choosing a VoIP call center software provider
With so many contact center and VoIP providers saying they have all the "most advanced features", what should you be paying attention to as you're vetting the call center solutions? Here are a few examples—which Dialpad Ai Contact Center comes with.

Drag-and-drop chatbots
No coding needed. With Dialpad, you can take full control of your customer journey. Create chatbots and design dialogue flows with questions and answers—and even include images and video instead of just having text-based answers—with just a few clicks.
Speedier QA
Accelerate quality assurance (QA) reviews, reduce compliance risks, and improve agent adherence with Dialpad's Ai Scorecards. Instead of supervisors having to review call recordings manually, Dialpad Ai automatically suggests when QA Scorecard criteria have been met and highlights coaching opportunities.
Built-in analytics
Many call center service providers don't come with analytics and dashboards built in, so if you don't like the idea of having to contact customer support and waiting for days or weeks for them to pull metrics for you, then make sure you check for this! Dialpad Ai Contact Center comes with a built-in CSAT survey feature to help you track customer satisfaction, and dashboards and heat maps showing call volume patterns and average speed to answer.

Truly integrated UCaaS + CCaaS
Dialpad's platform is truly unified, meaning you get not only a contact center solution, but also a VoIP phone system and communications platform that lets you make phone calls, send instant + SMS/MMS messages, have video meetings, and more—all from one intuitively designed app. One login, one account, one cohesive experience.
Unlimited call recording
Call recordings are essential to contact centers, both from a compliance perspective and also for ongoing agent training and development. In Dialpad, you have the option of manually turning call recordings on and off, and there are also APIs that automatically pause recordings when sensitive information (think over-the-phone payments) is being discussed.

Easy call queues and routing
Set up and make changes to your IVR (Interactive Voice Response) and automatic call distribution (ACD) in just a few minutes, right in your online dashboard. You can even see which IVR menu options are being used more (and which aren't) through Dialpad's built-in analytics, so you can continuously improve your call routing experience!


Advanced WFM + QM capabilities
Get real-time agent forecasting, gamification, scheduling, and more—all in one fully integrated suite. With Dialpad + Playvox, you can turn support agent data and customer activity into easily digestible dashboards and give supervisors everything they need to improve agent productivity and maintain contact center performance.
Looking for call center VoIP software?
Book a demo to see how easy it is to set up and manage remote agents from anywhere using Dialpad Ai Contact Center. Or, take a self-guided interactive tour of the app on your own!
A mobile and desktop app
Again, not every VoIP provider has both a desktop and mobile app, so if your team needs to be able to work on the go, pay attention to this functionality! For instance, Dialpad works across iOS, Android, PC, Mac, and even web browsers—no downloads needed.

Easily scale up—or down
Whether you need to hire more agents for the busy season or remove users once the busy season is over, you can do all that easily in your online dashboard. Add phone lines, move agents between call center teams, whatever you want.
Multiple active calls? No problem
Supervisors can't personally watch every customer interaction in real time, but with Dialpad, they can still help agents provide a positive customer experience. Dialpad Ai not only transcribes calls, it can also show the sentiment for each active call. This way, supervisors can view all calls, see which ones have negative sentiment, and scan the live transcript to get full context before deciding whether to jump in.

Voicemail
Just in case any incoming calls do go to voicemail, you can manage all that in Dialpad easily too. Record or upload your voicemail greeting right from your online dashboard, and see your transcribed voicemail messages in your inbox. For outbound call center teams, there's also a unique voicemail drop feature that lets sales reps drop in a pre-recorded message as soon as they hit a prospect's inbox.
A wide range of integrations
From CRM integrations to call center workforce management apps to ticketing software, there's a whole range of apps and business tools that Dialpad integrates with. Want to configure your own custom integrations? You can do that too with the open API.

Excellent call quality
Dialpad's unique dual-cloud architecture and global voice network are designed to minimize downtime and ensure great call quality around the world. Fun fact: The Enterprise plan comes with a 100% uptime SLA!
Keep your phone numbers
Want to keep your existing phone numbers? Dialpad supports number porting—just submit a port request online and we'll help you port your phone numbers to Dialpad.
How to know if your business needs a VoIP contact center
It goes without saying that not every business in the world needs contact center capabilities. How can you tell, though, if your organization has reached the point where a VoIP contact center solution is something you can't do without? Here are a few questions to ask. If you answer yes to any of these, then it might be time to consider a VoIP contact center platform.
Do you have remote or hybrid contact center agents?
If you want to be able to hire agents outside of your immediate city or region, then it's much, much easier to do if you have VoIP contact center software or virtual call center software. When you can hire in different time zones and have that coverage beyond just the typical 9 to 5 in North American time zones, your global clients and prospects can reach your business more easily. And that results in stronger customer relationships and a higher level of customer satisfaction.
Do you plan to scale soon, and want to do it in a cost-efficient way?
One of the biggest advantages of using a VoIP contact center instead of an on-premises alternative is that you can save a ton of money—in a few ways! The most obvious way, of course, is that you don't need to purchase hardware for your contact center when you have a VoIP telephony solution.
In addition to that, you also save on maintenance and upgrade costs, since CCaaS (Contact Center as a Service) solutions tend to automatically update the software on a regular basis—without your IT team having to do anything.
Do your agents and supervisors want to be able to communicate from different devices on the go?
Customer experience is important, but so is agent experience. And with agent attrition continuing to increase, it's important that contact center teams are able to provide the flexibility that their employees are looking for. With Dialpad's easy-to-use softphone app, it makes it much easier to manage a call center and handle the day-to-day workflows remotely.

An intuitive and resilient VoIP contact center platform
See why both small businesses and global enterprises are using Dialpad's cloud contact center solution to power their VoIP communications around the world. Book a demo or take a self-guided interactive tour of the app!
FAQs about VoIP call centers
Do call center platforms come with predictive or auto dialers?
Some do, while others let you integrate with predictive and auto dialer tools. For example, Dialpad offers a power dialer tool for sales teams.
What are the biggest advantages of using VoIP over traditional phone services?
What do unified communications solutions have to do with call center solutions?
What types of reporting can you get with VoIP call centers?
What are the limitations of using VoIP call center software?