Back to Blog
The 8 best free video conferencing platforms for businesses, ranked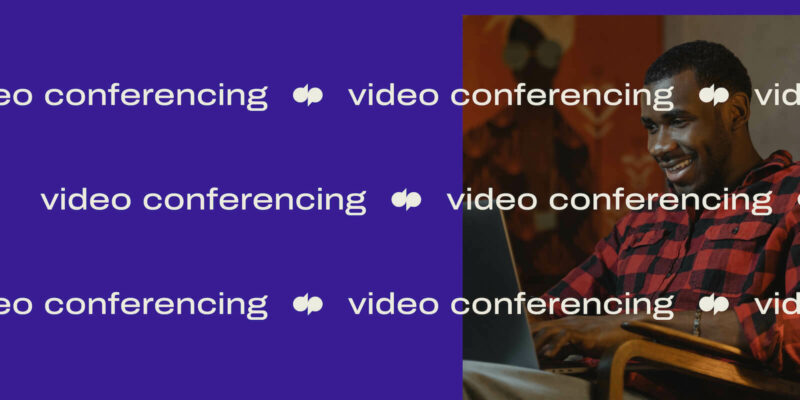 As crucial as video conferencing is, not every company has enough room in their budget to invest in it at this very moment. That's where free video conferencing platforms and plans come in.
They're a great "bridge" option that lets businesses communicate remotely, and we say "bridge" because even though most of these options are quite robust, you'll often find that the very best features and unlimited-everything plans are available only on the paid tiers.

In just a bit, I'll cover how video conferencing works, what to look for, mistakes to avoid when you're shopping, and 12 great free providers that will give you the best free video conferencing experience.
What is video conferencing?
Basically, a video conference is a way to connect with your teammates and clients face to face, over the Internet:

Because video conferencing helps people talk to each other regardless of their physical locations, it's probably one of the most popular types of software today for companies that want their employees to be able to work from anywhere.

How video conferencing works—and what changes when you're using a free platform
To set up video calls or conferences, typically all you need to do is open your conferencing app of choice, choose the person or people you want to call, and hit some kind of "start video call" button. The video conferencing software then connects you and the people you've chosen via the Internet.
You'll then be able to see them and talk to them in real time, just as if you were having a face-to-face conversation.
The thing that sets a free version or a free trial apart from other video conferencing plans is of course that you can save money—as long as you're using a good solution. As you can imagine, with free plans, there's a huge range in terms of quality, and for businesses that have big growth plans, sometimes a paid plan might end up giving you better ROI. (More on that in a bit.)
Must-have features in a free video conferencing platform
As I mentioned earlier, there's a lot of variety among video conferencing services. Because of this, it really helps to know which key functionalities you need and what's realistic for a free video conferencing solution.
Easy-to-set-up accounts
Beyond just having a free plan, a good video conferencing software should be easy to set up. It shouldn't matter what the price is—even a free video conferencing platform should let you sign up in a few minutes. Often, all you need to do is enter your email address. For example, here's how it looks in Dialpad Ai Meetings:

As you can see, you just fill out a few fields to sign up—and there's also an option to sign up with your Google or Microsoft 365 account, which makes things even faster.
User-friendly interfaces
A user-friendly interface is easier to use, and just makes our remote conferences and video meetings.
Again, this is one of those things that you'd expect any web conferencing platform to have, whether it's free or not. With Dialpad Ai Meetings, for example, you've got all your essentials, like muting/unmuting, volume, hanging up, and more, right on the screen:

In-app and browser accessibility
This is an important one that you don't always get, so make sure your free conferencing software works across desktop apps, mobile apps, and web browsers. Why is it important? Well, if you communicate regularly with clients or prospects, you've probably noticed that not everyone wants to download the app just to have a video meeting with you!
A good platform should let your clients make calls from a browser without having to download anything. The cool thing about Dialpad is it's browser-based, meaning you get full functionality in the web browser—you can host and join from there:

HD audio and video
High-quality sound and HD video really bridge the gap between co-workers based in different locations, letting them connect and collaborate more effectively. Some solutions, like Dialpad, even have built-in background noise reduction—because hey, not everyone can always find a 100% silent space to work in.
In other words, this element is crucial to keeping teams together even when they're apart. That's what makes it an indispensable feature of any free video conferencing platform.
Screen sharing and recording
Being able to record calls is another useful feature that many companies (and individual employees) can't do without. It helps with training new employees, learning about specific cases, providing evidence or proof, and keeping records.
Likewise, screen sharing is essential to many people, particularly ones that regularly present in online meetings. It helps your group meetings stay on topic, as well as making it easier to explain things to others who couldn't otherwise see your screen:

Integrations with tools you're already using
Having the integrations you need makes it easier to get your team to adopt new tools, since they don't have to completely change their daily workflows. They can just continue using the apps they were already using!
This is important for both large enterprises, which are likely already using a huge number of different providers and tools—and also small businesses, which may not have the resources to constantly re-train employees.

Cost-efficient pricing
Most video conferencing software providers will offer a free version, and then a few pricing brackets to choose from in terms of paid plans.
Even if you're only planning to use the free software, it might be a good idea to plan ahead and check whether those plans seem cost-efficient. Do they include lots of functionalities in a bundle, or do you have to pay for every little function separately?
Knowing this ahead of time helps a lot in the event that you do need to opt for a paid plan in the future.
The biggest mistakes people make when choosing a free video conferencing platform
As you've probably gathered by now, not all free video conferencing platforms are equal. Here are the common pitfalls to avoid.
Using platforms that slack on security and privacy
Online safety is no joke. In fact, cybercrime is serious and dangerous enough that it's done billions of dollars' worth of damage throughout the world so far.
As a basic requirement, you should be able to password-protect your video meetings and conference calls, mute participants, and admit attendees from a virtual waiting room: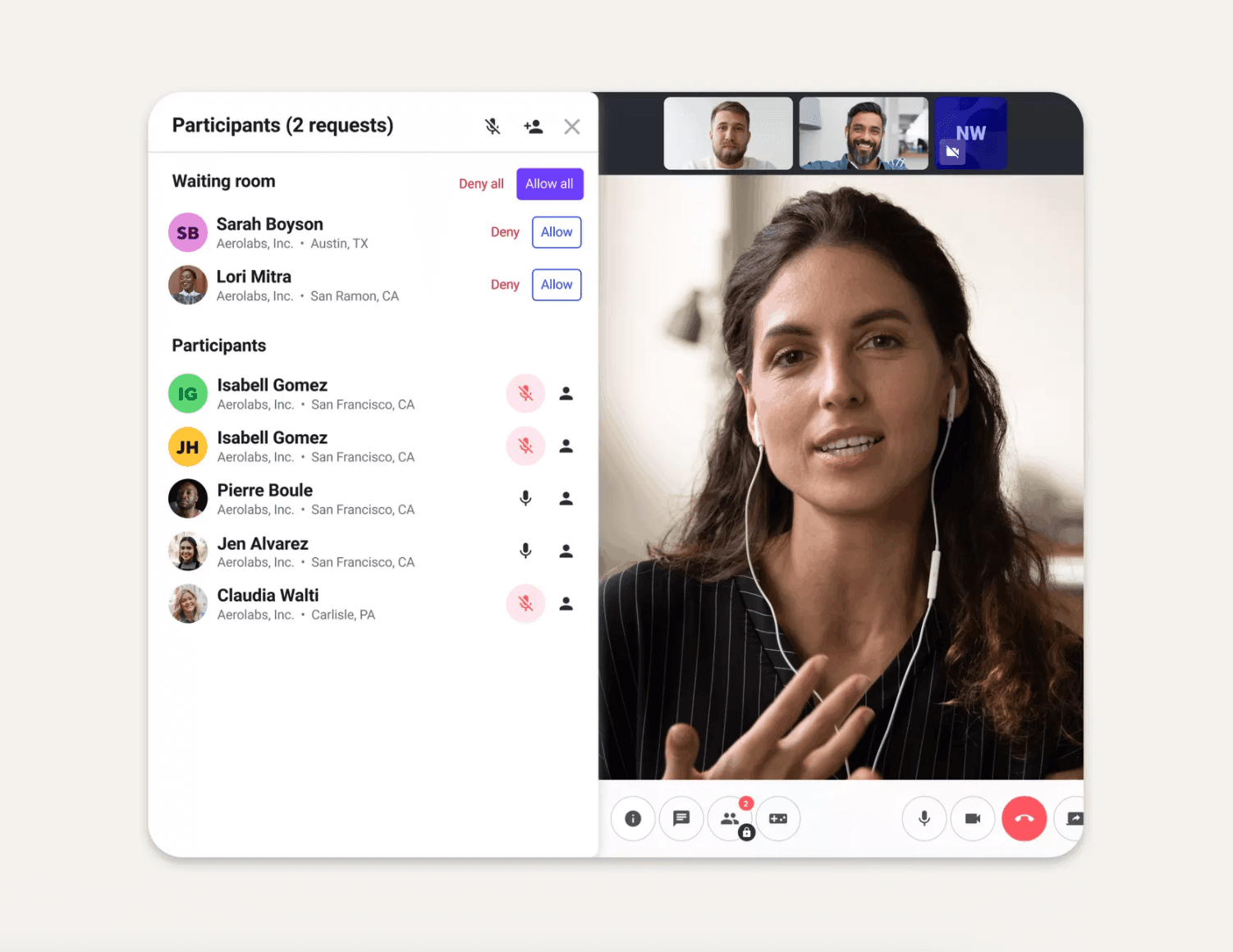 👉 DIALPAD TIP:
A great way to guarantee that a given conferencing platform is secure enough is to check that it's GDPR and SOC2 compliant. (Like Dialpad!)
Not checking for device compatibility
This is a big one that's commonly overlooked. Does your team use mostly Macs or PCs? iOS or Android? In most cases, it shouldn't matter—a good video conferencing software should give you the collaboration tools you need across all of these devices.
Better yet, they should work in web browsers like Chrome and be compatible with conference rooms or huddle rooms too.
Not checking the fine print for conferencing time limits
The number of meetings you host should be dictated by how many meetings you want to host, not by the time limits your provider places. With free video call plans, it's pretty much a given that there will be some sort of cap on your meeting lengths or participant limits (they're free, after all)—just be aware of what the limits are and what that means for your teams.
Assuming it comes with customer support
This is another tricky one. Many free video conferencing platforms don't come with customer support! If you're lucky, there will be an online knowledge base where you can search for answers, but it's uncommon for free providers to have customer support.
(Fun fact: Dialpad Ai Meetings' free plan comes with web and chat support, 8am to 5pm EST Monday to Friday.)
The 8 best free video conferencing platforms, ranked
1. Dialpad Ai Meetings

Dialpad is a leading cloud-based UCaaS solution that covers all of your business communication needs—it's basically like your virtual workspace.
Video meetings, VoIP phone calls, instant + SMS/MMS messaging—Dialpad does it all, letting you connect to anyone, anywhere, anytime, over an Internet connection.
Dialpad makes it easy to join conferences, whether your attendees are Dialpad users or not. You can invite people by sharing a dial-in number, emailing them an invite (since Dialpad has integrations with both Microsoft Outlook and Google Calendar), and even by sending them an SMS with a link:

Features that come free with Dialpad
Unlike most free video conferencing platforms, Dialpad is a true UCaaS (Unified Communications as a Service) platform. That means you can access all your communications channels from one convenient app.
There's unlimited cloud storage for meeting recordings, and a whole range of integrations. One of our customers' favorites is the Miro integration, which lets you digitally whiteboard and brainstorm with teammates like everyone's in the same room:

Here's just a short list of what you get:
Desktop + mobile app that works across mobile devices, computers, you name it
In-meeting messaging (with emoji reactions)
A fully integrated cloud phone system starting at $15 per month (giving you unlimited calls in the US and Canada!) if you want to make phone calls
Cost
Free, and it comes with unlimited video meetings! There is a paid plan that's $15 per user per month, which you can upgrade to if you like the free plan.
If you'd like calling and SMS/MMS messaging too, Dialpad's Ai Voice plans start at $15 per user per month and come with everything you'd need in a business phone system.
Dialpad's Ai Voice Standard plan offers a lot of useful features, including unlimited calling, as well as voicemail transcription and call controls.

Try free video conferencing now with Dialpad Ai Meetings!
Get set up in just minutes with the free plan, which gives you unlimited video meetings. Or, book a personal walkthrough with our team first!
2. Zoom
Zoom is of course, a popular free video conferencing platform. There's not much to be said that's not already known about Zoom—it became very popular with mainstream consumers during the pandemic, and because of that, it's experienced its fair share of security issues. (Google, NASA, and other organizations have banned it.)
Features that come free with Zoom
Zoom Free lets you host meetings for up to 100 people, provided those meetings don't last more than 40 minutes. The free plan does not come with customer support—it's a help center-only situation.1
Cost
For Zoom Pro, you're looking at a cost of $14.99 per month per license. That increases to $19.99 if you're after Zoom Business or Zoom Enterprise.
🗒️ See what IT leaders look for in a phone system
Grab the CIO Buyer's Guide, (written by our own CIO, who's done a lot of phone system shopping in her time!), which will walk you through what features to look for, nuances to pay attention to when comparing providers, and more!
3. Cisco Webex

Another video conferencing platform that's been around for a while, Cisco Webex has a solid free plan, along with a separate webinars product. The only thing that's a bit of an inconvenience is you have to download their application to use it, which is a bit of an ordeal in itself—no browser-based meetings, unfortunately.
Features that come free with Cisco Webex
With Cisco Webex Free, you can send messages, share files, create teams, call people, and record meetings (though you don't get cloud storage on the free plan).
Cost
Webex's basic plan costs $15 per month per host, with the more expensive plans costing up to $25 each month.2
4. Whereby
This one is a bit of an up-and-coming video conferencing platform that mainly serves small teams at the moment—but Whereby beats out some of the other options because it does have an interesting platform and is pretty aesthetic.
Features that come free with Whereby
Whereby lets you host group meetings for up to 45 minutes, as well as unlimited one-on-one meetings.
Cost
Whereby Pro costs $6.99 per month, and Whereby Business costs $9.99 monthly.3

5. Google Meet
Google Meet is the conferencing solution that used to be known as Google Hangouts—you've probably heard of it!
Features that come free with Google Meet
Google Meet's free version lets Google account holders host group video calls for up to 100 people with a Google account. Video meetings are free up to the 60 minute mark, after which you'll either have to end the meeting or start paying.
To record meetings, generate international dial-in numbers, or get customer support, you need to pay for a plan.4
Cost
Google Workspace Individual costs $7.99 per month per user. You'll need to contact the company directly to get a quote for Google Workspace Enterprise.
6. Microsoft Teams
Who doesn't know Microsoft? This platform gives you some cloud storage as well as letting you place video calls. Like many of the other tools on this list, it's priced on an annual subscription basis, but can be used for free with more limited features.
Features that come free with Microsoft Teams
Microsoft Teams' free plan lets you host meetings for 60 minutes, with up to 100 participants. It gives you access to 5GB of cloud storage per user. It also comes with file sharing capabilities—but you don't get meeting recordings or customer support on the free plan.5
Cost
The cheapest price bracket costs $4 per month per user, with Business Basic costing $5 and Business Standard running at $12.50.
7. Skype
Skype, which is now owned by Microsoft, focuses on connecting people all over the world through video calls. The interesting thing about Skype is that even though it was designed for consumer use, some businesses do still use it!
Features that come free with Skype
Free Skype users can video call up to 100 other users, with no time limit. They can also send messages in private or group chats.
Cost
Skype North America costs $8.39 monthly, and lets you place unlimited calls to mobiles and landlines.

8. AnyMeeting
Unlike most of the other options on this list, AnyMeeting probably isn't quite as well-known. It's owned by Intermedia, which markets it as providing "super simple conference calls."
Features that come free with AnyMeeting
AnyMeeting's free version is available as a desktop and mobile app, meaning you can use it from anywhere. It offers screen sharing options and meeting transcription.
Cost
AnyMeeting Lite costs $9.99 per month, while AnyMeeting Pro is $12.99. The Enterprise version costs $17.99.6

How to know if your business needs a paid video conferencing solution: 3 signs
You need to host conferences with more people
Video chats are a great way to connect hundreds of people all over the world—provided your platform lets you host meetings for that many. Paid plans generally increase the maximum number of participants per meeting.
Your conference participants experience video calls dropping
Dropped calls interrupt meetings and make them harder to follow. To avoid calls dropping, consider switching to a paid plan with guaranteed uptime.

Your workforce is hybrid or fully remote
Remote and hybrid working are becoming more common, with many employees (and employers!) saying they want to continue using this model. If you know that your team will be working remotely for the long haul, it might make sense to invest in a good video calling platform that fully gives you what you need to stay in touch with customers and teammates.

Ready to choose a free video conferencing platform that suits your business needs?
Every video conferencing platform offers its own advantages, and is aimed at different businesses. However, when it's time to choose the one that best suits your business needs, we strongly recommend you start by considering Dialpad.
Our software helps all kinds of businesses, from the smallest startups to the largest enterprises.
The flexible pricing options ensure Dialpad can fit the needs of all businesses. That means you get to supercharge your contact center and implement a company-wide UCaaS solution for an affordable price, all while boosting productivity across the board.
Need a free video conferencing platform?
Try Dialpad Ai Meetings' free plan!
1zoom.us/pricing
2webex.com/pricing/index.html
3whereby.com/information/pricing/
4apps.google.com/intl/en/meet/pricing/
5microsoft.com/microsoft-teams/compare-microsoft-teams-options?rtc=1&activetab=pivot:primaryr1
6intermedia.com/anymeeting-video-conferencing