Back to Blog
Grasshopper alternatives: 9 affordable and more robust options for small businesses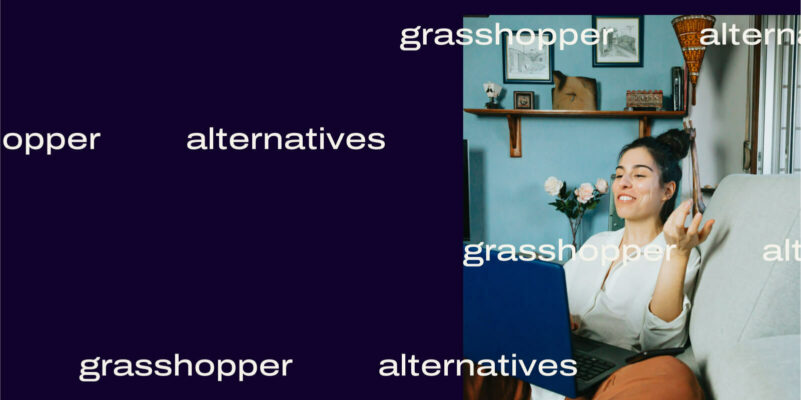 If you work at a small business or startup, you've probably come across Grasshopper and may even be considering it for your business phone setup. Understandable—it has a very budget-friendly price point.
But usually, as these ventures develop from the weekend side hustle to scaling business with multiple departments and employees, Grasshopper starts to show its limits.
It's common for new businesses to outgrow Grasshopper quite quickly—but what if you want to avoid the hassle of switching phone systems?
The good news is there are lots of (just as affordable!) Grasshopper alternatives that are extremely robust and have enough features that will grow with a business over time.
If you're looking for a professional, scalable virtual phone service for your business, then keep reading.
What is Grasshopper?
Grasshopper is a virtual phone service provider that essentially adds a business phone line and virtual phone system to personal numbers for small businesses. It's typically an option that businesses consider if they don't want to be tied to a traditional landline anymore.
When you sign up with Grasshopper, they'll allow you to select your business phone number (you'll get up to five VoIP numbers if you're going with their most expensive plan) from their inventory of vanity, local or toll-free numbers.
Grasshopper is a relatively popular service provider with entrepreneurs and small businesses that have more basic needs (like just getting a virtual phone number).
However, for larger teams with more complex needs (and we're not talking about super fancy features—many of these features are basic needs that a business phone system should have), Grasshopper may not be the best option.
I'll walk you through why in just a bit.
Why you might want a Grasshopper alternative
While Grasshopper is a great gateway into the virtual phone system world, it's quite limited—even for small businesses. Unless you're a startup or a company of one, you'll likely need something more robust.
Though Grasshopper offers Wi-Fi calling, you can't have other communication channels beyond phone calls, which means you won't be able to have video meetings, share files, or do screen sharing.
That's what many of the Grasshopper alternatives on this list, like Dialpad, give you: more business communications options in one platform.
And if you're looking for advanced intelligent contact center or virtual call center features, you'll need a unified communications platform. For example, Dialpad's contact center platform is fully integrated with its unified communications platform, meaning you can talk, message, and meet with teammates—and also monitor your contact center team in real time, in the same app.
How we evaluated these Grasshopper alternatives
Here's how we evaluated the Grasshopper competitors below:

Range of features

Level of customer support

Plan pricing and cost-efficiency

Level of call quality

Ease of use

Range of integrations
Let's take a look at each of these criteria in more detail.
Features
The first thing we looked for in all of our Grasshopper alternatives was features. When picking a virtual phone service, it's vital to know what features you need ahead of time. That way, you'll be ready to pick a service provider that meets both your current and future needs.
Features to consider include a call forwarding service, compatible devices (can you make phone calls from any device?), call recording, texting, virtual receptionists, and analytics.
Customer support
The next thing we looked for was customer support. It's vital to have robust customer support alongside any business service, especially one as crucial to your workflows as telephony.
We made sure that all of our Grasshopper alternatives offer a high level of customer support that lets you access help as and when you need it.
When committing to a service provider, make sure that they're going to be easy to get hold of when any issues arise. Your provider should go the extra mile to help you out. Ideally, you'll want to opt for an option that offers 24/7 multichannel support.
(For example, Dialpad's tech support team offers 24/7 support for Pro and Enterprise customers and 24/5 support for Standard plan customers—and it has a detailed Help Center online that lets you find answers to common questions whenever you want.)
Cost-efficiency
Ideally, switching to a virtual phone service should help your business save money. And if you're looking at Grasshopper, we're going to hazard a guess that cost is a priority.
So, we looked for providers offering affordable and flexible pricing plans and packages with all the essential features in place.
👉 Dialpad tip:
Check that platforms aren't charging you for services that most communications platforms offer for free as standard—such as set-up and activation (Grasshopper charges for both of these essentials!), and even post-purchase items like software updates.
When picking your service, it's essential to establish whether you need a pay-per-minute or unlimited plan. This will depend on the call volumes you'll be expecting in your business. For fast-scaling organizations, unlimited plans are always best.
It's also worth noting that many virtual phone service providers will offer a free trial period so that you can "try before you buy." Taking up these options is a great way to get a feel for the platform you're potentially thinking of investing in. You'll be able to see if the solution is a good fit for you before placing any money down—zero risk involved.
Call quality
A good VoIP provider should provide you and your team with HD call quality and reliability.
With Dialpad, for instance, you'll be able to access HD calling capabilities from any device, and it's easy to check your in-app audio settings to ensure that your call quality is always up to scratch. All you have to do is navigate to the Device Settings icon in Dialpad, where you'll be able to adjust settings for your microphone, speaker/headset, and camera.
Ease of use
Next, we looked for ease of use. (Because who wants to be pulling their hair out trying to leave a voicemail?)
So, what features make a telephony system user-friendly? Well, aside from an intuitive user interface, we focused on two main things: implementation and reliability.
First, we looked for telephony providers with quick and straightforward implementation processes, and filtered out the phone systems that have unnecessarily complicated setup processes.
Second, we prioritized solutions that take reliability seriously so that you'll have as little downtime and disruption as possible. (Dialpad, for example, offers a 100% uptime Service Level Agreement / SLA for Enterprise plan customers.)
Integration
Another key consideration for most businesses is integrations. For example, if you're using Google Calendar or Salesforce, you'll want to be able to use your virtual phone service with the business apps and software you're already using.
All of the unified communications platforms and VoIP service providers in this list offer a wide range of accompanying integrations so that you can unify your business communications with your other essential business processes.
The top 9 Grasshopper alternatives that are robust, yet affordable
1. Dialpad: A truly unified communications platform that comes with unlimited minutes

Dialpad is a leading cloud-based unified communications platform that brings together calling, messaging, and meetings in one intuitive app that's easy to deploy—and manage.
You can start a video meeting, make a phone call, send an SMS or instant message, and more, all from the same app—or web browser, no downloads needed:
It's not just a business phone system—although it has all of the phone features (and incredible call quality) you'd need, from a number porting service, to call forwarding, call routing, and more:
With a global voice network and unique dual-cloud architecture, Dialpad is designed specifically for HD, crystal clear voice calls—from pretty much anywhere in the world. (Seriously. Ask us about it.)
But beyond all of this, Dialpad's real "secret sauce" is its proprietary Ai (code name: Dialpad Ai) technology, which not only transcribes business calls—in real time—but also does a lot of other cool things, which I'll get into in just a second.
Dialpad Ai
Dialpad Ai turns every conversation into something you can learn from so that your business can continue to learn, grow, and improve every single day.
It can transcribe calls in real time:

But it can also pick up on action items that are spoken on a call—and if you have Dialpad Ai Contact Center, you'll even be able to use the Ai to pick up on keywords and phrases that you're interested in.
For example, if you wanted to see how frequently Competitor X comes up on sales calls, you can create a Custom Moment that tracks that competitor's name:
And not only that, you can also create Real-time Assist (RTA) cards with notes about that competitor, which will then pop up automatically on an agent or reps' screen—when that competitor's name is spoken!
Keep your business phone number
Dialpad's number porting service lets you keep any existing phone numbers and it also has all the basic business phone features you need, from call transferring to call forwarding and more:
Desktop and mobile softphone app
Dialpad works on any device. And if you or your clients don't want to download the softphone app, it works on web browsers too (without losing out on any functionality).
A range of integrations
Dialpad integrates with a vast range of business apps and software. Just visit the app marketplace and sync with your tried and tested favorites:

Customer Relationship Management (CRM) software like Kustomer, HubSpot, and Salesforce—yes, that RTA card I mentioned above will pop up in Salesforce, no tab-switching needed!

A fully integrated contact center platform
If you do have a contact center or customer support team, Dialpad is designed to help managers and supervisors coach their agents—at scale—with the RTA cards and Dialpad Ai features I mentioned above.
The best thing is that it's all one experience. One login, one account, one user interface. (Many "unified" communications platforms don't have this because the providers are reselling or whitelabeling other companies' software.)
Plus there's a live sentiment analysis feature, which lets managers scan all active calls at a glance and see if any calls are going south:
Plans and pricing:
Dialpad plans start at $15 per user per month (billed annually) for the Standard plan. Dialpad's Pro plan is $25 per user per month (billed annually), and Enterprise plans are priced on an individual basis.
Standard plan features include:
Unlimited calling with your country, the US, and Canada

SMS and MMS messaging

Unlimited video meetings

Call controls (call forwarding, transfer, hold, mute)

Custom voicemail greeting

Google Workspace and Microsoft 365 integrations

Custom off-hours routing

24/5 live chat customer support

Desktop and mobile app that works across iOS, Android, PC, and Mac

Simple deployment

Pro features include all of the Standard plan features plus:

Enterprise features include all Pro features plus:

100% uptime Service Level Agreements (SLA)

Unlimited office locations

Unlimited ring groups (departments)

Azure Integration

IAM/SSO Integrations (Okta, OneLogin)

Custom data retention policies
What makes it better than Grasshopper?
If you're looking for a versatile and scalable alternative to Grasshopper, then Dialpad is a fantastic choice.
Dialpad's platform is born in the cloud (which means you'll get software updates much more frequently), and is built by the team that built Google Voice, which means that like Google, it's easy to use and intuitively designed.
If your business is growing, and you're planning to scale up internationally, Dialpad is a great business communications platform that is designed to grow with you
Looking for a good Grasshopper alternative?
Take Dialpad for a test drive, free for 14 days! Signup takes just a few minutes, and you'll be set up with a virtual business number too. Or, just take a self-guided tour of the product where you can click around and see how it works.
2. 8x8
8x8 is another communications provider with voice, video, and chat capabilities. Like Dialpad, you get voice, video, and chat in one app, along with basic phone features like an auto-attendant, conferencing, and call routing. If you need contact center software, it has that option as well, though it's reselling Genesys' product, which means the user interface and login experience may be inconsistent with its phone system product.
Get an in-depth look at 8x8 vs. Dialpad.
Plans and pricing:
8x8 has two Business Communications plans, X2 and X4, which align most closely to what you'd need to replace Grasshopper's small business phone system. But you'd need to contact their Sales team to get a quote for both, which is a bit unusual because most unified communications solutions have their plans' pricing listed on their websites.1

🗒️ See what IT leaders look for in a phone system
Grab the CIO Buyer's Guide, (written by our own CIO, who's done a lot of phone system shopping in her time!), which will walk you through what features to look for, nuances to pay attention to when comparing providers, and more!
3. Google Voice
Google Voice is Google's own VoIP phone system. With Google Voice, you can make and take phone calls and send text messages over the internet.
Again, like with Dialpad, there's no cumbersome hardware required. All you'll need is an Internet-enabled device, microphone, and speaker.
Compared to more robust business phone services, Google Voice is quite limited in features but if your needs aren't too complex, it's a very intuitive and easy-to-set-up option. You'll be able to make phone calls and do call forwarding, but you won't be able to make or take video conference calls, for example.
Plans and pricing:
Google Voice pricing plans start at $10 per user per month for the Starter plan, $16 per user per month for the Standard plan, and $24 per user per month for the Premier plan.2
As part of a Starter plan with Google Voice, you'll get VoIP calling for up to 10 users across up to 10 domestic locations and unlimited SMS in the US. Starter plan features include voicemail transcription, call forwarding, usage and activity reporting.
In comparison, with Dialpad, you'll get all this and more, including unlimited calling, comprehensive call controls (call forwarding, transfer, hold, and mute), custom voicemail greetings, and voicemail transcriptions. Most importantly, you'll also be getting a best-in-market video conferencing tool that's essential for teams that host meetings and collaborate from dispersed locations.
4. Nextiva
Nextiva is a business VoIP platform that combines calling, video, SMS, chat, customer management, and collaboration tools.
Like many UCaaS / CCaaS providers, Nextiva claims to have a "fully unified" communications platform, but like some UCaaS and CCaaS providers (like RingCentral, for instance), Nextiva is reselling other companies' software.
What this means is that even though, yes, you can get a package or pricing plan from Nextiva that has contact center functionality along with unified communications channels…
You'll likely have to log in through separate accounts in different windows or tabs, and in a different user interface. It may not be dealbreaker, but it's good to be aware of, especially if you have a large contact center team and can potentially lose out on productivity because of constant context-switching. Learn more about the top Nextiva alternatives.)
Plans and pricing:
Nextiva's plans start at $25.95 per user per month at regular price for the Essential package.
More advanced feature sets can be accessed with the Professional and Enterprise plans priced at $30.95 per user per month, and $40.95 per user per month at regular price, respectively.3
5. Freedom Voice
Freedom Voice is a phone system that offers cloud phones and PBX for small business owners. Like Grasshopper, the company offers a budget solution for businesses in need of a basic VoIP service—which means that it doesn't have video conferencing or instant messaging if you need those communication channels.
One disadvantage of Freedom Voice is that unlike most business service providers, it doesn't offer 24/7 customer support across different time zones, meaning that there won't always be someone available to help you sort out any technical issues as and when they arise.
Plans and pricing:
Freedom Voice plans start at $9.95 per user per month.4

6. Vonage
Vonage is a business communications platform that actually has a very residential-focused arm as well. It's been quite popular largely due to its reliable call quality and basic features like call routing, IVR, and ACD.
Like some of the other options on this list, Vonage is a feature-rich alternative to Grasshopper and comes with more robust features. However, you'll need to navigate multiple add-ons to really get access to the platform's full functionality. If you're looking for straightforward pricing and more built-in features, then something like Dialpad would be a better option. (See how Vonage stacks up against Dialpad.)
Plans and pricing:
Vonage plans start at $19.99 per line per month for the basic plan. Premium plans cost $29.99 per line per month, and Advanced plans cost $39.99 per line per month.5
7. RingCentral MVP
RingCentral is a business communications and contact center provider that's been around for, well, pretty much forever. The company is public, and like Nextiva, brands itself as a UCaaS + CCaaS integrated solution with phone, messaging, and meetings features.
But as we mentioned earlier, it also doesn't own its full platform. And other than the inconveniences of having to log into multiple accounts and tabs, this also means that when you need technical support, you'll probably be routed to a third party (since it's not their own product), which can be pretty challenging.
Get a more detailed breakdown of RingCentral vs. Dialpad.
Plans and pricing:
RingCentral MVP plans start at $30 per user per month for the Core plan at regular pricing. The Advanced plan's regular price is $35, while the Ultra plan is $45 at regular pricing.6

8. Star2Star
Star2Star is a newer company emerging in the VoIP market. Unlike many of the options on this list, Star2Star uses physical PBX devices to allow businesses to place business calls via SIP trunking.
Other than that, you do get the typical business phone features like an auto attendant and call recording. Star2Star offers a decently comprehensive communication solution that gives you more than Grasshopper's basic functionality.
But the user interface is a bit outdated, and unlike some of the cloud providers on this list, Star2Star requires users to have equipment installed on-site, which requires regular maintenance and potential downtime if things go wrong.
(With Dialpad, there's no hardware or maintenance involved because Dialpad functions on the devices that you and your team already own and use every day.)
Plans and pricing:
Star2Star offers a range of bundle plans on an individual quote-by-quote basis.7
These include:
The Professional Bundle - Business voice, text messaging, video meetings, and employee alerts
The Collaboration Bundle - Additional text messaging, team hubs, and video meetings
The Customer Service Bundle - Additional service insights and expanded team hub features
The Contact Center Bundle - Elevated customer experience and actionable intelligence
9. Ringblaze
Another new kid on the block is Ringblaze. Ringblaze was founded in 2019 and offers a phone system with features like call recording, call routing, and a virtual call center.
Plans and pricing:
Ringblaze plans start at $15.00 per month with the additional option of a free trial before you sign up.8
What makes it better than Grasshopper?
Perhaps the most important differentiator between Ringblaze and Grasshopper is Ringblaze's unique pricing structure: there's only one plan and as they say, "no surprises."
The thing is, other than phone calls, you're pretty limited in terms of communications options.
Compared to Dialpad, which offers plans from as little as $15 per month, Ringblaze plans start at $15—but you'll get video conferencing, SMS and instant messaging, and many more features.
And the best Grasshopper alternative for cloud-based communications is…
Yes, we're a bit biased, but if you really want to be fair, we'd suggest taking the free trials for these options to really get a sense of which one is the best Grasshopper alternative.
To be fair, Grasshopper is a decent option for single-person or very small teams starting out. But small businesses tend to outgrow this platform fast. Know what your business needs and try to anticipate what it may need in the near future. Unlimited extensions? Multiple office locations? Your provider should be able to provide the option to upgrade to these features.
Any good communications provider should have a free trial to let you test drive it without any commitment. Remember, the key is to look for a long-term solution that will scale with you and offers all the features and functionalities for now and the future. Learn more about other Dialpad alternatives.
Ready for a better Grasshopper alternative?
Sign up for a 14-day free trial of Dialpad to take it for a spin. Or, take a self-guided tour of the app first!
FAQs about Grasshopper alternatives
Is there a free version of Grasshopper?
There isn't a free plan for Grasshopper. Their pricing starts at $28 per month, up to $80 per month.
How much does Grasshopper really cost?
18x8.com/products/business-phone
2cloud.google.com/voice#pricing
3nextiva.com/nextiva-pricing.html
4freedomvoice.com/cloudnumber/plans-pricing

5vonage.com/unified-communications/pricing/?bypassgeoloc=true
6ringcentral.com/office/plansandpricing.html
7star2star.com/plans-and-bundles
8ringblaze.com/pricing