The top business VoIP system for small business and large enterprise
It's one of the best solutions for business communications, it's affordable, and it lets you work from anywhere. We're talking about business VoIP solutions, and if your business is still using a traditional PBX phone system, it might be time to cut out the need for a PSTN landline (that's an old-fashioned home or office phone line to you and me).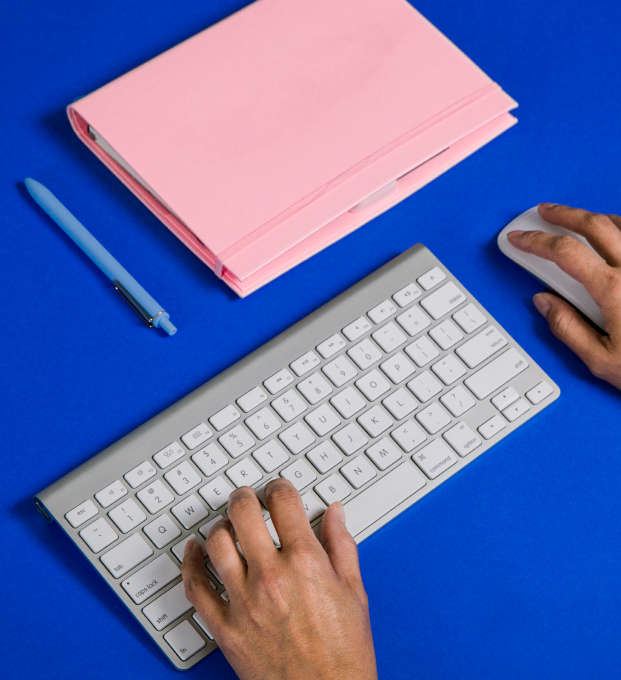 What is business VoIP?
VoIP, otherwise known as Voice over Internet Protocol, is the technology that allows transmission of voice calls over the Internet—without the need for a traditional phone network.
"Business VoIP" simply refers to VoIP being used in the specific context of business and work. Some folks are experimenting with using VoIP at home too, which can be cheaper than having a traditional phone line—but the really impactful benefits and cost-savings become apparent when it's a business using VoIP.
Requiring only a stable internet connection, VoIP essentially converts an analog signal (like your voice) into a digital signal that's sent over Wi-Fi (or increasingly, a 5G network)—which ultimately means a company can make phone calls with customers, prospects, and teammates all around the world at a much cheaper rate.
Long story short, VoIP is a secure and flexible alternative that's ideal for businesses of pretty much any size.
How does business VoIP work?
Because VoIP doesn't require a landline or traditional PBX business phone system to work and can be run entirely in the cloud, that means you don't have to constantly buy new software or do manual upgrades. (Although you can still use a desk phone if you want, since many VoIP business phone services are compatible with both mobile phones and desk phones.)
You need the bandwidth, of course, in order to get high-quality, crystal-clear phone calls no matter where you are—and this is actually one of the most overlooked keys to business VoIP. If you don't have a good Internet connection, then your call quality might suffer. (And it has nothing to do with your provider!)
One of the biggest advantages of a VoIP phone service is that it gives you a range of advanced features beyond just making calls, like call waiting, call recording, real-time transcriptions, analytics for how often your business is getting calls from customers, on-hold times, and more (which we'll get to in just a bit).
Traditional landlines vs. making calls over the Internet with business VoIP
If you're making the decision between having a phone system on traditional landlines or doing with business VoIP, here are some of the biggest differences between the two to be aware of:
Technology and operation
While traditional landlines allow you to place calls via physical copper wires and networks all over the world, VoIP only requires a stable Internet connection to receive and make calls.
👉Dialpad tip: If you're looking to bring your remote or hybrid team together virtually, then VoIP is in most cases the better alternative to a traditional PBX phone system. (It's easier to set up and takes less time to set up.)
Cost
Since VoIP phone systems are entirely cloud-based, setup and maintenance costs are much lower. You don't need that big investment up front on hardware (or any hardware at all), and most traditional landlines require regular upkeep from skilled technicians (which is costly).
VoIP, on the other hand, requires no manual setup and most providers do all the hard technical work for you anyway for free or at a much lower cost.
Pricing is also a lot more flexible and you're usually not roped into a fixed-term contract, meaning you can easily scale up or down as your business grows.
Extra features and upgrades
One of the biggest differences between VoIP and traditional phone systems lies in the features available. Compared to traditional business phone systems, VoIP can offer a range of advanced features (depending on your service provider) that you can spin up and add to your subscription plan in minutes instead of having to wait for your contract to renew or for a team to come in and update your system.
How to know if your company is a good fit for business VoIP
Of course, we're not going to say that business VoIP is the best fit for every single company. But if any of these things sound familiar, it would probably be a good option to look into:
You have employees working remotely or a global/remote/hybrid team
If your team is working remotely or you have an international team, going with a VoIP solution lets you hire and onboard employees from pretty much anywhere in the world. Quickly. You'll never need to worry about location—since VoIP only needs the Internet to place calls, your team can work from wherever they want.
And if you make lots of long-distance calls, which would usually be costly with a traditional landline system, you'll end up reducing costs significantly with VoIP too.
You want to be as cost-efficient as possible
If you're still using a traditional landline, you might want to think again. Even if you're not going to make use of all the extra VoIP features, you'd still be able to save a significant amount of money by switching to a cloud-based phone system. (No physical hardware, more flexible pricing plans, and no fees on setups, maintenance, or upgrades.)
👉Dialpad tip: With Dialpad's pricing plans, you can choose the one that fits your business and growth goals and pay only for what you need. (And all of them come with unlimited calling within your home country, the US, and Canada.)
You want flexibility in your communications
If you thought VoIP technology was just for phone systems, think again! If your business also uses other channels like video conferencing, SMS and instant messaging, and faxing, then you'll be happy to know that many unified communications platforms will allow you to communicate with anyone through all these channels in addition to phone calls.
For example, with Dialpad, you can message, meet, and call customers, prospects, and teammates—all from the same app:
(And if your business needs a contact center platform, you'll be able to manage all of that in the app too.)
With so many tools and software being used today, one of the best things you can do (for either yourself or your team) is to streamline things where you can. Instead of having one app for making business calls and another for video meetings, and yet another for instant messaging—try to find versatile solutions that can do multiple things well.
Buyer's guide to choosing the best business VoIP provider: Essential features
Some factors you'll want to consider when choosing the best VoIP for your business include the usual things like budget and monthly/recurring costs, uptime and customer reviews (this will help give you insight into what other businesses' experiences were like with the software), and access to customer service (have they got 24/7 customer support?)... But there's more to it than that.
Here's a quick breakdown of essential business VoIP features to look for and be aware of.
Number porting—keep your existing number
One of the most important things is of course being able to switch between service providers without changing your business phone number.
Porting is generally pretty easy when you're switching to VoIP. With Dialpad, you can port existing phone numbers and toll-free numbers from your current phone service over to our VoIP platform. This will let your business and employees keep their phone numbers, even if you change phone provider or location.
And ultimately, it means your customers and prospects don't have to update their contact lists or address books with your new business number, which is a hassle for them.
👉Dialpad tip: Generally, any kinks or delays in the porting process is a result of your existing phone provider refusing to release the phone numbers or not allowing the port to happen in a timely manner. If they hold up this step of the process, your new business VoIP provider can't really do much about it, which is unfortunate. Make sure your team is aware of this as you're preparing to port your numbers!
Access through mobile and desktop apps
Don't want to have to provision hardware and equipment to all your employees? A business VoIP solution lets you adopt a BYOD (bring your own device) policy because it generally comes with a mobile and desktop app.
Dialpad, for example, has apps that work across iOS, Android, PC, and Mac:
(It even works on web browsers so your prospects and clients don't have to download an app to get on a video call with you!)
Whether you and your team prefer to work on your computers or want the flexibility of taking calls on your mobile devices or cell phones, Dialpad is flexible enough to allow you to work from anywhere.
Call recording and queuing
If you have a customer support team or contact center, then one simple way to improve customer relationships is to use the insights that are in your customer conversations! (Dialpad has free unlimited call recordings.)
Combine this with call queuing and your center will be equipped with all the tools needed to keep customers happy. A staple in most contact centers, call queuing features allow you to make sure all calls are distributed to the right department efficiently (which can help increase customer satisfaction).
Call forwarding to mobile
If you want to be able to work flexibly, then you probably need some type of call forwarding feature that lets you forward incoming calls to multiple numbers—this is essential for minimizing missed calls (and unhappy customers).
With Dialpad, you'll be armed with built-in functionality like call forwarding, call routing, and automatic call transfer, so you and your team can be more accessible to customers and even take care of after-hours calls. Need to add a forwarding number? You can do it yourself right in your account:
Cost
We're guessing that one of the big reasons why most business owners want to move on from old on-premises telephone systems is the cost.
But that doesn't mean that VoIP will always be cheaper. Always check the find print for whatever provider you're considering. Do they include call recordings for free? Do they say that their calls are "free" (but charge you by the minute for outbound calls)? Do they say anything about setup fees on their website?
(Make sure you're not getting nickel-and-dimed—because some VoIP providers will do that.)
Call quality
As we mentioned earlier, call quality is often dependent on your Internet connection. If you need an upgrade, T-Mobile has a partnership with Dialpad that gives you access not only to a lightning fast 5G network, but also a unified communications platform that lets you have crystal-clear calls and high quality audio.
Customer caller ID
Most people aren't going to pick up the phone if they see a random number in the caller ID. That's why it's useful to have a customizable caller ID feature so that you and customer-facing teams especially can choose what name or phone number to display. In Dialpad, you can easily choose the caller ID you want to show up from a drop down as you make a phone call: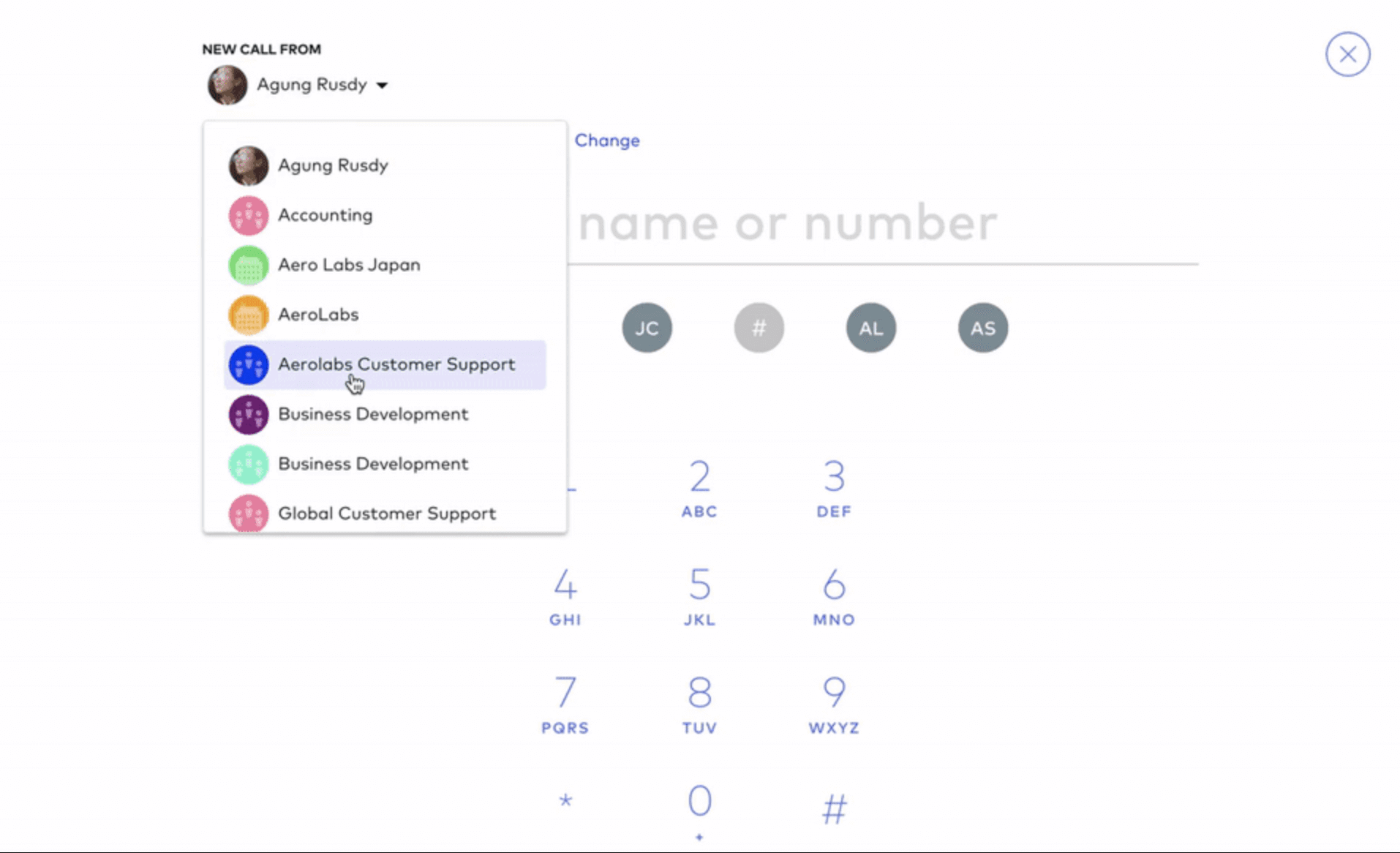 Business text messaging (SMS)
More and more businesses are discovering that prospects and clients may be more responsive through SMS or texting than through phone calls:
With some business VoIP providers, you can reach out in the channel that works best for your audience. In Dialpad, for instance, you can send SMS messages right in the same app that you use to make phone calls and video calls.
Scalability
How easy is it to scale and grow your business? Can you add new employees or agents yourself? What about adding a call forwarding number? Is the admin portal easy to use and access online? With Dialpad, for instance, you can do all of this in seconds, just by logging into your online account:
Voicemail
Some VoIP providers will charge you extra for voicemail, so if you need this feature, make sure it's included. Dialpad's most inexpensive plan comes with custom voicemail greetings, and also voicemail transcription (which transcribes your voicemails and lets you read them instead of having to listen to them—comes in handy if you're in meetings all day).
Integrations
This one is only if your business is using other software and apps—and if it is, integrations will be a big consideration. For most businesses, a CRM integration is a must because it'll allow you to automatically log phone calls to CRMs like HubSpot and Salesforce: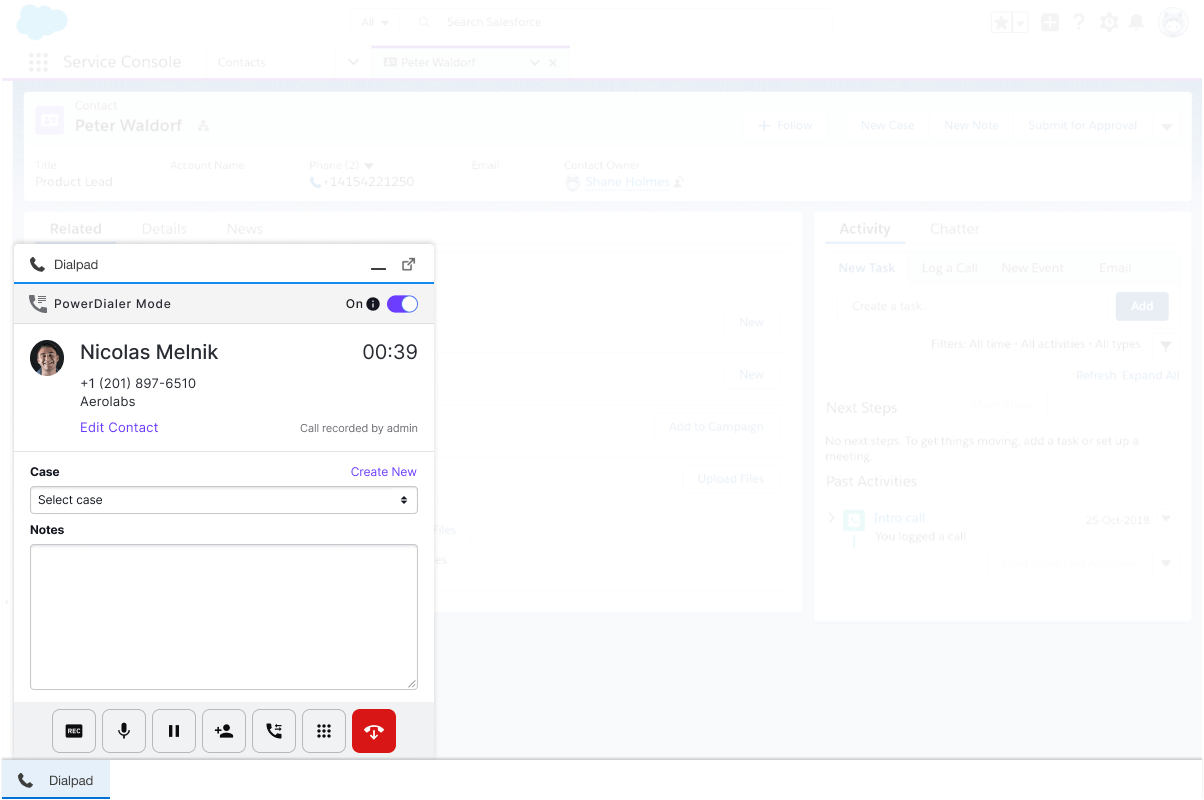 And if you're using more niche tools that don't have many native integrations, you should choose a communications platform with an open API so that you can build your own integrations.
FAQs about business VoIP
How can businesses use VoIP?
You might think that VoIP is just for making day-to-day phone calls or replacing desk phones with mobile apps on cell phones, but did you know that businesses can use VoIP technology to, say, power their contact centers and call centers too?
For larger organizations or companies that have contact centers that take inbound calls from customers, VoIP can be a flexible and remote-friendly communications solution. (You can have your agents work from home instead of setting up a physical contact center office.)
Is VoIP good for small businesses?
Many folks think that business VoIP technology is meant for enterprise organizations, but the fact is, VoIP is a great option for small business needs too.
Small business VoIP solutions are generally very affordable and super budget-friendly, and for businesses that don't have fully fledged IT teams to set up complicated phone systems, it's easy to set up too.
VoIP is such a versatile and flexible tool that it can be used by businesses both small and large—even if you don't plan to make any international calls or don't really need "unlimited calling."
When should you invest in business VoIP services?
Generally, it comes down to a few questions:
Do you think you're paying too much for your current phone system?

Do you want to have the flexibility of being able to work from anywhere?

Will your business be growing or scaling up internationally?
If you said yes to any of these questions, it's time to at the very least check out VoIP, even if you don't think you're ready to drop the landline right now.
What are some examples of VoIP service providers?
There's no shortage of VoIP service providers available for businesses to choose from. Here are some of the big ones.
Dialpad: Not to toot our own horn, but Dialpad is one of the leading cloud-based unified communications platforms—and for good reason. If you're looking for a business VoIP provider with more than just call management and phone features up its sleeve, like video conferencing, screen sharing, and messaging, then check out Dialpad. It's designed for both small businesses and enterprise organizations, and has a range of security features to protect your privacy and data.
One of the great things about VoIP is its flexibility and accessibility. Your employees will be able to have conference calls and work from wherever they want. This makes having a remote or international team easy, since you'll be able to make calls quickly and securely without having to fork out on international calling costs.
Nextiva: Nextiva is a cloud-based phone solution that's marketed as being able to connect teams and customers from one platform. While they do offer a VoIP phone system with an auto attendant (aka. virtual receptionist) feature and unlimited calling (only available for customers in the US), their "basic plan" doesn't cover SMS like Dialpad's plan does. It's also important to note that Nextiva whitelabels its unified communications platform (using Cisco Broadworks) and also whitelabels its CCaaS platform (using Five9), which means that it's essentially cobbling together different technologies built by different companies. Usually, this would result in a less integrated experience (different logins for different products, inconsistent user interfaces, and so on), so it's something to keep an eye on in free trials and demos.
Ooma office: Ooma is a business VoIP service that's been around for quite some time, and interestingly, it also has residential VoIP services. It has a mobile app, auto attendant and call forwarding on the basic plan, but does not have video conferencing, a desktop app (which is odd), call recording, or voicemail transcription (which Dialpad does have on its most basic plan).
Vonage: Marketed at very small organizations, Vonage is a basic VoIP phone system with a somewhat limited amount of features. While it gives you the basic VoIP setup, extra features like call recording, video meetings, and SMS are only available as add-ons at an additional cost. This came as a bit of a surprise, since all those "add-on" features are what we'd consider basic, essential components of a business VoIP system. Features include:
RingCentral: RingCentral has been around for many, many years and today, markets itself as a cloud-based communications platform with a built-in business VoIP phone system (but built upon traditional PBX phone system technology.) While RingCentral does offer a wide variety of communication channels including basic calling features, team messaging, and video conferencing, it's somewhat lacking in the AI department.
If you want in-depth insight into your call analytics, sentiment analysis, or real-time transcriptions, you won't get that with RingCentral. and set up an automated phone system for commonly asked questions.
Need a business VoIP solution? Try Dialpad for free
If you work at a business that uses a range of communication channels including SMS, video conferencing, and more, then you should check out Dialpad.
You don't need to commit to anything—just sign up for a 14-day free trial to see how Dialpad could work for your business. It takes just a few minutes, and you can sign up with your Google or Microsoft 365 account to speed things up even more.