Call transfer
With Dialpad, you can easily transfer an incoming call to someone else or even a voicemail with one click. Sign up for the 14-day free trial to try it out!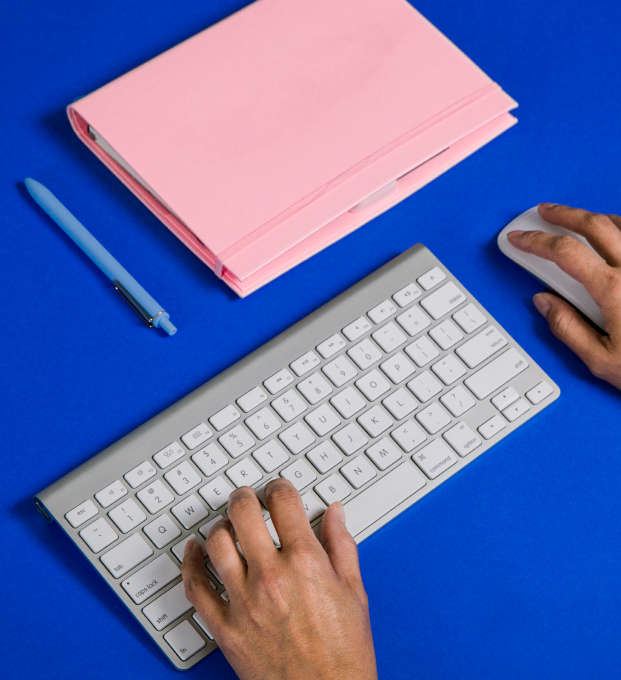 Remember old phone rooms with two or three operators working a ton of different switches and patching calls through?
Well, telecommunications technology and phone systems have come a long way, and transferring a call is—well, way simpler.
You can even do it yourself, in seconds(!), without a secretary or an office receptionist.
But the function of a call transfer has changed a little today. After all, businesses don't work the way they used to a few decades ago.
Below, we'll walk through what a call transfer looks like today, the two main types of transfers, and how to do a transfer in a few simple steps.
What is a call transfer?
Put simply, call transfer is when you move a live call from the original recipient (usually it's you) to another person. (Hopefully the person who was meant to receive it, or who's best able to deal with that caller's question!)
When a call goes to the wrong person or team (for whatever reason, let's not play the blame game), then doing a call transfer means that almost any mistake can be quickly fixed.
On another level, call transfer is a great customer service tool because it can help placate a potentially angry customer by getting them to someone who can solve their problem quickly.
Now, let's look at two different types of call transfers.
2 types of call transfer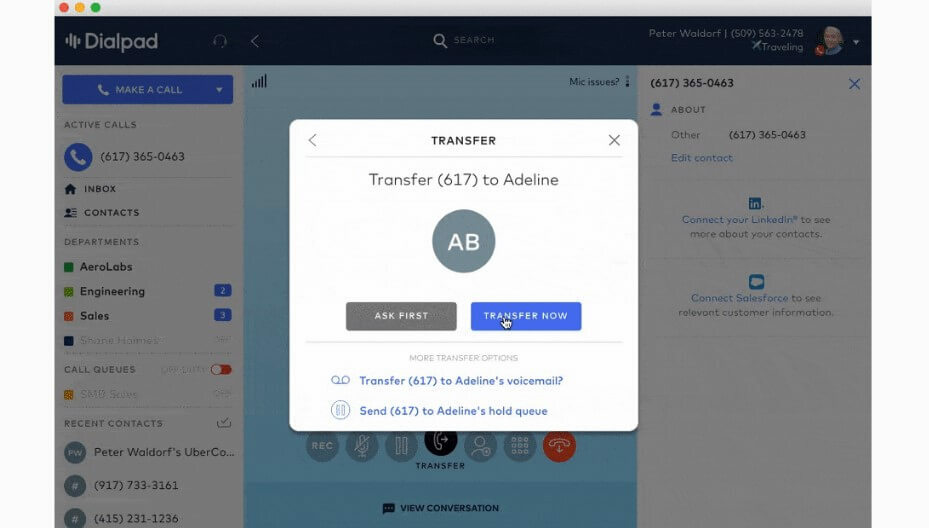 Wait, there are different types of call transfer? Don't you just press a couple of buttons and the caller is connected to the right person?
Well, yes and no.
Warm transfer
A warm transfer (sometimes also called an attended transfer) happens when the agent or receptionist who received the original call actually speaks to the person they're transferring the call to.
That means putting the caller on hold (briefly!) while you let the person you're transferring the call to know that there's an active call for them and you're transferring it through.
👉 Dialpad tip: If you're going to put a customer on hold, let them know you are doing it, and have some pleasant hold music set up. If you just leave your caller in silence, they may think you've terminated the call… so this might be a case of "bad hold music is better than no hold music."
Cold transfer
Okay, you can probably work out what a cold transfer is now.
Also called a blind transfer, this is when you transfer a call to someone—completely unannounced. The downside of this is that if the person you're transferring the call to isn't available, the call may go to their voicemail.
How to transfer calls in 4 simple steps
There may be some variation between how different phone systems make call transfers happen, but for the most part, they follow a similar 'roadmap."
If you can learn the basics, then you're very unlikely to get lost. The one thing that is constant no matter what tools you end up using? Call transfer etiquette (before and during the process), of course.
Explain. Politeness is paramount in customer service, and that especially applies to transferring a call. Let the caller know why you need to transfer them! (For example, they called the wrong team or person.) Never blame them. ("You dialled the wrong number" is a no-no.) Remember, your goal is to solve the issue quickly—not make them feel bad about themselves.

Prepare them. Let the caller know you're going to put them on hold while you transfer the call. Just suddenly cutting them off and leaving them with that dreaded elevator music is not the way to go! It may even be the case that they don't want to hang on and be transferred. If that's the case, ask if you can arrange a callback.

Cover. Even with the best software and intentions, things may go wrong. If you really want to cover your bases (or if this is a VIP client on the line), give the caller your name and extension number before you do the transfer in case the call experiences some sort of issue and gets disconnected. Alternatively, you can also give them the direct number or extension of the person you're connecting them to, just in case.

Warm transfer. Where possible, try to always go with a warm transfer. It gives you a chance to explain the caller's question (if they gave you the details) and lets the other person who's receiving the transfer actually prepare for the call—at the very least, they'll know the caller's name.
👉 Dialpad tip: One of the most annoying things about call transfers for the caller or customer is having to repeat their issues or questions. That's why a warm transfer is generally better than a cold transfer. The agent can do that work for the caller!
4 benefits of having a call transfer feature in your business phone system
Generally, being able to transfer phone calls is useful for both small and larger businesses.
Of course, in a small business, you may be able to just shout across the office that you're transferring a call to a colleague's desk phone—unless everyone's working remotely of course.
Either way, be sure to put the customer on hold first. They really don't need to hear you shouting at full volume to Benny who handles accounts.
But if you aren't using call transfers already, here are a few reasons why you might want to look into it.
It makes you more available to customers. Having a call transfer ability means that you can link up with teammates in other departments more easily to support customers that have a wide range of questions. That makes for better customer service, and happier customers.

It gives you more reach with one phone number. You may be using local phone numbers to expand your company's reach in different regions, but you don't want to be giving out phone numbers for every single department, right? To make things easier for customers, most companies choose to provide one number on their website that customers can call, then transfer to other departments or team members through an interactive voice response (IVR) menu.

It gives your team more flexible/mobile options. What if a customer needs to speak to one specific agent, but they're traveling or out of the office? Call forwarding and transfer allows you to transfer the original call to that person's cell phone or landline at home so that they can help the caller—no matter where they're working from.

It lets your team scale behind the scenes. If you're in a seasonal industry, like travel or retail, the demands on your business can fluctuate a lot. (Or you might just be growing quickly!) Having that call transfer ability means you can scale your customer support up—or down—to meet any changes in call volume, without your customers being any the wiser.
How to transfer calls with a phone system
Okay, now let's look at the steps in how to transfer a call. We'll use Dialpad's unified communications system as an example, but really this should be just as easy no matter what phone system you're using.
Quick note: How to transfer a call with Dialpad will vary slightly depending on the device you're using. Let's take the desktop version as an example: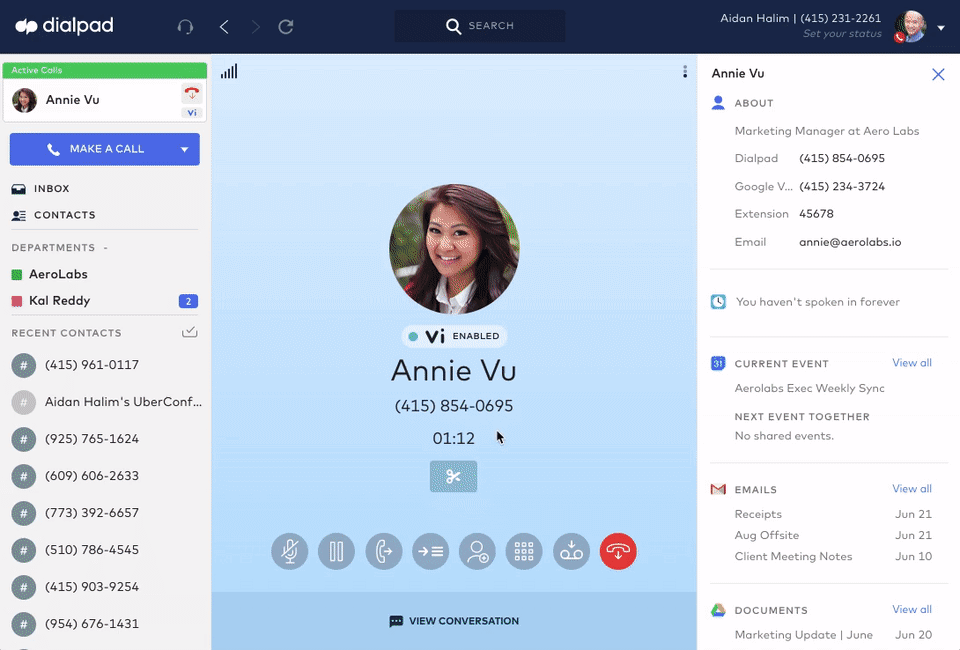 Transfer to a company directory (or other numbers)
Warm transfer
With Dialpad, you can do a warm transfer to other team members, different departments, call centers (where a number has been assigned), and even to numbers outside your organization.
First, put the caller on hold (let them know you are doing this) and click Transfer on your call screen.

Start typing the name of the person you plan on transferring the call to. That will pull up a list of possible names from your Company Directory in Dialpad:




You'll see their availability (whether they're already on another call). Since this is a warm transfer, click Ask first to speak to them before transferring:





Let the person know there is a live call you want to transfer to them. (In this example, you'd tell Kal.)

Transfer the call by clicking the Transfer now button. (Yes, it is that easy.)
👉 Dialpad tip: If you want to introduce the caller while all three of you are on the line, there's also a Merge option that'll put all three of you on the call. You can make introductions and then leave the call.
Cold transfer
Dialpad allows for simple cold transfers from desktop, Android, and iOS too. You can transfer calls with the same options as with a warm transfer.
Put the caller on hold.

Dial the person you plan on transferring to or find them in the Company Directory.

Skip the Ask first option and just transfer the call by clicking the Transfer button.
Transfer to voicemail
It may be that the person the customer needs to speak to isn't available right now. You can choose to transfer the call to the voicemail of that person (or of the team, if they have a shared voicemail).
If you choose this option, the active call is placed on hold while you transfer to the voicemail number. Once again, all you need to do is find the right person in the Company Directory, and this time select Send to Voicemail.
👉 Dialpad tip: Always ask if the customer wants to leave a voicemail in this situation. If they're not expecting a voicemail, it might be annoying for them! This way, you're also giving them the option to call back later or request a callback.
Transfer to hold queue
This is an option for when things may be a little busy, but you know the relevant agent will be available soon (you may see them returning from a break or you might have an indicator that shows the current number of callers in a queue or estimated waiting time).
To transfer to hold queue:
Place the call on hold (once you have advised the caller of actions you will take).

Transfer the call to the relevant agent's line (it'll join their hold queue).

Agent sees an "On hold notification" with the incoming call and caller ID on their sidebar.

Agent accepts the call by choosing "Switch Call to This Device" once they're finished with their current call.
Call transfer enables streamlined forwarding in your contact center
Being able to transfer calls is good for almost every kind of business. (Except maybe a one-person operation—then you probably don't need this feature.). But within the context of a call center or contact center in particular, it can really help streamline processes when it comes to fielding and forwarding calls.
Many contact centers will use some degree of automation when it comes to incoming calls. This can reduce the need for transferring calls. For example, when someone first calls, they may be greeted by IVR, and that IVR can even provide some basic self-service answers like "What are your opening hours?"
(If your team is strapped for resources, you might also boost productivity even more by transferring calls to other channels. These can include channels like web-based self-service and live chat. By doing this, you can cut down waiting times while maintaining good customer satisfaction levels.)
No matter what though, one of the keys to the effective management of a contact center is giving your callers a clear choice of options. Productivity shouldn't come at the cost of improving the customer experience!
How will you use call transfers?
If communication, particularly with customers, already plays a major role in your business model, then choosing a leading VoIP system is crucial. A plain old telephone isn't going to cut it, especially if you're taking dozens or hundreds of calls a day.
And you know we have to plug Dialpad a little here, but as truly one of the best business phone systems available, Dialpad gives you access to not only easy call transferring, but also a whole host of other features like visual voicemails, integrations with Salesforce and Hubspot, and call center recording.
Whether you're in a startup, a large enterprise, or a dedicated call center or contact center, call transferring is a simple but useful way to get more out of a small team while still putting your customers front and center.

Frequently Asked Questions
Does every team member have access to the Call Transfer functionality?
Yes. Everyone connected to Dialpad has access to the Call Transfer feature.
What happens when a transferred call isn't answered?
The call will go directly to the recipient's voicemail inbox.
Does Call Transfer cost more?
No, this feature is a standard business feature that's available in all Dialpad plans.
Does Call Transfer work across all devices?
Yes, you can easily transfer calls on any device you can receive them on.
Are there any limitations on call transferring?
No. Every employee is able to transfer as many calls as they need to without limitation.
Can users transfer calls to numbers outside of the organization?
Yes, it is possible to transfer to an external number or even an International Number. However, this must be enabled by administration. Learn more here.
I couldn't find the answer to my question about call transferring here. Where can I learn more?
We have an extensive technical FAQ that can be viewed here.