Back to Blog
13 Nextiva alternatives you need to know (ranked by use case)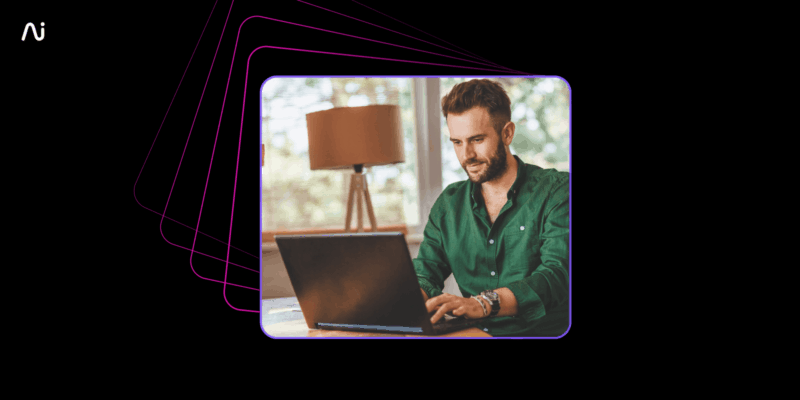 Nextiva has been a key player in the unified communications industry for a long time, but that doesn't mean it's the best fit for every team.

Nextiva has its flaws and there's never been more competitors to choose from. If you're having a hard time making sense of the alternatives available, you've come to the right place.
As one of product managers here at Dialpad (an AI-powered customer intelligence platform that offers voice, video, messaging, and a contact center in a single app), I'm researching competitors on the daily. Here are my top picks.
What is Nextiva?
Nextiva is a VoIP provider that offers cloud-based communication solutions, including a phone system, collaboration tools, and customer experience management. It's a well-known service that gives companies the ability to unify all of their conversations—from customer service calls and emails to internal chats—in one place.
Well, sort of.
Nextiva has multiple apps and logins, like separate calling and team chat apps. The issue with this is that employees can become overwhelmed by the many different apps they have to juggle, which can cause adoption to suffer.
Compare this to Dialpad's single app for calling, chat, cloud contact center functionality, and video conferencing, for example. Not only are onboarding and setup a lot easier, but you have a single source of truth for all your business conversations.


Why you might want to consider a Nextiva alternative
Nextiva is a popular VoIP solution but it might not be the best one for your team. Here are a few reasons you might want to look for an alternative:
You want a direct provider for unified communications / contact center
Often, it's easier to work with a direct provider that doesn't simply resell another company's software, like Nextiva does. A direct provider has more control over its platform, including the ability to roll out new features, upgrades, and fixes much more quickly and regularly.
You need advanced features for your growing teams
Many of Nextiva's more advanced features are only available on its most expensive plans.1 Other providers offer similar (or even more impressive) features at lower-priced tiers, making them ideal for ambitious teams that want to do more with less.
You want to get a single, unified platform at a lower price
While Nextiva markets itself as being suitable for businesses of all sizes, many of its features are only available on higher-priced tiers.
Even basic functions like call recording and voicemail transcription require an enterprise subscription with Nextiva, which can cost as much as $45 per user per month.1 This can make Nextiva a pricey option for smaller teams, or for growing teams that need to scale more affordably.
13 Nextiva competitors and alternatives and how they compare
To help you find the right solution, I've ranked the options below by splitting them into two categories: All-in-one solutions and UCaaS-only solutions.
Category A: All-in-one solutions (phone, messaging, contact center, and more)
1. Dialpad: AI-powered business communications
Dialpad is a cloud-based communications and customer experience platform. It makes it easy to unify all of your communications in one place, while also taking advantage of advanced, built-in AI tools.
What makes Dialpad an excellent alternative to Nextiva?
Dialpad provides more advanced AI-powered features than Nextiva, and all at a lower price. For teams that want to leverage AI features, like real-time voice transcription and call pops for support agents at a lower cost, Dialpad is a great alternative to Nextiva.
What you get with Dialpad that you don't get with Nextiva
With Dialpad, your team gets access to a wide range of Dialpad Ai tools, including real-time transcription, sentiment analysis, speech coaching, and instant post-call summaries.
Real-time transcription
Both Dialpad and Nextiva have call recording, but Dialpad has searchable call transcriptions. When you can't remember what a customer said and want to refer back, you shouldn't have to listen to a 30-minute call or waste time trying to find the exact part of the call. With Dialpad, you can pull up the call transcript and search for keywords to locate the moment you're looking for:

The real-time transcription is also viewable during the call—and even gives agents helpful tips, like telling them to slow down if speaking too fast:

Live coaching
Help your team grow and improve with live coaching features, including Ai Scorecards that automatically grade every customer conversation against quality metrics:

During the call, if an agent needs to pull up any information, Dialpad's Ai Agent Assist feature automatically searches all your connected knowledge sources (even unstructured ones like PDFs and past customer conversations) to find the information they need, and pull it right onto the agent's screen as they're talking to the customer (this is especially helpful for new hires):

Dialpad Ai even analyzes the sentiment of each call, so when agents do need help, support managers can proactively jump in:

Automatic post-call summary
While it's nice to know the transcript is available, usually just a summary is fine. Dialpad's Ai Recap feature automatically automatically generates call summaries, outcomes, and even action items:

100% uptime SLA for enterprise users
Don't settle for scheduled downtime. Dialpad's Enterprise plan users get a 100% uptime SLA so they're never out of contact with each other or their customers.
Single pane of glass (SPOG)
Simplify workflows with an all-in-one platform that gives your team all the tools they need to do their jobs in a single app.
Pricing
Plans start at $15 per user per month. There's also a 14-day free trial, so you can take Dialpad for a spin first!

See for yourself why Dialpad is the #1 alternative to Nextiva
Take Dialpad for a test drive and see how it stacks up against Nextiva!
2. 8x8
8x8 is a unified communications platform that includes both collaboration and customer experience tools, such as a contact center, video meetings, team chat, and more.
What makes 8x8 a good alternative to Nextiva?
If your team is global or looking to expand overseas, 8x8 offers unlimited international calling plus international phone numbers. (Learn more about the best 8x8 alternatives.)
Pricing
8x8 has 5 different plans. The first two offer voice, video, and chat only: X2 ($28 per user/mo) and X4 ($57 per user/mo). The remaining four options include the addition of a contact center: X6 ($85 per user/mo), X7 ($110 per user/mo), and X8 ($140 per user/mo).2
3. RingCentral MVP
RingCentral is one of the more well-known names on this list. Like many of the rest, it's a cloud-based communications platform that provides both collaboration tools—such as audio and video conferencing tools—plus CX capabilities, like a contact center solution.
What makes RingCentral a good alternative to Nextiva?
RingCentral is a more cost-effective option for smaller teams (less than 100 users) that want unlimited domestic SMS. You also get IVR and a multi-level auto attendant on RingCentral's cheapest plan, which you only get with Nextiva's middle tier and up. (Learn more about the best RingCentral alternatives.)
Pricing
RingCentral has three plans for their communications tools: Core ($20 per user/mo), Advanced ($25 per user/mo), and Ultra ($35 per user/mo). For contact center, video, and AI packages, you'll need to contact sales for a custom quote.3
4. Avaya Cloud Office
Avaya is another popular enterprise VoIP provider that boasts a lot of features. It has a strong history in on-premises solutions, but has been making moves to provide more cloud-based solutions.
What makes Avaya a good alternative to Nextiva?
Avaya's cloud solution—Avaya Cloud Office—is powered by a partnership with RingCentral, giving you a blend of strengths from both platforms: RingCentral's unified comms and Avaya's hardware solutions.
Pricing
Avaya has three available plans: Standard ($25 per user/mo), Premium ($30 per user/mo), and Ultimate ($40 per user/mo).4
Category B: UCaaS-only solutions (phone and messaging only)
5. Aircall
Aircall is a popular VoIP solution that mostly focuses on phone system features to support call centers and sales teams. Unlike many of the other Nextiva alternatives on this list, Aircall tends to market itself exclusively to small business call center teams.
What makes Aircall a good alternative to Nextiva?
Aircall is a solid option if your business mainly communicates through voice calls, with features like IVR, unlimited calling in the United States and Canada, and call analytics. If you need video conferencing too though, you'd need to add on a separate piece of software. (Learn more about the best Aircall alternatives.)
Pricing
Aircall has two transparent pricing plans: Essentials ($30 per user/mo) and Professional ($50 per user/mo). An option to build a custom plan is also available through the Aircall sales team.5
6. Vonage
Vonage is a VoIP service that unifies calling, messaging, faxing, and video meetings into one easy-to-use dashboard.
What makes Vonage a good alternative to Nextiva?
If your focus is on streamlining your communications and can live without some of Nextiva's more advanced features, Vonage is a solid choice. Otherwise, you can check out some of the top Vonage alternatives.
Pricing
Vonage offers three pricing tiers: Mobile ($19.99 per line/mo), Premium ($29.99 per line/mo), and Advanced ($39.99 per line/mo).6
7. OpenPhone
OpenPhone is one of the newer services on this list. It's a modern phone system that lets teams manage calls and texts in a single desktop or mobile app.
What makes OpenPhone a good alternative to Nextiva?
Open is significantly less expensive than Nextiva. If your team is small or has a smaller budget, OpenPhone might be a more suitable solution.
Pricing
OpenPhone has two transparent pricing plans: Standard ($13 per user/mo) and Premium ($20 per user/mo). It also has Enterprise plans that you can get a quote for by contacting OpenPhone's sales team.7
8. Ooma
Ooma is a VoIP provider that's more limited in features than many of its counterparts. Its basic plan doesn't offer video conferencing or integrations with other software, for example.
What makes Ooma a good alternative to Nextiva?
Ooma is a great option for businesses that need features like call queuing, routing, and virtual phone numbers. It also offers unlimited calling to Mexico, unlike Nextiva. (Learn more about the top Ooma alternatives.)
Pricing
Ooma offers three plans: Essentials ($19.95 per line/mo), Pro ($24.95 per line/mo), and Pro Plus ($29.95 per line/mo).8
9. OnSIP
OnSIP is a popular VoIP service that offers your typical calling features and call center tools.
What makes OnSIP a good alternative to Nextiva?
If your team is small, OnSIP has a basic account plan for $49.95 so you don't have to pay per user. It also has a feature called "sayso" that embeds CX audio and video calling right on your website.
Pricing
OnSIP offers an unlimited plan for $18.95 per user per month, or a Basic plan of $49.95 per month for an entire account. The latter is designed for small teams with low call volumes.9

10. Phone.com
Phone.com is a VoIP provider that offers essentials like calling, conferencing, SMS messaging, and video conferencing.
What makes Phone.com a good alternative to Nextiva?
While it has a more limited set of features than Nextiva, Phone.com is also far cheaper. This makes it a good option for smaller teams with low call volume.
Pricing
Phone.com has three plans: Basic ($12.74 per user/mo), Plus ($18.69 per user/mo), and Pro ($27.19 per user/mo).10
11. Cloudphone (formerly VoxDirect)
Cloudphone is a VoIP platform that offers a mix of phone system and calling features plus advanced text messaging capabilities.
What makes VoxDirect a good alternative to Nextiva?
One of VoxDirect's most unique features is its business text messaging component, which includes bulk texting and automated text messaging workflows.
Pricing
Cloudphone has three plans: Solo ($39/month for 2 users), Partner ($99/month for 5 users), and Small Business ($149/month for 10 users).11
12. GoTo Connect (formerly Jive)
GoTo Connect is a cloud-based phone system focused on supporting small and mid-sized businesses. It offers calling and messaging features, plus video meetings.
What makes GoTo Connect a good alternative to Nextiva?
GoTo Connect offers many of its more advanced features on its basic plan. If your team is small but requires tools like call queuing and auto attendants, it might be more cost-effective than Nextiva.
Pricing
There are two plans available: $24 per month per user (up to 20 users), or $29 per month per user with unlimited users.12
13. Mightycall
Mightycall is a cloud-based call center platform that's specifically geared to small and medium-sized businesses. It offers a slate of essential calling features plus integrates with third-party tools like HubSpot and Salesforce.
What makes Mightycall a good alternative to Nextiva?
Mightycall is easy to learn and use, which makes onboarding new members relatively straightforward. As well, Mightycall's Enterprise plan includes unlimited users.
Pricing
There are two tiers with transparent pricing: Core ($15 per user/mo) and Pro ($20 per user/mo). Plus Enterprise plans with volume discounts and custom contracts.13

The best of Nextiva's competitors: Dialpad
Dialpad offers industry-leading AI features at competitive pricing—with a 100% uptime SLA to boot—making it not just a great Nextiva alternative, but a leading alternative to Nextiva competitors as well! See for yourself with a 14-day free trial.
FAQs about Nextiva alternatives
Is Nextiva a VoIP system?
Nextiva is a unified communications provider that offers a full VoIP phone system, in addition to other communication tools.
How do I cancel my Nextiva service?
1 nextiva.com/nextiva-pricing.html
2 8x8.com/products/plans-and-pricing
3 ringcentral.com/us/en/office/plansandpricing.html
4 avaya.com/en/ca/products/ucaas/cloud-office-pricing/
5 aircall.io/pricing/
6 vonage.ca/en/pricing/
7 openphone.com/pricing
8 ooma.ca/legal/rates/

9 onsip.com/pricing
10 phone.com/pricing/
11 cloudphone.com/pricing
12 getvoip.com/blog/gotoconnect-pricing/#goto-connect-pricing-plans
13 mightycall.com/pricing/