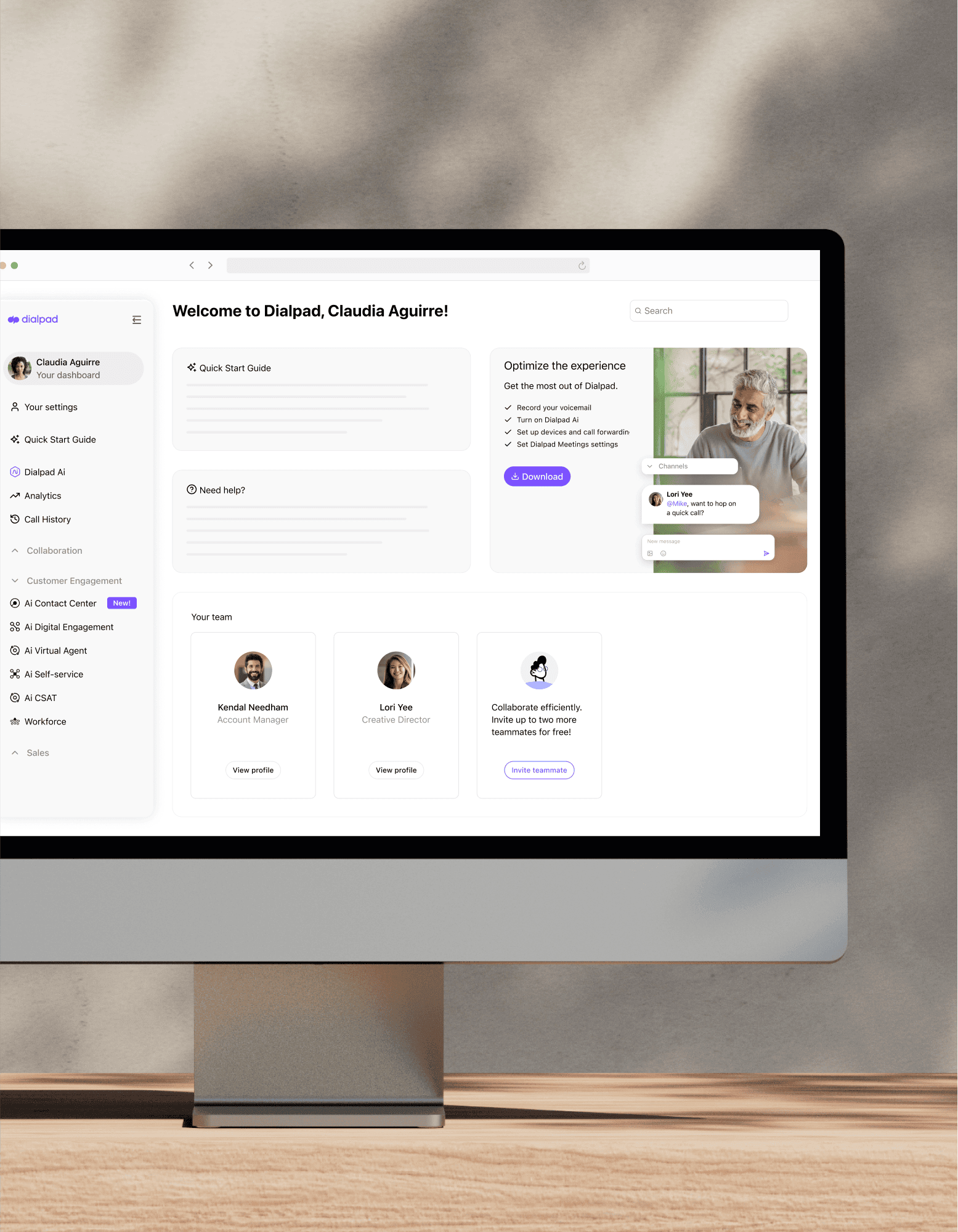 easy breezy
Setup and deployment
With Dialpad's cloud-native platform, installation and user management are easy to do—in most cases, on your own. If you're looking for an AI-powered collaboration platform that's easy to set up and administer, book a product tour to see just how easy Dialpad is to use!
Ensuring a successful installation
Every organization has its unique communication needs. That's why, if you need it, our Professional Services team can work with you to make sure your software deployment is configured to maximize success from Day 1.

Your Engagement Manager is the designated owner of your enterprise deployment program. Providing ongoing planning, value realization, and customer advocacy across customer stakeholders and Dialpad internal teams, the Engagement Manager will lead your deployment from kickoff to a successful conclusion.
Your Solutions Architect will help you design and configure your setup, do QA, and provide go-live support. Last but not least, our customer support team is also available via live chat, email, or phone.
Make the most of your investment
If you've ever used a unified communications and/or cloud contact center platform, you've probably seen the benefits of scalability and mobility. During the deployment process, we recommend that you have a comprehensive BYOD policy so employees can easily use their personal devices as their business phones. This will help your team start working productively outside the office and flip calls and video meetings between devices without missing a beat:

👀 See how they did it
See how Second City deployed Dialpad in under five days, with over 500 employees and six locations.
Scale communications as your enterprise grows
With Dialpad, you can add and remove users in just minutes with a single click. Unlike legacy systems, cloud-based phone systems and collaboration platforms are designed to be intuitive and easy to manage through your online dashboard:
From users and phone numbers to the number of connected devices to the storage of voicemails, calls, and messages, you'll have full control with Dialpad.
See how easy it is to get set up with Dialpad
Book a demo to get a personal walkthrough for you and your organization! Or, take a self-guided tour to play around with Dialpad on your own first.