Zendesk Integration
Overview
Whether your support team is down the hall or in a different time zone, the Dialpad and Zendesk integration puts all the tools your team needs for better customer service in one place. Additionally, with everything stored in the cloud, your data from both platforms will update and sync automatically across all devices so that you can close your customer tickets from anywhere.
With the Dialpad Zendesk integration, agents have access to crystal clear HD calling right inside their service platform. Support tickets are automatically created with incoming calls to the call center, so agents can start taking notes right then and there. And if the incoming caller already has a ticket, you'll see it instantly. You'll never have to scramble to look up reference numbers or have customers repeat details. That means more tickets closed sooner and happier customers.

The Dialpad for Zendesk integration is available on the Zendesk app marketplace to users with our Pro or Enterprise plans. Agents will also need to be on Zendesk Talk Partner Edition.
Key Features:
Native Calling:
Native CTI embedded inside the Zendesk platform allows for inbound and outbound calling
Access to the frequent and recent contact lists
Connected calls can also launch the Dialpad Everywhere always-on-top widget which includes:

Contact history with other connected integration platforms (ex: Salesforce)
Real-time transcriptions powered by Dialpad Ai
Real-time assist cards powered by Dialpad Ai
Call Logging
Log calls back to customer history including voicemails and recordings
Native Sidebar
Customer profiles are natively embedded inside the Dialpad desktop app as well as mobile and include customer name, closed tickets, and open tickets
Embedded link to pop open customer profile inside Zendesk
Coach from Anywhere
Arm agents with the right answers with real-time assist cards that include response to frequently asked questions as well as a hyperlink to more information.
How to setup
Install the Dialpad App in Zendesk
To add the Zendesk integration, you'll first need to install the Dialpad app from the Zendesk app store.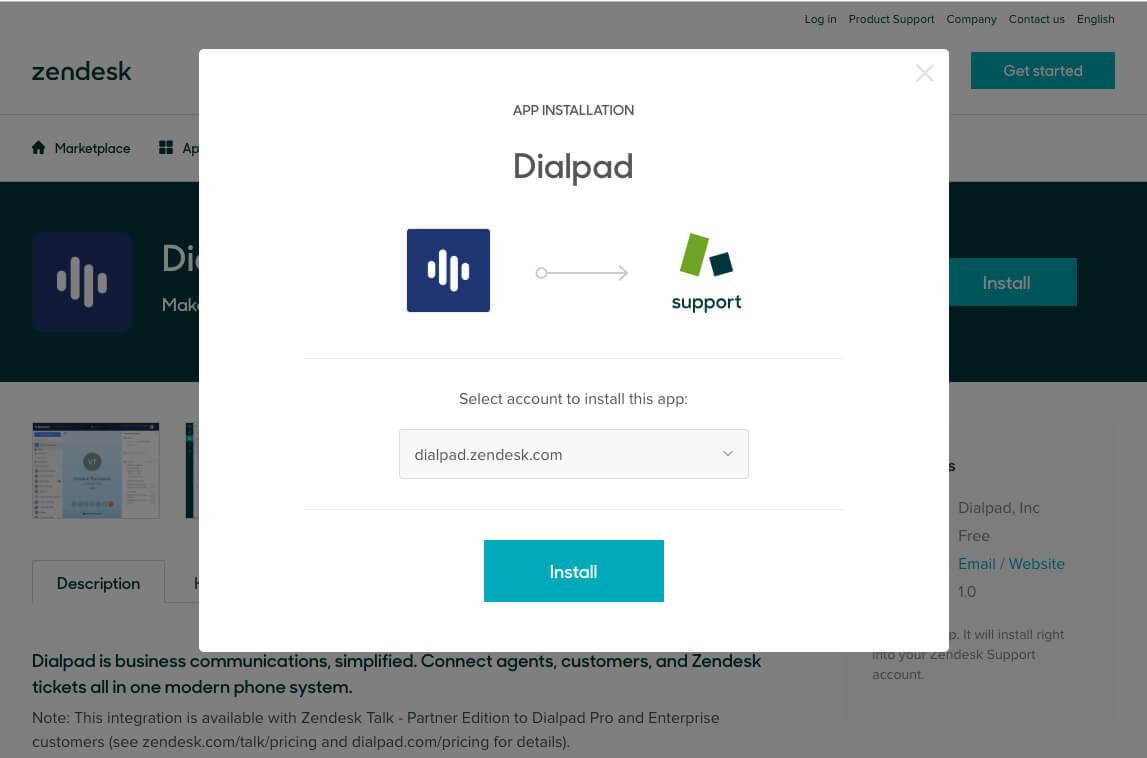 Once installed, you'll navigate back to the Dialpad Admin portal to finish setting up and enabling the integration.
Enable the Zendesk Integration
Single Office Accounts
To add the Zendesk integration to your individual office, follow these steps:
Navigate to Admin Settings > Office > Integrations
Next to Zendesk select Enable from the drop-down menu
You'll be prompted to configure your Zendesk integration before finalizing the enablement.
Multiple Office Accounts
To add the Zendesk integration for multiple offices in your Org, follow these steps:
Navigate to Admin Settings > My Company > Integrations
Next to Zendesk select Enable from the drop-down menu
After turning the integration on for your company, you'll need to select which offices you'd like to enable. To do this, select Office Access.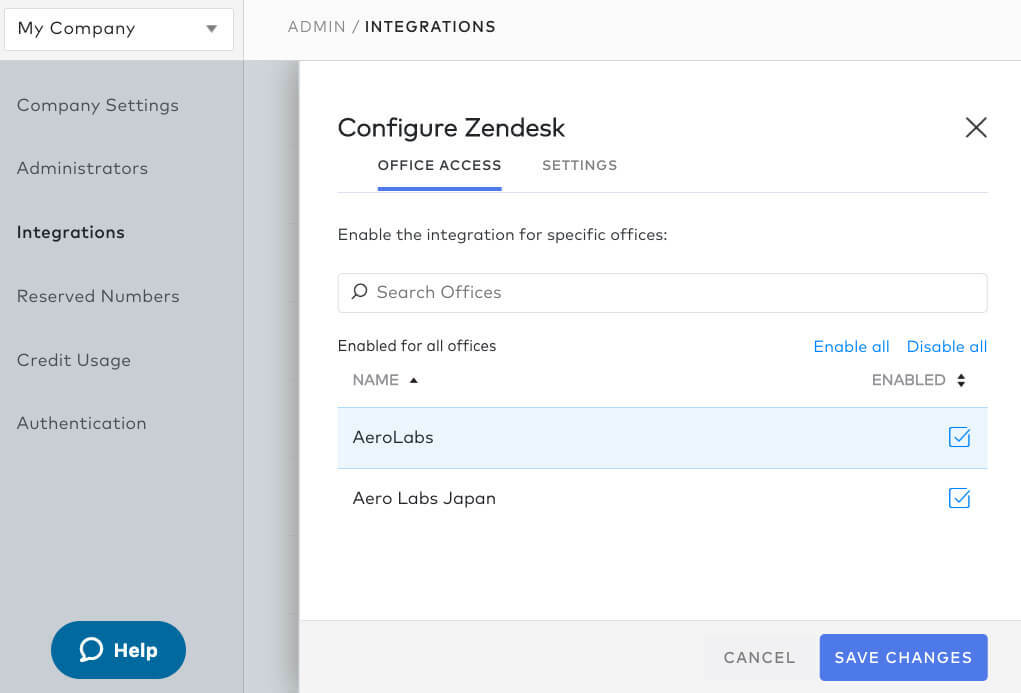 You'll be prompted to configure your Zendesk integration before finalizing the enablement.
Configure Your Zendesk Integration
Once you've added the integration to either a specific office or multiple offices, you'll need to configure your integration by choosing which team members have access and your call logging options.
Enable Users
To do this, follow these steps:
Navigate to Admin Settings > Office > Integrations
Next to Zendesk select Options > Configure from the drop-down menu
Under User Access, you will be able to choose users individually, Enable All, or Disable All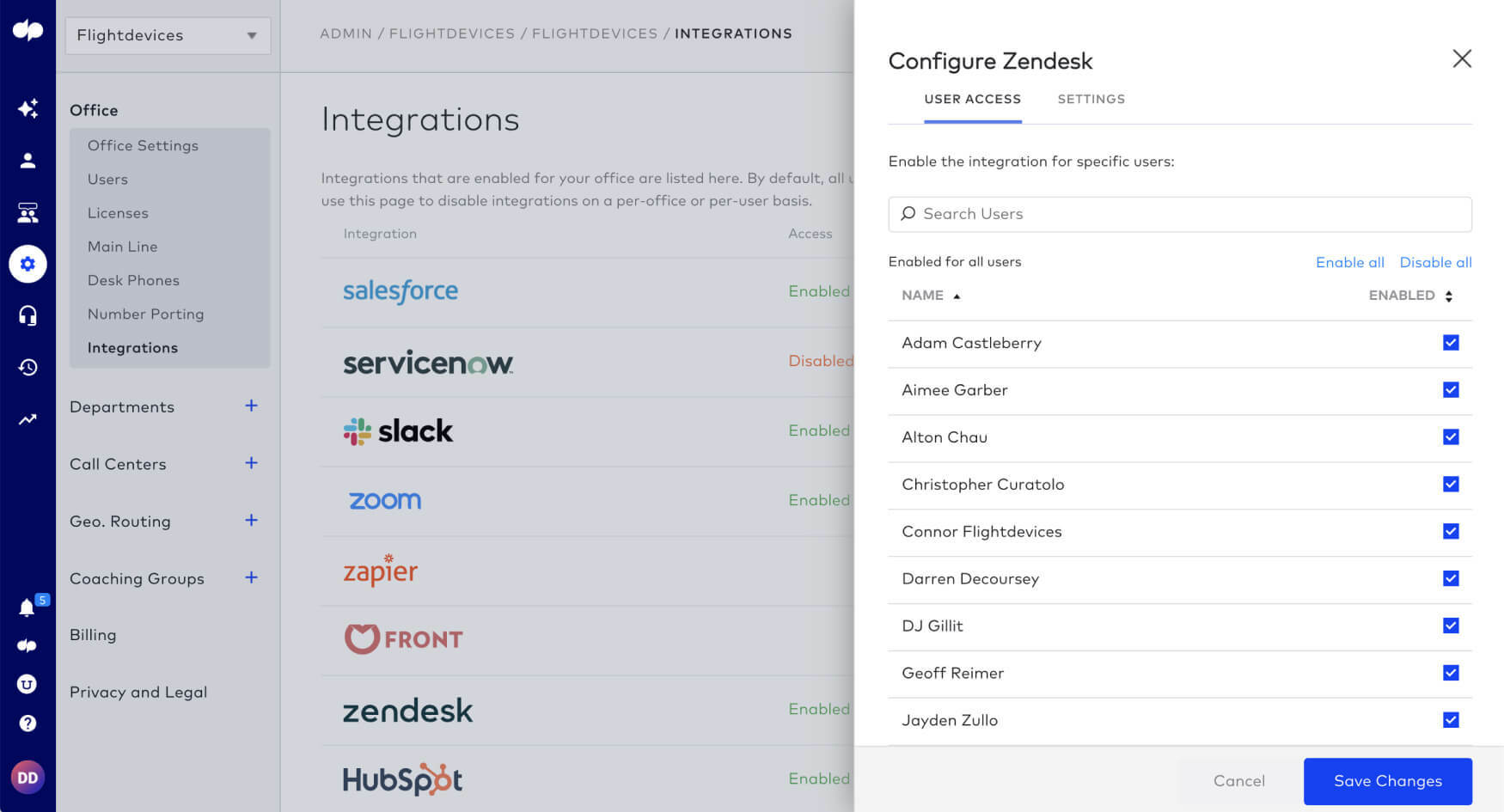 Once enabled here, your users will see the Zendesk integration appear on their contact's sidebar.
Enable Call Logging
To create tickets automatically during inbound calls, call logging must be enabled. You'll be able to enable call logging at the Company, Office, Shared Lines, and User Level.
You can log the following items in Zendesk:
Log Calls as tickets
Post call recordings to Zendesk
Log calls that are sent to voicemail
Just navigate to that specific line > Integrations >Zendesk >Options > Configure > from the drop-down menu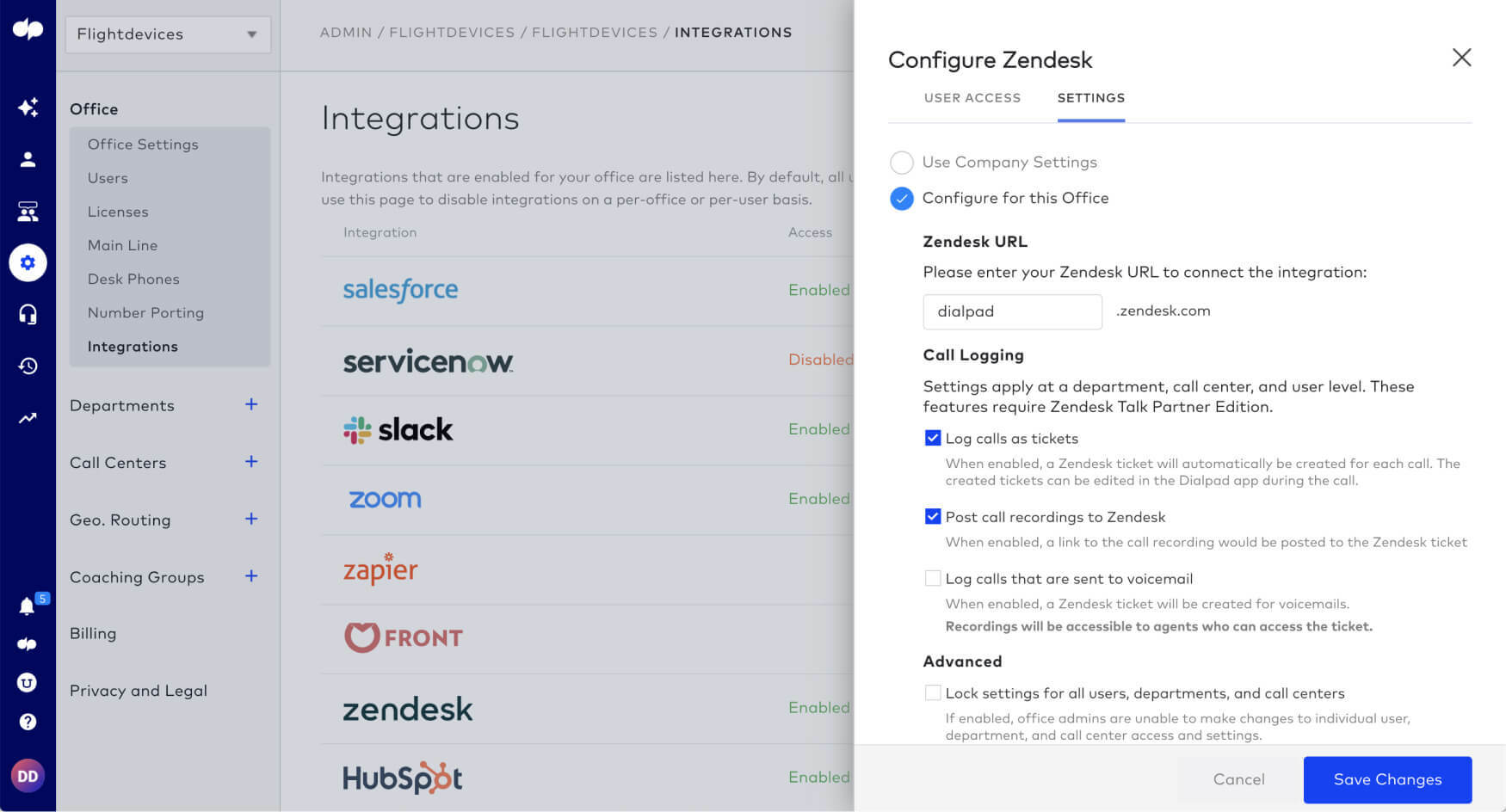 Please note, call logging in Zendesk is for external communication only. Meaning if you receive a call from another Dialpad user in your same company, that call will not log in your Zendesk instance.
Once call logging is enabled, all voicemails and recorded calls will automatically be tied to the ticket created so Agents have a central place for all customer information.
Additional info
Easy Setup and Administration

Connecting Dialpad and Zendesk is easy, and all of your contact information—name, phone number, email address, and any tickets—will automatically sync between the two platforms once they are connected.

Using Dialpad's advanced call analytics, administrators can dig into individual agent activity metrics like average call length and number of incoming calls. These metrics can help reveal insights about where you may need more support, which agents may need coaching, and how to reduce overall call times to eliminate bottlenecks.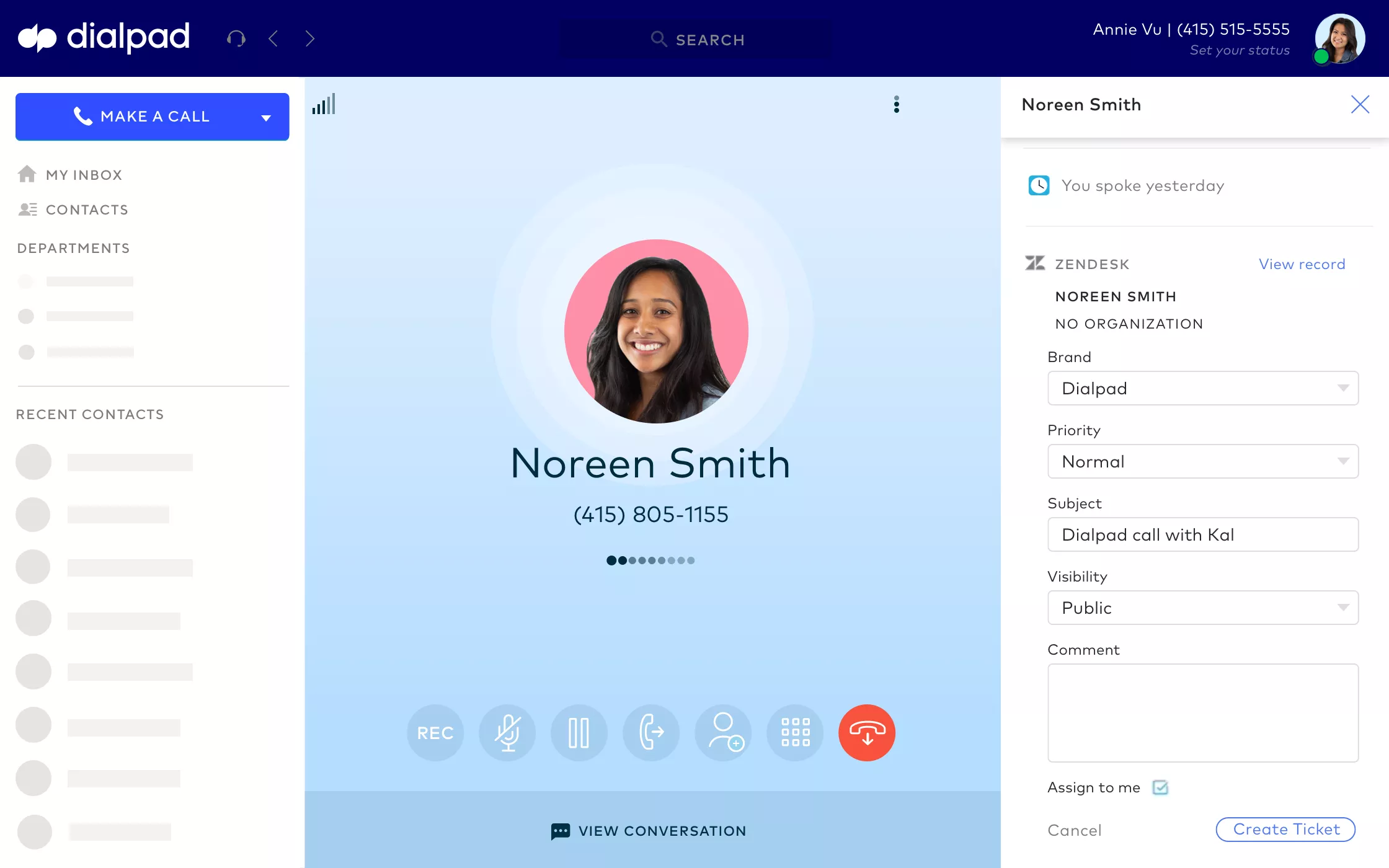 Zendesk in Dialpad
In Dialpad, important customer and ticket information are displayed and accessible right from your contact's profile—including any open or unresolved tickets. You can also create new support tickets within Dialpad so that way, your focus is on helping the customer rather than toggling tabs, switching programs, and searching for key details to help you close the ticket.