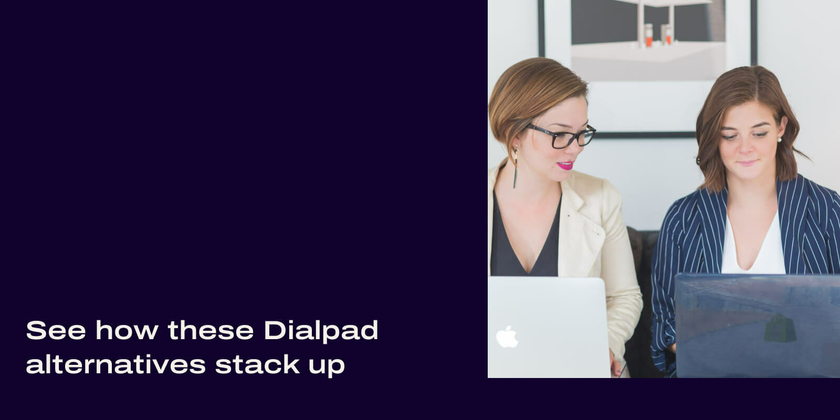 October 15, 2021
If you're working in an industry where remote work is quickly replacing traditional office environments, then you probably know how important communications technology is in terms of keeping teams connected.
But choosing the right solution for your organization isn't always easy. Whether you're looking for a simple VoIP phone system to replace your legacy PBX, basic video conferencing software, or a fully unified cloud communications platform—there are plenty of options out there.
So, our guess is you've found your way to this page because you're thinking about investing in a new business communications platform, but you're not quite sure if Dialpad is going to cut it for your team.
Well, we're here to show you:
What Dialpad can do, factually—no gimmicks

The other options out there, and how they stack up against Dialpad
To be clear, our goal here is to show you what types of business and organizations Dialpad would be a good fit for.
We're not going to just say Dialpad is the best option for every type of business, because let's face it—if you're a small business that's looking for a completely free phone system or that just needs a free business phone number, Dialpad might not be the best fit for you.
(Dialpad's Talk plan starts at $15 per user per month, but it comes with unlimited calling in your country, the US, and Canada, and unlimited SMS too in the US and Canada—among a ton of other features, but more on that later.)
Skip ahead if you like:
What is Dialpad?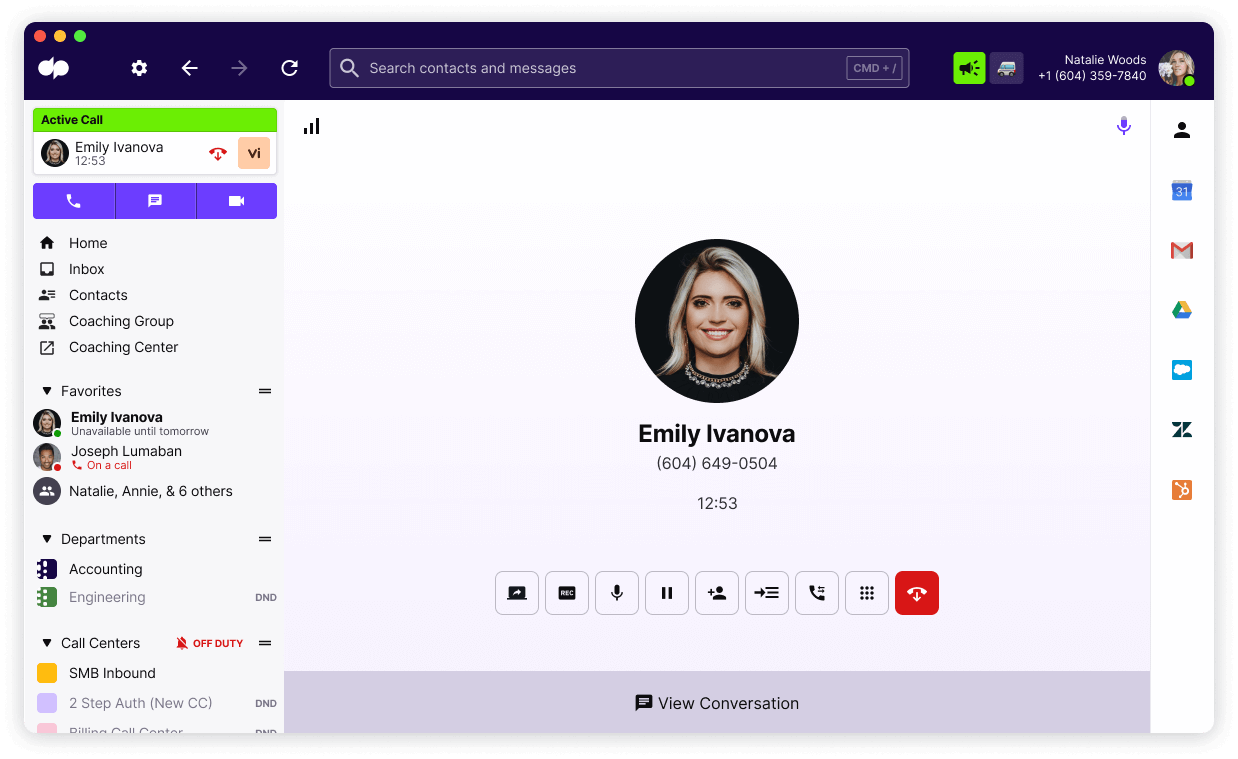 Dialpad is a user-friendly, unified business communications platform. What that means is that it gives you HD voice calls, instant and SMS messaging, video meetings, and even a fully integrated contact center platform—all in one intuitively designed app.
Not only does it have all the advanced telephony features you'd need in a phone system, it also has integrations with many popular business tools to streamline workflows and empower employees to work more efficiently, from anywhere.
Based on the pricing we mentioned briefly above, Dialpad is technically a Unified Communications as a Service (UCaaS) platform which you can pay for month-to-month, or on an annual plan, for even more cost savings.
Dialpad pricing
Standard: $15 per user per month — includes a free local VoIP number and:
Pro: $25 per user per month — includes:
Enterprise: Everything in Pro plus a 100% uptime SLA and custom retention policies
Dialpad allows you to take it for a test drive before making any commitments, with a 14-day free trial. Sign up in just a few minutes to get set up with a new business phone number.
👉 Fun fact: If you need a custom integration, Dialpad has an open API that lets you build feature-rich integrations with niche tools.
What makes Dialpad better than most other alternatives on the market?
As you'll see in a bit, there are some similarities between Dialpad and the other best alternatives. One big one is the fact that many of these tools have multiple communication channels.
(Side note: We'll look at both these alternatives both as Dialpad Talk alternatives, which is more UCaaS-focused, and also in terms of their contact center products, since many businesses with support and sales teams will need this kind of platform.)
Phone calls, instant and SMS messaging, video conferencing—these three major communication channels are table stakes for many "all-in-one unified communications" solutions, including both Dialpad and many of its competitors. (That's also why some of the weaker / less robust Dialpad alternatives, like Grasshopper, didn't make the list.)
Here are a few things that you might not have known about, and how they make Dialpad very different from the other options.
It's really easy to use
Here's the thing. Every marketing website says their tool is easy to use. But what does that really mean? We can't speak for all of the others, but for Dialpad that means you can add users and manage phone numbers—right from your online dashboard, in seconds: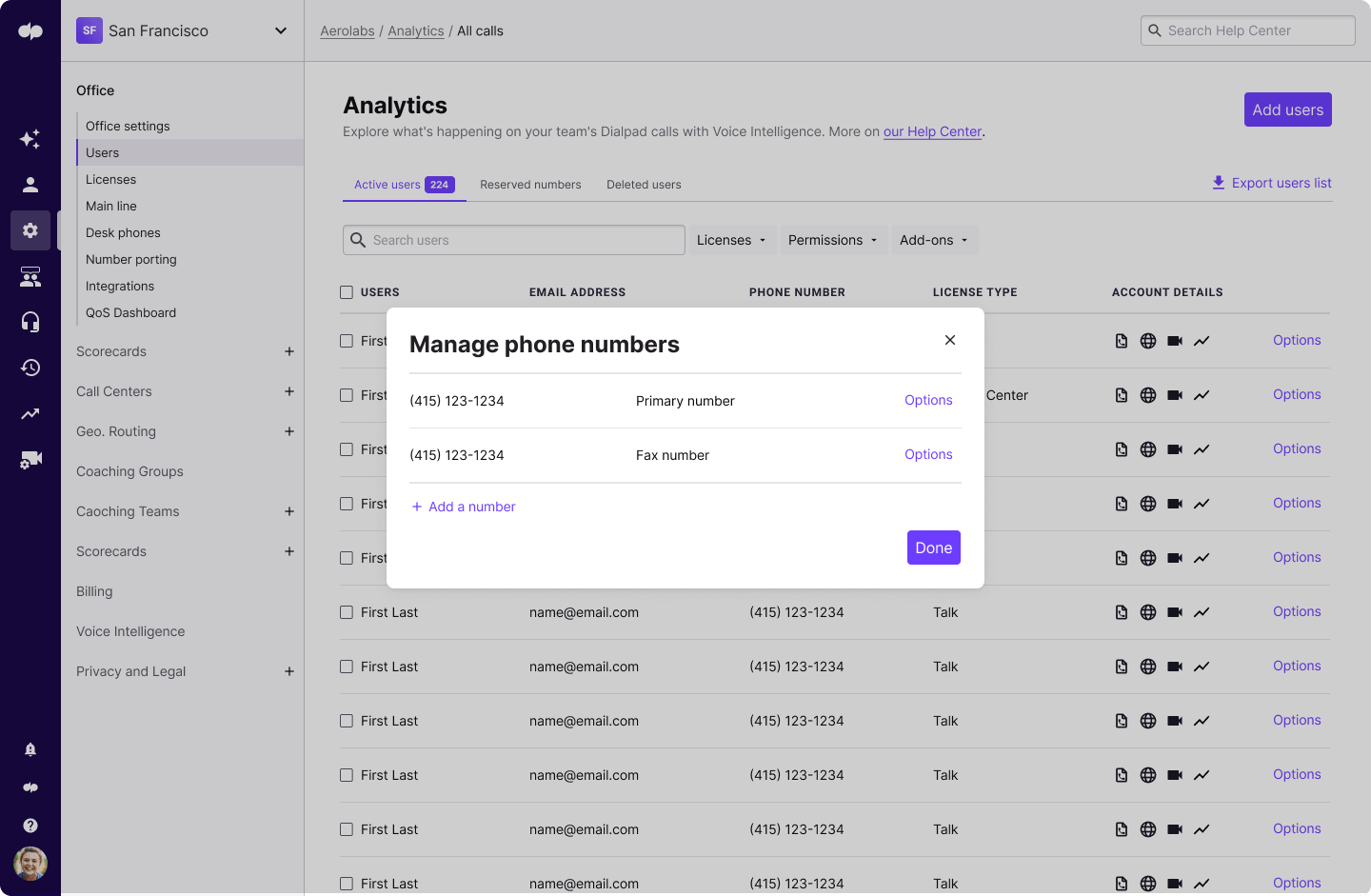 It means you can add call forwarding numbers, again, easily in seconds: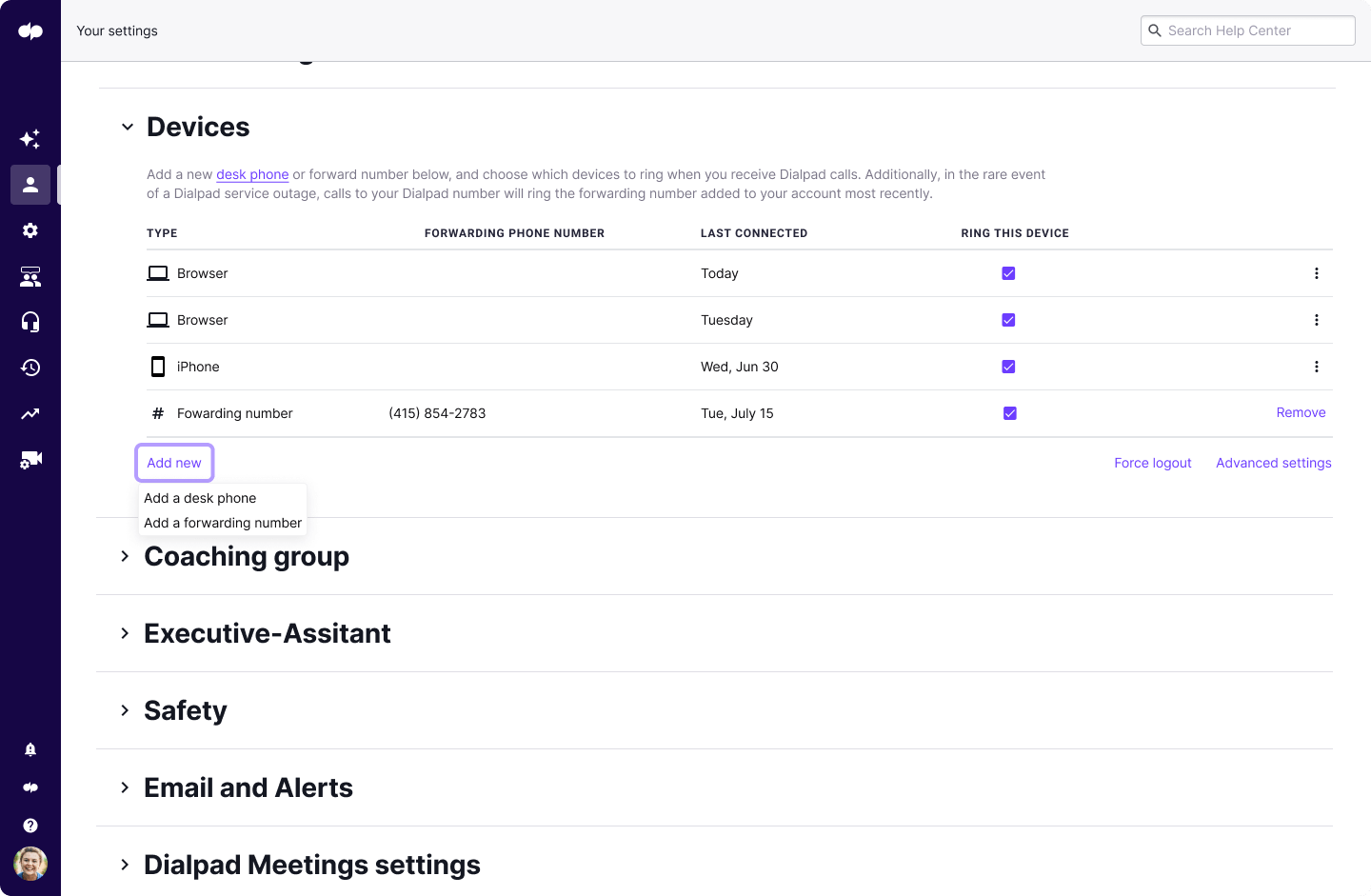 And yes, even retrieve your voicemails easily, right from the same app where you'd do everything else—and the app works across iOS, Android, PC, and Mac: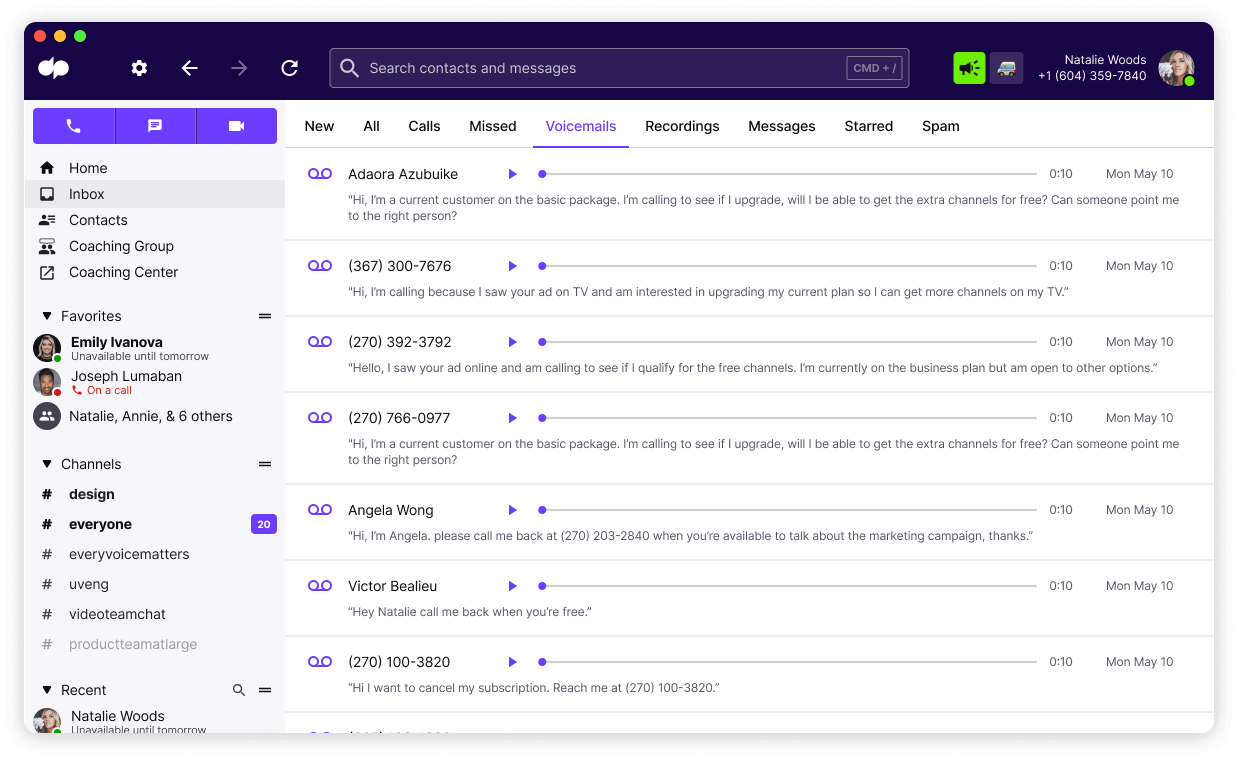 Dialpad is also browser-based, meaning your clients and prospects can join calls or video conferences without downloading anything. But what's unique about this is that you get full functionality in the web browser. Even if you're the host, you can host a meeting and do everything from muting participants to locking the meeting and more—from your web browser: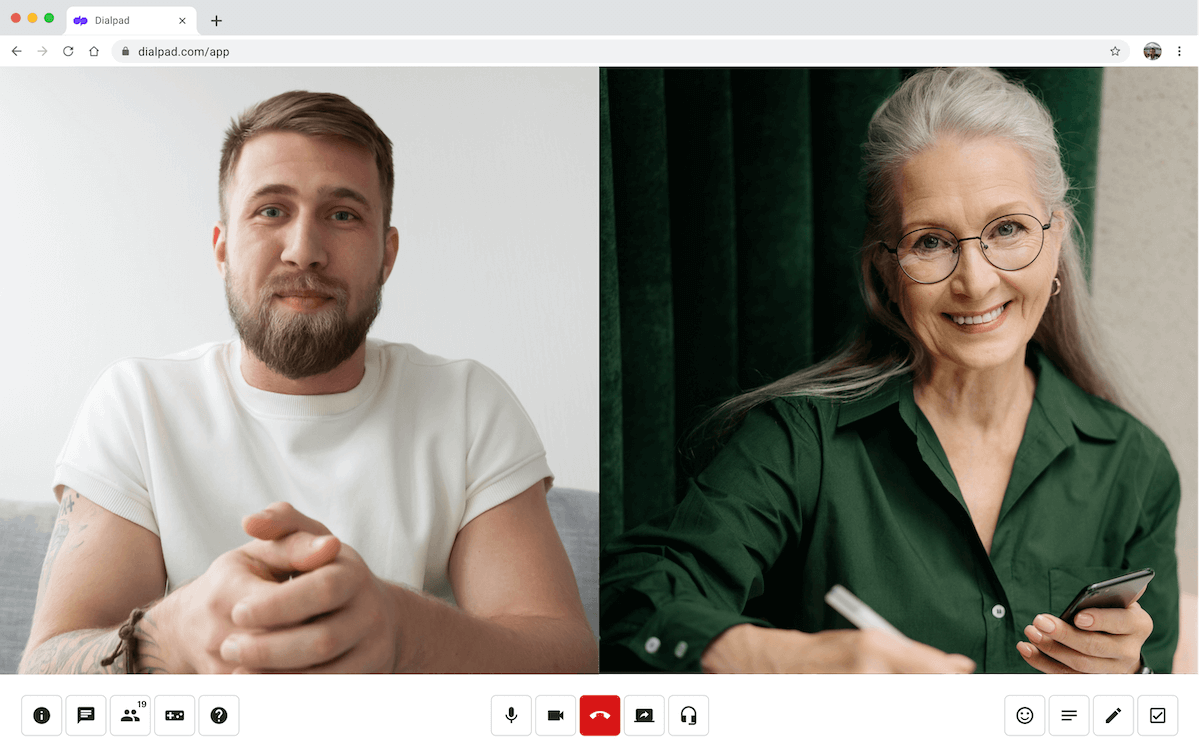 A robust, fully integrated contact center
If you have a customer support team, sales team, or general contact center team, Dialpad's Contact Center platform is fully integrated with its UCaaS platform.
That means agents and supervisors don't have to toggle between different apps and windows to do their work. They can message each other, handle customer communications, and more—all in the same app: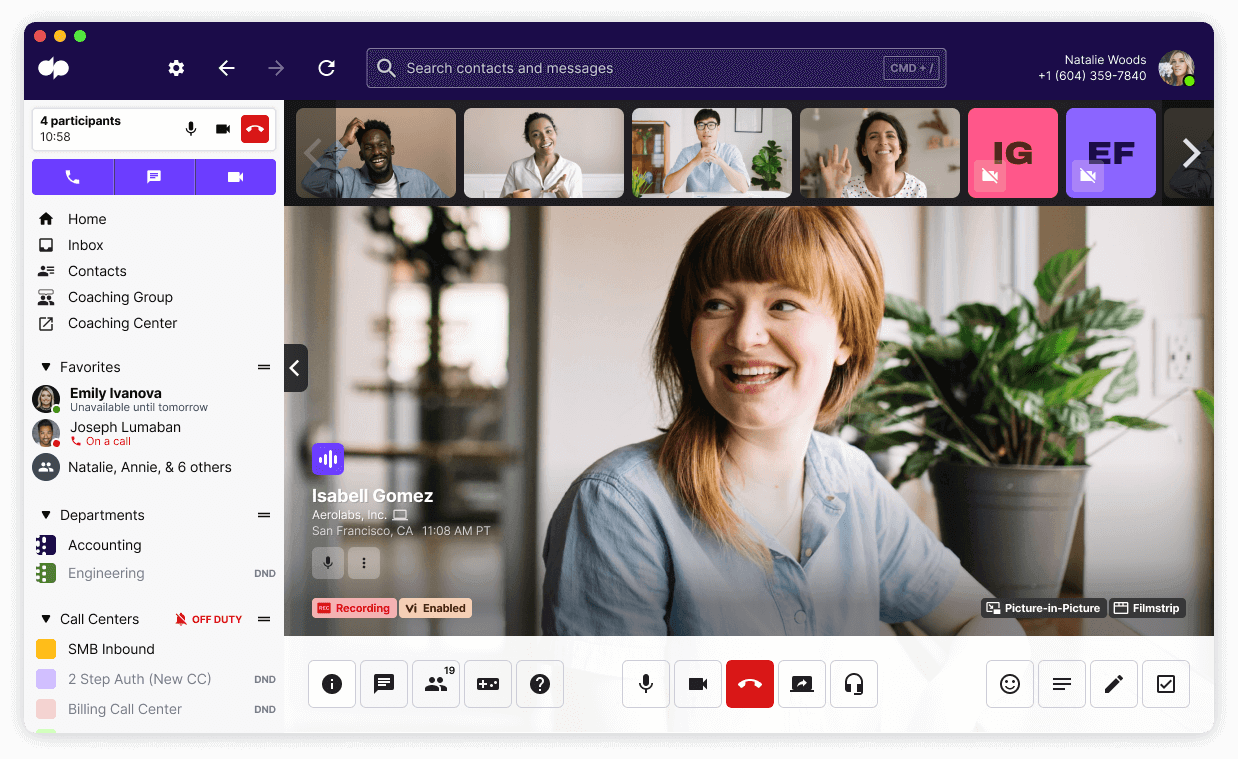 👉Dialpad tip: We'll get more into this later, but one big difference between Dialpad and many of the alternatives is that Dialpad does not resell other companies' software. Many communications providers claim that they are unified, but are actually whitelabelling or reselling other companies' software, which creates a "Frankensteined" experience.
Here are a few features that come with Dialpad Contact Center:
Proprietary AI that's built into all its products
This is one of Dialpad's biggest differentiators. Its AI (which we call Voice Intelligence or Vi) is built by our own team from the ground up—not a third party software—and is integrated right into all of Dialpad's products, including both its UCaaS and CCaaS platform.
What it does: Transcribe phone calls in real time. This is unique because most transcription software will send you the transcript after the call. Sometimes, it can take a few hours to get a transcript.
With Dialpad, you can see the transcript update itself as the conversation is happening. And it can transcribe more accurately than Google too: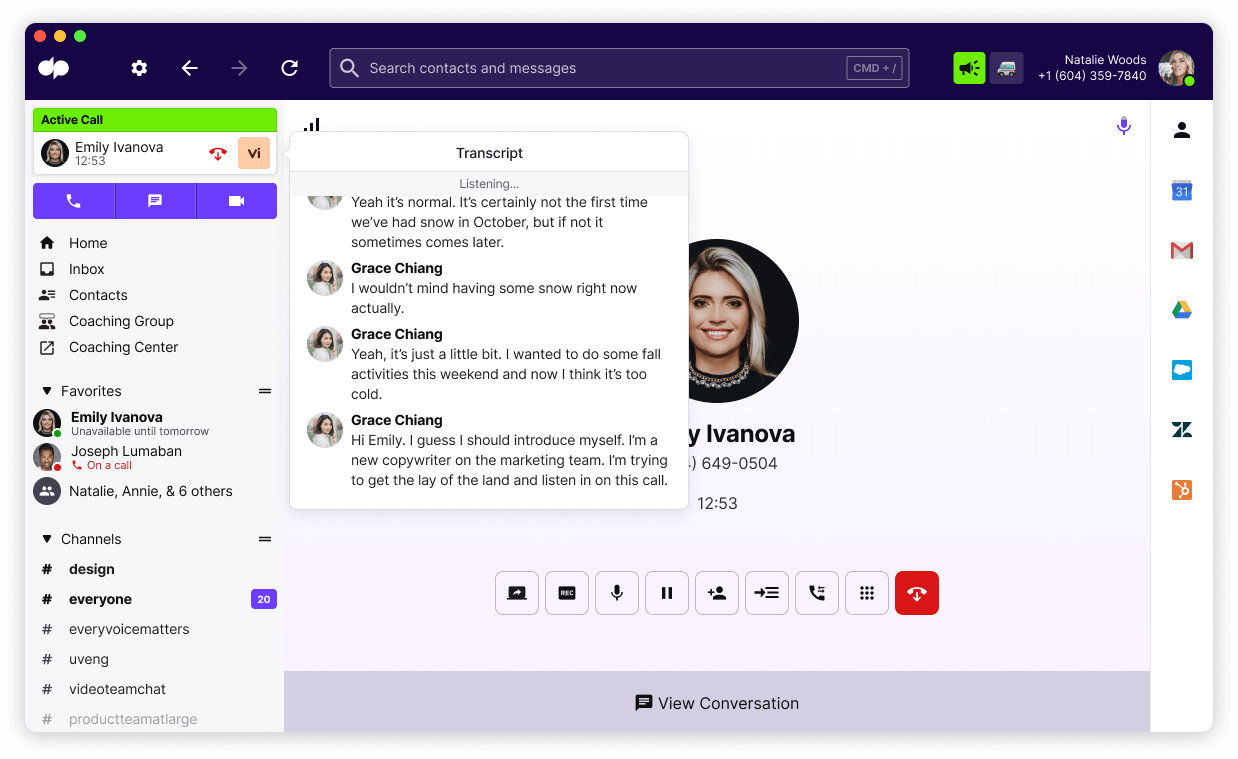 If it sounds incredible, that's because it really is, and we'd love to show you more of how it works with a product tour—you can book one here. Dialpad also has a handy post-call automation that will log your call summaries and send your attendees an email after the meeting has ended with a recap: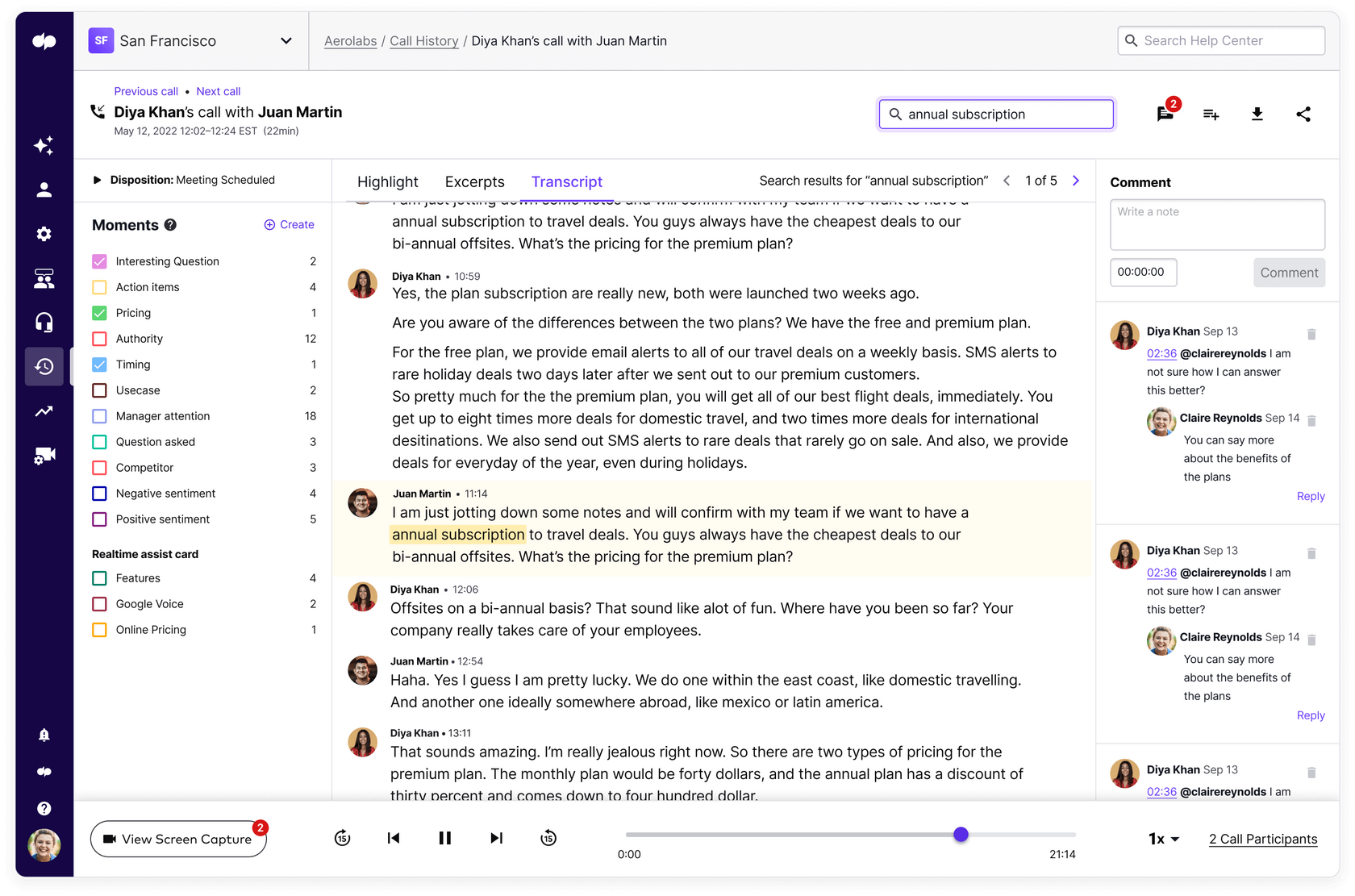 Okay, so Dialpad's Vi can transcribe all your meetings and customer calls so that you don't have to furiously type up notes while you're talking. But that's not all it can do.
Vi can also pick out keywords and phrases that you want to keep track of. Say you want to see how frequently customers are calling about refunds. You can create a "Custom Moment" in Dialpad to track every time someone says "refund" or "money back" or "cancel"—whatever related words you want: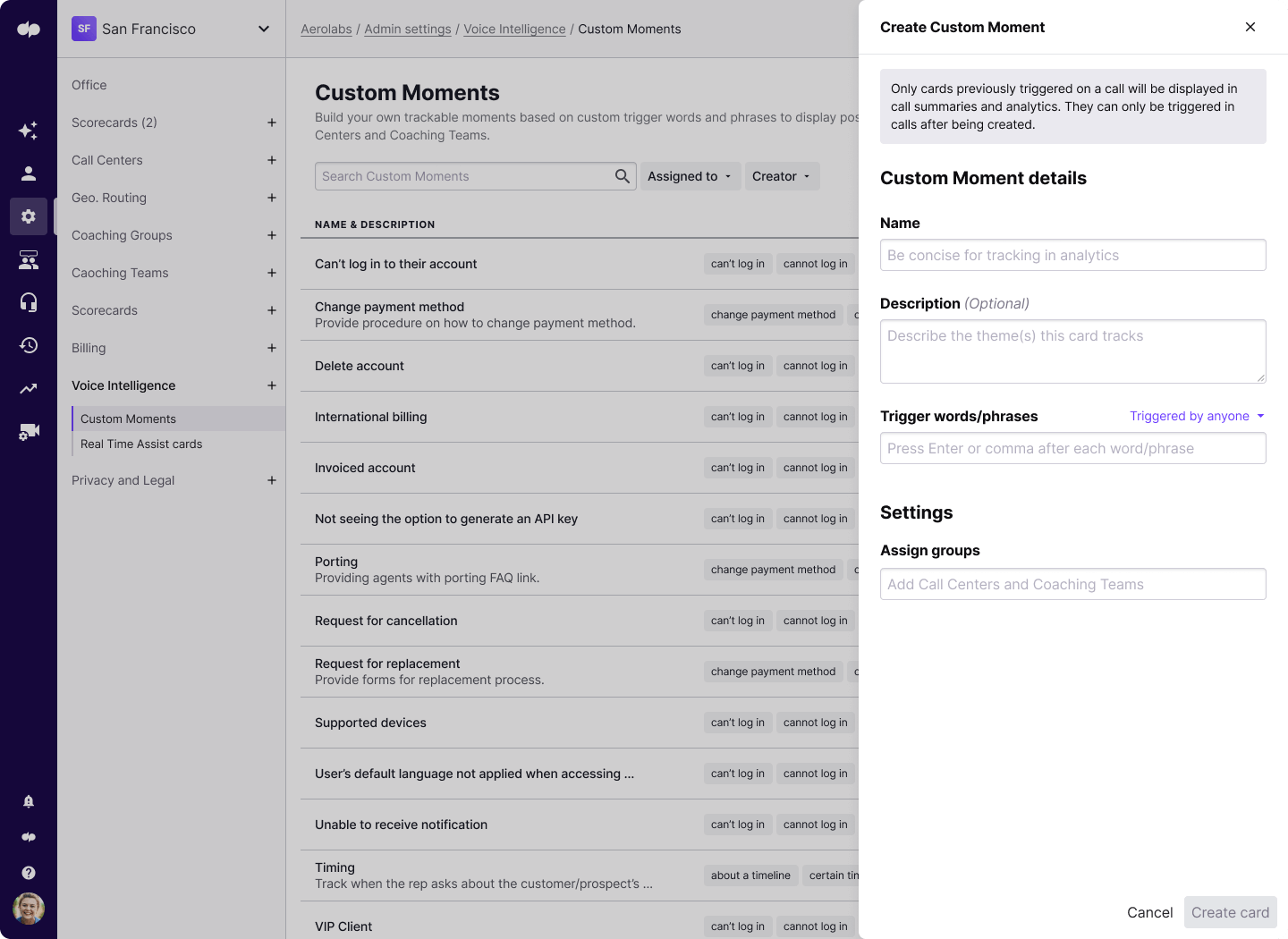 To take that a step further for contact center agents, you can also create Real-time Assist (RTA) cards that pop up automatically when certain keywords are spoken!
Let's use Dialpad as an example. Say we have some newer agents who aren't familiar with our process on how to port phone numbers yet—but we need to get them on the phones right away because we've got high call volumes. How can we make sure they're answering questions about refunds properly, without sitting in on every single call to help?
Easy. Create an RTA card with notes about porting, and set it to trigger automatically on agents' screens whenever "port" or "porting" is spoken on a call: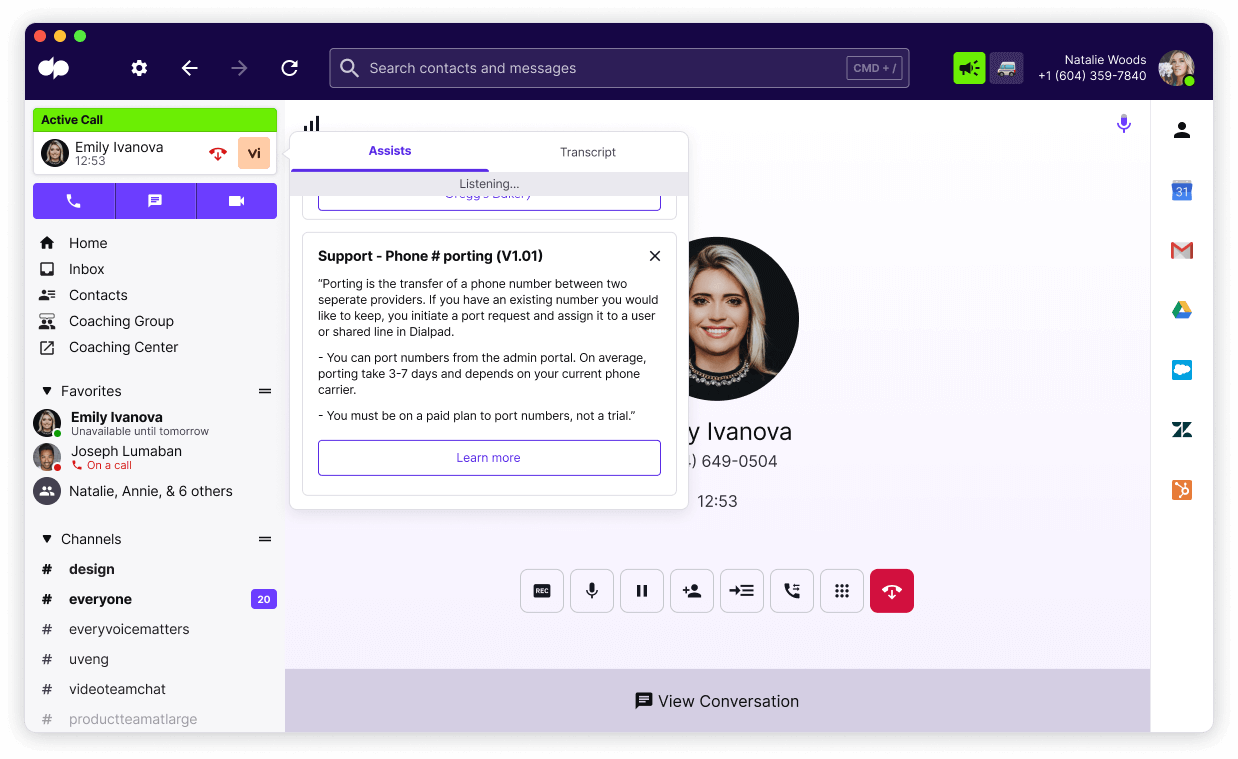 Flexible pricing
Dialpad is priced very competitively compared to the biggest Dialpad alternatives, with plans starting at $15 per user per month. And beyond the comparatively low price tag, this also includes things like unlimited call recordings, voicemail transcriptions, free unlimited video meetings, and many more features that are typically paid add-ons with unified communications providers.
(If you're looking at phone system plans, here are some tips on how to choose the best one for you.)
👉Dialpad tip: See how organizations like WeWork, Xero, and TED are using Dialpad.
Enough about us… Here's how the best Dialpad alternatives stack up
Zoom is a popular video conferencing platform that's grown a lot thanks to heavy mainstream use by a consumer audience. Like Dialpad, Zoom has phone calls and screen sharing, and its basic plan caps meeting times at 40 minutes, which is comparable to other free options.
However, Zoom is also known for leaving users vulnerable and causing security issues like exposing user passwords and leaking private information. Zoom's popularity has unfortunately worked against it a bit, making it a huge target for hackers, who are known for "Zoom-bombing."
👉 Dialpad tip: If security and privacy are major concerns for your business, then you should look for a solution that offers enterprise-grade security and 256-bit encryption to keep all your interactions and customer data protected. Dialpad does just that, with a host of security features and compliance with HIPAA, GDPR, and other regulations to keep you safe. Learn more about how Dialpad helps organizations stay HIPAA-compliant.
Is it better than Dialpad?
The short answer? No, not really. If you just need free video conferencing, Dialpad has it too—not to mention it makes everyday admin tasks like adding phone numbers and managing users very easy, which is especially great for small businesses.
There's also the fact that Zoom's security issues have caused the likes of Google, NASA, and even Taiwan and the Australian Defense Force to ban its use.
Beyond security, there's also the fact that Dialpad has a more robust communications platform that has all the basics in terms of phone calls, messaging, and video conferencing—but unlike Zoom, also has a very robust built-in contact center platform.
Like Dialpad, 8x8 is a cloud phone system that allows you to make audio and video web conference calls, with an option to add contact center features. It does have a free version that's used by businesses needing a basic web conferencing platform.
However, 8x8 is a legacy platform that's been around for quite some time, and some of their features, like the design of their softphone / mobile app, reflect that.
Is it better than Dialpad?
Again, it's a no from us. 8x8 has many of the basic UCaaS features, but it doesn't have the unique AI and built-in advanced features that Dialpad has, nor do the aesthetics of the user interface match up (in our opinion). It also is reselling another company's contact center solution, like RingCentral and Nextiva.
Pricing-wise, it's quite comparable to Dialpad, but it's worth noting that 8x8's most basic plan doesn't include unlimited SMS and MMS and is missing some of the more advanced features that come with Dialpad.1
Just like Dialpad, RingCentral markets itself as a UCaaS solution with a whole host of functionalities including voice, messaging, and video calling. It also has a range of calling features similar to Dialpad, like IVR, call forwarding, and call recording.
Is it better than Dialpad?
Although it offers similar features to Dialpad, it just doesn't do so quite as well. The pricing of RingCentral is slightly odd, too, so if you want to consolidate all your tools with phone calling and SMS messaging, you'll need to skip the cheapest pricing tier and opt for the "standard" plan instead (which costs $27.99 per user per month). Dialpad, on the other hand, allows you access to these features on its basic $15 plan.2
The other important thing to note is that RingCentral is reselling its contact center product—which means its user interfaces between its communications app and contact center product are completely different and typically would require separate sign-ins and accounts.3
Like Dialpad, Nextiva offers a VoIP phone system that includes voice, video, and messaging—along with a contact center option if you need it.
The company has been around for quite some time, and is one of the bigger names in UCaaS and CCaaS.
Is it better than Dialpad?
In our opinion, no. Like RingCentral, Nextiva is whitelabelling its software, but unlike RingCentral, it's whitelabelling both its UCaaS and call center software—which can create a disparate user experience. (You can read more on that here if you're interested.)
5. GoToMeeting
GoToMeeting (formerly JIve) is a relatively affordable and flexible business webinar tool that helps businesses focus on remote work and collaboration.
Very similar to Zoom, GoToMeetings offers the same basic functionality at a comparable price. But, it doesn't provide any additional features like contact center and business app integrations. It can also be problematic if you need to work on the go, because it only supports macOS and Windows.
Is it better than Dialpad?
Although GoToMeeting can be a solution for businesses that want a simple video conferencing tool, it doesn't offer the robust functionality of a unified communications platform like Dialpad. If you want to be able to manage every aspect of your internal and external communications, Dialpad provides a whole suite of calling features and integrations to enhance productivity. Learn more about the best GoToMeeting alternatives.
Cisco Webex is a platform for video conferencing, cloud phone service, and webinars. Webex is a pretty big name in the UCaaS world, and like Dialpad, is available on desktop and mobile, along with features like call forwarding and call routing.
Also like Dialpad, it has a free plan aimed at small businesses that just need video conferencing, but if you need a business phone system, Webex doesn't have unlimited calling. You have to pay for minutes as you go, which could work if you don't really have phone calls often, but it can really add up if your team is often on voice calls with prospects and clients.4
Is it better than Dialpad?
Not really. For video conferencing, sure, Webex is fine, but if you need a full-fledged all-in-one communications platform that offers the scalability growing businesses need, with simple pricing, then Webex is likely not the most cost-effective solution.
Vonage is a cloud-based VoIP provider that has a mobile and desktop app, and what's unique about it is that Vonage has a big residential focus as well—not just aimed at businesses.
Vonage has a few pricing tiers that start at $19.99 per user per month (which is more expensive than Dialpad's least expensive plan), and offers pretty thin functionality in comparison to Dialpad and its alternatives on this list.5
Is it better than Dialpad?
For work use, Vonage is really lacking in terms of business communications features. For example, call recording and visual voicemail are both paid add-ons, and you don't get a multi-level auto attendant in the most basic plan. So for us, it's a no.
Why Dialpad is worth at least trying out for free
There are many Dialpad alternatives out there—and to be honest, very few of them come close if you're considering a balance of pricing, modern features, and ease of use.
In almost all cases, Dialpad's cloud business communications platform will give both small businesses and enterprise organizations all the tools they need to connect and collaborate productively.
But the best way to really know is to try it out for yourself. Dialpad has a free trial, and you can also book a product tour to
Although there were some strong contenders on this list, Dialpad is the number one choice for businesses seeking a robust, flexible, and scalable cloud communications platform.

Looking for a Dialpad alternative? Why not try Dialpad out for free first to see what it's really like? It takes just a few minutes and you'll get set up with a virtual business number too!
Sign up for free
18x8.com/products/business-phone
2ringcentral.com/office/plansandpricing.html
3contact-centres.com/ringcentral-and-nice-expand-and-extend-contact-centre-partnership/
4webex.com/pricing/index.html
5vonage.com/unified-communications/pricing/