Back to Blog
Custom Moments: Better call notes without lifting a finger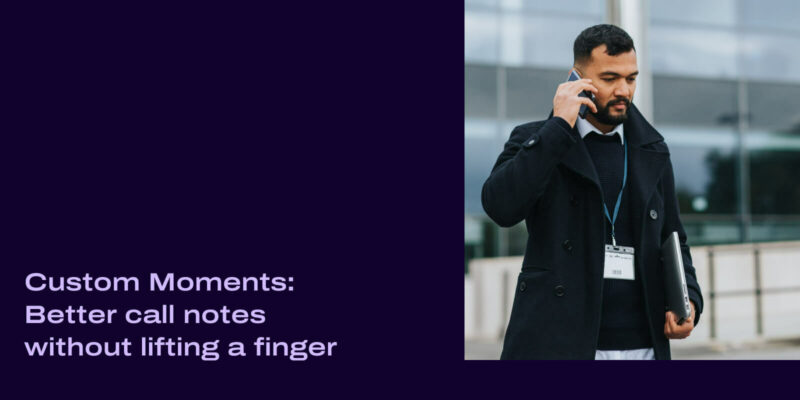 Let's talk call notes. Whether you're on a call with a customer or a prospect, you'll need some record of these conversations—ideally, always.
Unfortunately, not many of us are blessed with the ability to be good listeners while multitasking. So, what's more important? Trying to take detailed notes... or giving your full attention to an irritated customer or prospect who's on the fence?
We'd choose the second option.
So, we got rid of the need to take notes on the call.
Oh don't worry, you'll still have notes recorded for each and every customer or prospect call. And they'll probably be more accurate and thorough than notes that are taken manually too.
How, you ask? Allow us to introduce Custom Moments.
What exactly are Custom Moments?
Custom Moments are a unique feature in Dialpad that lets you track specific items during a call.
Using Dialpad Ai, Custom Moments are basically user-defined moments that are triggered when a preset word or phrase comes up in a phone conversation.
Think of them as bookmarks for important themes on your calls that you might want to come back to later.
You can use Custom Moments for call center coaching, historical trend reporting, reviewing calls, and even alerting managers in real-time.
Let's take a closer look at how to create and use Custom Moments.
How to create Custom Moments for coaching teams and call centers
1. In your Dialpad dashboard, in the left-hand dashboard, go to: Call Centers, choose one of your teams, then Dialpad Ai.
2. Hit the "Create a moment" button. A slide-out menu from the right will appear:


Now you can choose if you'd like to create a Custom Moment from scratch or start with a pre-built template that has popular trigger words and phrases for sales and support teams:
3. Give your Custom Moment a name, and maybe a brief description related to the theme(s) that this moment tracks.
4. Next, it's time to add the trigger words and phrases.
👉 Dialpad tip:
If a number appears alongside a word or phrase that you've added, that indicates the times it was triggered in your contact center in the last week. Neat, eh?
5. Oh, and don't forget to choose who can trigger these words or phrases by saying them. You have a few options:
Triggered by anyone

Triggered only if your team says these words or phrases

Triggered only if your customer says them
5b. You can also turn on real-time alerts to notify your admins and supervisors. (These can be especially helpful for training!)
How to use Custom Moments
You can see all your Custom Moments under the Moments filter in your Analytics and Call History menus. From there, you can filter out calls that contain Custom Moments.
If you click into the Call Review for a call in which your Custom Moment was triggered, you'll see it as a filter option on the left-hand side (alongside other moments). You can then see the context around this moment. (For example, why was "pricing" mentioned?)


Ready for your (Custom) Moment of truth?
If you're looking for an easier way to track all the common themes that come up on calls with your prospects and customers, Custom Moments are the perfect helper.
Whether you have a small but mighty team or sprawling call centers around the world, Custom Moments can help you focus on your customers—instead of jotting down notes.
Try Custom Moments out
Give Custom Moments a try if you're on a Pro or Enterprise plan for Dialpad Ai Sales Center or Ai Contact Center. Book a demo to see how it works, or take a self-guided interactive tour of Dialpad's app on your own first!