What is a VoIP number and how does it work for businesses?
As more and more companies are moving to the cloud, having a VoIP number has become essential for running a modern business.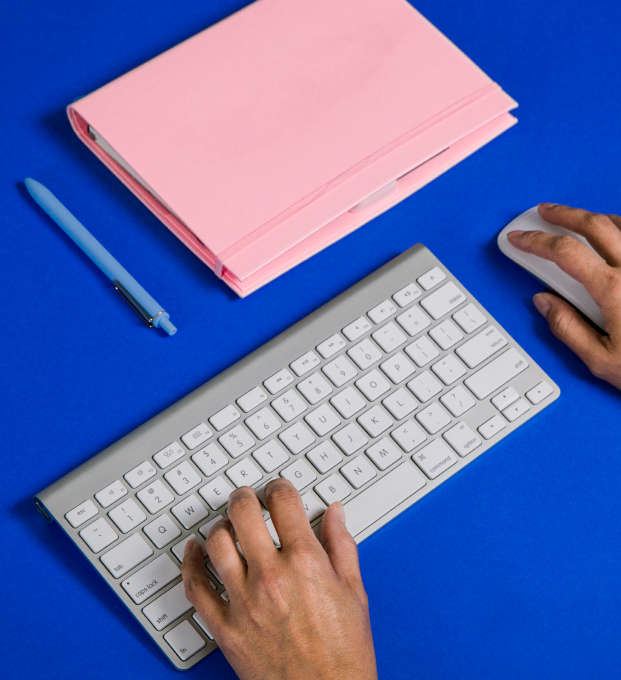 At first glance, VoIP numbers and traditional business numbers seem to be, for all intents and purposes, pretty similar.
Both of them allow businesses and organizations to have conference calls, SMS teammates and clients, and more. But that's actually where the similarities end.
VoIP technology—and cloud-based virtual phone systems in general—are transforming business communications.
How, exactly? Well, we'll walk you through the details of how this is happening, including what VoIP numbers are, how they work, and how to know if your business needs one.
What is a VoIP number?
A VoIP (or Voice over Internet Protocol) number is basically a virtual phone number. It's very much like a regular phone number in the way you use it, except VoIP numbers facilitate phone calls using an Internet connection (instead of copper wire).
That means you can make calls from any Internet-enabled device (cell phone, computer, softphone, desk phone, you name it) of your choice. The number itself also isn't tied to a particular device or even a specific geographic location. (More on fixed and non-fixed VoIP here.)
With a VoIP number, you can make and receive VoIP calls from any device (if you got your number from Dialpad, at least)—no clunky or expensive hardware needed.
How does a VoIP phone number work?
If you're getting a number for your business, first you'll need to get a business VoIP phone number, which you'll get set up with as soon as you sign up to a VoIP service like Dialpad.
From there, you can make outbound calls and take incoming calls through your Internet or VoIP network instead of the public switched telephone network, or PSTN. (That's basically the traditional phone network using phone lines)
To make a VoIP call, the only things you'll need are a reliable Internet connection and your phone or computer, which is logged into your VoIP account or service. For example, here's a look at a VoIP call in progress in Dialpad's desktop app: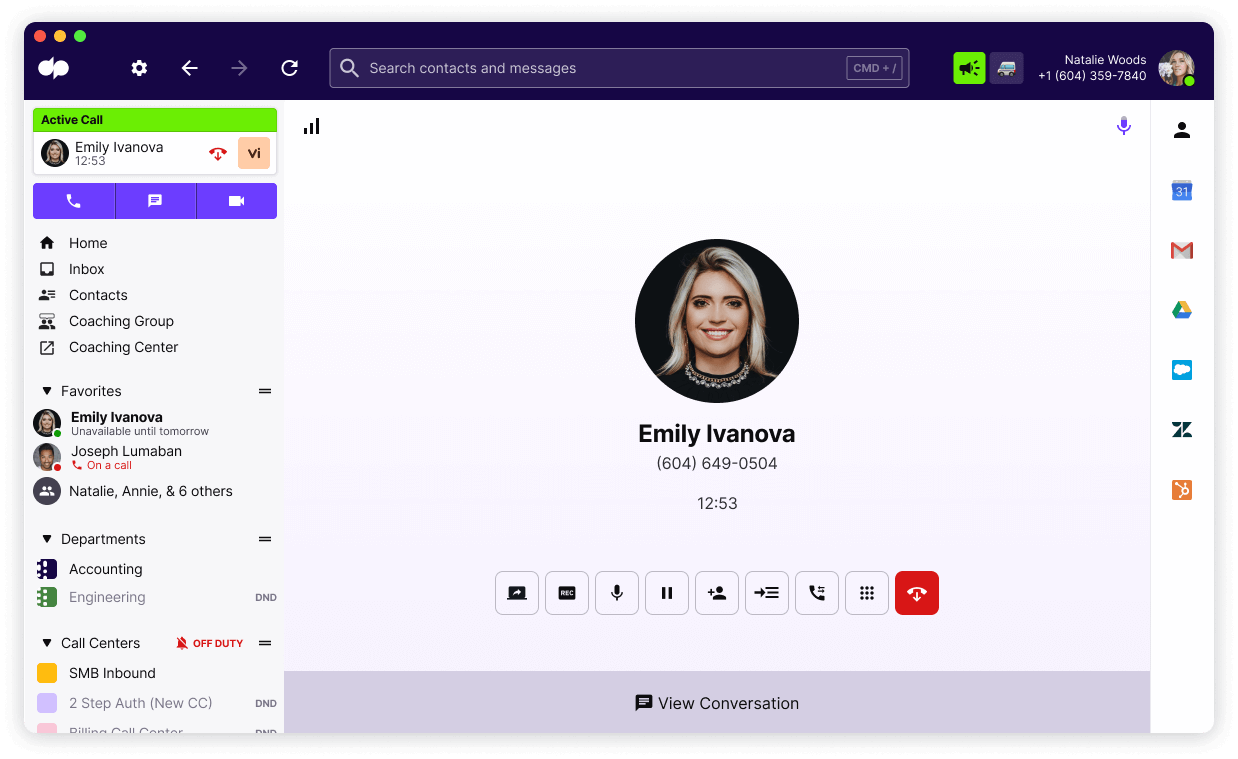 You have a few options for dialing in Dialpad—you can enter the phone number manually, or start typing someone's name, which automatically pulls up your contact list, and you can click to dial from there.
Want to get started with a VoIP number? Sign up for a 14-day free trial, and you'll get a local business VoIP number provisioned in just a few minutes!

Different types of virtual numbers
Local
Local numbers are numbers that start with an area code specific to a particular region, city, or state. Local numbers are generally best for regionally-based or small businesses with a very localized customer base.
Having a local business number means that your customers or potential customers won't get hit with long-distance call charges (and makes them more comfortable with proactively calling you).
Toll-free
Toll-free numbers are telephone numbers that start with a three-digit code like 800. This code allows callers to dial without incurring any charge, since the call charge falls on the receiver (in this case, your business) instead.
Businesses typically use toll-free numbers for increased credibility and to make sure their customers or prospects can call them for free (maybe as part of a marketing campaign).
Vanity
A vanity number is a custom telephone number that's unique to your business. Vanity numbers are a great way to differentiate yourself from competitors and make your business more memorable.
For example, a T-shirt business might choose a vanity number like 1-800 T-SHIRTS.
The big differences between VoIP numbers and landline
Cost
VoIP services tend to be significantly cheaper than their landline counterparts. One big reason is because VoIP needs only Wi-Fi or an Internet connection—no physical phone system hardware.
That means you can save quite a bit on costly implementations and maintenance of landline telephone networks.
With VoIP phone systems and numbers, you typically just pay a fixed monthly rate to a VoIP service provider. There's no expensive upfront costs, and in return, you'll enjoy unlimited scalability and a ton of functionality like auto-attendants, call routing, messaging, call recording, and more (Dialpad's least expensive VoIP plan comes with all of these included):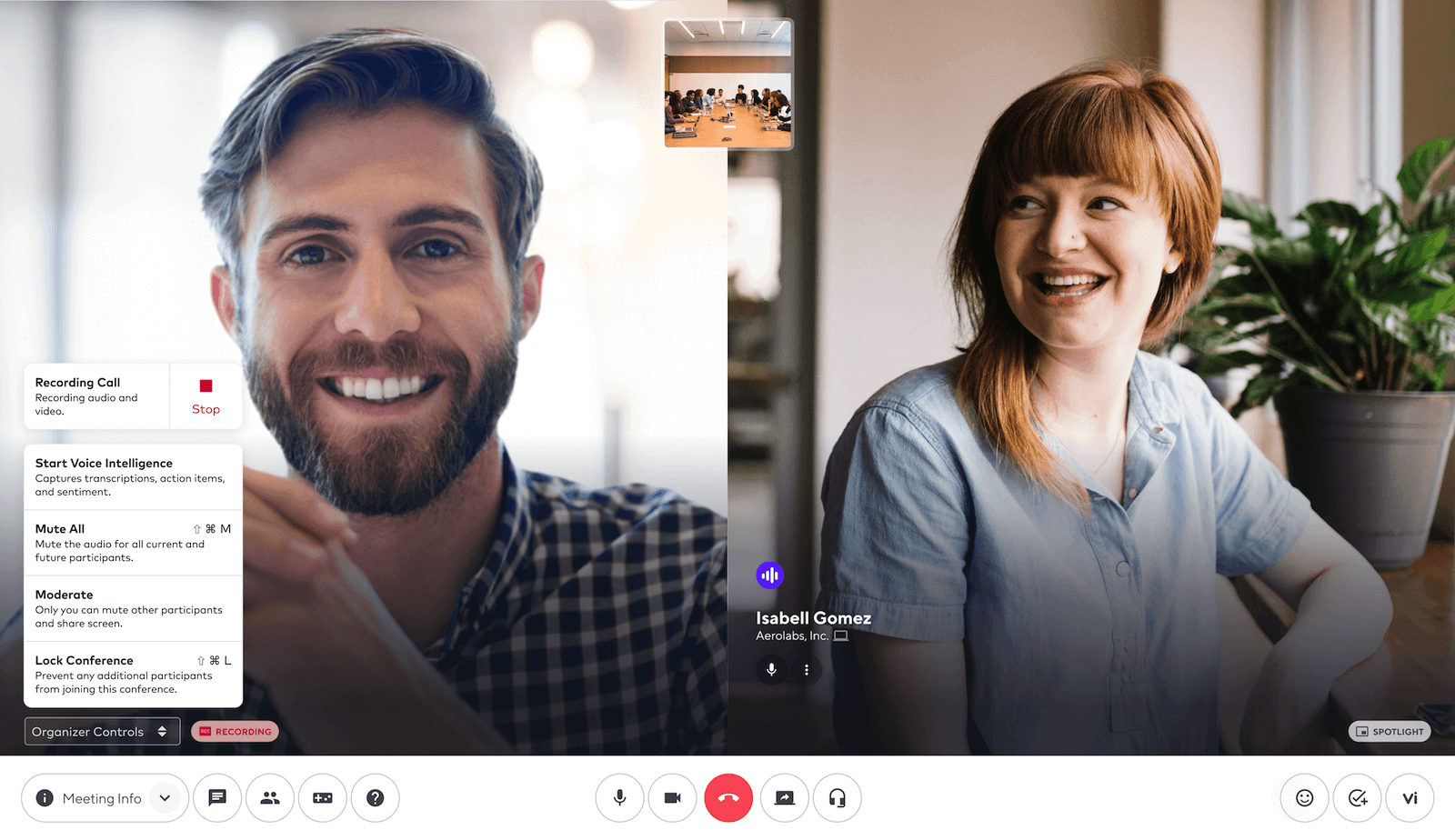 Flexibility
When you're using a fixed landline telephone network, the number of additional phones that a business can add to the network is usually pretty limited (and expensive and time-consuming to set up).
With VoIP, on the other hand, you can add as many users and phone numbers (and even scale down) as you like—and really quickly too.
For example, with Dialpad, you can add a new user and manage your VoIP numbers right in your online account. No need to wait around for days or weeks for IT or support to boot up those numbers for you: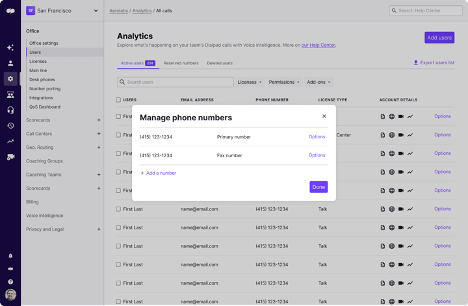 Case study: ClassPass
ClassPass is a global organization, with offices and employees all over the world. And of course, whenever they're onboarding new hires, they also need to set them up on the phone system and give them phone numbers. How do they do it—with just a two-person IT team? Here's how.
International/distance calling
Landline telephones aren't ideal if your business needs to make regular international or long-distance calls. Why? Because it's going to be really expensive.
With VoIP, businesses that have lots of long-distance calls overseas tend to save money in the long run because the rates with VoIP are generally much lower.
Why get a VoIP business phone number with Dialpad?
Set up in minutes
It takes literally a few minutes to get a local VoIP number with Dialpad. Just sign up for a 14-day free trial to take it for a test drive—it takes literally a few minutes and a few clicks (even faster if you sign up with your Google or Microsoft 365 account), and you'll get a VoIP number during the signup process.
If you end up liking Dialpad, then after the trial, you can just sign up for one of the Dialpad Talk plans (starting at $15 per user per month) to keep that number and continue using Dialpad—this comes with things like video conferencing, call recording, custom voicemail greetings, and unlimited calling within your local country, US, and Canada, all for free by the way: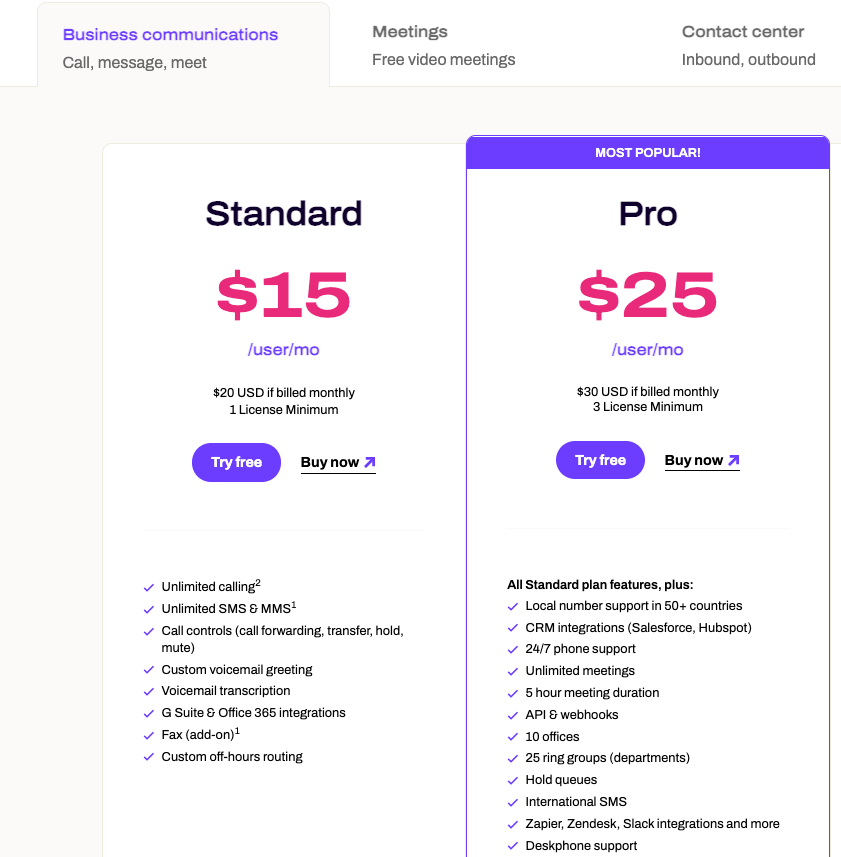 Excellent call quality
Ever struggle with things like latency, jitter, and packet loss? These are all relatively common issues that can affect VoIP call quality, but Dialpad's global voice network is designed to ensure that all phone calls (even if you're conferencing) are crystal clear. HD audio, if you will.
If you are worried about connectivity or your Internet service, T-Mobile does have a package that gives you a lightning-fast 5G network and Dialpad's unified communications platform—it's pretty much perfect for remote and hybrid teams: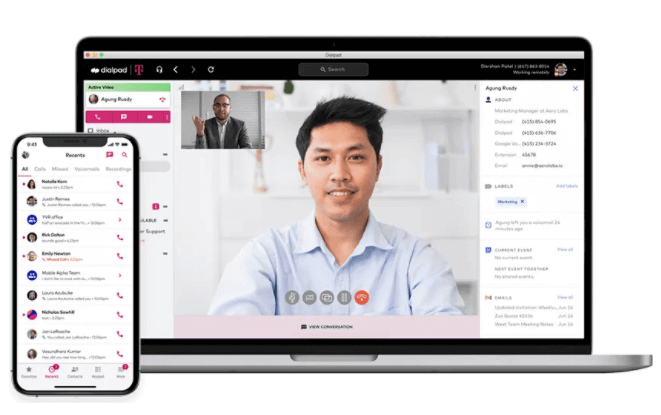 Better integration with your other tools
The thing with Dialpad is that it isn't just a "virtual phone system." It's a full-on business communications platform.
That means that you can use Dialpad's app to not only make phone calls, but also have video meetings, send SMS and instant messages, share files, and more.
But beyond that, Dialpad also has a wide range of integrations with important business apps and software like Salesforce CRM, Google Workspace, and Zendesk—which automatically syncs data and activities across these tools and lets you make outgoing calls (and take calls) directly from inside these platforms: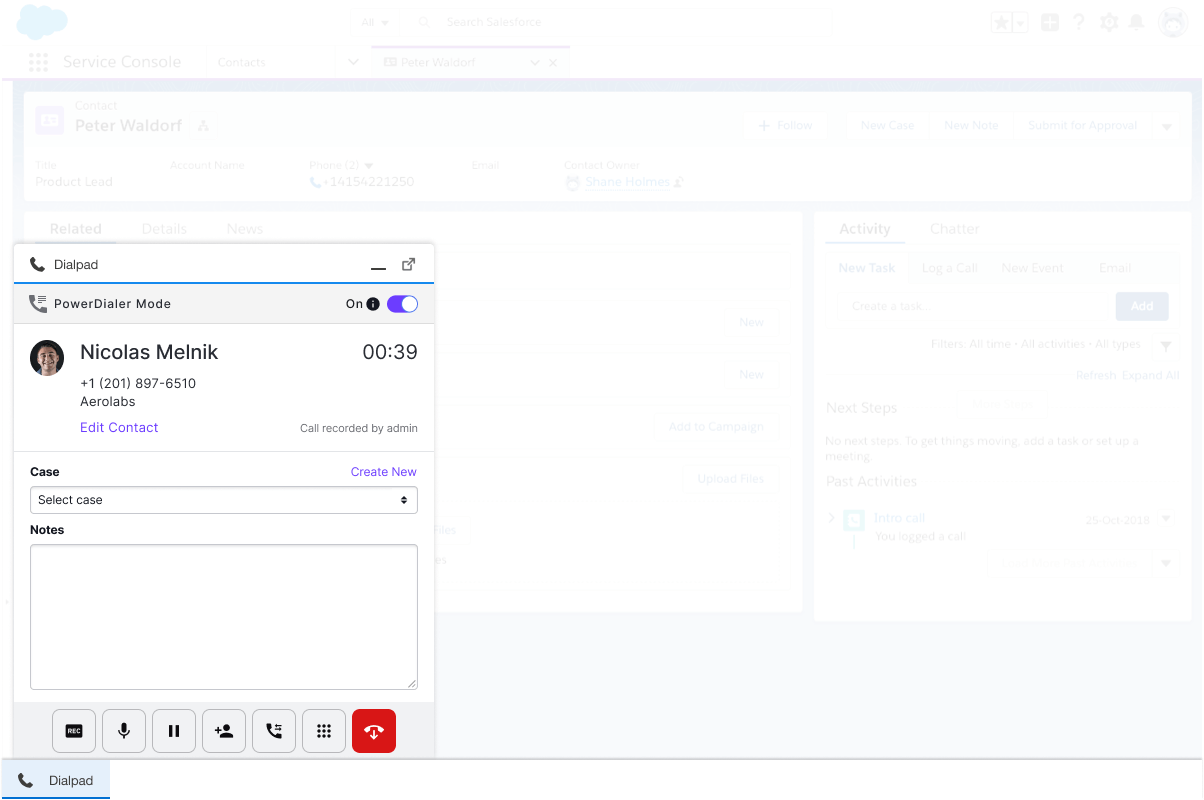 More professional customer service and support
A VoIP number from Dialpad will help your business look more professional, especially from a customer service perspective. How?
Well, for one, you can set up a VoIP number that's just for customer service inquiries instead of just using personal cell phone numbers.
In Dialpad, you can route these calls to your support agents specifically (or whichever team you want), which also helps you provide better—and faster—customer service:

(You even even route calls to voicemail, an IVR, other departments, and more.)
Other features you get with Dialpad (in additional to the VoIP number)
Virtual receptionist
Your very own virtual receptionist (this is also sometimes called an auto-attendant) will greet your incoming callers and provide them with simple, easy-to-understand options that will route them to the most appropriate service agent or department.
Voicemail and visual voicemail
Ever received an important voicemail while you're in a meeting?
You're desperate to listen to it, but doing so would disrupt the entire room. Enter visual voicemail. With Dialpad, your voicemails will be automatically transcribed and emailed to you, complete with the sender's unique caller ID: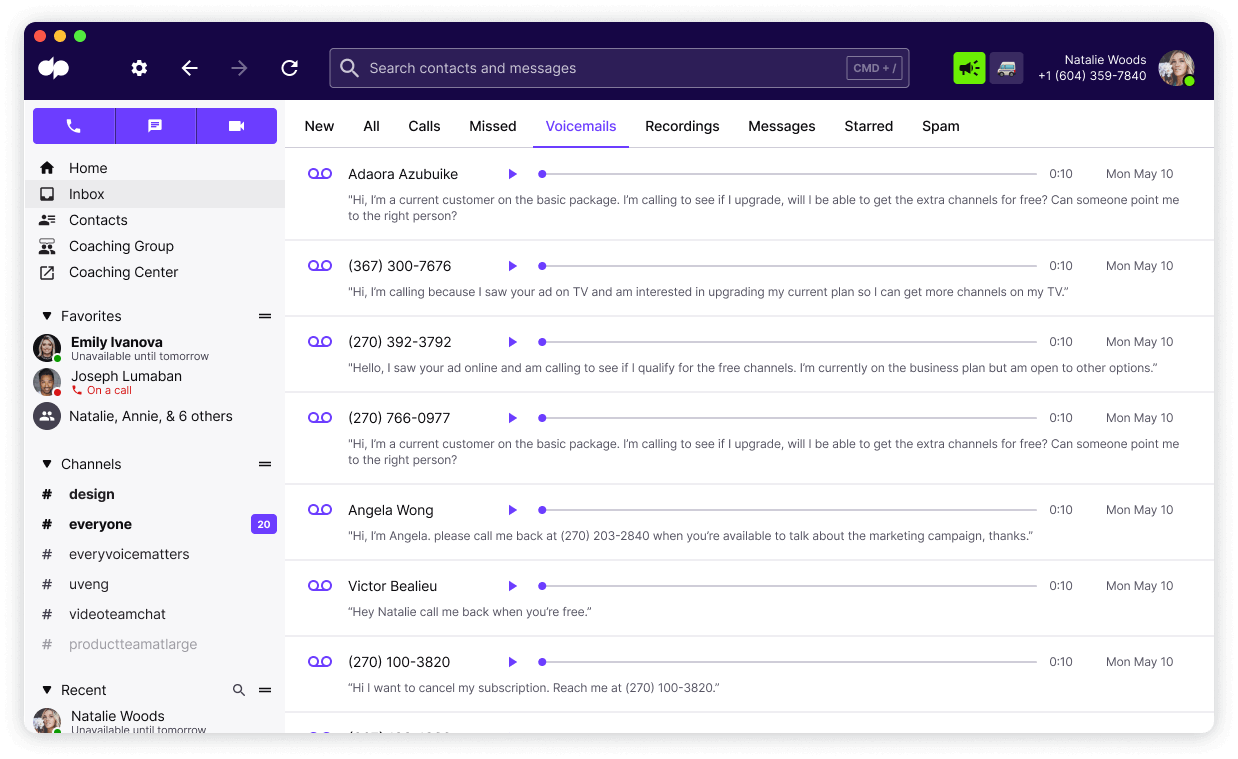 You'll be able to store and play back your voicemails any time, read transcripts at your convenience, and even forward messages on to your teammates.
Call routing
With Dialpad, you can make sure that your incoming callers always reach their intended destination and get the service they need—the first time.
With call routing, your callers will be able to route themselves to the right agent, person, or department without you having to hire a receptionist.
Number porting
What if you wanted to port some existing numbers over? Not a problem, you can keep any existing business numbers you want in Dialpad.
Call forwarding
Dialpad also helps you easily forward calls to an external phone number or device (even one that's not connected to Dialpad). Dialpad users can send incoming calls to up to five different external mobile or landline numbers: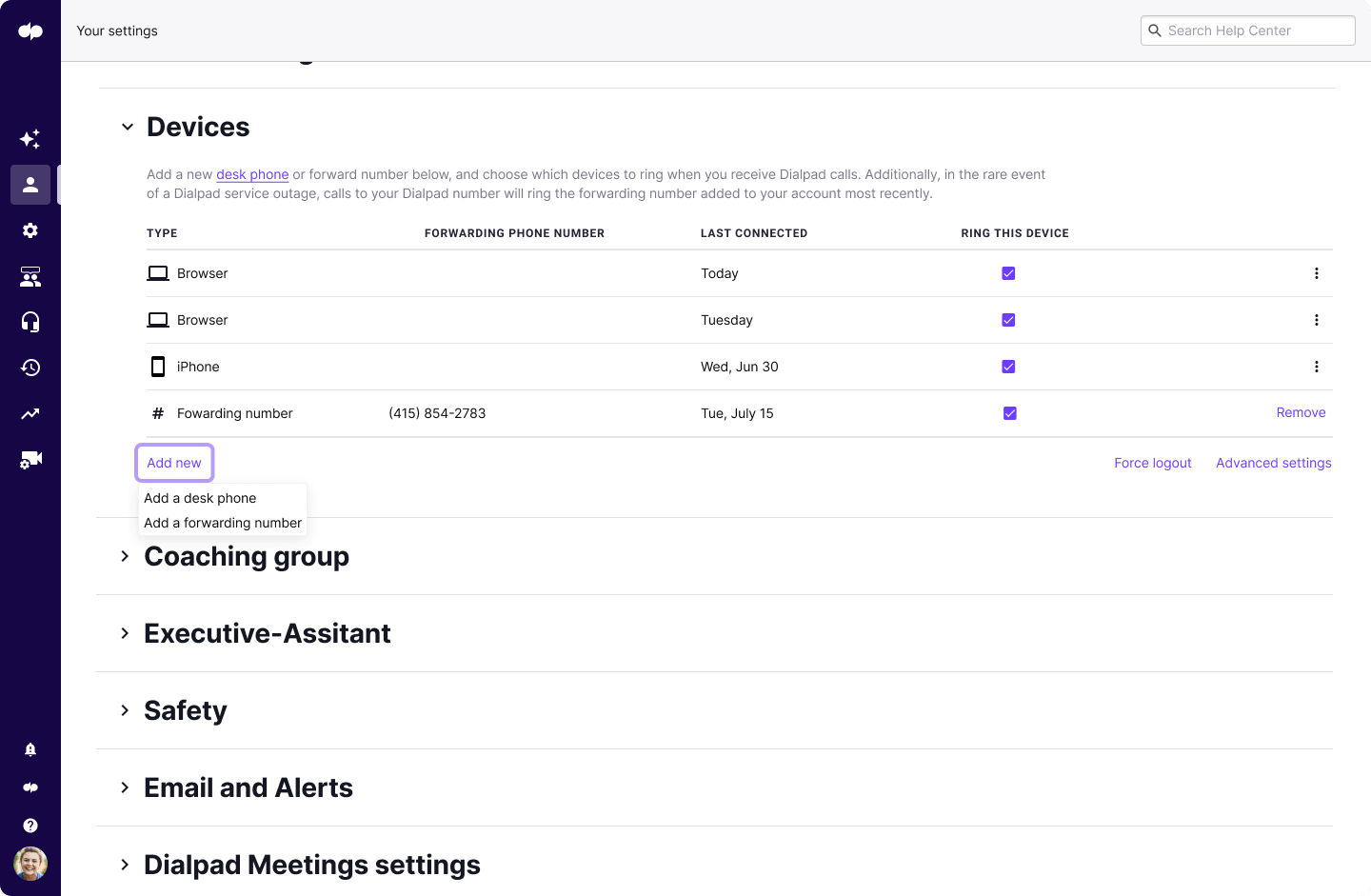 👉 Dialpad tip: Adding a forwarding number in Dialpad is easy. All you have to do is go to Account Setting > Your Devices > select Add New > choose Add a Forwarding Number > enter a forwarding number of your choice.
SMS and instant messaging
Sometimes you just need to pass on some info or ask a quick question, but you don't want to have a video meeting or make a phone call.
With Dialpad you can send messages via SMS, MMS, or group chat right from the Dialpad desktop or mobile app. These messages can be internal or external to customers and clients: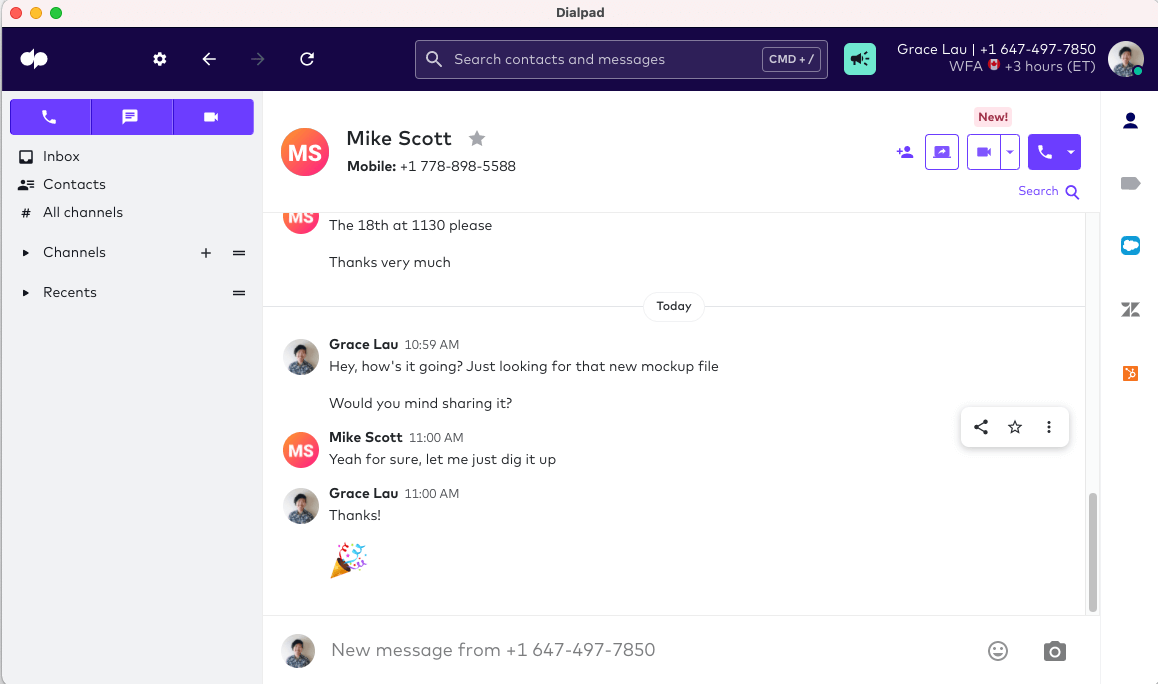 Dialpad will automatically detect whether or not your recipient is also using the app and, if not, your message will be converted into an SMS so that your recipient can view it like a text message!
Caller ID
With Dialpad, you can also choose what your caller ID shows when you're calling someone: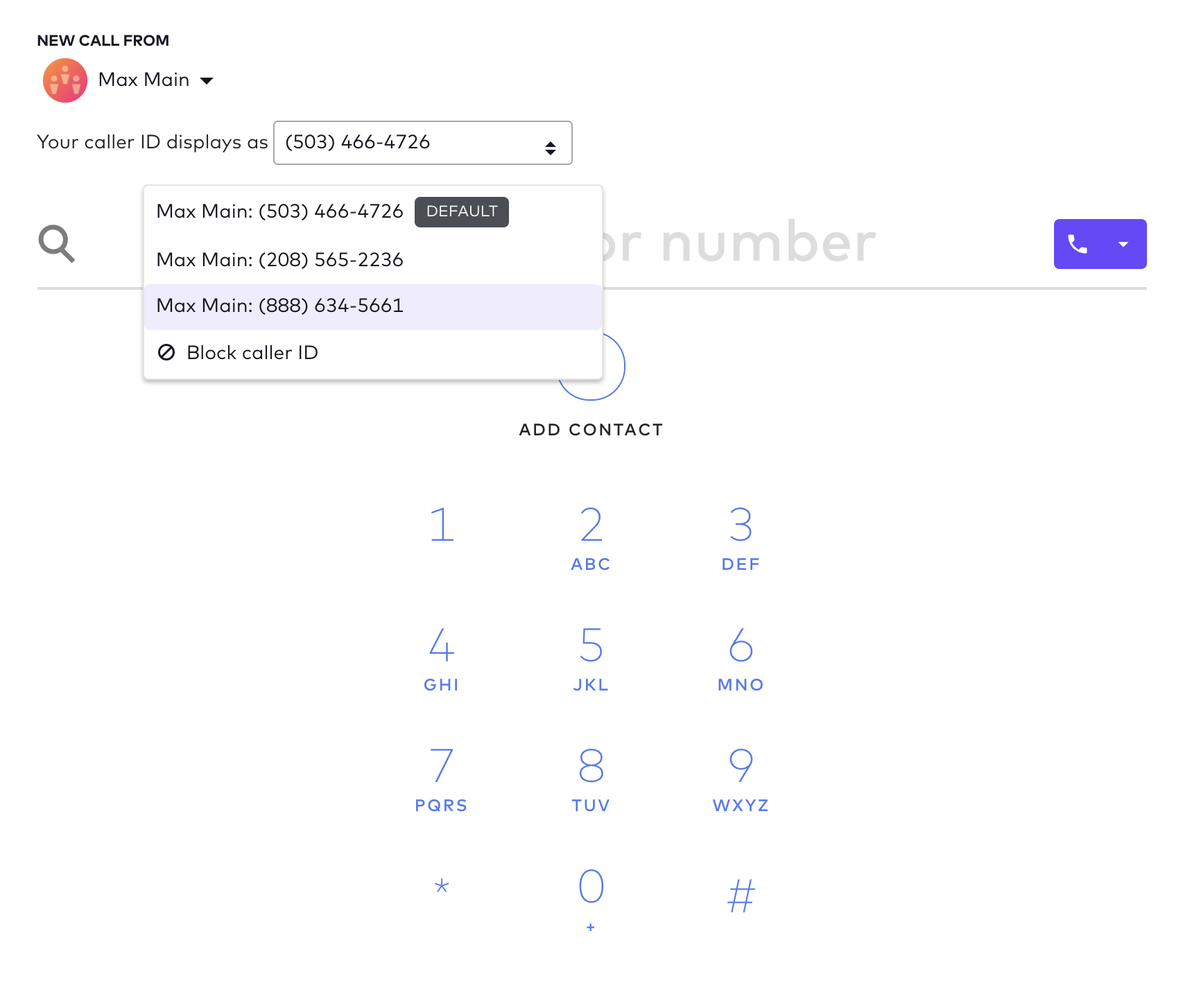 This is especially useful if you're using your personal cell phone for work, because this hides your personal phone number and shows whichever business number is best for the call.
For example, you can choose your main company number, a departmental number, or just a personal business number for your caller ID.
A desktop and mobile app
Fun fact: Dialpad works across computers, mobile phones, and pretty much any device that can get on the Internet—which also means that you can flip a call seamlessly from your phone to your computer (or vice versa) without interrupting your conversation: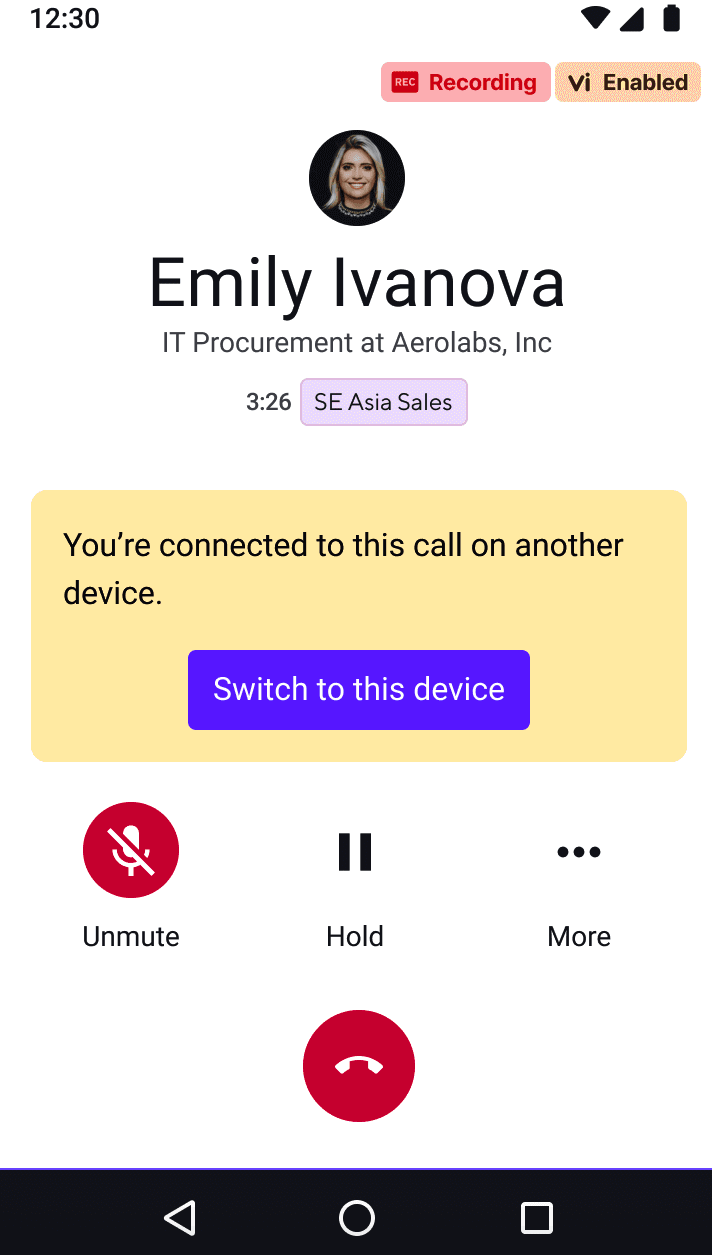 FAQs about VoIP numbers
How do I get a VoIP number?
There are a few ways to get a VoIP number. There are free services out there for VoIP calls like Google Voice, but these are almost always extremely limited and not great for business use. If you need to make calls with clients and prospects, you should probably go with an actual business VoIP service provider or phone company.
What are the different types of VoIP to be aware of?
Fixed VoIP numbers are attached to a physical address, making them traceable to a physical location. Non-fixed VoIP numbers are not linked to a physical address and can be taken with you anywhere.
Is VoIP better than landline?
In our humble opinion, yes! VoIP offers many benefits over traditional landline and PBX phone systems calling including lower costs, easier setup, and better functionality like IVR, video conferencing, and more.
Can I use an existing number for VoIP?
Yes! You can do that through number porting. With Dialpad, you can port your existing phone numbers and toll-free numbers from your current business phone system or provider to Dialpad.
Is it possible to trace the owner of a VoIP number?
Yes, VoIP numbers are traceable. If you provide your VoIP service provider with the caller ID and time of call, they should be able to trace the owner of the VoIP number that called you if it's a fixed VoIP number.