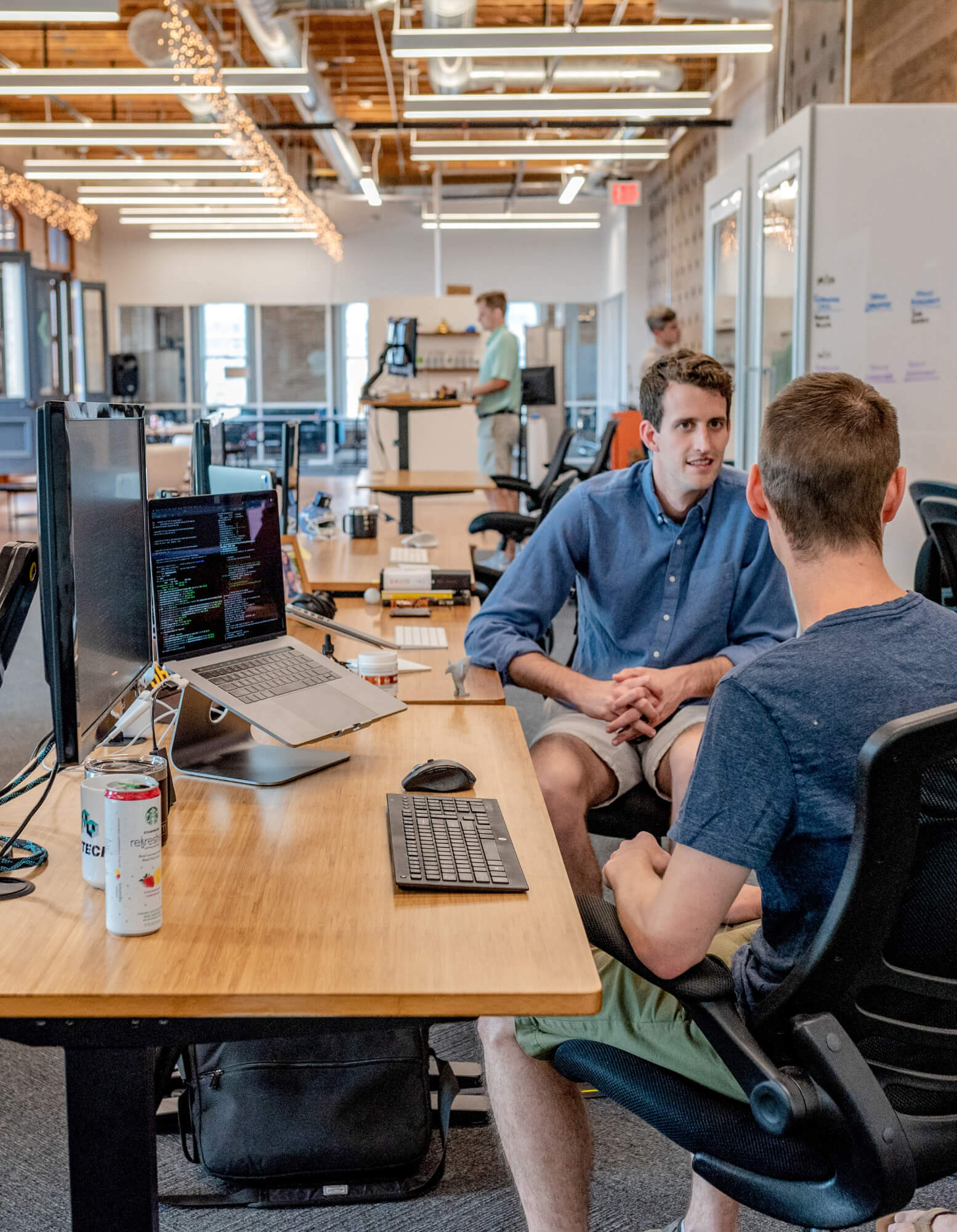 Dialpad vs. Nextiva
Which is better?
Try out Dialpad with a 14-day free trial and see how it stacks up against Nextiva. Signup takes just a few minutes (even faster with your Google or Microsoft 365 account).
Dialpad and Nextiva are both cloud-based business phone systems that offer calling, video conferencing, and contact center capabilities. But Dialpad has a more focused product line, higher reliability, and key features like call transcriptions that will improve communications across your entire organization.
Keep reading to learn the key differences between Dialpad and Nextiva.
AI like you've never seen it before
Dialpad and Nextiva use artificial intelligence across many products on their platforms. Both companies use AI to help contact center agents in real-time and track customer sentiment (extremely useful for keeping customers happy and closing more deals).
Dialpad's AI, Voice Intelligence, takes it a step further though.
Transcriptions
Both Dialpad and Nextiva have call recording, but only Dialpad has searchable call transcriptions. When you can't remember what a customer said and want to refer back, you shouldn't have to listen to a 30-minute call or waste time trying to find the exact part of the call. With Dialpad, you can pull up the call transcript and search for keywords to locate the moment you're looking for.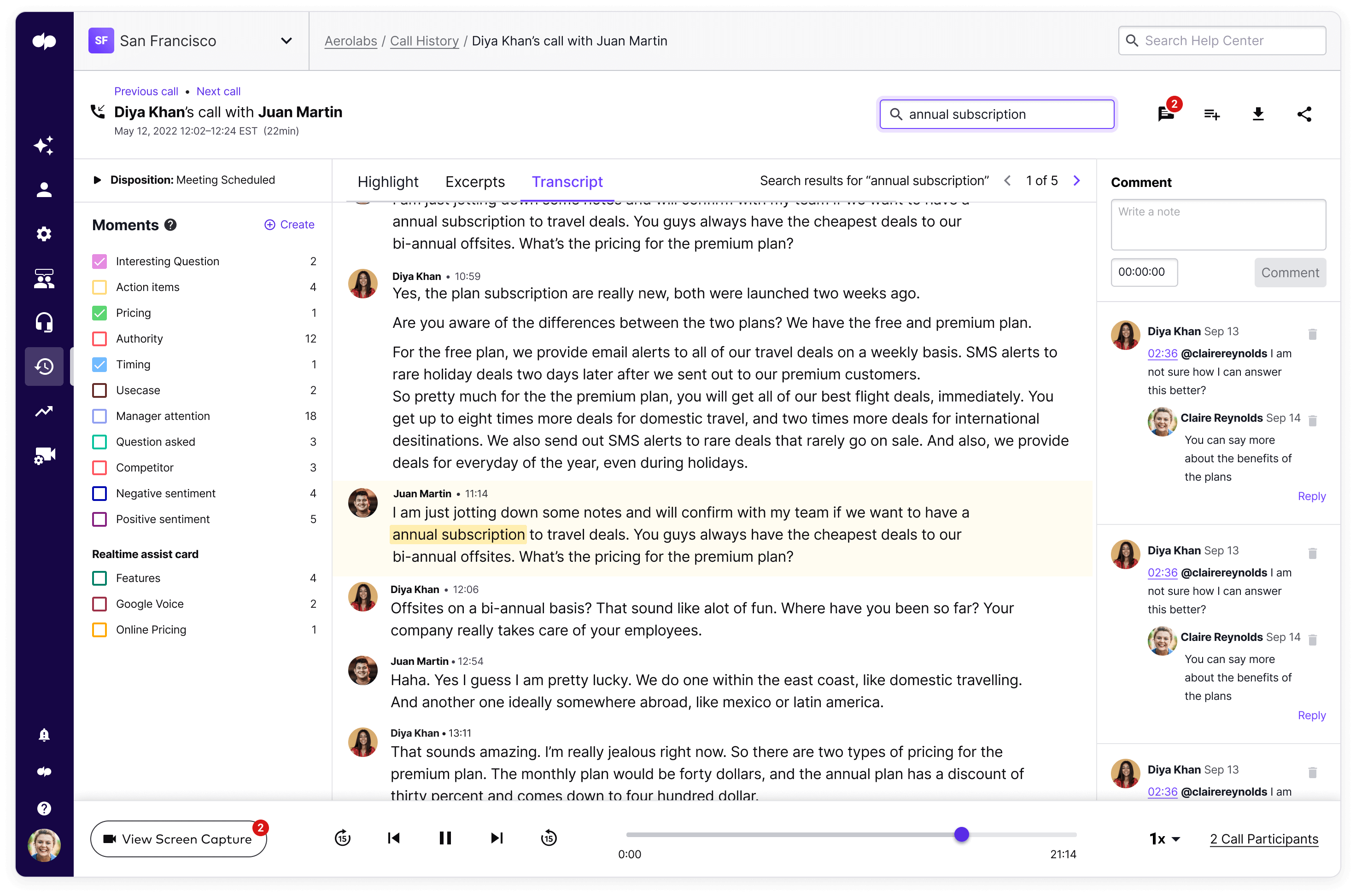 Speech coaching
With Dialpad speech coaching, managers and reps can track bad habits like rambling, saying "umm" too frequently, and more. You can even track script compliance.
Post call summaries
After every call, Dialpad's Voice Intelligence instantly sends a post call summary that includes meeting notes, action items, and key moments from the call so you can take action and stay organized.

See how Dialpad works with a product tour
How does Dialpad stack up against Nextiva? There's only one way to find out. Book a demo to see how it can work for your organization!
There's room for all your favorite apps
When it comes to integrations, Dialpad's the clear winner. Not only does it integrate with a lot more apps, the apps it integrates with are the ones you're likely already using, like:
Dialpad integrates with Google Workspace and CRMs (like Salesforce and HubSpot), collaboration software (like Microsoft 365), customer service tools (like Zendesk), and more. The only app from this list that Nextiva integrates with is Zendesk. So if your organization uses or is planning on using these tools, Dialpad can easily integrate with them to improve productivity across your team.
All these integrations help to further automate the process of adding and de-provisioning users. We're all about making things easy—like "no IT needed" easy. And hey if you do have an IT team, this'll ease their workload, letting them focus on other important tasks.
Finally, all your conversations in one place
When it comes to any new business tool, your team actually has to like it. Otherwise, they're not going to adopt it. One way to make sure they like it? Make sure it'll make their life easier, not harder.
For example, when new tools have multiple apps and logins like Nextiva's separate calling and team chat apps, employees can become overwhelmed and confused—causing adoption to suffer. Next thing you know, your employees are back to using over-the-top personal numbers and devices.
With Dialpad's single app for calling, chat, contact center, and video conferencing, onboarding and setup are a lot easier. The business messaging platform automatically syncs across all devices, providing a single source of truth for all your business conversations.
Picture this: You had a quick call with a colleague on the desktop app and sent her a business text on your mobile app. Both conversations with that colleague will show up when you access Dialpad. This makes it easy to find where the conversation left off, regardless of what device you're using.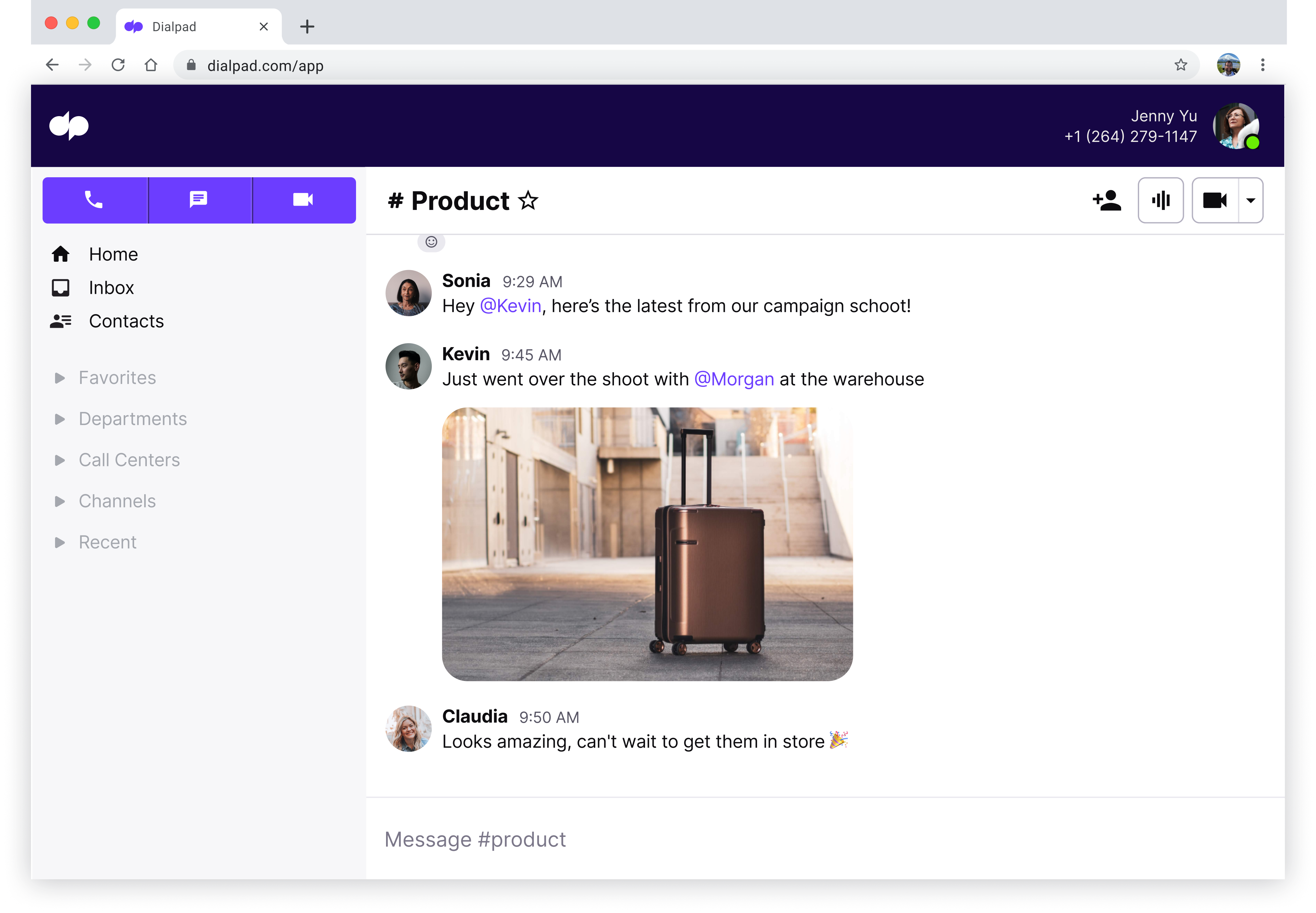 Don't be tied down to one device
Ever had to get out of the office quickly, but you're still on a work call? Dialpad lets you flip the call from your computer to your mobile device with a single tap. Unfortunately, Nextiva doesn't support this feature, forcing you to hang up and call back or stay on the line.
Other times, you might be taking a meeting on your cell phone but having to sacrifice meeting quality because most apps' functionalities are limited on mobile versus desktop. Well, not with Dialpad. Want to share your screen with external clients who don't have the app downloaded? Dialpad lets you shoot them a text with a link to open your screen share in a web browser.

That 0.001% difference…
Nextiva promises 99.999% uptime. Dialpad promises 100% for enterprise customers.
This is because Dialpad users aren't bound to a single server in a data center. With Dialpad, you have the entire ecosystem of Dialpad's 12 data centers and the distributed array of our microservices in Google Cloud. The result? Faster call routing, smarter integrations, and real-time AI transcription. Plus the benefit of better and more reliable call quality since each call is set up independently to suit the situation.
Now you might think 99.999% versus 100% uptime doesn't make a huge difference. But when your biggest customer is on the other end of the line, why take chances?
This also means that you'll no longer have to dread scheduled maintenance downtimes interrupting your workflow. No matter where you're calling to or from, no matter what time of day it is, you can rest easy knowing that all lines of communication are open.
We're always here for you ❤️
Dialpad offers 24/7 live chat support, 24/5 phone support, and a wealth of online resources so our customers can get the technical support they need, the way they want it.
Nextiva's support options are much more limited. You can reach their support team via phone from 5 am to 6 pm AZ time on weekdays, and 6 am to 6 pm on weekends.

👉 Dialpad tip:
After a call completes, you'll be asked to provide post call feedback by rating us 1-5 stars. 1-2 star ratings automatically open a support ticket with Dialpad Support and—in real-time—captures all the logs and details we'll need to look into it for you. (So you don't have to.)
Dialpad also has a very robust help center, dedicated to providing answers to commonly asked questions so our customers can look it up themselves rather than have to call us. Trying to port your old business number to your Dialpad account or access your company's call analytics? It's all there.
(It's not that we don't love talking to you—we just want to give you multiple options to get the support you need, whenever you need it.)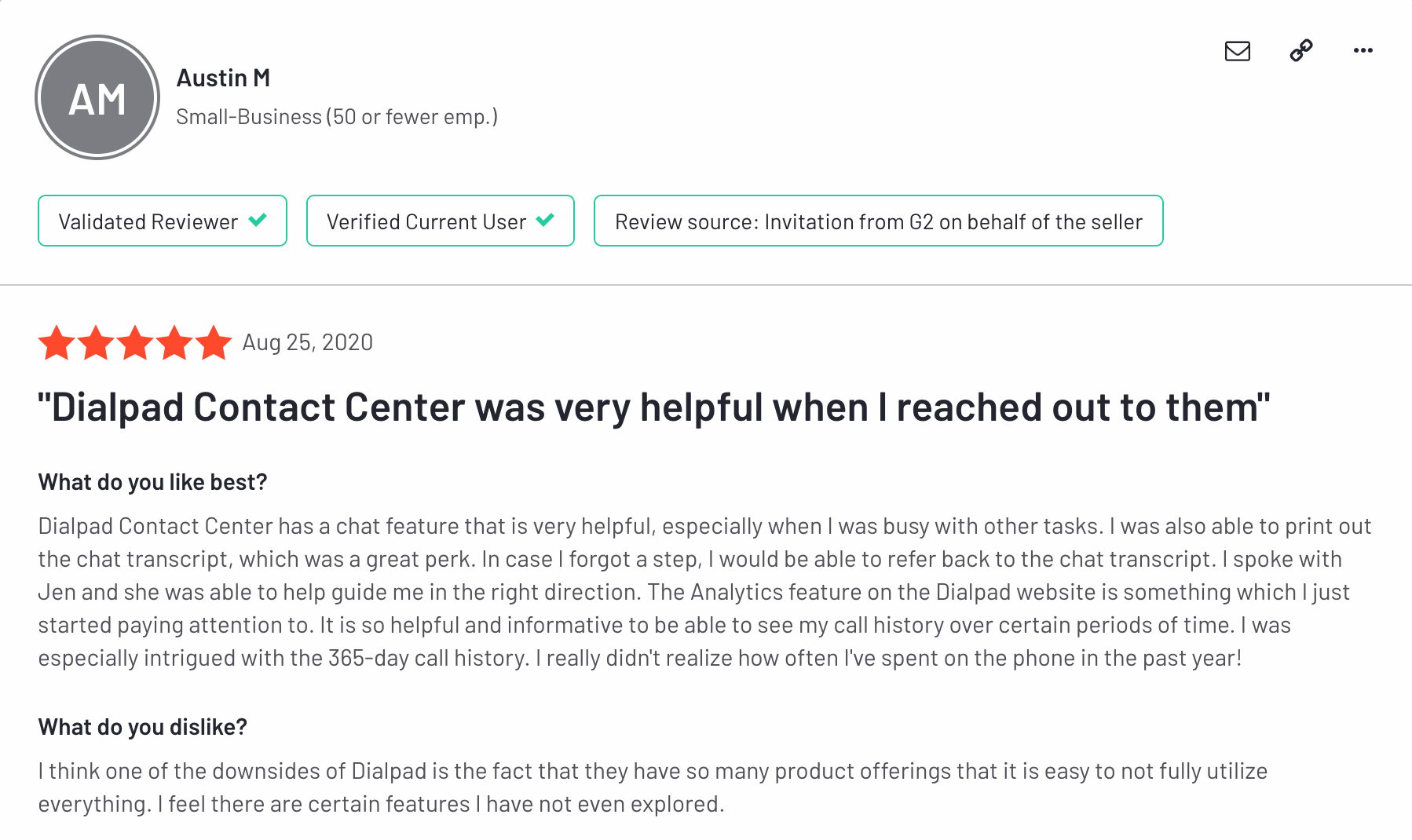 You'll never just be a number to us. Even though Dialpad's customers run the gamut from solopreneurs to organizations with 1,000+ people, you won't be able to tell.
That's our goal. And that's also why we've designed Dialpad to be so easy to use without IT help. It should just work. And in the rare cases where something does come up (because, well, technology), our team is here at all hours of the day or night to help you. We don't run a traditional 9-to-5, and most of our customers don't either. We get it.

How much does Dialpad cost?
Dialpad has plans starting from $15/user per month which includes: unlimited calling, text messaging, voice, video, transcription, analytics, and more—all provided by Dialpad (with no other partners involved).
Compare this to Nextiva's starting price of $18.95/user per month.
And that's not even including how much you're saving with Dialpad by not having to call in an IT person to do little things like add a user or change your voicemail settings.
But you don't have to take our word for it
Look, we're super proud of our product so of course we're going to toot our own horn a bit (a lot). But we get that we could come across as a little biased. So why not take it from our customers?
According to GetApp, folks comparing Dialpad and Nextiva found Dialpad easier to use and set up and thought it provided better value for the money, more features, and better customer support.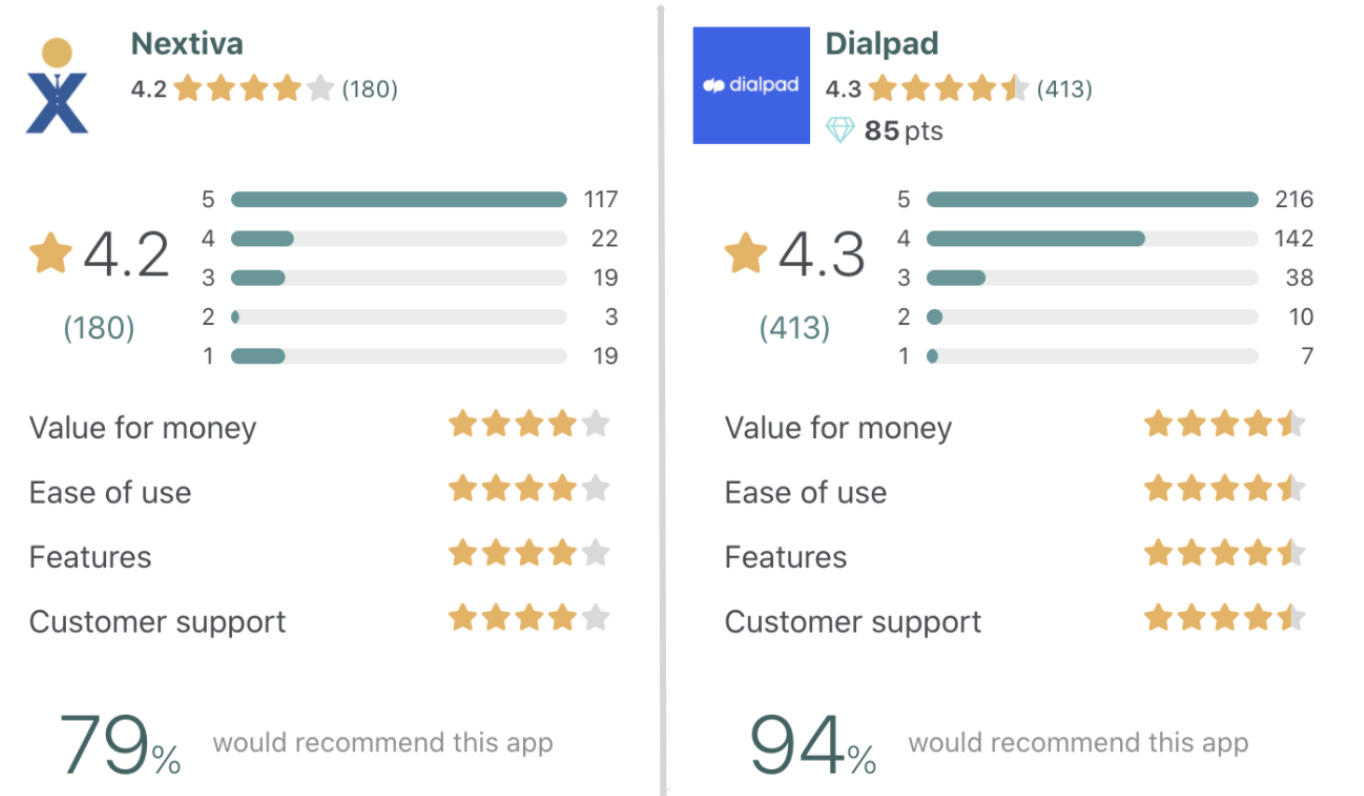 Try Dialpad for free
Want to take Dialpad for a test drive? It's free for 14 days and signing up is easy—you can use your Google or Microsoft 365 account to get started in just a few clicks.