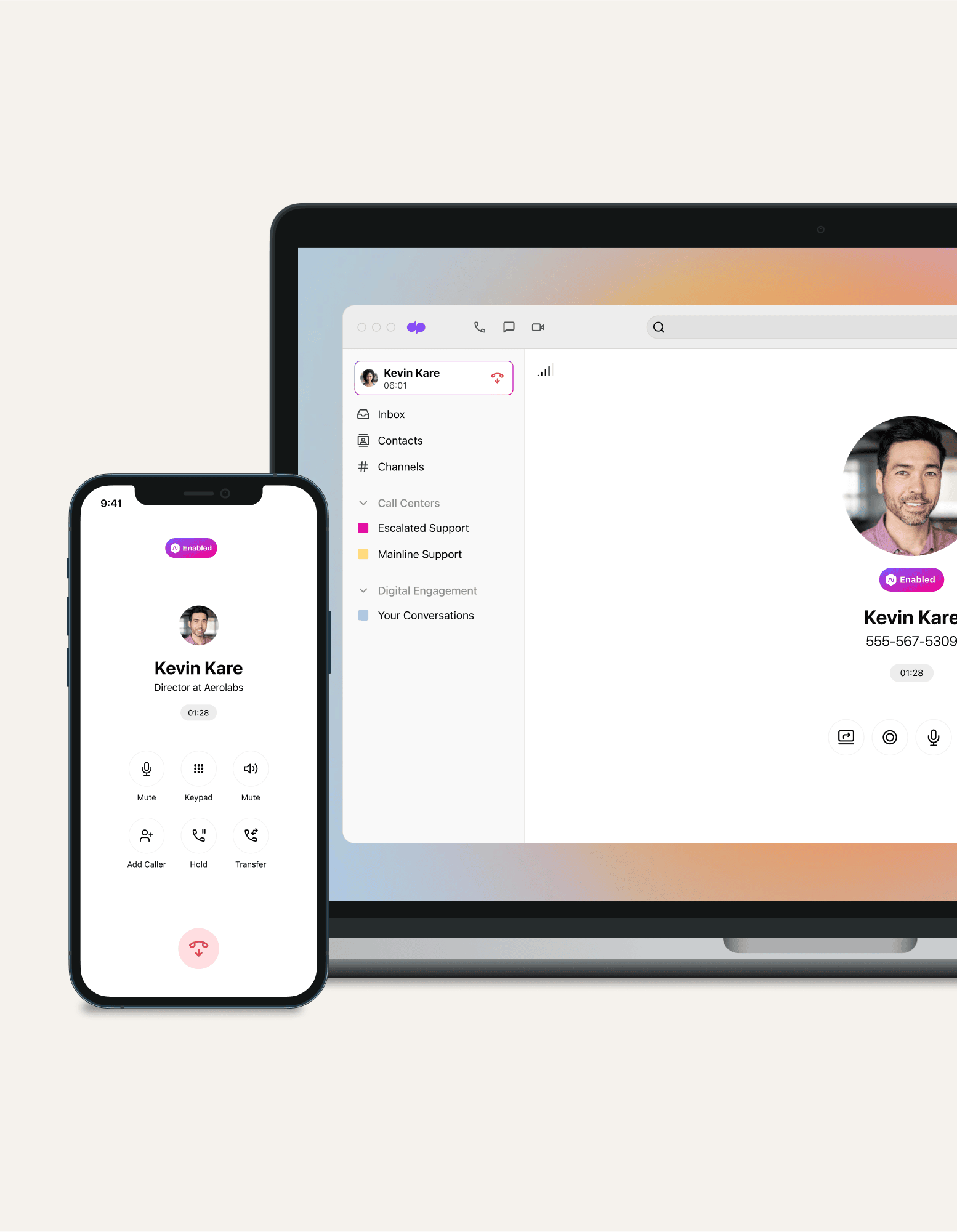 Designed for work
High-definition phone calls
Level up your business calls with HD voice calls. Dialpad's AI-powered collaboration platform gives you a built-in VoIP phone system providing crystal clear audio quality. Sign up for a free trial to get started with a virtual number in minutes!
A global voice network
100% uptime guarantee for Enterprise plan customers
All your internal + external communications from one app
Sign up for a free 14-day trial!
If you have phone calls regularly with prospects and clients, you need a business phone system or that communications platform that can give you the best voice quality.
You've heard of HD video, but what about high definition calling? With Dialpad, no matter what device you use—make calls from your browser, iPhone, Samsung Galaxy, PC, Mac, you name it, while getting crisp, clear audio.

What you get with Dialpad along with high-definition calling


Unlimited calling
Dialpad's plans start at $15 per user per month. Whether you choose to pay month-to-pay or go with a prepaid annual plan, you get unlimited calling in your country, the US, and Canada. All on even the most basic plan.

Truly unified communications
Dialpad isn't just a business phone system. It's a versatile collaboration platform that lets you make phone calls and video calls, and even send instant and SMS messages, all from one app.

Video calling
Dialpad offers browser-based video calling, which means you don't have to download another app. Not only can you and your clients or prospects use a web browser to join a video call, but you get full functionality as well, including screen sharing and in-meeting chat.

Voicemail transcription
Dialpad's visual voicemail feature transcribes all your voicemails into easily readable messages. If you're in meetings all day and don't have time to listen to each voicemail, this is a convenient way to stay updated on all your messages by reading them.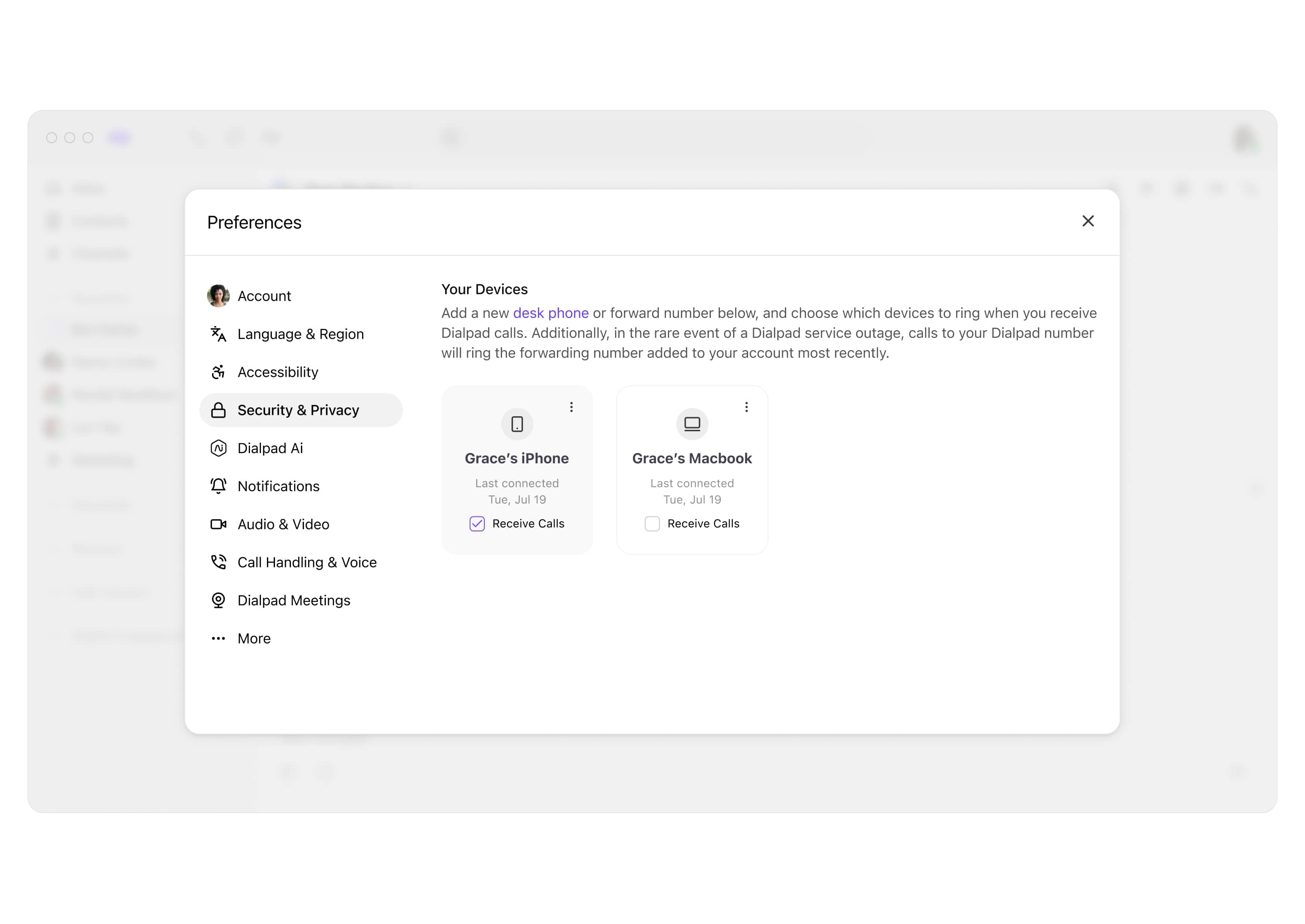 Call forwarding
Dialpad lets you forward calls to your cell phone, a colleague, or another department, with a maximum of five call forwarding numbers. Set it up easily in your online account.
Want to try HD voice calls for yourself?
Sign up for a 14-day free trial of Dialpad to get started with a virtual business number in just a few minutes. Or, take a self-guided interactive tour of the app first!
"
We wanted to ensure the call quality was going to be good, and we knew Dialpad was good in the States, but would that be applicable in Latin America? So we ran the pilot for two to three weeks, and we learned that yes, the call quality was fantastic.
"
Juan Gamboa
Chief Revenue Officer at BNamericas
Call flip
Have you ever started a call at your desk and cut it short because you had to leave? With Dialpad, you can flip a call seamlessly between your computer and your mobile phone. Apple, Android, PC, or Mac—you can flip a call between all of them and work on the go.
Unlimited call recordings
That's right. Every Dialpad plan comes with call recordings included. Easily record calls from your active call screen so that people who missed the meeting can still catch up on what they missed. (Or keep a record of your customer conversations!)
A fully integrated contact center
Need a contact center solution for, say, your customer support or sales team? Dialpad's customer engagement platform is fully integrated, which means agents and supervisors can talk, message, and meet virtually while handling all customer communications from one app.
How to make HD phone calls with Dialpad

How to make calls on a desktop app
From the Dialpad desktop app, you can make a call from the main dialer, search, or chat.
From your home screen, just click the Phone icon in the top left corner to place a call manually. You can enter a contact's name or an entire number. Hit the Phone icon again to start dialing.
To search for a contact to call, select Search and enter a first name, last name, email address, company name, Dialpad number, or regular number. If you're searching by name, the contact will need to be a member of your team, a saved contact, or a synced contact.
To make a call from a chat thread, choose the Phone icon. Dialpad will then dial the contact. You can still message the other person and reference your conversation thread during an active call.
How to make calls on an iPhone
To make calls on your iOS device using either your Wi-Fi or mobile network, first, make sure you've downloaded the iOS app from the App Store. To place a call, go to the Keyboard tab and dial a phone number or select the Phone icon while viewing a conversation thread with any contact.
To enable HD calling on your iOS device, click on the Advanced tab in Settings and click to enable HD calling.
How to make calls on an Android
First, download and install the Dialpad for Android app from the Google Play Store. Then, navigate to the Home tab and select the Plus (+) icon and select New Call or select the Phone icon while viewing a conversation thread with any contact.
Remember to enable HD calling in settings for better call quality.
How to make calls on a landline
You can easily make calls with a landline device as long as it's connected to the internet. To place a call by searching a contact, go to and select Contacts. Press search and type in your contact's name. Review results to find your contact, select the right one, and press Call.
You can also place a call by scanning through your call history and selecting a contact or by directly dialing the person you're trying to reach.

HD phone calls: Improve your communications with prospects and clients
If you're looking for a way to have better quality phone calls whether you're on cellular data or Wi-Fi calling, you need a good business phone system or ideally, a unified communications platform with built-in VoIP calling.
With Dialpad, you can get not only phone calls, but also video conferencing and instant and SMS messaging (and even a fully integrated contact center platform) all in one place.
With a robust global voice network and world-class customer support, Dialpad can help you improve your business communications. Try it out and see how much better your call quality can be.
Experience HD voice calls in just a few minutes
Sign up for a free trial, or if you're not ready yet, book a demo with our team to see how Dialpad can work for your business!
FAQs about HD voice calling
How does high definition calling work?
High-definition or HD calling reduces background noise and creates clearer audio by using wideband audio technology to compress audio content (like your voice) into data packets before sending content to a receiving device. Once the packets are opened by the receiver (the person you're calling), they're decompressed, arranged in the proper order, and delivered.
HD calling transmits on a frequency closer to the human voice—that's why it sounds so good. Mobile calls generally range from 300 hertz to 3.4 kilohertz. HD calling frequency ranges from 50 hertz to 7 kHz or more. Mobile carriers can use HD calling thanks to voice over LTE (VoLTE), which uses the 4G LTE network or 5G network to increase data speed. 3G networks don't provide enough bandwidth to support HD calls.
Both VoLTE and VoIP give you phone service over the Internet. The difference? VoIP uses WiFi to send and receive calls, and VoLTE uses a carrier's LTE data network. That's why you can get better sound quality and faster speeds. Almost all of the major carriers—AT&T, Sprint, T-Mobile, Verizon—offer HD calling.
What usually causes terrible phone call quality?
Are HD voice calls possible if you have a slow Internet connection?
Are there additional costs to having high-definition phone calls?