Back to Blog
The best conference call services for business: A deep dive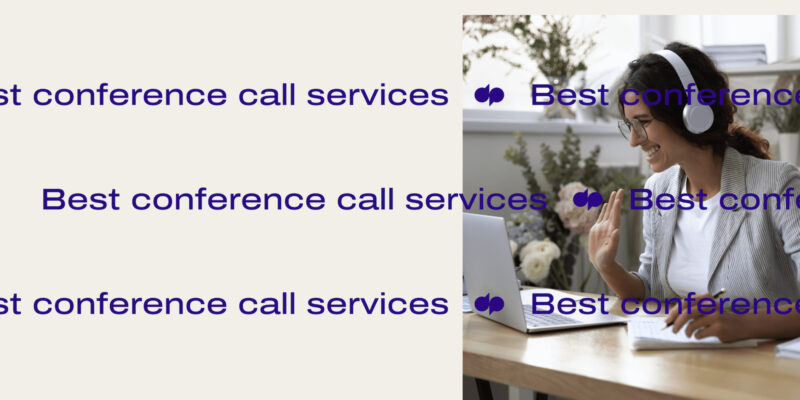 There's no way around it: conferencing calling is quickly becoming a workplace mainstay.

With remote teams steadily (in some cases, rapidly) growing and more companies keeping a large percentage of their workforces remote, we need to be able to communicate with our fellow employees—not to mention customers, clients, and prospects—from just about anywhere.
And conference calls help us do just that.
In this post, we'll compare top conference calling service providers and look at specific features to look for if you want to connect and collaborate with a geographically dispersed team.
For example, do you want to be able to launch conference calls from a web browser instead of having to download an app? (Dialpad's built-in web conferencing feature, aka Dialpad Meetings, allows you to do that!)
So, let's look at some of the best web conferencing tools.
But before we dive into the list, let's first look at a few specific features you should consider when shopping for a conference call service. (Not all businesses will need all of these!)
Which features do I actually need?
When you're narrowing down your list of conference calling software, it's important to look for a versatile service that offers what you and your business needs. You've probably guessed by now, but not all conference call services are the same.
Here are a few suggestions of things to look for—they're not all must-haves for everyone, but it's a good starting point.
Cloud-based
Some people think there's not much of a difference between using a traditional dial-in service or a cloud-based system for conference calling.
But if you have a remote or distributed team, or offices all around the world, then you'll probably want business phone systems or tools that are internet-based. With most of us working from our laptops and mobile devices, a cloud-based service is almost a must for most businesses.
Plus, this way you'll be able to save time and money because you won't need expensive hardware anymore.
👉 Dialpad tip:
And keep in mind that there's a telephony element here for connectivity—people in certain regions may not be able to call others in other countries. Making a phone call via direct inward dialing (DIDs) requires a completely different technology makeup than joining a conference call over the internet.
At the end of the day, launching a conference call over the internet is just hands down more efficient than manual dial-ins.
With Dialpad for example, conferencing is completely cloud-based. This means it's super easy to start or join a conference call from anywhere.
All you have to do to launch a conference call is open Dialpad's business phone app on your computer or phone and hit Start conference.
That's it.
Then you just have to connect your earbuds through your phone or computer if you want, and choose the microphone or speaker you want to use. Hey presto, you're ready to go.
In-call security (even without PINs)
With traditional conference calling, call participants had to enter a long multi-digit PIN number to join the call.
Now with PIN-less security, you can join a conference call without having to go through the process of obtaining and entering that access code.
With Dialpad, it's completely up to you whether you want to opt for PIN-less conference calling or not. (Team admins can manage these settings for everyone easily from their admin portal.)
Even without a PIN, your Dialpad conference call is still secure. For example, the meeting host can mute participants and lock the call once everyone's joined so that strangers can't just randomly join: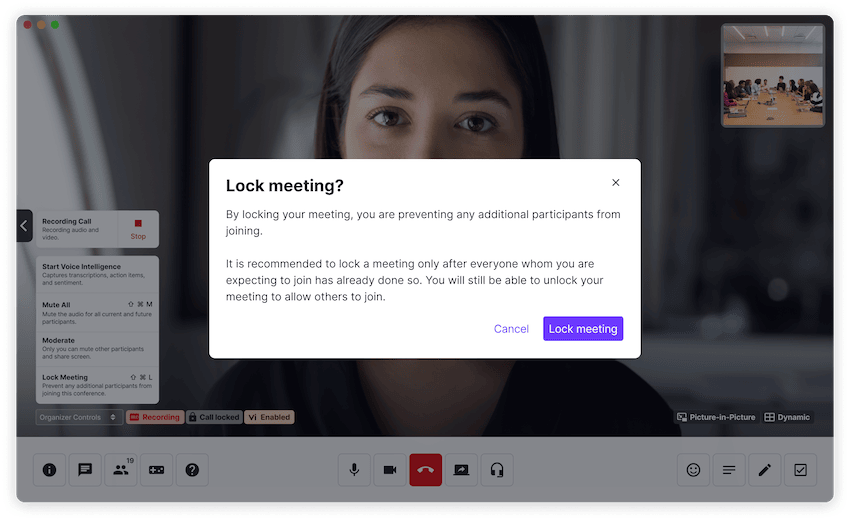 In fact, Dialpad's web conferencing software is one of the most secure solutions out there thanks to the fully encrypted back-end developed on Google Cloud. (If you're into your cybersecurity, you'll know how great that is. If not, take it from us that it makes a big difference in keeping your conferences secure.)
Dialpad Ai
First off, we'll admit this one is a nice-to-have—and it's something that only Dialpad has.
Dialpad Ai is a technology that our team built from the ground up. It's powered by artificial intelligence, and basically what it does is use a proprietary combination of Natural Language Processing (NLP) an Automatic Speech Recognition (ASR) to transcribe conversations in real-time, accurately. (More accurately than Google, actually.)
In other words, it's a bit like an automated note-taker for your remote meetings, but not only does Dialpad Ai transcribe your meetings word-for-word…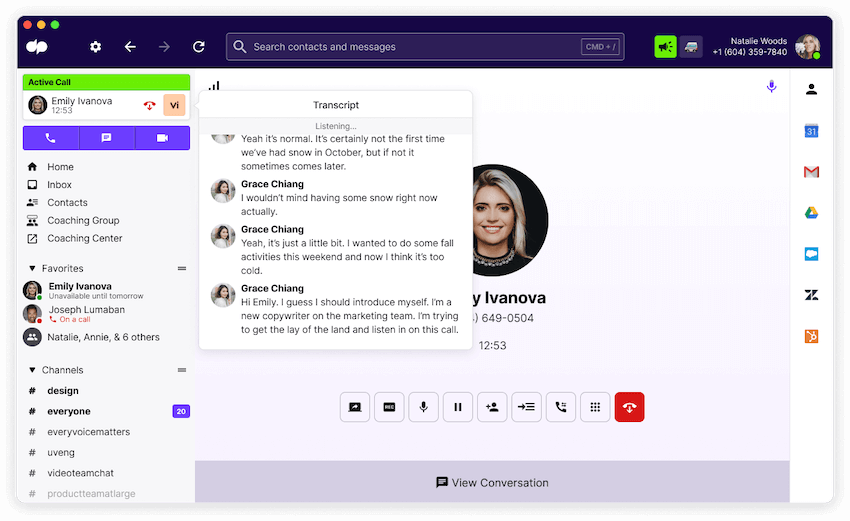 It can even distinguish between individual participant voices and mark the transcript accordingly. Impressive right? Oh, and it even marks off action items automatically for you as they come up on the call: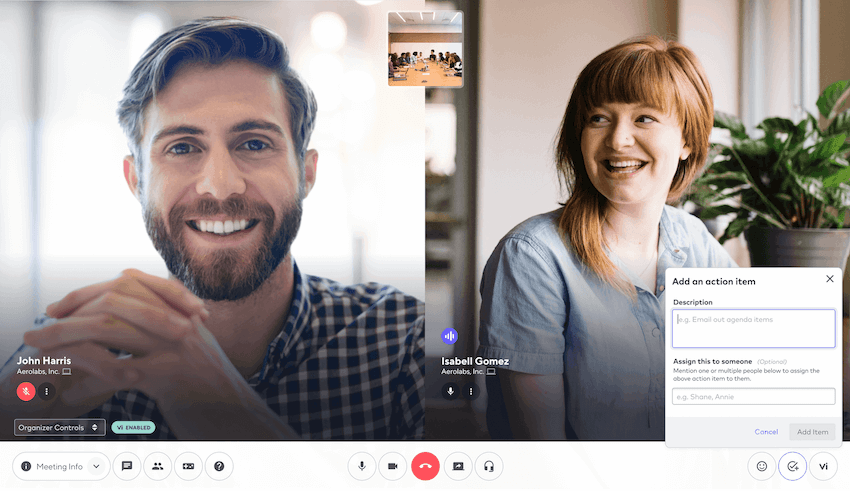 This can save you tons of time and money on general admin, and makes sure that your meetings are always backed up with highly accurate transcripts that you can refer back to at any time.
If you do a lot of conference calling, then this might be a feature to look for as you're choosing a conference call service provider.
Screen sharing
Last but not least, if you review a lot of presentations or design mockups on calls, then make sure your conference call software has screen sharing!
Screen sharing is so incredibly useful when conducting online meetings, collaborating on documents in real-time, or even talking clients through complex processes, because it has that visual component to it.
If you can't all be in the same room, then screen sharing is definitely one of the simplest and most effective tools for collaborating more effectively online. It's perfect for group projects, training or onboarding, product demos, and much, much more. (No more having to send everyone to individual files in one of the cloud storage solutions your team uses.)
For example, if you're using web conferencing software like Dialpad, you can do screen sharing right from your call's screen in literally two clicks.
You can even select which screen or browser window you want to share with your other conference participants: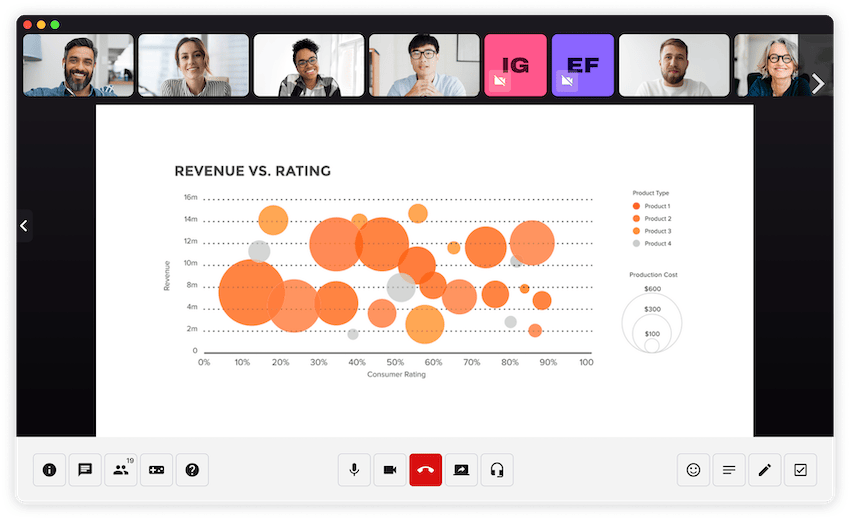 General privacy and security standards
We can't overstate this enough. Make sure that your service provider offers robust privacy settings! With more and more companies hosting meetings regularly with conference calling, privacy is huge—especially if you'll be discussing confidential information.
Dialpad is a member of the Cloud Security Alliance (CSA), which means our customers can rest assured that their meetings and data are being protected on a secure conference call platform, and accounts are fully encrypted and protected by Datagram Transport Layer Security (DTLS) and Secure Real-time Transport Protocol (SRTP)—designed specifically for transferring real-time media communications.
The 8 best conference call services
Okay. With so many audio conference call services and software options out there, picking the right one for your business isn't exactly easy..
A good place to start is to think about which factors and features are most important to your business plan.
Do you want transcripts of important conference calls with clients? High-level security? Do you need to cater to large numbers of participants?
(And no matter which one you go with, it always helps to give the free trial a whirl.)
So, let's get into it. Here are the eight best conference call services.
1. Dialpad: Call, message, meet, and share your screen instantly—from anywhere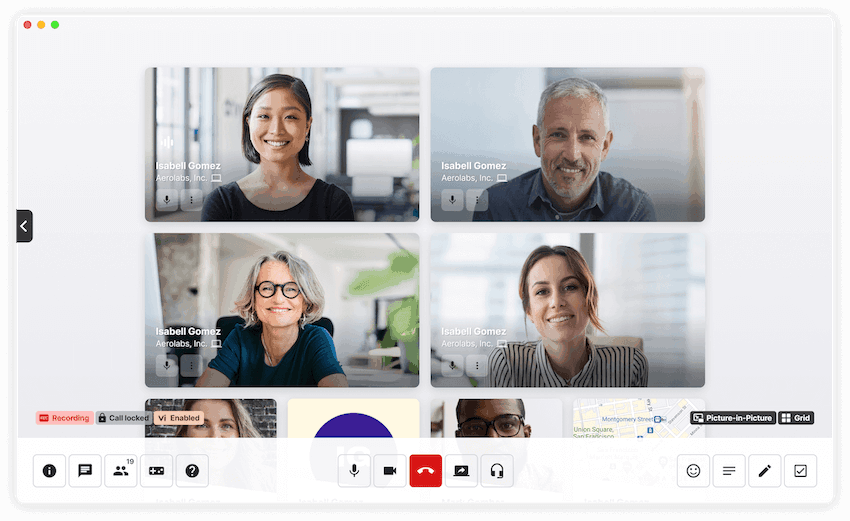 If remote work is your life right now, then you'll want a service that is equally adept at facilitating one-to-one meetings as it is at hosting large-scale webinars.
Dialpad offers free cloud-based video conferencing and inexpensive international calling—all without the need for time-consuming PINs or app downloads.
That's right, we won't make you download an app just to have a conference call. Because Dialpad is browser-based, that means you get all the features that you'd get in the Dialpad app, even if you're just using your web browser: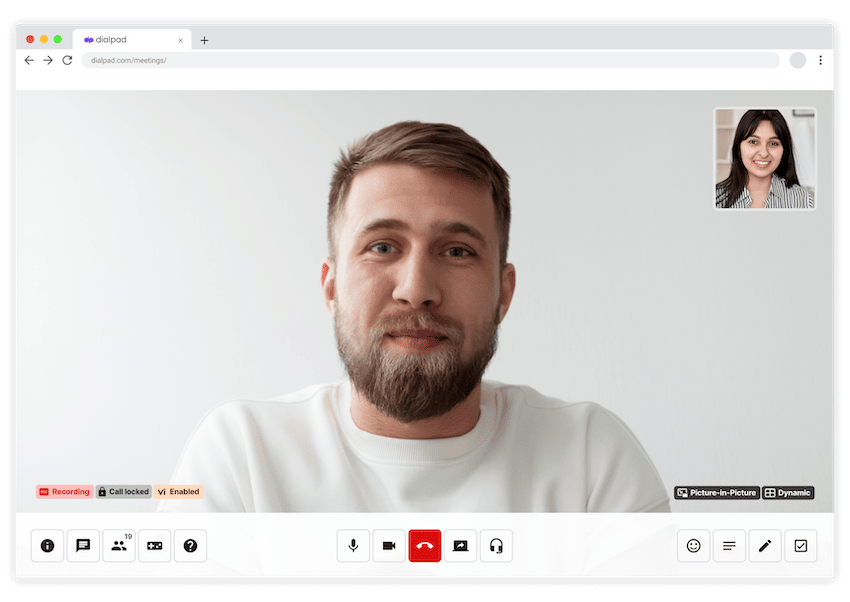 This also makes things much easier for your clients, prospects, and whoever else you have conference calls with, because they also don't have to download anything to join your call.
All they have to do is click the link in your meeting invite, and they'll be able to join right from their web browser.
And as we mentioned earlier, there's the amazing Dialpad Ai technology that accurately transcribes your meetings live and automatically emails you a post-call summary at the end of each and every call.
You'll be able to look back on prior meetings with intuitive and searchable transcriptions.
Plus, in addition to these core functions, Dialpad offers a comprehensive suite of advanced features to optimize your meeting even further.
Call management features will keep your conferences running smoothly, while integrations with other popular online software mean that Dialpad can work within any existing office setup.
Key features: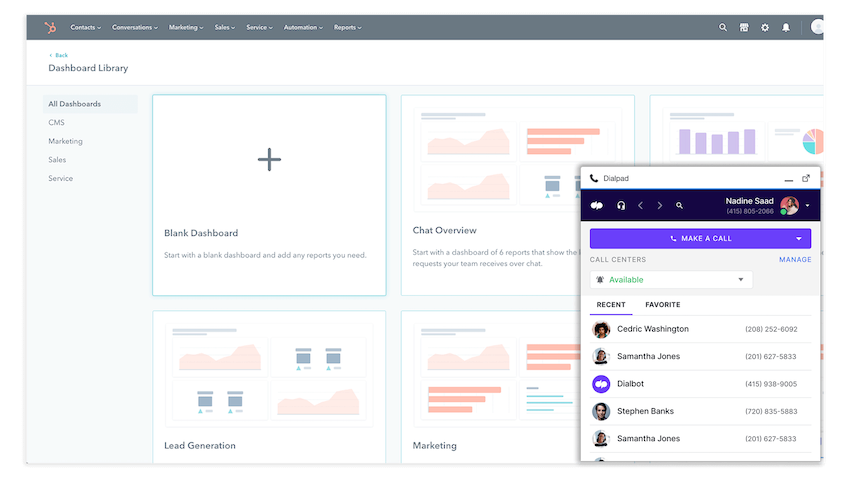 Local dial-in number

International calling

Secure protocol

Multilingual live chat and phone support worldwide (on the most basic plan)
Need conference call services? Try Dialpad's platform for free!
Sign up for a 14-day free trial! It takes just a few minutes, and you'll be set up with a virtual phone number too. Or, take a self-guided interactive tour of the app on your own first!
2. FreeConferenceCall.com
FreeConferenceCall.com is a free small business conferencing platform.
This is a reservationless conferencing service that allows meetings of up to 1,000 attendees at any one time. You can schedule meetings in advance or host conference calls spontaneously.
Each account comes with a variety of free services and integrations like audio and video recording, integrated calendars, international dial-in numbers, mobile applications, and 24/7 live client support.
Key features include:
Web meeting controls

Keypad commands

Breakout groups

Screen sharing

Drawing tools

Recording options
FreeConferenceCall is relatively easy to use and reliable. But, it is a free tool, and you do get what you pay for.
If you've got a larger team and want to organize your remote meetings with efficient scheduling and conference invitations, then you'll be better off opting for a tool like Dialpad which offers a much wider selection of call controls including group conference call invites.
🗒️ See what IT leaders look for in a phone system
Grab the CIO Buyer's Guide, (written by our own CIO, who's done a lot of phone system shopping in her time!), which will walk you through what features to look for, nuances to pay attention to when comparing providers, and more!
3. RingCentral

RingCentral is a unified communications (UCaaS) software with in-built call conferencing that has the capacity for up to 1,000 callers at a time. They're a behemoth in the space and have been around for ages—you've probably heard of their name.
That being said, their technology isn't born in the cloud—it comes from traditional PBX and even though it's changed a bit, this still makes getting set up and deployment a little bit more... involved. If you have a dedicated IT team, this won't be as much of an issue, but if you want to be able to set up conference calling on your own without too much technical wizardry, you might want to look at newer options that are designed to be cloud-friendly.
You still get the usual "features" on a conference calling checklist though: for example, RingCentral users can choose whether or not they want to schedule their meetings in advance, and the conferencing tool is included in the standard RingCentral Office platform.
It also has your basic audio conferencing options, which allows multiple people to connect on a single call. Each person is required to dial into a central conferencing line where they'll be able to chat and collaborate with their teammates or clients.
Each company receives a dedicated audio conferencing bridge dial-in phone number from RingCentral, which provides universal access. Individual users get assigned a unique host code to use. No need to make a call reservation or schedule a call—unless you want to of course.
Key features include:
Cloud-based platform

Local dial-in numbers in 50+ countries

Business calling

Mobile app for iOS and Android

If you need a tool for day-to-day calling but do want flexibility and ease of setup, definitely give the free trial a first before you commit. With RingCentral, the most basic paid plan starts at $19.99 per user, per month.1
4. Cisco Webex
Cisco Webex is a web conferencing service that allows participants to connect via their mobile phone, laptop, or computer. Hosts join online via a computer and invite participants to join on their own devices.
Webex tools include Webex Teams, Webex Meetings, and Webex Devices, all of which integrate with the designated web conferencing platform and collaboration tool.
But here's the rub: if you want to be able to do conference calling with people outside your company, you'll need to bring your own carrier or add on a phone plan—which costs extra on top of their standard plans. (This is unlike Dialpad, which has the telephony piece built right in.)
The conferencing client does come complete with features like video meetings, file sharing, and team messaging aimed at small-to-medium-sized businesses (SMBs).
With Webex, teams can enjoy video conferencing, webinars, training seminars, cloud calling (more like a PBX unless you add on a package like what we mentioned above) and offer remote client support all over the world on iOS, Android, and web browsers.
Key features include:
Call recording

Call-Me tool

Digital workspace

File sharing

Whiteboard

Background noise removal

Speech enhancement

Real-time translation
Webex does have a basic free plan, but you won't get true conference calling with it, and like RingCentral, you'll have to commit to a similar price—at least $19 per user—per month on the most basic paid subscription. (But again, you'll still have to pay for phone calling on top of that.)2
5. Nextiva
Nextiva offers HD VoIP conference calling and combines business applications with intelligent automation and communication.
The Nextiva conferencing solution is, like many of the other options on this list, cloud-based software that's available on Mac, Windows, Android, iPhone, and iPad.
Like most good conference calling options, Nextiva gives you the option to scale up your functionality from basic calling to call analytics and automated transcriptions.
Key features include:
24/7 customer support

Voice and video call collaboration

SMS

Live chat

Surveys
One thing to note is that not all of Nextiva's supported integrations are available on all of the pricing plans. So, if you use Salesforce or HubSpot or any other tools you want to integrate with, check that those integrations are available as part of your desired plan or your monthly cost might end up being much higher than you anticipated.
(Dialpad's most basic plan does come with both Google and Microsoft, and the Dialpad marketplace hosts tons of native integrations with popular apps like Slack, Salesforce, and Zendesk to enhance your experience and boost productivity.)

6. GoToMeeting
GoToMeeting is a paid conference call service offering small business conferencing solutions via an all-in-one hardware and software kit.
GoToMeeting will send you all the equipment you need so that you can set up your smart conference room from anywhere.
It's a flexible tool suitable for things like teleconferencing, online meetings, and sales demos. You can choose between the free, basic version and a professional-standard version complete with additional features.
GoToMeeting allows you to schedule, host, and record your online meetings and webinars with high-definition video conferencing, screen sharing, and toll-free numbers for those calling in from longer distances.
Key features include:
HD video conferencing

Screen sharing

Dial-in conference lines

No time or participant limits

Personal meeting rooms

24/7 customer support

Salesforce integration

Slack integration

Mobile app

Business messaging
GoToMeeting actually has a pretty decent list of integrations that's comparable to Dialpad's, which includes productivity apps, customer relationship management apps, collaboration apps, sales engagement, ticketing, customer communication, and more. Learn more about the best GoToMeeting alternatives.
7. Skype
Skype is the name we've all heard of when it comes to video meetings.
Skype's free conference call service enables individuals and businesses to make free video and voice calls over the internet. You can use Skype via a web browser (Microsoft Edge and Google Chrome are currently compatible), or download the Skype app to your desktop or mobile.
Key features include:
Access chat history any time

Use on any device

Screen share

Background blur

Call recording and saving
Skype is a free tool, though, meaning its features are pretty limited for business use.
In order to access more robust features and open up meetings to larger groups, you'll need to purchase Skype for Business. (It's a bit awkward though, because Microsoft owns Skype now but also has Teams.) Dialpad, on the other hand, is a tool designed with business needs in mind.
The free plan can work for small businesses and startups, but if you want to be ready for future growth and scalability, you might want to look for a conference calling solution that's actually built for businesses.

8. Zoom
Zoom made a name for itself during the pandemic as a go-to meeting platform for consumers As you probably know, Zoom offers cloud-based communications software with both free conference calling and paid options.
Most people use Zoom to communicate virtually with others in a one-to-one meeting or group conference via audio or video.
Key features include:
24/7 support

Live chat

Screen sharing

Call recording
Zoom isn't for everyone though—and making outbound calls will cost you extra.3 The Zoom Phone package has to be added on, and if your team needs to reach anyone outside the company to do business, you might be better served by a tool like Dialpad that built out its phone system as a core part of the product instead of an add-on.
As well as audio and video conferencing, Dialpad offers secure dial-in, call recording, transcription, and guest management (you won't have any unwanted participants in your calls). Perfect for maintaining call privacy and confidentiality.
What are the benefits of having good conference call software? Who cares?
Conference calling makes it super easy to communicate with your colleagues, clients, prospects, and more. Whether you're discussing the next quarter's budget with accounts or training new employees, almost anything can now be done remotely. Including calls!
From increased work-life flexibility to real-time call analytics, there are a few main advantages of using conference call services:
A more flexible way of working
A good conference call software makes it so much easier to work from anywhere. Think back to those days in the office when scheduling meetings involved booking conference rooms and travel. This is just an easier and cheaper way of connecting with your team and clients—all you have to do is email or text someone an invite with a link, and you're good to go. (Learn more about conference room technology.)
No more booking meeting rooms or long commutes. As long as you've got a decent internet connection, everyone can join from anywhere—on any Android or iOS device, or web browser on their computer. (If you're using a platform like Dialpad.)
And that gives us all so much more room to move. Literally and figuratively.
Better organizational efficiency
Conference calling and web conferencing software can do it all for you, from updating participants' calendars automatically to sending out post-call summaries. (Okay, not all of them can do that.)
If you host meetings regularly (at the same time each Monday, for example), it's worth setting up recurring conference calls in your platform.
For example, with Dialpad, it's super easy to set up recurring calls. All you have to do is enter the name, date, and optional recurring basis of your scheduled call. If your Office 365 or Google Calendar is already synced with Dialpad, check the recurring box in your calendar and choose your preferred time interval (e.g. one week or one month).
You can also preschedule dial-outs to invited participants so that you never miss a call on your agenda.
A better-connected global team
Telecommunications tech like VoIP is fantastic for bringing together dispersed global teams who might otherwise never be able to meet in person.
Whether it's through high-quality audio conference calls, video meetings, or file and screen sharing, it's never been easier to connect with teammates around the world.
Better call analytics
Here's where things get really interesting.
By investing in call conferencing technology, you're also gaining useful data (about things like whether your organization is adopting that software, or how many calls they're on over the course of a week, for instance).
Platforms like Dialpad have built-in analytics. With the right software, you'll be able to view and analyze real-time analytics and start making killer data-driven decisions based on targeted key performance indicators (KPIs).
With Dialpad, all the information you could possibly need is readily available on your individual analytics dashboard. Here, you can monitor your entire business or call center operation from one place and even filter your calls by department.
International access
Last but not least, let's talk about international access.
This is one of the stand-out advantages when it comes to remote call conferencing. Anyone, anywhere can attend a web conference. All they need is a reliable internet connection. That means no more geographical restrictions—and far more global opportunities.
Dialpad, for example, allows you to call virtually anywhere in the world at some of the lowest available rates with international calling.
And you'll never need to worry about audio quality or video quality—even at great distances. If your platform is using advanced VoIP technology, you can expect crystal clear, HD meetings (as long as you have a good internet connection).
Level up your communication with the right conference call services
Working remotely is one of the most flexible transformations of the last few years.
And with the right call conferencing service, we can collaborate as easily with people in different countries as we do in an office.
With a good conferencing service or unified communications platforms like Dialpad and its conference call app, it's simple and easy to take your conference calls with you anywhere. In the office, on the go, in your own home, you name it.
International collaboration has never been so easy as it is now. Plus, with amazing features like screen sharing, note taking, call recording, and transcribing, technology is taking the helm and allowing us to focus on what really matters—communication, collaboration, and ideas.
Take one of the best conference call services for a test drive
With Dialpad's unified communications platform, you can have conference calls, video meetings, and instant + SMS/MMS messages—all from one easy-to-use desktop or mobile app. Try it free for 14 days. Signup takes just a few minutes, and you'll be set up with a virtual phone number too!
FAQs about conference call services
Are there different types of conference call services?
Conference call services fall into two key categories: reservationless conference calling and operator-assisted conference calling.

Day-to-day, most of us use a reservationless service model for our remote team meetings and calls.
With reservationless conference calling (or reservationless teleconferencing), multiple participants are connected to a conference call or video conference.
Under a traditional model, this is via a toll-free or dial-in conference call telephone number. These days, though, it's much more common to use a reservationless service that uses Voice over Internet Protocol (or VoIP for short). That's calling over the internet for those of us without a degree in tech acronyms.
Team members can meet together or reach out to clients online without needing to travel to an in-person meeting. With reservationless conference calling, you can meet anywhere, anytime—without any prior scheduling, just like the name suggests.
Plus, depending on your service provider, you should be able to host plenty of participants (usually anywhere from 50 to 3,000 people).
What about operator-assisted conference calling?
1ringcentral.com/office/plansandpricing.html#office
2webex.com/pricing/index.html
3zoom.us/pricing/zoom-phone