Back to Blog
15 best screen sharing apps: How to choose the best screen sharing software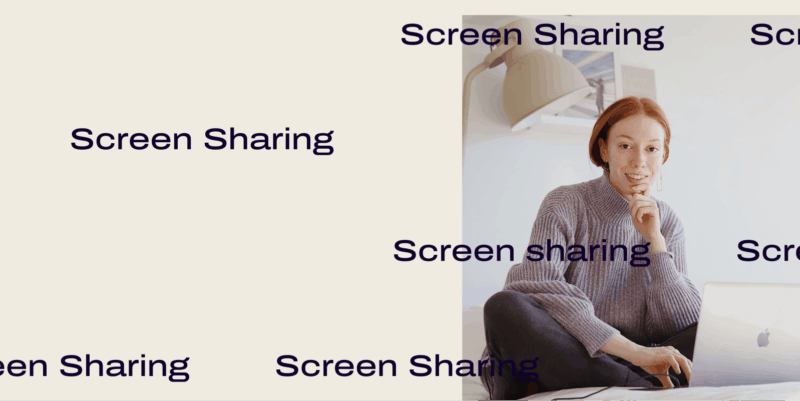 With the rise of remote work, most folks are probably no strangers to communications tools that give you features like messaging, voice call, and video chat capabilities.
But if you and your team regularly review things like design mockups, website wireframes, or just presentations in general, then a screen sharing app is another critical tool to have.
The good news is, many video conferencing platforms already have screen sharing capabilities built in, which means you don't have to buy yet another tool just to be able to share your screen (yes, we're talking about sharing your mobile screen too).
But of course, like with any other software, not all screen sharing apps are equal.
You can find a huge range of software out there, from basic freebies to the most advanced virtual tools which enable you to take a vibrant office-environment onto your computer or mobile screen.
In this guide, we'll look at how to use a screen sharing app, key features to look for, and break down some of the best screen sharing software out there.
But before we get into the list, let's first look at some essential features to consider as you're looking at different options.
3 features to look for in a screen sharing app
The whole point of using a screen sharing app is that it makes collaboration easier for teams who can't all be in the same room.
So, simplicity is table stakes. That's why we didn't include it on this list—an easy to use and well-designed screen sharing app isn't a "nice-to-have" or a feature that you should consider. It's a must-have. (Just our two cents.)
With that out of the way, here are five things that you should at the very least consider as you're shopping around.
1. Quick launching
It shouldn't take forever to start sharing your screen. You probably wouldn't want to use a video conferencing platform either if it takes 10 minutes just to sign in and start a virtual meeting, right?
Ideally, it's a one-click-to-launch situation—which is why (as we'll see in just a bit) the best screen sharing apps are generally built in already in video conferencing platforms and tools.
(For instance, in Dialpad, you can start a screen share right from your meeting screen in one click.)
2. Shared screen share control
Usually, the host or presenter in a meeting is the one sharing their screen, but that's not always the case.
That's why you should make sure the app you choose lets other meeting participants share their screen too.
(For security reasons, though, the host should have the ability to stop other people's screen shares—just in case you've been Zoombombed and uninvited guests are sharing obscenities on their screens.)
3. Choosing between multiple screens and windows
Who doesn't love options? Sometimes it's most useful to share your entire screen, and at other times to share only a certain tab. Not everyone needs to see those 50 windows you have open, after all.
So, you might want to look for screen sharing apps that give you specific sharing options. For example, you can choose to share your entire screen, just an app's window, or a specific tab in Dialpad.
15 screen sharing apps: Features, pricing, and perks
Without further ado, here are the best screen sharing apps, broken down into a few categories to make it a little easier to sift through them.
Top 3: Best in class
1. Dialpad: Small, medium, and large businesses that want an easy-to-use screen sharing app that's already built into a video conferencing platform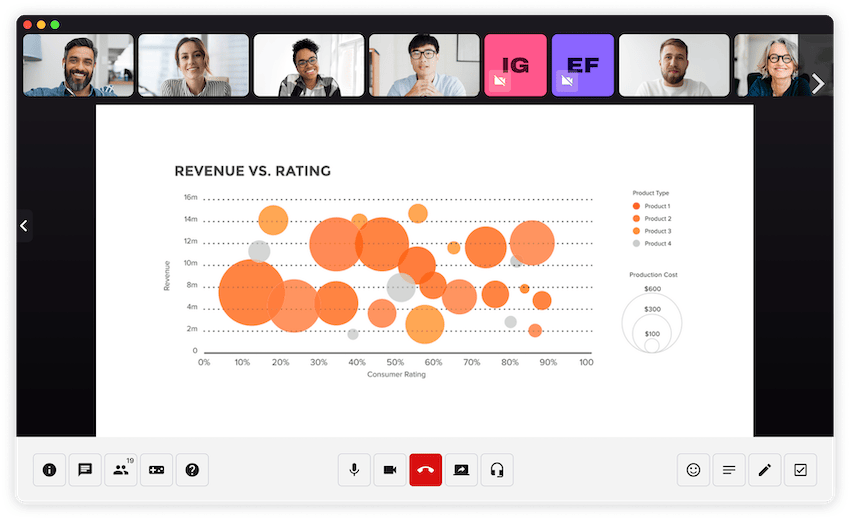 First off, Dialpad has screen sharing as part of its video meetings platform—yes, even on the free plan, which gives you 45-minute meeting limits, unlimited call recordings, and of course, screen sharing.
Whether you want to be able to do screen sharing in one-to-one or team brainstorms or webinars (the paid plan bumps you up to 100 participants), you can do it all in one convenient app.
The really neat thing about Dialpad is that you can invite someone to a screen share from a phone call in Dialpad:
But what if you're on a call with a client or prospect who doesn't have the Dialpad app and probably doesn't want to have to download it? You can share your screen with them too—your invite will get sent as a text message, which will have a link that they can click, which makes things easy for them.
There's no set-up needed—you can start screen sharing right from an online meeting, while still accessing all your controls, like locking meetings and turning on screen recording:
Beyond just screen sharing, the free plan also comes with an in-meeting chat feature:
Oh, and Dialpad Meetings' free plan also comes with integrations with your favorite meeting scheduling tools like Outlook and Google Calendar. These will automatically create a virtual meeting link in your event invite.
The other perk of using Dialpad for screen sharing is that it's a browser-based platform. What does that mean? Well, most tools say you can join a video meeting from a browser, which is great, but Dialpad allows you to host meetings and get all the same functionality as you would from the app, which is pretty unique:
Features (screen sharing and also the video meetings app as a whole):
Remote control screen sharing

Audio, video, and messaging in one app

Meeting lock and other security controls

HD audio and video

Call recordings (included with the free plan)

Comprehensive integrations with other software

Easy to set up and use without IT help

(Dialpad is also HIPAA and GDPR compliant)
Pricing: Free plan and Business plan at $15 per user per month

Try Dialpad's screen sharing for free!
Sign up for the free Dialpad Meetings plan or, take a self-guided interactive tour of the app!
2. Join.me
Join.Me has a relatively simple interface that lets you start a screen share at the click of a button.
It also comes with a recording feature which lets you review meetings in the future. Join.Me supports up to 5 attendees per meeting on the LITE plan and up to 250 attendees on the $30 plan, so you'll have to shell out or look elsewhere if you're regularly running large webinars.
You have a few screen sharing options here, and can share either a specific window or your whole screen. Like Dialpad, Join.Me is available as both a desktop and mobile app.
Features:
Simple interface

Audio and video calls

Up to 5 participants on the least expensive plan
Pricing: $10 to $30 per user per month
👀 Interested in remote or hybrid work tips?
Grab the Hybrid Work Playbook, which includes real-life case studies and breaks down all things hybrid + remote, from building and sustaining a hybrid workforce to equipping your team for success.
3. Zoom

Alongside Skype and WhatsApp, Zoom is a popular tool that many people use for calls with friends and family.
And like Dialpad, it comes with a screen share feature built in that gives hosts the option to control attendees' screen sharing capabilities in real-time.
Unlike Dialpad, however, Zoom doesn't give you unlimited call recordings for free.
Zoom offers voice and video calls as well, and allows you to share either your desktop or mobile screen.
Features:
Video calls

Up to 100 participants per call

Relatively easy to navigate
Pricing: Free version, up to $240 per user per year
Other collaboration software with screen sharing capabilities
4. GoToMeeting
GoToMeeting is another virtual meetings platform that gives you high-definition video and high-quality audio. Like the other best-in-class tools on this list, you can share your whole screen or just a window or web browser.
You can also record meetings as they happen—stored in the cloud for 12 months—and host up to 150 attendees per call on the cheapest plan, although you don't get unlimited cloud recordings like you do with Dialpad's free plan. Learn more about the best GoToMeeting alternatives.
Features:
HD video and audio

Up to 150 attendees per meeting on the Professional (least expensive) plan
Pricing: $12 per user per month up to Enterprise pricing (you'll have to contact them)
5. Slack
You've probably heard of Slack—it's a popular tool that started as a messaging-first app. Today, they've evolved quite a bit and now also allows teams to message individuals or groups and make audio or video calls, across desktop and mobile devices.
Screen sharing is pretty straightforward—there's even a nifty digital pen feature that lets you edit and whiteboard on documents in real-time.
One important thing to note is that Slack does not have screen sharing in the Free plan. You'll need to go with Pro and above if screen sharing is something you and your team will need. There's also no HIPAA and other compliance support unless you get on one of the more expensive tiers.
You also max out at 15 participants, even if you get onto the Enterprise tiers, so if your team uses virtual meetings extensively, this might not be a good option.
Features:
Works on both desktop and mobile devices

Video chat

One-to-one and group messaging

Up to 15 participants (across all the paid plans)
Pricing: $6.67 to $12.50 per user per month + custom packages
6. Google Meet (formerly known as Google Hangouts Meet)
Google Meet is Google's video conferencing software platform (previously known as Google Hangouts Meet).
It's pretty simple to set up and navigate, and the platform of course integrates with the overall Google suite of tools including Gmail and Calendar.
You do need a Google Workspace (formerly known as G Suite) account to use the video conferencing function. If you do, you'll be able to share either your whole screen or a specific window, which is good for remote collaborations or presentations.
Meet does have some limitations compared with other apps on this list. Whereas you can use any browser or download an app on any device to use Dialpad's screen sharing feature, Meet needs the Chrome browser to operate and there's no call recording feature on the free plan.
Features:
Integration with Google Workspace tools

Audio and video calls

Messaging

Easy file sharing capabilities
Pricing: Free to $8 per user per month + custom Enterprise packages
7. Cisco Webex
Cisco Webex is another well-known player in the collaboration software space that has screen sharing capabilities.
Beyond screen sharing, you can do video calls, whiteboarding, and messaging as well, although there's no cloud recording storage on the free plan.
Features:
Video calls and messaging

Up to 100 participants on the free plan
Pricing: Free to $26.95 per user per month + custom packages
8. MingleView
Mingleview is a screen sharing app that's best for small teams using Windows and Android.
(Which means if your company is already mostly using Windows and Android, this is a good option. Otherwise, move on to the next contender if you're using another operating system.)
You don't need to install anything—the meeting host simply needs to share a PIN code with their attendees.
The software offers audio and video chat, meeting rooms with unlimited participants, and a relatively simple-to-use interface, though it's a bit dated.
The software's main selling point is that it's easy to set up meetings with anyone at short notice, since they don't have to register their details or download an app. (Though Dialpad also doesn't require you to download apps—to either join or host a meeting.)
The only knock on MingleView is that it doesn't work with Mac, iPhone, or iPad devices, which limits its capabilities somewhat unless you know that everyone (including your prospects and clients who you might be screen sharing with) is on a Windows or Android device.
Features:
No download needed for attendees

Audio and video chat

Unlimited participants
Pricing: Free
Standalone screen sharing tools
9. Screenleap
As with the other apps in this "standalone screen sharing tools" section, Screenleap is dedicated to screen sharing as opposed to secure video conferencing, messaging, and other forms of collaboration.
The app can be downloaded to desktop, Android, or iOS devices. Only hosts need to install the app—other attendees can join sessions by entering a PIN code. Paid plans include call recording and allow for up to 150 participants.
If you only need a basic screen share tool, this is okay, but you might find more robust tools at lower price points on this list.
Pricing: Free to $39 per user per month
10. AnyDesk
Like Screenleap, AnyDesk is a screen sharing app designed for multi-platform use including Microsoft Windows, Macs, and mobile devices.
One of its most useful features is its "whitelist creator" feature, which lets you provide someone with remote access to your screen in real time This comes in particularly handy for allowing your IT expert to drop in remotely to fix tech problems. If you need a tool for remote support, AnyDesk is a good option to look into.
Pricing: $9.90 to $19.90 per user per month + custom pricing
11. USE Together
USE Together is a desktop-only screen sharing tool that's compatible with both Apple and Windows devices. While it isn't a complete team communication tool, the screen sharing function is easy enough to use, and lets meeting attendees collaborate on shared documents in real time.
Originally designed to help programming and app designers collaborate, USE Together is also useful for onboarding new employees and brainstorming sessions. Right now, its use case is still pretty niche, and if you're not a programmer, then there are other more versatile options on this list for you.
Pricing: Free to $30 per user per month
12. TeamViewer
Another IT-focused screen sharing app, TeamViewer has features like file sharing and messaging alongside its screen sharing function.
With two-factor authentication, it's more secure than some of its competitors and it also boasts HIPAA and GDPR compliance.
As with other dedicated screen-share tools, the use cases are fairly industry-specific and mostly revolve around enabling IT service providers to monitor remote systems for tech faults in real-time. (It's not cheap either.)
Pricing: Starts at $60.90 per user per month
13. Mikogo
Mikogo allows screen sharing on video conferences for up to 25 participants, alongside messaging and file transfers.
It has a handy whiteboard feature and annotation tool that allow attendees to contribute to documents, which makes it pretty useful for brainstorming and planning.
Pricing: $14 to $48 per user per month
14. Chrome Remote Desktop
If you're a Chrome browser user and looking for a free tool, Chrome Remote Desktop offers reliable and secure screen sharing across Windows, Linux, and Apple devices.
It doesn't offer nearly as many features as most other apps do (no options for file transfers or messaging), but if you're already using Chrome, it's an instant solution for sharing your screen.
Of course, that also means the app is limited in that it only works on the Chrome browser, so it'll probably only come in handy for personal use (like if you're helping a friend troubleshoot something on their computer).
Pricing: Free
15. Surfly
Surfly is a co-browsing solution that's targeted at customer support and sales agents. It doesn't require any software downloads—all you need to do is visit the Surfly website, type in the website you want to share, and hit the button to start sharing.
It's handy for demoing a software product or website, and you can also use the app to chat and make audio and video calls.
It's not quite as robust in terms of other collaboration tools on this list, especially for the price you're paying, but if you have a very support- or sales-agent-specific use case, this could be an option to look into.
Pricing: $31 to $62 per user per month + custom pricing
What are the benefits of screen sharing? Why do it?
Still not sold on screen sharing?
If you have team members, customers, clients, prospects, contractors, or anyone you work with on a regular basis in other countries, screen sharing is a really useful feature to have.
Here are a few reasons why.
It's a better way to present visual concepts to remote folks
Trying to describe the contents of a document, slideshow, or video through words alone?
It can be difficult, especially if you're covering a complex topic. Usually, it's far easier to present these by simply sharing your screen.
It's great for brainstorming
Brainstorming is naturally a collaborative process. The seed of one idea can blossom into something truly amazing—if it's shared with others.
Screen sharing is almost essential to remote teams, especially creative teams, that need the ability to annotate mockups and designs the same way they would around an office whiteboard.
It makes it possible for sales teams to do product demos to prospects anywhere in the world
What better way to demonstrate your product than to show it in action?
You may not be able to be physically in the same room as your potential investors or workforce, so sharing your screen is the next best thing. Screen sharing software allows you to walk someone through pretty much anything on your screen in real time, as if you're sitting next to them.
What's the best screen sharing app? Probably the one that comes with your video conferencing software
If you're looking at screen sharing apps, you should probably start with looking at whatever tool you're already using for online meetings!
Often, you don't need to splurge on yet another tool just to do a little screen sharing.
Whether you're a small business that's extra budget-conscious or an enterprise organization that wants to keep your employees' tech stack streamlined, it's generally best to have a versatile communications platform that gives you screen sharing as part of other communication channels like messaging and video and phone calls.
A screen sharing app that comes built into your online meetings platform
Dialpad has a free plan—try it now. Sign up takes just a few minutes!
FAQs about screen sharing
What is screen sharing?
Screen sharing is simply a means of showing others your desktop or mobile screen in an online meeting. We're not talking about literally sharing your screen with someone who's sitting next to you—this is usually in a remote work context.
Many businesses with remote or distributed teams use screen sharing to collaborate on projects, train and onboard new employees, and get IT assistance for a specific computer problem.
Is it possible to share your screen for free?
Is screen sharing the same as screen mirroring?