Dial-in number
Need a conference calling tool with a dial-in number option? Sign up for a free trial of Dialpad to see how it works. It takes just a few minutes and all you need is your Google or Microsoft 365 account.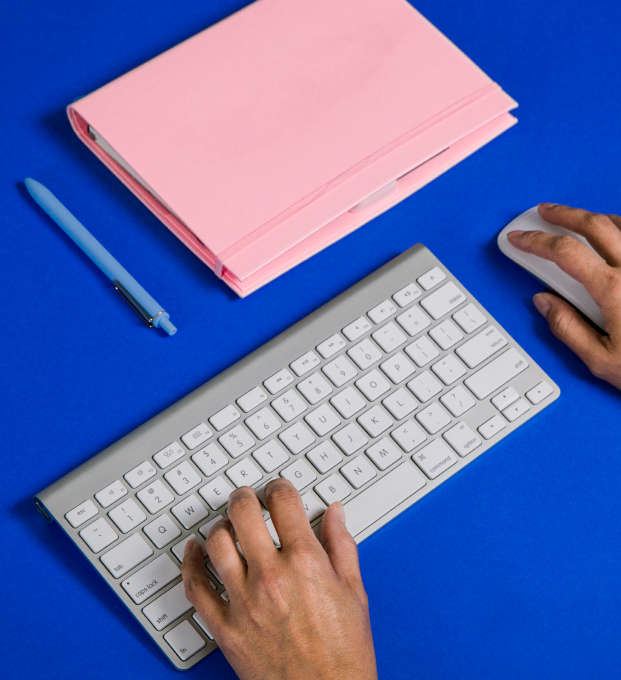 Well, like it or not, this traditional conferencing method is still alive and kicking.
(And depending on how old-school your customers and prospects are, they might even prefer it…)
For most of us, the concept of "dial-in" has pretty much been conquered by internet-based collaboration tools.
But the thing is, dial-in is still a popular option for certain folks despite there being many new remote meeting solutions available.
Which means most businesses still need a dedicated dial-in conferencing option (you know, if you need that sweet, sweet effortless worldwide call entry).
So how can you get the best of both worlds? How can you get both dial-in and web-based conferencing—and all the useful conference call controls for web and phone with it?
Let's look at the nuances of how dial-ins work.
What is a conference call dial-in, anyway?
Before going any further, let's take a step back. Dial-in is a familiar term that gets darted around offices far and wide. But what actually is a conference call dial-in?
A dial-in conference call is simply a telephone-based conference call, with multiple participants connecting over a conference call bridge. They're often reservationless, meaning you don't need to schedule them in advance.
To get telephone access to this kind of conference call, usually you'd dial a direct-dial-in phone number. This is a toll-free number that the conference leaders will share with the participants so that they can connect to the free call (well, free for the participants) directly.
Think of investor and shareholder meetings where a company reports on its quarterly financial results. In these cases, your dial-in options are simple: all you have to do is dial into a call from your phone by dialing in the organizer number.
👉 Dialpad tip: International dial-in numbers work in just the same way—only with the addition of a country code and local number. International dial-ins are great because they give you access to international conference calling without costing a ton. Perfect if you've got clients spread everywhere from Spain to South Africa.
Quick sidenote: Many conference call service providers now offer VoIP conferencing services as well as traditional dial-in options. What that means: this lets you access web conferencing and video conferencing functionalities as well—with more fancy features like screen sharing and in-chat messaging.
With Dialpad, for example, you can talk, video, and screen share in a conference call. You don't even need an access PIN. You can both launch and schedule calls from the Dialpad app or your web browser: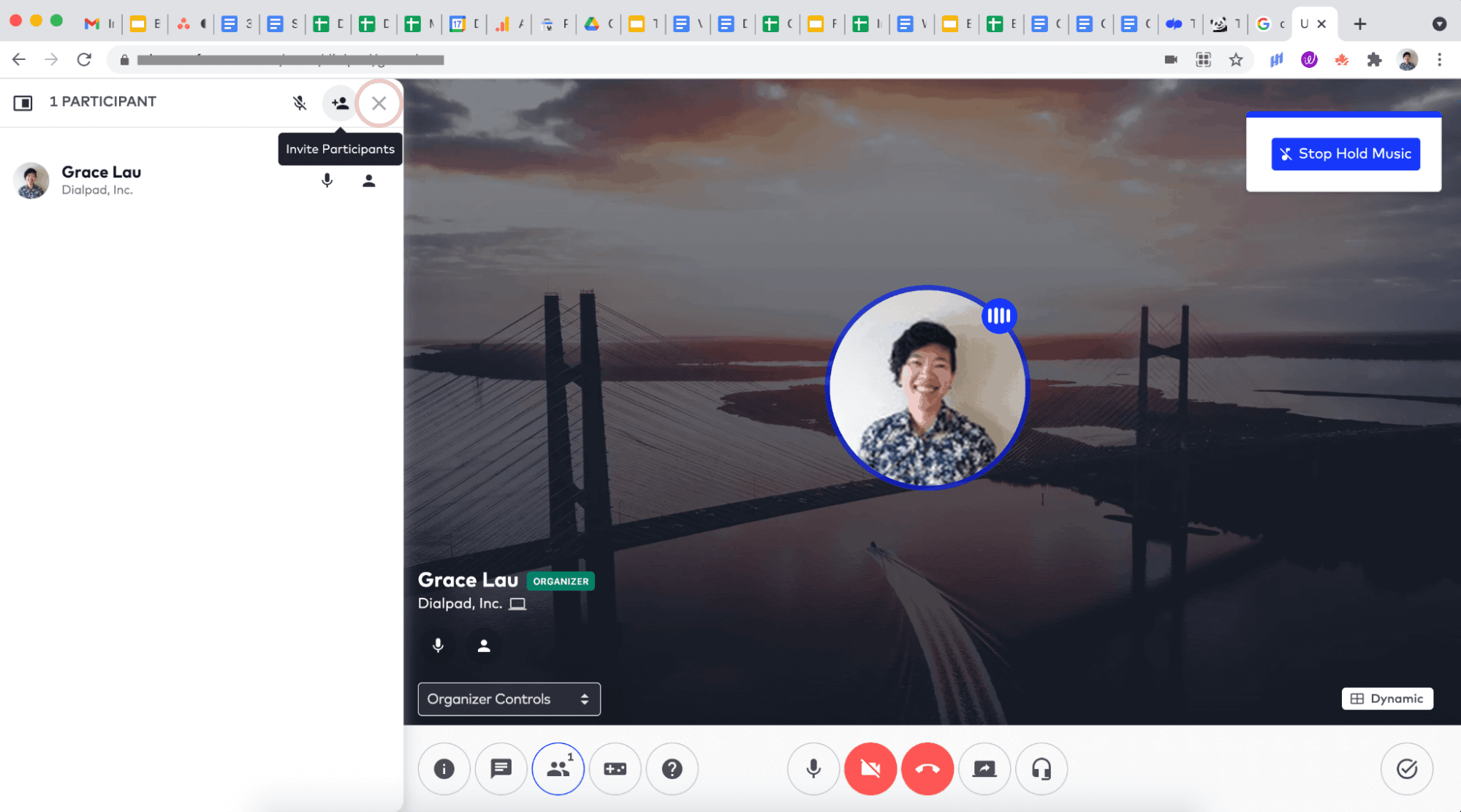 👉 Dialpad tip: Most conferencing platforms say that you can join calls from your browser, but Dialpad is one of the very few (if not the only one) that's truly browser-based. That means it lets you do literally everything you can do in the app—right in your browser. We're not just talking about joining meetings. We're talking about hosting meetings from your browser too.
Essentially, dial-in conferencing is a convenient (not to mention low-cost) way to communicate with anyone remotely using your phone or phone system. Dialing into a conference call this way means that team members can communicate on the go, away from the desk, from home—basically, from just about anywhere.
Conference call dial-in is an extremely useful tool for workplace communications today. And in some situations, dial-in can be a life-saver.
For example when…
You don't have internet access or your internet access is poor, but your phone network is still working

Your desktop or mobile conferencing app is down, but you can still call using your phone

You need to be away from your desk during the call

You need to call hands-free from your car

Some participants are less internet-savvy than others
Dialing in vs. dialing out
So, we've been talking about dial-in, but what about dialing out?
Dial-out conference calls work slightly differently, as you might've guessed from the name. Using a dial-out method, the conference call host will call out to the meeting attendees from your conferencing platform.
These participants can then get connected to the conference call just by picking up the call. Just like answering normal phone calls.
(The only difference is that there will be more than one person on the other end of the line.)
This is essentially the opposite of dialing in, where multiple external participants dial into a conference call. Here, you're putting more of the responsibility to access the conference call on the host.
Hey, maybe your attendees are busy executives who have super-packed schedules. We won't judge. Either way, some unified communications platforms or phone systems have this nifty feature built in. Here's how it looks in Dialpad, for example: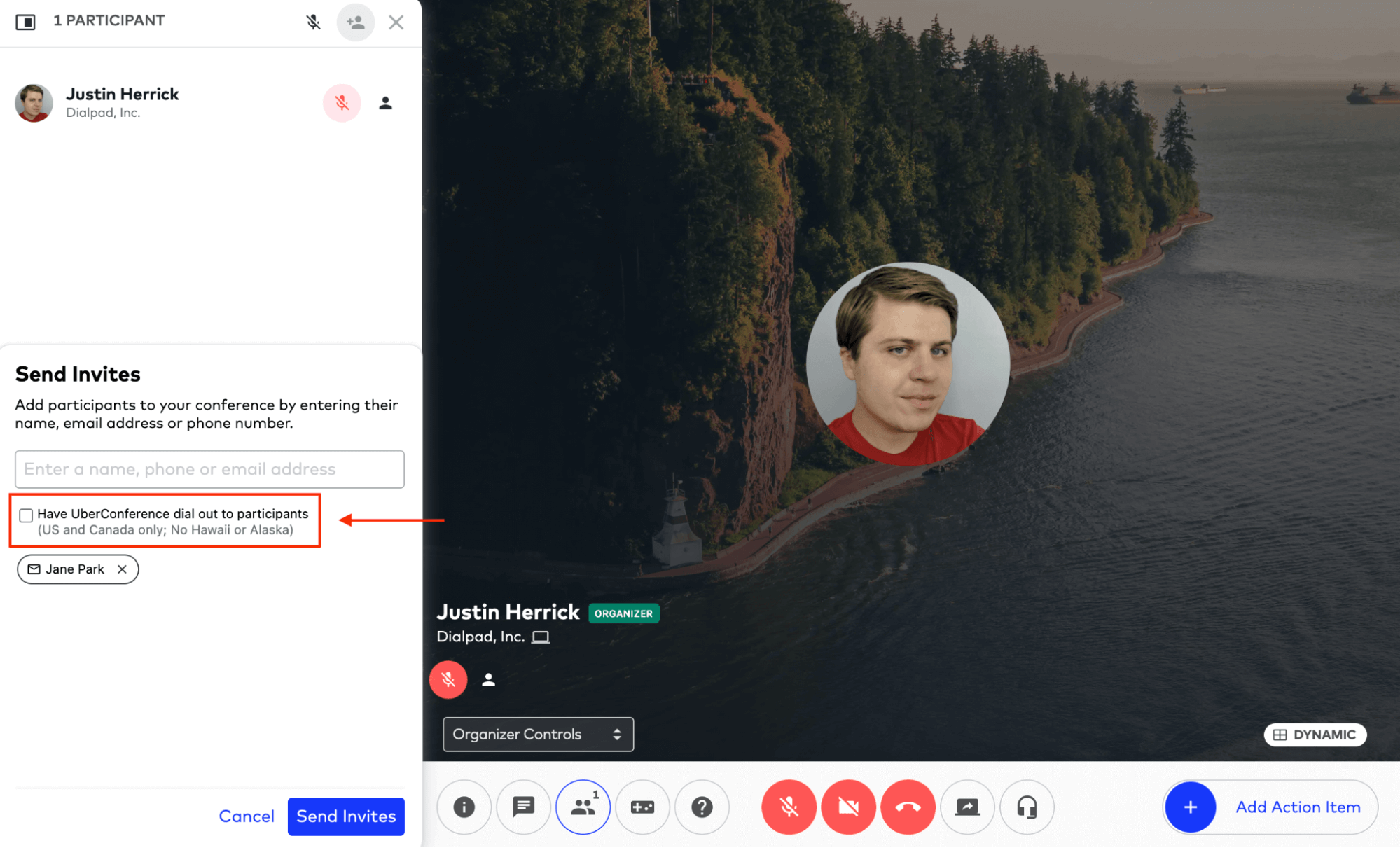 The benefit of using a dial-out method over a dial-in method is simplicity: you won't have to wait for each individual participant to dial in. This also means that attendees are less likely to arrive late or miss the meeting altogether.
A dial-out service like Dialpad's call dial-out feature puts all the control in the hands of the host or moderator, because the moderator chooses who enters the call. And after dialing out to the relevant participants, the host can lock the conference call too for maximum security: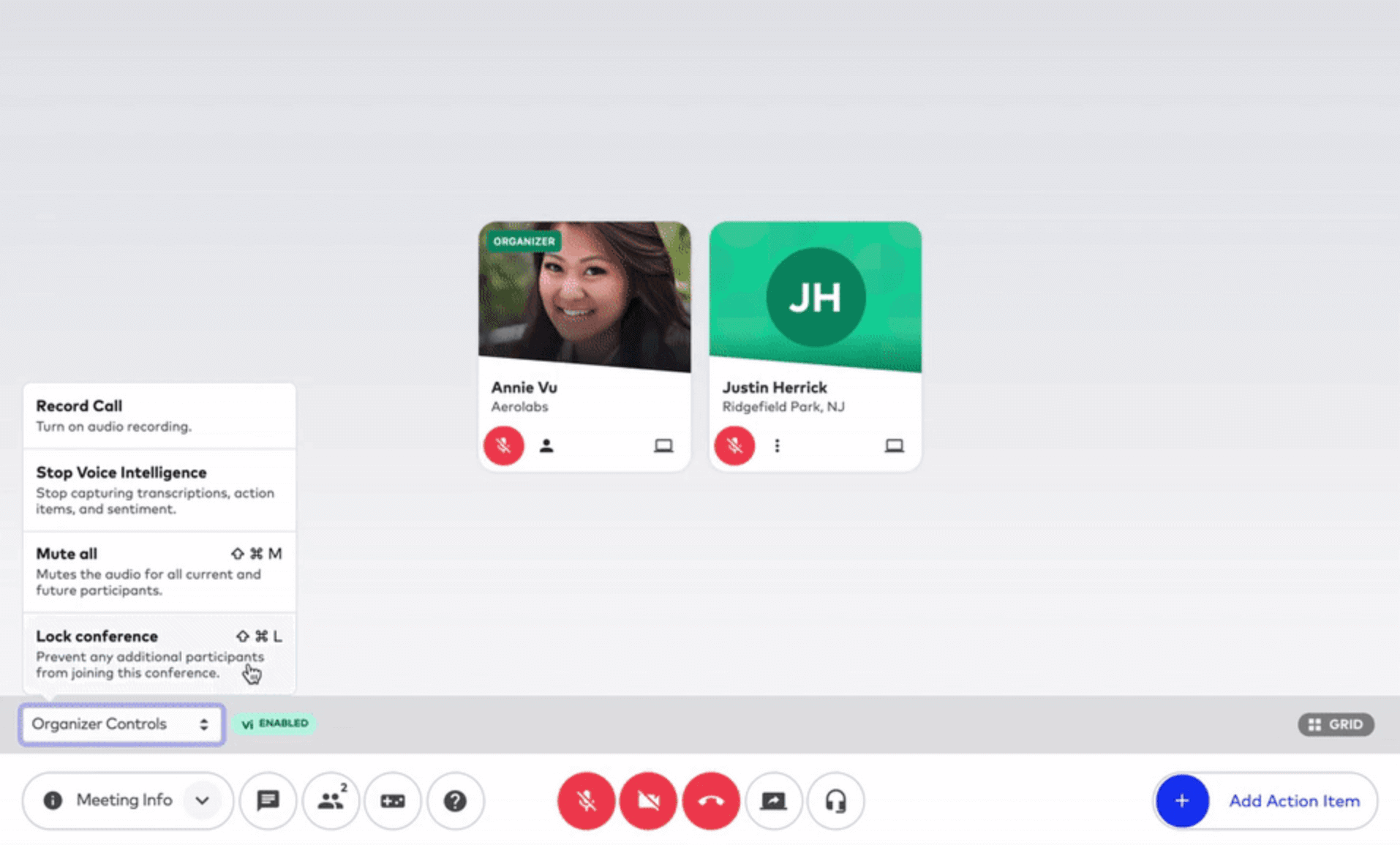 What does a dial-in number do, exactly?
The dial-in number is just a unique phone number that participants dial to access a specific meeting.
You'll typically need a dial-in number and access code to enter a conference call. And for most people, you'd probably rather just click a URL or link to join a call than use this method. (Until your internet goes down.)
The nice thing about dial-in numbers is that even if your fellow meeting attendees are connected online through a video conference, you'll still be able to join in via dial-in. They'll hear you fine—the only difference is that you won't be part of the video transmission.
👉 Dialpad tip: If you're scheduling a meeting, make sure you include a dial-in conferencing option. Even if the majority of your participants will be connected using a link or an app, it's good to offer dial-in as a backup option so that everyone can access the call, whether it's from a business phone, mobile, or landline.
How to use your dial-in number
Using your dial-in number is a pretty straightforward process that gives you the freedom to join meetings from anywhere.
Typically, joining a meeting is a simple two- or three-step process. All you need is a phone or computer (yes, you can make phone calls from your computer).
Here's how it works in Dialpad, as an example.
Step 1: Receive your conference call invite—you'll typically receive this via an email, text message, or instant message. The message should include a URL that you can click to join, dial-in number, and sometimes, a unique PIN for security.
Step 2: Enter your dial-in number or URL. If you're entering the conference on a phone, just dial the dial-in number. If you're entering the conference on a web browser, then use the meeting URL.
Step 3: Join the meeting. (You may hear a dial tone or hold music if you're the first one there). Some conference calling platforms might ask you to state your name, but that's pretty much all you need to do.
Long-distance International callers with international numbers can join via URL or their phones with a special international access number.
🚨 Keep in mind: It doesn't matter if someone is calling from Singapore, United Kingdom, Portugal, Norway, or Australia—if they're using an international access telephone number to dial in, they might incur fees. How much these fees will be depends on which phone system you're using. This is when using a web conferencing app or joining a call with a meeting link would be more budget-friendly.
Similar to a local conference call, you can dial in internationally in three simple steps. All you will need is a telephone or mobile device:
Step 1: Dial the access number based on your location.
Step 2: When prompted, enter your organizer's conference number and/or PIN.
Step 3: Press the hash (#) key.
If you've got participants joining your conference calls from outside the United States, you might want to upgrade to Dialpad's Business plan. This business calling plan allows international calls to be made using local dial-in access numbers. As you can see, you've got some good coverage that spans Belgium, Finland, the Czech Republic, and more: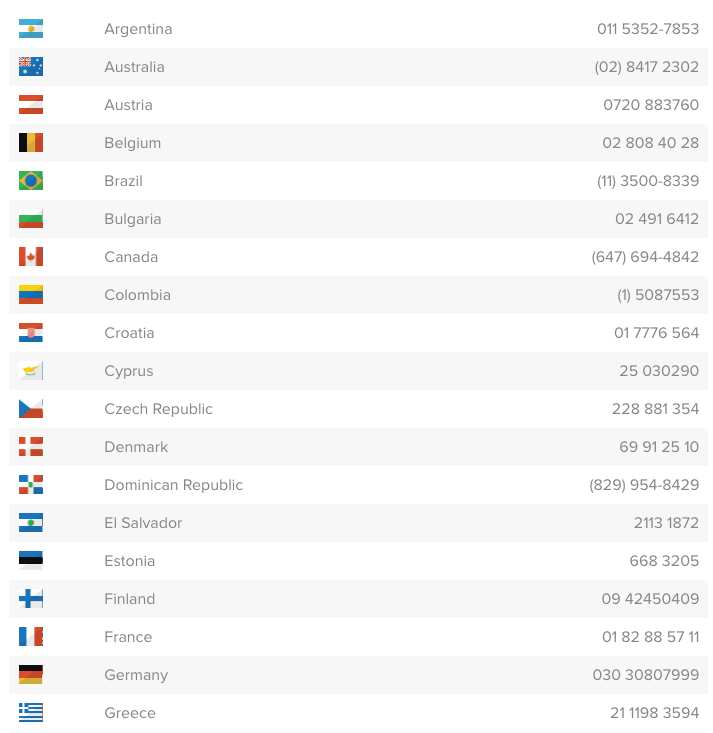 How do I host a conference call with dial-in numbers?
Okay. How about if you want to host a conference call?
(And why wouldn't you? Conference calls are an amazing way to give team collaboration and communication a boost, even when everyone's working from remote locations.)
Now, whether your conference calls are for training sessions, or online webinars, or product demos, or even as a way to provide one-on-one client support, it does take a little more work to host one than just to join one.
But it's still pretty easy (if you're using Dialpad, at least).
To host a conference call, just go into your Dialpad app. You can either use the Make a call dropdown to send a conference invite (which will send your attendees a dial-in number or link to join the video meeting). ...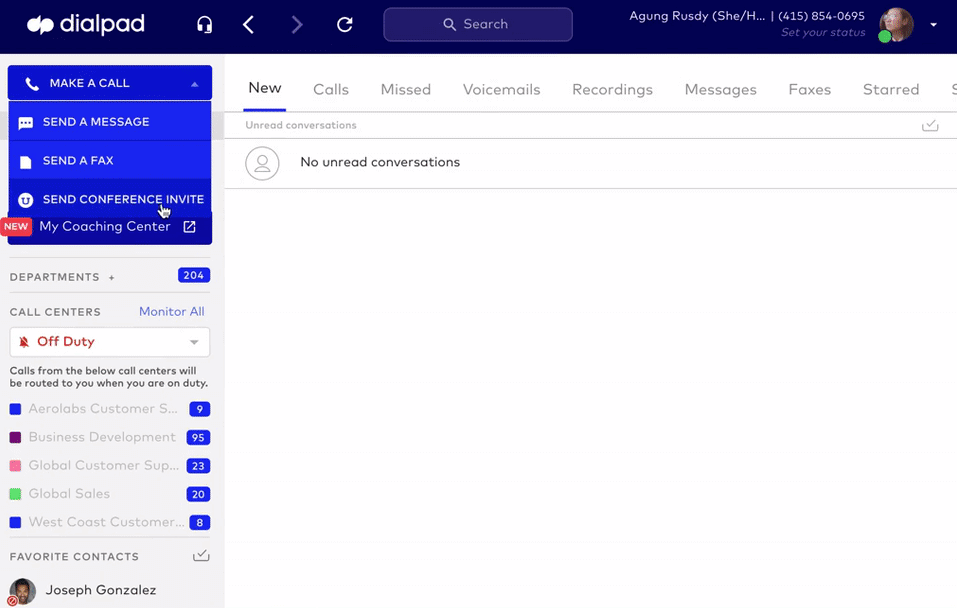 Or you can just go to your profile dropdown on the top right to grab your group conference call number. Copy that number to send to your attendees if you want, and start the conference call from there: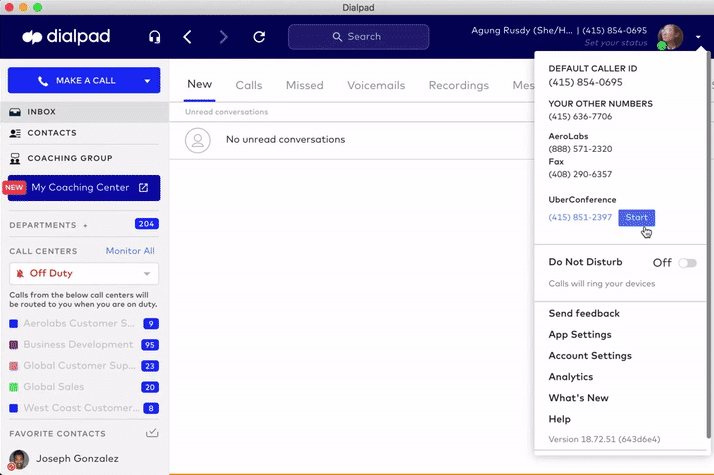 Alternatively, you can hook up Dialpad to Google Calendar to create a meeting invite. Just choose Dialpad as the conferencing option...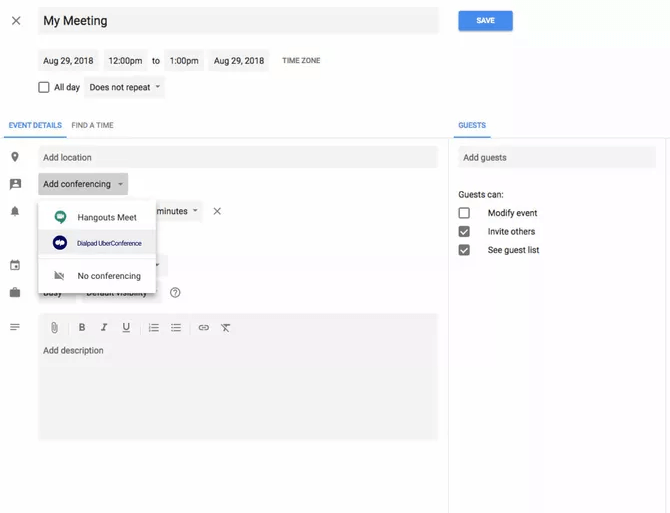 And it'll automatically generate a dial-in number and PIN (if you want) right in the invite with a succinct explanation of how to join the conference call.
If you're talking with clients or prospects, for example, they don't even need to have the Dialpad app downloaded. (Some other conferencing providers have this feature too). They can join the meeting directly from a web browser or even through your SMS invite. (Or by dialing in—as you now know!)
Dialpad, for example, has SMS built-in, which means you can message people from your Dialpad app and they'll receive it as a text SMS: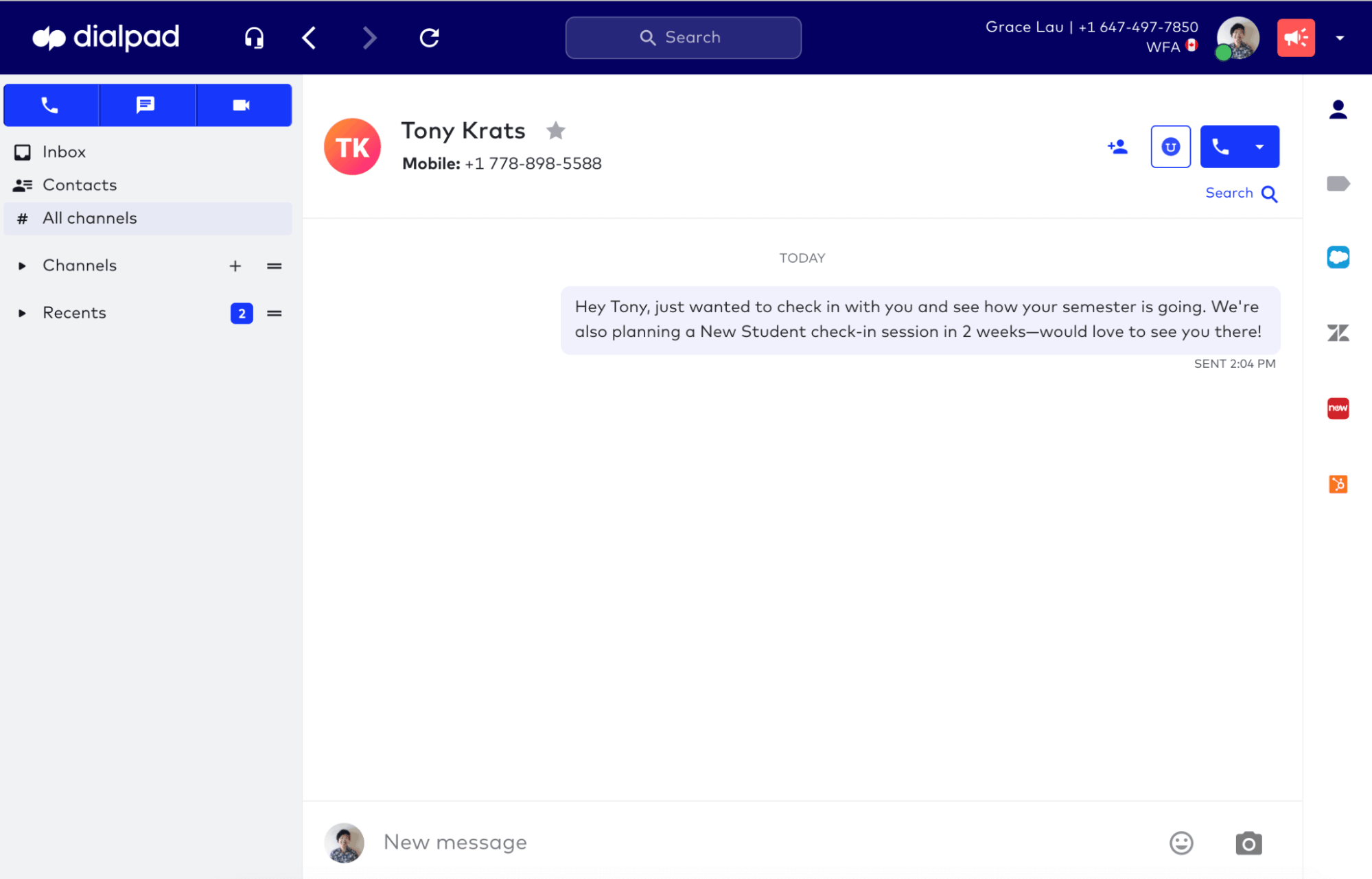 👉 Dialpad tip: Need someone to take minutes during your meeting? Not with Dialpad you don't. Dialpad's AI-powered Voice Intelligence (Vi) technology automatically transcribes your call in real-time—more accurately than Google, we might add. Once the call is over, you'll receive your very own detailed call summary and optional recording in an email. All without you lifting a finger.
Dial-in numbers: A little old-school, but still helpful for avoiding conferencing problems
Despite the awesome features you get when you're using web apps or VoIP for conferencing, dial-in numbers are still a reliable go-to that can help avoid conferencing problems and hiccups.
Because of this, it's generally a good idea to use both internet-based and dial-in conferencing as part of your communications strategy. They don't have to be enemies.
Dial-in numbers can help with the following:
1. It's an alternative for participants without internet access.
We live in an internet age, but sometimes (or often, depending on where you live) the internet still fails us. And when that happens everything stops. Instead of agonizing over bad bandwidth or lousy broadband, just dial into your conference call instead. This will save you plenty of time (and headaches) until your internet connection is restored.
To dial in, all you need is a reliable telephone network connection. And it's because of this that dial-in makes an excellent backup. Dial-in helps teams make sure that nobody ever has to miss an important meeting because of a dodgy router.
2. Participants can join calls while away from their desks.
Dial-in gives you the freedom to join a conference call from wherever you are. You'll be able to dial in from your cell phone, another desk phone—any phone, really—meaning you can access calls from just about anywhere.
With Dialpad, dialing in to a conference call is simple. The host can send you an email (or text message!) containing the conference information—URL, dial-in, and (if applicable) your unique PIN. Then, all you have to do is enter your dial-in number and away you go.
3. If you have attendees who are unfamiliar with web conferencing, this way is preferable.
Not everyone is a millennial. And no matter how much we love moving conferences and webinars online, not everybody wants to download or use complex web tools.
But that doesn't mean we can't work with them—if they're a prospect or customer, you don't have that choice anyway. Instead, offer a dial-in audio conferencing provision. It's not hard to do, and it's just one little thing that can make a big difference in allowing everyone to participate in audio conference calls comfortably.
Invite anyone, anywhere with your dial-in number
Dial-in isn't dead. In fact, dial-in is still very much alive.
Dial-in technology is still incredibly valuable when it comes to maintaining a reliable and fail-safe conferencing platform. With or without an internet connection, dial-in conferencing is the perfect companion for the web-based collaboration tools you might be using.
Traditional dial-in conferencing may not be as glamorous as VoIP, but it's still valuable. After all, dial-in is accessible and flexible, and takes into account that not everybody is ready, or wants, to transition fully to web-only conferencing.
With Dialpad, you can enjoy the best of both worlds: modern, useful VoIP features and instant access to online conferencing—without having to sacrifice your dial-in.