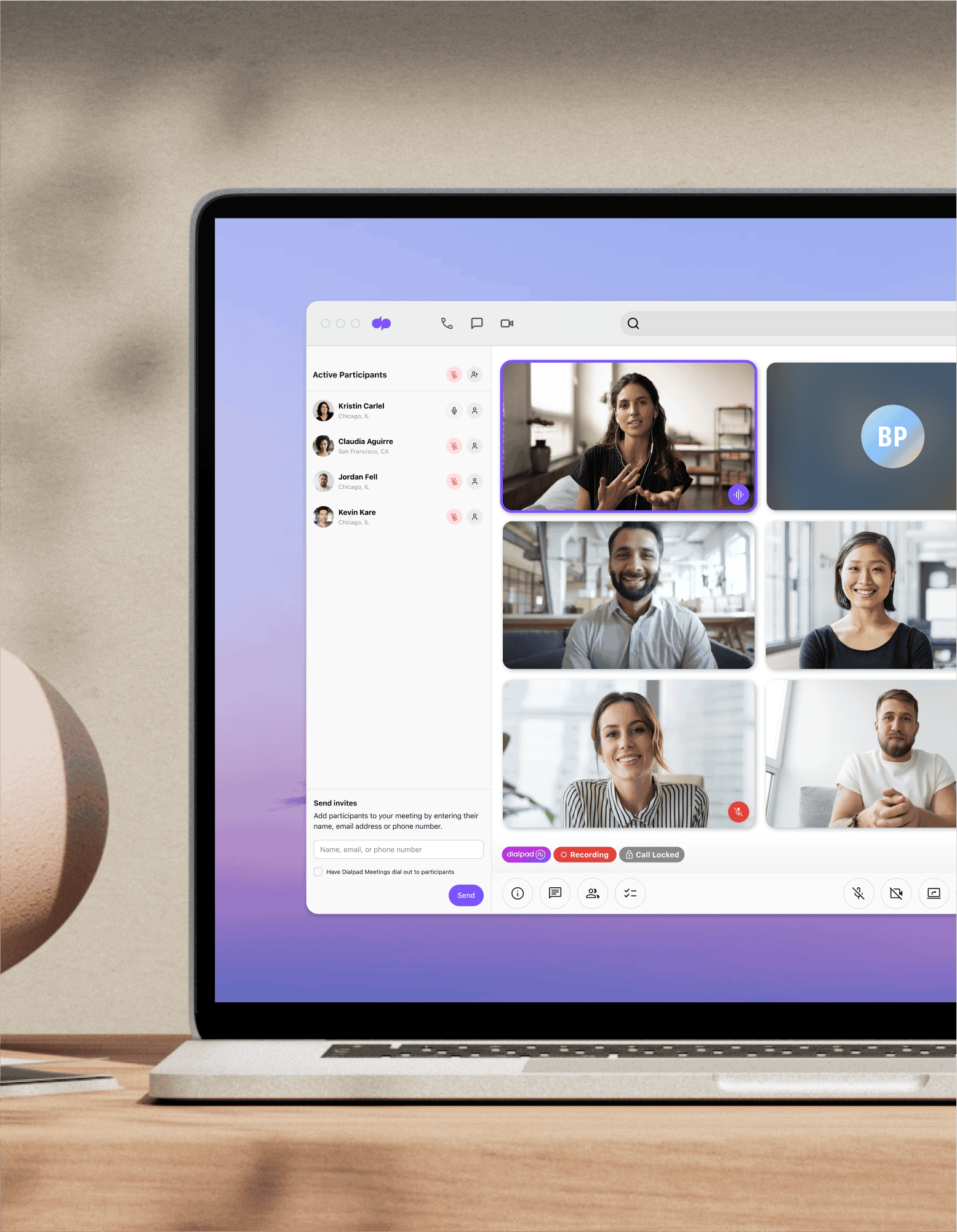 Recurring meetings + conference calls
Dialpad not only lets you connect through video meetings and conference calls, it also gives you the option to set up recurring meetings and conference calls. Try it for free with a 14-day free trial! It takes just a few minutes and you'll get set up with a virtual phone number. Or, take a self-guided interactive tour of Dialpad's app.
Same time next week?
Do you have regular virtual meetings with the same people at the same time every week? Dialpad lets you set up conference calls to start at the same time on a recurring basis. You can choose to have the conference call repeat on a weekly basis, every other week, or in a monthly recurrence pattern, with no end date.
Video conferencing features that make for more productive meetings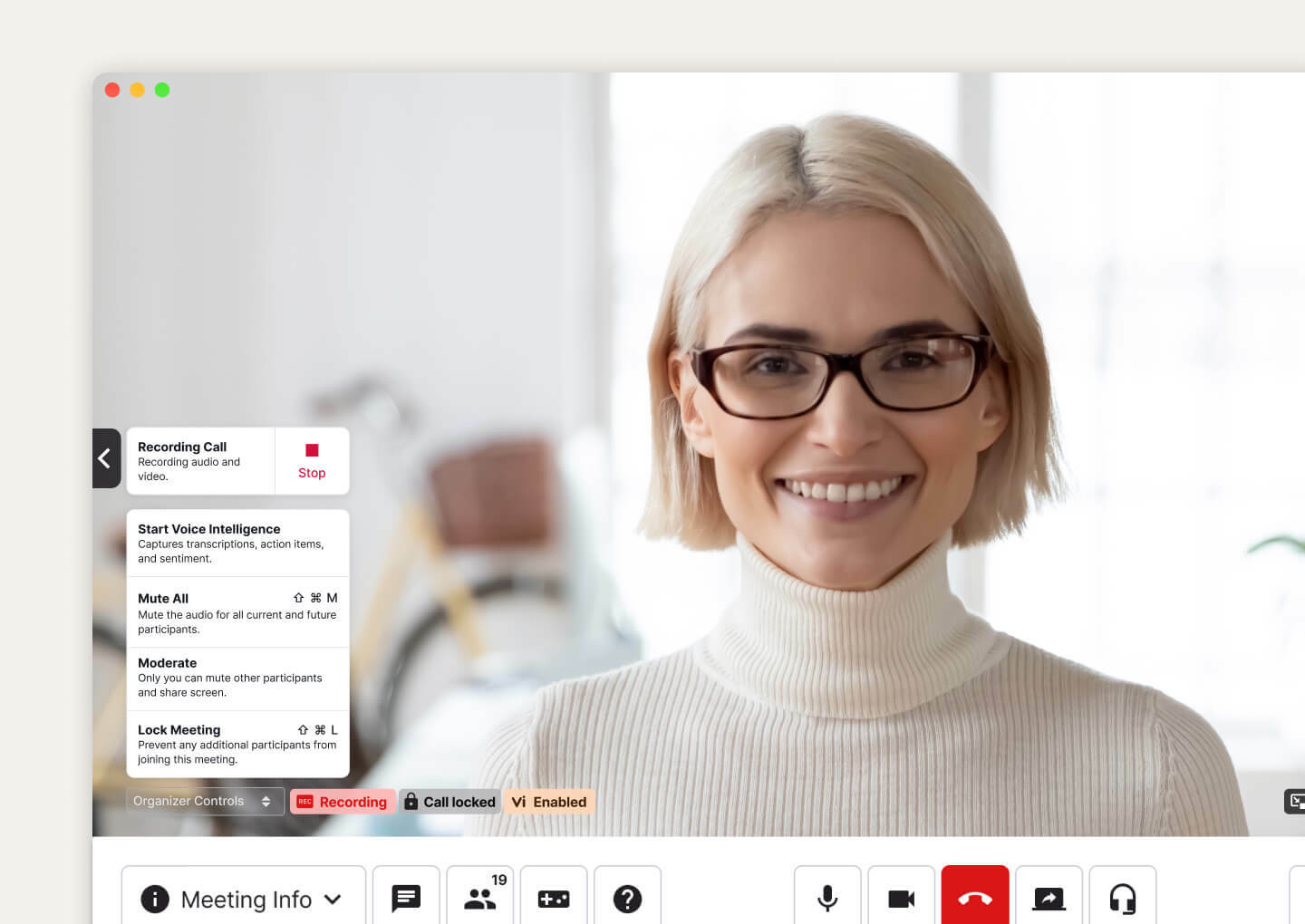 Robust call controls
Keep your meetings secure and prevent unwanted guests with a range of host controls. Set up a waiting room (with music), add a PIN code, and lock the meeting once everyone's in. Hosts also have the ability to mute everyone, limit screen sharing, and remove participants completely.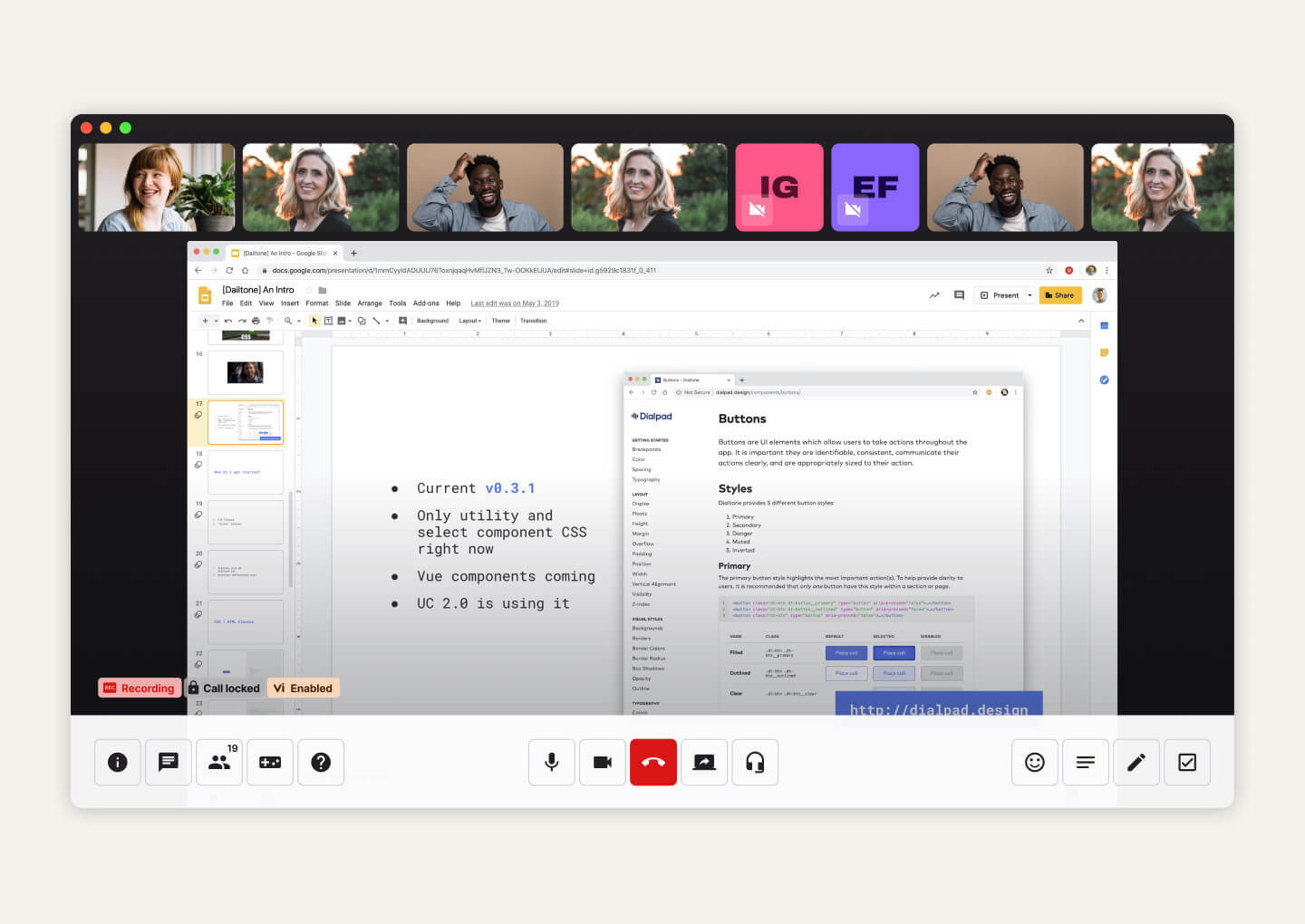 Screen sharing and recording
Screen sharing is great for both team collaboration and sharing visuals with clients. With Dialpad as a screen sharing app, you can share a window, tab, or your entire screen—even with people who don't have the app. (You can send them an SMS with a link to join your screenshare.) Dialpad also integrates with Miro to let you do virtual whiteboarding!
Meeting notes
Dialpad Ai can transcribe meetings in real time, which means you can give the meeting your full attention—no more furiously typing up notes. And after the meeting, it'll automatically email all the attendees with the recording, a searchable transcript, and and action items for easy follow-up.
Take your calls anywhere
In the middle of a meeting, but need to step away from your desk? Dialpad lets you flip a call seamlessly between different devices—without interrupting or dropping the call.
"
"Our people don't want to worry about communication issues. It's our job to remove friction—to bridge IT and technology gaps—so employees can focus on doing great work for our clients."
"
Brandon Oliver
IT Director, Huge
How to schedule recurring calls in Dialpad
It's easy to schedule recurring conference calls with Dialpad with one of these options:
From your Dialpad Ai Meetings dashboard, select My Conferences > Plus (+)

Select Recurring, and choose a pattern

Set the duration and name the series, then add invitees

Add to your calendar

Choose if you want to call participants when it's time.
Or, If your Google or Microsoft 365 Calendar is already synced with Dialpad:
Check the "Recurring" checkbox in your calendar

Choose how often you want the meetings

Set the duration and invite participants.
Want to have recurring meetings or conference calls?
Dialpad Ai Meetings has a free plan that you can sign up for in just a few minutes. Start having unlimited meetings now!
Common meeting types you'll come across
One-off meetings
If you don't want to commit to a regular pattern, you can schedule a single meeting for a specific date and time.
Recurring meetings
These are ideal for weekly team meetings, daily huddles, or regular catch-ups with remote employees. Each meeting uses the same meeting ID and settings.
Instant meetings
You might decide to have an off-the-cuff meeting because something urgent came up (say you work at a help desk and a customer has an important question). An unscheduled meeting has no fixed time—you can have a one-click meeting easily from Dialpad. Just click the video camera icon.
Meeting pages/personal meeting rooms
As well as the meeting options above, you can create your own personalized meeting page with your name as the meeting ID. It's like a recurring meeting, but you'll have a personal or branded URL.
Why schedule recurring conference calls?
Scheduling recurring conference calls not only helps to save you admin time and the hassle of having to create separate meeting invitations, it also lets you block off times on busy participants' calendars.
Everyone is aware of the pattern of meetings, so there's no excuse for being late! Dialpad can has a dial-out option that automatically calls any participants who haven't joined yet at the appointed time!

"
Dialpad Ai Meetings has helped us build stronger 1:1 client relationships. It removes the friction of traditional conference calling—all you need is a dial-in number or URL to join.

"
Grant Griffith
IT Manager, Mono
FAQs about recurring meetings
Do all Dialpad plans come with the recurring conference call feature?
Yes, this functionality comes with all Dialpad plans!
The good news is that Dialpad Meetings has a free plan, which gives you unlimited free video conference calls (or voice-only if you prefer).
You also get in-meeting messaging—so participants can ask a question without interrupting the speaker—with emoji reactions to keep attendees engaged. HD video and audio comes as standard, and you get unlimited call recordings even in the free plan (you don't get that with a free Zoom account).
Dialpad Meetings works on iOS, Android, Mac, or PC—and it's fully browser-based, so you and your clients can host and join meetings without downloading the app. That makes life a lot easier for folks to access the meeting from various devices.
Can I schedule recurring meetings with people who are not in my organization?
Is it better to set up conference calls on a regular basis or schedule recurring conference calls?
Is anyone allowed to access my recurring meetings?
Does anyone have access to my meetings history or previous meetings?
What does Dialpad integrate with?