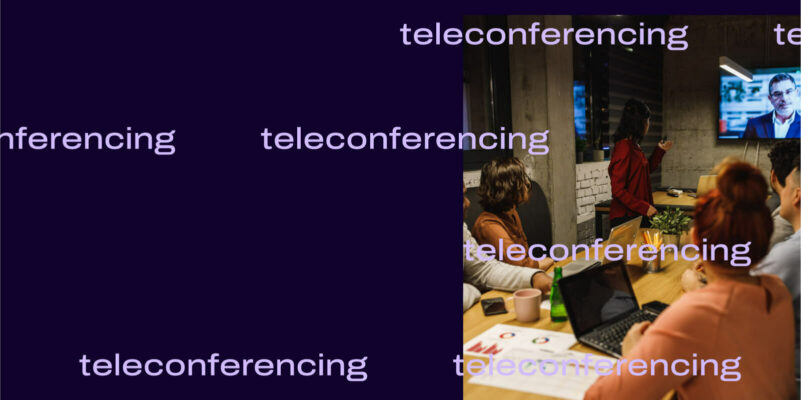 As an increasing number of companies shift to hybrid and remote work, teams are no longer restricted to the office. This shift means businesses of all shapes and sizes have had to adapt to new ways of communicating and collaborating in the workplace.
That's where teleconferencing comes in.
Teleconferencing has emerged as a key technology for connecting long distance teams in real-time. But what exactly is teleconferencing? What benefits does it offer, and how do you participate in a teleconference?
What is teleconferencing?
Teleconferencing refers to the use of telecommunications to connect two or more participants in different locations. Generally, "teleconferencing" is used as an umbrella term that encompasses live audio or audiovisual meetings and involves more sophisticated technology than a simple two-way phone call.
As remote work becomes an increasingly popular option for organizations of all shapes and sizes, teleconferencing is becoming a key business need because it empowers distributed teams to communicate and collaborate synchronously. It's also important for companies that need to connect with overseas clients, stakeholders, and of course, employees.
📹 Fun fact:
Modern web conferencing tools use Voice over Internet Protocol (VoIP, for short) technology to facilitate calls over the Internet. It's available on a variety of platforms, including business phone systems and unified communications solutions like Dialpad, which also provide businesses with a range of features to optimize virtual meetings like screen sharing, file sharing, video calling, and more.
2 main types of teleconferences to know
There are two general types of teleconferencing services: audio and video. Let's take a closer look.
Audio teleconferencing
Audio teleconferencing refers to voice-only conference calls.
During an audio conference call, participants dial in to a central conferencing line through their telephone lines. One advantage that you get with audio teleconferencing is that participants don't need an Internet connection—they can use their regular phone line to connect via a conference bridge.
These function in a similar way to regular telephone calls and can typically connect up to around 100 participants. With modern VoIP technology, you can sometimes connect even more callers in a conference call. That's because with VoIP services, you can set up and join conference calls from any Internet connected device, which gives businesses much more flexibility to connect anywhere, anytime—no phone lines needed.
Video teleconferencing
Because of the shift to hybrid and remote work, more and more organizations have introduced new tools for virtual meetings. (Maybe yours is one of them?) Because of this, video conferencing solutions have become staple tools for connecting remote teams in real-time.
Video teleconferencing combines audio and video to facilitate virtual face-to-face meetings. There are plenty of video conferencing tools on the market. And the big advantage with video calls is that they offer a more interactive experience than regular audio conferences.
In the past, video conferences required a host of on-site equipment and an IT team to manage. Today, it's pretty common for participants to join a video conference from their computer or mobile phone, which makes it easy for people to join meetings on the go.
Video conferences are typically used by businesses for holding online meetings, webinars, web conferences, brainstorming sessions, distance learning courses, and other types of meetings where you'd want to see someone face to face.
And you don't always need to pay for a separate video conferencing tool either. Dialpad, for example, is a unified communications provider that gives you a variety of communication channels, all in one app. You can connect your business with high-definition audio and video conferencing in addition to other productivity-enhancing tools like screen sharing, integrations with whiteboard apps, call recording, in-meeting messaging, real-time transcripts, and more for better online meetings: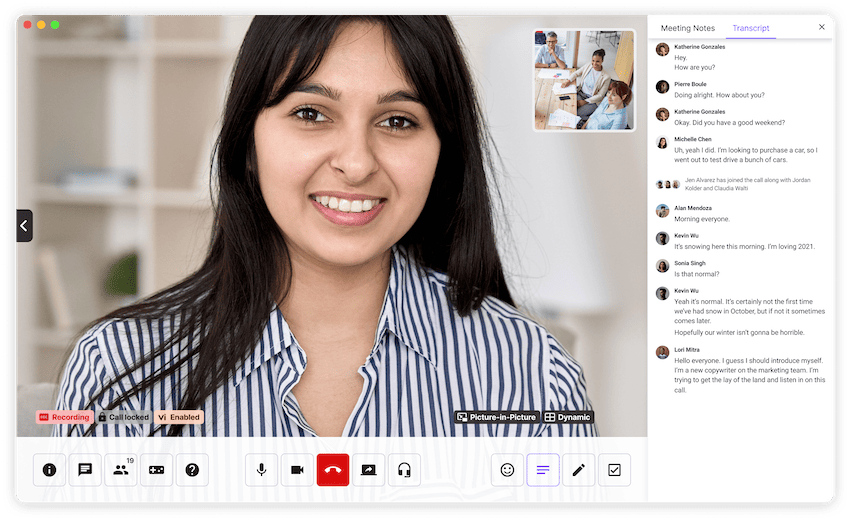 How teleconferencing works
In audio teleconferencing, businesses can communicate internally and externally using their business phone system. Participants dial in to the call using a designated phone number, or an operator can connect each participant through a conference bridge, which is a server that can receive and route multiple callers simultaneously.
But with the rise of cloud communications solutions, most businesses are opting for Internet-based teleconferencing solutions that provide a more effective web conferencing experience.
Modern web conferencing solutions work using VoIP telephony to place calls over the Internet rather than traditional phone lines. VoIP audio and audiovisual conference calls require users to have robust software (like Dialpad), the right equipment (such as a headset and webcam for video calls), and a stable Internet connection with sufficient bandwidth.
This is a much cheaper option for businesses and offers unique features like file and screen sharing that landline conference calling doesn't give you.

👀 Interested in hybrid work?
Grab the Hybrid Work Playbook, which includes real-life case studies and breaks down all things hybrid + remote, from building and sustaining a hybrid workforce to equipping your team for success.
The benefits of teleconferencing
Encourages distributed teams to connect and helps build trust
More and more companies are using a fully remote or hybrid workforce model. When teams are located all over the world, communication becomes more challenging and employees might struggle to feel like they're truly part of a team. Teleconferencing empowers distributed teams to connect just like they would in the office.
When your team is located in different locations around the world and doesn't regularly (or ever) meet face to face, it can be challenging for them to trust and feel like they're part of a team. In the absence of physical meeting rooms and office chit-chat, remote employees can struggle to feel connected to those they work with.
Video conferencing builds trust within dispersed teams by allowing them to connect in real-time, and with video conferencing they can put a face to the name.
Drives collaborative decision-making
When teams can communicate in real-time through a teleconference, it ensures important decisions can be made quickly and effectively without all the back and forth that asynchronous channels like email and messaging require.
Features like screen sharing and file sharing can speed up decision making even more by ensuring everyone involved is on the same page.
For example, Dialpad integrates with one of the best whiteboard apps around, Miro, so your remote team can have whiteboard sessions just as though everyone were in the same room: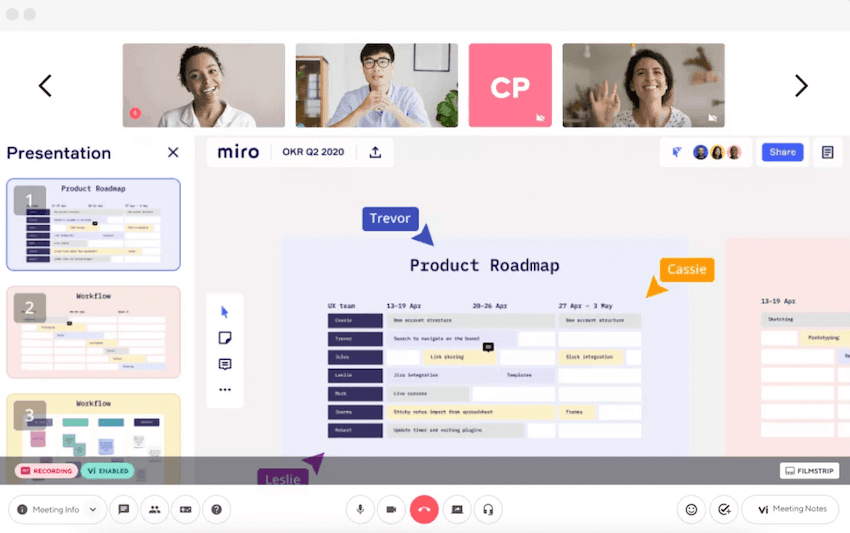 Makes collaboration at a distance possible
Modern teleconferencing tools typically offer a range of collaboration features along with audio and video conferencing.
During a conference call, participants can use screen sharing, whiteboard tools, file sharing, and team messaging to improve productivity and collaboration.
When you share your screen in a Dialpad web conference, for instance, you can share your entire screen, a single tab, or a file:
You can even screen share with people (like prospects and clients) who don't have the Dialpad app by sending them an SMS invite so they can join from a web browser:
Reduces travel costs
This one is no surprise, as it's one of the most-quoted benefits. Businesses that operate with a dispersed team or global clients often require employees to travel to important meetings. Add in the costs of flights, train rides, and hotels, and this can be costly and time-consuming.
Teleconferencing minimizes the need to travel to attend in person meetings. Instead, people can simply dial-in or click to join a call from wherever in the world they are. Modern video conferencing solutions make conference calling more personal, as participants can see the people they're talking to—just like they were in the same room.
A few essential tools for teleconferencing
A video conferencing solution

First things first, you'll need a video conferencing tool or—better yet—a unified communications platform to handle all your business communications needs from a single platform. Many of these solutions offer (or should offer) a range of business app integrations to streamline workflows and consolidate all your favorite tools in a truly unified communications platform.
When it comes to choosing the best video conferencing software for your business, consider the following:
Price: Is it affordable for your business? Can you try before you buy? (Dialpad Ai Meetings is free and gives you unlimited video meetings)

Productivity-enhancing features: At a minimum, it should offer robust screen sharing features, in-call messaging, and call controls.

Integrations: Does it integrate with all your other business tools like your CRM, calendar, and email apps?

Desktop and mobile functionality: When teams are working remotely, the platform you choose should allow participants to join from any device, whether they're using a Mac, PC, Android, or iPhone device.

Ease of use: Is it easy and intuitive for your team to use?

Security: Is conference calling secure on the platform? With Dialpad, call setup is protected by DTLS, and audio/video data protected by SRTP
A device like a laptop, mobile phone, or tablet
To join a web conference, you'll need an Internet-connected device like a laptop, tablet, or mobile phone. A good web conferencing tool allows participants to connect to a conference call on any device.
Dialpad, for example, is browser-based, meaning it works perfectly fine on web browsers too. If you meet with clients or prospects who may not want to download the app, they can still teleconference with you by clicking a link in their browser:


Stable Internet connection
Whether you're joining from a desktop or mobile device, a fast and reliable Internet connection is essential. This is super important, because even if you have a great piece of software with HD conferencing, it won't matter if you have bad Wi-Fi or can't get on your cellular data network.
📹 Dialpad tip:
Need an Internet upgrade? T-Mobile and Dialpad have teamed up to give you T-Mobile's lightning-fast 5G network together with Dialpad's unified communications platform so that you can teleconference from anywhere, with great video and call quality.
Display monitor
If you're joining a web conference, you'll need a display monitor that allows you to share and see other people's video image and any screen or file sharing taking place.
Camera or webcam
In a video conference, you'll need a camera or webcam for sharing your video. Most laptops come with a built-in webcam (though the quality isn't usually great), and if you're in a huddle room at the office, you might have a separate, dedicated camera for teleconferencing.
Microphone
You can choose to use your device's built-in microphone, or a headset for better noise-cancelling capabilities. This is a must-have for ensuring you can hear and be heard during the conference call.
6 best practices to nail business teleconferencing
1. Set up an agenda—and stick to it
Setting up an agenda so everyone knows what to expect from the conference is extremely important. The agenda should include all your basics: the main points of discussion, names of attendees, and the overall objective of the meeting.
If required, it should also include any PIN/access code requirements so that participants can have everything they need to join. Be sure to send the agenda and any pre-read documents before the meeting starts. This saves time and allows everyone to be more productive.
The point of having an agenda is to ensure everyone knows why the meeting is happening and provide a clear point of reference for how it's going to play out. Make sure you're punctual and stick to the agenda so that all the conference topics are covered and meetings don't run over.
With Dialpad, you can easily join a conference call with just a few clicks. Again, it's browser-based, so participants won't even need to download the app to join a call. Just click on the meeting link from any desktop or mobile device—no PIN needed (unless the host wants one for security):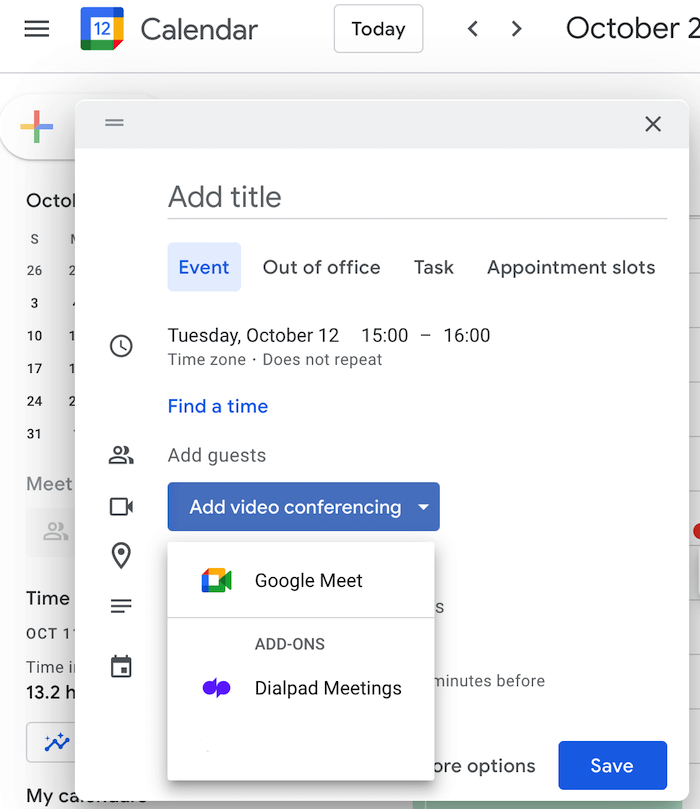 2. Record the meeting for documentation purposes (and for people who couldn't make it)
Most teleconferencing solutions enable you to record the whole meeting, whether that's just the audio or the screen, too. Conference call recording is useful if you want to document the meeting so participants can review the content after the call. You can also share the recording with people who weren't able to attend.
When you have a web conference with Dialpad, you can record the call with a single click. (There's also the option to turn on automatic call recording to ensure you've always got a record of every call.)
All of your call recordings are stored in your Dialpad inbox—where you can also see your voicemails, missed calls, messages, and more:
From here, just download the meeting recording from the Dialpad app and share it as an MP3 or MP4 file with the rest of the team. For Dialpad users, you'll also get a call summary sent to your email address, including a download link for the call recording.
(Dialpad uses its industry-leading artificial intelligence, Dialpad Ai, to record and transcribe meetings in real time. Conference call transcripts are also searchable, so if you're struggling to remember something that was discussed about a certain topic you can find it in no time.)
3. Make sure you have a good Internet connection
A stable Internet connection is essential for effective web conferencing. Without a good Internet connection, videos freezes and audio drops, which can be frustrating for everyone involved.
Finding a stable Internet connection isn't always easy, especially if you're working on the go or from a public space. Dialpad automatically optimizes call quality and image resolution based on your available bandwidth, so if you have a poor connection you won't drop out during an important call.
It's also a good idea to have a backup plan or an alternative platform ready to go just in case anything goes wrong or your Internet connection isn't stable enough to handle your first choice.
4. Adjust your lighting and audio
During a teleconference, it's important to optimize audio and minimize background noise. It's mostly for the sake of everyone else in the conversation, but there are few things more annoying than trying to listen to an important call with the sound of a dog barking or traffic driving past interrupting the flow of the conversation.
Consider where you're going to be when you join the call. A busy cafe or loud public space aren't the best spots to focus, and the background noise can be distracting for other people involved in the meeting. If you're working from home, it's a good idea to head into a quiet room where family members or pets won't distract you.
A good video conferencing tool should give the host plenty of control over the meeting. For instance, in a Dialpad conference, the host can mute and unmute participants. So if someone's background noise is interrupting the whole meeting, the host can just put them on mute until they need to speak again: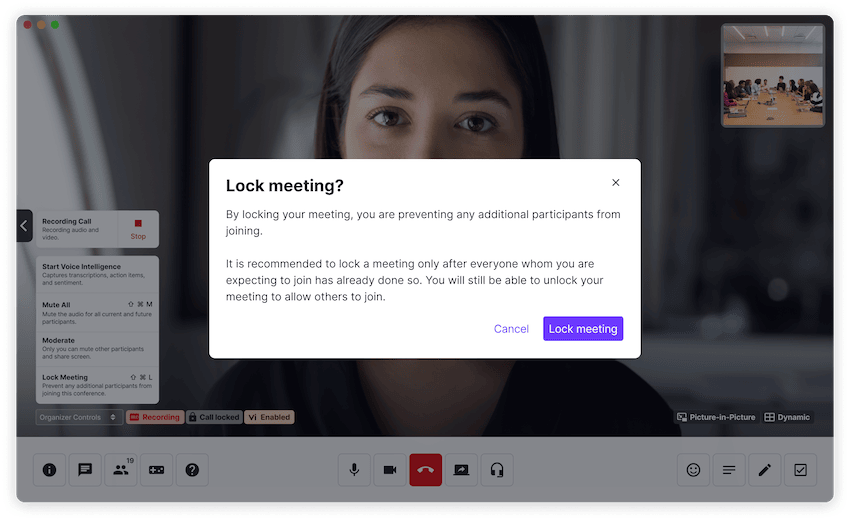 If you attend lots of video meetings, it'll benefit you to invest in a good headset with a microphone to block out background noise and improve overall call quality.
Another thing to consider is lighting and background. The background you choose should be professional, not a messy bedroom, for instance. Try to optimize your lighting, too, so that everyone can see your face properly. Natural light works best for this, so try to set up facing a window or other light source.
5. Consider starting with an icebreaker
If you're part of a remote team that doesn't meet face-to-face often or new people are joining the call, then starting with an icebreaker is a good way to, well, break the ice.
It's no secret that sometimes video calling can be slightly awkward, especially when you're waiting for people to show up and filling the awkward silences with small talk—that's where an icebreaker can kick things off.
It can be anything from asking participants to share a fun fact about themselves to playing a simple game like two truths and a lie. This lets participants show a bit of their personality and brings a friendly atmosphere to the meeting. Of course, if your team meets often then icebreakers won't be necessary and will just waste valuable meeting time.
6. Do a test run
Before jumping on a conference call, be sure to test your platform and any other technology you're relying on.
Launch a meeting without inviting anyone else just to ensure your webcam and microphone are working properly. This'll also help you understand whether you need to turn on your video or connect the audio once the call starts.
Is your team ready for teleconferencing?
Teleconferencing has changed the way remote business teams communicate and work together. For modern businesses, teleconferencing is an essential tool for connecting remote teams and global clients in today's dynamic, digitally-connected business world.
Investing in a robust communications platform like Dialpad empowers business teams with integrated web conferencing, calling, messaging, and advanced features all hosted in the cloud. Dialpad makes it simple to host and join audio or video conferences anytime, anywhere.
Have more effective web conferences with teammates and clients
Sign up for Dialpad Ai Meetings' free plan to try it out. It takes just a few minutes to get started with unlimited video meetings!