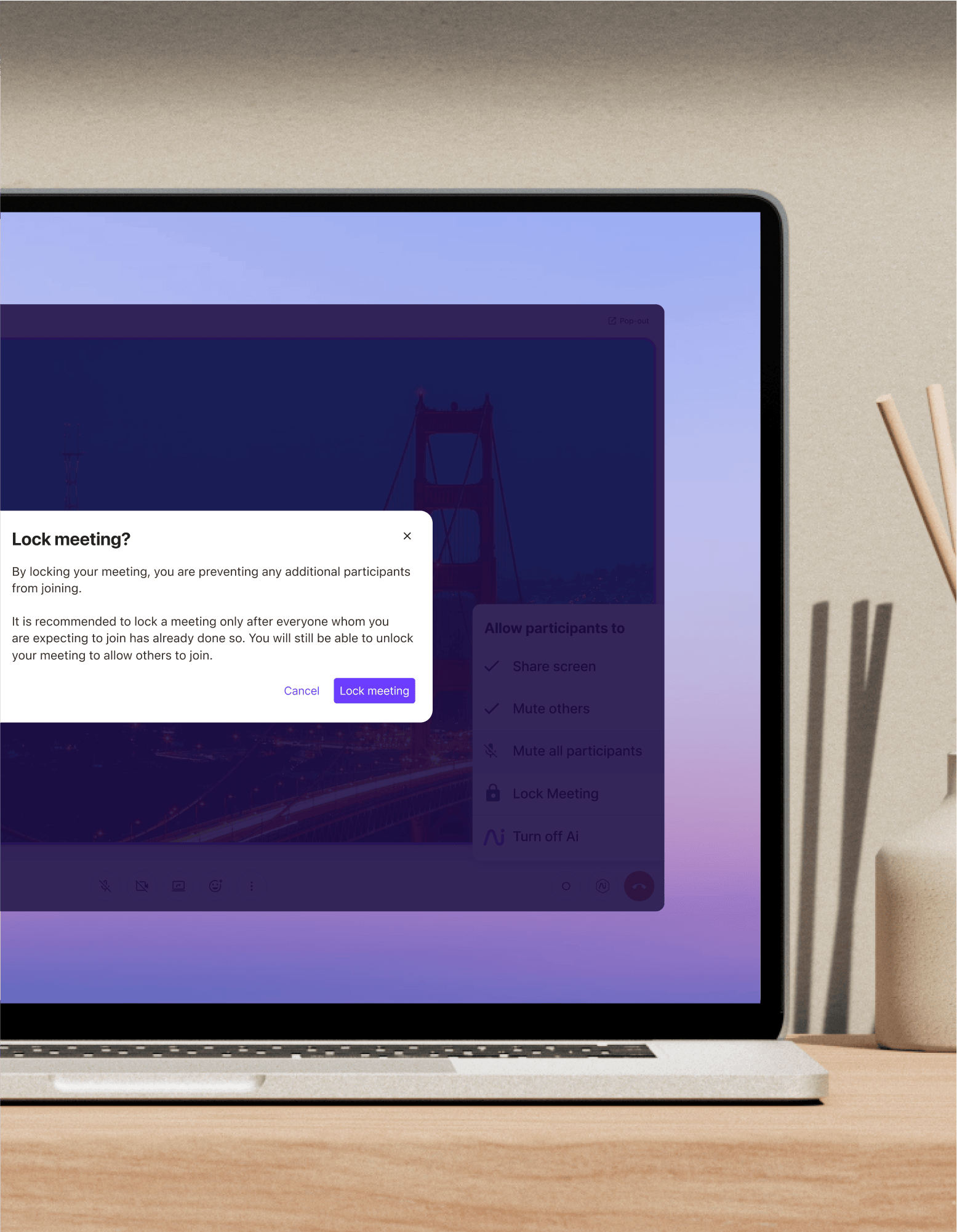 Secure conference call
With Dialpad's AI-powered collaboration platform, your online meetings and data are protected by our secure conference call platform and robust privacy features. Book a product tour to check it out!
Admit guests from a virtual waiting room
Host can block screen sharing + mute / remove participants
Password-protect meetings if needed
Security backed by the cloud
Created by the team behind Google Voice, every Dialpad Ai Meetings conversation is protected and backed up on the Google Cloud Platform. When you join a conference line from the web, the setup for the call is protected by DTLS, and once the conference begins, your audio and/or video is protected by SRTP, a secure protocol designed specifically for transferring real time media.

Have more secure conference calls with Dialpad

Robust in-meeting controls
With Dialpad, meeting moderators can mute participants on audio conferences, block screen sharing, and if you notice someone on your conference line that you don't recognize, you can remove them with a click—right from the handy menu in the call screen.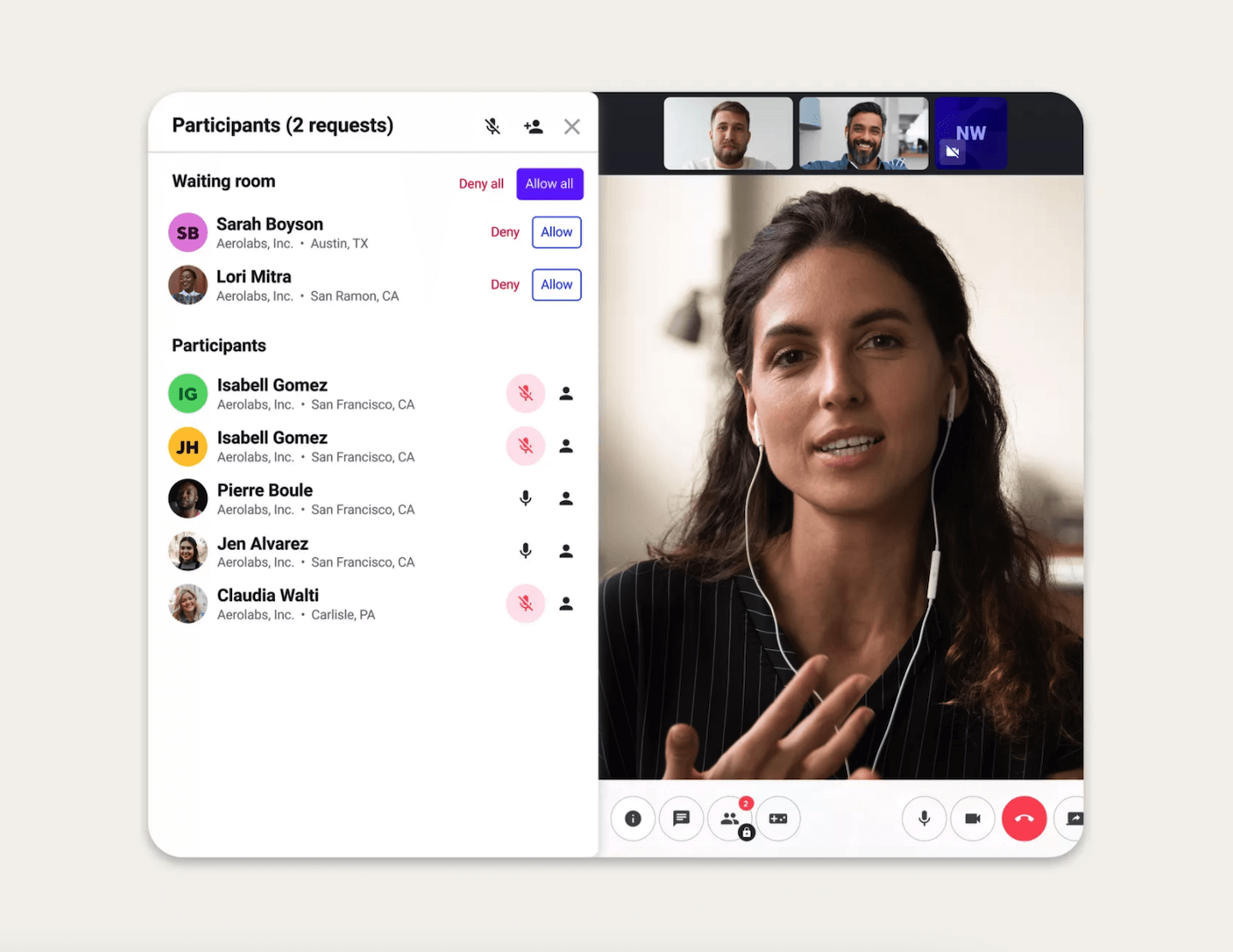 Virtual waiting rooms
Want to set up reservationless meetings that don't require PINs? You can still keep them secure with Dialpad's virtual waiting room feature, which lets you choose which guests to admit into the meeting.

Easily accessible calls
Invite clients and prospects to join your conference calls directly—and they don't need to download the app either. With Dialpad, you can send them an SMS text message with the link to join from a web browser!
👉 Did you know?
Dialpad automatically lets you know when call participants are trying to join your conference line, even if they haven't joined the meeting yet. (You can provide hold music while they wait).
Say goodbye to uninvited attendees
If you've ever had an online meeting or webinar with uninvited guests, then you know what a pain they can be. See how your conference call provider can counteract this with security features. Book a demo, or take a self-guided interactive tour of the app first!
"
So many people took off—without asking questions—to set up their own conference lines and meetings in their own groups without instructions, which says a lot for how the UI is set up.
"
Jeremy Cumbie
IT Director at Blue Cliff College
With Dialpad, you get more than just audio conferencing
Sure, you can take roll call and lock the conference room to stop uninvited guests from joining video call with Dialpad. But it lets you do a lot more than that...

Truly unified communications
Have conference calls and video meetings—and even send instant and SMS/MMS messages, all from one desktop or mobile app.

Excellent call quality, worldwide
Fun fact: Dialpad's unique dual-cloud architecture and global voice network are designed to give you clear, crisp conference calls around the world.
Simple setup, no IT needed
One of the best things about Dialpad? You can manage your accounts, add users and local phone numbers or even toll-free numbers, and more—in just minutes from your online dashboard. No need to contact tech support, no need to wait for days or weeks to implement those changes.
Integrations with the tools you love
Whether you use Google Calendar or Microsoft 365, Dialpad's integrations automatically populates your meeting invites with video conferencing details. This way, your callers have the URL they need to join the virtual meeting room right in the invite—and it'll even dial out to invitees ahead of the meeting.
The risks of unsecured conference calls
Video and audio hacking
There's no shortage of news about conference calls being hacked or "Zoom-bombed." (Learn more about the best Zoom alternatives.) There are surprisingly many people who search online for dial-in details to enter video and audio conferences. Best-case scenario, it's a prank, but worst-case, someone's out to steal your information. Video or web conferencing solutions like Dialpad can help prevent hackers by letting you lock the call and keep your details secure.
Data leaks and breaches
This is when sensitive information about your company or customers (such as phone numbers and passwords) is leaked to unauthorized people. It could be caused by a deliberate attack, or—more likely—a mistake by an employee. If your conference call service doesn't use robust encryption, other people may be able to access the data transmitted during calls.

Client interception
Once your VoIP phone system has been hacked or breached, a fraudster would have the ability to intercept conference calls or messaging, or even to masquerade as an employee.

A better way to manage your conference call's privacy
With Dialpad, you get far more than just the basic functionalities of a conferencing system.
You or your admin can easily adjust privacy and security settings for the whole company, and control which team members access conference call features like PINs, recordings, and joining permissions.
Want more secure conference calls?
Try Dialpad for free before choosing a paid plan! Sign up for a 14-day free trial to test drive all the security settings (as well as call management features and collaboration tools). Or, take a self-guided tour and play around with Dialpad on your own!
FAQs about secure conference calls
Is Dialpad compliant with the Data Protection Act?
Yes, Dialpad is compliant with the Data Protection Act with the signing of a Business Associate agreement. For more information, check out the Trust Page.
How do I remove someone from my online meeting?
Will my screen share be stored?
Do I absolutely need to have secure conference calls?