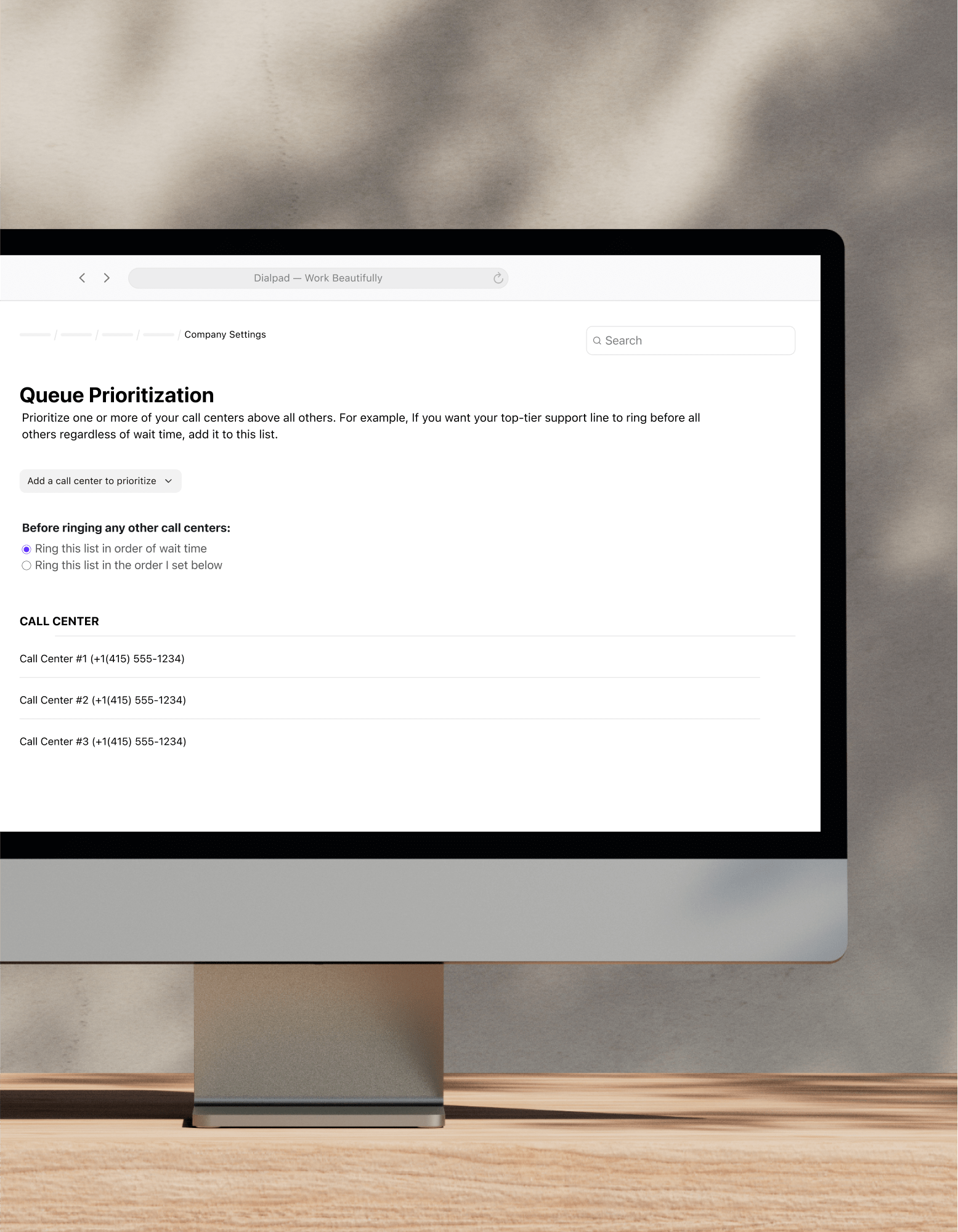 Call management system
Looking for a better way to handle all those inbound and/or outbound calls that your business or contact center is getting on a daily basis? Book a product tour to see how Dialpad's AI-powered collaboration and customer engagement platform can help lighten the load on your agents!
How many times have you called a business, only to sit on hold or wait as your call is repeatedly transferred?
More than once, right? Now think of all of the times you've called a business and connected immediately with the right person or department (sometimes called hunt groups)—it's like magic.
You know you want that magical experience for your customers, not the waiting and transferring experience. But how do you create that, without spending a fortune or hiring an IT wizard?
Well, one simple way to provide an excellent customer experience on the phone is to use a call management system for your business. Below, we'll go over everything you need to know about call management systems, including the benefits and how to set one up.
What does "call management" mean, really?
Call management is pretty simple, for the most part. Incoming calls come to your business, call center, or contact center, and they go out again. How you handle those calls, whether that's through your call routing or IVR (interactive voice response) menus, team structure, and so on would be considered your call management strategy.

Most businesses will use a contact center platform (or maybe even a VoIP phone system if you're a smaller business or don't get too many incoming calls). To help with call management, that platform you use should have built-in analytics or dashboards with data on your calls (and even SMS text messages and other channels)—that can give you better insight into your business.
The more calls you get, or the higher your call volume, the more important it is to have a good automatic call distribution and call management strategy.
What is a call management system?
A call management system is the combination of your routing processes, tools, and workflows that together, help your team handle your call volumes effectively.
We'll go into more detail about how to put together your call management system below, including functionality to look for and how to know if your business is ready to start building a call management system.
The benefits of a good call management system
It lets you provide better customer service
Most customers (well, probably all customers) hate waiting on hold when they call you. It's one of the most obvious—and most difficult-to-solve—customer service hurdles. You can't help how many incoming calls you're getting, right?
Well, a good call management system that can route your callers to the right person or department quickly is one good way to alleviate those hold times. Beyond that, there are other ways it can help too.
For example, Dialpad's customer engagement platform has an ACD and IVR feature, sure, but it also has built-in analytics that shows you how often your IVR routing options are being used. This way, you can monitor the dashboard, and if you notice that some IVR options aren't being used at all, you can streamline the menu to create a more efficient call routing experience for your callers:

Not only that, if your team is only online during business hours, that means customers and potential customers who call you outside those business hours will reach either a voicemail or worse, nothing at all—just endless ringing. If you have a robust call management system, you can plan for these scenarios and have, say, a pre-recorded message, or even better, some self-service options for those callers.
It's more cost-efficient
Depending on what your customers are calling about, customer service calls can take up a lot of agents' time. The more you can efficiently route phone calls to the right agent the first time around, the more quickly they can resolve questions for your customers.
If a customer calls and has to be transferred back and forth a few times before they get to the right place, it's not only an unpleasant experience for them, but also more expensive for your contact center because that wastes your agents' time.
That's why having a clear call routing strategy is so important.
It can help you make more money
And finally, not only does a good call management system make your contact center more efficient, it can help you make more money too. How?
The workflow and plan for this can be a bit more complex, but if there are opportunities for your agents to upsell or cross-sell over the phone, it can make their jobs easier.
For example, let's say you run a travel or airline company and have a group of sales-savvy agents. (Some companies might have a "Customer Success" team that does this role.)
Instead of just having one large pool of agents who take all your incoming calls in a round-robin style, you could set up your routing so that customers who call in with questions about flights or vacation packages get routed directly to this group of sales-savvy agents.
Because they're more skilled in sales specifically, they're probably going to be able to upsell or cross-sell these potential customers more successfully compared to just a regular agent.
👀 Thinking of moving your organization to hybrid work?
Grab the Hybrid Work Playbook, which includes real-life case studies and breaks down all things hybrid + remote, from building and sustaining a hybrid workforce to equipping your team for success.
How do I know if I need a call management system? 3 questions to ask
So, do you actually need a call management system? Here are some of the signs it might be time to invest in one.
1. Does my business follow an appointment-based model?
This includes businesses like doctors' or dentists' clinics, auto repair shops, legal practices, and so on. In these cases, you should probably consider using some type of call management software.
Appointment-based businesses mean customers and clients will frequently call—or be called—to set up appointments. This can strain your business, and you don't want to send a majority of your customers to voicemail.
2. Do I have a dedicated inbound call handling team?
Do you have front office staff? An inbound call center? (Or are you thinking of starting a call center?)
A call management solution can help your dedicated inbound call handling team reduce call avoidance and manage their workload a lot better. It can also give you useful data about your incoming calls and help you pinpoint any problem areas or opportunities for improvement.
3. Do I have different departments that callers might want to reach?
If your business has multiple departments and teams within those departments, then it makes sense to use call management software with easily customizable routing options.
This way, you can avoid call transfer headaches and minimize the manual work there, since callers can hit a button on their keypad to transfer themselves instead of needing a person on your team to do that manually.
Fun fact: With Dialpad, you can use the desktop or mobile app to take and make phone calls from your business phone number—no matter where you are.
For example, Joy Thomas, the receptionist at mono, a global creative agency, uses Dialpad to do exactly that. "I can forward all the calls from our front desk line to my cell phone, and I can grab those when I'm running between meetings," says Joy.
She can easily set up and make changes to their phone lines and call forwarding right from the online dashboard:

Call management system features to pay attention to
So, what exactly should you be looking for when you're shopping for call management software? Here is some functionality to be aware of. You may not need them all, but you should at least know about them.
Call recording / real-time transcriptions
Call recording is very important because it gives you a receipt of sorts for all of your phone calls. That way, if you need to go back and review a call, you can do that with the call recording. You can also use it for training purposes, so new hires can hear how an experienced agent handles tricky customer calls.
In Dialpad you can record a call with just a click or tap. When you're in a live call, all you need to do is hit the record button on your active call screen. To listen to your recordings, just go to your recordings tab in the app:
You can even create a playlist of all the call recordings you want to use for specific circumstances, like training or follow-up coaching!
And on a similar note, real-time transcriptions are also very useful. Call recordings are great, but it takes time to listen to the whole recording of a call. With transcriptions, you can just read them, which is much faster.

One thing that makes Dialpad a great option if you're looking for robust call management software is that not only does it come with call recording functionality, it can also transcribe your inbound and outbound calls—in real time:

That means a contact center supervisor can monitor multiple active calls they're agents are on by reading the real-time transcripts (yes, it gets updated live as the conversation is happening)—without having to personally sit in on every call one after the other.

Call tracking and monitoring
Call monitoring or tracking functionality can also be very useful. These include features like:
Call listening: A manager can listen in on a call to observe how the agent handles the interaction

Call barging: A manager barges into a call when an agent needs help

Call recording: Recording calls to review later

Call whisper: A manager can talk directly to an agent while they're on a call with a customer and the customer is unaware

Live sentiment analysis: An AI-powered feature that analyzes the sentiment of a call in real time so that a supervisor can quickly see if any active calls are going south—for example, you can do this with Dialpad and pull up the live transcript to get more context before deciding whether you need to barge the call or help the agent
Real-time assists
Another neat thing Dialpad can do is let supervisors create Real-time Assist (RTA) cards, which are AI-powered, tailored notes about specific tricky topics.
For example, say you notice that you've been getting lots of inbound calls about pricing lately. You can create an RTA card with notes about your pricing packages and how to talk about them—and set them to pop up automatically on your agents' screens when "price" or "pricing" or "cost" comes up on a call!
It's not as rigid as scripting, and still gives your agents the important information they need to handle challenging questions.
Call analytics
This is an important one to look for, because not all customer engagement or cloud contact center platforms come with built-in analytics.
Some are add-ons that you have to pay extra for, while others aren't accessible and you have to contact customer support or wait for them to pull that data for you.
For example, you may want to track metrics like call volume patterns and average speed. In Dialpad, you can easily see this in your online dashboard:
It's a valuable resource that can help you improve your processes and plan for the future. You can expect to track metrics like agent availability, call volume, average speed to answer, keywords, and more:

(You can also export that data if you want to share those metrics with your team.)
CRM integration
This one gets overlooked sometimes, but make sure your call management software (or cloud phone system or virtual call center solution) integrates with your CRM.
Ideally, you'll want something that lets you make phone calls from right inside your CRM and automatically logs calls and activities for your agents, which will take a lot of the repetitive, low-value work off your team's plates and streamline their workflows.
For example, Dialpad integrates with a wide range of CRMs like Salesforce, HubSpot, Zoho CRM, and more (not to mention other everyday tools like Google Workspace and Microsoft 365).
These integrations embed your call management features or dialer inside the CRM—here's what the Salesforce looks like:
💡 Fun fact:
Dialpad's Salesforce integration is unique in that it also works beautifully on mobile app—most other Salesforce integrations only work on desktop.
Bonus points if the solution has an API that lets you build your own custom integrations. Check out Dialpad's APIs here.
Simple call transfer
Things happen. No matter what tools and systems you implement, eventually, a call will go to the wrong person or your agents will just need to transfer someone.
Because of this, you should have an intuitive call transfer feature that makes it easy for your agents to get the caller where they need to go in order to save that customer experience.
With Dialpad, you can easily transfer a call without dialing a dozen other departments. To transfer a call to a colleague via a warm transfer, just hit the transfer button from the call screen:

Or, choose the Merge transfer option to introduce the caller to the recipient with all three callers on the line at the same time before hopping off.

How should I vet vendors before implementing a call management system?
Compare pricing plans
The most important thing when it comes to pricing is to look beyond just the initial price tag.
Each vendor has its own tiers, prices, and package features. Pay close attention to what is (and isn't) included, and we're not just talking about basic functionality here.
With some vendors, customer support is an add-on. You may get charged per ticket submitted. Others, like Dialpad, include customer support without charging you per ticket or time spent on a call with you.
Some charge for phone calls by the minute, while others give you unlimited calling. How much do they charge for toll-free numbers and international calling?
Then there's the hardware—if you go with an on-premises PBX call management system, you'll have to pay for equipment and set aside office space. Cloud solutions don't need any hardware and are much more remote-friendly.
Check their reliability and uptime
Reliability is critical when your business calls are on the line. Look for a vendor that has a strong uptime service level agreement (SLA). For example, Dialpad offers a 100% uptime SLA for Enterprise customers on either the business phone system or contact center software plan.
And thanks to its unique dual-cloud architecture and global voice network, Dialpad can give you excellent call quality around the world.
Customer support and easy onboarding
On a related note: Onboarding your entire company to a new system can be challenging, even for the most organized businesses. As part of your due diligence, research the customer service and onboarding processes of all your potential vendors. Make sure they offer robust customer support, preferably across different channels like live chat, email, and phone calls.
At the same time, consider the ease of onboarding for each of your potential vendors. What have other customers said about the process? What's the process like when it comes to setting up call queues or getting new hires onboarded to the call center software? These are just a few of the questions you should have answers to.
🔎 A closer look:
For example, when PagerDuty, an internet software and services company, switched to Dialpad, the easy onboarding was one thing that stood out. "I had zero training on it…just day one, one of the apps that was provisioned was Dialpad… so I downloaded the app, logged in, and it was very straightforward—it basically worked like my iPhone, so that was nice." says Jeremy Einhorn, an Enterprise Account Manager at PagerDuty.
Look for online reviews and testimonials
As with buying any product, you want to know what you're getting into before you hand over your credit card information.
And one good way to get objective feedback (because every provider's marketing website will make them sound and look great) is to look at online reviews to see what actual customers (past and present) think of the call management system you're considering.
For software, look at sites like Capterra, TrustRadius, and G2 for thorough product reviews. You might also reach out to your network on LinkedIn or social media to see if any of your peers have bought similar software in the past.
If you're in a regulated industry, like healthcare or law, make sure that the potential vendors can meet your industry's specific business needs and compliance requirements.
For example, if you're in healthcare, your call management system or phone system should help you stay HIPAA-compliant.
Ready to get started with a call management system?
Whether you're starting a small business call center or a global contact center operation, there's a high chance that your business needs some type of call management system, especially if you have a high call volume on a daily basis.
One of the biggest pieces of advice we can give is to look for a robust and versatile solution that does multiple things well. For example, instead of just having one phone system or call management system, and a separate contact center management platform, and a separate video conferencing tool, look for a unified communications platform that can give you all of that functionality in one place.
It'll be most cost-effective, easier to admin from an IT perspective (and also for your agents), and also better for your team's workflows.
Try Dialpad for free with a 14-day free trial!
It takes just a few minutes to get started (even faster if you sign up with your Google or Microsoft 365 account), and you'll also be set up with a virtual phone number. Or, take a self-guided interactive tour of the app on your own!