Back to Blog
Audio or video conferencing: How to know which one you need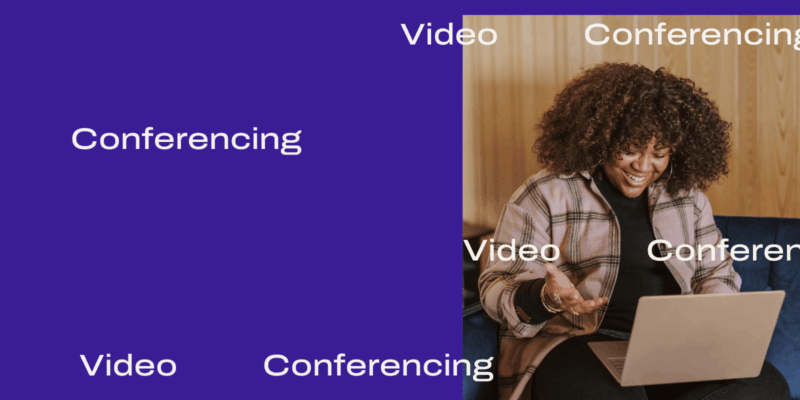 Audio and video conferencing have become essential tools in any company's tech stack. And if you're a remote or hybrid worker, almost 100% of your meetings will be either audio conference calls or video conference calls.
So, it's no surprise that web conferencing tools are playing a critical role in connecting teams in the absence of in-person conference room meetings.
So, when should you use video conferencing—and when is audio alone good enough?
Keep reading to find out.
What is audio conferencing?
Audio conferencing is a method of communication that connects multiple people from different places on different devices in one phone call or voice-only web call. You can use different devices to get on an audio conference call, from a desk phone with a conference call function to a laptop or mobile device using the Internet (more on VoIP calling).
Traditionally, participants would dial in to a central conference bridge that connects them to each other to join these audio meetings (or use something like Skype).
When to go with audio only
You don't need to present anything visual
Audio calls tend to be more convenient because they don't require you to spend time pre-meeting getting yourself and your surroundings camera-ready. Other participants on the call will only hear your voice, so you don't have to worry about how you're going to appear on video (yes, you can keep your pajamas on).
Everyone's joining on different devices
Audio conferencing is available on most communication devices, including desk phones, laptops, and mobile devices. The only other equipment you might need is a wired or Bluetooth headset with a mic.
Today, cloud-based conferencing tools like Dialpad are a more convenient alternative to traditional dial-in conference calling since most people are just as likely to use a computer or laptop as a phone. With Dialpad, you can start a conference call on any device, and participants can join a call just by clicking a meeting link:

When you wouldn't want an audio-only conferencing solution
You're discussing a more complicated topic
Audio-only conferencing can result in more miscommunications than when you're able to talk face-to-face. Since you can't see your colleagues on the call, you won't be able to use other audiovisual cues like body language and facial expressions to understand what someone's talking about and their intended tone.
It can also be more challenging to figure out who's talking or to find the right time to chip in and not speak over anyone when you're in an audio conference with no video.
Attendees are already not very engaged in meetings
Have you ever been on a phone call and felt your mind drifting elsewhere? Maybe you pick up a pen and start doodling as you lose focus on what that's being said to you? Without visual cues and the requirement to have your camera turned on, it can be challenging to stay focused throughout the meeting. (For very focused teams, this might not be a problem.)
It's not the most affordable option
Audio conferencing bridges are usually charged by the minute/per participant, and are subject to international rates, which can get pretty costly the more you use it. By extension this also means your costs are less predictable.
You want to be able to collaborate
With only audio-conferencing, you can't share or collaborate on docs visually. This can lead to less engagement and challenges in getting to a faster decision on things.
It can be challenging to identify callers, which can also lead to disruptions
When you're on an audio conference, confusion can arise if someone forgets to mute themselves and you don't know who it is or where they're calling from. Dialpad Ai Meetings has an audio conferencing option, but it's better than any standard standalone audio conferencing bridge because when people call in, you'll be able to see the callers as a participant in the user interface. You can easily remove any participants you don't recognize, and also mute participants with a click for security: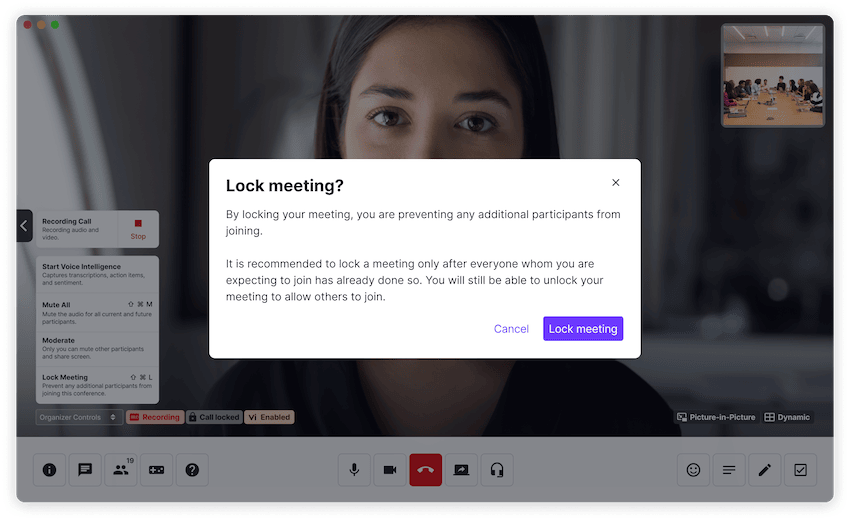 What is video conferencing?
Video conferencing involves the transmission of audio and visual data using various VoIP technologies (VoIP and WebRTC) to connect multiple participants in different locations in a face-to-face online meeting. Video conferencing is a more modern solution, widely used by organizations to facilitate remote communication and collaboration.
You'll typically need to have video conferencing equipment like a microphone and video camera or webcam (which are usually built into your phone or laptop already). Similar to audio conferences, you can join a video conference by using a central dial-in number or clicking a meeting link.
When to go with video conferencing
You need visual communication
One of the main advantages of using a video conferencing solution is that you can see the other people on the call in real time. Video meetings let you get as close as possible to the traditional in-person meeting experience.
With HD quality video conferencing systems, you can even get video resolutions up to a very respectable 720p.

And one of the best things about video conferencing tools is that they offer a range of features for collaboration and brainstorming.
With a high-quality video and audio conferencing solution, you'll often get advanced functionalities in one app, like screen sharing and virtual whiteboarding.
For example, if your team does a lot of design or needs to zoom in on mockups, whiteboarding would come in handy. In this case, it'd be nice to have a video conferencing solution that integrates with a whiteboarding app. Here's an example of what that looks like:
Dialpad integrates with one of the best whiteboard solutions out there: Miro. Your remote team can use Miro's intuitive whiteboard feature to brainstorm and organize ideas—and see each other's faces, without leaving the app. (It also integrates with a range of collaboration tools like CRM platforms, Google Workspace, Microsoft 365, and more.)
👀 Thinking of moving to hybrid work?
Grab the Hybrid Work Playbook, which includes real-life case studies and breaks down all things hybrid + remote, from building and sustaining a hybrid workforce to equipping your team for success.
You want to create more engagement
One of the best things about video hangouts is that they're more engaging than regular audio calls since you can actually see the other people in the call and make eye contact. There are also features like in-meeting chat or messaging, which lets meeting attendees ask questions and engage with each other without interrupting the speaker. Here's how it looks in Dialpad:

If you're hosting remote meetings with teams located in different countries, using a tool that's visually engaging can really help with effective communication and building team rapport when teammates can't meet in person.
You're looking for the closest alternative to physical meetings
If your team works remotely, serves overseas clients, or deals with foreign investors, then physical meetings aren't always possible (even though they're ideal for things like pitch meetings). Secure video conferencing can be a more convenient or accessible alternative here.
With a video call, you can almost feel like you're in the same room connecting with colleagues or customers. And because you can join from any device with an Internet connection, that means you can spend less time and money on traveling to the office.
When you wouldn't want to use a video conferencing solution
You don't have a stable Internet connection
Having a high-quality video conferencing solution alone won't do you much good if you don't have good Internet. Transmitting audio and video data requires you to have a good Internet connection with adequate bandwidth. Often, the quality of the video call is more prone to being affected by an unstable connection.
One interesting thing Dialpad can do is adjust its high-quality audio and video based on your connection and bandwidth so that if something happens to your connection, the audio or video quality will automatically decrease to keep your call going.
👉 Need an Internet upgrade?
With Dialpad's collaboration with T-Mobile, you'll have access to the super speed and reliability of T-Mobile's 5G network along with Dialpad's UCaaS platform, in one affordable package.
You're limited in terms of your desktop or mobile devices
The thing about video conferencing is that you need a compatible device with a web camera to get the most out of it. For instance, you can't use video conferencing software with your regular old desk phone.
That being said, video conferencing solutions like Dialpad are compatible with any device that can connect to the Internet. You can use Dialpad on any Mac, PC, iOS, or Android device—so you can take calls from anywhere.
With Dialpad, you can also host and join meetings using the call from browser feature—no need even for any downloads.
Looking for unlimited video conferencing?
Dialpad Ai Meetings is available on a free plan that gives you access to unlimited video meetings.
Video conferencing fatigue
Video conferencing fatigue is a new phenomenon sweeping the globe after the boom in video calling over the past few years. Whether it's because we have to constantly see ourselves on camera or always be "on" (especially if you tend to have back-to-back video meetings), it can be exhausting.
Although this affects people differently, there are some ways to reduce the likelihood of video fatigue happening. For instance, Dialpad has a built-in conference meeting countdown timer to help you make sure your video meetings don't go overtime. This way, you can keep on track while giving your remote employees a break every once in a while:
It's also easy to turn off your camera in Dialpad and just have a good ol' traditional audio-only call. (But still with content sharing and meeting transcriptions as a bonus!)
Fun fact: Dialpad's audio and video conferencing solution features built-in AI called Dialpad Ai, which can transcribe meetings in real time. Can't make an important client meetings? Disagreeing about what was said in a meeting? The transcript will tell the truth.
How real companies use audio and video conferencing: 3 case studies
So, how are real-life companies tackling teleconferencing and audiovisual communication? Let's take a look at how some organizations are choosing between audio and video conferencing.

Longer meetings for team collaboration or discussing important projects with clients can benefit from the face-to-face element offered by video meetings. In fact, video conferencing allows you to take advantage of built-in collaboration features and integrations such as screen sharing and whiteboard tools to increase productivity.
A higher quality unified communications solution like Dialpad delivers the best of video conferencing along with a full suite of business communications, including a complete business phone system, messaging, and an extensive range of business app integrations.

Empower your team to work together effectively with screen sharing and real-time file collaboration without leaving the app. Enjoy HD video and crisp audio quality, so you never miss a word. Dialpad also features background noise reduction technology to minimize interference.
Unified audio and video conferencing
When creative agency HUGE switched to Dialpad's UCaaS solution, they were able to access video conferencing as part of a full business communications suite. More importantly, they were able to cut their annual conferencing technology costs by 80% since they no longer had to use a bunch of different software solutions to perform different functions—Dialpad does it all.

Calling and SMS, all in one
One interesting thing that Wade, an attorney and the owner of Coye Law Firm, noticed was that his clients didn't just like communicating over phone calls—they were also much more responsive over text messages.
So, he chose a conferencing solution that had both communication channels in one place.
If you talk to clients and prospects regularly and find that some people don't like to download an app just to join your call, you can invite them to virtual meetings in Dialpad just by sending them a text. They'll be able to join just tapping that link and opening a web browser!

Improved connection rates for sales teams
For sales teams, they're often on either audio calls or video conferences with prospects. Having the right conferencing tools is essential. Hometap Equity's team is talking to homeowners across 15 states on a daily basis and Tom, their Sales Manager, keeps a close eye on key call analytics. So, what was a big difference he noticed after switching to Dialpad?
"Our connection rates and our meeting attendance rates have gone up considerably," says Tom. "We track the source of the meeting booking and we've noticed that a high number of booked meetings are from that initial text through Dialpad, with a very high attendance rate."

3 ways to make the most of your HD video and audio conferencing tools
1. Communicate with clients in the manner they prefer
In today's world, consumers don't just rely on the phone anymore for their customer service needs. Most businesses are adopting an omnichannel approach to customer service that allows customers to communicate with them across a range of channels, including both voice and video calls, as well as chat messages, social media, and more.
2. Make sure your voice and video calling software integrates with other tools you're already using
Your team is probably using other desktop and mobile apps. They should integrate with your conferencing tools!
With Dialpad, for example, you can call and meet in HD in addition to doing screen sharing, in-meeting chat or messaging, and integrating with apps like Miro.
Dialpad also integrates with Google Workspace to auto-populate your meeting invites with a meeting link:

3. Secure your audio and video meetings with in-meeting functions
Whether you're in an audio or video conference, it should be easy to keep your call secure.
As we mentioned earlier, in a Dialpad conference, hosts can mute all participants, lock the meeting room, and use the virtual waiting room to let attendees in and out. All participants can:
Mute their microphones

Turn their video cameras on and off

Share their screen (either the entire screen, a single window/tab, or a document)—unless the host has blocked that function

Change the visual layout of the call (e.g. filmstrip, spotlight, and so on)

Use in-meeting chat to ask questions and stay engaged without interrupting the speaker
Use a unified tool that gives you both audio and video conferencing
In most businesses, audio and video conferencing are both key tools for communicating with teammates, clients, and prospects.
Choose a solution that provides you with the best of both worlds. This way, you won't have to juggle (and pay for) different tools that can only do one or two things.
With Dialpad, you get a truly unified platform with voice, video, messaging, as well as a huge range of advanced calling features like call recordings, real-time transcriptions, and integrations with all your favorite productivity-enhancing apps.
Looking for an easy-to-use audio or video conferencing tool?
Dialpad lets you have both audio and video meetings on its desktop and mobile app (and on web browsers) too! Get started with the free Dialpad Ai Meetings plan. It takes just a few minutes to sign up.